So you're headed to Midtown to see some of the New York City's biggest attractions. As you're checking out the Rockefeller Center and Times Square, you're likely to grow hungry. While you may know some of the big names here (Keen's and TAO), you're also interested in looking for more of a local vibe rather than the usual tourist traps. That's where we come in. We know the best restaurants in Midtown, NYC.
---
The 11 Best Places to Eat in Midtown, New York City
Midtown NYC is known for its bustling businesses, towering office buildings, and famous attractions. Sometimes finding a good place to eat in this neighborhood can be a challenge, especially when you're an out-of-towner.
Whether you're taking a tour of the Empire State Building or going to a show at Madison Square Garden, we know where to enjoy a pit stop for something to eat. From food trucks to fine dining, here's our list of the best restaurants in Midtown, NYC to check out on your visit.
NoNoNo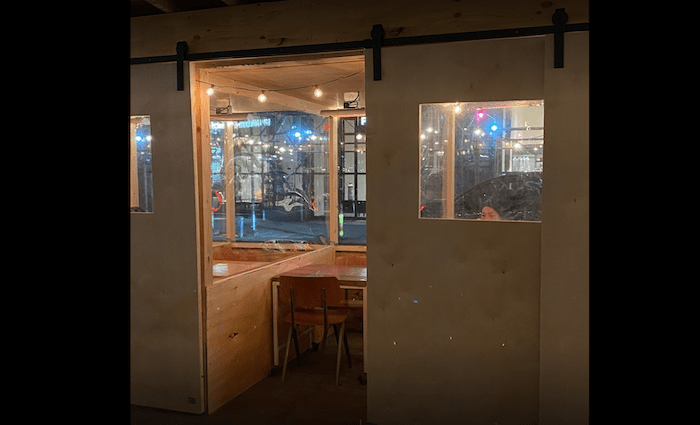 $$ | Japanese | Cozy Ramen Spot
When you're craving some hot noodles on a chilly afternoon, NoNoNo is a yes, yes, yes. This two-story casual venue with a loft vibe is surprisingly spacious while still giving all those cozy feels.
For those really cold days, head upstairs where you'll steer clear from the front door and also get a better view of the street for prime people-watching. Of course, there's also the outdoor cubbies if actual street dining is more your thing.
While this place is a must for ramen (we suggest the Shoyu Chintan Ramen with chicken and pork), pretty much anything on the menu is worth devouring. The vegetable don (FYI: much bigger than it appears on the menu), Nasu Dengaku (eggplant), salmon tataki, and short rib yakitori skewers are all winners in our opinion.
Address: 118 Madison Ave, New York
Juniper Bar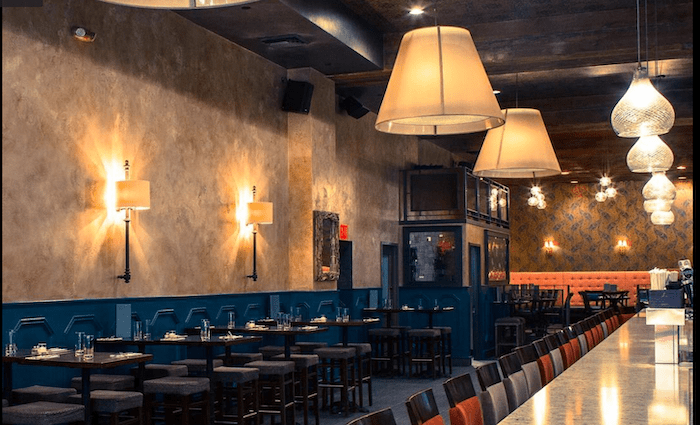 $$ | American Pub | Pre-Game Go-To
Juniper Bar is close to Penn Station and many local theaters, which makes for a convenient pit stop. The bar is usually bustling, especially during happy hour, and with $6 drinks every day of the week (excluding Sunday) you can see why.
But the bar is pretty big so there's a good chance you'll nab a spot before a show. If not, make your way to the dining area in the back where you can still score the happy hour deals.
It's a great spot to enjoy some quick, finger food to share, such as kale artichoke hummus, fried Brussels sprouts, and roasted veggie tacos. But if you have more time and are feeling extra hungry, there's a wide variety of burger offerings and a lobster mac and cheese dish you'll want to try.
Address: 237 W 35th St, New York
Mexicue
$$ | Mexican | Fun & Trendy
Okay, okay. We know this is a local chain but hear us out. Once a food truck, Mexicue now has restaurant locations all over, including one right here in Midtown, fully equipped with a fun vibe and tasty grub. It's easily one of the best restaurants in Midtown, NYC.
They're all about barbecue here so expect to find lots of smoked and charred meats on the menu (burnt end brisket anyone?). But the charred guacamole will also not disappoint when you need a snack for the table while sipping on that smoky margarita.
While this place is good any time of day, we're especially keen on hitting it up on the weekends for brunch. If not for the cornbread French toast, but for the breakfast margaritas with a cinnamon toast crunch rim. Cheers!
Address: 1440 Broadway, New York
NY Pizza Suprema
$ | Italian | Low-Key Pizzeria
Whether you're craving a whole pie or just a couple of slices, NY Pizza Suprema is a must. It's right by Madison Square Garden making it the ideal spot to grab something to eat before or after a concert or a game.
It's a no-frills place, so don't expect to get too amped up by the decor, but its comfy casual digs are the perfect ambiance to stuff your face with pizza. Speaking of pizza, every pie here aims to please. You can choose from various gourmet options, such as hot honey with ricotta and mushroom.
But the standard NY round cheese pizza is the best. With a crust that is thin and slightly charred and smothered in a homemade tomato sauce, you better hope you get to eat the whole pie by yourself.
Address: 413 8th Ave, New York
Mastro's Steakhouse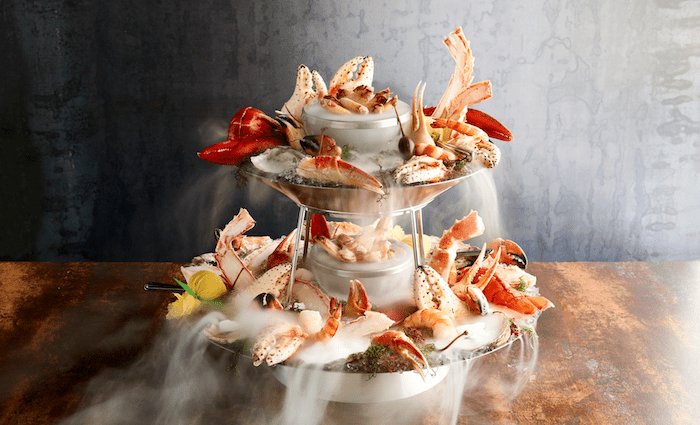 $$$$ | Steakhouse | Striking & Entertaining
Here's the thing about Mastro's: it's more than fine dining, it's an experience. You don't go there for a quiet, intimate evening. You go there for a fun night out. There is live music every night at the bar and since everyone has to come dressed to impress (including the servers), there will be plenty to look at and enjoy.
And while the restaurant (and its patrons) are nice to look at so are the plates. Between the smoking seafood tower and the massive porterhouse steak with all the fixings, the food looks just as good as it tastes. Just don't forget to order the butter cake for dessert. You'll fast understand why this is one of the best restaurants in Midtown, NYC.
Address: 1285 6th Ave, New York
Sinigual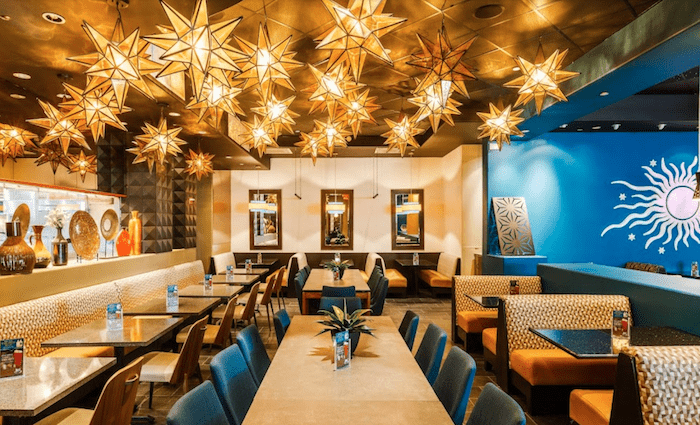 $$ | Mexican | Cheap Happy Hour Joint
Located just a few short blocks from Grand Central, you'll be able to find this Mexican spot with ease as you make your way through the city. It's vibrant, fun, and massive.
Have your pick of eating indoors or enjoy the large street-side patio if you're in the mood to dine outdoors. Heads up: it may be loud from the traffic depending on when you go.
This is the happy hour spot in Midtown. With $5 margaritas, there's plenty to go around. Plus, you don't have to rush to get there for just an hour of savings. During the week, happy hour goes from 2 pm – 7 pm, Saturday it starts at 12pm, and on Sunday you can enjoy cheap margaritas all day long.
We also love the two different platter options that come with tacos and nachos all for less than $25, making our happy hour a whole lot happier. It's no wonder why it's one of the best restaurants in Midtown, NYC.
Address: 640 3rd Ave, New York
Hillstone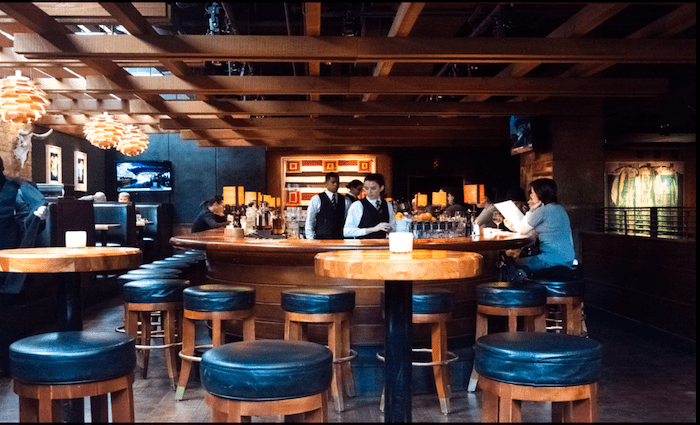 $$$ | American | Consistently Good
Hillstone may be on the pricey side, but it's always consistent. You know you'll have a good time here with the on-point service, swanky interior, and delicious food. The interior is darkly lit so it gives off a sexy vibe without trying too hard. Yet it's still comfortable enough to go with the family. Plus, there's always ample bar seating thanks to those cozy high tops.
As for the menu, it's a mix-match of cuisines. While it's all-American with burgers and barbecue ribs, it also has sushi (that is quite delicious if we say so ourselves) and one of the best salads around: pan-seared tuna with mango and a miso dressing.
Address: 888 3rd Avenue, New York
The Skylark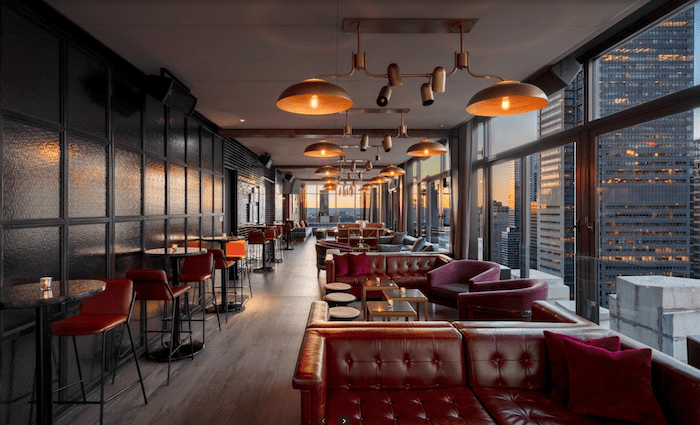 $$$ | Lounge | Cocktails with a View
Nothing feels more glamorous than sitting high over New York City sipping on a swanky cocktail, which is why we love The Skylark. Even the locals can appreciate the views from 30 stories high, and the cocktails are worth bragging about too.
We're all about the pros here that embellish the classics and make them their own. Let's raise a glass to that maple walnut old-fashioned. But the cocktails (and the view) aren't the only thing bringing us to this rooftop destination.
We're big fans of the bar food, which is surprisingly extensive. You can get anything from tuna tacos to beef sliders to duck wontons. This menu takes upscale bar food to a whole other level, which is why it makes our list of the best restaurants in Midtown, NYC.
Address: 200 W 39th St, New York
Planning your Trip to New York City? Make planning easier with our recommendations for Where to Stay and the Top Things to Do in NYC this year!
Benoit New York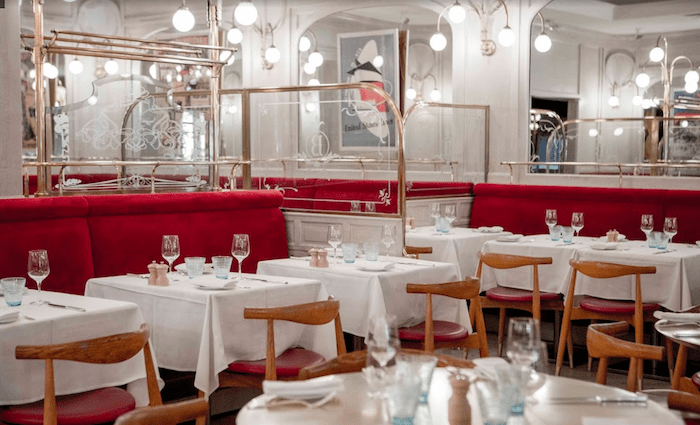 $$$ | French | Chic Digs
We love how this city brings everything to you. Take Benoit for example, which brings a little bit of Paris to New York. We like that this bistro gives us different options for dining in its space.
In the entrance area, you'll find a chill lounge with a crackling fireplace where you can sip on your wine while enjoying a charcuterie and pâté board. But you can also keep walking toward the back where the restaurant is, and you'll find an extensive menu boasting high-end French cuisine.
However, if you really want the full Paris experience (which, of course, you do), you'll probably want to take that chocolate soufflé outside on the street-side terrace. Très chic.
Address: 60 West 55th Street, New York
Sakagura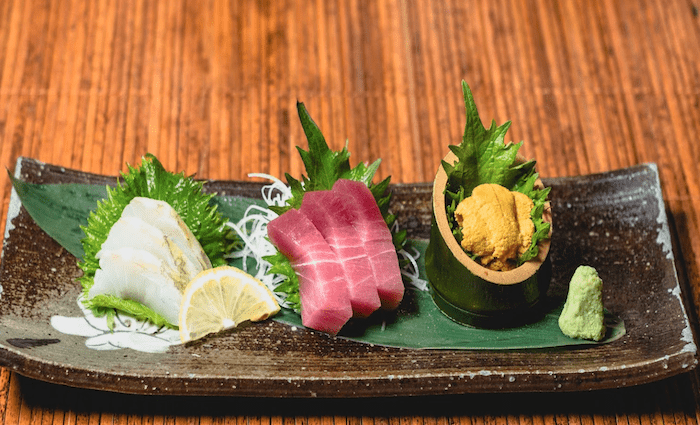 $$$ | Japanese | Cool Underground Hideaway
Tucked away off the busy street and below an office building, Sakagura is its own intimate sanctuary with bamboo dividers and greenery galore. It's dimly lit and relaxed so you aren't dealing with all that hustle bustle from outside.
And while this place is known for its sake, we can't help but go for its solid Japanese whisky collection — looking at you, Yamazaki Single Malt 12 Years.
The menu is solid, including the beef tataki and salmon with miso. But really, we come here for the raw stuff because it's so fresh. We can't get enough of the sashimi which is why we usually order a big ol' platter.
Address: 211 43rd St B1, New York
Uncle Gussy's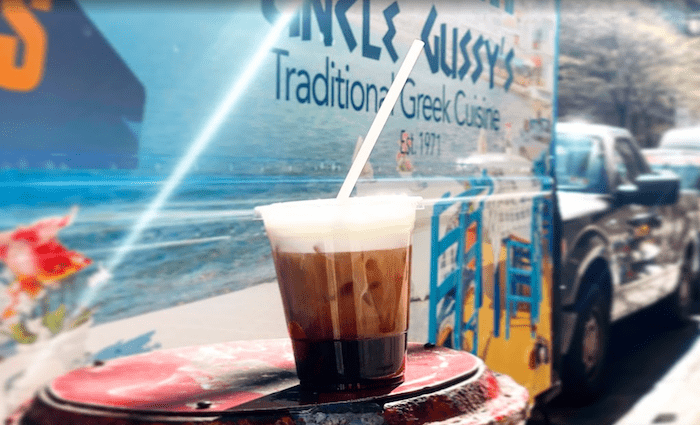 $ | Greek | Curbside Street Food
If you're looking for on-the-go Greek food, Uncle Gussy's is probably your best bet. It's a staple in this neighborhood and for good reason. You get overstuffed gyros (we say go for the lamb and beef) for a decent price.
As a family-owned business, their Mediterranean food is pretty traditional, which is why it keeps us going back for more when we're looking to eat and run. It's a healthier alternative to the usual hot dog stand, except if you decide to indulge with the fries that are golden to perfection and topped with feta.
But we think those might be worth the calories, and you'll burn them off exploring Midtown anyway, right?
Address: 345 Park Ave, New York