New York City is just one of those places where you gotta do it big. Maybe it's because NYC is the unofficial capital of 'Merica or because the city is fueled by money. While most $700+ per night hotel is a safe bet for a luxurious stay, not all are in the perfect location. This article lists the cities best hotels that are in truly luxurious locations (better than Times Square).
---
Pro Tip: It's easier to organize your trip when you have all your resources in one place. Create a browser folder and bookmark this post along with our dedicated guide to New York City for more planning resources, our best MET and NYC tours for a memorable trip, and the top things to do in NYC.
The Most Luxurious NYC Hotels in the Perfect Locations
Ever heard of Harold Samuel? I can take a good guess you haven't, but his words have been repeated for almost a hundred years, "Location, location, location." What is a luxurious hotel if you are walking outside into a crowded, busy, and otherwise unpleasant area?
That's why we've built a list of the best luxury hotels in New York City to satisfy the most opulent desires of your heart. But most importantly, we've also describe the area around the hotel so you know just what the vibe will be. Whip out that credit card because the prices of these NYC hotels don't come cheap, but they will leave a lasting impression!
Our Partnership with Booking.com. If you like our content, please book by clicking on our Booking.com links. The price is the same for you and we get a small commission that helps support our blog. We've partnered with Booking.com because they have the most options, great prices, and a solid loyalty program.
Crosby Street Hotel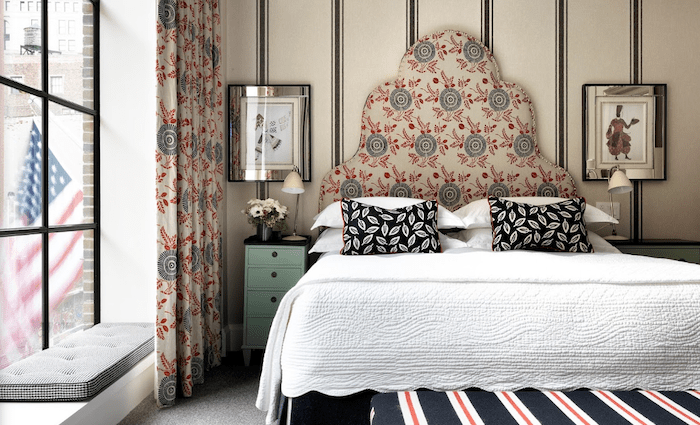 $$$$+ | SoHo | 5 Star | Beautiful Design
The Hotel:
The Crosby Street Hotel is a wonder to the eyes which makes it perfect for people with great style and a large budget! The hotel is nestled into the center of Soho in the shopping and restaurant district.
The Area:
You are very close to many attractions such as Washington Square Park, Pier 25 & 27, Rockafeller Park, Ground Zero, Brookfield Plaza, and an easy bike ride to the Brooklyn Bridge.
SoHo is by far my favorite area since there are tons of great hotel choices, things to do, restaurants, and acess. Lower Manhattan, where SoHo is, simply has a better vibe.
Lowell Hotel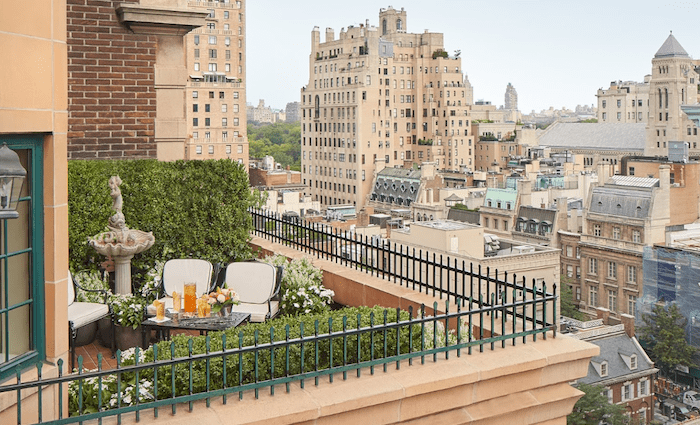 $$$$+ | 5 Star | Central Park | Iconic
The Hotel:
The Lowell Hotel is an iconic hotel in NYC right close to central park. According to their website, it was opened in 1927 and occupies 17 floors for rooms, suites, and opulence. It is definitely better known for its old-world charms such as sitting rooms where you can enjoy afternoon tea.
The Area:
The hotel is in an ideal area for anyone looking to be just a stone's throw from central park in a residential area. You'll be surrounded by restaurants and fashion houses mostly enjoyed by local aristocrats and Manhattanites. The proximity to the southern portion of Central Park which is home to attractions like Bethesda Terrace and Bow Bridge is ideal. I would recommend this for anyone looking to pass your mornings in bed, enjoy a stroll through central park, and eventually a Broadway Show.
The Pierre, A Taj Hotel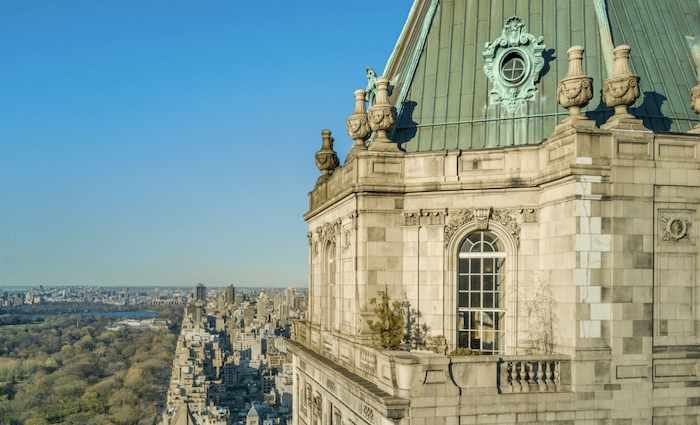 $$$$+ | 5 Star | Central Park | Classical Design in a Historic Building
The Hotel:
The Pierre is an iconic NYC hotel that has been a landmark since 1930. It has a classical design including frescoed restaurants and beautiful suites. The "Tata Presidential Suite" will run at least $15k.
The Area:
The only location better than the Lowell Hotel is the Pierre which obstructs Lowell's Central Park view. That said, the Pierre's view is almost as vast as its prices. You are incredibly close to the Central Park Zoo and a ton of shopping on the precipice of the Upper East Side of Manhattan.
Loews Regency Hotel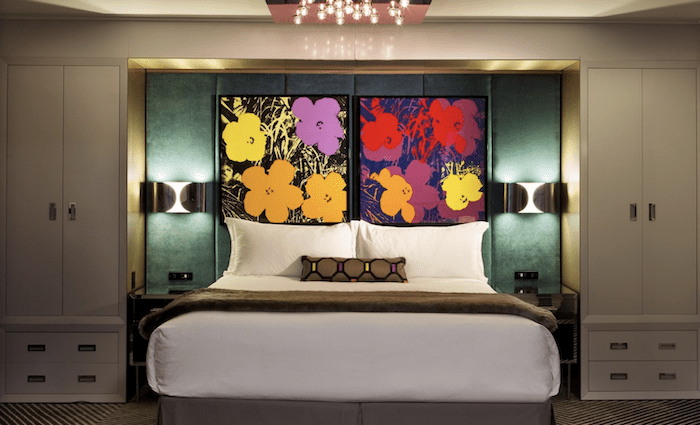 $$$$ | 5 Star | Upper East Side
The Hotel:
Loews Regency is a classy and chic hotel that is perfect for romantics or business travelers looking to impress. It's often a little cheaper than its counterparts, but that doesn't mean you're sacrificing quality here!
The Area:
Just around the corner from the Pierre and Lowell. If you are looking for all the same attractions at possibly a lower price, the Loews is for you!
The William Vale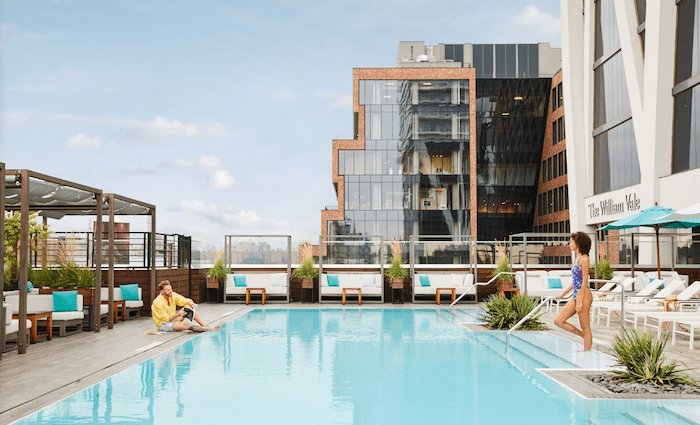 $$$$ | 5 Star | Pool | Williamsburg
The Hotel:
While I would stay at the Hoxton in the cooler months, in the dead of summer I would choose the William Vale. Price is higher, but their pool is amazing!
The Area:
Brooklyn is notorious for its younger crowd of hipsters and artists which eventually attracts young Entrepreneurs. Williamsburg has almost completely kicked out the long-bearded hipsters that made it cool and been replaced by Wall Streeters that want to pretend their not bankers. Don't translate that into being a negative thing – the entire area went from nice to wow that's nice.
You'll find many nearby waterfronts spotted with beach volleyball courts, restaurants, bars, and running paths. Its a dream.
The Williamsburg Hotel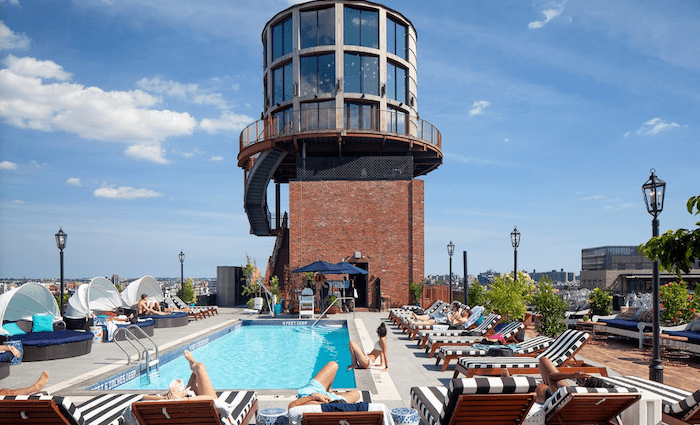 $$ | 5 Star | Williamsburg
The Hotel:
Yet another great Williamsburg option with a pool and beautiful views which makes it an easy choice. Honestly, this hotel and the William Vale are practically interchangeable.
The Area:
Situated right next to the William Vale, you'll find all the same amenities of parks, views, and blow your mind restaurants. The craft cocktail was not invented here in Williamsburg, but it definitely drove drinks like the rum & coke and vodka cranberry out of town. You'll find yourself enjoying refreshing cocktails made with the utmost effort that seems to empty your wallet in an oh-so pleasurable way!
Mandarin Oriental NYC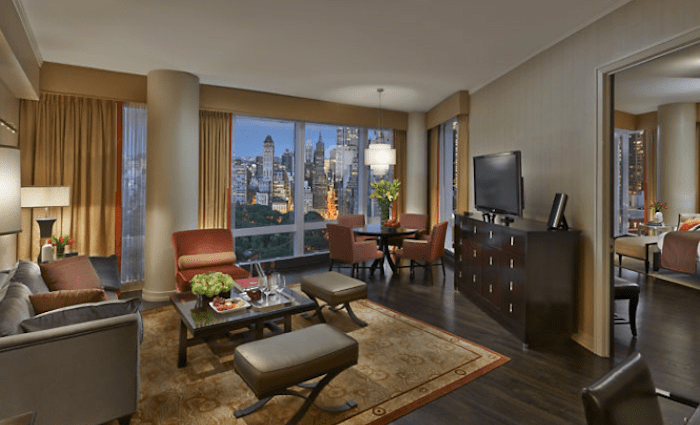 $$$$+ | 5 Star | Modern Luxury | Central Park Views
The Hotel:
The Mandarin Oriental is a staple for luxury which is why it can be such an easy choice if money is not a consideration. Common spaces are incredible and Columbus Circle is one of my personal favorite areas of NYC.
The Area:
The first thing you notice when walking out the front door of this hotel is how nice Colombus Circle is and how open the area is. There are so many pedestrian areas in front of each sky scraper that you will not feel forced onto sidewalks.
It is a truly enjoyable area that is close to the West Side Highway. That is my favorite path in NYC with tons of tennis courts, a bike path, and incredibly views! You are obviously three steps from central park here and lots of subway connectivity. I prefer this side of Central Park over the east side due to the general feel and accessibilty.
The Ritz-Carlton NYC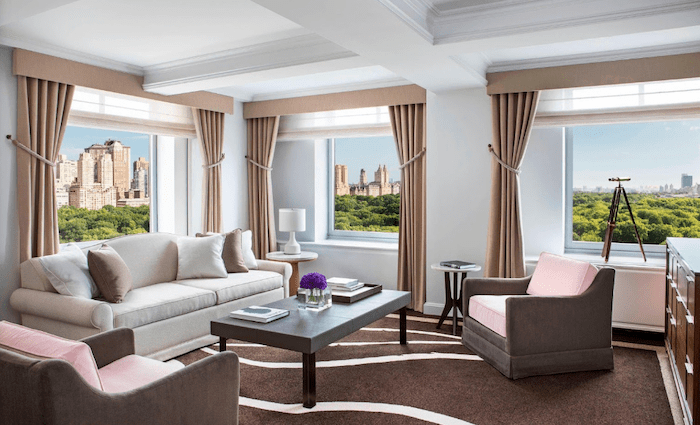 $$$$+ | 5 Star | High-Class | Central Park
The Hotel:
The Ritz-Carlton is on of the most classy hotel chains in the world and their Central Park property has got to be the flagship location. Beautiful spacious rooms in a historic hotel with amazing rooms make it a no-brainer if you can stomach the price per night.
The Area:
Four Seasons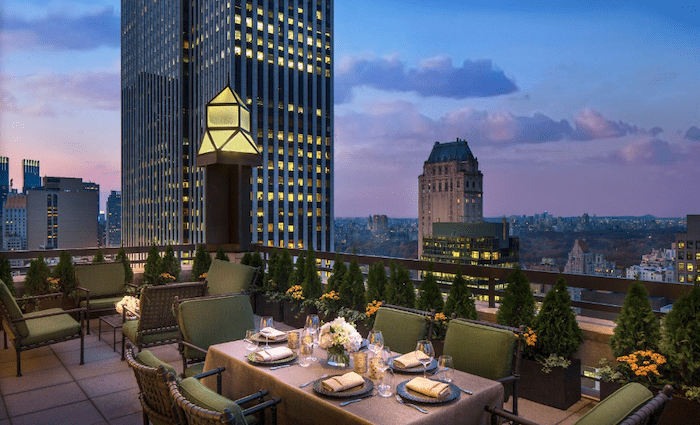 $$$$+ | 5 Star | It's the Four Seasons
The Hotel:
The Four Seasons are the marker for consistency in terms of luxury travel. To be able to stay at a Four Seasons where ever you go is something many aspire too but few reach. It is safe to say you'll get a beautiful and spacious room with all the amenities for a hefty price.
The Area:
Another great Central Park hotel in a good location. While this is considered the more premium of the two Four Seasons in NYC, I prefer the downtown location over this one.
The Langham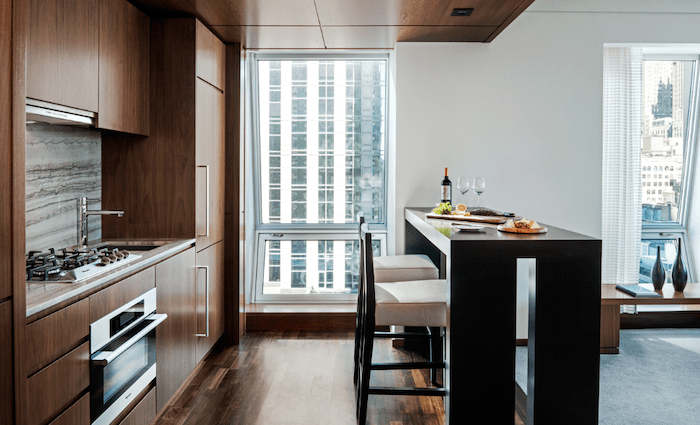 $$$$+ | 5 Star | Beautiful Modern Design
The Hotel:
If I were looking for a nice hotel in Midtown I would likely stay at the Langham because I love the design of the rooms. Really cool modern feel with lots of windows, light, and wood tones mixed in. Great choice if you can part ways with that type of money.
The Area:
I am not a huge fan of Midtown since the area is mostly occupied by businesses (instead of residents) which means the restaurant scene is focused on lunch and tourists. That said, its New York and there are unlimited options for everyone. You can walk to Bryant Park or the Flat Iron without destroying your feet which is nice.
Overall, I avoid midtown as it is not "my NYC" but the Langham has always tempted me in!
The Plaza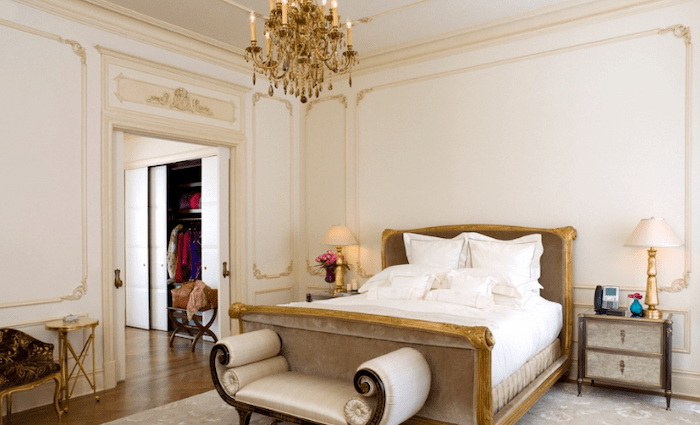 The Hotel:
Easily the most famous hotel in the United States and possibly the world, The Plaza Hotel is an iconic location on NYC's Central Park skyline. The rooms are massive, the service is top-notch, the views are incredible, and the price is almost reasonable for what you get!
The Area:
Extremely similar to the Pierre, this hotel has unobstructed central park views if you pony up for a good room. The main drag in front of the hotel has a mega luxurious feel and you'll have first dibs on the famous central park horse and carriage rides!
The Dominick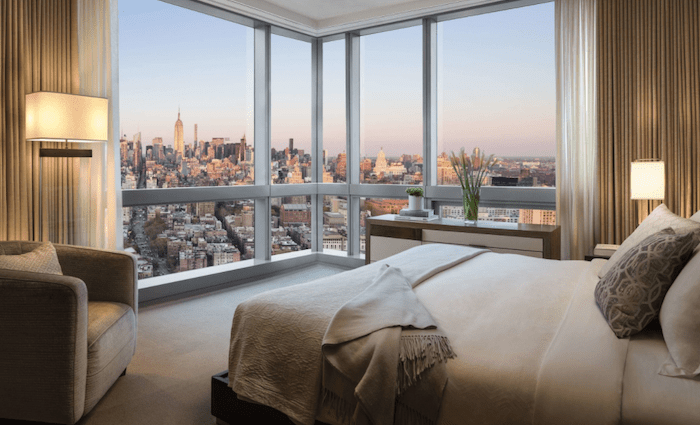 $$$$+ | SoHo | 5 Star | Mega-Luxury | Rooftop Pool
The Hotel:
The Dominick, formerly the Trump Soho, is my go-to hotel for romantic trips with my wife. We've stayed there a couple of times and it is everything that money can buy. The rooms are outfitted with Fendi furniture, there is an amazing pool, and it is simply luxurious.
The hotel pool is absolutely incredible and turns into a bit of a party during the day. It is open from Memorial Day to Labor Day when the weather is nice.
The Area:
The hotel is in Soho, which is a great area if you are looking for walkable restaurants, shopping, and generally fancy stuff. It is also really close to Pier 27 and 25 where you can find City Vineyard and Grand Banks. Both are very trendy places to eat and drink with water views. Grand Banks has better views than you could imagine because it is literally a boat!
You can also cruise down to Rockafeller park and stroll through the North Cove Yacht Harbor to see the financial district's nicest boats. This is where the "Yacht Scene" of Wolf of Wall Street was filmed and where you'll find Brookfield Place which is an amazing shopping plaza.