Ahh, Vegas. The city of glitz and glam where every hotel tries to outdo the last. This desert oasis is proud of its heritage for creating the top relaxation and entertainment destination in the Mountain West, but it can be hard to choose where to stay. Skip the budget hotels and rooms without a view and pick one of the best luxury hotels in Las Vegas from our carefully curated list.
---
Pro tip: Bookmark this post in your browser before your next Vegas trip! You can also check out our Las Vegas guide for more information, discover the best tours in Vegas, or plan your favorite things to do in Vegas.
The 11 Best Luxury Hotels In Las Vegas
In Vegas, you can throw a few thousand dollars on the gambling table or opt to spend it on a few nights at some of the most incredible hotels around to get more bang for your buck. Vegas lives to meet and exceed your expectations, which is why this is one of the best places to splurge on the cost of a 5-star hotel.
For that same few thousand dollars, you can book the penultimate stay at a penthouse suite. But if you watch for deals, you'll be amazed at the luxury you can find for a low price here in Vegas. Either way, you're sure to be taken care of at the highest levels in the best luxury hotels in Las Vegas.
On this list we've only included 5-star hotels that have proven themselves. Excellent service, amazing amenities, and incredible rooms are basically guaranteed. Every dollar spent on a luxury hotel in Las Vegas means your stay will likely exceed your expectations and make your trip even more memorable.
Our Partnership with Booking.com. If you like our content, please book by clicking on our Booking.com links. The price is the same for you, and we get a small commission that helps support our helpful blog content. We've partnered with Booking.com because they have the most options, great prices, and a solid loyalty program.
ENCORE at Wynn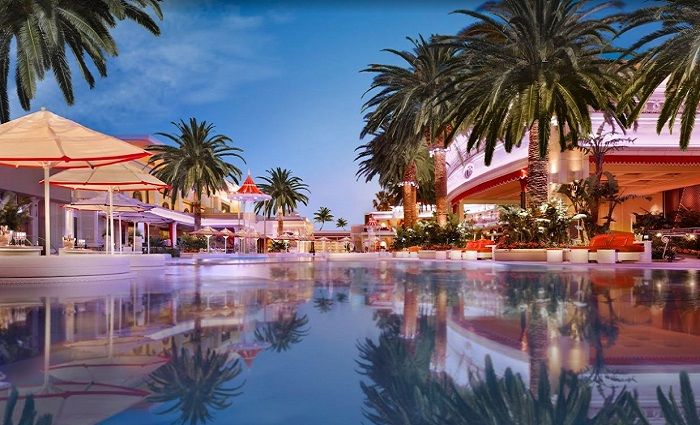 $$$$+ | 5 Star | Best Beach Club | High-Roller Heaven | Exclusive Amenities
High rollers and whales love the ENCORE at Wynn resort and casino where no expense is spared. Combined with its parent property, Wynn Las Vegas, you'll find 40 designer shops, incredibly fresh fine dining, one of the hottest beach clubs in the city, and an oasis golf course. ENCORE provides unbeatable value.
And we haven't even mentioned the rooms yet. For instance, you'll have floor-to-ceiling windows, comfortable seating in every room, and classic yet modern designs. In addition, ENCORE offers IV therapy at the spa, cooking masterclasses, and a salon. ENCORE covers everything you need or want.
Venetian Hotel Resort and Casino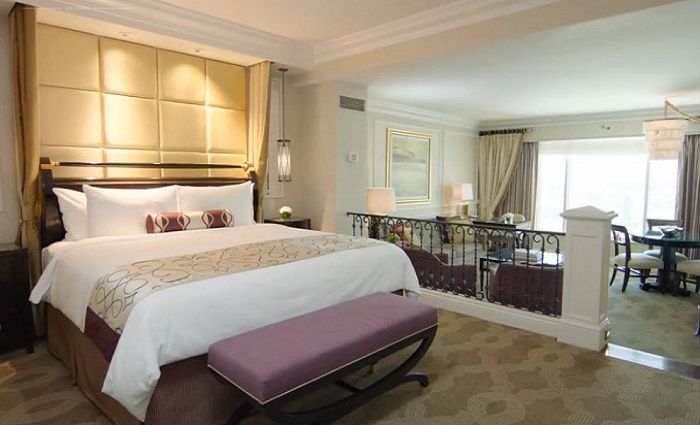 $$$+ | 5 Star | Ultimate Italian Experience in America | Tons of Restaurants | Incredible Spa
Italian opulence is the name of the game at the Venetian Resort. Gold hues exude luxury at every turn in this amazing hotel that's known for incredible "standard" rooms, fine dining, shopping, pool deck, and in-hotel experiences.
This resort technically houses two hotels in one, so you could choose the Venetian or the Palazzo. Either way, you'll fall in love with the Grand Canal Shoppes that surround a meandering canal complete with Italian gondolas. This hotel has some of the best restaurants in Las Vegas here.
One of the other things we love is that you can get acupuncture treatments at the Canyon Ranch spa, which isn't always available at other spas. And if that isn't enough, then we also recommend trying your hand at the 40-foot rock wall inside the fitness center. The all-day pass to this luxurious spa and fitness center is worth every penny. Finally, the Venetian Resort often has great deals, so you may be able to reserve a 5-star room at a 2-star price!
Four Seasons Hotel Las Vegas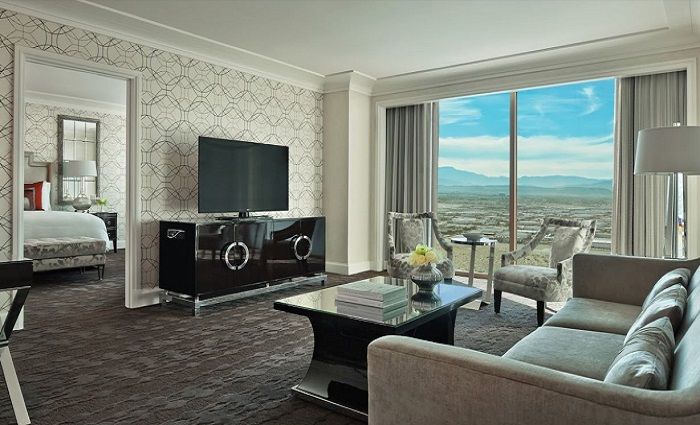 $$$+ | 5 Star | Hidden Sanctuary | Casino-free Hotel within a Hotel | Access to Mandalay Bay Beach
Hidden inside the Mandalay Bay property, the Four Seasons remains a sanctuary of serenity in a busy city. We love the cool, art deco rooms at the Four Seasons. They're tastefully decorated without being overly opulent. Although, the marble bathrooms might be just opulent enough. Even though the Four Seasons takes up floors 35 to 39 of Mandalay Bay, it has its own entrance, lobby, spa, pool, and restaurants.
It's truly a serene sanctuary most don't expect within another hotel. Dine at Charlie Palmer Steak after relaxing at the spa all day long. And of course, all the amenities that Mandalay Bay has to offer are available too, including the largest pool on the strip: Mandalay Bay Beach.
ARIA Resort and Casino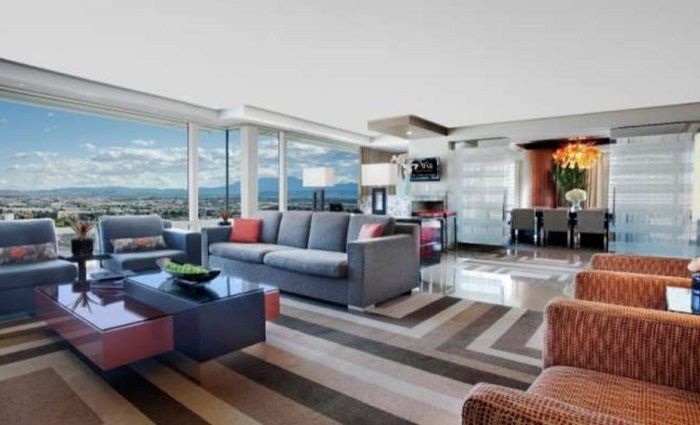 $$$+ | 5 Star | Top Spa Destination | High Tech Rooms | Exclusive Pools
The ARIA boasts one of the most eye-catching views with its curvlinear design that towers high above the competition. For those who love sleek contemporary designs and art, this hotel is a must. Beyond the spacious, impressive glass lobby, you'll also find amazing wall art and a soothing water wall. The rooms are spacious and have incredible views of the city and most appliances can be controlled with a touch of a button.
Most importantly, the spa has been awarded as the largest 5-star spa in the US and the Forbes 5-star award. Channel your inner peace in the salt room or on the unique Japanese stone hot beds. Whatever you choose, you'll find your experience at ARIA unbelievable.
Bellagio Hotel And Casino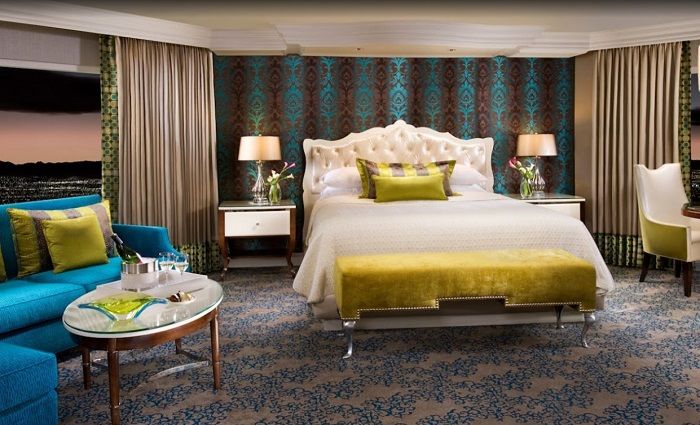 $$$+ | 5 Star | Stunning Pool Deck | Mediterranean Vibes | Families and Couples
When you think of Las Vegas, the Bellagio probably comes to mind. Whether you've stayed here or you just love their incredible fountain show, the Bellagio holds a revered place as a popular luxury hotel in Las Vegas. This hotel continues to rank as the most Instagrammed destination on the Strip. And for good reason.
The lobby invites you in with stunning Dale Chihuly blown-glass flowers on the ceiling that lead you to their stunning conservatory gardens that changes every few years. Relax at their Mediterranean pools, sink into their velvety couches, and soak in the deep marble tubs. You won't regret booking at the Bellagio.
Waldorf Astoria Las Vegas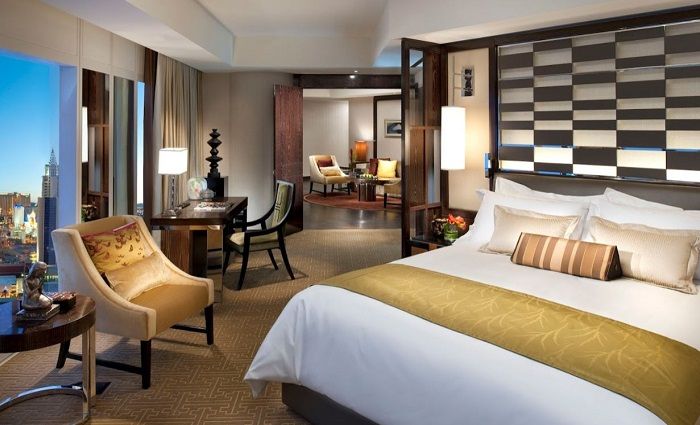 $$$+ | 5 Star | Quiet Haven | Chic Luxury | Non-Gaming Hotel
Don't overlook the Waldorf Astoria if you're looking for a peaceful but luxurious hotel on the Strip. Formerly the Mandarin Oriental hotel, the Waldorf Astoria boasts peaceful, modern vibes wherever you go. Head to the spa for an afternoon of pampering with treatments like a laconium sauna, hammam, or zero gravity foot treatment.
Dine in or dine out or head to the stunning, enclosed rooftop bar called SkyBar. Best of all, it's perfectly located in the City Center complex where luxury is a must for all properties. You know you'll only experience the best at any nightclub, lounge, restaurant, or spa you stay here.
The Palazzo At The Venetian Resort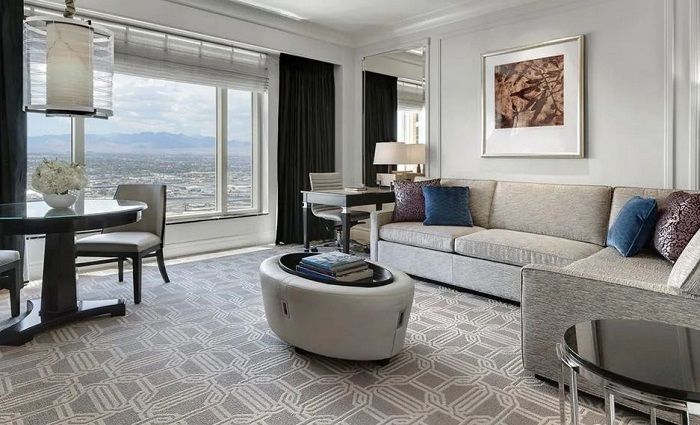 $$+ | 5 Star | Modern Renaissance | Everything in One Resort | Largest Standard Rooms
The Palazzo hotel can be found on the other side of the Venetian hotel and is considered the more luxurious property—as if the Venetian isn't luxurious enough! With cooler contemporary decor, it boasts "luxury beyond measure" in magnificent rooms. These rooms also have spacious, sunken living rooms with L-shaped couches, which make them the largest standard room on the Strip.
You get all the same resort experience as the Venetian, potentially at a lower price if you catch a deal. Get lost wandering the Grand Canal Shoppes, ride a gondola in the canal, or fill your belly with food inspired by Wolfgang Puck or Emeril Lagasse.
Trump International Hotel Las Vegas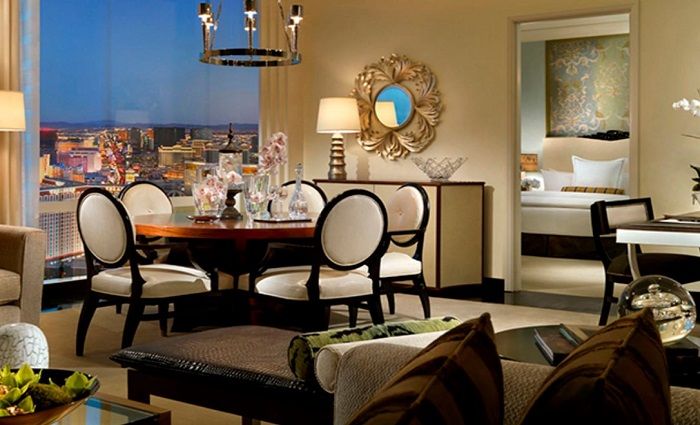 $$$+ | 5 Star | Refined Sophistication | Families and Business Travelers | Uber Pet Friendly
In the city of glam, the Trump International Hotel planted itself as a sparkling gold emblem of polished, refined decadence. This isn't the space for an overly indulgent traveler, but it exceeds expectations for refined business travelers and families who appreciate a New York feel in a West Coast town.
Trump International boasts a sophisticated, non-gaming, non-smoking luxury hotel, which may be exactly what you need. Book a pampering treatment at the 11,000-square-foot spa. Then try out the Technogym that overlooks the stunning pool deck where you can reserve an air-conditioned cabana.
Their pet program makes sure your pets are as cared for as you are. Enjoy carefully crafted American cuisine and specialty cocktails in the restaurant or in your own room. Whether you prefer to be a part of the action or vacation in private, Trump International Hotel is ready to please.
SKYLOFTS at MGM Grand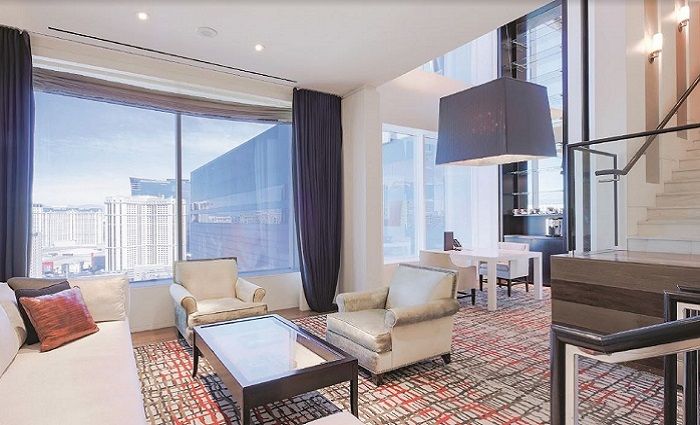 $$$$+ | 5 Star | Personal Butler Service | Attentive Concierge | Urban Luxury
The SKYLOFTS at MGM Grand is a hidden treasure of luxury in an otherwise already impressive hotel complex. The rooms start at 1,400 square feet and can include one-, two- or three-bedroom lofts that boast comfortable, urban luxury at new heights. The infinity tub and immersion shower are second to none.
With impressive sweeping views of the Strip, your stay at SKYLOFTS is accompanied by a 24-hour personal butler service too. Check-in without a public line at their exclusive entrance, or head over to the Skylounge reserved for SKYLOFTS guests only. Of course, you have access to all that MGM has to offer: pools, golf, nightclubs, entertainment, and fine dining.
Vdara Hotel And Spa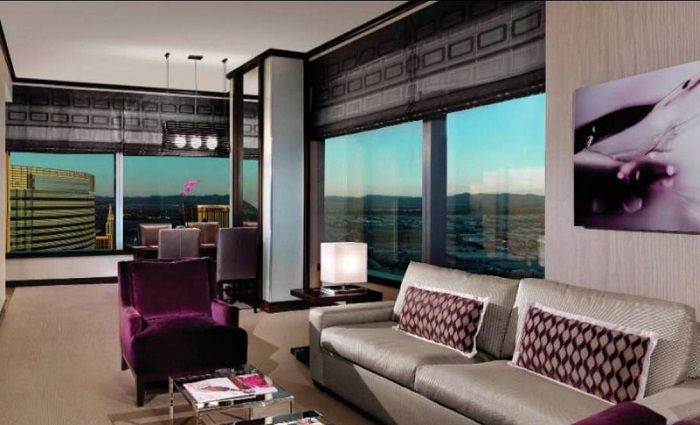 $$$+ | 5 Star | Non-Gaming Hotel | Natural Light Ambiance | 5 Time Award-Winning Spa
Tucked behind the Cosmopolitan and across from the ARIA, you'll find the Vdara Hotel and Spa. It's another impressive non-gaming hotel that focuses on a relaxing guest experience with its impressive spa and calm, luxurious rooms. Every room is a suite, which means you'll feel at home here. The entire hotel is built to maximize natural light to emphasize its intention to be a healing and relaxing environment.
That's just part of why they've won so many awards for their impressive two-story spa where you can indulge yourself with European treatments, massages, and much more. Vdara even offers personalized treatment consultations to make sure you're perfectly pampered.
Nobu Hotel Las Vegas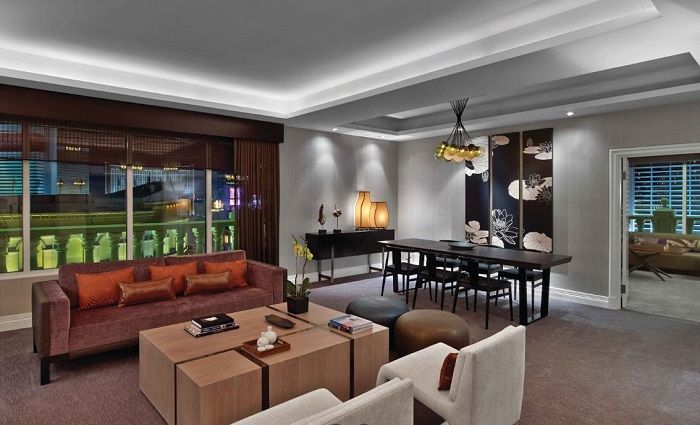 $$+ | 5 Star | Hidden Gem | Excellent For Business or Families | Modern Japanese Decor
Everyone knows about the massive Caesars Palace complex, but few realize there is a secret, luxury, boutique hotel tucked inside the grounds. Restaurateur Nobu Matsuhisa branched out from his incredible restaurant business to build this stunning Japanese-themed luxury property. It's perfectly minimalist while still maintaining a vibe of opulence.
Business travelers will love the exclusive business lounge too. The contrast between it and the busy Caesars Palace is stark but well worth the extra money to stay here. Of course, you also have access to all that the Caesars Palace complex has to offer: pools, the Forum Shops, OMNIA nightclub, and more.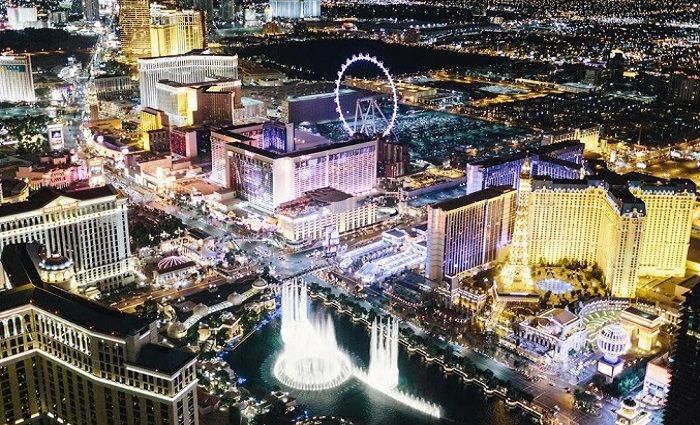 Find the best places to stay
Where to Stay in Las Vegas
Discover some of the most iconic and best places to stay in Las Vegas to make this trip the most memorable of all your trips to the Strip.