There's more to Las Vegas than gambling and spectacular shows. Las Vegas is home to some of the most hidden food gems of the mountain west. Whether you're looking for Michelin star gourmet dining or the tastiest comfort food, we've got the list of the best restaurants on the Las Vegas Strip that will satisfy your cravings. Both cheap eats and expensive meals are easy to find on the most famous street in Las Vegas.
---
Pro Tip: It's easier to organize your trip when you have all your resources in one place. Bookmark this post along with our Las Vegas Guide for more planning resources, our exciting Vegas tours, the top hotels without resort fees, and the best things to do on the Strip
Top 12 Restaurants and Places to Eat on the Vegas Strip
It's true that you can find almost any cuisine you want in Las Vegas. Especially on the Strip, there's no shortage of different cuisines to be enjoyed. Because of this, the large amount of restaurant choices can actually get overwhelming. Luckily, we are here to help!

This list contains places to eat with a variety of prices, cuisines, and vibes. Whether you're in Las Vegas for a celebration or a casual weekend away, this article will have the perfect meal recommendations for you.
Remember to bookmark this page for your next Vegas vacation! Your taste buds are sure to thank you later. If you're up for a fun evening out with good food, check out our Las Vegas Strip food tour.
Not ready to book a tour? Read more in our Las Vegas Guide.
Mon Ami Gabi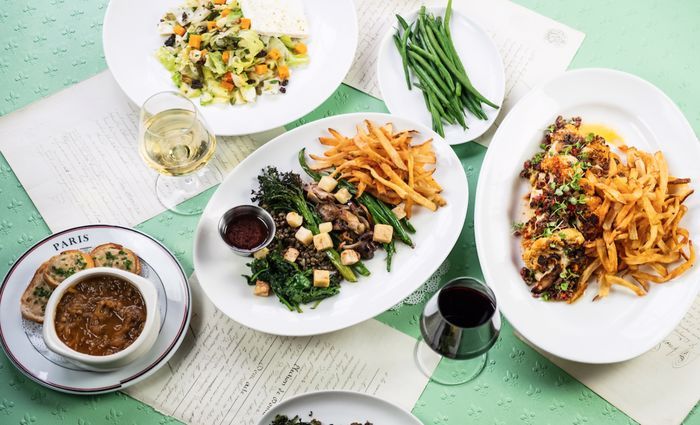 $$$ | French Cuisine With a View | Inside & Outside
As if the delicious French cuisine wasn't enough to entice you, Mon Ami Gabi also has a prime location. Situated inside the Paris Las Vegas, this French bistro is right across the street from the Bellagio fountain! It offers both indoor and outdoor dining, which means outdoor diners can catch the famous Bellagio fountain show with their meal if they time it correctly!
You can find traditional French food here, such as steak frites. However, Mon Ami Gabi also boasts a selection of lovely salads and other treats. We also love the fresh bread they bring after you've been seated Is that weird of us? Maybe, but it's delicious. If you're looking for a great meal experience on the Strip that toes the line between casual and upscale, Mon Ami Gabi is an excellent pick.
Address: 3655 S Las Vegas Blvd South, Las Vegas (inside Paris Las Vegas)
Nacho Daddy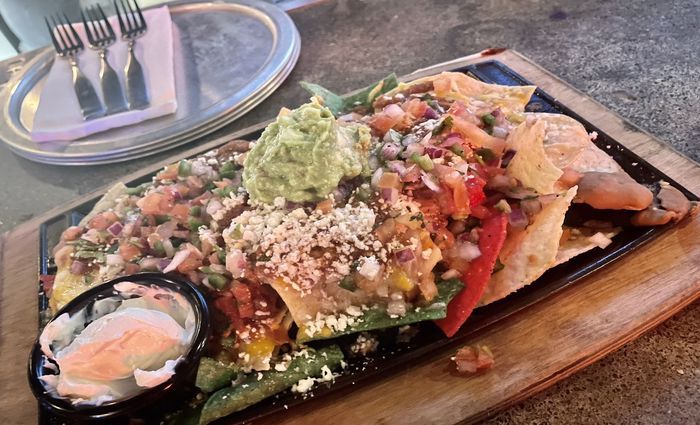 $$ | Mexican–American | Tacos and Tequila | Vegan Options
Not only does Nacho Daddy have a hilarious name, but they also have a fun atmosphere and generous portions. Located on Floor 1 of the Miracle Mile Shops in Planet Hollywood, Nacho Daddy has a somewhat extensive vegan menu and some creative nacho plates (don't miss the popcorn chicken nachos).
They also serve other Mexican entrees, such as tacos, if nachos are nacho thing (see what we did there?). You'll also find plenty of sports to watch on the TVs here if you want to keep tabs on your team while you indulge in guac and queso.
Address: Miracle Mile Shops 3663, S Las Vegas Blvd #595, Las Vegas
House of Blues Restaurant & Bar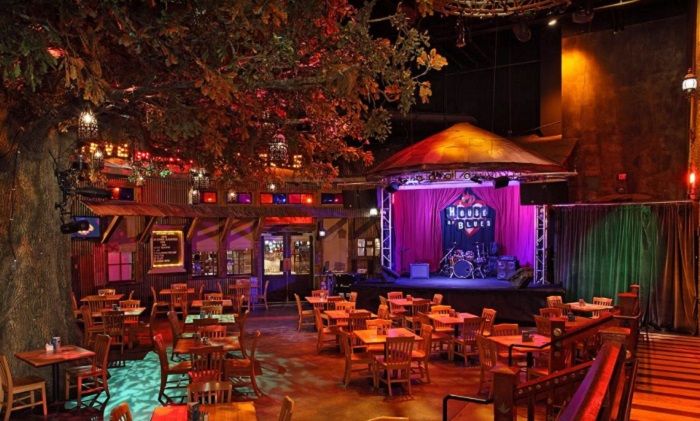 $$ | Live Jazz Music | Taste of New Orleans
Located inside Mandalay Bay Hotel, the House of Blues feels as close to New Orleans as you can get out here. Surrounded by live blues, jazz, and occasional rock music, the food just tastes better here.
The massive tree inside the dining area, wood accents, and murals everywhere make you feel like you're on a dining patio down south. You may find you have to talk a little louder to your table mates, but the live music is worth the extra effort.
For starters, try the top appetizer choice of BBQ nachos that are tastefully enhance with aged cheddar and roasted corn salsa. From there you won't go wrong with the jambalaya, baby back ribs, or Cajun pasta. In true Louisiana style, House of Blues also offers shrimp and grits for those looking for a new dish to try.
Address: 3950 S Las Vegas Blvd, Las Vegas (inside Mandalay Bay)
Not ready to book a tour yet? Check out the top outdoor adventure activities in Vegas.
Beauty & Essex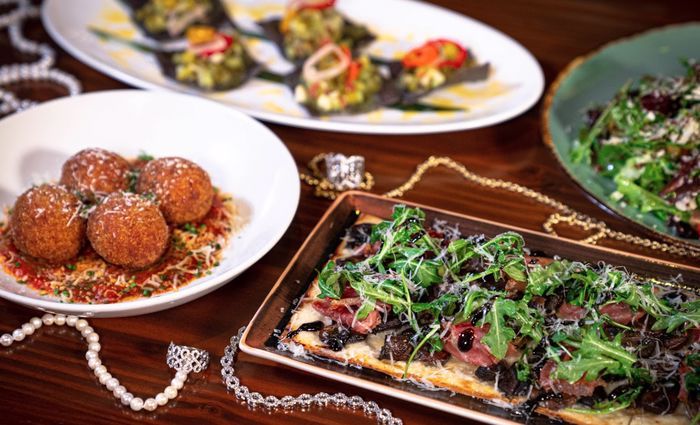 $$$ | American Cuisine | Upscale & Unique
Located inside the Cosmopolitan, Beauty & Essex has a menu like no other. Have you seen smoked bacon grilled cheese dumplings with tomato soup anywhere else?! We didn't think so! Another popular dish is the roasted bone marrow that's incredibly delicious and flavorful (not to mention filled with bio-available nutrients).
When you're finished with your dinner, you can opt for the Instagrammable "Beauty's Wonder Wheel." This wheel displays the restaurant's most popular desserts in a super fun way, hung in baskets on a Ferris wheel of sweet delights.
If you have vegetarians or vegans in your group, you may want to go somewhere else on this list as there aren't a lot of meatless menu options. Otherwise, Beauty & Essex is an unusual dining experience you won't soon forget! We wouldn't expect anything less from the luxurious Cosmopolitan hotel.
Address: 3708 Las Vegas Blvd S, Las Vegas (inside the Cosmopolitan)
Yardbird Southern Table and Bar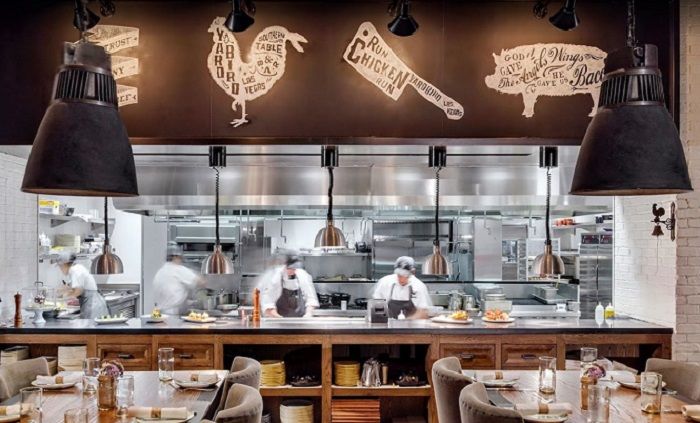 $$ | Southern Comfort | Best Fried Chicken
A list of the best restaurants in Las Vegas isn't complete without mentioning Yardbird. Yardbird proudly displays their kitchen to promote their down-home ambiance and allow customers to feel like they're in the thick of the action.
From food to liquor, ingredients are sourced locally when possible but always from the US. The open industrial farmhouse space feels inviting and busy but makes for a memorable meal.
Dare to try their unusual menu item, chicken 'n' watermelon 'n' waffles, or opt for some lobster mac and cheese, or their famous fried chicken with fried okra on the side. That's true southern living right there.
We'd be remiss not to mention the curated bourbon list that includes over 60 different standouts. They pair nicely with any dish you order. After eating at Yardbirds, you'll rave about the food to friends and family back home, so be sure to grab one of their quirky shirts before you go.
Address: 3355 S Las Vegas Blvd #107, Las Vegas (inside the Venetian)
Joël Robuchon
$$$$ | French Fine Dining | Three Michelin Stars | Dress Code
Located inside the MGM Grand, this is the only restaurant in Las Vegas with three Michelin stars! Patrons love the variety of options for the tasting menu. Regardless of which variety you opt for, the caviar is one of the most popular dishes here. Each plate is arranged so artfully that you will want to keep pulling out your phone to take pictures before eating!

Joël Robuchon also has a dress code, so women should expect to don their closed-toe heels, and men should wear a suit and tie. Please note that this restaurant is a truly luxurious experience, and your bill will reflect that. However, if you want a Las Vegas Michelin star experience, this is definitely the place to go.
Address: 3799 Las Vegas Blvd S MGM Grand, Las Vegas (inside the MGM Grand)
Not ready to book a tour? Read more in our Las Vegas Guide.
Sadelle's Cafe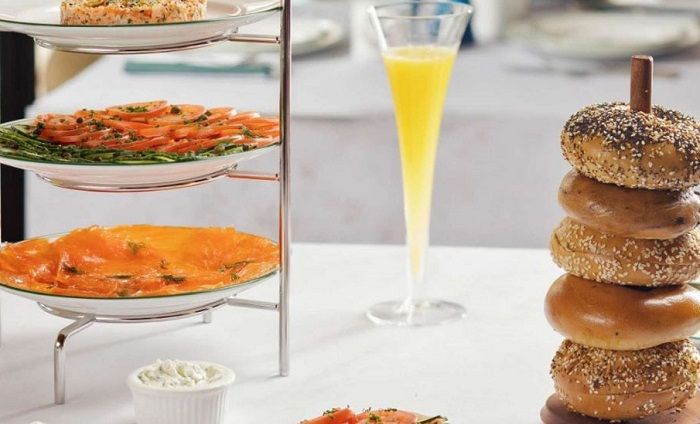 $$ | Brunch Delights | Healthy and Indulgent
Located in the magnificent Bellagio Hotel, Sadelle's Cafe is known for tasty brunch bites. At this café, you can overlook the renowned Bellagio Conservatory & Botanical Gardens, while enjoying fresh salmon lox on bagels. The atmosphere is light and airy, perfectly suited for a late breakfast after a long night on the Strip.
They're famous for their eggs Benedict, so don't hesitate to order it. However, if you're feeling indulgent on your vacation, you'll be justifiably tempted by the giant slice of brioche french toast that's lightly dusted with powdered sugar and topped with fresh berries. You won't soon forget that breakfast dish. It's best to eat at Sadelle's if you're not in a rush, as the wait can sometimes take a while, but the food never disappoints.
Address: 3600 S Las Vegas Blvd, Las Vegas (inside the Bellagio)
TAO Asian Bistro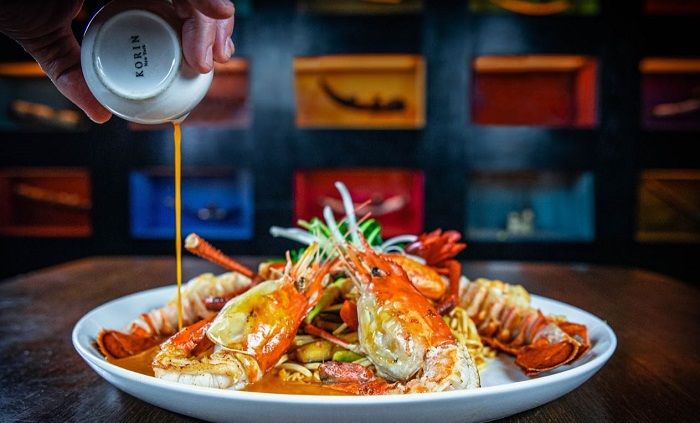 $$ – $$$ | Weekend Nightclub | Spectacular Sushi
TAO Asian Bistro includes a nightclub, which makes it a great option for anyone looking to eat a top-notch meal before enjoying a night of dancing and drinks. Live DJs pump the latest jams on Fridays and Saturdays. With traditional dark wood and red accents, the atmosphere in TAO is opulent. Before you order your meal, make sure to try one of their hand-crafted cocktails or go all in on sake bombs.
The sushi at TAO is one of the most-raved-about items on the menu, so don't skip it if you're a sushi fan. Peking duck for two is a traditional choice that won't disappoint, or you can sample dim sum all around. And for those who have bold taste buds, the lobster and Kim Chee fried rice might just please the palette. Whatever you do, make sure to leave room for dessert. TAO offers a potted carrot cake that comes in a literal garden pot made of chocolate that's fully edible and rivals the flavors of the carrot cake itself. It's Instagram worthy!
Address: 3377 S Las Vegas Blvd, Las Vegas (inside the Venetian)
Hash House A Go Go at The LINQ
$$ | American Brunch with a Twist | Huge Portions | Ideal Brunch Spot
Despite what the menu suggests, you can find way more than just hash browns here. This popular brunch spot does serve amazing hashes, which are egg entrees on top of fried potatoes. They also have a vegetarian option!
However Hash House A Go Go also offers delicious pancakes and lots of other breakfast favorites. The star of the show, however, is their extravagant chicken and waffles. Make sure you're hungry, because it's an enormous pile of comfort food!
Located inside the LINQ Hotel, Hash House A Go Go operates at normal brunch hours on the weekdays. On Thursday, Friday, and Saturday, it stays open later, so you can go for dinner. Chicken and waffles are still available for dinner, as well as a variety of other dishes.
Address: 3535 S Las Vegas Blvd, Las Vegas (inside the LINQ)
Not ready to book a tour? Read more in our Las Vegas Guide.
Top of the World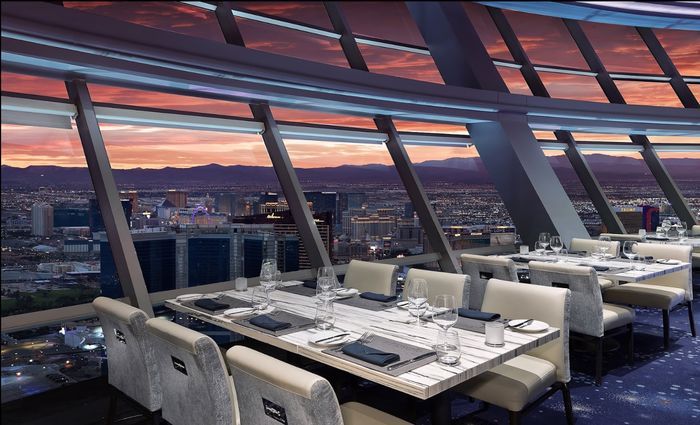 $$$$ | Luxury Steakhouse | Rotating Stunning View
You'll literally feel like you're, well, on the top of the world at this popular romantic dinner spot. Located at the top of the STRAT Hotel, this restaurant actually rotates slowly for epic city views.
Choosing a table on the rotating platform costs extra, but regardless of where in the restaurant you are sitting, you're sure to get an awesome view! Situated 106 floors off the ground, Top of the World offers an amazing 360-degree view of the city down below.
Although Top of the World is a steakhouse, they offer a variety of other items on the menu as well. Both seafood lovers and vegetarians will find something to eat. There are even a few vegan sides! If you want a unique and upscale dinner experience and some amazing photos, make sure to come here.
Address: 2000 Las Vegas Blvd S, Las Vegas (inside the STRAT Hotel)
Peppermill Restaurant and Fireside Lounge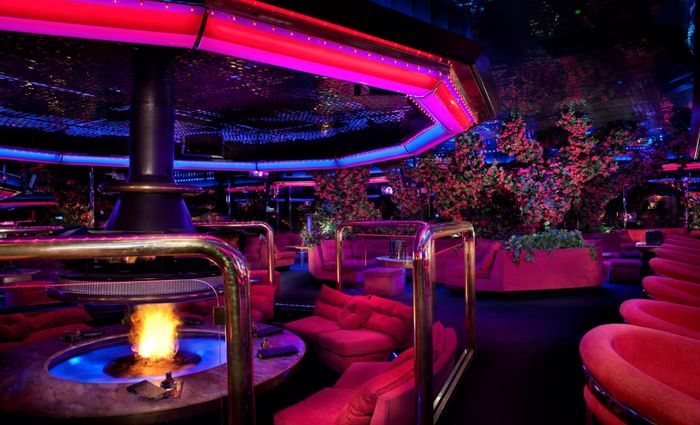 $$ | From Brunch to Burgers | Neon Lighting & Retro Vibes
This cozy, retro, locals' favorite is located very slightly off-Strip, but it's so close (and cool) that we had to include it! Peppermill is decked out with neon lights and fire pits, which give it a unique ambiance.
What's more, they have an extensive menu with everything from omelets to steaks. This restaurant is open until 11 pm on weekdays and 2 am on weekends. No matter what time you go, you'll be able to order breakfast all day long.
Peppermill also features an inventive cocktail menu. Please note that you order cocktails with a different server than your dinner server. If you are looking for a local, retro diner with unique lounge vibes to dine at, Peppermill is a great pick!
Address: 2985 Las Vegas Blvd S, Las Vegas
Gordan Ramsay Hell's Kitchen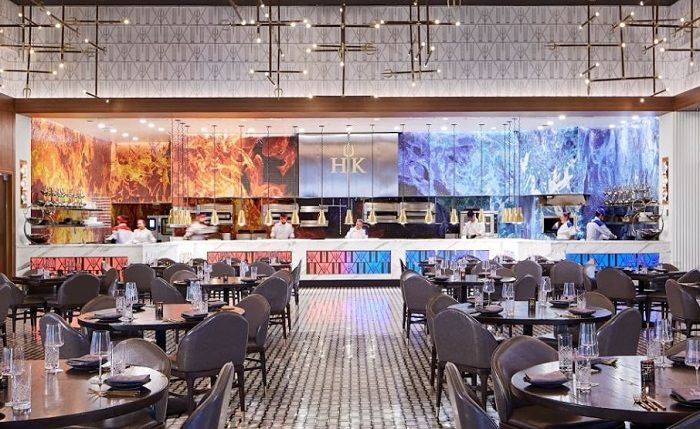 $$$ | Infamous Location | Better Than Advertised
Located within the Caesar's Palace complex, you'll find Gordon Ramsay Hell's Kitchen. Yes. You can eat there and take all the Instagram photos you want. Floor-to-ceiling windows make for a magnificent view of the Strip, and the decor carefully blends red and blue colors in homage of the original Hell's Kitchen TV show.
Order the classic beef Wellington that so many contestants failed to create—don't worry, yours will be cooked to perfection with master chefs in the kitchen. Rest assured that from the spring tasting menu to the lobster, you'll be eating fresh and flavorful food all night long. And save room for the famous sticky toffee pudding. It's fluffy, creamy, and sticky all in one.
Address: 3570 Las Vegas Blvd S, Las Vegas (inside Caesar's Palace complex)
Not ready to book a tour? Read more in our Las Vegas Guide.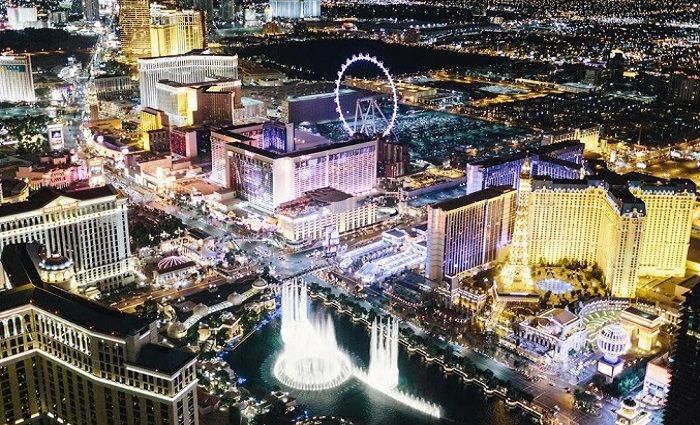 Find the best places to stay
Where To Stay in Las Vegas
Discover some of the most iconic and best places to stay in Las Vegas to make this trip the most memorable of all your trips to the Strip.