There's more to Las Vegas than gambling and spectacular shows. Las Vegas is home to some of the most hidden food gems of the mountain west. Whether you're looking for authentic tapas, Michelin star gourmet dining, or the tastiest comfort food, we've got the list of the best restaurants in Las Vegas that will satisfy your cravings. Cheap eats and expensive meals are easy to find both on and off the Strip.
---
Top 12 Restaurants in Las Vegas
Keep an eye on this page to make sure you know where to find the best restaurants in Las Vegas!
JamonJamonTapas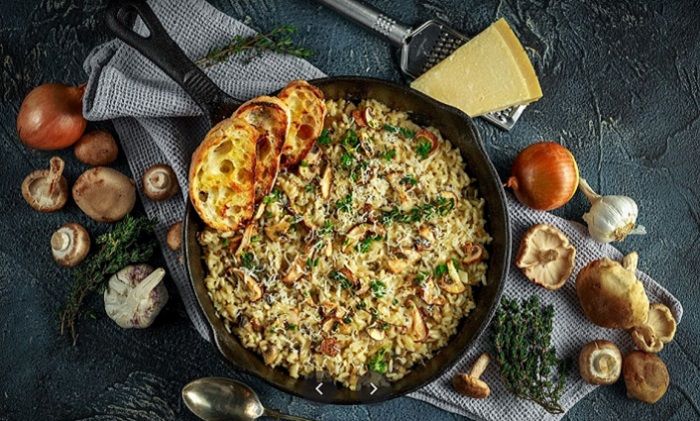 $$ – $$$ | Hidden Spanish Gem | Best Sangria
JamonJamonTapas has quickly established itself as the go-to restaurant just off the Strip. It's the most authentic Spanish tapas restaurant you can find for hundreds of miles, and native Spaniards have vouched for it without hesitation. In the warm, inviting atmosphere, take a seat and gaze on the stunning mosaics on the floor while you sip on a breathtakingly delicious Sangria. It's one of their most-raved-about items on the menu!
If you've been dying to try a true, authentic Spanish paella, now's your chance. Choose from four paellas packed with fresh seafood or meats. Or indulge in seafood tapas packed with tiger prawns, black sea bass, or Galician octopus served on a gorgeous bowl or platter. Vegetarian? No problem. Try the vegetarian tapas with unrivaled flavors. And the owners know their crowd here in Las Vegas, so if your friends wanted tapas but you wanted steak, you won't go hungry. Simply order the perfectly seared New York Strip Steak that will make your friends envious of your choice. Last but not least, you can purchase a variety of take-home items like specialty cheeses, meats, oils, and much more.
Address: 6135 W Sahara Ave, Suite 2, Las Vegas
Old Soul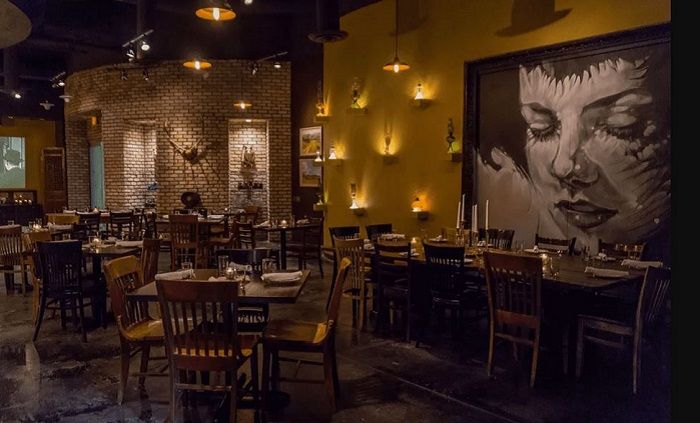 $$ | Cocktail Bar | Comfort Food
Old Soul is just that—a soulful restaurant filled with vintage antiques carefully curated by the owner, Natalie Young. Her motto for her third up-and-coming restaurant is "simple, soulful, quality food" and she delivers on that promise. Located inside the world market, you'll find your nose drawing you into this delightful pre-Prohibition-vibes restaurant that is sure to fill your belly with comfort food and quaint memories. But plan ahead. It's only open a few days each week for lunch.
Order a bowl of kick-ass tomato soup (yes, that's what she calls it!) to go with a meatloaf sandwich. It will put your mom's meatloaf to shame. A skillet of homemade baked mac and cheese is also sure to please anyone looking for a delicious load of carbs. Did we mention the ribs yet? They're to-die-for tender. Every dish is a visual masterpiece with rich yet humble flavor pairings. You might even be surprised by the delicious flavor of the collard greens artichoke dip. You'll be licking the bowl clean. Don't pass up the opportunity to be wowed by this fresh, local favorite.
Address: 495 S Grand Central Pkwy, Las Vegas
911 Taco Bar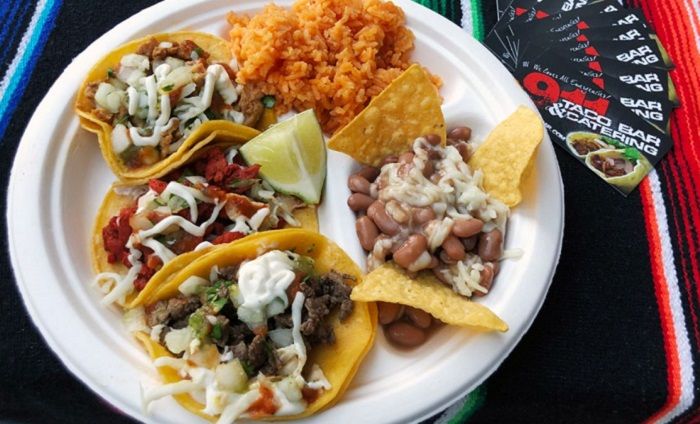 $ | Street Tacos | Hole in the Wall
If you're dying for street tacos, then 911 Taco Bar is here to rescue you. They're a family operation located in a hole-in-the-wall space in a strip mall just east of the main Strip, but don't let this humble shop fool you. Their customers rave about the fresh flavors of every item on the menu. On the off chance you're also planning an event in Vegas and you're open to casual dining, 911 Taco Bar offers exceptional catering, and they're known to go out of their way to help you!
You'll definitely want to try the flavor explosion of their steak and egg taco that's brimming with fresh protein, guac, and pico de gallo. If you catch them on St. Patrick's Day, you can order the greenest (but still delicious) tacos you've ever seen in your life. We can't forget to mention the drool-worthy rib-eye taquito too. It's smothered in house-made salsa and grilled onions. Be sure to follow their Instagram page @911tacobar to see if their taco cart is set up near your hotel that day!
Address: 3528 S Maryland Pkwy, Suite 7, Las Vegas
Primal Steakhouse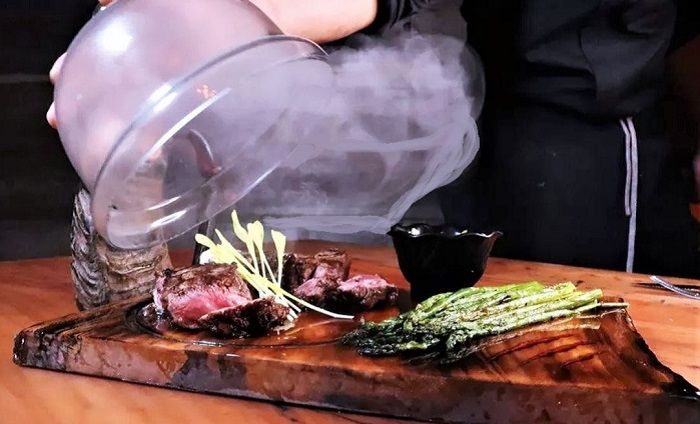 $$$$ | Rugged Luxury | Meat Lovers Only
Swords. Knives. Meat. Wood. Smoke. All the essential elements of a high-end restaurant that lives up to its reputation as a world-class steakhouse. Every element from the tables to the mugs are carefully selected to maintain the rugged atmosphere while still exuding sheer luxury. Enjoy a private booth with red velvet curtains or dine at the bar where the action is.
Don't skip the chance to order a Viking drink that comes in an animal horn mug. We mentioned it was authentically rugged here, right? The Delmonico rib eye is perfectly flavored and grilled to order, but only the truly primal customers order the 44 ounce tomahawk steak. It's the most impressive slab of meat we've ever seen. For a unique experience that's rich in bio-available minerals, try the bone marrow shanks on sourdough. And if you need to top off the meat sweats with something sweet, be sure to order the fresh chocolate banana split cake.
Address: 3542 S Maryland Pkwy, Las Vegas
Sadelle's Cafe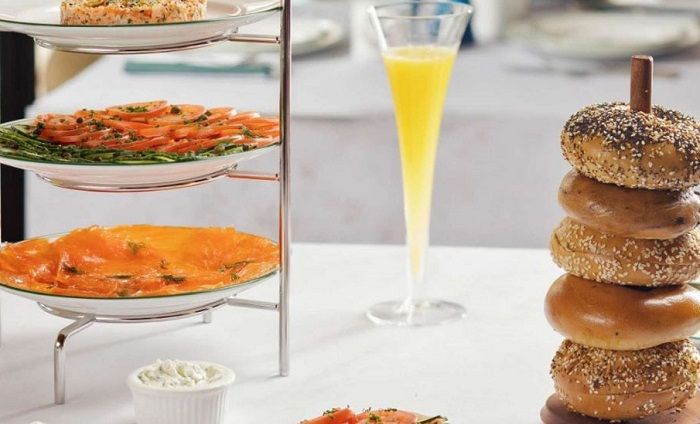 $$ | Brunch Delights | Healthy and Indulgent
Located in the magnificent Bellagio Hotel, Sadelle's Cafe is known for tasty brunch bites. At this cafe, you can overlook the renowned Bellagio Conservatory & Botanical Gardens, while enjoying fresh salmon lox on bagels. The atmosphere is light and airy, perfectly suited for a late breakfast after a long night on the Strip.
They're famous for their eggs Benedict, so don't hesitate to order it. However, if you're feeling indulgent on your vacation, you'll be justifiably tempted by the giant slice of brioche french toast that's lightly dusted with powdered sugar and topped with fresh berries. You won't soon forget that breakfast dish. It's best to eat at Sadelle's if you're not in a rush, as the wait can sometimes take a while, but the food never disappoints.
Address: 3600 S Las Vegas Blvd, Las Vegas (inside the Bellagio)
Yardbird Southern Table and Bar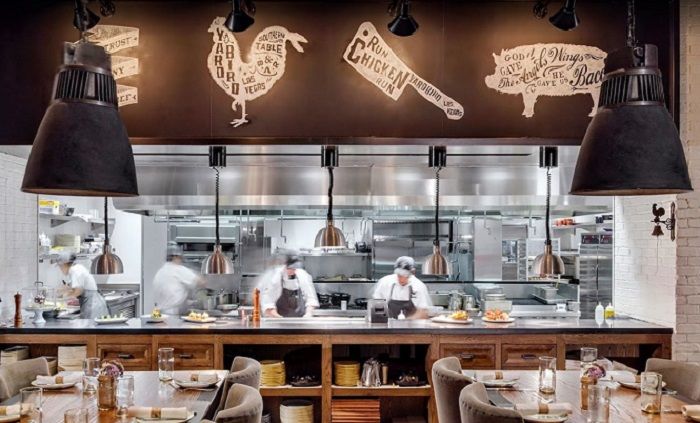 $$ | Southern Comfort | Best Fried Chicken
A list of the best restaurants in Las Vegas isn't complete without mentioning Yardbird. Yardbird proudly displays their kitchen to promote their down-home ambiance and allow customers to feel like they're in the thick of the action. From food to liquor, ingredients are sourced locally when possible but always from the U.S. The open industrial farmhouse space feels inviting and busy but makes for a memorable meal.
Dare to try their unusual menu item chicken 'n' watermelon 'n' waffles, or opt for some lobster mac and cheese, or their famous fried chicken with fried okra on the side. That's true southern living right there. We'd be remiss not to mention the curated bourbon list that includes over 60 different standouts. They pair nicely with any dish you order. After eating at Yardbirds, you'll rave about the food to friends and family back home, so be sure to grab one of their quirky shirts before you go.
Address: 3355 S Las Vegas Blvd #107, Las Vegas (inside the Venetian)
House of Blues Restaurant & Bar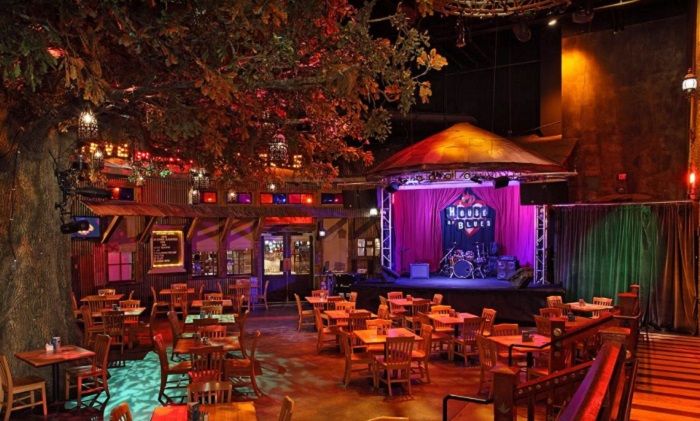 $$ | Live Jazz Music | Taste of New Orleans
Located inside Mandalay Bay Hotel, the House of Blues feels as close to New Orleans as you can get out here. Surrounded by live blues, jazz, and occasional rock music, the food just tastes better here. The massive tree inside the dining area, wood accents, and murals everywhere make you feel like you're on a dining patio down south. You may find you have to talk a little louder to your table mates, but the live music is worth the extra effort.
For starters, try the top appetizer choice of BBQ nachos that are tastefully enhance with aged cheddar and roasted corn salsa. From there you won't go wrong with the jambalaya, baby back ribs, or Cajun pasta. In true Louisiana style, House of Blues also offers shrimp and grits for those looking for a new dish to try.
Address: 3950 S Las Vegas Blvd, Las Vegas (inside Mandalay Bay)
TAO Asian Bistro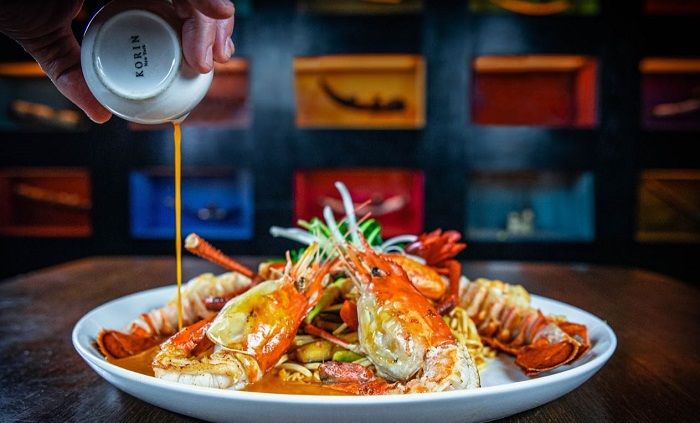 $$ – $$$ | Weekend Nightclub | Spectacular Sushi
TAO Asian Bistro includes a nightclub, which makes it a great option for anyone looking to eat a top-notch meal before enjoying a night of dancing and drinks. Live DJs pump the latest jams on Fridays and Saturdays. With traditional dark wood and red accents, the atmosphere in TAO is opulent. Before you order your meal, make sure to try one of their hand-crafted cocktails or go all in on sake bombs.
The sushi at TAO is one of the most-raved-about items on the menu, so don't skip it if you're a sushi fan. Peking duck for two is a traditional choice that won't disappoint, or you can sample dim sum all around. And for those who have bold taste buds, the lobster and Kim Chee fried rice might just please the palette. Whatever you do, make sure to leave room for dessert. TAO offers a potted carrot cake that comes in a literal garden pot made of chocolate that's fully edible and rivals the flavors of the carrot cake itself. It's Instagram worthy!
Address: 3377 S Las Vegas Blvd, Las Vegas (inside the Venetian)
Sparrow + Wolf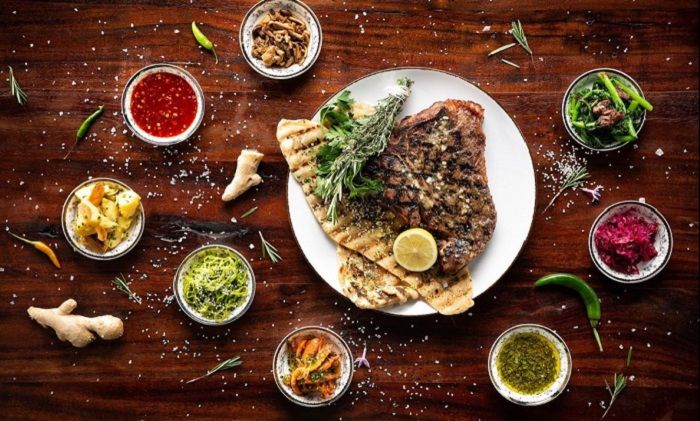 $$ | Swanky Vibes | Fresh, Unique Pairings
Sparrow + Wolf took up shop just off the Strip as a neighborhood cookery that's way better than your neighbor's cooking. It easily makes our best restaurants in Las Vegas list. Eye-catching food, unique ingredients, tasteful pairings, and gorgeous platings set Sparrow + Wolf apart. It's cheaper than most high-end Strip restaurants with food that rivals the competition. Not only do they love making food, but they love to make every dish photo worthy.
Foodies rave about the Tasmanian Waygu beef rib eye that practically melts in your mouth, but the Vietnamese caramelized pork ribs should also be at the top of your list. Pair any entree with a fresh cocktail like the Spring Mountain Sour that's infused with beet and plum wine foam for a tasty twist. And if you wish you could have their food more often, order one of their curated meal kits to try your hand at cooking Sparrow + Wolf dishes at home.
Address: 4480 Spring Mountain Rd #100, Las Vegas
The Egg & I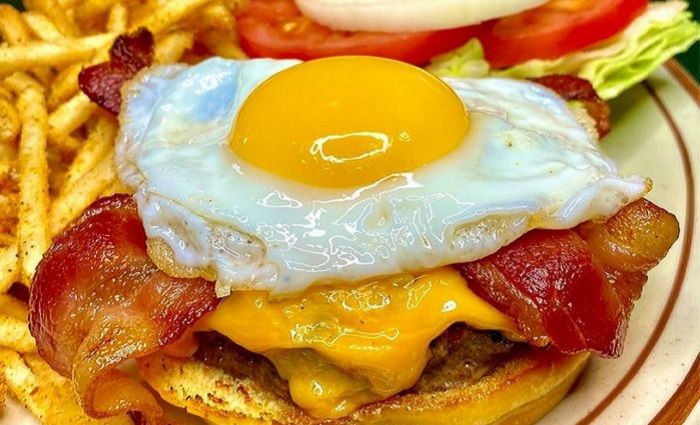 $ | All-American Comfort Food | Local Favorite
If you're missing your favorite hole-in-the-wall breakfast spot back at home after eating lavish meals all week, then The Egg & I should be your next breakfast stop. It makes our best restaurants in Las Vegas list since it has a cult following from locals. The exterior leaves little to the imagination, but the comfort food inside quickly makes up for it.
Their menu is extensive, ranging from pancakes packed with candied walnuts to Mexican-inspired omelettes to Sicilian-flavored skillets. And if you're feeling the need for a burger, their lunch menu will cover your base too. For a unique twist, try your meal Hawaiian style with sticky rice piled underneath tasty burgers and gravy. It's paired with sumptuous Hawaiian banana bread. And if your partner prefers less protein, try the vegetarian crepes or yogurt parfait.
Address: 4533 W Sahara Ave #5, Las Vegas
Chef Marc's Trattoria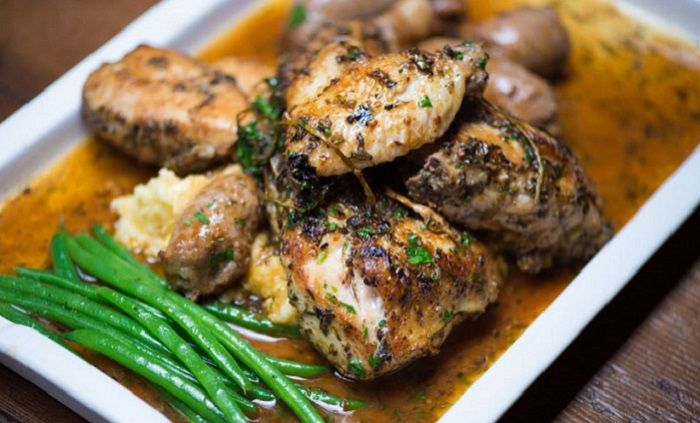 $$ | Handmade Pasta | Casual but Classy
A list of best restaurants in Las Vegas wouldn't be complete without Italian cuisine. Chef Marc's Trattoria is our pick for the top Italian restaurant to enjoy on the Strip. The decor is tastefully Tuscan without being overwhelming, thanks to the natural lighting and plethora of lantern-style lights. It's also big enough to handle family-style seating if you're traveling in a group.
You know it's a great Italian restaurant when the meatballs are monstrous and flavorful, and Chef Marc's hits the target. As expected, the shrimp scampi never fails to impress either, so it's a wise entree to choose too. We also love that they're not afraid to blend in other cultures' flavors, so don't surprised by a jalapeno or teriyaki flavor on the menu. But the ravioli stuffed with beef short rib is still one of the favorite menu items that's a classic choice.
Address: 300 W Sahara Ave, Las Vegas (inside Ahern Hotel and Convention Center)
Gordan Ramsay Hell's Kitchen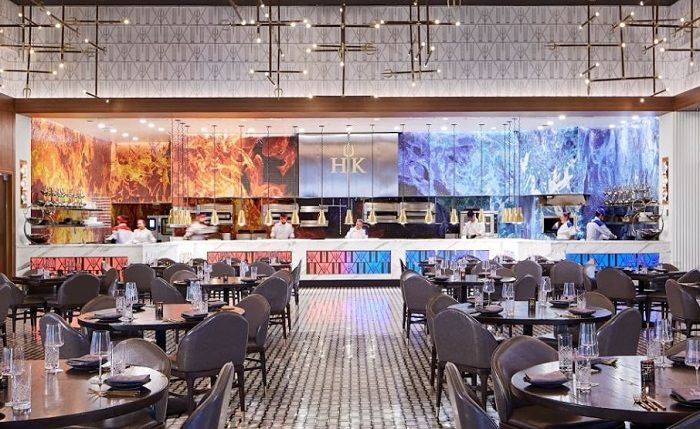 $$$ | Infamous Location | Better Than Advertised
Located within the Caesar's Palace complex, you'll find Gordon Ramsay Hell's Kitchen. Yes. You can eat there and take all the Instagram photos you want. Floor-to-ceiling windows make for a magnificent view of the Strip, and the decor carefully blends red and blue colors in homage of the original Hell's Kitchen TV show.
Order the classic beef Wellington that so many contestants failed to create—don't worry, yours will be cooked to perfection with master chefs in the kitchen. Rest assured that from the spring tasting menu to the lobster, you'll be eating fresh and flavorful food all night long. And save room for the famous sticky toffee pudding. It's fluffy, creamy, and sticky all in one.
Address: 3570 Las Vegas Blvd S, Las Vegas (inside Caesar's Palace complex)