It's no secret that Las Vegas is the nation's capital for gambling and partying. So if you're not into those things, you should skip it, right? WRONG! The famous Las Vegas Strip is home to many more attractions than just casinos and nightclubs. Check out our picks for the best things to do on the Strip in Las Vegas—one of the most iconic streets in the world.
---
Pro Tip: Bookmark this page in your browser for your next Las Vegas trip! And when you're ready to find the perfect hotel, read our best hotels in Las Vegas article!
The Best 14 Things To See And Do on the Las Vegas Strip
Whether you're a thrill seeker or just love to be wowed, you'll find fun things to do on the Strip at every hotel. Explore hidden flamingo habitats, push the limits with a bungee jump, or stuff yourself at one of the top buffets in Vegas. Whatever floats your boat whether it's free or not, Vegas delivers. Here are some of the top things to do on the Strip in Las Vegas
14. Visit a Flamingo Habitat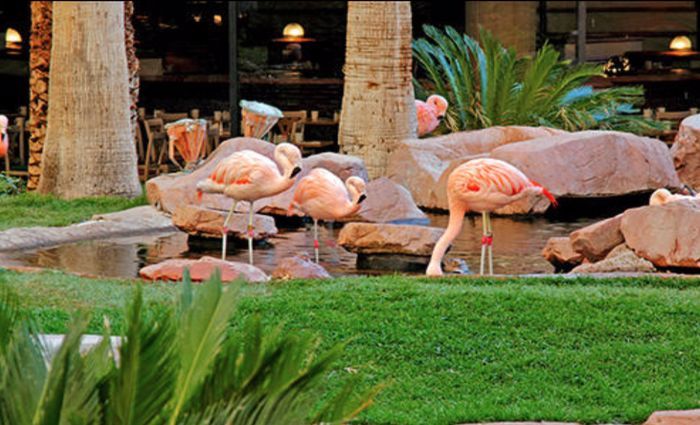 Yes, we said flamingos! Behind the Flamingo Las Vegas Hotel & Casino—the Strip's oldest resort—there's an outdoor wildlife habitat where you can see Chilean flamingoes up close! The wildlife habitat is four acres wide and full of grass, streams, and small waterfalls. It also features other types of birds, plus koi fish and turtles.
Visiting the wildlife habitat is a fun, free detour you can take on an afternoon spent wandering the strip. This is a good Vegas Strip activity for families with young children, as well as anyone who just wants to take a break from the craziness of the Strip for a minute.
Address: 3555 S Las Vegas Blvd, Las Vegas
Cost: Free
13. Take A Helicopter Ride Over the Strip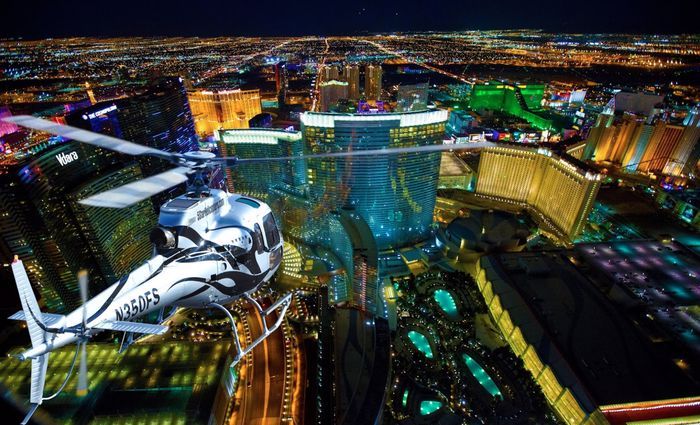 See the glittering Strip like never before with a helicopter tour! Your helicopter will fly over some of the most famous hotels in Las Vegas, and allow you to see them in an entirely new light. The tour itself typically lasts 10-12 minutes and includes in-flight music to make your experience even more epic.
Most helicopter tour companies, such as 5 Star Helicopter Tours, also offer a complimentary champagne toast before takeoff to calm the nerves of any first-time passengers. This is definitely a unique Vegas activity to tell all your friends back home about.
Address: 5596 Haven St, Las Vegas
Cost: $99
12. Treat Your Tastebuds To An International Coca-Cola Tour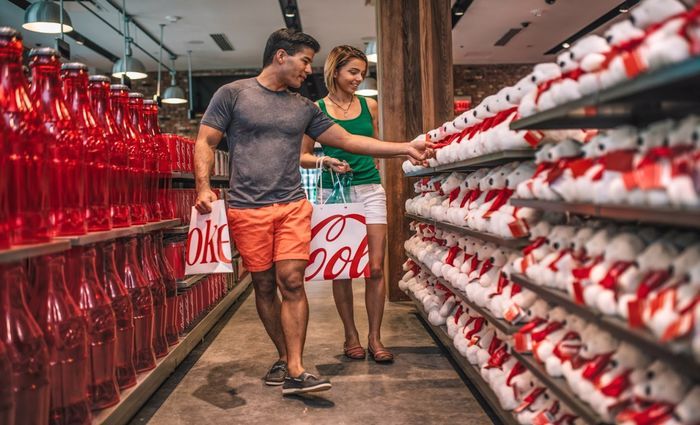 If you're in Las Vegas with little ones, or you're just an adult with tired feet, a stop at the Coca-Cola Store is a great way to take a break from exploring the Strip. It's full of Coca-Cola memorabilia that's fun to look at, but we love it for the "Around the World" Coca-Cola tasting tray!
For $20, you can sample 16 different soda flavors from different countries all over the world! The Russian cucumber soda is a customer favorite. Close your eyes while tasting each one and see if you can guess which country it's from. It's harder than it sounds!
Address: 3785 S Las Vegas Blvd, Las Vegas
Cost: Free to enter; $20 for the tasting
11. Escape to Paris (Kind Of)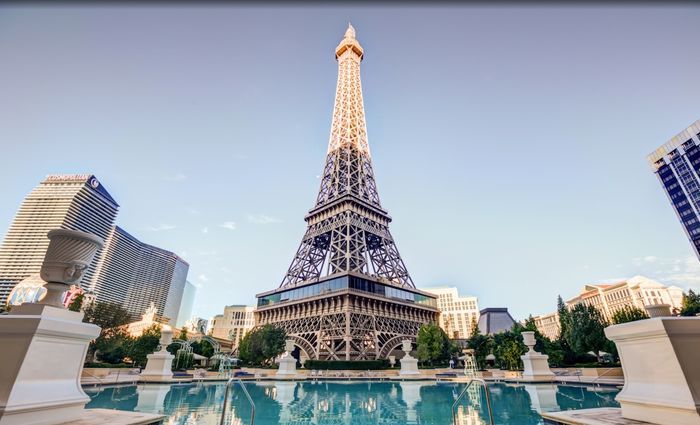 Paris Las Vegas makes you feel like you're walking through the streets of the city of love itself—without leaving the hotel lobby! Located in the middle of the Las Vegas Strip, Paris Las Vegas has an actual model of the Eiffel Tower, which even lights up at night and twinkles like the real one.
There's also a nightclub inside the Eiffel Tower: the Chateau Rooftop. You'll love the rooms that have the elegant blue, white, and gold you'd expect of a fine Parisian hotel. You can also dine at their Paris-inspired restaurant, Mon Ami Gabi.

P.S. If you're looking for more information about epic Vegas hotels, check out our Vegas hotel list!

Address: 3655 S Las Vegas Blvd, Las Vegas
Cost: varies
10. Do Your Own Scavenger Hunt for Fine Art at the ARIA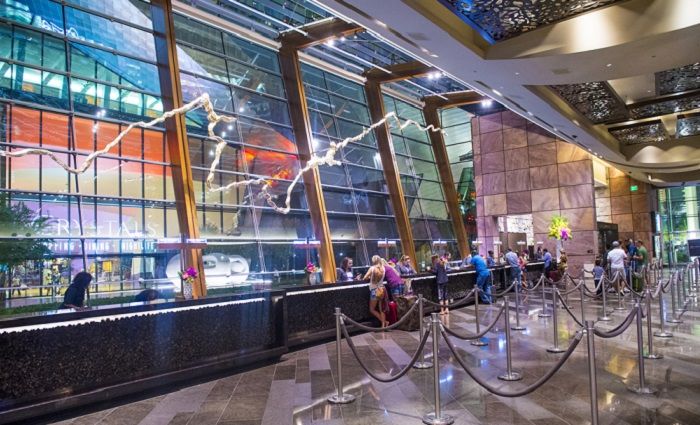 The ARIA Resort & Casino is an award-winning, 5-star hotel full of spas and entertainment, but did you know it's also home to a myriad of artwork by different artists? 15 painters and sculptors created an assortment of creative paintings and works of art that can be found all over the ARIA campus.
Pictured above is Maya Lin's bright depiction of the important Colorado River that gives life to so many cities in the desert southwest. This sculpture of cast, reclaimed silver sits over the registration desk for all guests to admire. Fun fact: Maya Lin is also well known for her famous Vietnam Veterans Memorial Wall in Washington, DC.
Throughout ARIA, VDARA, and the Shops at Crystals, there are 20 different works of art of all different types. There are installations made with wood, stainless steel, aluminum, and many other materials. Some are even seasonal for the holidays. Walk around the ARIA and see how many of the installations you can spot! It's one of our favorite free things to do on the Strip if you're into art.

Address: 3730 S Las Vegas Blvd, Las Vegas
Cost: Free
9. Eat Like Royalty At A Vegas Buffet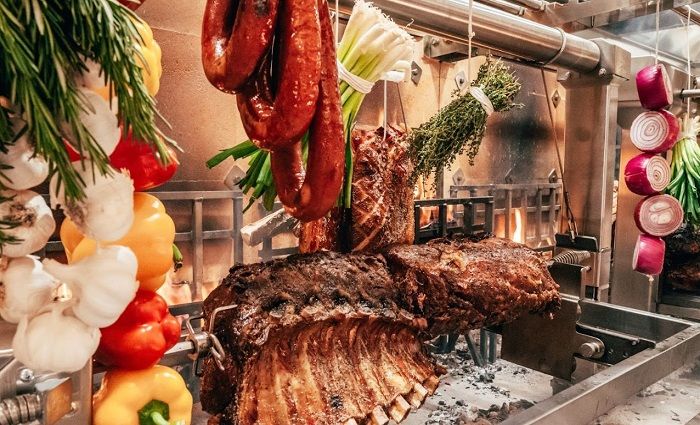 Las Vegas is famous for its extravagant buffets, and the ones on the Strip are no exception. Like everything else in Vegas, the buffets are over-the-top and decadent, which make them a top thing to do on the Las Vegas Strip. Many Vegas buffets feature lots of different types of cuisine from countries all around the world, and usually also contain dessert options and a full bar.
One of the most famous buffets on the Strip is the Bacchanal Buffet, located inside of Caesar's Palace. This iconic buffet includes nine different kitchens, worldly cuisines, and gourmet desserts. Feast your eyes—and your stomach!

Address: 3570 S Las Vegas Blvd, Las Vegas
Cost: $59.99 (brunch) and $74.99 (dinner)
8. Sip Creative Cocktails Inside A Chandelier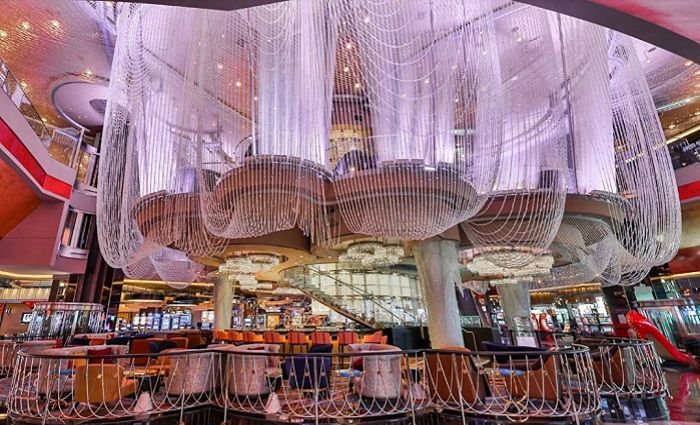 Anyone who's visited the Cosmopolitan hotel knows there's a shimmering purple chandelier inside, but did you know that inside the chandelier there's an upscale cocktail lounge? Simply called The Chandelier, this three-story lounge offers a different experience for its patrons on each level. Every level has its own menu (although beer and wine is served throughout).
The Chandelier is most famous for its creative cocktails inspired by Alice in Wonderland. One of the most popular drinks is the color-changing cocktail "We're All Mad Here." Brave patrons will order the Verbena, a tequila-based cocktail that's one of the bar's most popular offerings, even though it's not even on the menu. Try this mouth-numbing drink at your own risk!
Address: 3708 Las Vegas Blvd S, Las Vegas
Cost: Free to enter; reservations recommended
7. Be Mesmerized By The Bellagio Fountains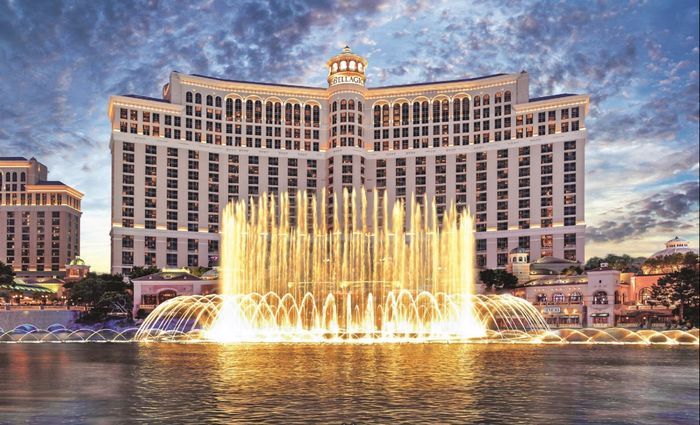 When your feet need a break after walking the Strip and exploring, make time to watch the famed fountain show at the Bellagio Hotel. You'll be amazed by the choreography, variety, and imagery of these fountains, perfectly timed to popular songs. Even if you've seen the fountain show before, it's worth taking a few minutes to see it again.
The choreography and music varies, so you'll rarely see the same show twice on one trip. The fountain display is 1,000 feet wide, and the fountains shoot water as high as 460 feet into the air, so you can get a clear view of the show even if you're not standing right in front of it.
Schedule:
Monday – Friday: every 30 minutes from 3:00 pm – 8:00 m; every 15 minutes from 8:00 pm – midnight
Saturday – Sunday: every 30 minutes from noon – 8:00 pm; every 15 minutes from 8:00 pm – midnight
Address: 3600 S Las Vegas Blvd, Las Vegas
Cost: Free
6. Immerse Yourself in an Extravagant Conservatory Garden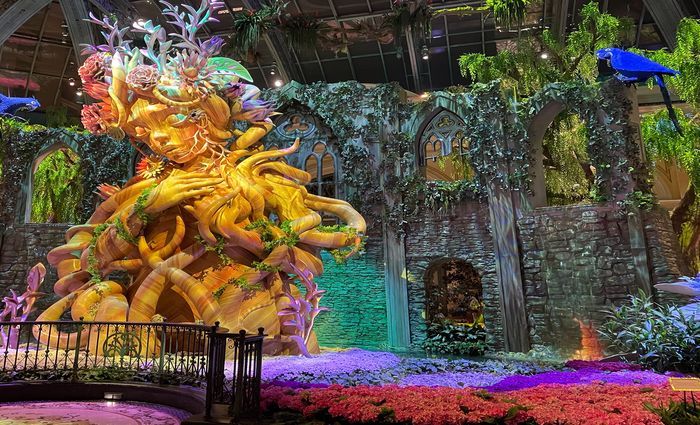 After you're finished being mesmerized by the Bellagio fountain show, you can head inside the hotel and check out the display at the Bellagio Conservatory & Botanical Gardens. This stunning conservatory uses flowers, trees, and 10,000 potted plants to create a unique display that changes depending on the time of year.
The 14,000 foot space includes vibrant colors, statues, lights, waterfalls, and other incredible features that you won't want to miss. The display changes for Chinese New Year between January and March, and then again for spring between March and May, and again for summer (shown) between June and September.
It also takes on a totally new look for fall between September and October, and transforms into a Christmas display in December. No matter when you come, you'll love the pictures you take here!
Address: 3600 S Las Vegas Blvd, Las Vegas
Cost: Free
5. Take A Gondola Ride Down A Venice-esque Canal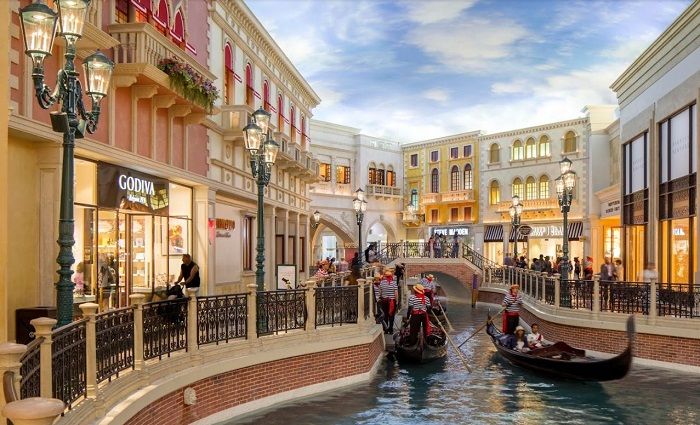 First you transported yourself to Paris, France; now you can transport yourself to Venice, Italy! The Venetian Hotel on the Strip is modeled after one of Italy's most famous towns, complete with a canal and gondolas!
Located both indoors and outdoors, the canal snakes by the Grand Canal Shoppes, which includes stores like Godiva, Be Gioielli, Breitling, and Tommy Bahama. You can window-shop while gliding down the canal, propelled by a singing gondolier. As you're enjoying your gondola journey, make sure to look up! The ceiling is a mural of a perfect blue-and-white sky that is so perfectly lit you'll think you're actually outside in the Venice streets.
The gondola rides are offered daily from 10 a.m. until 11 p.m. On Friday and Saturday, the rides go until 12 a.m.
Address: 3355 S Las Vegas Blvd, Las Vegas
Cost: $34 – $39 per person
4. Lounge, Float, And Relax At The Most Epic Pool In Vegas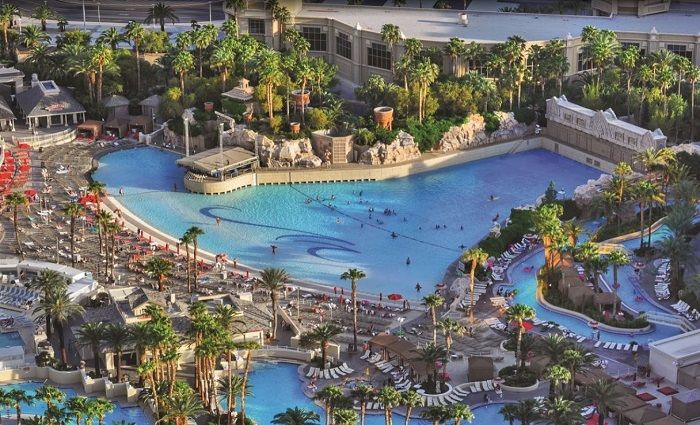 When we say "most epic," we mean it! The pool at Mandalay Bay spans 11 acres and includes a lazy river, a sandy beach, and a 1.6-million-gallon wave pool where you can float on gentle tides. It also contains a lagoon, beach bar, and even its own boutique. This amazing pool experience is a hit among kids and adults alike.
Mandalay Bay also has two more pools: Daylight Beach Club, which is known for its pool parties, and Moorea Beach Club, a "toptional" pool for adults only. Although these pools are fun, only the main, awesome Mandalay Bay Beach has the wave pool, lazy river, and all the other features. It's easily one of the top things to do on the Strip.
Address: 3950 Las Vegas Blvd S, Las Vegas
Cost: Free for guests; $18.00 for non-guest adults; $12 for children 12 years old and younger $12.00; free for children 4 and younger
3. Ride An Upside-Down Roller Coaster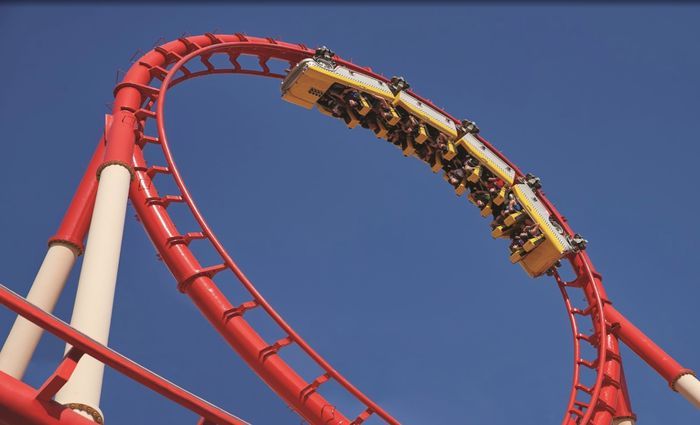 Thrill-seeking Vegas vacationers will love this twisting roller-coaster attached to the New York New York Hotel & Casino. The Big Apple Coaster goes 64 miles per hour and features twists, turns, and a 203-foot drop. It also includes a brief moment when riders are upside-down over the iconic Las Vegas Strip! (Don't come on a full stomach!)
1.4 million riders dare to try this coaster every year! It's also attached to an arcade, so riders can play skee ball, air hockey, and classic arcade games either before or after their roller-coaster experience. Daredevil kids are welcome to ride the roller-coaster, but they must be at least 54 inches (4 and a half feet) in order to ride.
The Big Apple Coaster is open Monday – Thursday from 1 p.m. until 9 p.m. and Friday – Sunday from 11 a.m. until midnight.
Address: 3790 Las Vegas Blvd S, Las Vegas
Cost: $19 – $23
2. Bungee Jump Off The STRAT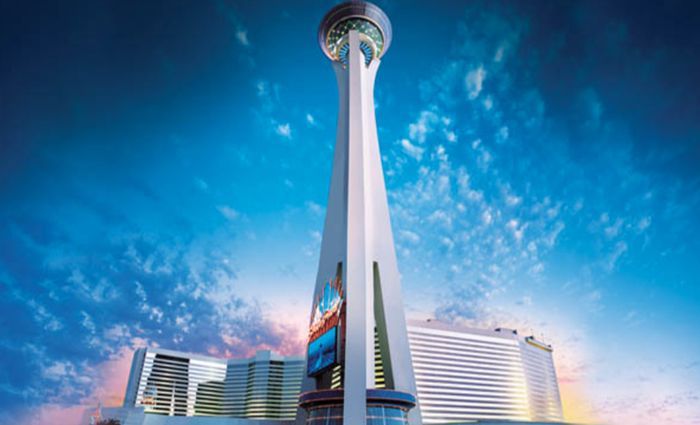 Riding an upside-down roller-coaster isn't the only adrenaline-pumping activity that thrill seekers can do on the Strip. Even more daring daredevils can also try any of the four thrill rides located at the top of the STRAT Hotel & Casino.
The tall, skinny STRAT tower is already an iconic part of the Las Vegas landscape. But did you know you can jump off of it? With SkyJump, you can bungee jump off of the STRAT's SkyPod observation deck. Make sure you have a friend at the top to take a video of you as you go down!
You can also strap yourself into the Big Shot catapult ride, dangle from the side of the 900-foot-tall STRAT building with the Insanity ride, or propel 27 feet over the edge with the X-Scream coaster that lurches to a stop in mid-air.
All four thrill rides are open from 2 p.m. until 10 p.m. from Monday – Thursday, and noon to midnight Friday – Sunday.
Address: 2000 Las Vegas Blvd S, Las Vegas
Cost: $139 for SkyJump; $39 for each of the other thrill rides
1. Experience An Aerial View Of Vegas From The High Roller At The LINQ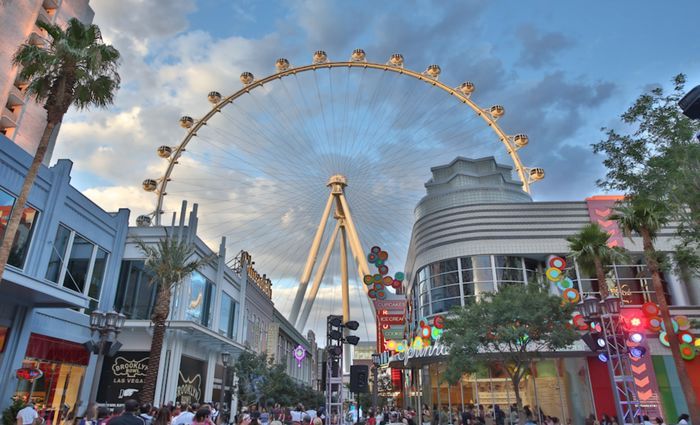 After you've spent a day exploring the famous Strip, why not see it from a different angle? The High Roller Ferris wheel slowly rotates to give riders in every cabin an amazing view of the Strip from 550 feet up! The Ferris wheel ride takes 30 minutes and goes at a slow and steady pace to snap photos and videos of the sights below.
The High Roller contains 28 cabins, but you and your party will probably share each spacious cabin with other riders. The High Roller is a fun activity any time of day, but we recommend it especially at night so you can see the city light up beneath you! It's especially impressive at sunset!
This attraction is suitable for all-ages, but adults have the option of purchasing a package that also includes an open bar so you can toast your friends to the Vegas views below you. The High Roller is without a doubt one of the top things to do on the Strip in Las Vegas.

Address: 3535 S Las Vegas Blvd, Las Vegas
Cost: $23.50 – $34.75 for adults; $8.50 – $17.50 for kids; $60.00 for open bar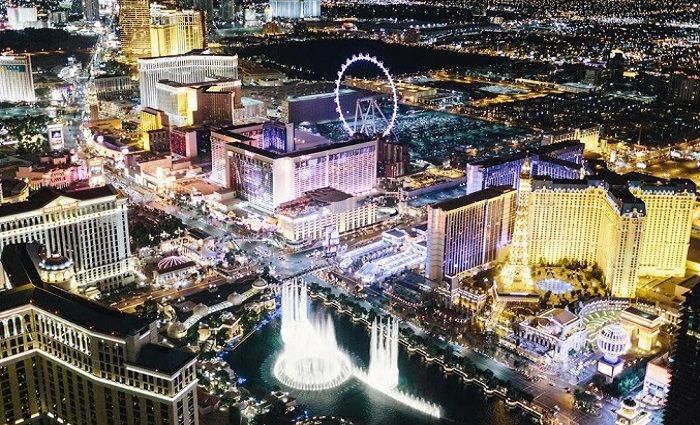 Find the best places to stay
Where to Stay in Las Vegas
Discover some of the most iconic and best places to stay in Las Vegas to make this trip the most memorable of all your trips to the Strip.