They call it "Vegas" "Sin City" and the "gambling mecca" of the not-so-wild west. Vegas is the epicenter for all things party-related, not to mention the ostentatious and unique. You'll have an endless supply of top things to do in Las Vegas no matter how long you're staying. Vegas is also the closest international airport to nearby top attractions in nature such as the Hoover Dam, Grand Canyon, and Death Valley. Here are the best things to see and do while in Las Vegas, Nevada!
---
The 17 Best Things to Do In Las Vegas
Las Vegas is an ever-changing city. What's hot one year, might not be the next—except the summer heat which is always hot. Staying cool in an unbelievable pool is just one popular thing to do in Vegas, but you'll want to explore all that Las Vegas has to offer both on and off the Strip. Discover the top things to do in Las Vegas with this all-inclusive list that includes delicious food and experiences that will leave lasting memories and a yearning to come back to this vibrant city.
17. Snap Lit Photos at Seven Magic Mountain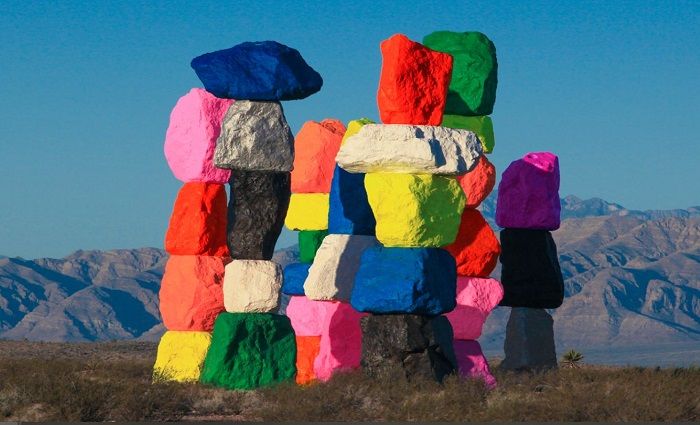 If Instagram or Snapchat photos are your jam, then take a drive outside Las Vegas to the Seven Magic Mountains desert art. There are seven painted rocks, some of which tower 35 feet high, that were carefully placed to offer a bright juxtaposition to the bland desert landscape.
You could go during the day, but be aware that there is basically no shade and no facilities other than a parking lot. The best time to go is sunrise or sunset when it's not too hot and the sun is a perfect glow to accent the bright paint.
When artist Ugo Rondinone set these up, he intended them to stay for only a couple of years. However, they're so popular that the exhibit has been given permission to remain open for the time being!
Address: Seven Magic Mountains S Las Vegas Blvd, Las Vegas
16. Stay at a Hotel with a Volcano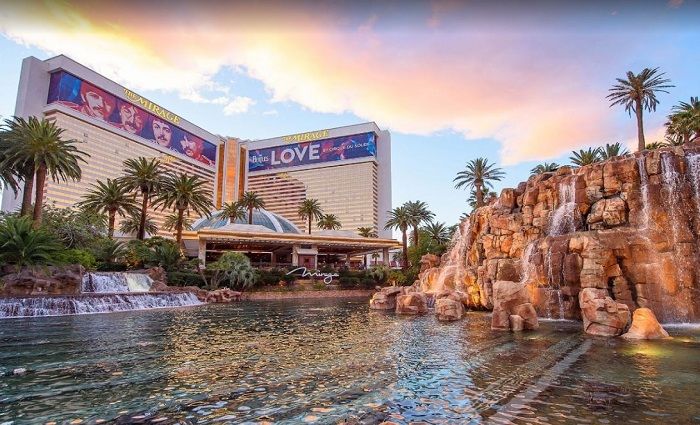 The Mirage hotel boasts the only active volcano on the Strip—as if a volcano was an everyday event near a hotel. This unique attraction makes staying at the Mirage one of our top things to do in Las Vegas. Every night, the volcano lets out some serious "boom, boom, pow" with fire, smoke, and fireworks that are bigger than ever. Even if you stand across the street, you'll feel the heat of the fire with every explosion.
The show is accompanied by a special soundtrack created by Mickey Hart from The Grateful Dead and Zakir Hussein. Unless there are high winds, the show starts on the hour from 8 to 11 pm every evening.
The volcano isn't the only great thing about staying at the Mirage. Make sure to check out the secret dolphin habitat, before relaxing at the pool. If total relaxation is your things, be sure to book a massage or facial at the spa, or opt for premier spa services like IV therapies, B12 shots, or skin rejuvenation treatments at the Kalologie Medspa.
It's rated as one of the top ten spa destinations by Elle magazine. If you want even more hotel choices, then check out our list of the best places to stay in Las Vegas.
Address: 3400 S Las Vegas Blvd, Las Vegas
15. Get Lost In the Grand Canal Shoppes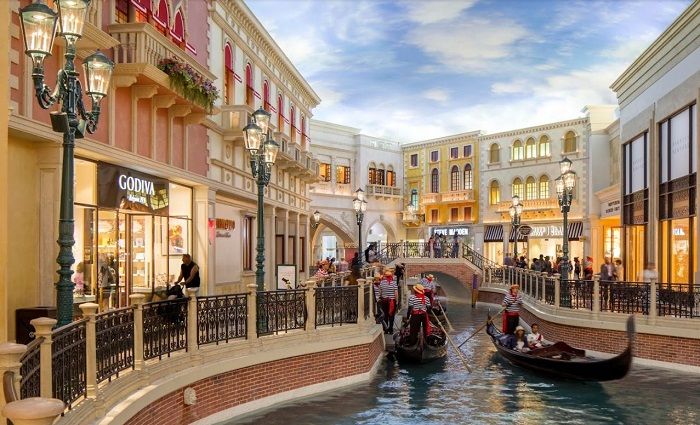 Did you know you can visit Italy in Vegas? Well, it's a pretty fun replica of Italy anyway. The Grand Canal Shoppes are what connect two powerhouse hotels: The Venetian and the Palazzo. And wandering this lovely area is such a great way to spend an afternoon.
You'll find designer shops like Godiva, Bernini Beverly Hills, and Montblanc along each side of a real canal with Venetian-style gondolas for hire. Just don't forget to look up! The ceiling is a mural of a perfect blue-and-white sky that is so perfectly lit that you'll wonder if you're actually outside!
Every detail of these Grand Canal Shoppes has been carefully planned to make this a perfect experience of shopping as if you were hidden back in old-world Italy but with Vegas modern conveniences and luxury.
When you've had your fill of shopping, choose to be entertained at the Spiegelworld Atomic Saloon Show or head over to TAO for more night club vibes. But if you're in need of libations, then head to the Royal Britannia where they offer half-off all drinks all day long.
Address: 3377 Las Vegas Blvd S, Las Vegas
14. Get Spicy at Hattie B's Hot Chicken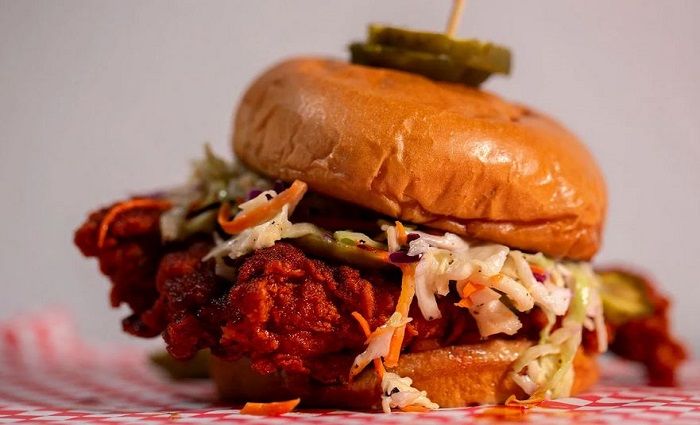 Delicious southern fried chicken is a staple of American food no matter where you live, but sometimes good quality is hard to find. The best chicken sandwich in Las Vegas is inside the Cosmopolitan hotel at Hattie B's Hot Chicken. It's spicy, juicy, and flavorful. Choose your level of heat from Southern (no heat), Mild, Medium, Hot, Damn Hot, to the daredevil's dream: Shut the Cluck Up.
If you go for the spiciest flavor, make sure to order the banana pudding to cool down before heading back into the Vegas heat. Trust us, you'll be satisfied for hours after eating the crispy chicken and crinkle-cut fries here at Hattie B's. You can find even more great places to eat on our list of best restaurants in Las Vegas.
Address: 3708 Las Vegas Blvd S (The Cosmopolitan, Level 2, The Boulevard Tower)
13. Dive into Vegas's Legacy at the Neon Museum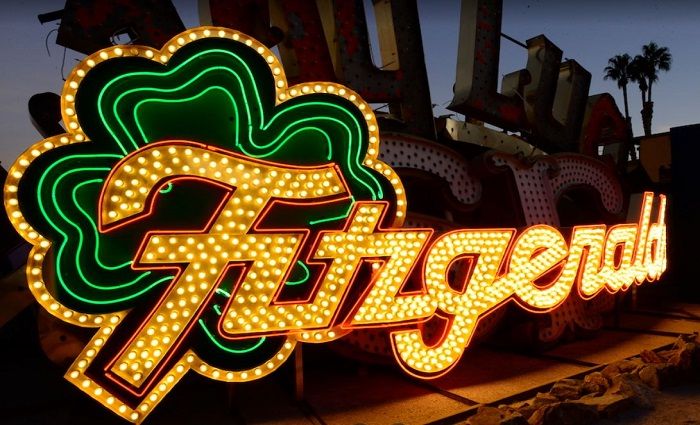 Las Vegas is home to many unique museums you won't find anywhere else. The Neon Museum is no exception. The Vegas landscape is always changing as old places make way for hot, new trends, but the Neon Museum has preserved every old, iconic neon sign that played a part in Vegas's rich history.
You can visit this museum during the day, but it's best at night when the neon lights make an impression. You can take a guided tour through the outdoor Boneyard and learn fascinating tidbits about each sign.
For a unique experience, book the Boneyard for a private photoshoot to make those graduation or anniversary photos even more memorable. Or you can use the North Museum for private events and photoshoots as well. It houses even more signs that have been preserved since the 1930s. All in all, the Neon Museum is worth a stop.
Address: 770 Las Vegas Blvd N, Las Vegas
12. Be Mesmerized by the Bellagio Fountains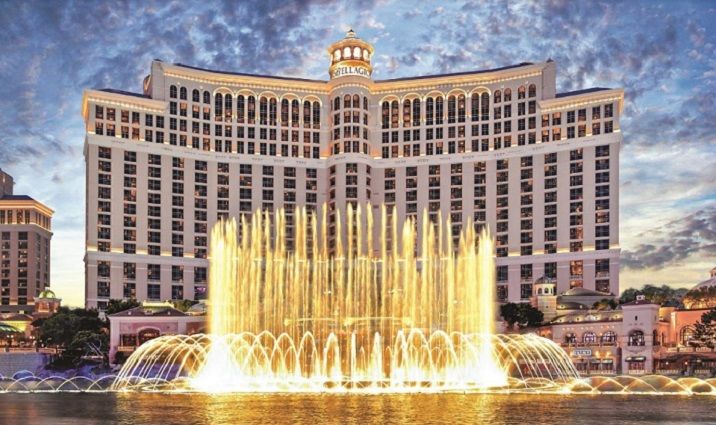 When you're ready to bring things down a notch after a busy day seeing the sights, then make time to watch the infamous fountain show at the Bellagio Hotel. These fountains are considered the most complex water feature that's ever been conceived, and the effort paid off.
You'll be wowed at the choreography, variety, and imagery of these fountains that are perfectly timed to popular songs. The Bellagio fountains consistently make the list of the top things to do in Las Vegas.
The fountains are active throughout the day, so even if you see it right after lunch, it's still worth watching later on since it's not the same show every single time. Or you can try watching it from a different angle each time.
The fountains are extensive so you could choose to sit perched on the balcony steps leading into the Bellagio or find a spot under a tree on the street. No matter where you sit, it's a romantic, memorable moment to share with a loved one.
Schedule:
Monday – Friday: every 30 minutes from 3:00 pm – 8:00 pm; every 15 minutes from 8:00 pm – midnight
Saturday – Sunday: every 30 minutes from noon – 8:00 pm; every 15 minutes from 8:00 pm – midnight
Address: 3600 S Las Vegas Blvd, Las Vegas
11. Take Time to Visit the Grand Canyon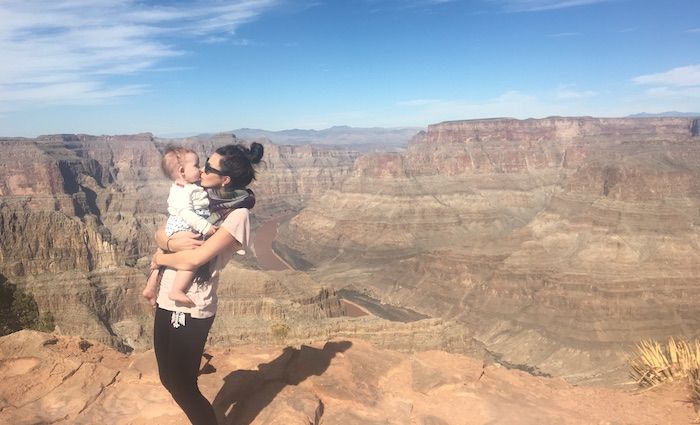 The Grand Canyon is one of the most majestic natural wonders on earth, and you can get there easily from Las Vegas which is the closest major city. This expansive canyon could take days to explore on foot, but you can always see the best view from the South Rim with a one-day tour from Vegas.
You can get magnificent views of this colorful canyon that's a mile deep in most places. The Colorado river runs through the bottom of the canyon where you could take a river rafting trip, too. Your comfort level determines your adventure.
If you catch the canyon around sunset, the muted desert colors can come alive with vibrant, fiery hues. And if you're interested in spending more time in the canyon, book a ride on an old-time mule train at the South Rim and travel down the steep canyon switchbacks before stopping at the Phantom Ranch for dinner and an evening along the Colorado River.
Mule trains on the North Rim can be booked for an hour or a half-day adventure. When you plan your trip to Vegas, add some extra time to explore the Grand Canyon. It's easily one of the top things to do in Las Vegas.
Read my article on visting the Grand Canyon to get here easily or book one with one of our professional and experienced tours!
10. Experience a Lost Piece of History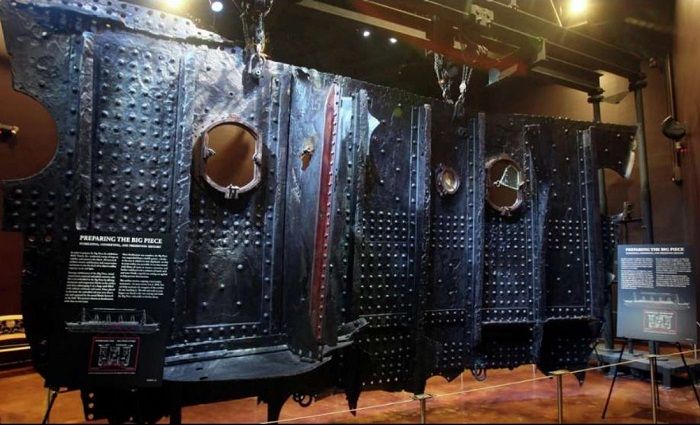 Did you know that the Luxor is home to probably the best Titanic museum in the country? Yep! 25 million visitors have wandered these exhibits, learning about the lost souls on the Titanic and viewing pieces of this incredible treasure of our past. The museum is set up so you can walk the decks yourself and experience what life might have been like before that fateful accident.
With over 25,000 artifacts, this museum will captivate you, your friends, or even kids, which is why it's easily a top thing to do in Vegas. You'll see old tools, bells, whistles, clothing, tableware, utensils, pieces of the ship's exterior and much more. It's a moving experience that will leave lasting memories. Since it's an incredibly popular attraction, be sure to make your reservation ahead of time.
Address: 3900 S Las Vegas Blvd, Las Vegas
9. Walk the Arts District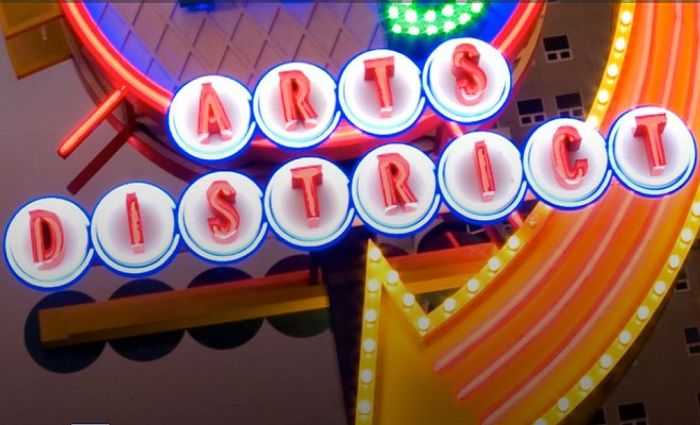 After you've stuffed yourself with ice cream, stroll along the downtown Arts District where you'll find impressive murals on almost every street. The Arts District is also called "18b" in honor of the 18 blocks that the district encompass. It's located in the downtown area just north of the Strip.
Get lost wandering local shops and art galleries of all shapes and sizes. You can explore clay pots, photography, and original sketches, then stop in at a dive bar to cool off.
The Arts District started a fun tradition that the first Friday of every month holds an art festival for anyone to enjoy local art, food, and music. If you're in town for First Friday Las Vegas, be sure to stop by and check out the local scene.
Even if you can't make it, still stroll along the sidewalks and take photos of the impressive murals that adorn these old town streets.
Address: Arts District, Las Vegas
8. Indulge in a Tasty Treat at Lucy's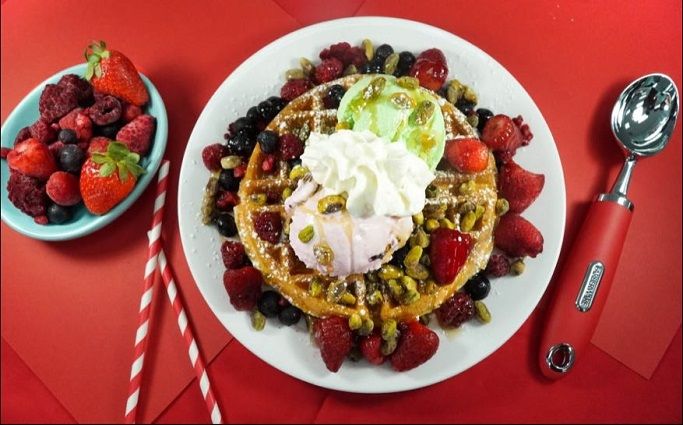 Sin City is all about indulgence—visually and otherwise. Forget dieting or healthy sleep habits while you're enjoying any of the best things to do in Las Vegas. Satisfy your cravings with a sweet treat from Lucy's Waffles and Ice Cream. Pile your favorite ice cream on top of a fresh-made waffle, then top it with fresh berries, nuts, or candy. They've been voted best ice cream in Vegas for a reason.
Lucy's strives to keep a family-friendly vibe with a fun and fresh shop filled with old-fashioned ice cream, milkshakes, and Belgian waffles. You can try breakfast waffles loaded with maple and ice cream or bacon and cheese, too. And the kids will enjoy the cotton candy crusher milkshake that's topped with two cotton candy swirls. No matter what you choose, you're sure to take fun pictures eating delicious ice cream.
Address: 6070 S Rainbow Blvd #6, Las Vegas
7. Take a Drive to Death Valley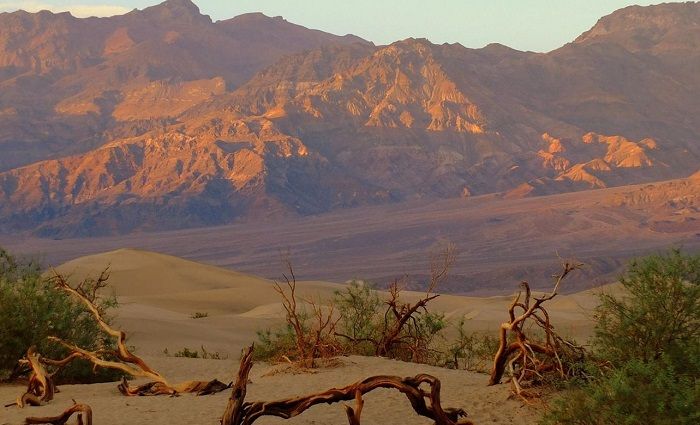 There's no place on earth like Death Valley. It's truly an experience in extremes. Death Valley's highest recorded temperature was 134 degrees Fahrenheit, and the coldest was 15 degrees Fahrenheit! It's considered the driest national park and has the lowest elevation point in the U.S. as well.
So why visit? Because it has tremendous sunsets, great hikes, and unique landscapes. It's an outdoor enthusiast's dream, which is why it's on this list of top things to do in Las Vegas.
For adventurers, Las Vegas serves as the jumping point to get to this national park that's about 2 hours away. You can choose to day hike, camp, or backpack (with a permit) through the park. Only drive on the roads as it's illegal to off-road and can permanently damage the landscape.
Also, make sure to pack plenty of water in your car as you'll likely dry out faster than normal here. The top places to check out are Zabriskie Point, Mesquite Flat Sand Dunes (great at sunset as pictured above), Racetrack Playa (look at the mysterious moving rocks), and Artists Palette.
There are plenty of backcountry roads to explore, or you can check out the "Star Wars" tour to learn about the filming locations used in those iconic movies. Finally, be sure to leave time to check out the night sky that's filled with terrific views of the Milky Way.
Address: Death Valley National Park
6. Race Exotic Cars on the Motor Speedway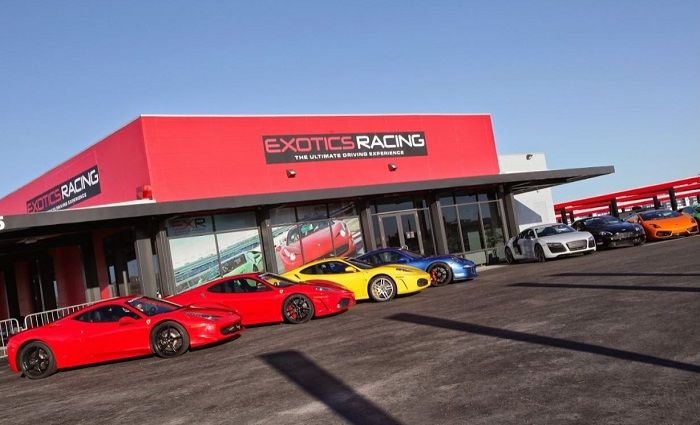 Feel the need for speed? Vegas delivers. Book a unique experience at the Las Vegas Motor Speedway with Exotics Racing where you can learn to race one of a number of luxury, exotic cars around a controlled racetrack. Exotics Racing boasts the largest fleet of supercars in the world, which sounds just right for Vegas.
For anyone itching to get behind the wheel, choose to drive a Lamborghini, Porsche, Ferrari, McLaren, Audi R8, Corvette, Mustang, or many others. Otherwise, you can leave the driving to a professional and book a seat as a passenger in your favorite car, then sit back and hold on. If you have kids with you, let them explore the go-kart track while you take on the adult-sized racetrack. Racing an exotic car is quite popular to do in Vegas, so book your reservation early.
Address: 7065 Speedway Blvd, Las Vegas
5. Chill at the Top-Rated Pool in Las Vegas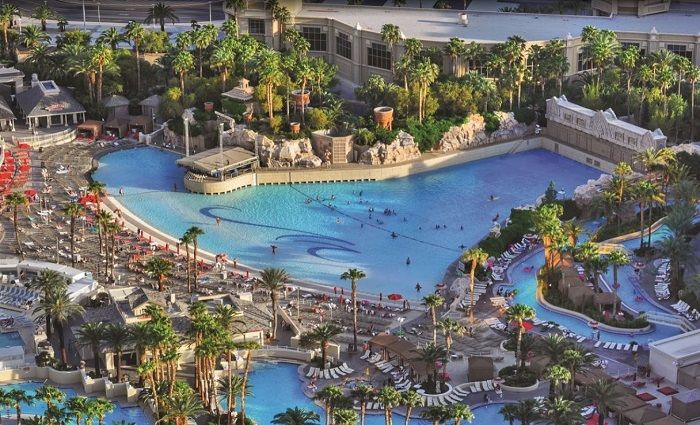 This is not your average pool. No. This is Vegas, so this pool is spectacular and gigantic. Covering 11 acres, you could almost get lost exploring this pool at Mandalay Bay. It's one of the only pools in Las Vegas with an actual sandy beach to lounge on, and it's totally worth it.
And if that isn't cool enough, then how does a lazy river sound? Or a 1.6-million-gallon wave pool where you can float on gentle tides? Otherwise, you could also lounge in the lagoon.
No matter what floats your boat, Mandalay Beach has you covered, so stop in and cool off. If you didn't bring any pool clothes, you can shop at Mandalay's Pearl Moon Boutique to grab everything you need. When you get hungry, order food and drinks from the Beach Bar & Grill.
Additionally, if you've rented a cabana or bungalow, you can have your food brought right to you so you can keep relaxing all day. It's Vegas luxury at its finest, which makes it one of the best things to do in Vegas.
Address: 3950 Las Vegas Blvd S, Las Vegas
4. Be Thrilled by a One-Of-A-Kind Show in Vegas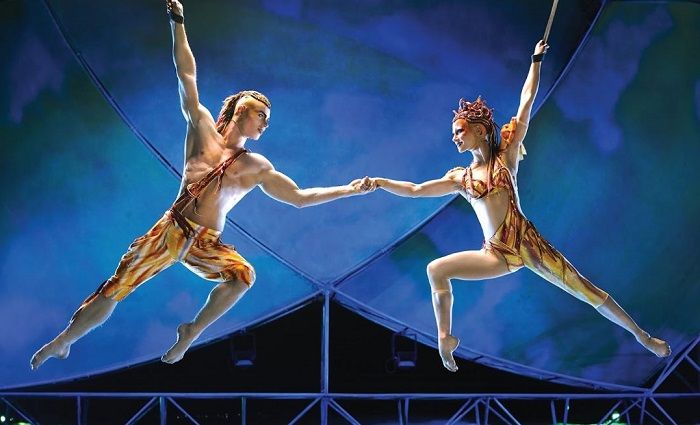 Since Vegas is the entertainment mecca of the west, they guarantee some of the best shows you'll find anywhere. These aren't your typical Broadway plays or America's Got Talent acts. These are world-class shows with stories, action, drama, acrobatics, and incredible precision. Best of all, you won't have to pay $500 to see one of the best shows in Las Vegas! You can get tickets to any Cirque du Soleil show for less than $80!
The Cirque du Soleil shows have long reined as the top shows in Las Vegas with lineups like "O," KÀ, Mystère, The Beatles LOVE, and Michael Jackson ONE. But there are plenty of other entertainment options to consider too. Blue Man Group is a wildly popular show for families music enthusiasts.
There are always magicians and illusionist who have taken up residency at Vegas too. See Matt Franco, David Copperfield, or even Piff the Magic Dragon. Yep, he's got his own show here! Whatever you choose, you'll love experiencing one of the best things to do in Las Vegas.
Address: Cirque du Soleil Shows
3. Hover over the Hoover Dam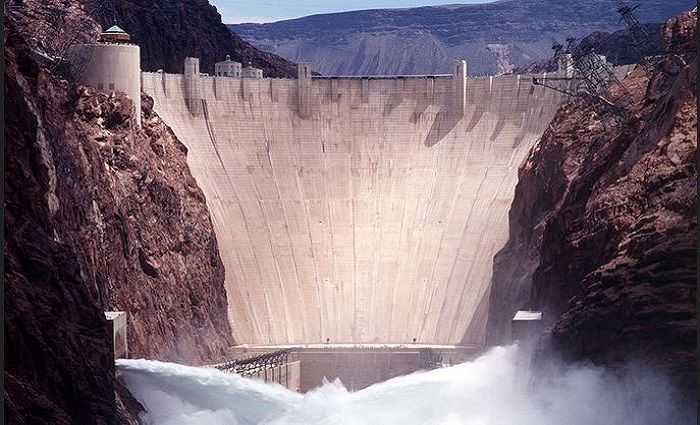 It's safe to bet that the Hoover Dam is considered one of the top man-made wonders of the U.S. and it sits just outside of Boulder City, Nevada. The view from the top of the dam down towards the spillway is breathtaking, and it will leave an impression that photos can't do justice.
Nevertheless, it's a top thing to do in Las Vegas due to how incredibly unique and spectacular it is, not to mention that it's still one of the tallest dams in the world. The Hoover Dam sits between Lake Mead and the massive Colorado river which feeds many of the southwestern U.S. rivers and lakes.
You can get to the dam by driving your own car, or booking a half- or full-day bus tour. However, if you want real adventure we recommend booking a helicopter tour that takes you over the dam and Lake Mead, or even travels further down the Colorado river for truly amazing vistas.
After you get to the Hoover Dam, you can choose from several more tour options to explore the area: the visitors center, power plant tour, and dam tour. The dam tour includes all three sites, so it's a great value. Be sure to schedule time for the Hoover Dam and Boulder City.
Address: 81 Hoover Dam Access Rd, Boulder City, Nevada
2. Sip Cocktails Inside a Chandelier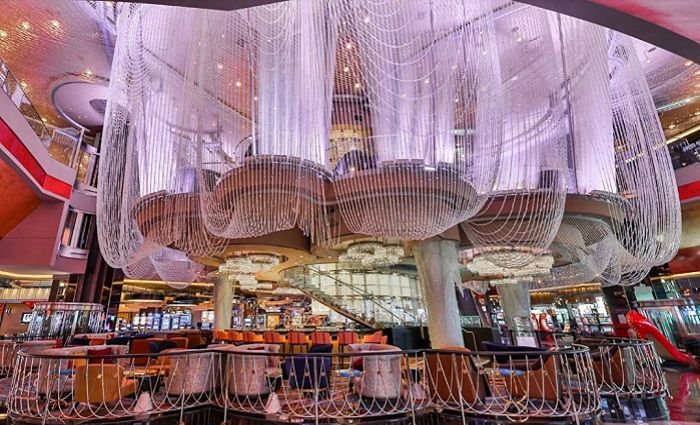 Ready for yet another gaudy display of Vegas hotel decadence? Then make sure to stop by the Chandelier lounge at the Cosmopolitan hotel. There are three reasons why this should be on your list of top things to do in Las Vegas. First, it's a living art exhibit that tinkles and shimmers all night. Second, you can sit at one of three levels in this lounge. Third, your Instagram photos will make your friends jealous.
The handcrafted cocktails suit the opulence you expect from a chandelier-themed lounge, so be sure to try the We're All Mad Here or Finishing School drinks. The Cosmo also has a yummy food menu; however, many people choose to spend their after-dinner hours here. It's full of trendy vibes that you won't want to miss.
Address: The Boulevard Tower, 3708 Las Vegas Blvd S Las Vegas
1. Take in the Wonder of Fremont Street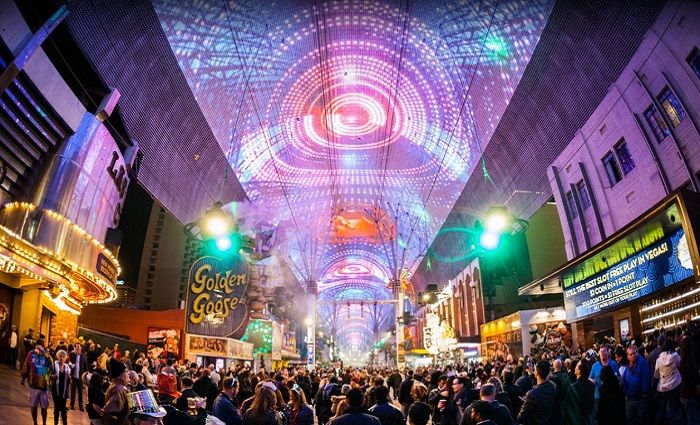 Let's be honest: the Strip is a cool place to visit all on its own, but Fremont Street is a whole other ballgame. It's a living entity of lights, videos, performers, smells, foods, drinks, and all the fun you can handle. You can literally have it all here. Try the Slotzilla zipline that swooshes you above the heads of pedestrians below.
Enjoy nightly live music every evening starting at 6 pm. Then stop to watch the brilliant light show that happens every night on the hour, from 6 pm to 2 am. It happens on the largest video screen in the world (Vegas always goes big!) which is 1,375 feet long.
Fremont Street is also where you'll find the original downtown Las Vegas hotel: Golden Gate Hotel & Casino, plus other awesome hotels like Circa (143-foot swimming pool sports screen) and Downtown Grand.
And food? Oh, the food. Fremont Street offers easy eats and fine dining to please anyone's palette. Try Evel Pie, Barry's Downtown Prime, Whiskey Licker Up, or Le Thai for more exotic flavors. It's hard to put into words how fun, vibrant, and thrilling your first trip to Fremont Street will be, but we promise you'll never forget it.
Address: Fremont Street Experience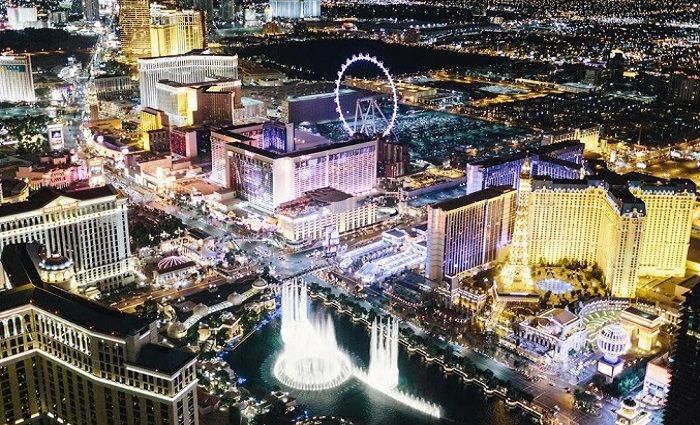 Find the best places to stay
Where to Stay in Las Vegas
Discover some of the most iconic and best places to stay in Las Vegas to make this trip the most memorable of all your trips to the Strip