There's definitely no shortage of activities to do in Las Vegas. However, there are also a wide range of things to do only a day's trip away! Did you know that you can explore petroglyphs, go kayaking, or check out a ghost town—all in less than a few hours away? This list will explore 14 unique day trips from Las Vegas when you're ready to explore beyond Nevada's most famous city.
---
When people think of Las Vegas, they usually think of partying and gambling and super cool hotel pools. It's true, you can do all this and more in Las Vegas, but you can also do so many more activities than that in the surrounding areas! You can hike, explore, kayak, see national parks, and much more just a few hours a way from the famous Las Vegas Strip.

This list will provide you with our 14 favorite activities that are within a 4-hour drive from Vegas. If you're in Las Vegas for more than just a day or two, and you want to see what else the area has to offer, this is the list for you.

Pro tip: We've estimated approximate travel times to each destination from the Las Vegas Strip, but keep in mind that traffic conditions can get heavy throughout the day. Also, make sure you bookmark this page before your next Vegas vacation!
14. Explore Bullhead City by UTV and Have a Lakeside BBQ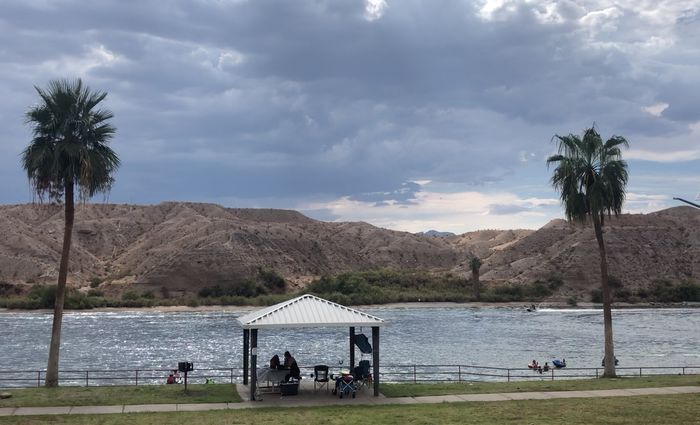 1 hour 42 minutes (103 miles) | Lake Vibes | Adventure Seekers | Relaxing Weekend Activity
Did you know the Colorado River is literally situated on the border between two states? Bullhead City, Arizona sits right on the Colorado River. Directly across the Colorado River is Laughlin, Nevada.
We recommend having a picnic at Bullhead City Community Park overlooking the Colorado River, then renting a UTV (or side-by-side utility vehicle) or jet ski from Rocky River Adventure Center. It's the perfect place to enjoy water- or land-based activities a little further away from the bustle of Las Vegas.

Please note that this excursion is technically in Arizona, which does not observe daylight savings time like Nevada does. Keep this in mind when planning your day trip from Las Vegas.

How to get to Bullhead City
13. Kayak at Emerald Cove on the Colorado River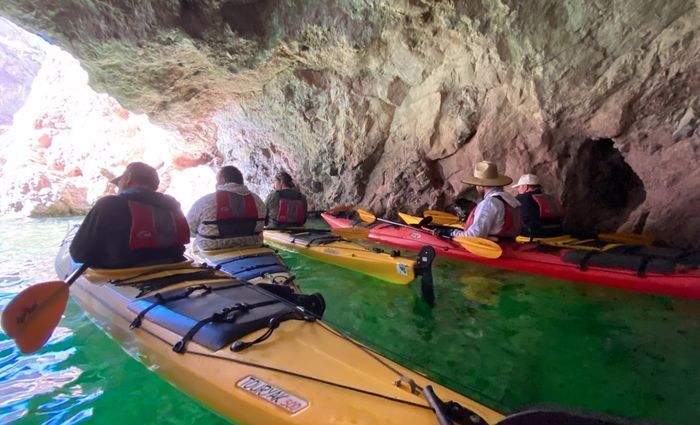 1 hour (56.9 miles) | Beautiful Scenery | Adventure Lovers | Beaches and Kayaking
Emerald Cove is a magnificent green cove located along Black Canyon. It's right where the Colorado River runs along the Arizona and Nevada border, and there are tall canyon walls on both sides.
Because of the way the sunlight hits the algae in Emerald Cove, this magnificent natural phenomenon turns the water green, which is unexpected in this desert country. It's impossible to get there without a boat, so we recommend a kayaking tour with a clear-bottomed kayak to see the water beneath you!

Pro tip: We're going to break this down for you because it confused us at first! Whereas the Emerald Cave is a cave on the Arizona side of the Colorado River, Emerald Cove refers to the cove on the mouth of the Emerald Cave. When booking kayaking tours, either one can pop up, but they refer to the same thing.

How to get to Emerald Cove
12. Snap Unique Photos at Seven Magic Mountains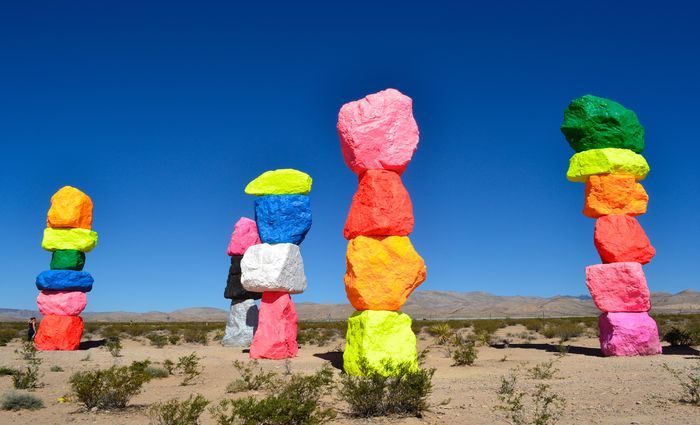 26 minutes (21.3 miles) | Art Installation | Photo Op | Great for Couples and Families
Located a short drive from the Las Vegas Strip is the Insta-worthy art installation Seven Magic Mountains! A popular spot for family pics and engagement photos shoots, these colorful "mountains" were created by Swiss artist Ugo Rondinone.
The installation came to Vegas in 2016, and was only supposed to be in place for two years. However, due to the overwhelmingly positive response from the public, the Seven Magic Mountains seem to be here to stay, at least for a little while. If you're hoping to snap pictures for the 'Gram while in Las Vegas, this is definitely a quick day trip you should take.

How to get to Seven Magic Mountains
11. Relax and Play at Luxurious Lake Las Vegas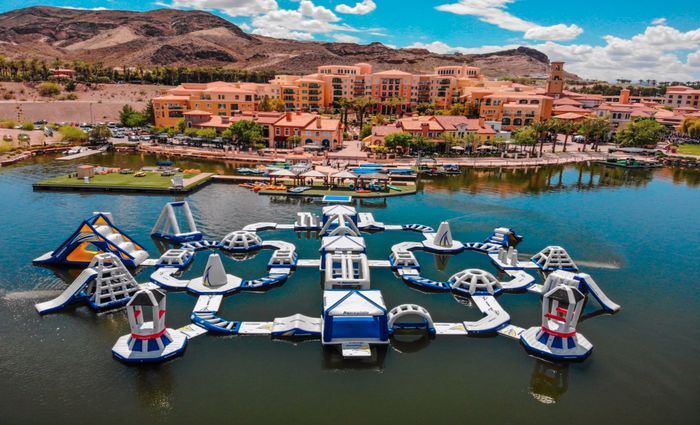 34 minutes (23.9 miles) | Lakeside Luxury | Watersports | Good for Families
Lake Las Vegas is a man-made lake in a beautiful resort community. Located long the shores of the lake is Reflection Bay Golf Club, as well as several cute restaurants, and an inflatable water park!
Through Lake Las Vegas Water Sports, you and your family can not only enjoy the water park, but also rent kayaks, paddleboards, and boats. You can even charter a yacht! If you're in Las Vegas with the kiddos, and want to take a break from the city for a day, we recommend bringing them to eat and play at Lake Las Vegas.

If you want to do water sports, another good option is Lake Mead. You can also rent wakeboards, go water skiing, and other water sports on Lake Mead. However, we picked Lake Las Vegas for our list instead due to its laid-back luxury vibe. Besides, how can you beat an inflatable water park?!
How to get to Lake Las Vegas
10. Explore the Extraterrestrial at Area 51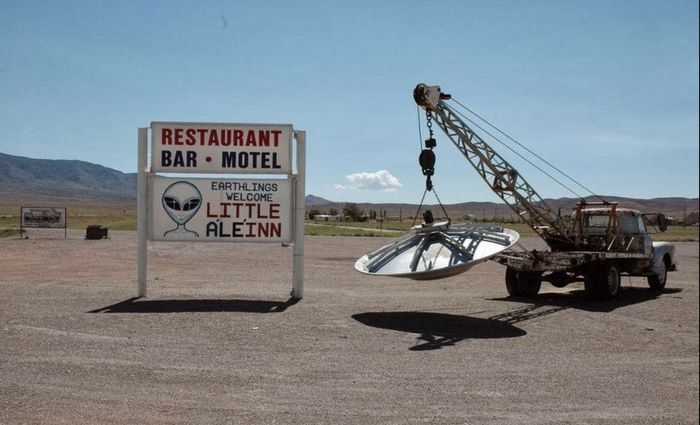 2 hours and 27 minutes (160 miles) | Great for Geocaching | Eat at an Alien-Themed Inn | Unique Day Trip
If you love science fiction and all things related to aliens, you should absolutely take a tour of Area 51. Well, the official Area 51 is actually a classified military base, so most of the tours offered are actually for the interesting sights around it.
Travel down State Route 375, or the "Extraterrestrial Highway," stopping along the way to take advantage of the site's many geocaching opportunities. Visit the Alien Research Center, which is actually a museum, and stop at Rachel, Nevada to grab an affordable meal at the restaurant at Little A'Le'Inn. Don't forget to try their world-famous alien burger!

Please note that Google Maps does not provide instructions for how to get to Area 51, so you will have to plug in the "Extraterrestrial Highway" or Little A'Le'Inn instead. This is one reason that this excursion is best to access with a tour from Las Vegas. Whether on your own or with a tour company, seeing Area 51 is one of the top day trips from Las Vegas for those who love the weird and wonderful.

How to get to Little A'Le'Inn
9. Check out 4,000 Year Old Petroglyphs at Sloan Canyon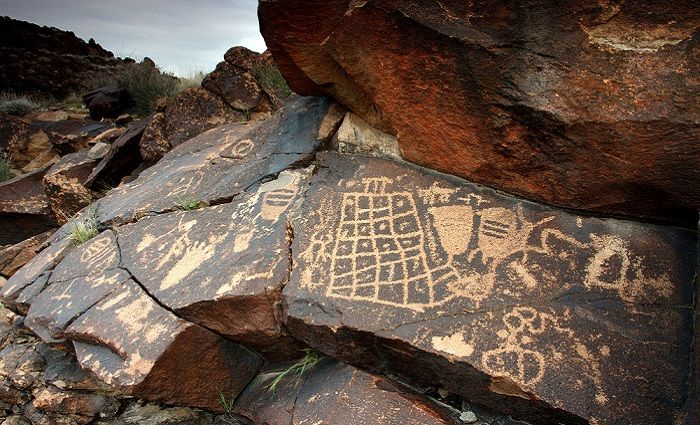 23 minutes (14 miles) | Hiking Trails | Wildlife Photo Ops | See Real Petroglyphs
Sloan Canyon National Conservation Area spans for more than 48,000 acres and contains more than 300 rock panels with petroglyphs! The petroglyphs are said to be 4,000 years old. They can be reached by the Petroglyph Canyon Trail, but it's steep and a bit treacherous and may be hard to navigate for less experienced hikers.
Sloan Canyon has many other hiking trails as well. There are also several hundred different species of wildlife living at Sloan Canyon, such as big horn sheep, red-tailed hawk, and desert tortoises! Don't forget your camera and plenty of water!
How to get to Sloan Canyon National Conservation Area
8. See the Wild West at Calico Ghost Town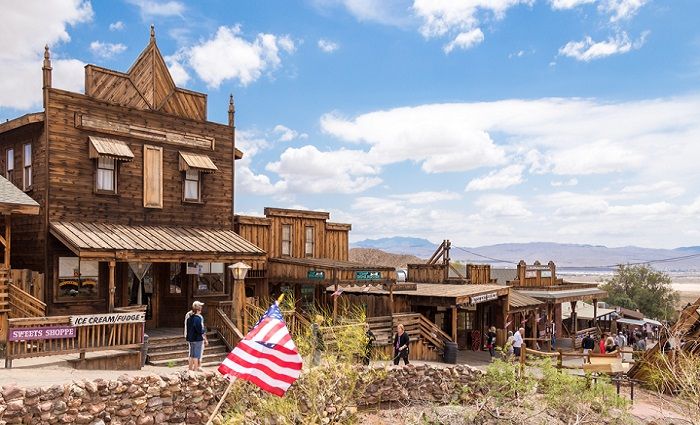 2 hours and 22 minutes (144 miles) | Historic Town | California State Landmark | Unique Day Trip
Located in Calico, California, this former mining town was abandoned in the mid 1890s. Once a hotspot for mining silver, it became a ghost town when silver became less valuable. However, Calico was restored in 1950 with the intention of keeping the same look and feel it had in the 1800s.

Visitors to Calico can take a tour of Maggie Mine, a former silver mine, or check out Calico Odessa Railroad. You can also take a tour of the Mystery Shack, where you can see water running uphill, witness a broom standing by itself, and learn about why such a shack was built in the first place.
Make sure to visit Calico's famous School House. You can't go inside, but even just sitting outside the historic house provides you a great view of the nearby town of Barstow and makes for excellent photos.
Pro tip: Since this day trip from Las Vegas is in California, travel time could take much longer on weekends as traffic from LA to Las Vegas gets extremely heavy sometimes.
How to get to Calico Ghost Town
7. Hike at Red Rock Canyon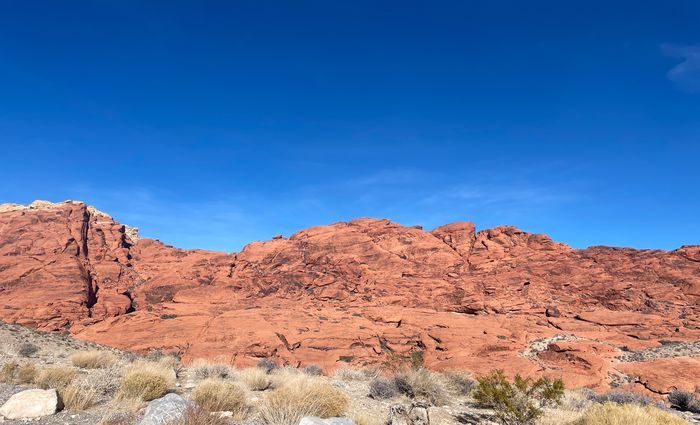 22 minutes (19 miles) | Hiking Trails | Great for Climbing | Scenic Views
Red Rock Canyon Conservation Area is famous for its rock formations and their red color. There's no filter on the picture we used – that's really what it looks like! Because of the iron oxide in the sandstone, the rocks in the canyon appear red or orange.
As part of the Mojave Desert, Red Rock Canyon has great trails for both hiking and driving, as well as climbing opportunities for intrepid climbers. There's also a Petroglyph Wall, where you can see petroglyphs from 800 years ago! Please note that a reservation is required for Red Rock Canyon, and there is also an entry fee. For this reason, you might prefer going with a tour for a seamless visit.
How to get to Red Rock Canyon National Conservation Area
6. Tour the Hoover Dam Power Plant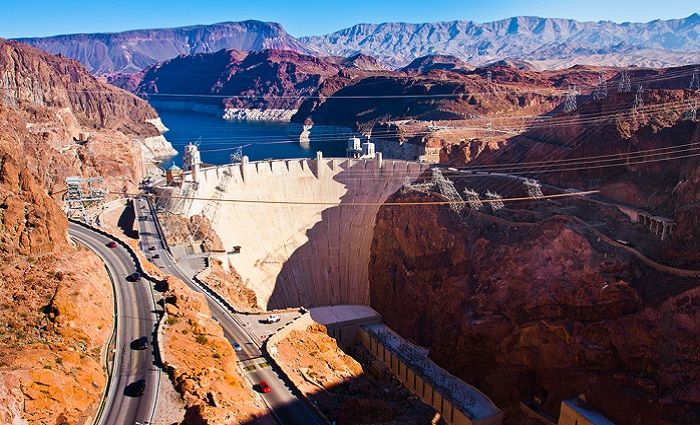 42 minutes (39 miles) | Kayak the Dam | Learn About History | Spot Some Sheep
Generating enough power to serve 1.3 million people annually, the Hoover Dam is considered to be one of the greatest feats of engineering in the United States. For this reason, one popular activity at the Hoover Dam is to take a tour of the Hoover Dam power plant to see where it all happens.
Did you know that Lake Mead was formed by the Hoover Dam? It's the massive lake that sits on the north side of the dam. Many people opt to book a kayaking tour or even a helicopter tour to explore it from a different perspective. (Who knew there were so many opportunities for kayaking so close to Las Vegas?!)
How to get to The Hoover Dam
5. Visit the Lowest Point in North America at Death Valley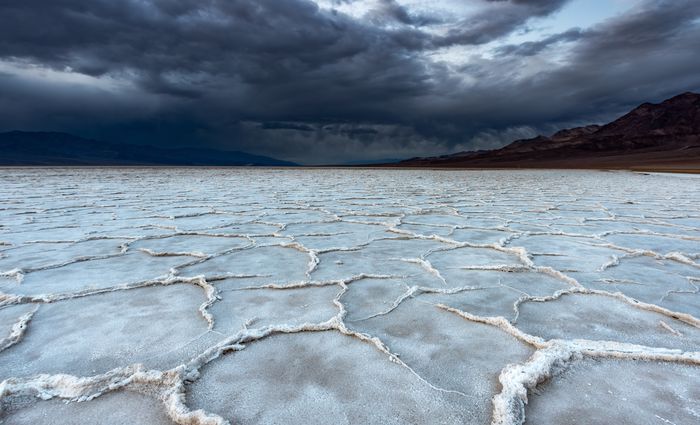 2 hours and 21 minutes (131 miles) | Hiking Trails | Photo Ops | Scenic Views
Death Valley National Park is full of hiking trails. One of our favorites is the Badwater Basin Salt Flats Trail. Considered the lowest point in North America at 282 feet below sea level, Badwater Basin is full of 200 square miles of salt flats that make for amazing photos. When you're visiting Death Valley, we also recommend Devil's Golf Course for an easy hike with a chance to see wildflowers if you're there in the spring.
Most Death Valley tours include several different hiking trails and photo ops so you can experience all that Death Valley has to offer. How cool is it to be able to say you have visited the lowest point in North America?
How to get to Badwater Basin
4. Hike and Explore Canyons at Zion National Park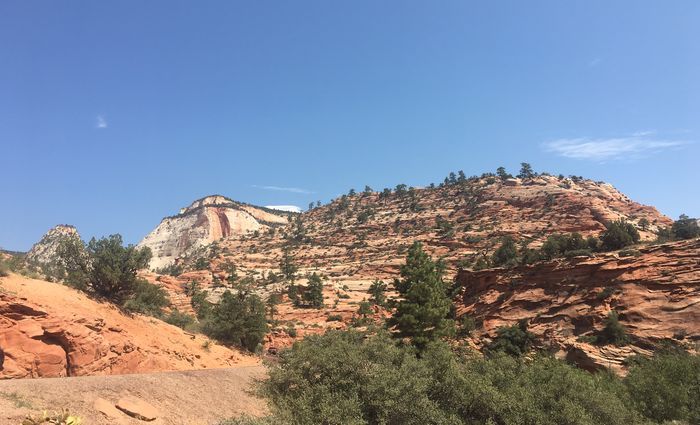 2 hours and 36 minutes (164 miles) | Hiking + Climbing | Rainbow Rocks | Scenic Drives
Zion National Park is known for its rainbow rocks and epic hiking and climbing opportunities, making it the most famous national park in Utah. Thrill seekers can also go canyoneering in any of Zion's epic canyons. However, Zion is most known for the Subway Canyon which requires permits so you'll need to plan ahead.
There are also several waterfalls in Zion National Park, such as the falls at Lower Emerald Pools. Or you can check out the Narrows and—if you dare—hike Angel's Landing. Although popular with hikers and climbers, Zion is also a great spot to just drive around, admire the views, and snap a few photos.
If you're wondering how to get into the park during the busy season, schedule a trip with our professional tour guide who can get you into the park for the day. It's an easy way to see the park without having to worry about tickets and driving!
How to get to Zion National Park
3. Witness an Incredible Light Phenomena at Antelope Canyon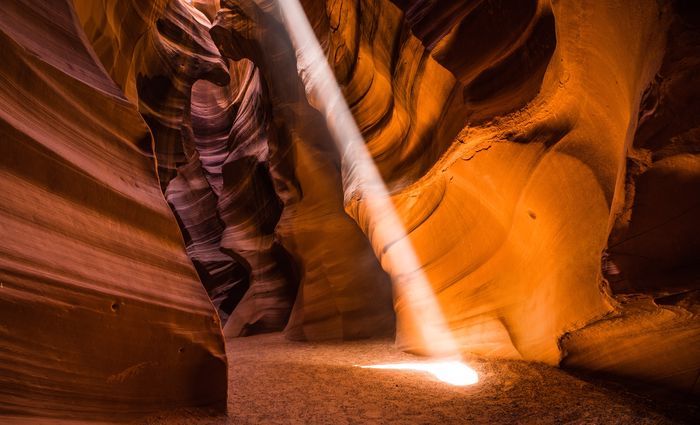 4 hours and 28 minutes (282 miles) | Hiking + Climbing | Photo Op | Unique Activity
As part of the Lake Powell Navajo Tribal Park, Antelope Canyon is a famous slot canyon. Named for the many pronghorn antelope that used to roam throughout the area, Antelope Canyon is best known for how it looks in the afternoons when the light hits the caves. The sunshine bounces off the sandstone slot canyons, creating a truly incredible sight!

There are also many different hiking trails near the canyon. Remember to wear comfortable shoes, and don't forget your camera! The unusual light phenomenon is truly a rare event that's worth the trip to this exclusive location. It's easily one of the top day trips from Las Vegas.
Please note that Antelope Canyon is only accessible with a licensed tour guide now. You can make a reservation way ahead of time to go with a tour guide on-site or book a tour from Las Vegas. It's the best way to get to location since it's over 4 hours away. You won't have to worry about driving or getting into the canyon!
How to get to Antelope Canyon
2. See the Iconic Horseshoe Bend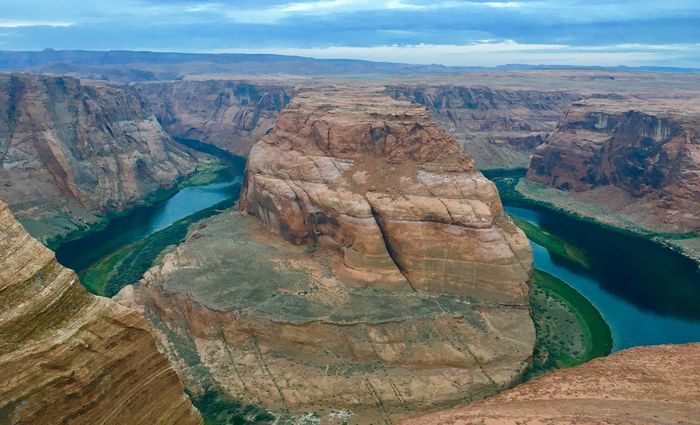 4 hours and 22 minutes (279 miles) | Great Views | Photo Op | Easy Walk
Located just 10 minutes from Antelope Canyon, Horseshoe Bend is a rock formation in part of the Colorado River that's worth seeing when you're here. It's a short walk to get there from the entrance of the park, but please note that it may be hot in the summer, making the walk more difficult.
That's why we recommend going there at sunrise or sunset when the temperatures are cooler! The light is the best around those times as well, and there will be less people around, making for better photos. If you want to do Horseshoe Bend and Antelope Canyon in the same day, we suggest selecting a tour that includes both.
How to get to Horseshoe Bend
1. Witness the Majesty of the Grand Canyon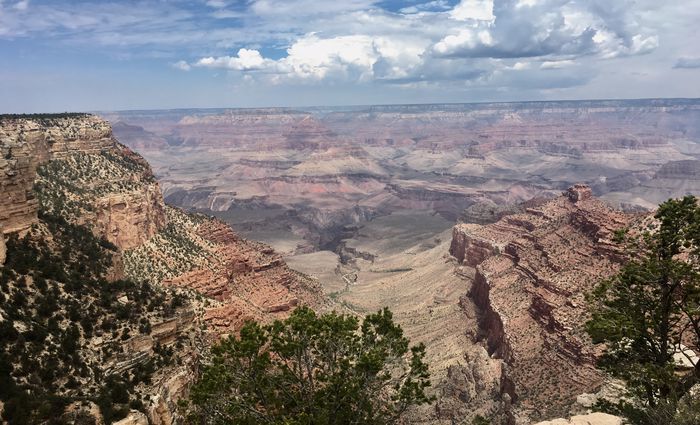 4 hours and 10 minutes (277 miles) | Views & Hiking | Photo Op | Scenic Drive
With many different trails to take and parts of the canyon to see, the Grand Canyon is every bit as spectacular as everyone says it is. You can hike down into the canyon, explore Native American artifacts, or just walk along the Grand Canyon Rim Trail along the rim of the canyon and observe the beautiful scenery.
You can also book a bus tour, which may be the best option if it's your first time. There is so much to see! Another popular way to see the Grand Canyon is by taking a helicopter tour. It's a truly amazing way to see the Grand Canyon from another perspective if you don't have a lot of time to drive up here. No matter how you choose to get to the Grand Canyon, it's easily one of the best day trips from Las Vegas.
How to get to The Grand Canyon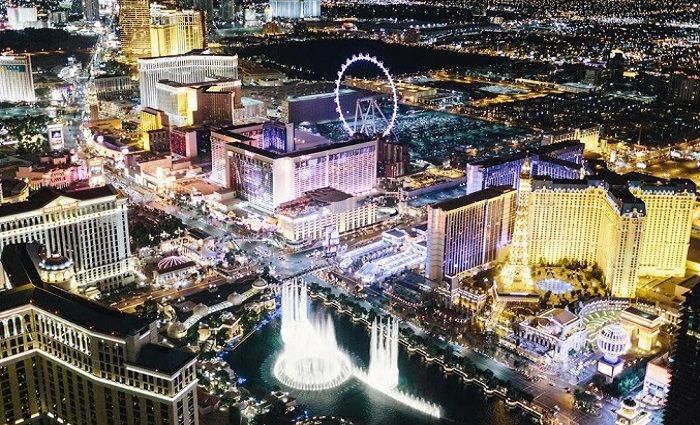 Find the best places to stay
Where to Stay in Las Vegas
Discover some of the most iconic and best places to stay in Las Vegas to make this trip the most memorable of all your trips to the Strip.