Are you in Ireland and looking to explore outside the main cities? If so, a great day trip may be up your alley! Here are some "doable" from Dublin.
---
Pro Tip: It's easier to organize your trip when you have all your resources in one place. Bookmark this post along with our Dublin Guide with more planning resources, our exciting Dublin tours for a memorable trip, and the top things to do in Dublin.
The Perfect Ireland Day Trips to Take From Dublin
You probably come from a state or country bigger than Ireland. Our little country is just 302 miles long and 171 miles wide. In theory, you can get to the northern point in county Donegal to the southern County Cork in 8 hours, or cross from Dublin to Galway in about 4 hours if the roads are clear and the weather's good.
So, with that in mind, I've compiled our favorite day trips from Dublin that are accessible, realistic, and fun for travelers of all types. You can opt to drive to them yourself or leave the hassle to someone else and book a tour instead. It's a fun way to get there safely and meet fellow travelers while also hearing all the myths and fascinating facts behind these locations.
7. Feel Nature's Power at the Cliffs of Moher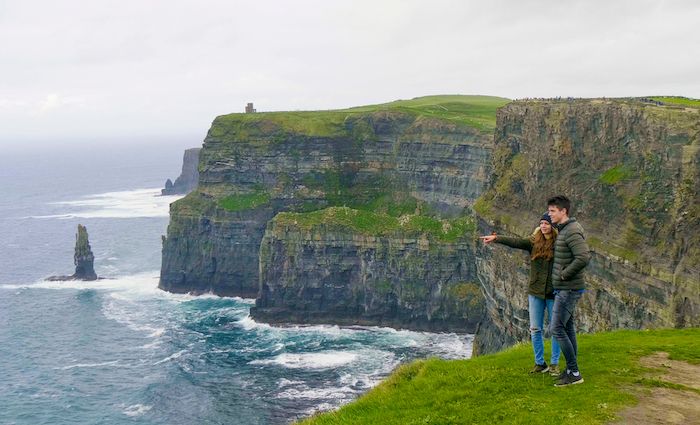 Since you probably know you have to visit the Cliffs of Moher, we've put it higher on this list. You'll find lots of tourists here since there's something so alluring about standing at the edge of ocean cliffs rising 700 meters above sea level. It's especially moving for anyone with Irish ancestors who emigrated from Ireland to North America as you visualize their ship leaving these shores behind.
There are thousands of cute puffins to see, and plenty of wild sheep grazing on the vivid green grass we have in Ireland. While you can't control the weather on your trip, be aware that it can get foggy here and block much of your view. Still, standing here at the Cliffs of Moher is just one of those trips you have to take from Dublin.
How to get to Cliffs of Moher
What To Do at the Cliffs of Moher:
Doolin cliff walks
Cliffs of Moher walking trail
Cliffs of Moher visitor center for lunch and a rest
The Burren and Cliffs of Moher GEOPARK
Shopping in Galway city (try Carrolls Irish gifts, and Galway Gifts & Souvenirs)
Grab a coffee and pastry from CoffeeWerk + Press.
Take selfies then sit quietly with nature
Give yourself a heart attack by lying face down over the edge of the cliffs.
Not ready to book a tour? Read more in our Dublin Guide.
6. Stand Inside a Stone Age Tomb at Newgrange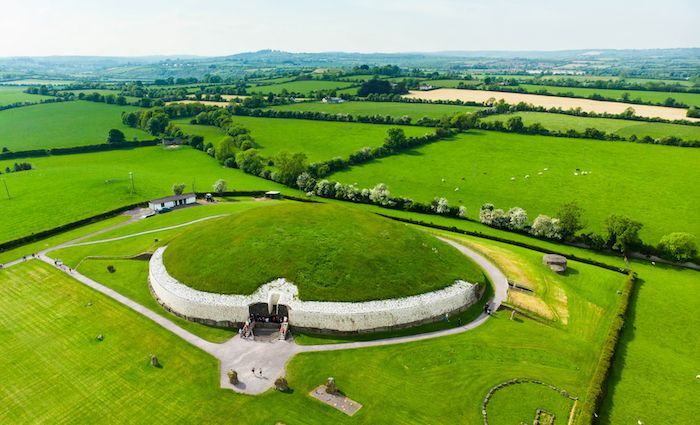 It might not be Stonehenge, but we're proud of our ancient stone site at Newgrange. It's a Neolithic passage tomb that lies on the UNESCO World Heritage Site of Brú na Bóinne.
We believe this (and nearby Knowth/Dowth) was built around 5,200 years ago, and they're now some of the most important ancient sites in Ireland. Possibly the world since they're the largest collection of Stone Age structures in western Europe and older than the pyramids! So what can you do here? Check out the mesmerizing Celtic art on kerbstones around the exterior like carvings of Celtic knots and triskeles.
The most remarkable thing about Newgrange, however, is what happens on the summer and winter solstices. On the longest day and the shortest day of the year (21st June and 21st December), sunlight moves through the passage and lines up at an exact point in the tomb. If you're into all things ancient, spiritual, and the underworld – this is the day trip for you!
How to get to Newgrange
---
What To Do at Newgrange:
Explore the Newgrange Visitor Center
Have a stroll around the Boyne River
Visit Knowth passage tom
Visit Dowth passage tom
View the Celtic script around Newgrange passage tomb
Book a tour before you arrive as they're limited but super helpful
5. Head to Cork to Kiss the Blarney Stone at Blarney Castle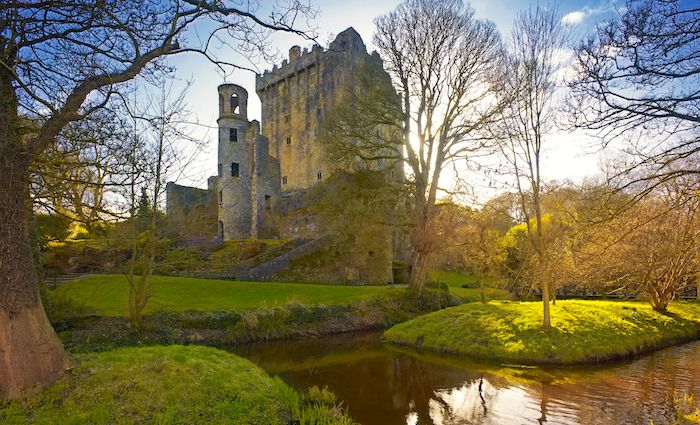 Visitors have been coming for hundreds of years to bend over backward and smooch this mysterious stone. Why, you ask? Because the blarney stone gives you "the gift of the gab," of course! The old slang word "blarney" means a smart, witty, and persuasive way of talking.
It's at least a 3-hour drive to get to County Cork from Dublin, so you'll need to set aside a full day to explore Blarney Castle. I absolutely recommend it since you get to roam the castle grounds, kiss the Blarney stone, head to the Rock of Cashel (castle) in Tipperary, and also have some time in Cork city to refuel.
In case you missed that, your County Cork day trip includes two castles and plenty of Irish folklore. What more could you want? Anyone who loves castles or exploring mythical Ireland will love this day trip.
How to get to the Blarney Stone and Rock of Cashel
---
What To Do in County Cork:
Kiss the Blarney Stone
Walk the grounds of Blarney Castle
Nip into the Blarney visitor center for food and souvenirs.
Explore the grounds at the Rock of Cashel
Take some time to ramble around Cork city for shopping and food (i.e. The English Market, and also check out our list of best restaurants in Cork).
4. Find Movie Scenes Near Glendalough in County Wicklow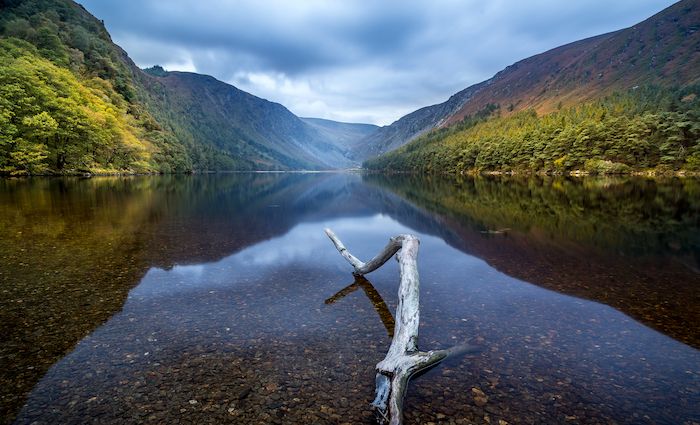 Hikers and movie lovers will love taking a bit of time to travel to nearby Glendalough. It's in county Wicklow with a series of idyllic brooks, lakes, and valleys in county Wicklow. Iconic films like "Braveheart" and "P.S. I Love You" were filmed here, which brings visitors hoping to experience this quiet region.
You can definitely drive here on your own, or you can make it easy by booking a half-day tour with Paddywagon Tours. You'll see the ruins of St Kevin's monastery. You can use this time to walk around the graveyard and admire all the Celtic headstones. Afterwards, you'll have time to walk through the forest trail to the lakes and imagine you're a Scottish highlander preparing for battle.
Afterward, you get a chance to pop through and see Lough Tay, which was originally bought as a private lake for the Guinness family. Ironically, the water in this lake is pitch-black like Guinness. It's the perfect way to explore Glendalough without wondering where to go or how to get there.
Pro Tip: Head to Sally Gap, Kippure Estate, and Luggala Estate View Point to see the scenes for "Braveheart."
How to get to Glendalough
---
What To Do When You're There:
Hike and walk through Glendalough's upper and lower lakes
Visit the ruins of St. Kevin's monastery
Selfies at the summit of Lough Tay
Find "Braveheart" scenes at Sally Gap
3. Stand Where Giants Walked at the Giant's Causeway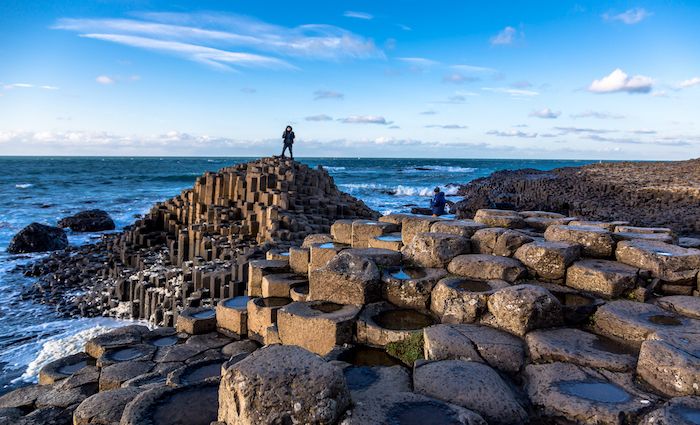 It's not every day you can walk on rocky formations rumored to be where giants once walked between Scotland and Ireland. But you can if you head to the Giant's Causeway UNESCO World Heritage site! It's affectionately known to some as the "eighth wonder of the world."
It's believed that the site formed millions of years ago when a volcanic eruption caused molten rocks to squeeze through the earth's cracks. The aftermath created the Giant's Causeway, which looks man-made but is actually a natural formation of flat and hexagonal-shaped rocks.
And while you're here, you should really stop in Belfast in Northern Ireland to see the Titanic Museum. Yes, this and the Giants Causeway are technically in a different country than Ireland. The trick is that you might have to make extra visa arrangements, but not if you book a day trip from Dublin where that's all taken care of for you.
In addition to these two sites, you'll love that the tour stops at Dunluce Castle and the Game of Thrones hedges. It's the perfect way to explore beyond Dublin and see all the Game of Thrones sites.
How to get to Giant's Causeway and Belfast
---
What To Do at Giant's Causeway and Belfast:
The Titanic Museum
Rope Bridge at The Giants Causeway
The Giants Causeway and visitor center
Dunluce castle
Game of Thrones Hedges
Not ready to book a tour? Read more in our Dublin Guide.
2. Visit the Oldest Functioning Lighthouse in the World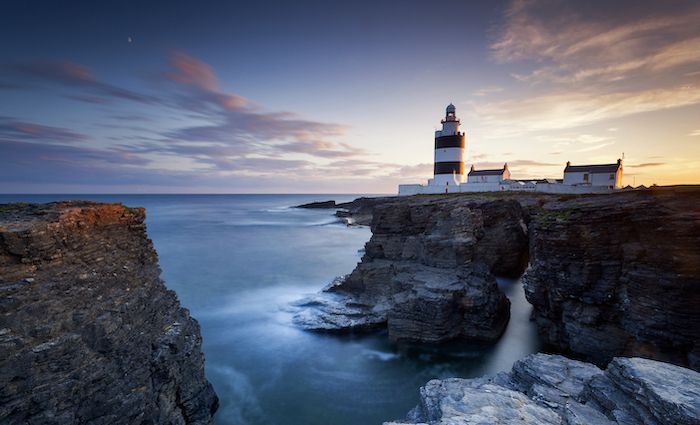 Wexford is located in Ireland's sunny southeast—yep, it's called sunny since it's close to France and doesn't get the worst Atlantic weather. So why head to Wexford? I recommend exploring the Irish National Heritage Park, with its ancient Irish folk reenactments, mud huts, costumes, Stone Age weapons, and so forth.
It's ideal for anyone who wants to get to know ancient Irish traditions. And it's also a great place to grab lunch before moving on to Hook Lighthouse, which is about 45 minutes away. Here's what's cool about this lighthouse: it's the oldest, functioning lighthouse in the world!
Hook Lighthouse is one of Wexford's top attractions, mainly for its seascape. You have vast amounts of flat rock surrounding the lighthouse, where you can walk out onto the seabed to watch the waves crashing in.
How to get to Irish National Heritage Park and Hook Lighthouse
---
What To Do When You're There:
Hook Lighthouse
Irish National Heritage Park and Wexford
Getting to know little Enniscorthy town
1. Explore Kilkenny and See Glassblowing at Jerpoint Abbey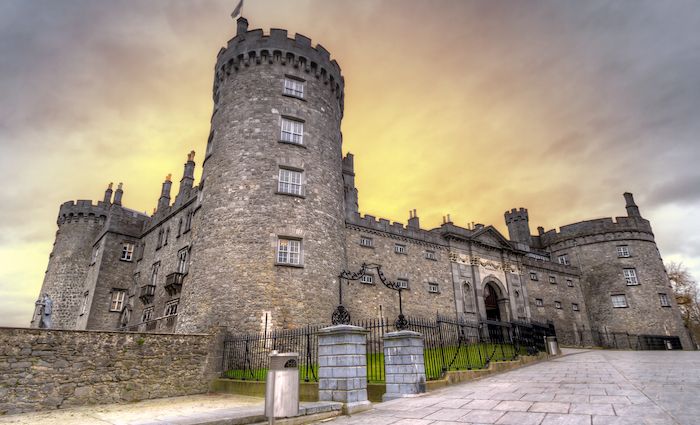 Some day trips are really best done with a tour, and this is one of them. It's super convenient to let a local take your private group to several popular sites and help you explore the coolest activities. One of the best things about this particular tour is you can pick and choose what experiences you'd like to do in the medieval county of Kilkenny.
You can explore Kilkenny Castle, the Kells priory, or see glassblowing at Jerpoint Abbey. There are also cultural activities like Smithwick's brewery, hurling sports experiences, and the National Reptile Zoo. For more adventurous tourists, try the Blackstairs foraging and walks, Dunmore caves, and Castlecomer Adventure Centre.
The tour can also stop in the picturesque county of Wicklow for a glimpse of the Sugar Loaf mountain and the surrounding tree-lined landscape. Of course, if you don't want a private tour, then you can definitely choose how to spend your day in Kilkenny. There's something for everyone here!
How to get to Kilkenny Castle and Jerpoint Abbey
---
What To Do in Kilkenny:
Kilkenny castle and lunch in the city
Kells priory
Glassblowing at Jerpoint Abbey
Smithwick's brewery
Hurling sport experiences
The National Reptile Zoo
The Blackstairs foraging and walk
Dunmore caves
Castlecomer Adventure Centre
Not ready to book a tour? Read more in our Dublin Guide.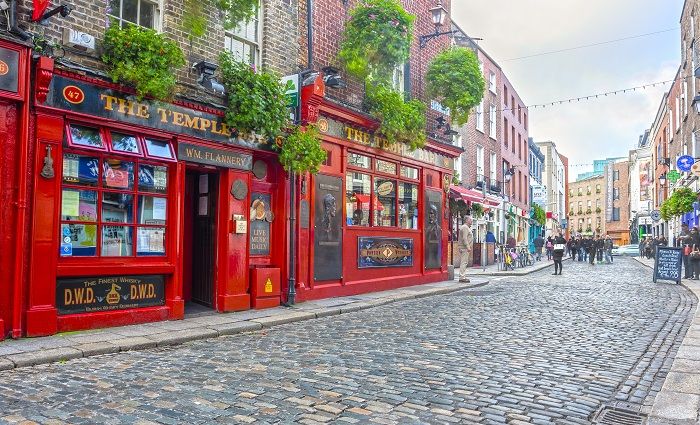 Find the best places to stay
Where To Stay in Dublin
Deciding where to stay in this historical city of Dublin, Ireland is easy with our local's guide to the best hotels and neighborhoods. From Portobello to the Dublin Docklands, you'll love your stay here!