Are you in Ireland and looking to explore outside the main cities? If so, a great day trip may be up your alley! Here are some "doable" from Dublin.
---
Pro Tip: If you're planning a trip to Dublin, consider bookmarking our dedicated Dublin page, with articles on The Cliffs of Moher, Giant's Causeway, Titanic, and more!
Ireland is 302 miles long and 171 miles wide. This means it's roughly an eight-hour drive from the highest tip in county Donegal (Malin Head), to the southernmost point in county Cork (Mizen Head). Also, it's about four hours from Dublin's Eastern point, to Galway's West in Clifden. The reason I'm saying this, is because it may seem like a lot of Irish landmarks are achievable in one day, but it often isn't the case, unfortunately. Poor road infrastructure and resulting traffic are the main reason.
So, with that in mind, here's a list of seven-day trips from Dublin that are accessible, realistic, and reliable. These private company tours let you experience the land in twelve hours or less. No stress about organizing car rentals, going around in circles with Sat Nav, or dishing out for gas money. These tours remove all that, and then some.
7. Visit The Cliffs of Moher and Galway City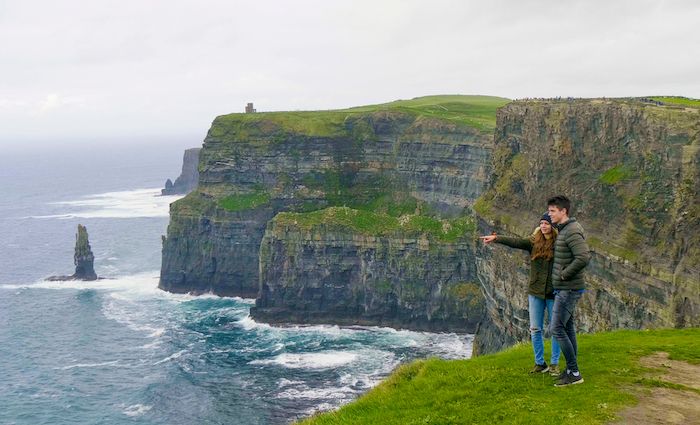 The attraction with the most footfall in Ireland is the cliffs of Moher. It's like Venice in Italy; totally overcrowded, but that way for a reason. The main pull of the cliffs of Moher is for the profound and expansive views over the Atlantic Ocean (700 meters above sea level). I imagine it being an especially emotional experience for Irish-Americans pondering the voyage of their ancestors during The Irish Famine.
After a minute of repose, you can also observe native wildlife. There are thousands of cute puffins to observe, and these are birds are native to Celtic countries only. Furthermore, you can cop plenty of wild sheep grazing on the vivid green grass we have in Ireland. Just one thing to remember though: do check the weather before booking. If the cliffs are foggy, then you won't get the views you deserve. Overall, I recommend this trip for eco-lovers who love the salty sea air. Inadvertently, the bus journey is also a passive way to recover from jet lag. The Cliffs of Moher, therefore, works out for your first couple of days in Ireland.
---
Why This Trip Is Cool:
Breathtaking views over the Atlantic Ocean.
A totally unaffected and unspoilt area in Ireland.
Adrenaline junkies can freely lie off the edge of the cliffs, which is pretty dangerous!
Excellent selfie opportunities.
You can observe Irish wildlife that's native to Ireland.
Scenic hikes of varying levels, for both seasoned hikers and beginners.
The fully organized coach ride is a no-strings way to fully experience the Irish landscape.
Having a local tour guide regale you with facts and stories about Ireland along the way is tops.
Strolling around a medieval Galway city and going under the Spanish Arch, which is centuries old.
Making a pitt stop at the 7th century monastery of Kilmacduagh.
---
How To Get There:
The best method of getting to the cliffs is by going with The Tour Guy's full-day tour. This way, all your transportation is organized beforehand. You need only worry about getting to the coach pick-up point, which is in the city center. You'll receive the coach pick-up information upon booking. Guests have luxury coach transportation from Dublin with a local Irish guide onboard. On arrival, you then have full access to the Cliffs of Moher and the visitor center, with another pit stop to see Kilmacduagh Monastery afterward. Moreover, you get some free time in Galway at the end for shopping.
---
What To Do When You're There:
Doolin cliff walks.
Cliffs of Moher walking trail.
Cliffs of Moher visitor center for lunch and a rest.
The Burren and Cliffs of moher GEOPARK.
Shopping in Galway city (try Carrolls Irish gifts, and Galway Gifts & Souvenirs).
Grab a coffee and pastry from CoffeeWerk + Press.
Take many, many selfies.
Don't take any selfies and be in the moment with nature.
Give yourself a heart attack by lying face down over the edge of the cliffs.
---
6. Visit Newgrange (An Ancient Celtic Tomb Passage) in County Meath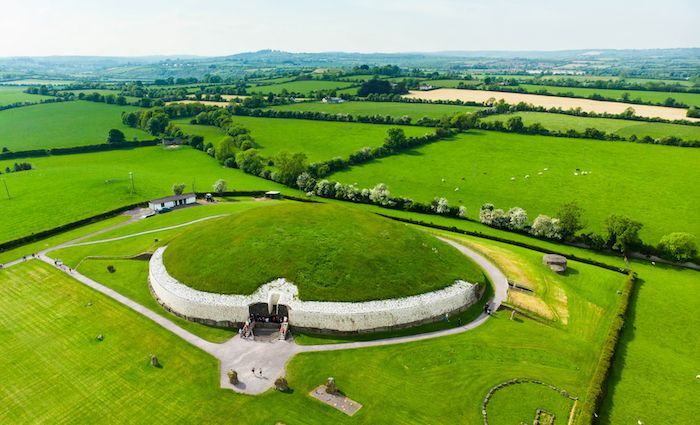 Newgrange is a neolithic passage tomb that lies on the World Heritage Site of Brú na Bóinne. It's Ireland's richest archaeological landscape that wraps around the River Boyne in county Meath. Brú na Bóinne comprises three ancient Celtic ceremonial structures, known as; Knowth, Dowth, and Newgrange (the main one). They were built in one around 5,200 years ago by farmers, and are now some of the most important ancient sites in the world. The Newgrange tombs are the largest assortment of Stone Age structures in western Europe. Older than the pyramids!
As mentioned, Newgrange is the passage tomb with the most amount of things to do. You can observe Celtic art on kerbstones around the exterior, like carvings of Celtic knots and triskeles. The most remarkable thing about Newgrange, however, is the Summer and Winter solstices. On the longest day and the shortest day of the year (21st June and 21st December), sunlight moves through the passage and lines up at an exact point in the tomb. If you're into all things ancient, spiritual, and the underworld – this is the day trip for you!
---
Why This Trip Is Cool:
Can spend time around these UNESCO Stone Age structures, which are rich in heritage and history.
Can observe celtic art and ancient carvings in stone.
Architectural fans can observe how these vernacular structures were built.
Spiritual (or even just superstitious folk) can head here to cast wishes, spells, or simply pray to the celtic gods!
If you head on either 21st June or 21st December, you will experience the Summer and Winter solstices.
An activity for those who prefer inward thinking rather than extroverted entertainment.
---
How To Get There:
Monday to Friday coach pick-up location and times: 9.30 am from The Mespil Hotel (on Mespil Road), 9.40 am from the Shelbourne Hotel (at St. Stephen's Green), and 10 am from AIB Bank (37-38 O'Connell Street Upper). Return to the city center at approximately 4.30 pm.
Saturday & Sunday coach pick-up location and times: 7.30 am from The Mespil Hotel, 8.00 am from The Shelbourne Hotel, and 8.15 am AIB Bank. Return to the city center at approximately 3.15 pm. All transport is covered, but you will need to cover your own lunch.
---
What To Do When You're There:
Check in at the Newgrange Visitor center.
Have a stroll around the Boyne River.
Visit Knowth passage tomb.
Visit Dowth passage tomb.
Finish your visit with Newgrange passage tomb.
---
5. Do a Full Day Trip to Blarney Castle in County Cork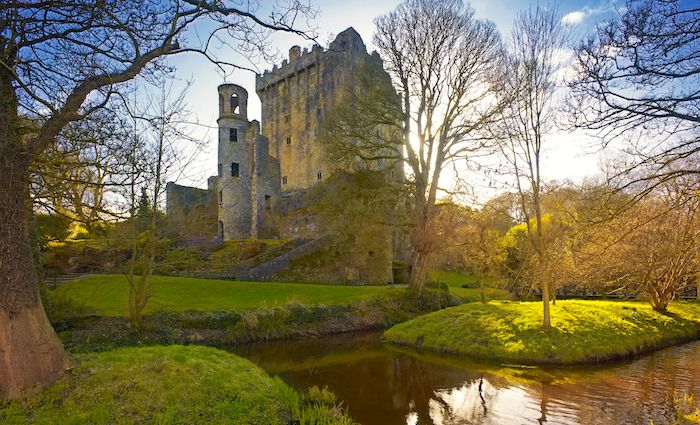 The Blarney Stone is a big slab of limestone that's set on the grounds of the beautiful Blarney Castle. Visitors have been coming for hundreds of years to bend over backward and smooch this mysterious stone. Why you ask?! Because the blarney stone gives you "the gift of the gab," of course! The old slang word "blarney" means a smart, witty, and persuasive way of talking.
As Blarney resides in county Cork, it's a 3-4 hour drive, so you'll need to set aside a full day to do this tour. Though, it's well worth the effort, as you get to roam the castle grounds, kiss the Blarney stone, head to the rock of Cashel in Tipperary, whilst also having some time in Cork city to replenish. To summarise, that's two castles you'll encounter (Blarney, plus the rock of Cashel). Ultimately, this is a day for the lovers of all things 'mythical Ireland.' The ones who enjoy Lord of The Rings type scenery.
---
Why This Trip Is Cool:
You get to satiate your superstitious needs by being granted the gift of the gab!
There are two Irish castles to explore on this particular day trip (The Rock of Cashel and Blarney castle).
Getting a local guide to enliven the tour with their knowledge and expertise.
Excellent selfie opportunities.
Plenty of lush scenery that epitomises the "look" of Ireland, such as faery forts, green fields, castles, farm animals, rivers, and bridges.
Getting the chance to step foot in two counties (Cork and Tipperary), while also driving through another 5-6.
---
How To Get There:
Coach pick-up location: 8 am – Paddy's Palace, Lower Gardiner Street, Dublin 1. Back in the city center for 8 pm. Make sure to arrive 10 minutes beforehand. Smaller tours are also available with hotel to pick up for €85. Otherwise, it's €59.
---
What To Do When You're There:
Kiss the Blarney Stone.
Walk the grounds of Blarney Castle.
Nip into the Blarney visitor center for food and souvenirs.
Explore the grounds at the Rock of Cashel.
Take some time to ramble around Cork city for shopping and food (i.e. The English Market, and also check out our list of best restaurants in Cork).
---
4. Visit Kilkenny Castle, Smithwicks Brewery, and Jerpoint Abbey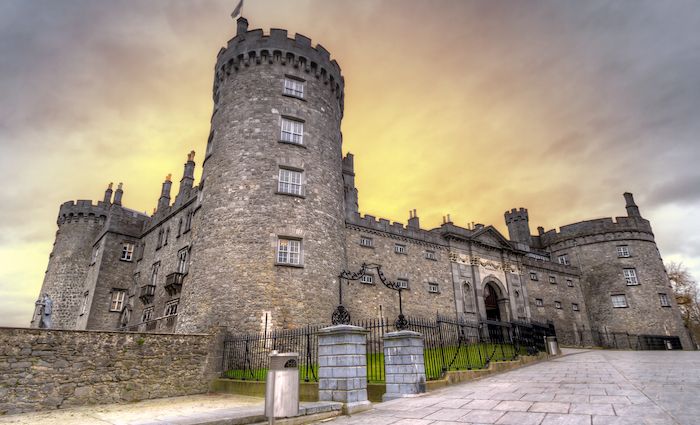 One of the best things about this particular tour is you can pick and choose what experiences you'd like to do in the medieval county of Kilkenny. To give you the jist, you can do heritage options, such as Kilkenny Castle, the Kells priory, or glassblowing at Jerpoint Abbey. You have cultural activities such as Smithwick's brewery, hurling sports experiences, and the National Reptile Zoo. Then adventure activities like The Blackstairs foraging and walks, Dunmore caves, and Castlecomer Adventure Centre.
You'll also be able to stop through the picturesque county of Wicklow, where you can catch a glimpse of the Sugar Loaf mountain and the surrounding tree-lined landscape. Most people opt for a trip into Kilkenny to roam around the castle and grounds, as well as popping in to grab a quick lunch at Kilkenny design center. This is absolutely the experience for you if you love to have a tailored and considered plan of action.
---
Why This Trip Is Cool:
You can tailor the tour to run at specific times that suit you.
You can curate the tour to pick what activities you'd like to do.
The tour is run by Little Gem Tours, who are a small independent tour business (so, you'll get the star treatment while supporting local).
You'll be able to cruise through the east coast and observe a vastly different landscape than the west.
There's a two-for-one in terms of being able to experience both Wicklow and Kilkenny counties.
You'll be visiting the medieval city of Kilkenny, which was built during viking times.
Depending on your energy levels, you can choose between cultural, leisure, or sporting activities.
Kilkenny is an underrated county in Ireland. It has a great reputation, but isn't as touristic as other parts of Ireland (i.e. Dublin, Cork, Galway).
---
How To Get There:
All of the timetables for this tour are flexible, meaning that you can suggest a time that works for you. For example, you could depart from Dublin at 9.30 am and return at either 3.30 pm, 5 pm, or 7.30 pm. As with all the tours in this article, coach transportation is organized throughout the whole day. Just a heads up, I don't have more information about the pickup point in Dublin right now but will update that as soon as I do. I presume you can negotiate a pickup point in Dublin.
---
What To Do When You're There:
You can choose as many activities as you like, from the following:
Kilkenny castle and lunch in the city.
Kells priory.
Glassblowing at Jerpoint Abbey.
Smithwick's brewery.
Hurling sport experiences.
The National Reptile Zoo.
The Blackstairs foraging and walks.
Dunmore caves.
Castlecomer Adventure Centre.
---
3. Do A Day Trip To The Giant's Causeway And Titanic Belfast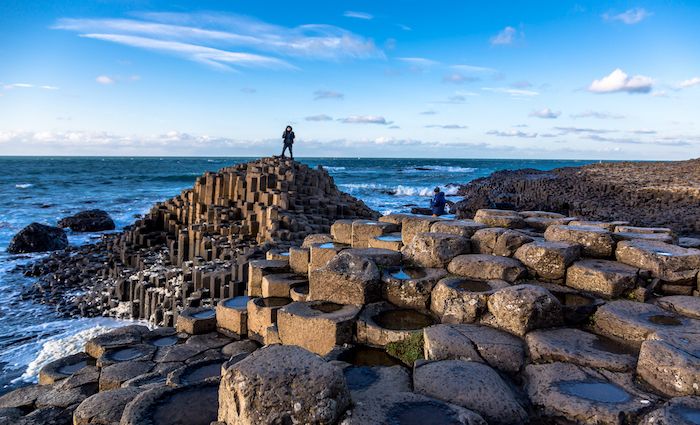 The Giant's Causeway is a UNESCO site in county Antrim. It's affectionately known to some as the "eighth wonder of the world." To put this into perspective, the site was formed millions of years ago, when a volcanic eruption caused molten rocks to squeeze through the earth's cracks. The aftermath created The Giant's Causeway, which looks man-made but is rather a natural formation of flat and hexagonal-shaped rocks. Legend has it, these basalt rocks are actually steps for giants traveling between Scotland and Ireland.
As you're in the North of Ireland, you can also visit The Titanic museum in Belfast city. As both county Antrim and Belfast are occupied by The United Kingdom, you get to experience two countries in one vacation! Everything is different in the North, from the currency (British sterling instead of Euro) to the phone reception, accents, and architecture. If you book the full-day trip via The Tour Guy, you can avoid having to organize a second travel visa. This particular excursion also gives you luxury coach transportation to and from Dublin, as well as all-inclusive access to The Titanic Museum and The Giant's Causeway. There is a further pit stop to Dunluce Castle and the Game of Thrones hedges. This tour is perfect for people who want to mix the history of industrial Ireland with the environmental history of the land.
---
Why This Trip Is Cool:
Getting to see the eighth wonder of the world, The Giant's Causeway!
Going over a cliff hanging rope bridge near The Giant's Causeway (not for the faint hearted!).
Excellent selfie opportunities.
Being at the northernmost part of Ireland in county Antrim.
Technically being in two different countries at the same time (seeing as the north is occupied by The UK).
The chance to get hands-on, over at the interactive Titanic museum.
Soaking up the tragic but fascinating history at The Titanic museum.
Being able to put a coin into a machine at The Titanic museum, which flattens it and churns it out into a special titanic coin.
---
How To Get There:
The best method of getting to Belfast is to go with The Tour Guy's full-day tour. This way, you'll have all your transportation organized for you beforehand, which is via a luxury coach. You only need to worry about getting to the pickup point, which is in the city center. You will receive coach pick-up information upon booking.
---
What To Do When You're There:
The Titanic Museum.
Rope Bridge at The Giants Causeway.
The Giants Causeway and visitor centre.
Dunluce castle.
Game of Thrones Hedges.
---
2. Visit Hook Lighthouse and The Irish National Heritage Park in County Wexford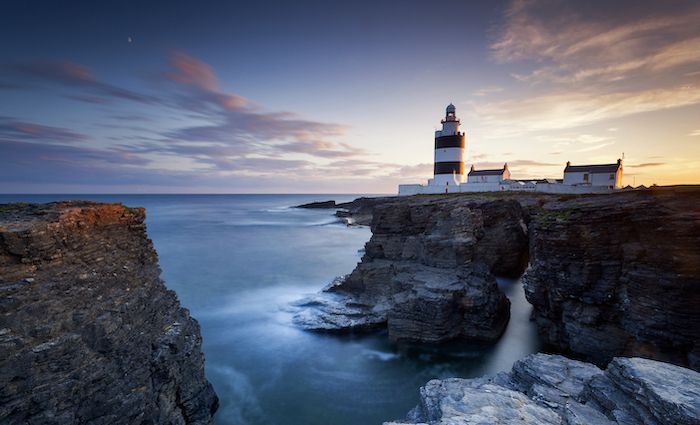 Wexford is located in Ireland's "sunny southeast." It's aptly named because it's geographically the closest to France. It also doesn't get the battering of the harsh Atlantic weather like the west. There are many things to see and do in Wexford, from a trip to the Irish National Heritage Park – with its ancient Irish folk reenactments – mud huts, costumes, stone-age weapons, and so forth. You can also grab a spot for lunch at the heritage park before heading out to Hook lighthouse.
Hook lighthouse, by the way, is the oldest functioning lighthouse in the world! Quite a feat, considering there are nearly 22,000 lighthouses in the world. It's one of Wexford's top attractions, mainly for its seascape. You have vast amounts of flat rock surrounding the lighthouse, where you can walk out onto the seabed to watch the waves crashing in. In addition, the day tour I've recommended allows you some time at the end in Enniscorthy town. You'll have an hour, or so, to walk through the streets, grab a coffee at Cotton Tree cafe, and then return to Dublin.
---
Why This Trip Is Cool:
A destination that's popular with locals from around Ireland, but not internationally. Therefore not overcrowded.
Mesmerising views of the Irish sea at Hook lighthouse.
A chance to visit the oldest operational lighthouse in the world.
Excellent selfie opportunities.
Getting reenactments of stone age living in Ireland through experienced actors at the Irish National Heritage Park.
Being driven along the east coast of Ireland, soaking up the views and relaxing as a passenger.
Strolling around Enniscorthy town to John street, Court street, The Folly, Mrs. Kelly's shop, and The Athenaeum.
---
How To Get There:
"Around Ireland" is the company which organizes this tour. Similar to the Kilkenny day tour, they offer an entirely customizable day trip. Guests can pick the departure times, group size, and activities. Click the link below to get in touch and request a quote for this day trip. You will be departing from Dublin city center, but the exact location is TBC, depending on your needs.
---
What To Do When You're There:
Hook lighthouse.
Irish National Heritage Park.
Getting to know Enniscorthy town.
---
1. Do a Half Day Trip to Glendalough in County Wicklow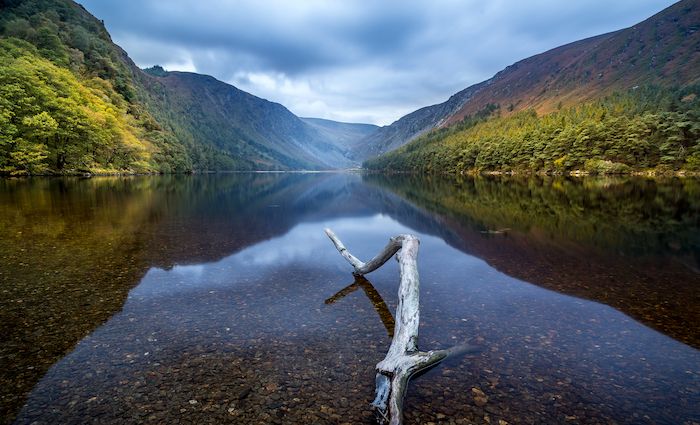 Glendalough is a series of idyllic brooks, lakes, and valleys in county Wicklow. Moreover, it's just a stone's throw from Dublin city. The bio-reserve is favored with film location scouts for its Utopian looking landscape, in fact, iconic movies like 'Braveheart' and 'PS. I Love You' were previously shot in Glendalough. You can book a half-day tour with "Paddywagon," which will take you by coach from Dublin (the driver is also the tour guide). The first stopping point is at the entrance of Glendalough, where you'll see the ruins of St Kevin's monastery. You can use this time to walk around the graveyard and admire all the Celtic headstones. You'll then get an hour and a half to walk through the forest trail to the lakes.
Afterward, you get a chance to pop through and see Lough Tay, which was originally bought as a private lake for the Guinness family. Ironically, the water in this lake is pitch-black like Guinness. The driver lets you off the bus again at this point, and you get a few minutes at the edge of the mountaintop to peer over Lough Tay. I wholeheartedly recommend this experience if you are a nature lover who likes the stillness of a lake, or the lush greenery of Ireland.
---
Why This Trip Is Cool:
Still and eerie vibes at the upper lake at Glendalough.
Water like glass at the Glendalough lakes.
Peaceful and easy hiking trails that are on the flat.
A totally unaffected and unspoilt area in Ireland.
Having a local Irish tour guide to help you with any queries you may have.
Checking out the old, moss laden, celtic headstones and ruins at St. Kevin's monastery.
Driving through the narrow, steep cliff road to the black waters of Lough Tay (owned by Guinness family).
Getting photo opportunities on the mountain face of Lough Tay.
---
How To Get There:
Pick-up point and times:
8 am or 1 pm from Paddy's Palace on Lower Gardiner Street, Dublin 1.
8.10 am or 1.40 pm from "Discover Ireland" office on O'Connell Street, Dublin 1.
8.15 am or 1.45 pm from The Molly Malone statue on Suffolk Street, Dublin 2.
---
What To Do When You're There:
Hiking and walking through Glendalough upper and lower lakes.
Visiting the ruins of St. Kevin's monastery.
Selfies at the summit of Lough Tay.
---