Dublin won't be the biggest city you ever visit, but you still want to choose a hotel in a cool area that suits your vibe. We've put together our favorite areas in Dublin and why you'll love them. From Portobello to Temple Bar, here's where to stay in Dublin for families, solo travelers, and couples.
---
Pro Tip: It's easier to organize your trip when you have all your resources in one place. Bookmark this post along with our Dublin Guide with more planning resources, our exciting Dublin tours for a memorable trip, and the top things to do in Dublin.
Where To Stay in Dublin: Best Hotels and Neighborhoods
If you're thinking of visiting Dublin, this guide will help you scope out the best neighborhoods to stay in, as well as the top hotels, B&B's, and short-term rentals. Dublin has a surprising number of areas we could recommend since it's come a long way in terms of tourism recently. But to make it easier to choose, here are our favorite neighborhoods for staying in the city.
Our Partnership with Booking.com. If you like our content, please book by clicking on our Booking.com links. The price is the same for you and we get a small commission that helps support our helpful blog content. We've partnered with Booking.com because they have the most options, great prices, and a solid loyalty program.
Temple Bar & Trinity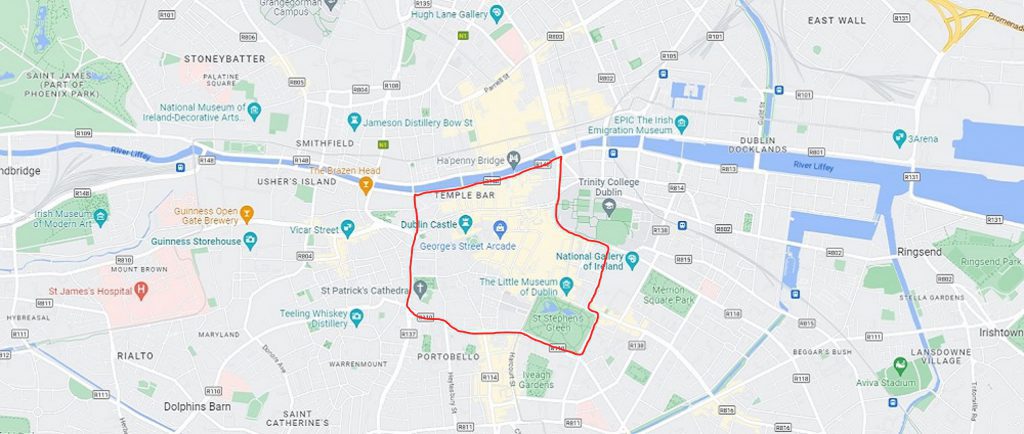 Temple Bar is the hub for all things touristy in Dublin, so it's perfect for those who want to be in the center of it all, including families. We've included the nearby area of Trinity with Temple Bar because there's just a lot of great hotels in this part of Dublin and tons of top attractions.
In 1599, Temple Bar started as a settlement for wealthy English families, but now it's beloved for boozy bachelor parties and the "plastic Paddy" experience. You'll find Dubliners are the first to knock the area because it doesn't represent an "authentic" Dublin, but most travelers think it's charming and full of excitement. The wonky cobblestones and the talented buskers—they're all essential to Dublin's character.
---
Why I love Temple Bar:
The cobblestones, which are part of Dublin's history and character
Getting to watch visitors experience Dublin with fresh eyes
Independent vintage clothing stores like Tola, Nine Crows and Siopaella
Pubs and clubs that have a mix of locals, expats and visitors (Bad Bobs, Anne's and Button Factory)
The street buskers
Attractions Near Temple Bar:
Gallery of Photography Ireland
National Photographic Archive
Temple Bar Gallery and Studios
The Irish Rock 'n' Roll Museum Experience
The National Leprechaun Museum of Ireland
Meeting House Square (food markets)
The Temple Bar pub (photo opportunity) and earth cam, where you can wave to the world in real time
Dublin Castle
Trinity College and The Book of Kells
Best Restaurants in Temple Bar:
Best Hotels in Temple Bar:
---
The Grafton Hotel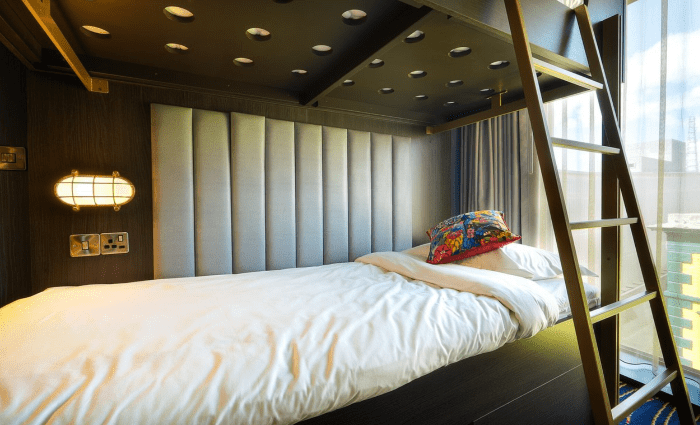 €€ | 4 Star Hotel | Quirky Carnival Design | Family Friendly
The main perk of The Grafton Hotel is that children under the age of twelve can stay for free, and they have several family rooms available. It's in a safe part of town near St. Stephen's Green so you're out of the busiest areas, but close enough to walk for dinner or attractions.
The Fleet Hotel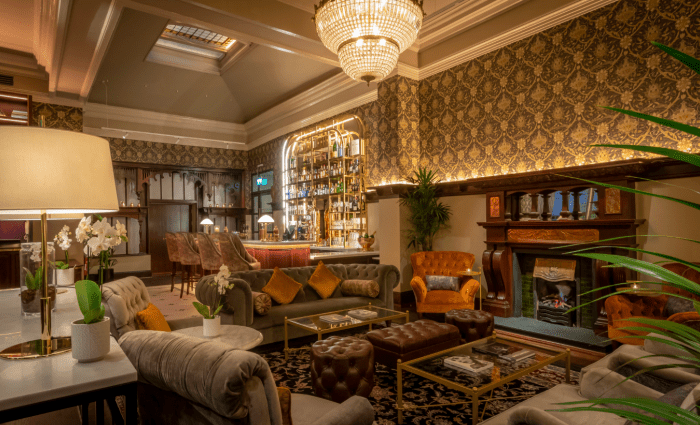 €€€ | 4 Star Hotel | Cozy & Comfy | Luggage Storage after Checkout
The Fleet Hotel has all the glitzy bells and whistles of a 4-star hotel but goes for comfort and warmth in the bedrooms. It's located on Fleet Street, which is dead center of Temple Bar (but on the quiet side). A logical choice for visitors who want to see the mainstream attractions.
The Westbury Hotel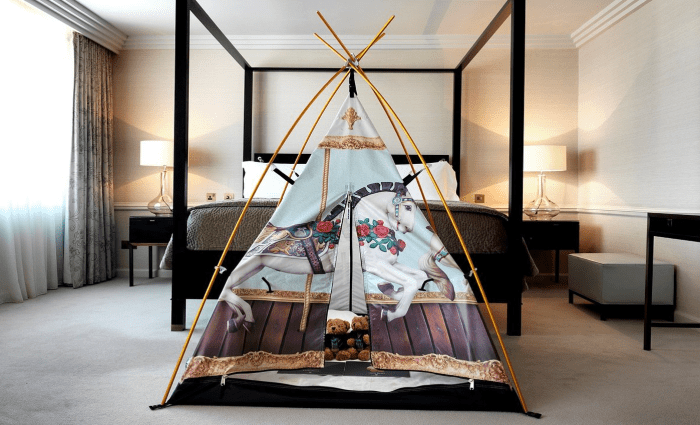 €€€ | 5 Star | Luxury but Affordable | Tepees for Kids
The Westbury is a glamorous and centrally located hotel right on Grafton Street that is ideal for pedestrians (and strollers). Typically, the hotel attracts business tycoons, luxury shoppers, and socialites, but it's also surprisingly child friendly with babysitting services, adjoining suites, etc. Ask for a teepee for the kids!
Staycity Aparthotels Dublin Castle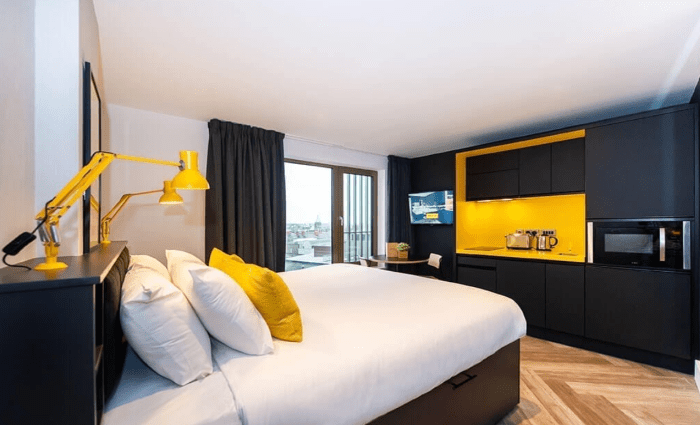 €€ | Self Catering Studios | Modern | Multilingual Staff
Staycity aparthotels bridges the gap between hotels and studio apartments. This means more facilities at your disposal like microwaves, sinks, toasters, office desks. All perfect for families, long-term stays, business trips, or young couples on a budget in Dublin.
Portobello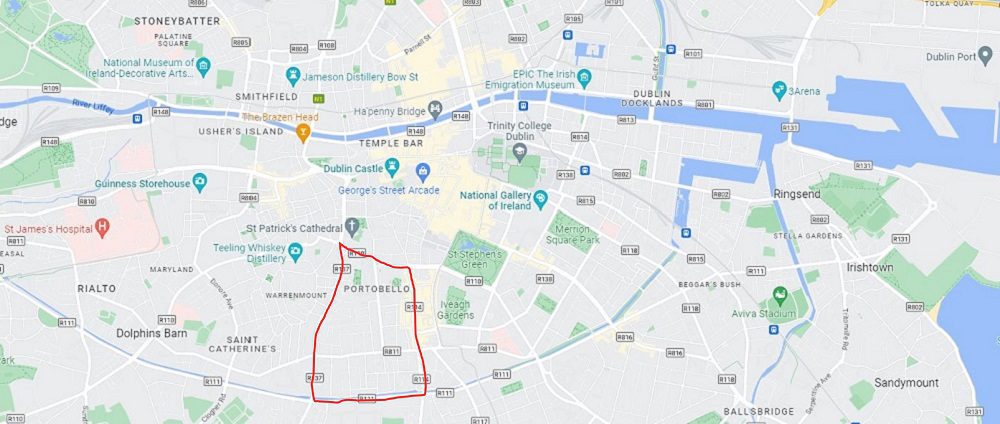 Portobello is perfect for those nightlife seekers who want to stay in a newer area that's rivaling some of the more well-known tourist areas. A hotspot for going out on the town is on Camden Street, a mile-long strip of trendy bars and restaurants. Or you can head to Harcourt Street where all the clubs pop off.
If you're a coffee lover, head to my favorite spot called The Last Bookshop and order a sambo (sandwich), read a book, and sip on a cappuccino without city noise on the back patio. Or head to the canal and drink a pint amongst the swans and barges that drift by. Young travelers looking to rub shoulders with other young travelers will love Portobello.
Why I Love Portobello:
The social buzz on the canal in the evenings, people chattering and "drinking cans"
Awesome art murals on buildings, street corners, and electrical boxes
Tons of coffeehouses and bookshops
Basement clubs in unassuming Georgian buildings
Pubs with creaky, wooden floors dating back to the 17th century
Attractions Near Portobello:
Irish Jewish Museum
Extreme time off kayaking
St Kevin's Church and garden
Best Restaurants in Portobello:
Best Hotels in Portobello:
The Green Dublin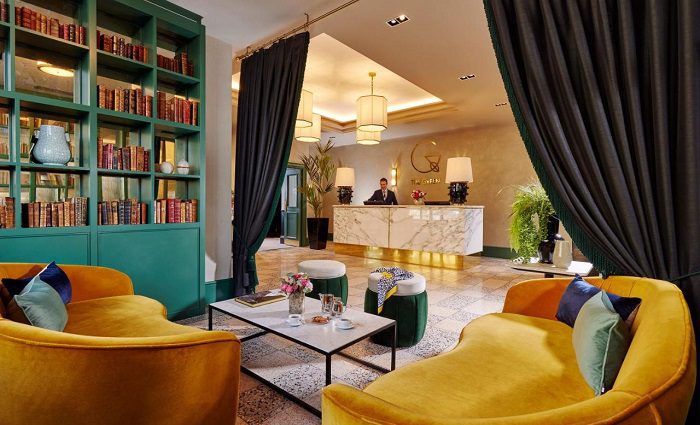 €€€ | 4 Star | Family Friendly | Great Views | Fantastic Breakfast
Right next to St. Stephen's Green in the heart of Dublin, The Green is a stylish hotel with everything you need. With a central location, delicious breakfast, and comfortable rooms, it's a great base to explore the city's top attractions and best restaurants.
The Dean Dublin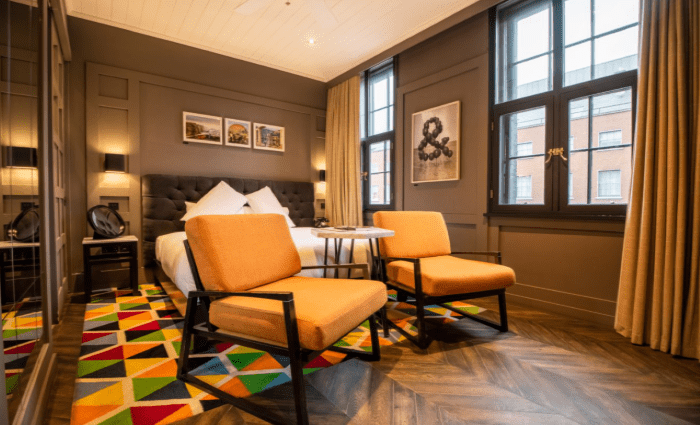 €€€ | 4 Star | Boutique | Modern | Panoramic Rooftop Bar
The Dean is a slick boutique hotel with moody interiors and pop art touches. The hotel lies on Harcourt street, which is Dublin's main district for clubbing and nightlife. Furthermore, it's just minutes by foot to high-end shopping on Grafton Street.
Camden Court Hotel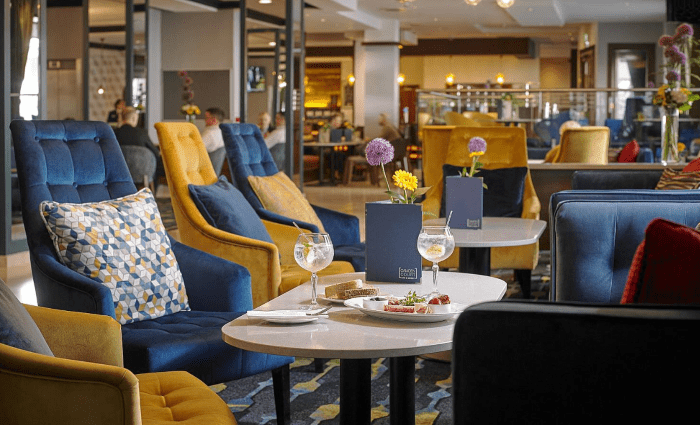 €€ | 4 Star Hotel | Family Suites | Pool, Sauna and Gym
The Camden Court Hotel is a basic but reliable hotel with lots of facilities – even a hair salon. The rooms range from standard singles to large family rooms with sofa beds. This is a popular choice for families and business groups.
Merrion Square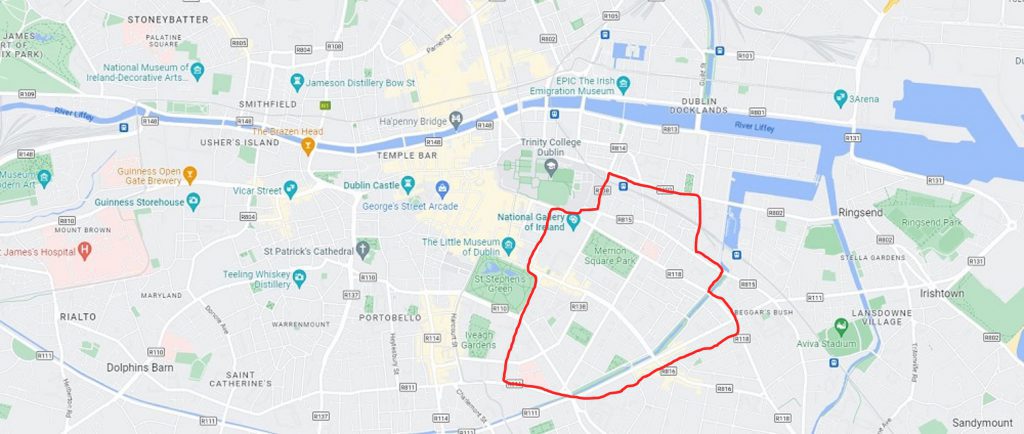 The postcode of "Dublin 2" is crazy desirable, particularly the quarters surrounding Merrion Square park. It's a well-appointed location with lots of upscale hotels (at great prices), but few residential areas and restaurants (find more just over in Temple Bar/Trinity area.
You'll love Merrion Square if you're looing for a quieter area in Dublin that's a little nicer but still close to Trinity and St. Stephens. There's plenty to do in the area, such as art museums, impressive government buildings or visiting a "dead" zoo. Authentic Irish pubs like O'Donoghue's on Baggot Street are also a hit with celebrities. Rihanna once had her Thanksgiving party there!
Why I Love Merrion Square:
Packed with cultural attractions and museums
A sense of opulence and grandeur from government buildings
The ONLY part of Dublin that has barely any traffic and wide roads
Frequent concerts, food markets and art stalls at Merrion Square
Attractions Near Merrion Square:
National Concert Hall
The National Gallery of Ireland
RHA Gallery
National Museum of Ireland ("dead zoo")
MoLI – Museum of Literature Ireland
O' Donoghue's pub on Baggot Street
Best Restaurants in Merrion Square:
Best Hotels in Merrion Square:
---
Number 31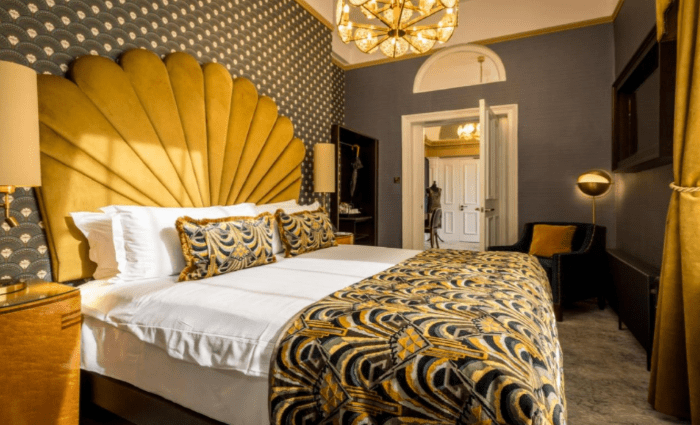 €€ | 4 Star | Luxury Townhouse | Classic Design in a Historic Building
Number 31 is an eclectic townhouse that has been lovingly redesigned with respect to the Jazz Age. The interiors are a mix of art deco and mid-century modern, particularly the 70's conversation pit in the lobby. This would be the best hotel for couples, design lovers, and those in need of a recharge.
The Mespil Hotel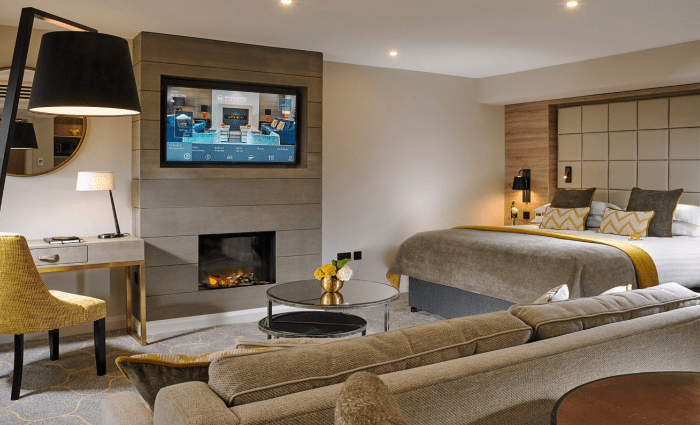 €€ | 4 Star Hotel | Contemporary | Hotel Restaurant | Family Friendly
Kids under twelve stay for free and the rooms are reasonably sized. Families can request a selection of board games and puzzles at reception. It has a great view of the canal and you're just a 15-minute walk from it all.
The Merrion Hotel Dublin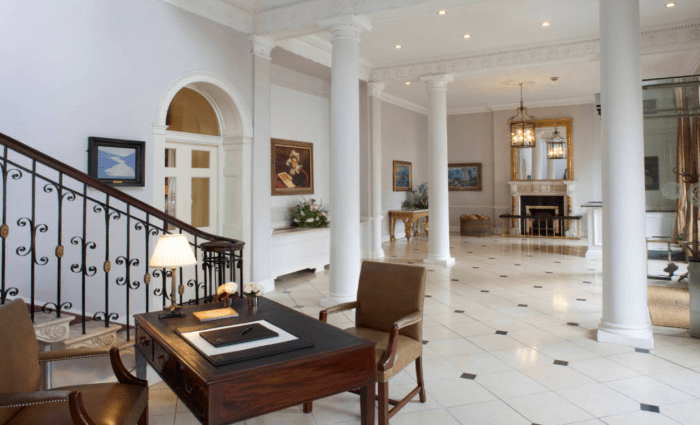 €€€€+ | 5 Star Luxury Hotel | Georgian Architecture | Pool, Spa and Gym
The Merrion Hotel is unequivocally "extra." Case in point, their regency-style rooms with low hanging chandeliers and plush bedding. This is the ultimate display of self-indulgence. One would say the only thing missing is being mouth-fed grapes by a member of staff.
Smithfield and City Center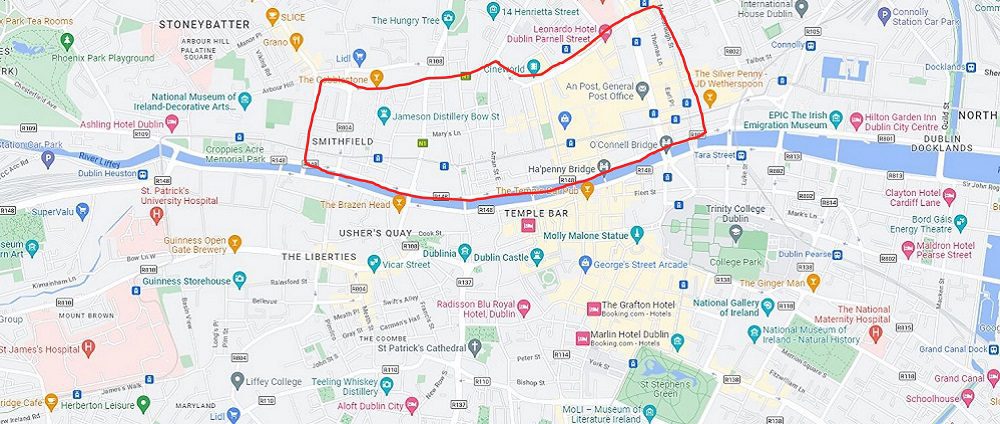 So, technically, we've put together Smithfield with another central area in Dublin, but they're super close to each other. Smithfield has revitalized itself over the last decade with a plaza for outdoor markets and a lingering industrial revolution vibe.
If you like to stay near the best food scene, then a hotel in Smithfield or nearby is ideal. (Even up in Stoneybatter.) Couples and young people love staying in this area in Dublin and often head to the Jameson Whiskey Distillery or Phoenix Park (largest part in Europe). It's a great area to explore further since you're across from Temple Bar and near the Dublin Docklands.
Why I Love Smithfield:
Impressive large scale art murals
10 minute walk to the city center and well connected via The Luas tram and city buses
Sustainable clothing shops like Dublin Vintage Factory
Weekly flea markets in Smithfield Plaza
Restaurants and cafés that are ahead of the curve
Attractions Near Smithfield:
Dublin zoo
Phoenix Park
Áras an Uachtairain in Phoenix Park (equivalent to The White House)
Token (a retro arcade with food and drinks)
The Jameson Whiskey Distillery
The Cobblestone pub for live Irish music
James Joyce Bridge
Best Restaurants in Smithfield:
Best Hotels in Smithfield:
The Hendrick Smithfield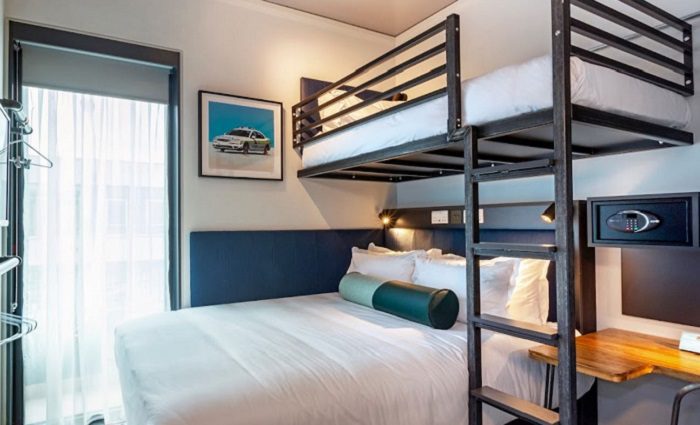 €€ | 3 Star | Quieter Area | Family Rooms
If you're looking for a cheaper stay that's still nice for families or groups of friends, try the Hendrick in Smithfield. Some rooms are smaller but others have bunk beds. You're close to transportation options here and not far from the Jameson Distillery.
Zanzibar Locke, Ha'Penny Bridge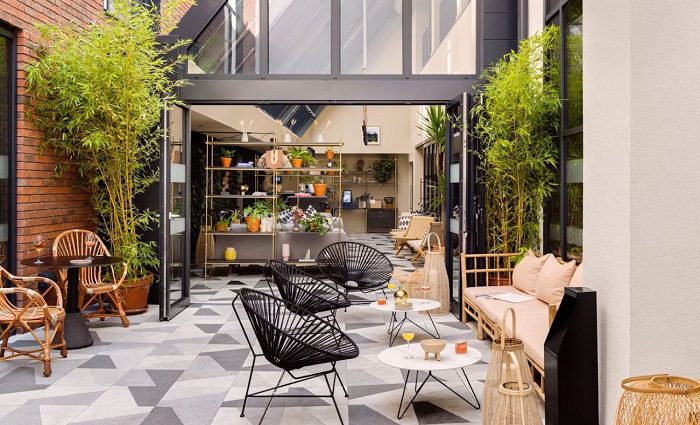 €€+ | 4 Star | Bright & Modern | Rooms & Apartments
Choose your room style, then love how comfortable you feel inside this bright hotel. If you need a long-terms stay, this is an ideal choice. But it's also perfect for travelers who want a nice hotel on the canal near all the top attractions.
Arlington Hotel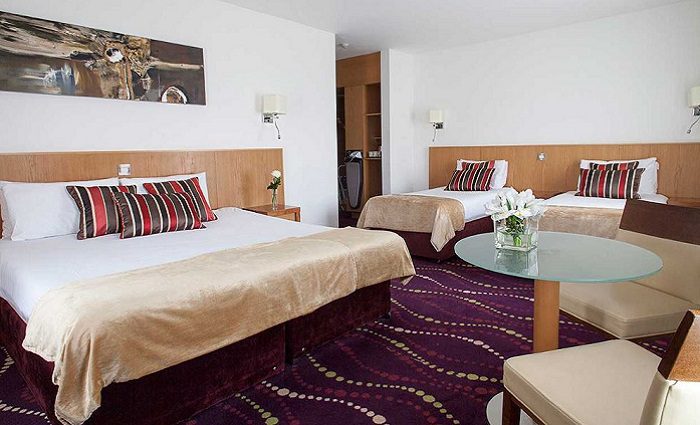 €€ | 3 Star | Basic Rooms | Fun Entertainment
The funnest part of staying at the Arlington Hotel is the attached bistro with a medieval theme. It makes up for the older decor throughout the hotel, but you're not going to be in your room much anyway. It's a good price in a central location for budget travelers.
The Morrison Dublin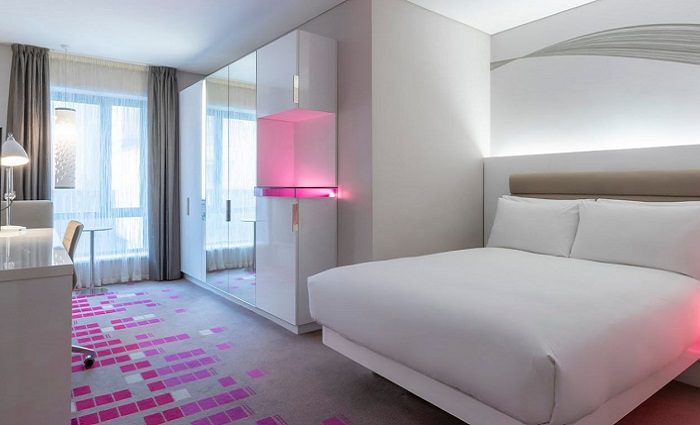 €€€ | 5 Star | Hotel Bar/Rest | Couples Favorite
You're super central at this 5-star hotel in Dublin's city center. It's a sophisticated hotel that has super clean lines for a modern vibe. For convenience, you can use the bar and restaurant onsite, or hit up the gym if you didn't get your steps in already.
The Liberties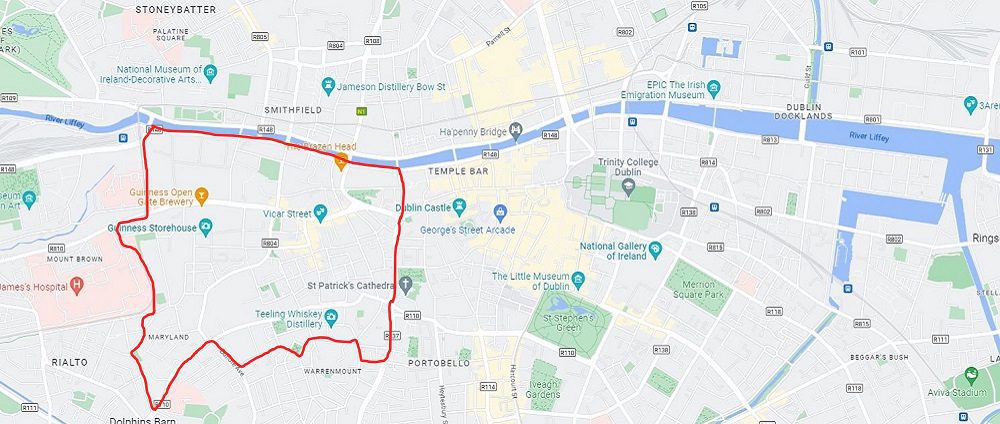 For the most historic place to stay, try The Liberties. Fair warning, there aren't a lot of hotel options here (more rentals and hostels), but it's a cool area if you're interested in old pubs, flea markets, and breweries like the Guinness Storehouse. The Liberties is the oldest part of Dublin, established in Anglo-Norman times over 1,000 years ago.
Look for the Gothic-inspired Christchurch Cathedral and St. Patrick's Cathedral (which has a medieval crypt) here too. The architecture in the area is also mostly Victorian redbrick, which sets The Liberties apart from any other Dublin neighborhood. This is your best bet if you're an older traveler looking for authentic Dublin or a younger traveler looking for rentals.
Why I love The Liberties:
Real Dublin accents and personalities
Young men using the roads on horse and cart
The unique Victorian architecture and tree-lined streets
The offbeat coffee shops, bars and restaurants – the old mixed with new
The Music scene (intimate concerts in Vicar Street or jazz gigs in Arthur's Bar)
Attractions Near The Liberties:
The Guinness Storehouse
Teeling Whiskey Distillery
Pearse Lyons Distillery
Roe & Co Distillery
Kilmainham Gaol
IMMA (Irish Museum of Modern Art)
St. Patrick's Cathedral and Christchurch Cathedral
Best Restaurants in The Liberties:
Two Pups
The Fumbally
Variety Jones
Coke Lane Pizza at Lucky's Pub
D-8TE (high-end food trucks with seating at Roe and Co Distillery)
Best Hotels in The Liberties:
---
Hyatt Centric The Liberties Dublin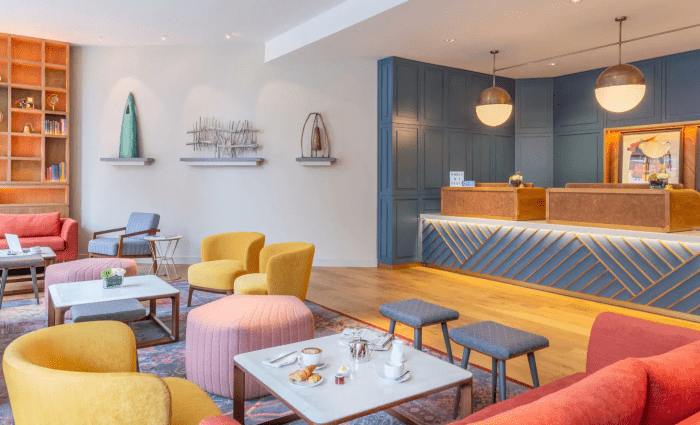 €€€ | 4 Star Hotel | Chic | In Oldest Part of Dublin
Hyatt Centric is an ideal destination for romantic breaks or girls' getaways. The interiors are minimalist, feminine, and paired back, with a touch of Scandinavian design and "hygge" lighting. The hotel is a short walk to the Teeling Whiskey Distillery and St. Patrick's Cathedral.
Staycity Aparthotels – Tivoli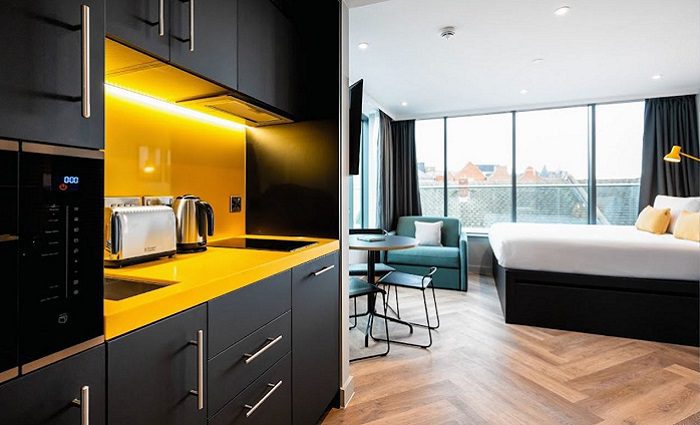 €€+ | 4 Star Hotel | Apartments | Traveler Favorite
For a quiet, long-term stay in Dublin's oldest neighborhood, the Staycity Aparthotels – Tivoli are a safe bet. You can add on the breakfast buffet or use your own kitchen. Plus you're about halfway between Temple Bar and Guinness Storehouse here, so it's perfectly situated.