Dublin is a walking paradox. It's a city with no skyscrapers and the accents change every three miles. Mind you – our universal truth: you'll never have a warmer feeling than when stepping into the pub, out of the rain.
---
Our Partnership with Booking.com. If you like our content, please book by clicking on our Booking.com links. The price is the same for you and we get a small commission that helps support our helpful blog content. We've partnered with Booking.com because they have the most options, great prices, and a solid loyalty program.
If you're thinking of visiting Dublin, this guide will help you scope out the best neighborhoods to stay in, as well as the top hotels, B&B's, and short-term rentals. Looking for luxury hotels? Check out our top Luxury hotels in Dublin!
Top Dublin Neighborhoods We'll Cover:
Where to Stay & Best Hotels in Dublin
Portobello
Portobello dates back to the 1880's when housing was needed for Jewish refugees fleeing massacres in Eastern Europe. An anchor for many then, and for many now, especially writers, actors, and artists. The neighborhood is currently experiencing its first wave of gentrification, so you'll find plenty of up-and-comers on streets lined with graffiti. A hotspot for this type of thing is on "Camden Street," a mile-long strip of trendy bars and restaurants. Another popular area is "Harcourt Street," where all the clubs pop off.
To boot, there's a big coffee culture in Portobello. My favorite is the secondhand bookstore, "The Last Bookshop," which has a tranquil café out the back. You can eat a sambo [sandwich], read a book, and sip on a cappuccino without city noise.
The edge of Portobello's district runs parallel to the "Grand Canal," which connects Ireland's East with rivers of the West. People love to sit by the canal bank and have drinks among the swans and barges. It's an idyllic location for young creatives who have a bit of money to spend, a desire to eat well, and the motivation to party hard.
---
Why I Love Portobello:
The social buzz on the canal in the evenings, people chattering and "drinking cans"
Awesome art murals on buildings, street corners and electrical boxes
Tons of coffeehouses and bookshops
Basement clubs in unassuming Georgian buildings
Pubs with creaky, wooden floors dating back to the 17th Century
---
Attractions Near Portobello:
---
Best Restaurants in Portobello:
Las Tapas De Lola
Brother Hubbard South
Locks Windsor Terrace
ALMA
Assassination Custard
Franks
Delahunt
Hang Dai
The Cake Cafe
---
Best Hotels in Portobello:
---
The Dean Dublin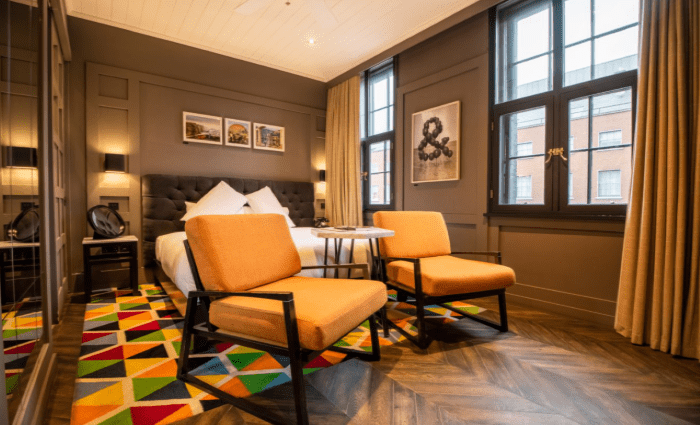 €€€ | 4 Star | Boutique | Modern | Panoramic Rooftop Bar
The Dean is a slick boutique hotel with moody interiors and pop art touches. The hotel lies on Harcourt street, which is Dublin's main district for clubbing and nightlife. Furthermore, it's just minutes by foot to high-end shopping on Grafton Street.
Camden Court Hotel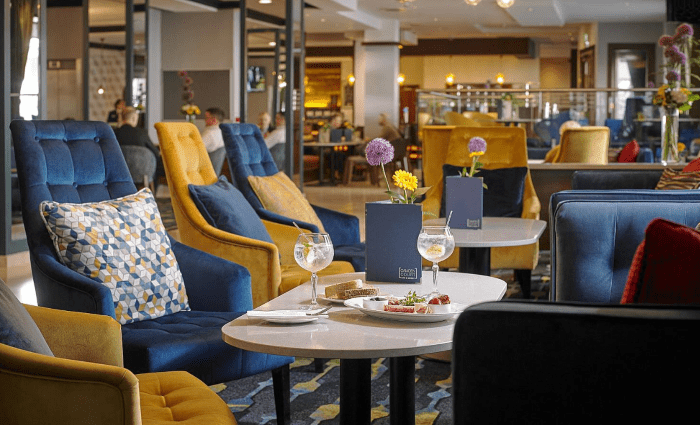 €€ | 4 Star Hotel | Family Suites | Pool, Sauna and Gym
The Camden Court Hotel is a basic but reliable hotel with lots of facilities – even a hair salon. The rooms range from standard singles to large family rooms with sofa beds. This is a popular choice for families and business groups.
Ranelagh
---
Ranelagh is an affluent suburb on the South side of Dublin. You might look at the map and think it's too far away from the city center. However, like most Dublin suburbs, the neighborhood is just a 30-minute walk from the nucleus that is Temple Bar.
The architecture of Ranelagh is accredited to British colonial days, so you'll see rows and rows of redbrick Georgian houses in the area. Public gardens like "Mount Pleasant" and "Dartmouth Square" offer a quick escape to nature, as well as the grassy pathways of the nearby Grand Canal. I would say Ranelagh's main appeal, however, is the top-notch gastropubs and restaurants in the village.
---
Why I Love Ranelagh:
Off-the-beaten path restaurants and gastropubs
Away from tourist traps but still within a 30 minute walk to the city center
Welcoming community (block parties often held here during the Summer)
Family friendly area
Attractions Near Ranelagh:
Public parks: Ranelagh Gardens, Dartmouth Square and Mount Pleasant Square
Stella Cinema (1930's cinema and cocktail club)
Leinster Cricket Club
Best Restaurants in Ranelagh:
Host
Nightmarket
Rita's Pizza
Dillinger's
Bunsen Ranelagh
Kinara Kitchen
Best Hotels in Ranelagh:
---
The Devlin Dublin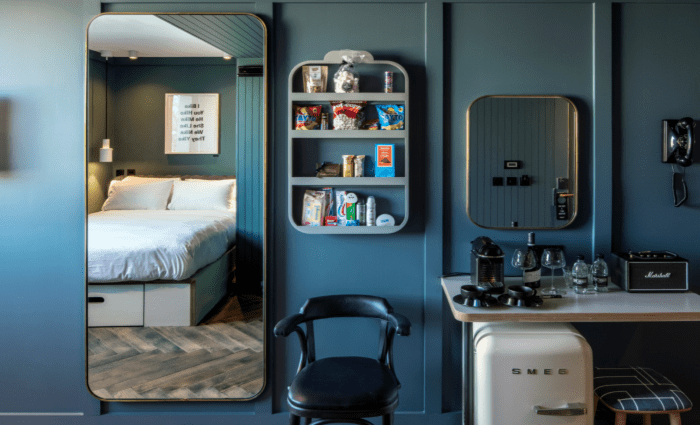 €€€ | 4 Star | Boutique Hotel | Modern | Rooftop Bar
The Devlin is sister to the aforementioned Dean hotel in Portobello. It boasts the same slick and moody interiors, except it ebbs more on the mid-century modern side. Guests have access to a rooftop bar, 1930's cinema, coffee hatch, and cocktail bar. You also get a 99 ice cream on arrival!
Merrion Square, Dublin 2
---
The postcode of "Dublin 2" is crazy desirable, particularly the quarters surrounding Merrion Square park. It's a well-appointed location that tourism boards want visitors to stay in. Lots of upscale hotels, but few residential areas.
If you'd prefer to be away from the crowds and shouty party-goers, then any of the streets surrounding Merrion Square will be a safe haven for you. There's plenty to do in the area, such as art museums, impressive government buildings or visiting a "dead" zoo. Authentic Irish pubs like O'Donoghue's on Baggot Street are also a hit with celebrities. Rihanna once had her thanksgiving party there.
Why I Love Merrion Square:
Packed with cultural attractions and museums
A sense of opulence and grandeur from government buildings
The ONLY part of Dublin that has barely any traffic and wide roads (Irish politicians hate a long commute…)
Frequent concerts, food markets and art stalls at Merrion Square
Attractions Near Merrion Square:
National Concert Hall
The National Gallery of Ireland
RHA Gallery
National Museum of Ireland ("dead zoo")
MoLI – Museum of Literature Ireland
O' Donoghue's pub on Baggot Street
The 'Seanad Éireann' and 'Department of the Taoiseach' (Irish government buildings – equivalent to Capitol Hill in D.C.)
Best Restaurants in Merrion Square:
Cirillo's
Bloom Brasserie
L'Ecrivain
Blazing Salads
The Commons at MoLI
Suesey Street
Best Hotels in Merrion Square, Dublin 2:
---
Number 31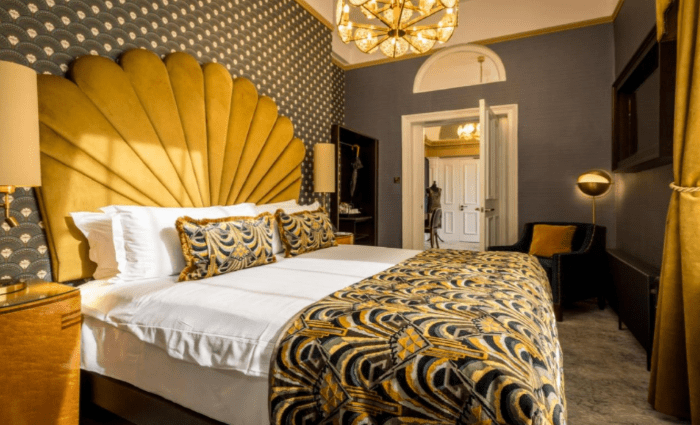 €€ | 4 Star | Luxury Townhouse | Classic Design in a Historic Building
Number 31 is an eclectic townhouse that has been lovingly redesigned with respect to the Jazz Age. The interiors are a mix of art deco and mid-century modern, particularly the 70's conversation pit in the lobby. This would be the first port of call for design lovers and those in need of a recharge.
The Merrion Hotel Dublin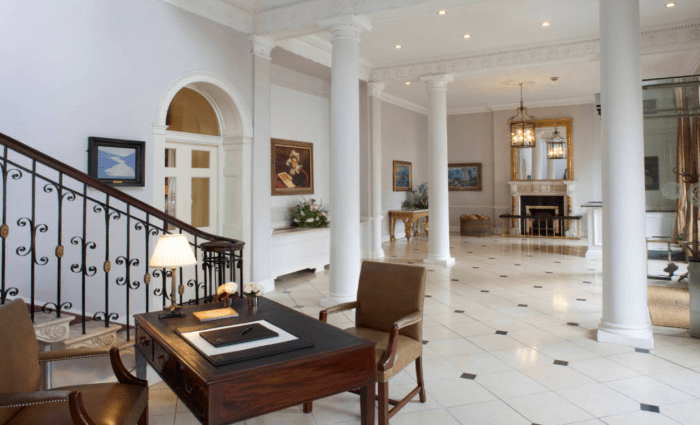 €€€€+ | 5 Star Luxury Hotel | Georgian Architecture | Pool, Spa and Gym
The Merrion Hotel is unequivocally "extra." Case in point, their regency-style rooms with low hanging chandeliers and plush bedding. This is the ultimate display of self-indulgence. One would say the only thing missing is being mouth-fed grapes by a member of staff.
Temple Bar
---
The district of Temple Bar was a number of things before it became a tourism hub. In 1599, it started as a settlement for wealthy English families. A Century later, the city built upon it a customs house to process imports and exports. Nowadays, the main pull of Temple Bar is for boozy bachelor parties and the "plastic Paddy" experience. You'll find Dubliners are the first to knock the area because it doesn't represent an "authentic" Dublin, but say what they will. It's charming and full of excitement. Arriving to Dublin and not going to Temple Bar would be like going to Venice and not taking a gondola.
Stereotypical Irish pubs and a central location should be enough to book a stay in Temple Bar, but the bits less realized, for example, the wonky cobblestones and the talented buskers – they are all intrinsic to Dublin's character.
---
Why I love Temple Bar:
The cobblestones, which are part of Dublin's history and character
Getting to watch visitors experience Dublin with fresh eyes
Independent vintage clothing stores like Tola, Nine Crows and Siopaella
Pubs and clubs that have a mix of locals, expats and visitors (Bad Bobs, Anne's and Button Factory)
The street buskers
Attractions Near Temple Bar:
Gallery of Photography Ireland
National Photographic Archive
Temple Bar Gallery and Studios
The Irish Rock 'n' Roll Museum Experience
The National Leprechaun Museum of Ireland
Meeting House Square (food markets)
The Temple Bar pub (photo opportunity) and earth cam, where you can wave to the world in real time
Dublin Castle
Trinity College and The Book of Kells
Best Restaurants in Temple Bar:
Vintage Cocktail Club
The Stage Door Cafe (for breakfast)
Piglet Wine Bar (nice side street away from the crowds)
Bottega Toffoli
Elephant and Castle (but only for the chicken wings – best in Dublin)
Rosa Madre
Gallaghers Boxty House (for traditional Irish "Boxty")
The IFI café
V (vegan)
Best Hotels in Temple Bar:
---
The Fleet Hotel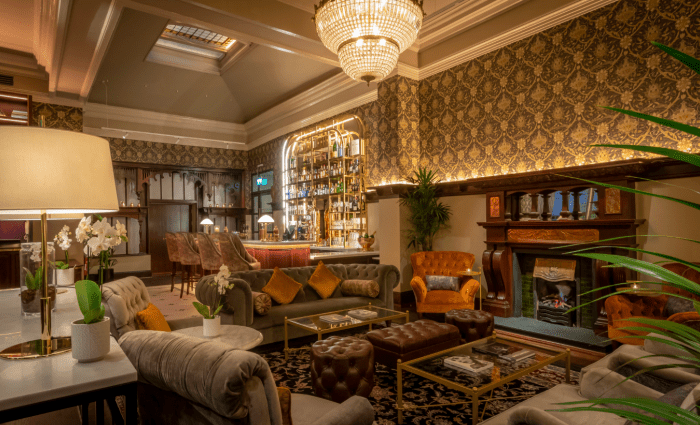 €€€ | 4 Star Hotel | Cozy & Comfy | Luggage Storage after Checkout
The Fleet Hotel has all the glitzy bells and whistles of a 4-star hotel but goes for comfort and warmth in the bedrooms. It's located on Fleet Street, which is dead center of Temple Bar (but on the quiet side). A logical choice for visitors who want to see the mainstream attractions.
Staycity Aparthotels Dublin Castle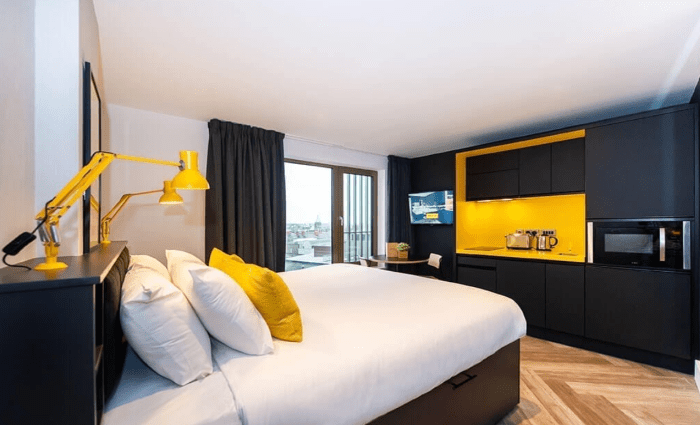 €€ | Self Catering Studios | Modern | Multilingual Staff
Staycity aparthotels bridge the gap between hotels and studio apartments. This means more facilities at your disposal like microwaves, sinks, toasters, office desks… There is a communal area and a helpful 24-hour reception desk out front. Great spot for business trips or young couples on a budget.
The Westin Dublin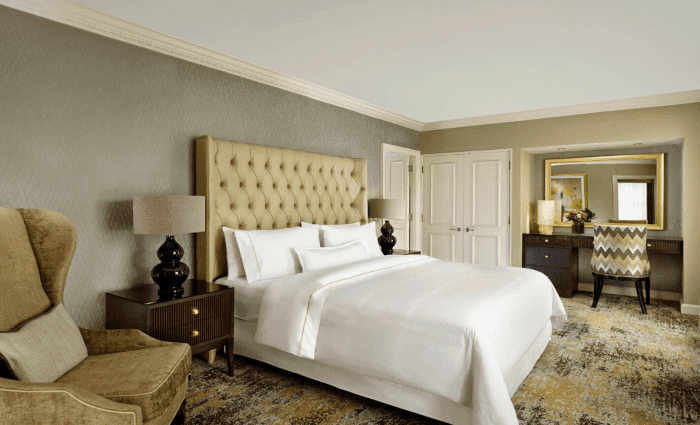 €€€€ | 5 Star Luxury Hotel | Iconic & Classic | Historic Building in Former Bank
The Westin is an institution for high-class travelers who want immaculate service and repose from the noise of Temple Bar. Guests love the atrium lounge for afternoon tea and reading the papers. It's a fitting choice for older couples who enjoy a neutral color palette.
The Liberties
---
The Liberties is the oldest part of Dublin, established in Anglo-Norman times over 1,000 years ago. The name comes from King Henry II of England, who gave monks in a nearby monastery certain privileges, or "liberties" to control trade in the area. It has since become a focal point for tourism, old man pubs and flea markets – where vendors regularly sell their wares for the price of "two for a yordo [euro]!" Furthermore, all of Dublin's main breweries and distilleries are situated in The Liberties, including the legendary Guinness Storehouse.
On the main streets, people will find a few things to pique their interest, most commonly the Gothic-inspired Christchurch Cathedral and St. Patrick's Cathedral (which has a medieval crypt). Architecture in the area is also 80% Victorian redbrick, which sets The Liberties apart from any other Dublin neighborhood. In terms of retail, "Francis Street" has dozens of antique stores. You can find anything from Persian rugs to retro Guinness merchandise.
---
Why I love The Liberties:
Real Dublin accents and personalities
Young men using the roads on horse and cart
The unique Victorian architecture and tree-lined streets
The offbeat coffee shops, bars and restaurants – the old mixed with new
The Music scene (intimate concerts in Vicar Street or jazz gigs in Arthur's Bar)
Attractions Near The Liberties:
The Guinness Storehouse
Teeling Whiskey Distillery
Pearse Lyons Distillery
Roe & Co Distillery
Kilmainham Gaol
IMMA (Irish Museum of Modern Art)
St. Patrick's Cathedral and Christchurch Cathedral
Best Restaurants in The Liberties:
Two Pups
The Fumbally
Variety Jones
Coke Lane Pizza at Lucky's Pub
D-8TE (high-end food trucks with seating at Roe and Co Distillery)
Best Hotels in The Liberties:
---
Hyatt Centric The Liberties Dublin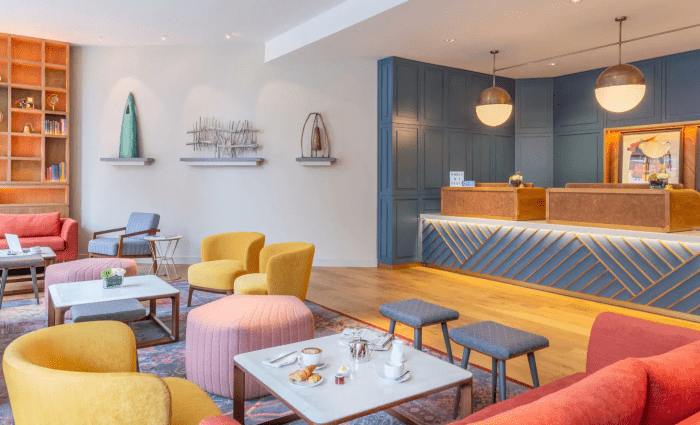 €€€ | 4 Star Hotel | Chic | In Oldest Part of Dublin
Hyatt Centric is an ideal destination for romantic breaks or girls' getaways. The interiors are minimalist, feminine, and paired back, with a touch of Scandinavian design and "hygge" lighting. The hotel is a short walk to the Teeling Whiskey Distillery and St. Patrick's Cathedral.
Smithfield and Stoneybatter
---
So, technically this is cheating, seeing as Smithfield and Stoneybatter are two separate neighborhoods with very different communities. However, they are both side by side, and I feel like a visitor would benefit from staying somewhere in the middle. The Smithfield neighborhood, in particular, has undergone serious regeneration over the last decade. There's a modern plaza to host outdoor markets, but the "Industrial Revolution" look of Smithfield has been preserved, which feels aesthetically similar to UK cities like Manchester or Birmingham.
Stoneybatter differs in the sense that it's more homely. There are more "bockety" Irish pubs, matchstick houses, and artsy types. Both Smithfield and Stoneybatter have a great food scene (the latter, more so) and the Jameson Whiskey Distillery is what attracts people from out of town. The highlight is the nearby Phoenix Park, known as the largest public park in Europe. You can rent a bicycle at the entrance and cycle to see the wild deer. Dublin Zoo is also based on these grounds, as well as "Áras an Uachtairain", which translates from Irish as "the president's house." Sometimes you can peer into his back garden and if he's home, he'll let you take a selfie with him.
---
Why I Love Smithfield and Stoneybatter:
Impressive large scale art murals
10 minute walk to the city center and well connected via The Luas tram and city buses
Sustainable clothing shops like Dublin Vintage Factory
Weekly flea markets in Smithfield Plaza
Restaurants and cafés that are ahead of the curve
Attractions Near Smithfield and Stoneybatter:
Dublin zoo
Phoenix Park
Áras an Uachtairain in Phoenix Park (equivalent to The White House)
Token (a retro arcade with food and drinks)
The Jameson Whiskey Distillery
The Cobblestone pub for live Irish music
James Joyce Bridge
Best Restaurants in Smithfield and Stoneybatter:
Oxmantown
Vegan Sandwich Co
Proper Order Coffee Co
Fish Shop
L. Mulligan Grocer
Vietnom in The Glimmer Man pub
Best Hotels in Smithfield and Stoneybatter:
Luxury Smithfield Apartment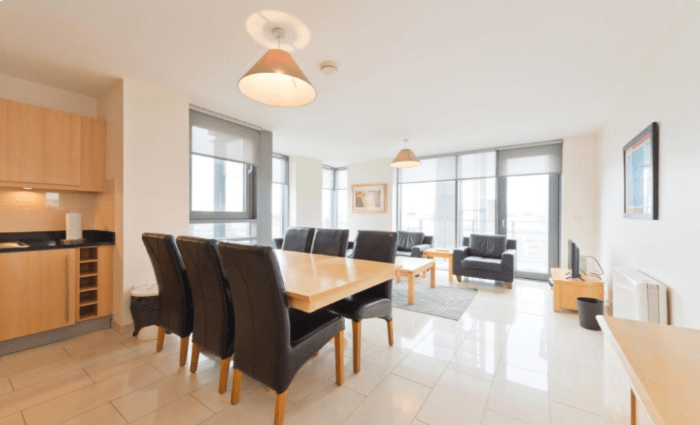 € | Private 2 Bed Apartment | Fully Equipped Kitchen | Wraparound Balcony
This sixth-floor apartment is typical of most Irish homes built within the last two decades; not much in the way of personality, but it has all the furnishings to live comfortably. This apartment is a fantastic option for two couples, a family with kids, or a group of friends who want to split costs.
Generator Dublin
€ | Upscale Hostel | Clean | Modern | Dorms & Private Rooms
The Generator is an industrial-style hostel right next to the Jameson Whiskey Distillery. There's a 24-hour reception, a late bar and they also run socials like table quizzes and movie nights. This is a low-maintenance choice for people in their 20's who want to drop off bags and explore. It's equally suitable for solo travelers looking to make friends.
Dublin Docklands
---
Dublin Docklands is an area that's situated at the neck of Dublin port, which opens out onto the Irish sea. To make sense of the geography, there are five distinct zones on either side of the dockland quays – the main ones being Spencer Dock and Grand Canal Dock. Most people view the area as a financial quarter due to the various offices and international trading centers. So much so, that The Republic of Ireland's tallest building is hunkered down at the port's edge. 23 floors!
If you're traveling for pleasure, the docklands bring forth all kinds of activities. Those with Irish ancestry will be especially interested in EPIC – The Irish Emigration Museum, as well as the profound famine memorial and the Jeannie Johnston famine ship. Thrill-seekers can enjoy water sports at Surfdock on The Grand Canal, and if you take a €5 taxi to Poolbeg lighthouse and pier, you can walk two miles deep into the middle of Dublin Bay.
---
Why I love Dublin Docklands:
Windier and colder than the rest of Dublin city – great for sparking energy
Surrounded by water, boats, seagulls and sea smells
An architect's playground (lots of gravity defying bridges and buildings to admire)
Good cycling infrastructure (which is not found everywhere in Dublin)
Attractions Near Dublin Docklands:
EPIC – The Irish Emigration Museum
The Jeanie Johnston (Irish famine ship replica)
The famine memorial sculptures
Poolbeg lighthouse and pier
Surfdock Watersports
Red Sticks at Grand Canal Dock
Best Restaurants in Dublin Docklands:
Charlotte Quay
As One
Chaska Indian Dining
Dosa Dosa food truck at Grand Canal Dock (Saturday and Sunday 1-8 pm)
Best Hotels in Dublin Docklands:
---
The Marker Hotel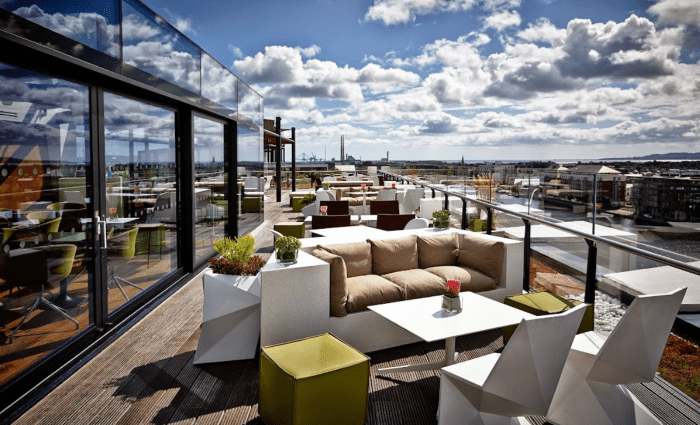 €€€ | 5 Star Hotel | Modern | Gym, Pool, Spa, and Rooftop Bar
The Marker hotel is conveniently located beside the Bord Gáís Energy Theatre and IFSC (International Financial Services Centre). The lobby has a dome-like concrete ceiling, which feels like the lair of a billionaire Bond villain. Concert goers and business folk would do well to book here.
The Mayson Hotel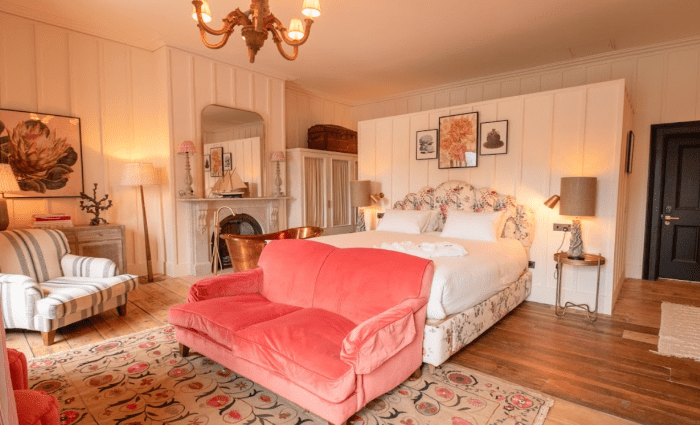 €€ | 4 Star Boutique Hotel | Stylish | Great for Social Media
A testament to the quality of a hotel is when the locals go there to staycation. The Mayson has achieved this because of its novelty offerings (in-room copper bathtubs, Smeg mini-fridges, sauna, outdoor pool, Netflix, and more). Couples of all ages love it.
Check Out Our Best Day Trips from Dublin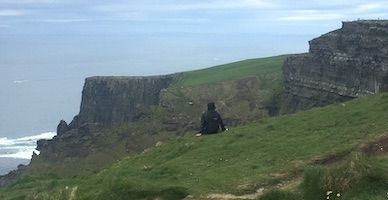 Top Rated Tour
Cliffs Of Moher and Galway Day Trip From Dublin

Spend the day exploring the west of Ireland with a friendly engaging guide and transportation included. In the morning, discover the grandeur of the Cliffs of Moher, the flora and fauna of the Burren, and the Wild Atlantic Way. Then head to the exciting city of Galway to enjoy the center of Irish culture.





Starting at €68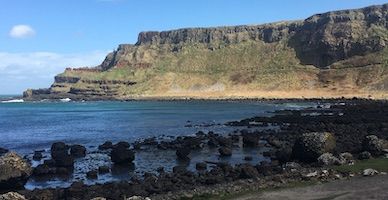 Likely to Sell Out
Giant's Causeway and Titanic Belfast Day Trip from Dublin

Spend an amazing day exploring Northern Ireland with your Expert Local Guide. Visit the Giants Causeway, full of folklore, the UNESCO site is often referred to as the 8th Wonder of the World. Then head to Belfast for the Titanic Experience with Skip the Line access.





Starting at €85