Are you someone who wants to be in a rugged Irish landscape, while being only a stone's throw from the capital city of Dublin? Well—ask and you shall receive, for this guide gives you nothing but the best hotels near Dublin.
---
Our Partnership with Booking.com. If you like our content, please book by clicking on our Booking.com links. The price is the same for you and we get a small commission that helps support our helpful blog content. We've partnered with Booking.com because they have the most options, great prices, and a solid loyalty program.
The Top 12 Countryside Hotels near Dublin
Your first point of contact with Ireland is usually when stepping off the aircraft steps at Dublin airport. As a consequence, vacationers find themselves first booking a hotel in Dublin, before jetting off to the west coast. My proposition to you, though, is to take your time getting across the country. Accepting this, then you have three charming towns that neighbor Dublin. These towns – well, counties – are called Wicklow, Kildare, and Meath. All three of them fall within the commuter belt, which means they're no further than a 45 minute drive from Dublin city. Each locale has something different in terms of landscape and attractions (as you'll see, directly below).
Why You Should Stay in Wicklow, Kildare, and Meath:
Wicklow

The Sugar Loaf Mountain
Djouce and Lugnaquilla hiking trails
Victor's Way
Bray-Greystones cliff walk

Kildare
Meath

Knowth, Dowth, and Brú na Bóinne Passage Tombs
The Hill of Tara (ancient ceremonial burial site)
Trim Castle
So, without further ado, here are twelve amazing countryside hotels near Dublin. All of which, are based in the aforementioned counties of Wicklow, Kildare, and Meath.
Tankardstown House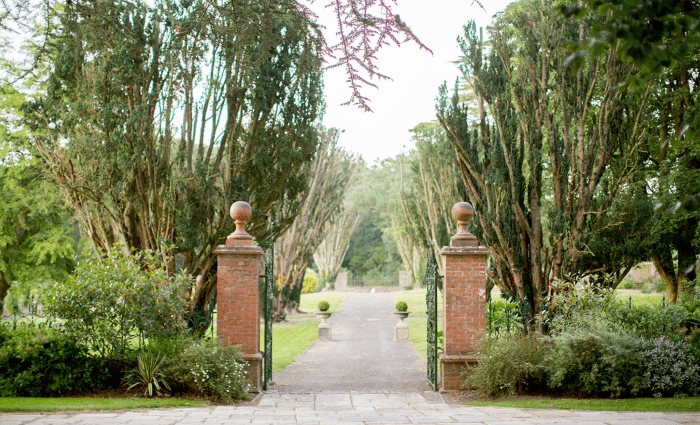 €€€€ | 5 Star Hotel | Georgian Guesthouse | Courtyard & Gardens | County Meath
Tankardstown House is an hour's drive from Dublin and lies upon the River Boyne in county Meath. Furthermore, it's just a five minute drive for concert goers to Slane castle. This Georgian guesthouse boasts a mix of rococo and regency style interiors; some bedrooms have delicate floral wallpaper, some bathrooms have ornate golden lavatories. The lodgings in the hotel are also plentiful. Guests can choose to stay in the main house, or else in surrounding courtyard cottages.
Concerning activities, there's nearly a hundred acres of offsite woodland and parkland. You can explore this by foot, or bicycle. Tankardstown offers its own scenery by way of formal landscaped gardens, which is sure to satisfy green-thumbed individuals. In respect to local attractions, the hotel is an 18 minute drive to the Celtic passage tombs of Newgrange, Knowth, Dowth, and Brú na Bóinne. These passages were built by farmers in The Stone Age, over 5,000 years ago. You can see many stone carvings on the tombs' exteriors, especially pagan triskeles. What's even more fascinating, is that on the longest day of the year (21st June) and the shortest day of the year (21st December), the sunrise lines up at an exact point in the tomb.
---
---
Pro Tip: If you're planning a trip to Dublin, consider bookmarking our dedicated Dublin page, with articles on The Cliffs of Moher, Giant's Causeway, Titanic, and more!
Tinakilly Country House Hotel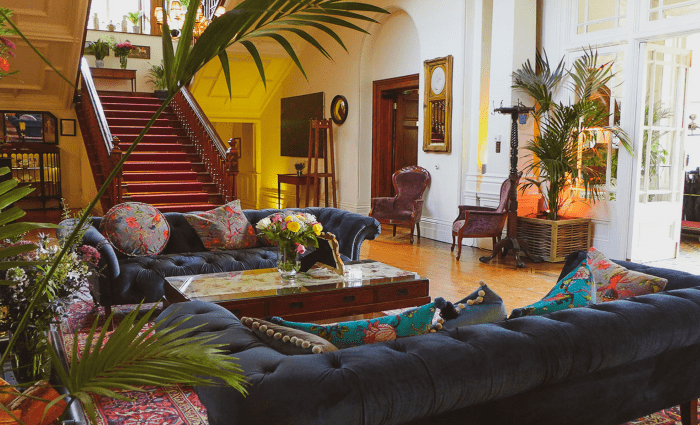 €€€ | 4 Star | Victorian Mansion | Views of the Irish sea | County Wicklow
The Victorian Tillakilly mansion was built in 1883. It's the former home of Robert Halpin, the same man who laid transatlantic, telegraph cables between Europe and America. Very random, I know. The mansion now operates as a guesthouse with stunning views over the Irish sea. Tinakilly is most definitely regency in style, yet it's slightly bohemian in the foyer. You'll notice palm trees in every corner, but also four poster beds and chaise langues—very eclectic, but not pretentiously so. The suites are not overly modernized.
Guests will relieve in the fact there's also a highly-rated restaurant in the hotel. Imagine dishes like beef sirloin and pan-seared organic salmon, with fresh herbs from the garden. Noting also that Tinakilly does an amazing Irish coffee. You can curl up by the fire with such a beverage, to warm your cockles. Considering the location, there are seven acres of private gardens to wonder. The stunning Brittas Bay is just 17 minutes by car, Mount Usher Gardens and Wicklow Golf Club are under 10 minutes, and Glendalough is a 27 minute drive. I would wholeheartedly suggest this hotel for older couples who adore period architecture, lush greenery, and Atlantic sea views.
"What's the use of being Irish if the world doesn't break your heart?"

– John F. Kennedy, 35th US President
The Johnstown Estate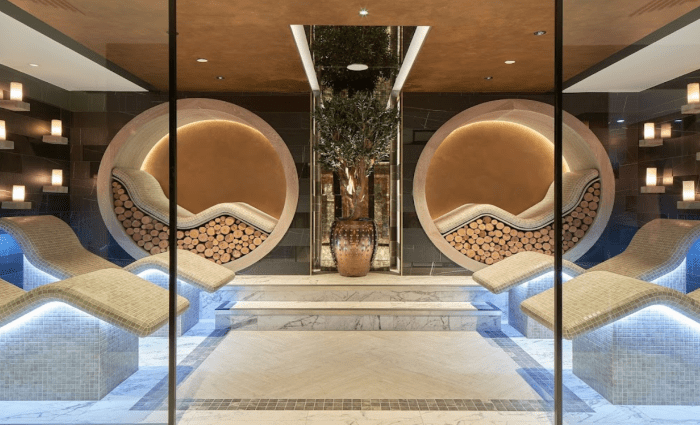 €€€ | 4 Star | Hotel, Pool & Spa | Chic & Contemporary | County Meath
The Johnstown estate spans over a hundred acres of meadows and golfing terrain. To be more accurate, there are actually five championship golf courses on the resort. Folks looking for another sporting outlet, however, can partake in horse riding or complimentary bicycling on the grounds. Regarding the vibe, Johnstown can only be described as contemporary meets 19th century colonial. You have bathrooms with free standing bathtubs, powder blue guestrooms, vases with white hydrangeas, and a liberal amount of chandeliers. Though, just make sure you book one of their renovated rooms.
The health club at Johnstown is also exceptional. Spa packages include treatments like 'quartz crystal body therapy' and Swedish massage. The thermal spa has an indoor pool, hot tub, and a state-of-the-art gym. In talks of food, the hotel has an Irish-style gastropub, which serves its purpose as a place for a quick refuel. You can also rest easy knowing that the hotel is just 25 minutes drive from Dublin. Overall, I would highly recommend Johnstown to people who prefer to book, sit back, and let the vacation come to them.
Powerscourt Hotel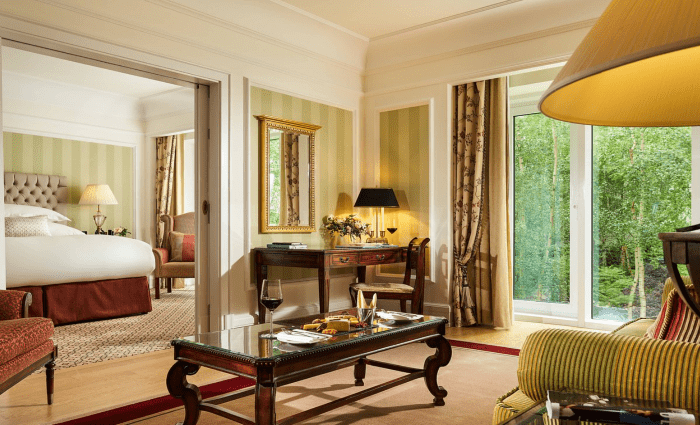 €€€€+ | 5 Star | Luxury Resort & Spa | County Wicklow
Powerscourt hotel is an estate in county Wicklow, which is a 30-minute drive from Dublin city. The Palladian and baroque features are fit for royalty, which was the intention back in 1730, when the first viscount, Richard Wingfield, commissioned the structure. The hotel is more of a grand mansion, really. A stay in such quarters will grant you access to the Swarovski crystal-lit pool, rainforest showers, marble baths, and so on. Is this real life?
Nature lovers among us will appreciate that the hotel looks out onto the Sugar Loaf Mountain. There are formal gardens on the estate, as well, meaning that guests have endless ways to stretch their feet. Not to mention the two golf courses and a selection of restaurants. You'll want for nothing when you arrive. As Powerscourt Hotel is slightly outside of Dublin, I would suggest booking it as a stepping stone, before heading off to other parts of Ireland. You can take the opportunity to visit other attractions in Wicklow, such as the lakes in Glendalough (30 minute drive) and Poulaphouca Reservoir (50 minute drive).
Abhainn Rí Farmhouse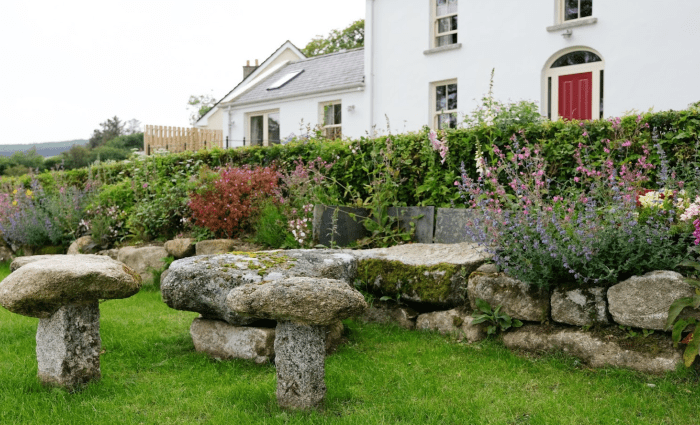 €€ | 5 Star | Bed and Breakfast | Farmhouse with Animals | Views of Blessington Lake | County Wicklow
There is nothing more quaint than a traditional Irish farmhouse. A leader in that area is, of course, Abhainn Rí. The name translates from Irish as "Kings River," which is exactly what flows past this five star B&B. The guesthouse and cottages are situated in the Wicklow mountains, right by another body of water called Blessington lake. In addition, 24 minutes by car gets you to Glendalough and St. Kevin's monastery. Much to do! There's also 100 acres of land at Abhainn Rí, with farmyard animals such as roosters, sheep, dogs, and horses.
Another heart warmer is knowing that Abhainn Rí has been in the family for five generations. As a result, their hospitality is much more in tune with individual needs. Every morning, breakfast is served downstairs by the owner, Niamh. She does a slap-up Irish breakfast with home-reared bacon, sausages, farm eggs and Irish soda bread. The dining room is postcard worthy, with lime wash walls and trinkets on the window ledges. After a day of hiking, you can pop your feet up by the log burning stove in the communal lounge. All said and done, Abhainn Rí is the epitome of rural Ireland. Yet, the property is under an hour's drive from Dublin city, so you have the best of both worlds. Highly recommended for animal lovers and nature lovers, who prefer going to small, independently owned businesses.
"When anyone asks me about the Irish character, I say look at the trees. Maimed, stark, and misshapen, but ferociously tenacious."

– Edna O'Brien, Irish Novelist
Carton House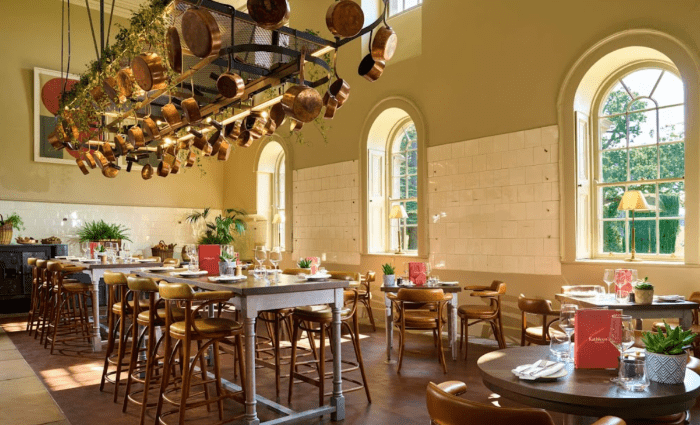 €€€€ | 5 Star | Golf Course, Resort & Spa | Palladian Grand Mansion | County Kildare
Carton House is a golfer's haven in county Kildare. The Palladian mansion has two outstanding golf courses on its grounds. Guests who've swung a few rounds, can dine in one the hotel's three restaurants afterwards. The informal Carriage House serves things like chicken wings, Caesar salad, and sandwiches. The Morrison Room is for fine dining; king scallops, Connemara Lamb, et cetera. Lastly, Kathleen's kitchen [pictured] has an Italian seafood menu. Guests can revel in items such as Galician octopus, Irish oysters, and lobster pacchieri.
The Carton House Health Club has been renovated over the last 18 months to give you world-class spa facilities, including an indoor swimming pool. Meanwhile, the overall decor remains "ornate rococo" and English country house. The grounds of the hotel are enough to keep visitors occupied, but in the event of an offsite outing, Wallaby woods is just a 21 minute drive away. The Carton House would ultimately suit sporting couples with a want for comfort and splendor.
Cliff at Lyons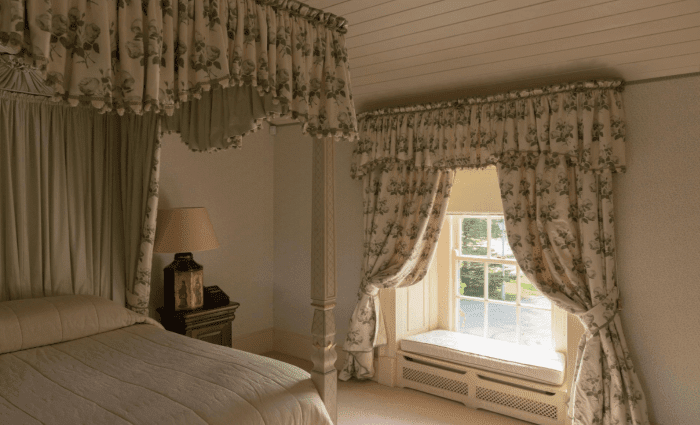 €€€€+ | 4 Star | Luxury Guesthouse | Country meets Contemporary | Restaurants, Cafe & Spa | County Kildare
Cliff at Lyons is comprised of a main house, guest-lodging mews, a barracks, and a former flour mill. The first Lord of Cloncurry, Nicholas Lawless, built the main house back in the Georgian era, circa 1797. These days, the guesthouse is especially praised for their two restaurants. One of them is a two-Michelin starred endeavor, known as Aimsir – meaning "weather" in Irish. Guests with time to spare should try their delectable, 18 course tasting menu!
Likewise, the manicured grounds are utterly spectacular; from the courtyard to the stone buildings, to the pond with the lily pads. Feels as though you're stepping into a Beatrix Potter novel. Guests can further enjoy themselves off-grounds via rented bicycles, barge trips, and fishing. In the design world, enthusiasts will love the hobbitish, cottage feel in places—even inside. Think of exposed limestone walls, cozy carpets, portholes, drapes, and more. There's also an outdoor spa with a sauna and hot tub. Overall, this is the ultimate destination for couples who need time away to reconnect with eachother.
Tulfarris Hotel and Golf Resort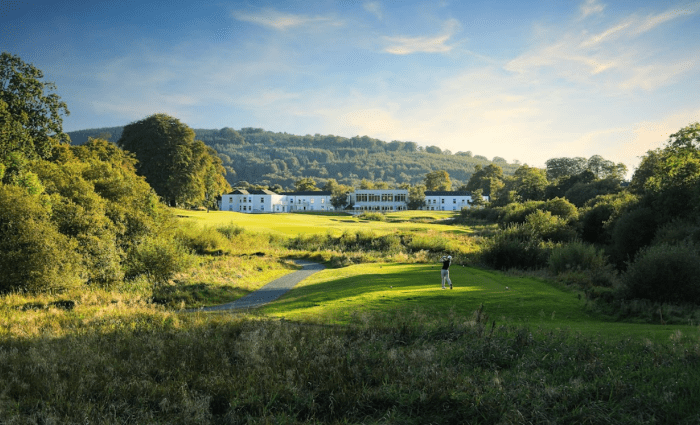 €€€ | 4 Star | Manor House & Golf Resort | Views of Blessington Lakes | County Wicklow
Tulfarris is a 18th Century manor house that rises above when it comes to location. The hotel and golf resort is set directly upon the Blessington Lakes—like a moat, and overlooks the Wicklow Mountains. Over the last few centuries, the property has been owned by British dignitaries. However, since 1987, it's been operating as a popular four star hotel. In relation to your stay, most go for the self catering lodges, while larger groups tend to book the manor house rooms for weddings.
The style of Tulfarris is clean and minimal. There's a touch of mid-century modern some parts, namely; the foyer, self catering lodges, and restaurant. Formal venues and restrooms differ in that they ebb on the regency-style side of things. Then, in regard to the hotel's location, getting back to Dublin is just an hour's drive. This makes Tulfarris a prime choice for travelers who like dreamy locations, with tidy and uncomplicated luxury.
"I'm Irish! When I feel well, I feel better than anyone, when I am in pain I yell at the top of my lungs, and when I am dead I shall be deader than anybody."

– Morgan Llywelyn
Killashee Hotel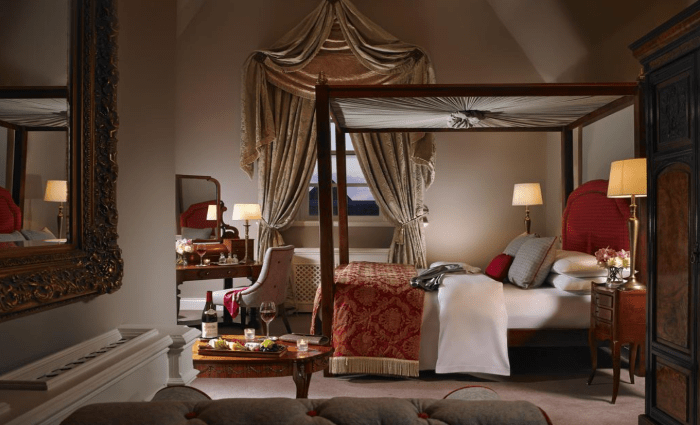 €€€ | 4 Star | Victorian Manor House | Gym, Pool & Spa | County Kildare
Killashee, in county Kildare, is a Georgian-turned-Victorian hotel and spa. It has acres of private farmland to uncover, including a ring fort from The Iron Age and the ruins of another nearby castle. Indoors, the communal area is quite transitional in style. So, chandeliers, spiral staircases, and wainscoting on the walls, with a modern, moody color scheme. Most suites remind me of the scenes in 'Home Alone 2' at NYC's Plaza Hotel—the one where Kevin orders all that room service to his dad's credit card.
Facilities wise, guests can enjoy a sumptuous afternoon tea from the restaurant, or else cool their jets at health center's indoor pool and Jacuzzi. Traveling further afield, Killashee hotel is within a 20 minutes drive of Punchestown Racecourse, Kildare shopping Village, Mondello Racing Circuit, and the Japanese Gardens. In similar fashion, it's just 30 minutes from Dublin city. I reckon Killashee works well for appreciators of top-class service and the old-world.
Clone Country House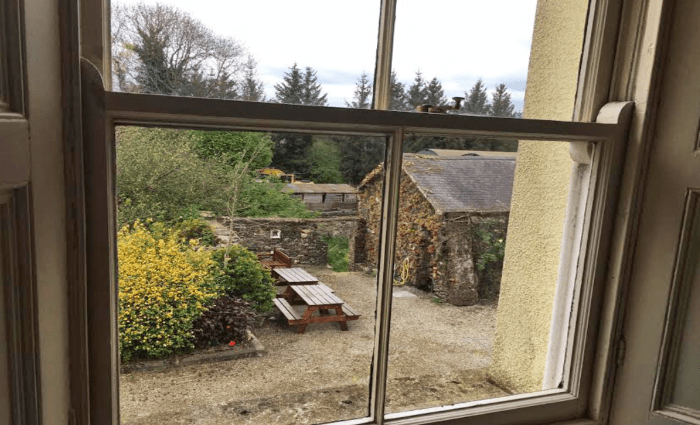 €€ | 4 Star | 1650's Country House | Hiking Trails | County Wicklow
The owners of Clone House, Jeff and Svetlana, are revered for their five star hospitality and upkeep. The heritage guesthouse features formal gardens, a communal lounge, family rooms, a sun terrace, and more. The interiors, I would say, are eclectic-boho-farmhouse-chic. You'll find Persian rugs, indoor palm trees, velvet armchairs… Some rooms are a little more updated than others, but remain charming rather than dowdy.
Concerning the location of Clone House, it's a 26 minute drive to Clara Lara funpark, 34 minutes to Glendalough, and 40 minutes to Victor's Way. The latter, of which, is an erotic, Indian sculpture park. Clone Country House suits people who want to experience Ireland's unpolished diamonds—comforts, antiquity, understated grandeur. And to stay somewhere that isn't overly stylized or marketed. Highly recommend!
"Being Irish, he had an abiding sense of tragedy, which sustained him through temporary periods of joy."

– William Butler Yeats, Irish Poet
Kilkea Castle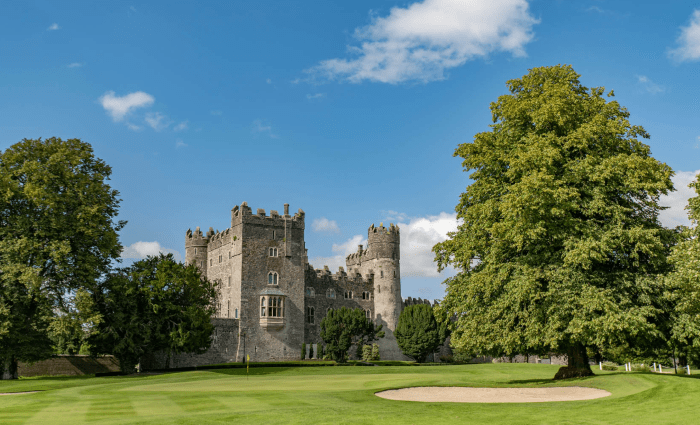 €€€ | 4 Star | Historic Castle | Hotel, Golf Resort & Spa | Archery & Horse Riding | County Kildare
Kilkea Castle dates back to the Anglo-Norman epoch—1180 AD, to be precise! At that time, the castle was built for a newly arrived Norman knight, under the guidance of Hugh de Lacy, an earl and Chief Governor of Ireland. Unchanged since then, are the 180 acres of woodland and gardens. However, there is now an addition of a superb, 18-hole golf course. Not only that, but there are many outdoor activities for guests' leisure. Perhaps try your hand at archery, horse-riding, clay pigeon shooting, falconry, tennis, or fishing.
The courtyard accommodation at Kilkea Castle includes well appointed, wheelchair accessible rooms. The hotel also boasts a large spa with a thermal suite and a hydrotherapy pool. You'll get beauty treatments and manicures there, as well. Interiors wise, Kilkea feels like a hunting lodge. For example, dark wood-paneled walls in the lounge and tartan bedding in the suites. There are also medieval features, such as wall tapestries and Gothic windows with pointed arches. The castle is under an hour's drive from Dublin, with a paid shuttle bus service leaving from the hotel regularly. Similarly, it's a 30 minute drive to other attractions like Kildare village and Newbridge Silverware. All round, it's great pick for couples who want a slice of history with their vacation.
The K Club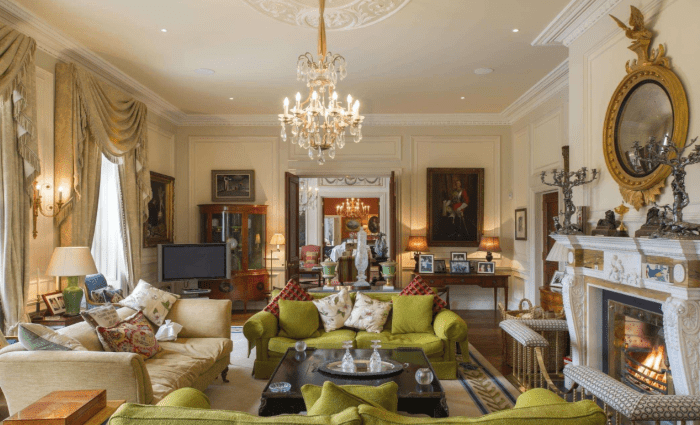 €€€€ | 5 Star | Luxury Golf Resort & Spa | Historic Estate | County Kildare
The K Club estate was built 189 years ago and now operates as a five-star hotel and golf resort. The golf course was designed by iconic American golfer, Arnold Palmer, and the grounds, to no surprise, have hosted The European Open. In terms of other activities, you have access to horse riding, clay pigeon shooting, falconry, tennis, archery, and fishing. Alternatively, you can take a breather in the K spa, which has an indoor swimming pool, hot tubs, a gym, and an onsite beauty parlor. Parents will also be glad to know there's a playground and a kid's club.
In the food corner, there are four eateries for residents: a fine-dining spot, a pub, a Thai restaurant, and a continental bistro. Regarding the hotel's decor, the style is very fancy and frou-frou. Plenty of floral drapes, trophy cabinets, equine paintings, and white tablecloths. The K Club is a 40-minute drive from Dublin city and Dublin airport, which makes this an ideal pick for inbound and outbound flyers.
---