There are many clichés about things to do in Dublin, but I'll tell you this for free: it's possible to have fun here without having to drink alcohol. Now, this guide still has a few great watering holes to explore, but traveler like you is looking for more to do with your friends or kids. So, with that in mind, here are the activities you should do in Dublin.
---
Pro Tip: It's easier to organize your trip when you have all your resources in one place. Bookmark this post along with our Dublin Guide with more planning resources, our exciting Dublin tours for a memorable trip, and the best restaurants in Dublin.
16 Things You Have to Do in Dublin
Drink a Guinness, explore some cliffs, find an old book. How cool can Dublin really be? Way cooler than you think. There's so much to offer in Dublin where over a quarter of Ireland's population lives. And, wherever there are people, there are stories found in street art, buskers, comedians, and tour guides. Or simply in the anecdotes we share with each other over a pint.
Also, did you know you can go from Dublin's city center to the wilderness within half an hour, which means you can explore more than just the city? Not only that, but the natural terrain is so diverse. You have both land and sea at your disposal, such as the Dublin mountains, or the expansive coastline of Dublin Bay.
Whether you're an introvert, extrovert, solo or couple traveler, or here with kids, Dublin has tons of things to do for all types. Read on to see what we think are the best local things to do in Dublin.
16. Listen to A Night of Tales of Irish Mythology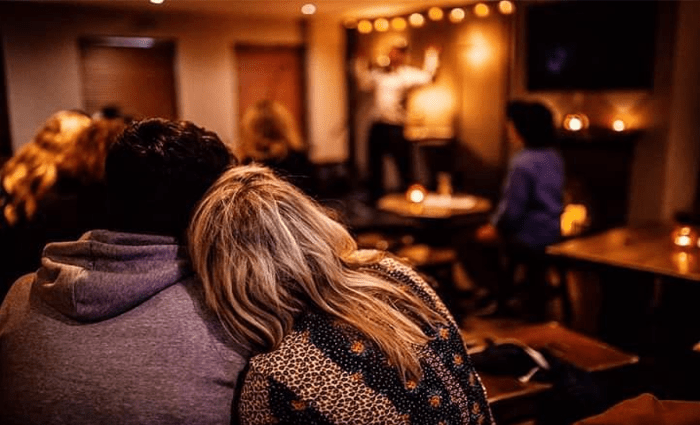 There's nothing like hearing Irish myths and stories while sitting in the flickering candlelight of a pub. I definitely recommend doing this if you're into Irish folklore, ancient Ireland's roots, or just want to hang with a smaller crowd. You'll hear stories told by native Irish storytellers, usually accompanied by a guitarist or harpist to add to the ambiance.
If this sounds perfect for you and your travel companion, then plan ahead. Candlelit Tales is a pop-up event that is held in the evenings in various pubs around Dublin. You have to book in advance on their website to ensure a space. The hosts love to regale you with character-driven fables, so you'll probably hear about the legendary stories of Cúchulainn, the blood thirsty demigod, or Queen Medb, a promiscuous warrior.
Location: Varies
15. Taste Tempting Whiskeys at Roe & Co. Distillery
You can't go wrong at a distillery that has roots dating back to the 1700s. They must be doing something right! Feel free to drop in and sample a potent whiskey, but we also recommend trying a tour here.
Cocktail enthusiasts can do a hands-on "flavors workshop," and those who prefer blended whiskeys can do an "old-fashioned master class". Both experiences last roughly 45 minutes, and afterward you'll have a table reserved at the Power House bar.
My favorite part is being able to draw directly from the cask to make a custom bottle of whiskey. A genius souvenir idea.
Location: 92 James St, The Liberties, Dublin 8
14. Enjoy Afternoon Tea on a Double-Decker Bus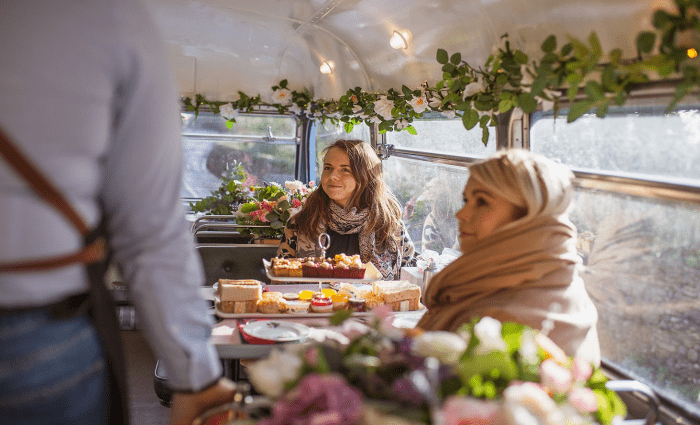 It doesn't get much more touristy than having tea on a bus, but you might just have more fun than you expect! It's the most novel way to do sightseeing in Dublin: hop on a double-decker bus that serves afternoon tea. As you sip on a "cup o' tae", the bus cruises you through popular spots like Temple Bar, Trinity College, and Phoenix Park as a guide tells entertaining stories of the places you pass by.
So, what do you get to eat? How about warm scones, some fancy sandwiches, and an assortment of little cakes! This tea tour is perfect for the ladies who are looking for a girls afternoon out or a mom and daughter trip. However, it suits just about anyone who is hungry and wants to sit back and sample treats while getting to know the city of Dublin.
Location: 4- 6 Essex St E, Temple Bar, Dublin 2
13. Marvel at Nature's Beauty at the Cliffs Of Moher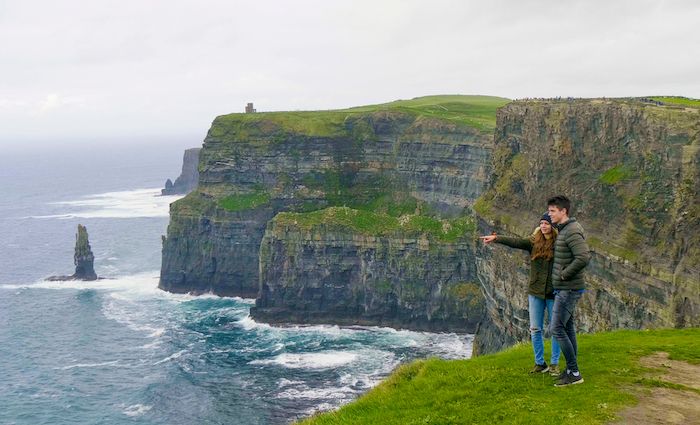 You almost can't come to Ireland and not see the Cliffs of Moher. It's almost sacrilegious not to, even though it's going to be filled with other tourists. So, why is it worth going to the cliffs? As you stare out at the Atlantic from atop said cliff, I guarantee you will have an unexpectedly profound experience. That is even more true for any for Irish-Americans who stand and ponder the voyage of their ancestors across the Atlantic to North America.
Keep an eye out for puffins, wild sheep, and other wildlife. They'll be a sharp contrast against the stunning green grass that we know many of you just can't get over. Yes, Ireland really is that green most of the year. Be aware that the cliffs might be shrouded in fog sometimes, but there's little you can do to prevent mother nature.
The easiest way to get to the Cliffs of Moher is by booking a day trip from Dublin. You'll have a local guide who knows all the Irish folklore you need as you explore the Cliffs of Moher and the nearby visitor center, plus you get another stop to see Kilmacduagh Monastery and some free time in Galway.
Not ready to book a tour? Read more in our Dublin Guide.
12. Pour Your Own Pint At the Guinness Storehouse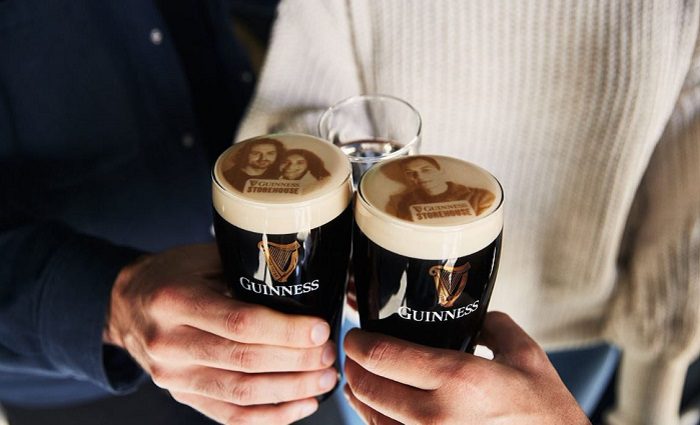 They say that a pint of the black stuff tastes better in Ireland. Seriously, this is scientifically true! A study once suggested that simply being in the atmosphere of Ireland was enough to psychologically induce a preference to Guinness there. Others argue that the stout "loses its freshness" when exported overseas. Either way, this creamy beverage is a way of life here, much like pasta and wine is to the Italians.
So how best to experience all that Guinness has to offer? You should definitely take a guided tour of the Guinness Storehouse. It's super interactive! You can practice pouring your own pints on level three, eat in an array of restaurants on level five, and experience the gravity bar with panoramic views on level seven.
The first floor is reserved for retail, where you can get a bunch of cool Guinness merchandise. I know you might think there's nothing interesting to learn about Guinness, the unassuming drink, but when you learn about its involvement in cinema and advertising, I think you'll change your mind.
Not ready to book a tour? Read more in our Dublin Guide.
11. Kayak Among the Seals in Dalkey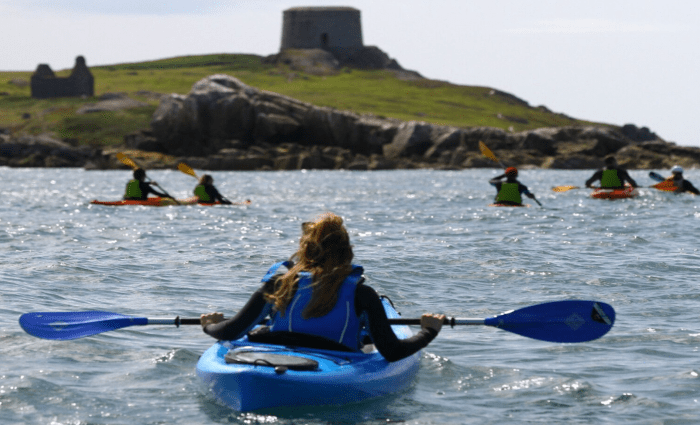 If you're an active traveler, we have the perfect thing to do around Dublin. Try kayaking among the seals in the cleanest part of the Dublin canal or near Dalkey Island. You'd be hard-pressed to find a more quaint, seaside village in South Dublin that's easy to explore if you're kayaking nearby. You'll find plenty of seals who might get extra curious as you paddle nearby.
After you finish kayaking, you can pop down to have dinner in the picturesque Dalkey village. I recommend Benito's, DeVille's, or Ouzos. You can then take a stroll up to Killiney beach and gander at some of the most pricey and sought-after houses in Ireland. Bono and Enya have homes here that you can admire from a distance!
Location: Bullock Harbour, Glenageary, Dalkey
10. Explore Real Tenement Housing at 14 Henrietta Street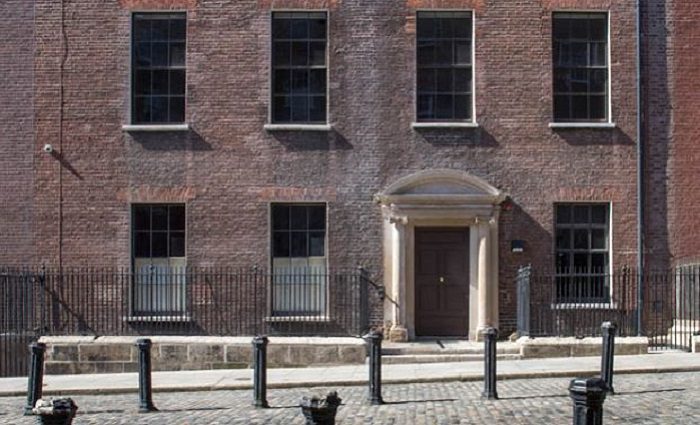 14 Henrietta Street is the real-life address of a 300-year-old, former tenement building. By the 1900s, the whole street housed hundreds of low-income families. Now, a museum has been restored as a typical home of that time, and it serves as a stark reminder of the persisting poverty in Ireland in the decades that followed The Great Hunger.
You can only visit with a guided tour, which is actually helpful since you wouldn't know the importance of what you're seeing without a guide. I recommend booking the regular guided tour if you're short on time, but the musical memories tour if you're a fan of music. Both are great ways to explore Henrietta house and get to know the truth of life behind those long gone.
Location: 14 Henrietta St, Dublin 1, D01 HH34, Ireland
9. Step Inside Beloved St. Patrick's Cathedral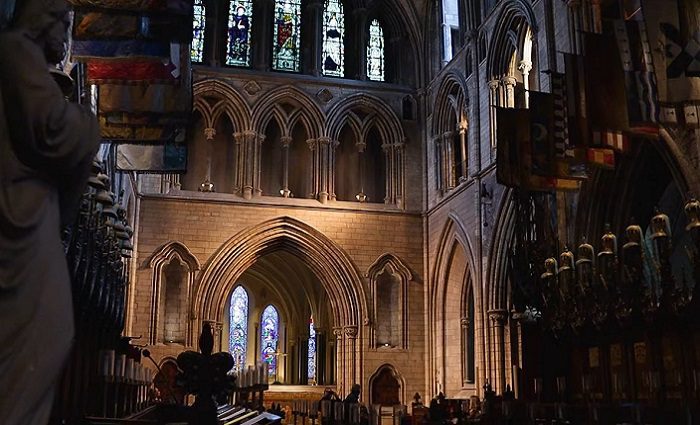 St. Patrick's Cathedral is like a microcosm of the history of Ireland dating back to the 12th century. It's basically a cultural icon that you have to visit since it's also the national cathedral of the country. If you've been to Westminster, it will feel similar with a large quire filled with seats and banners lining the hall before the nave.
King George III established the Most Illustrious Order of St. Patrick here in the 18th century, though they no longer function. Be sure to take in the stained glass windows, admire the altar, and marvel at the beautiful gothic architecture here.
Location: St Patrick's Close, Dublin
8. Laugh It Up During Comedy Night at The Stag's Head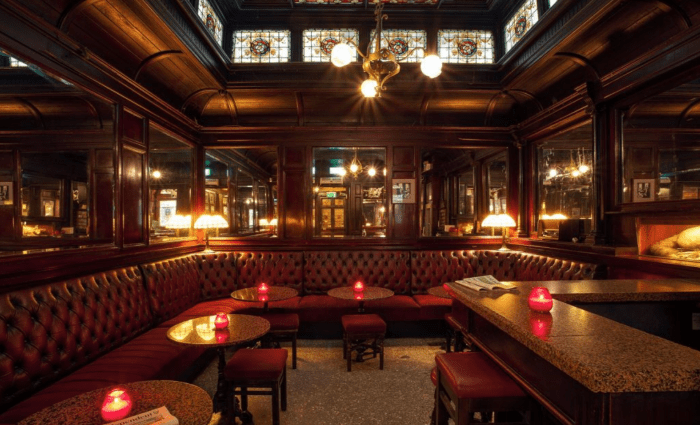 Love to laugh? I'll say it: Irish comedians are some of the best and most underrated. So if you're looking for something extra to do in Dublin, head to the Comedy Crunch. It takes place every Saturday, Sunday, and Monday in the Stags Head pub. To namedrop, Bill Burr and Jim Jefferies have done shows here.
The room itself is generally packed with an audience from all over the world—a lively aura that could resurrect you from the dead. Word of warning though. The comedians will single you out to crack jokes at your expense!
Pro Tip: It's free to come but you'll want to get there early for a seat. Also, drop a few euros in the bucket on your way out as a donation for the great entertainment.
Location: 1 Dame Ct, Dublin 2
7. Stand Where "Braveheart" Was Filmed in Glendalough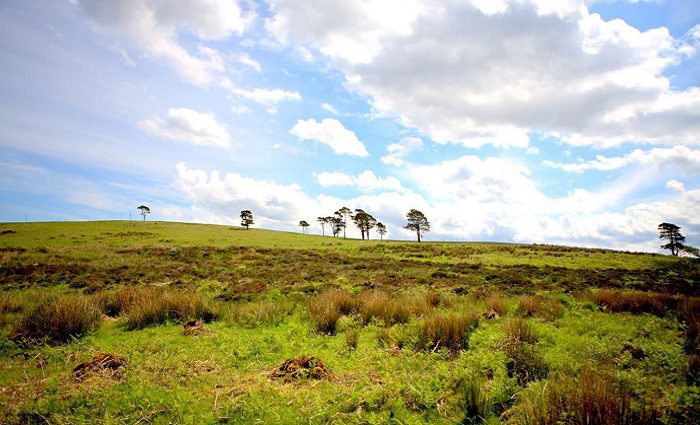 Movie lovers will love taking a bit of time to travel to nearby Glendalough. It's in county Wicklow with a series of idyllic brooks, lakes, and valleys in county Wicklow. Iconic films like "Braveheart" and "P.S. I Love You" were filmed here, which brings visitors hoping to experience this quiet region.
You can definitely drive here on your own, or you can make it easy by booking a half-day tour with Paddywagon Tours. You'll see the ruins of St Kevin's monastery. You can use this time to walk around the graveyard and admire all the Celtic headstones. Afterwards, you'll have time to walk through the forest trail to the lakes and imagine you're a Scottish highlander preparing for battle.
Afterward, you get a chance to pop through and see Lough Tay, which was originally bought as a private lake for the Guinness family. Ironically, the water in this lake is pitch-black like Guinness. It's the perfect way to explore Glendalough without wondering where to go or how to get there.
Pro Tip: Head to Sally Gap, Kippure Estate, and Luggala Estate View Point to see the scenes for "Braveheart."
Location: Glendalough
6. Find the Pygmy Hippo at the National History Museum of Ireland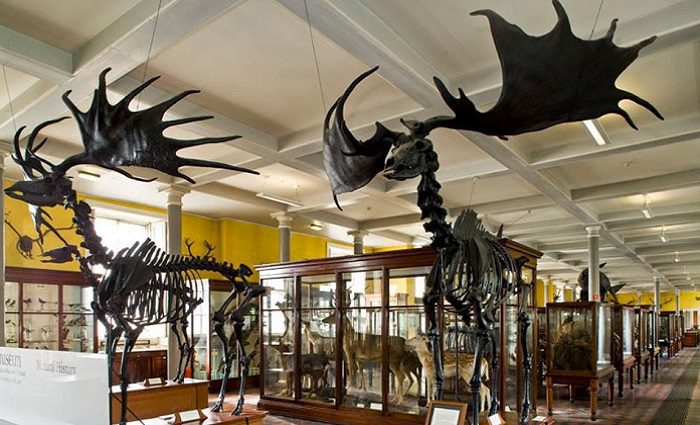 Got kids? We have something they'll love doing. The National History Museum of Natural History (not to be confused with The National Gallery across the road) is an archaeological "dead zoo." I want to mention that the museum is oftentimes hard to locate, as it's tucked behind a number of similar Georgian buildings, but we've put the exact location below.
Kids and adults love visiting this museum that has over two million specimens of zoological and geological nature. A fraction of them are on permanent display, yet there are hours of exploring to be done. Best of all? The museum is free to visit!
Don't skip all the mammals on the first floor, including endangered species like the pygmy hippo. The lower gallery holds animals from every corner of the globe, and the upper gallery has all the invertebrates and marine specimens. There's also an Irish room with taxidermized animals that are native to Ireland.
Location: Merrion St Upper, Dublin 2
5. Visit a Historic Jail that Imprisoned Irish Freedom Fighters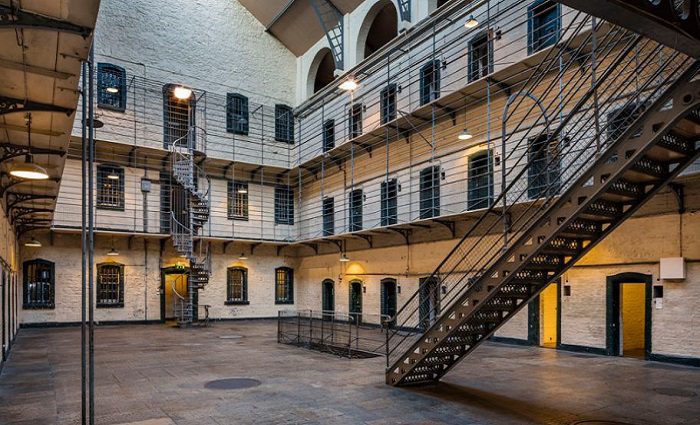 Ireland has as difficult of a past as any other major country, and if you're interested in revolutions and real history, then stop in at Kilmainham Jail. Thought it hasn't served as a prison for 85 years, political prisoners who fought for Irish independence were imprisoned here—men, women, and children all together.
Many of these rebels were executed here as well, and the jail had a dire reputation for brutality. At the time, inmates had to share a single candle for warmth and light, so a majority of their time was spent in the cold and dark. Their story sheds light on convict transportation during the Great Famine, which many know as a moment that changed modern Ireland forever.
Kilmainham Gaol now operates as a museum and you can opt for a guided tour of the building. I definitely recommend heading to the art gallery on the upper floor to see artwork, jewelry, and sculptures from prisoners all over Ireland today. Kilmainham Gaol is a somber but commemorative way to honor the heroic men and women who died for their freedom.
Location: Inchicore Rd, Kilmainham, Dublin 8
4. Feel Tiny at the National Leprechaun Museum
Some might think that a leprechaun museum is silly, but I swear you'll leave the premises fully believing in fairies and ghouls. Upon entry, you are greeted by an Irish guide, who will then chaperone you through numerous rooms.
One particular room, called the giant's room, has unrealistically large furniture to make you look and feel tiny. To add to the ambiance, you'll hear classic Irish folklore along the way, oftentimes in a sing-song from your enthusiastic guide.
The Leprechaun Museum is one of my favorite Dublin things to do for kids, adults, and couples. If you're an adult, it's the perfect setting to awaken your inner child. My recommendation is to book this museum on a rainy day, before exploring nearby Temple Bar and the Liffey quays. There are also a few excellent places to eat close by, such as Wigwam, The Yarn, Yamamori, and The Woolen Mills.
Location: Twilfit House, Jervis St, Dublin (re-opening around April of 2023)
3. Day Trip to the Giant's Causeway and Titanic Belfast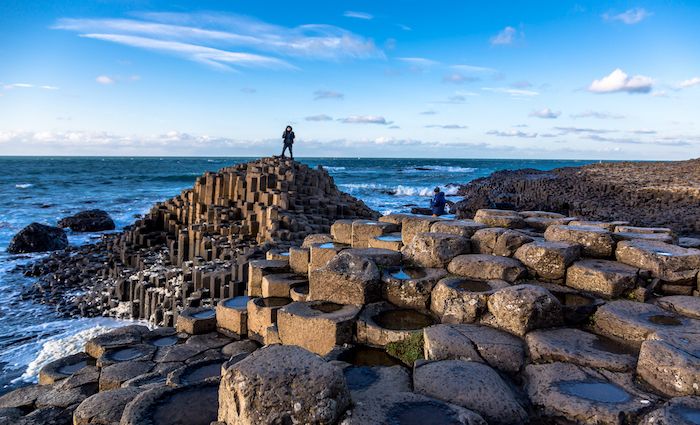 It's not every day you can walk on rocky formations rumored to be where giants once walked between Scotland and Ireland. But you can if you head to the Giant's Causeway UNESCO World Heritage site! It's affectionately known to some as the "eighth wonder of the world."
It's believed that the site formed millions of years ago when a volcanic eruption caused molten rocks to squeeze through the earth's cracks. The aftermath created the Giant's Causeway, which looks man-made but is actually a natural formation of flat and hexagonal-shaped rocks.
And while you're here, you should really head over to Belfast in Northern Ireland to see the Titanic Museum. Yes, this is technically a different country than Ireland. The trick is that you might have to make extra visa arrangements, but not if you book a day trip from Dublin where that's all taken care of for you.
In addition to these two sites, you'll love that the tour stops at Dunluce Castle and the Game of Thrones hedges. It's the perfect way to explore beyond Dublin and see all the Game of Thrones sites.
Not ready to book a tour? Read more in our Dublin Guide.
2. Trace Your Roots at EPIC The Irish Emigration Museum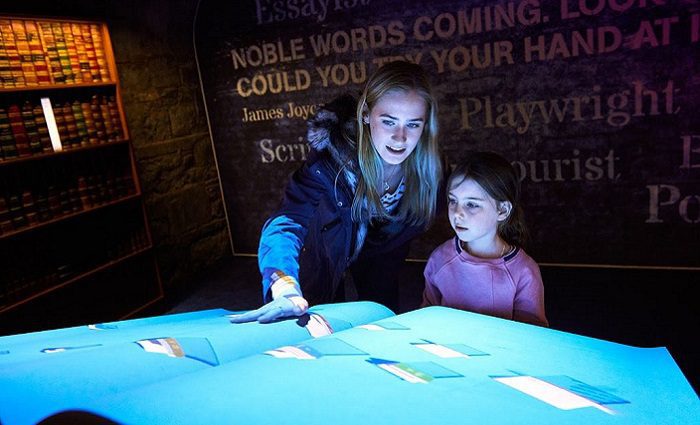 If you think St. Patrick's Day is all about leprechauns and glittery shamrocks, think again. Then visit EPIC to learn the real history of Ireland and its amazing traditions. This top attraction pays respects to the ten million people who evacuated Ireland during the famine and beyond.
Whether you're solo traveling or here with kids, you'll love how interactive the museum is. Kids might love stamping a mock passport in each section of the museum. Adults have access to a database where you can trace your Irish ancestry. This museum offers those all ages a glimpse into the voyages of our Irish ancestors. It is both a bittersweet and informative museum and one that makes you think.
Pro Tip: After you've visited the museum, explore nearby and see the famine memorial statues or the Jeannie Johnston famine ship. Check onlin for various ticket combos to see the most possible.
Location: The Chq Building, Custom House Quay, North Dock, Dublin 1
1. Find the Book of Kells and the Oldest Harp at Trinity College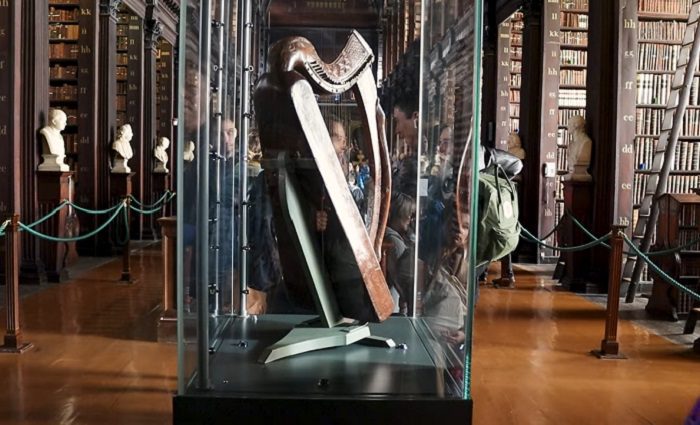 You've probably seen the iconic library at Trinity College since it's such a perfectly symmetrical building. But you might not know why you should visit if you're not a bookworm who wants to smell those old books. The reason? There are national and world treasures to be found here at this library built in 1732.
The pièce de résistance you have to find is the public copy of the Book of Kells on the lower level. This is a treasured manuscript that's heavily guarded since it was made by Irish and Scottish monks back in 800 AD and contains some of the most beautiful Celtic illustrations of the four gospels in the Bible.
On the main level, make sure to appreciate the oldest harp on display or just wander along the aisles of books and imagine the history this building contains!
Location: Old Library, College Green, South-East Inner City, Dublin 2
Not ready to book a tour? Read more in our Dublin Guide.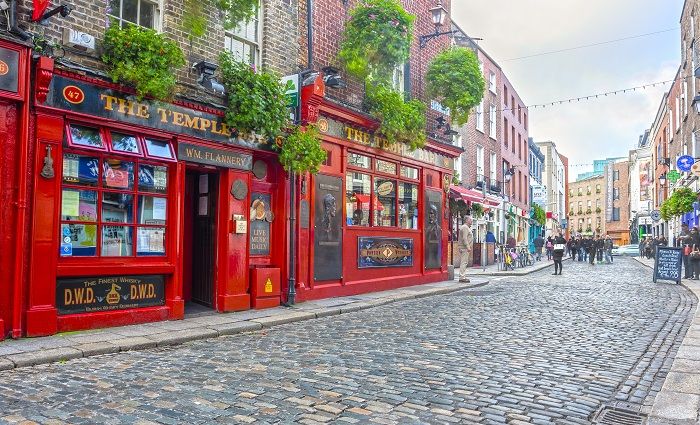 Find the best places to stay
Where To Stay in Dublin
Deciding where to stay in this historical city of Dublin, Ireland is easy with our local's guide to the best hotels and neighborhoods. From Portobello to the Dublin Docklands, you'll love your stay here!