Wondering if there's more than the humble potato for dinner in Dublin? Have no fear! Our Ireland foodie has curated a list of the best restaurants in Dublin with a variety of cuisines. From traditional Irish food to Mexican taquerias and vegan dishes, you'll not only be surprised but hard-pushed not to find something you'll love.
---
Pro Tip: It's easier to organize your trip when you have all your resources in one place. Bookmark this post along with our Dublin Guide with more planning resources, our exciting Dublin tours for a memorable trip, and the top things to do in Dublin.
The Top 12 Places To Eat in Dublin
Dublin has a reputation for its drink culture. You may even have heard people say that Guinness is a food group on its own. But don't be fooled, Dublin's food scene is booming.
From food stalls to upscale eateries and historic pubs with grub, from the traditional to the exotic and everything in between, you'll be amazed by your options in this city. Our Dublin insider has put together a list of the best restaurants in Dublin, so you can try it all!
If you're headed to Dublin, definitely check out our awesome Dublin tours and day trips. They're a fun and easy way to see the best of the city and beyond.
Los Chicanos Taqueria Dublin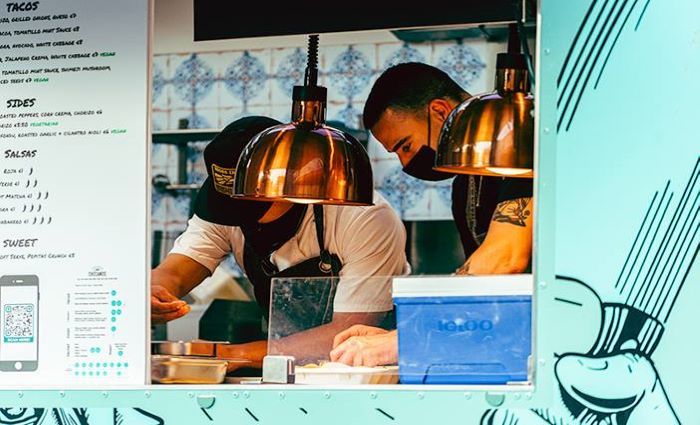 €€ | Mexican Taqueria Food Truck | Family Friendly | Contemporary | Camden Row
Los Chicanos set up shop just three weeks ago but has already garnered a cult following. Their turquoise food truck is nestled between Liberty Lane, an artsy, graffiti-filled laneway, and Wexford Street—a hive for local bars and nightlife. It's the perfect spot for an after-drinks food refuel.
Ordering lamb barbacoa is the way to go here. The soft tortillas are made from corn flour and there are two vegetarian options available (salsa macha cauliflower and barbacoa sweet potato). You'll get two reasonably sized tacos with each order, but those with real hunger pangs should add a side of chips and guac to feel fully satisfied.
Address: 12 Camden Row, Saint Kevin's Dublin
The Hairy Lemon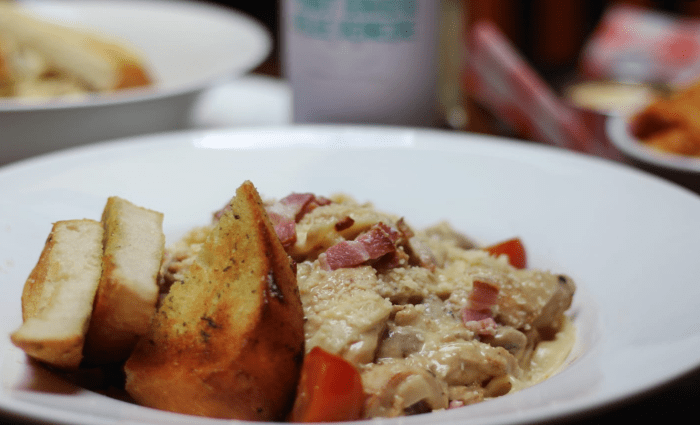 €€ | Irish Food | Family Friendly | Dine-in | Stephen Street
The Hairy Lemon has the charm of a typical Irish pub. It has decades of memorabilia on the wall with the occasional bout of live Irish music. It's named after one of Dublin's notable characters—a dog catcher who worked in the 1950s.
You'll have the chance to sample some of Ireland's regional cuisines, such as Irish coddle (usually leftovers with no specific recipe), beef and Guinness stew (a personal favorite), and bangers and mash. There's also a children's menu and the turnaround is pretty quick, so you can walk in without a booking.
Address: Stephen Street Lower, Dublin
Check Out Our Best Day Trips from Dublin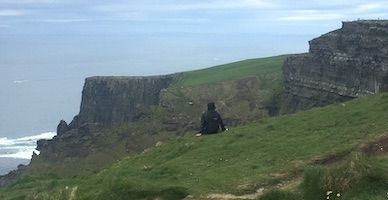 Top Rated Tour
Cliffs Of Moher and Galway Day Trip From Dublin

Spend the day exploring the west of Ireland with a friendly engaging guide and transportation included. In the morning, discover the grandeur of the Cliffs of Moher, the flora and fauna of the Burren, and the Wild Atlantic Way. Then head to the exciting city of Galway to enjoy the center of Irish culture.





Starting at €68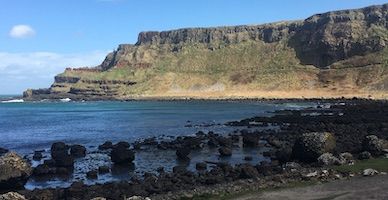 Likely to Sell Out
Giant's Causeway and Titanic Belfast Day Trip from Dublin

Spend an amazing day exploring Northern Ireland with your Expert Local Guide. Visit the Giants Causeway, full of folklore, the UNESCO site is often referred to as the 8th Wonder of the World. Then head to Belfast for the Titanic Experience with Skip the Line access.





Starting at €85
Not ready to book a tour? Read more in our Dublin Guide.
O'Neill's Pub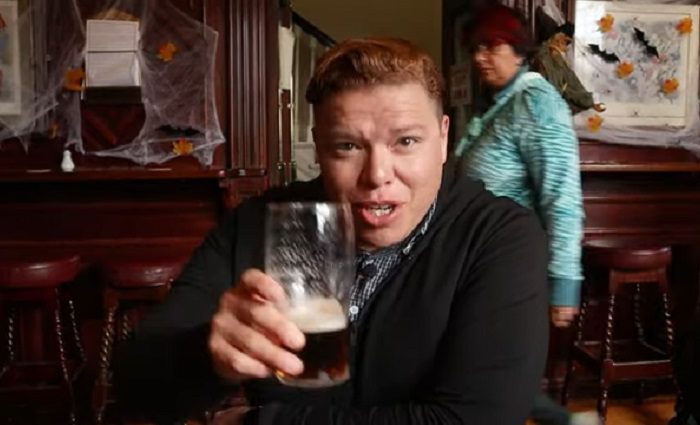 €€ | Historic Pub | Rooftop Beer Garden | Carvery | Live Music
O'Neill's is one of Angel Castellanos' favorite spots in Dublin. It dates back to 1713 and is located across the street from the famous Molly Malone statue in the center of Dublin.
With a spacious labyrinth of corners, it's a great place to enjoy a pint or listen to live music. Their carvery (buffet including roasted meats) is ideal for a big lunch or to end a day of sightseeing.
Address: 2 Suffolk St
Mister S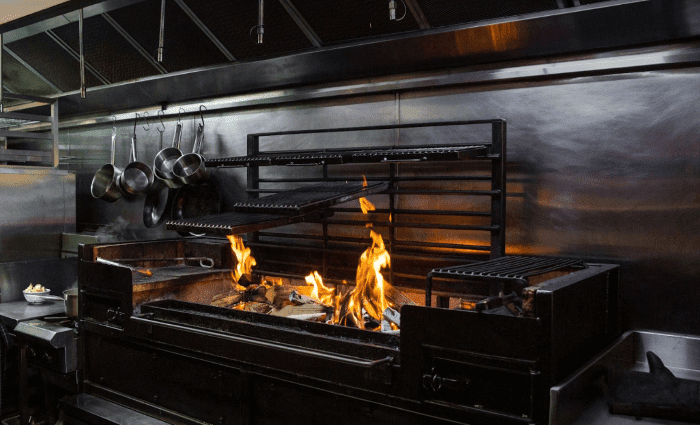 €€€ | Casual Restaurant | Contemporary | Camden Street
This is a place where you can smell the restaurant before you see it. This is due, in part, to the massive charcoal fire working overtime in the open kitchen. The interiors are dark and woody to match those aromas. There's also a large, communal table downstairs.
You have standard steakhouse options, such as dry-aged rib and sirloin, but also the more experimental flavours: smoked strawberries and honeycomb, burnt end rendang spring rolls. These are the combinations people come back for. Order more than you think you'll need.
Address: 32 Camden Street Lower, Saint Kevin's, Dublin
Glas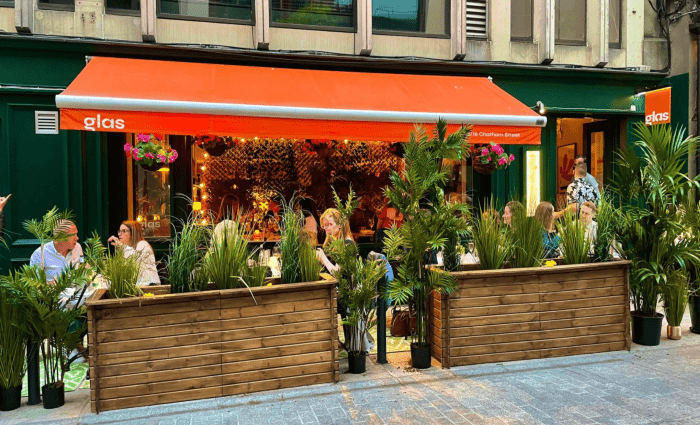 €€€ | Vegetarian and Vegan | Fine Dining | Contemporary | Outdoor Seating | Chatham Street
Glas earned its first Michelin Star this year, proving that meatless options can be just as innovative and adventurous. The focus is on sustainable and locally-sourced vegetables, as well as seasonal produce. The ambiance is cosy chic.
An example of how far this creativity stretches can be seen in the form of their artichoke croquettes, blue cheese crème brûlée, and flamed kohlrabi. Everything on the menu is very intentional but never appears to try too hard. It's recommended to book in advance.
Address: 16 Chatham Street, Dublin
Coke Lane Pizza at Lucky's Pub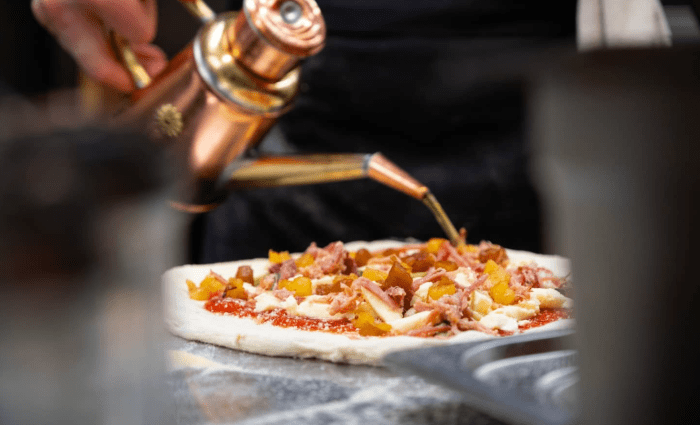 €€ | Neapolitan Pizza | Casual | Outdoor Seating | The Liberties
You get a two-for-one at Coke Lane Pizza because the food stall is situated in a local indie pub. On top of that, it's based in the oldest part of Dublin, The Liberties, which is home to Christchurch Cathedral, Dublin Castle, and the Guinness Storehouse.
All the classics are here. Marinara. Margherita. Then some superb house specials like the "Locard" pizza with goat's cheese, butternut squash, rocket, and Irish honey. The pizzas are wood-fired and thin-crusted, and of course, nothing better than sipping on a craft beer by candlelight, while soaking those crusts up.
Address: 78 Meath Street, The Liberties, Dublin
Fade Street Social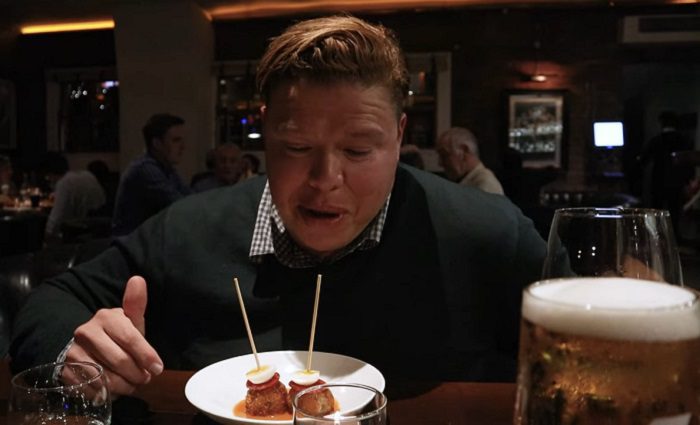 €€ | Irish Cuisine | Cocktails | Rooftop Terrace | Great Ambiance
Think you know Irish cuisine? This place will change your perception for the better. Run by chef Dylan McGrath, the food here is fantastic. So, come for the food but stay for the vibe. It's modern yet inviting and lively.
There are lots of different spaces to sit in depending on the occasion and who's joining you for dinner. There's a rooftop Winter Garden with great views, a cozy upstairs lounge-like area, and a slightly more formal area downstairs. I recommend getting there early to enjoy their cocktails.
Address: 6 Fade St
Las Tapas De Lola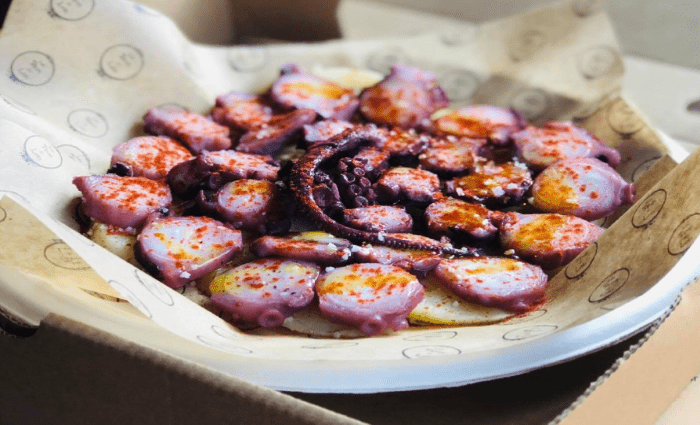 €€€ | Spanish Tapas Restaurant | Outdoor Seating | Wexford Street
The romantic setting of Las Tapas De Lola is unparalleled. There's a heated canopy with outdoor seating, while a buzzing restaurant waits for you inside. The paper menus are also the placemats, which feels very true to table service in Spain.
On the menu, you'll find items such as chicharrones, croquetas de jamón, patatas bravas, as well as more pricey ibérico ham. Just a heads up though, tapas are more expensive in Dublin than in Spain. You can pay upwards of €6 to 10 for a single tapas dish here. The food is delectable, however, so you won't feel too bad parting with your cash.
Address: 12 Wexford St, Dublin 2
Yamamori North City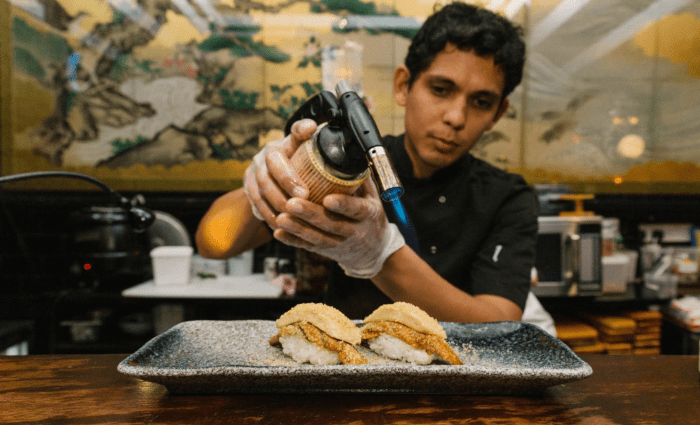 €€ | Japanese Restaurant | Dine-in | Contemporary | Ormond Quay Lower
There are three Yamamori venues in Dublin city, but you specifically want to go to the North City one. The lighting is particularly flattering (perfect for couples) and you can also grab a stool by the bar to have your food served there.
In a separate area after midnight, there's an underground nightclub called Tengu that plays alternative electronic and RnB music. It's very popular with local millennials and gen z's.
Apart from the excellent sushi selection of nigiri, norimaki, and sashimi, there's also a menu packed with noodle and rice-based dishes. Personal favorites are the kimchi oysters and the off-menu espresso martinis.
Address: 38 Ormond Quay Lower, North City, Dublin
Sophie's Rooftop Bar at The Dean Hotel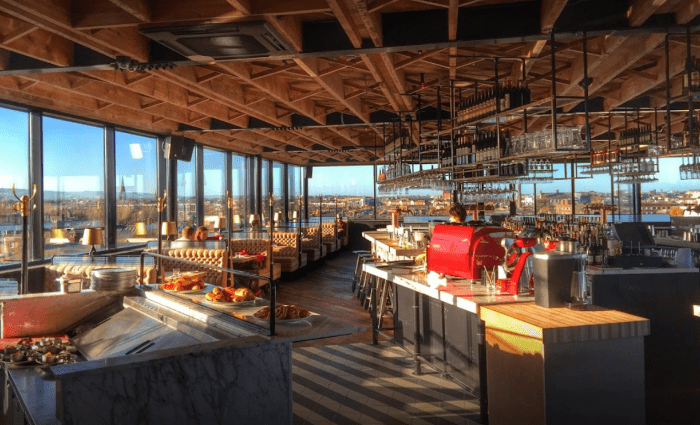 €€€ | Restaurant and Cocktail Bar | Outdoor Seating | Harcourt Street
The appeal of Sophie's rooftop is undoubtedly the panoramic views across Dublin's South city. You take a lift to the rooftop, which is easily accessible by wheelchair (but perhaps not ideal for those who don't like using a lift). There are about five flights of stairs in the event of that.
Once you reach the summit, it would be rude not to reward yourself with one of their specialty cocktails, such as the "Mad Ting," a rum-infused drink with passion fruit and grapefruit. Food-wise, a top pick is the confit duck leg. After dinner, you can have a nightcap on the terrace and watch the city lights. Booking in advance is recommended.
Address: 33 Harcourt Street, Saint Kevin's, Dublin
Luncheonette at NCAD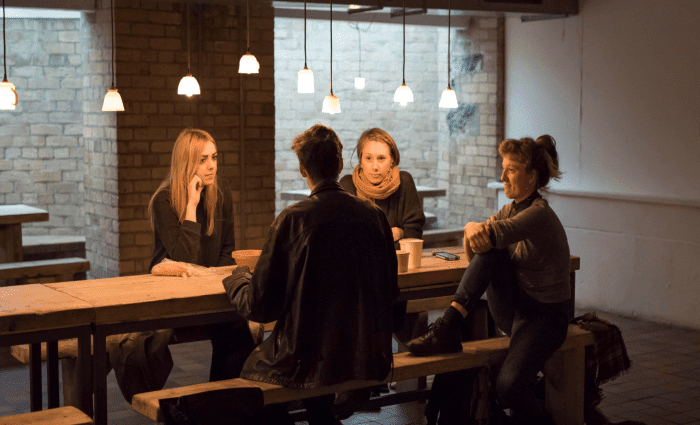 € | Lunchtime Cafeteria | Takeaway | Dine-in | Thomas Street
You can't get more under the radar than Luncheonette. Started by Dublin-based artist, Jenny Moran, the premise of this restaurant is "placemaking, comfort, and shared experiences." As it operates in the basement of The National College of Art and Design, the food is all subsidized—meaning that you won't pay more than €4 for a dish.
Health-conscious visitors will relish what's on offer here. Think of Indian dahl and coconut soup, samosa burgers, "butterless" butternut squash cake, and tofu noodle pots. You somehow walk away feeling like you've been good to mother earth.
Address: 100 – 108 Thomas Street, Dublin
Hatch and Sons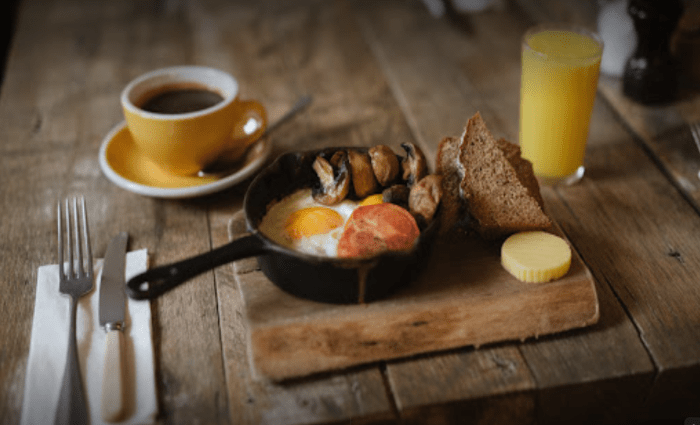 €€ | Irish Food | Dine-in | Family Friendly | Stephen's Green
Hatch was named after a nearby dairy parlor that ran during the 18th century. The owners felt the name was apt, considering that milk and beef are two popular ingredients in Irish cooking. As you take in the surroundings, you'll notice the restaurant looks like the kitchen of a modern Irish farmhouse. There's ample seating, so walk-ins shouldn't be a problem.
It's worth mentioning that all the dishes are very Instagram-worthy. The double-baked skillet eggs with homemade soda bread tend to be the most regularly snapped plate. The beef and Guinness stew and the sandwich blaas (a soft white roll, native to Waterford) are also a must-try!
Address: 15 St. Stephen's Green, Dublin 2
Locks Windsor Terrace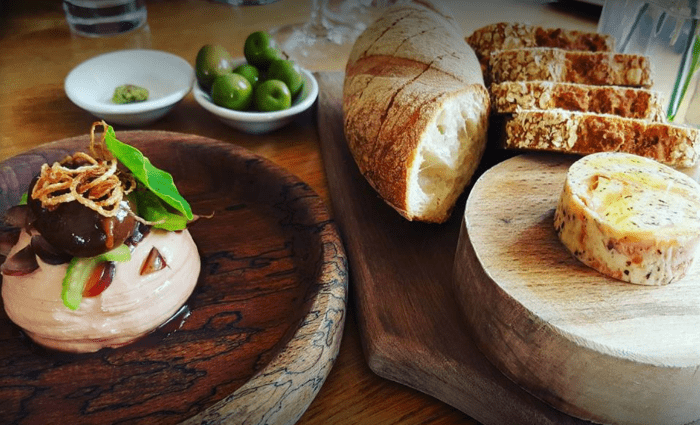 €€€ | Fine Dining | Dine-in | Contemporary | Portobello
Locks is a neighborhood favorite and one that visitors might not be acquainted with. Historically, the building used to be a sweet shop. However, during the Irish rebellion, it was used as a vantage point to spy on the British soldiers' barracks across the road. Now, it just serves marvelous food.
Their menu is a hot take on French cuisine but uses only the freshest Irish ingredients. For example, you could start with the Kelly oysters from county Galway and finish with the côte de boeuf. Honorary mention must also be given to the pastry chefs for their spread. Namely, the Seville orange cake and salted caramel tart. Make sure to book in advance.
Address: 1 Windsor Terrace, Portobello, Dublin
Gursha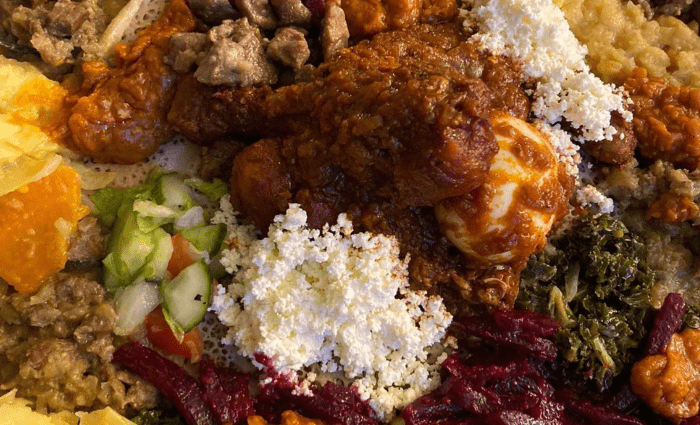 €€ | Ethiopian Food Truck | Takeaway | The Liberties
Mel Roddy, one of three siblings from Ethiopia who grew up in Dublin, is serving the only Ethiopian food available in Ireland! And boy, we are lucky to have it. Gursha's food truck is situated in the heart of The Liberties, available for both collection and takeaway.
For €21, you can mix five dishes, which include national Ethiopian foods such as yebeg tibs, doro wat, and gomen. All dishes are served on injera bread and are meant to be eaten with your fingers.
Address: Iveagh Markets, Francis Street, Dublin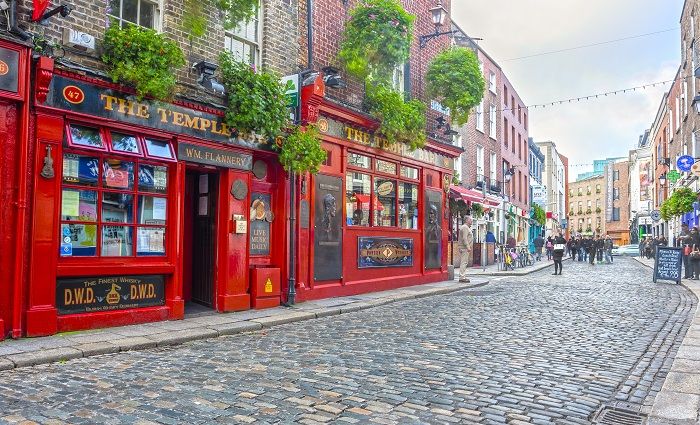 Find the best places to stay
Where To Stay in Dublin
Deciding where to stay in this historical city of Dublin, Ireland is easy with our local's guide to the best hotels and neighborhoods. From Portobello to the Dublin Docklands, you'll love your stay here!