Are you in Dublin and looking for epic pub recommendations? Well, stay tuned, because our local correspondent has just curated a list of Irish pubs in the capital.
---
Pro Tip: If you're planning a trip to Dublin, consider bookmarking our dedicated Dublin page, with articles on The Cliffs of Moher, Giant's Causeway, Titanic, and more!
The Top 10 Pubs In Dublin
Dublin has a long-held reputation for its drink culture: Guinness, Jameson, Baileys… The late Irish poet, Brendan Behan, even went as far as to say: "I only take a drink on two occasions – when I'm thirsty and when I'm not."
So, with that in mind, come join us on this pub crawl to see what places stand out for you. As you're here, feel free to also check out the best restaurants in Dublin. It might come in handy when planning for the rest of your trip in Dublin. Alright. Let's go!
The Celt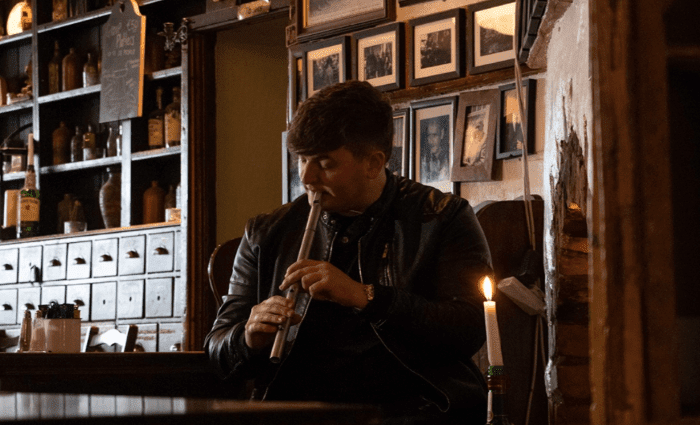 €€ | Charming & Old School | Live Irish Music Every Night | Serves Irish Food & Drink
There is a very non-touristy part of the northern inner city that regularly welcomes visitors from Ireland and abroad. Why? The Celt, of course! The pub's major appeal is down to the live Irish music, which plays every night from 9.30 pm. If you come along, you'll hear locals singing "sean-nós," which translates as "old-style".
Exactly as it says, sean-nós means an old way of Irish singing, whereby the singer accentuates the consonants instead of vowels in lyrics. Moreover, musicians like to play the spoons or the fiddle, or like to try and win over American visitors with songs like "Country Roads."
In terms of grub, the Celt serves typical Irish food like beef and Guinness stew, bangers and mash, and of course, beautiful, creamy pints of Guinness. Overall, my favorite part about this watering hole is the welcoming and charming staff. You might even be lucky enough to have a "lock-in" with a select few others. A "lock-in," is when the pub secretly stays open after closing hours. Now, I'm not officially saying The Celt does this, but many pubs in Ireland will, if the owner is in a good mood.
Address: Talbot Street, North City
Hours: 11.30 am – 11.30 pm/12.30 am, Monday to Saturday. 12 – 11.30 pm on Sunday
O' Donoghue's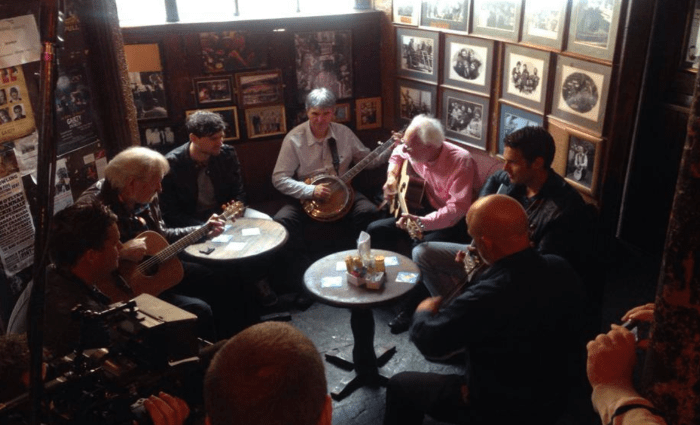 €€ | Old School Charm | Live Irish Music Everyday | Serves Food | Popular with Celebrities
Celebrities go stir-crazy for O'Donoghue's pub. Rihanna previously held her Christmas party here when on tour, and P!NK once enjoyed a few brews, along with numerous other A-listers. As a result, it's popular with visitors to Dublin who want to experience a stereotypical Irish pub and the possibility of seeing Matt Damon, or someone like that. There's also great live music everyday from bands who play rebel ballad covers from The Dubliners or The Chieftains bands.
In terms of layout, the inside of O'Donoghue's pub is dimly lit with pictures of notable people all over the walls. No spare inch spared. There's also an outdoor beer garden where pub-goers can sit at tables made from old whiskey kegs. To boot, the pub serves traditional Irish food, mixed with non-Irish foods like chicken wings and chicken curry. O'Donoghue's pub would ultimately suit anyone with a love for trad Irish "sessions" (free-styling music jams) and the feeling of togetherness when sat around a circle with strangers.
Address: Merrion Row, Dublin
Hours: 10 am – 1 am, Friday and Saturday. 10 am – 12 am, Sunday to Thursday
Whelan's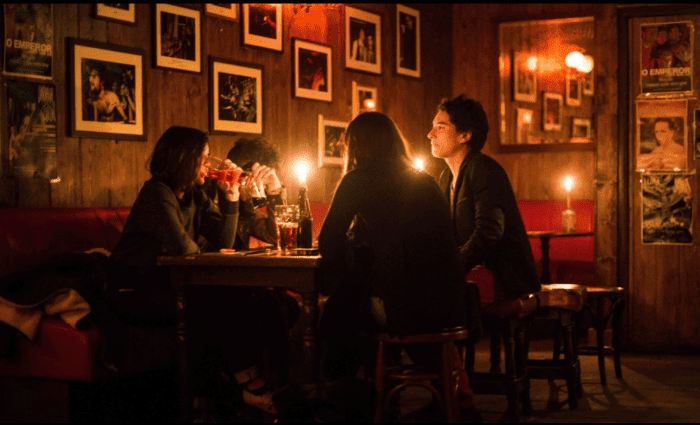 €€ | Irish Pub | Live Gigs for all Music Genres | Younger Crowds | Silent Disco Upstairs
Whelan's is designed like a typical Irish pub, but it caters to the younger market. Most nights of the week there is some kind of live rock, indie, or folk gig going on, which spans over three floors and has a different stage for each act. Worth mentioning, I once took weekly bodhrán lessons in this pub for €5, so expect to not know what to expect when you walk in the door. Any event or activity you can imagine is held in Whelan's, including silent discos – where people put on headphones (with music) and dance around like a fool.
Downstairs, there are lots of snugs dotted around the pub for you to cozy-up to, with your partner, or else your friends. During the winter, there's usually a fire going and the burst of warmth as you walk in the door is very comforting. I highly recommend Whelan's pub for people of all ages, but especially music lovers in their 20's/30's.
Address: Wexford Street, Portobello
Hours: 3/4 – 11 pm, 7 days a week
Doyle's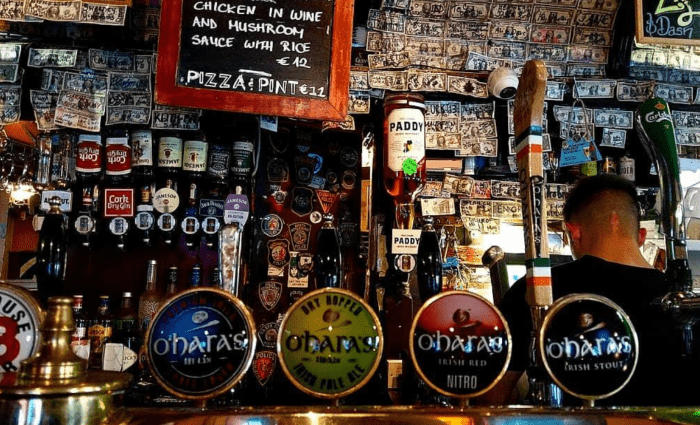 €€ | Old School Irish Pub | All Ages | DJ Upstairs | Contemporary | Beside Trinity College
Doyle's is a centrally located Irish pub that's beside Trinity College on the green. As the location is smack in the center, you'll be surrounded by visitors who are in the same boat as you, as well as being with locals who enjoy sitting at the bar. You can buy all kinds of beers here, from lesser known IPA's to heavy hitters like Guinness, Heineken, or Carlsberg. I highly recommend ordering a pint of "Hop House 13," which is a pale ale that was created by Guinness a few years back. To illustrate how good a pint of Hop House is: the sales took off in Ireland, to such an extent, that Guinness had to suppress Hop House advertising. They feared Hop House would take over Guinness in popularity!
In other news, upstairs at Doyle's is also a hoot. There's a resident DJ who plays 90's dance, and chart music, to drunken groups of friends. I actually met my American partner while at Doyle's a few years back. So, this should tell you everything you need to know about locals and tourists mingling here. All in all, Doyle's is great for people who want a proper night out with a good 'ol bop.
Address: College Street, Dublin
Hours: 4 – 11.30 pm, 7 Days a Week
McGrattan's
€€ | Old Irish Pub | Sports Bar | Pool Tables | All Ages
McGrattan's is down at the end of a practically unused side road, which can be a little hard to find if you're not well versed with the city. Once you find the place, however, you'll be pleasantly welcomed by its cute Irish signage and trinkets, such as Guinness toucans and milk jugs, in the window. Inside, you can choose to sit in a number of private rooms, or else opt to play pool in the main area. There's also a beer garden and a large back room with high ceilings (that part of the pub gets a lot of light).
I would 100% suggest hitting McGrattan's before doing a pub crawl around other fantastic haunts in the Baggot Street area. The aforementioned O'Donoghue's pub is only a across the road. In summary, this is a place you'd go, if you want to experience an off-the-beaten-track drinking house.
Address: Fitzwilliam Lane, Dublin
Hours: 10/11.30 am – 11.30 pm, 7 Days a Week
The Stag's Head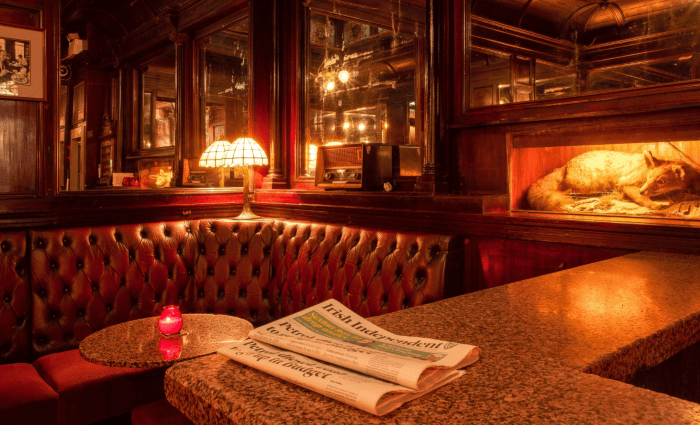 €€ | Old Irish Pub | Snugs | Storytelling Nights | Comedy Nights | Live Music
People from near and far absolutely adore The Stag's Head, and you'll see why, when you arrive. First of all, the pub's interior is loaded with cozy snugs for couples and friends to socialize in.* During the course of the night, you'll be able to go upstairs to a night of Irish mythology storytelling, or else down to the basement for a stand up comedy night.
Similar to all pubs in this central area near Temple Bar, The Stag's Head welcomes a mix of locals and vacationers from overseas. Anyone who is peckish will also rest easy knowing there's a pub menu that serves foods like grilled cheese, fries, and Guinness (a food grouping in its own right). In general, the Stag's Head is the perfect for people who want pub related activities with a high energy buzz.
*A quick fact about the Irish snug: in the last century, the purpose of a snug was initially for groups of women. At the time, only men were allowed at the main bar, as it was a cultural taboo for women to sit with their men at a pub.
Address: Dame Lane, Dublin
Hours: 1 – 11 pm, 7 Days a Week
The Bleeding Horse
€€ | Classic Irish Pub | Medieval Vibe | Weekend DJs | Outdoor Seating
The Bleeding Horse is an institution for locals and one of the oldest pubs in Dublin. It's been around since the 17th century and got its grim name from the Battle of Rathmines in 1649. The story goes that witnesses saw a bleeding horse galloping down the road after the battle's crescendo. Furthermore, this historic pub has been mentioned in many famous novels, to include James Joyce's masterpiece, Ulysses.
Pertaining to all things decor, The Bleeding Horse is a labyrinth after a few drinks. You have different levels of mezzanine snugs that overlook the main bar, then a stone-walled room with low ceilings that has a medieval vibe downstairs. All throughout the pub, you'll see old farming equipment and various cart wheels on the wall. Not forgetting the non-drinkers, this pub can also take any cocktail from their menu and make it virgin for you. My favorite thing about The Bleeding Horse, is that you can head down by yourself during lunch break, grab a newspaper, order a stew… and a few pints of Guinness… and thank god you were born in a place that sees this behavior as normal.
Address: Camden Street, Dublin
Hours: 12/1 am close, 7 Days a Week
Johnnie Fox's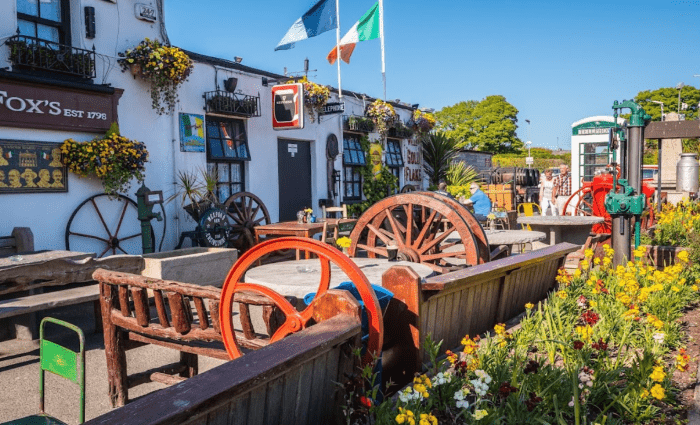 €€ | Highest Pub in Ireland | Kitsch | Serves Food | Hooley Nights | On Top of Dublin Mountains
Johnnie Fox's is the highest pub in Ireland, but not because the staff are smoking something, it's because the pub sits right on top of the Dublin mountains. It's quite the trekk to get up this pub, but I would never include it on this list, if it wasn't worth it. Johnnie Fox's run hooley nights every day of the week (which means Irish dancing with Irish music). Just a heads up though, you will have to buy tickets for that event, which includes a four course meal.
To describe the feel of Johnnie Fox's, you'll find it heart-warmingly eclectic and wacky. The outside seating area has a disused telephone box near the entrance, as well as garden gnomes and other Irish collectibles. Inside, you'll see that the pub is a typical old Irish pub. As such, there's bank notes from all over the world pinned at the bar, an assortment of 1950's drinks bottles and retro items displayed in glass cabinets. In Ireland, Johnnie Fox's is a must do. Just make sure to organize transportation for the end of the night (cab or rental), as there are no buses on weekends in that area.
Address: Glencullen, co. Dublin
Hours: 9/10 am open & 11.30 pm close, 7 Days a Week
Frank Ryan's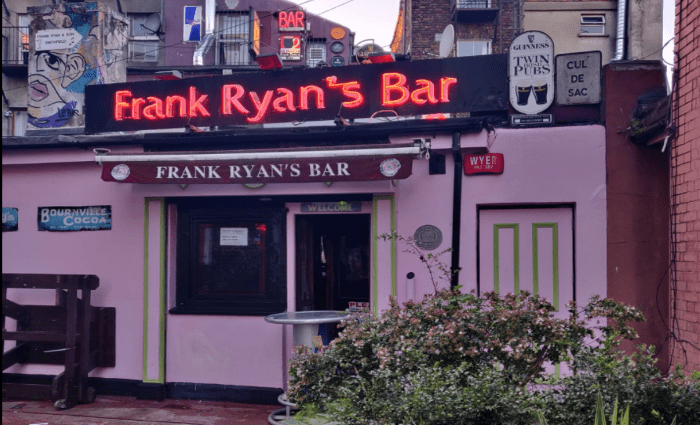 €€ | Tiny Irish Pub | Memorabilia on Walls | Younger Crowds | Pizza | North City
Back to Dublin's inner city and you'll find this little gem of a pub called Frank Ryan's. I don't think many overseas visitors have heard about this pub, so if you're a person who wants to be among young Irish punters*, then this will be right down your alley. Another thing to note, is that the pub is delightfully tiny. It fits perhaps 50 people at most, but does have a big outdoor area where the stragglers like to congregate. Inside looks like a typical Irish pub, and the outside, as pictured above, is in line with the 21st century.
Another pull to Frank's pub is for "Coke Lane Pizza" next door. CLP does the best wood fired pizzas in Dublin, which you can take outside to eat with a pint from Frank's. At the end of the day, I love the unpolished charm of this pub with the pizza joint beside it. It's exactly what an Irish pub should be like, whilst also not being afraid to include more contemporary ideas, such as painting the pub pink. Back in the olden days, that would have been totally unheard of.
*Punters is slang for "spenders". The word comes from our pre-euro, Irish currency, which was called the "Irish Punt." Some locals still use this term when referring to paying customers at an establishment.
Hours: 4 – 10 pm, 7 Days a Week
Toners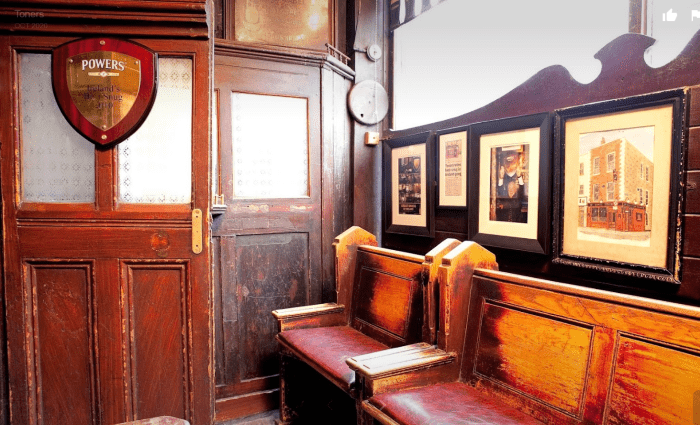 €€ | Old School | Classic Snugs | in Desirable Neighborhood
Toner's is one of Dublin's oldest pubs around, having been established in 1734. It's renowned for pulling some of the best pints of Guinness in the capital (no frothy bubbles), while also having some of the most classic looking, wooden snugs. Above all, it's an old man pub, but gets lots of visitors from all over the country and beyond.
Similar to Frank's above, Toner's serve pizzas from their neighbor's at Cirillo's, which I've never had personally, but it apparently was voted as Europe's 16th best pizza. On sunny days, you can go outside and drink in Toner's beer garden, or else seek comfort indoors in the wooden snugs. If you overdo it on the drink, the next day you can come back for "the hair of the dog" aka "the cure", and sit by the bar with a pint until you feel right again. Highly recommended for people who like dark and womb-like Irish pubs.
Address: Baggot Street, Dublin
Hours: 10/11.30 am open & 11.30 pm/12.30 am close, 7 Days a Week