Are you jetting off to Cork this winter? Or, perhaps after the madness of Christmas? If so, take a culinary journey with us, through the best restaurants in Cork.
---
Pro Tip: Planning your trip to Ireland? It's easier to organize your trip when you have all your resources in one place. Bookmark this post along with our Cork Guide with more planning resources, our top tours and day trips in Ireland for a memorable trip, and the top things to do in Cork.
The Top 12 Places To Eat In Cork
The food scene in Cork is BOOMING. Some of the most intelligent, experienced, and profound chefs in Ireland are set up in this southern part of Ireland. Cork city has everything from high-end sushi to Lebanese cuisine, the west of Cork has Turkish influenced food, continental food, and of course – the crux of all good cooking: locally sourced, hand reared, organic produce.
To analogise the Cork food scene further, I'm reminded of a quote from the Irish country singer, Joe Moore. He said: "appetizers are the little things you eat until you lose your appetite." Well, I can assure you that the food trend in Cork right now is small plates, so always order more than you think you'll need! But once you've secured the goods, you'll be singing from the rooftops.
Moreover, no vacation is complete without a place to stay, so feel free to check out our list of best luxury hotels in Cork.
12. Orso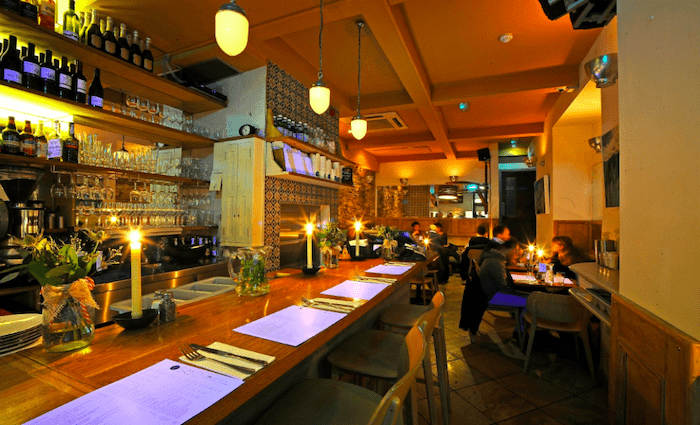 €€ | Lebanese and Moroccan Style Food | Contemporary & Intimate | Cork City
Orso is a great little dining spot in Cork city center. Perfect for couples looking for an intimate evening, whether perched up on the counter, or else taking a seat in the main area. It's also a good choice for a quick lunch after a bout of retail therapy in the city. In terms of vibe, the restaurant feels like a wine bar, but the food has a focus on Lebanese and Moroccan cuisine.
Some menu highlights include their signature bean tagine, as well as their spiced beef kaftas. During lunchtime, you can nab a creamy chicken korma, lunch baguettes, or breakfast items like poached eggs with aubergine fritters. On top of that, you'll have plenty of vegetarian and coeliac friendly options. Highly advised to walk in early (around 6pm) to ensure a table on the weekends.
Address: Pembroke Street, Cork City
11. The Square Table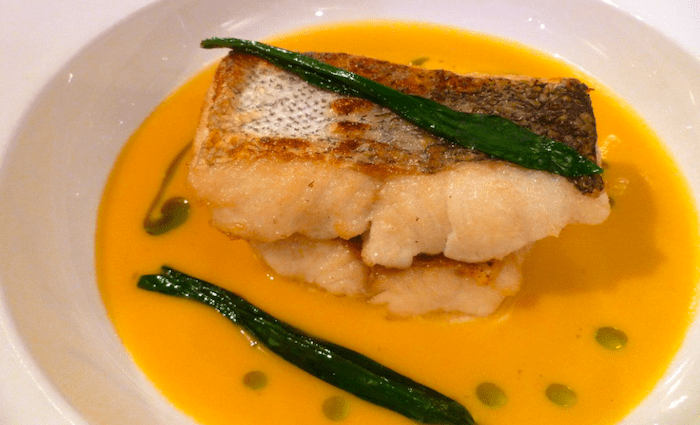 €€€€ | Michelin Star | Contemporary Continental Food | Blarney Town
This Michelin starred, 34 seater restaurant is run by twin sisters, Martina and Tricia Cronin. The Cronin's take pride in their locally sourced Irish food, for example, their butcher is the same supplier they've had since they were children. The flour used is the same brand their mother uses in her own soda bread recipe. Furthermore, the lettuce in the salads comes a nearby farm who harvests in the morning and delivers in time for lunch. You can't get more farm-to-table than that!
Top picks on their seasonal menu include their smoked salmon with velvet cloud yoghurt, pickled cucumber, apple, and ginger. For mains, braised beef cheek with caramelised onion and horseradish purée. Or else, how about Rib Eye Steak with sweet and sour confit shallot onion, duck fat chips and béarnaise sauce? The Square table is a thus a good shout for people who want a homely yet professional food experience. Location wise, it's in Blarney town, which is convenient if you're heading out to kiss the Blarney stone.
Address: Blarney, co. Cork
Check Out Our Best Day Trips From Dublin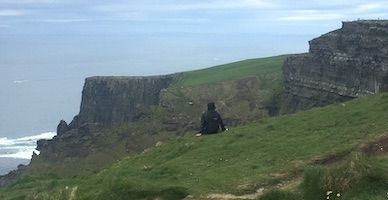 TOP RATED TOUR
Cliffs Of Moher And Galway Day Trip From Dublin
Spend the day exploring the west of Ireland with a friendly engaging guide and transportation included. In the morning, discover the grandeur of the Cliffs of Moher, the flora and fauna of the Burren, and the Wild Atlantic Way. Then head to the exciting city of Galway to enjoy the center of Irish culture.





---
Starting at €68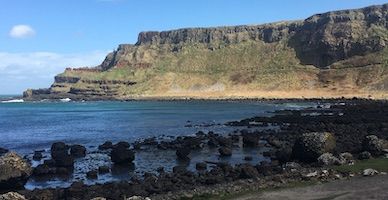 LIKELY TO SELL OUT
Giant's Causeway And Titanic Belfast Day Trip From Dublin
Spend an amazing day exploring Northern Ireland with your Expert Local Guide. Visit the Giants Causeway, full of folklore, the UNESCO site is often referred to as the 8th Wonder of the World. Then head to Belfast for the Titanic Experience with Skip the Line access.





(8)
Starting at €85
10. Customs House Baltimore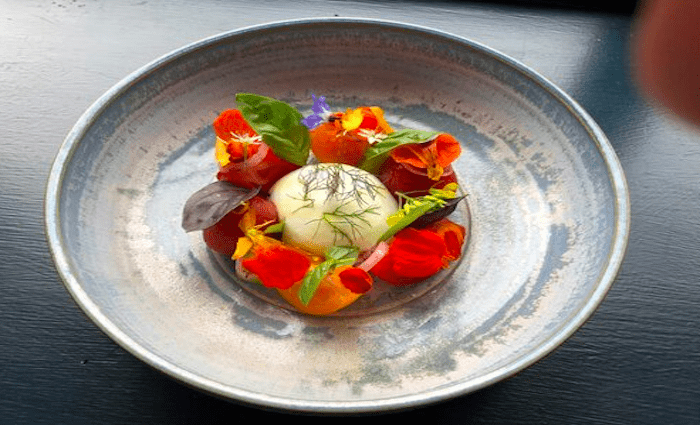 €€€ | Casual Fine Dining Restaurant | Contemporary | Baltimore
Customs House Baltimore is a contemporary restaurant run by Michelin chef, Ahmet Dede, who brings food inspiration from his native Turkey. As with all fine dining restaurants, expect to not know what to expect from the menu, which changes regularly to reflect the seasons.
An example of the team's seasonality and creativity is seen in items like the barbecued langoustine with fermented butter milk, black sole with pickled squash, or their ever-popular wagyu beef with caramelised carrot. You can do a tasting menu for €95, or else a wine pairing for €75 per person. Overall, the Customs House is a top pick when in the Baltimore area (i.e. if doing the Baltimore Beacon walk, whale watching, or heading to Dursey island).
Address: Customs House, Baltimore, Co. Cork
9. Goldie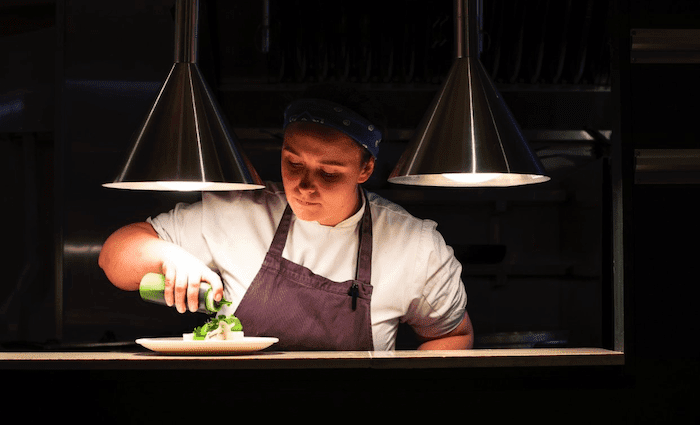 €€€ | Seafood, Meat, Wine & Beer | Contemporary | Outdoor Seating | Cork City
Goldie restaurant have found their forte in the form of seafood and craft ales. Here, you'll find the more unusual catches of the day, such as cured gray mullet, pollock, soused herring, or a salt fish brandade (pie). Another nice aspect is being able to order small plates like Cromane oysters from nearby county Kerry, or else buttermilk fried fish with a glass of wine. In addition, their pastry chef makes the most interesting desserts with eastern flavors like Hokkaido pumpkin pie.
As a result, Goldie is a pillar for intelligent food. It's well thought out and won't disappoint, should you find yourself in the center of Cork city without a notion about where to fill your belly. Well, fill it here!
Address: Oliver Plunkett Street, Cork City
8. The Glass Curtain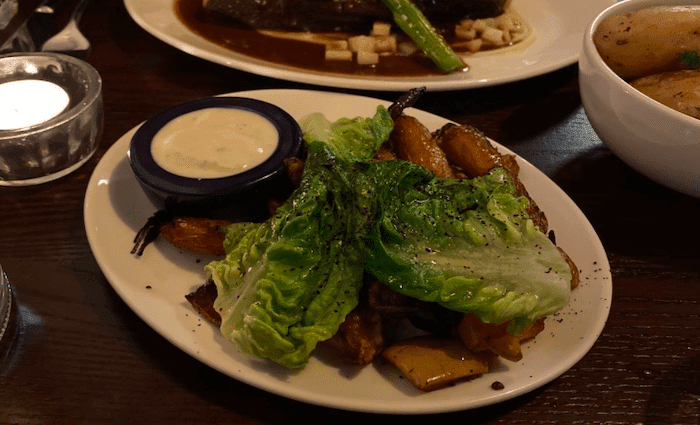 €€ | Upscale Dining | Casual | Moody Interiors | Victorian Quarter in Cork City
The Glass Curtain resides in a highly sought after part of Cork City, where all the hustle and bustle happens. The team operates out of a former bakery, and the name comes from the progressive glass wall architecture that was installed when the building was erected in 1826. The restaurant has a further focus on sustainability, as well as organic and seasonal produce (with a hint of ethnic flavors from around the world).
From the à la carte menu, take your pick from bluefin tuna carpaccio, crispy pig's head terrine, locally sourced duck with cherries, rack of lamb, and more. Alternatively, try the tasting menu, which is a stripped down version of the à la carte, but includes things like pork belly with whey caramel, focaccia bread with n'duja butter, or chargrilled monkfish chowder. On top of that, the dessert menu is sublime. Think fig leaf mascarpone with figs in port, or a luxurious, chocolate cremeaux with raspberries. What a treat for the taste buds!
Address: Victorian Quarter, Cork City
7. Pilgrim's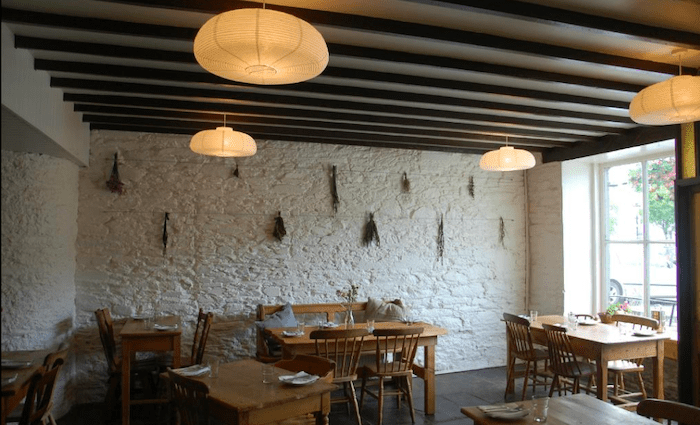 €€€ | Continental Food | New Age "Traditional Irish" Vibe | Rosscarbery in West Cork
Pilgrim's is a small independent restaurant that seems very underground/ hidden gem-ish. The ambiance is whimsical, romantic, and airy with whitewashed stone walls, dried flowers, and a folky, minimalist feel. Of all the restaurants on the list, this one is wins for its understated yet totally "Irish chic" environment. To boot, their upscale set menu is €55 (per person), which isn't bad for haute cuisine.
To give insight as to what you can find on the menu, think venison loin, pumpkin mezzaluna, oak smoked potatoes, and spice roasted parsnips with burnt aubergine. As you can tell, the food is on the healthy side and meant to give you a sensible level of fullness rather than feeling stuffed. This is therefore a great choice for anyone travelling through Rosscarbery, or to other parts of West Cork.
Address: Rosscarbery, West Cork
6. O'Neill Coffee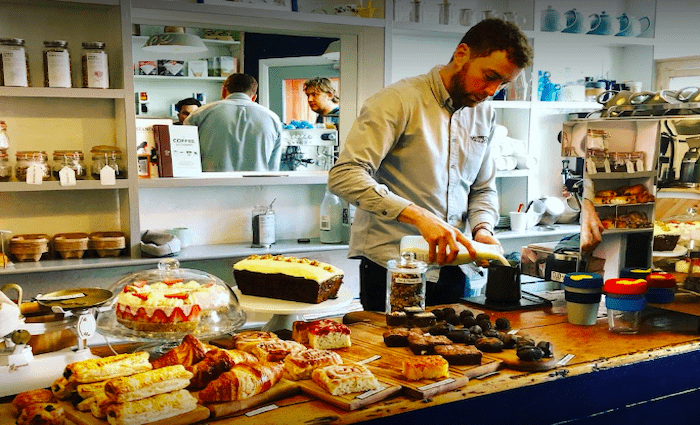 € | Indie Coffee Shop | Takeaway & Dine In | Pastries, Coffee & Treats | Skibbereen in West Cork
O'Neill Coffee is located inside the local Ms. O'Neill's former grocery shop, in the highly touristic town of Skibbereen in West Cork. This cute little space is adored by locals for it's artisan coffees, pastries, and small bites to eat. The aesthetic old Irish shop frontage mixed with contemporary "shabby chic" interiors definitely lures the younger market. There are many opportunities for snapping a good foodie post.
If you're feeling peckish and stopping through Skibbereen, I would definitely sit inside and order a coffee, as well as their baked raspberry cheesecake, or their lime, rosewater and pistachio cake. They also do seriously good gourmet sausage rolls. This should be your first port of call if you're looking for something casual but trendy in west Cork!
Address: Skibbereen, West Cork
5. Restaurant Chesnut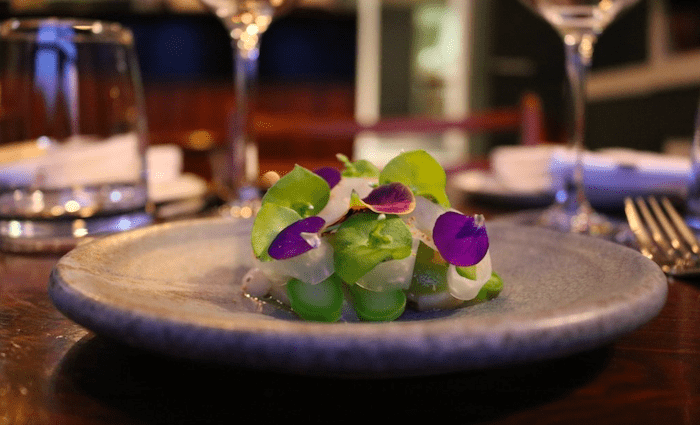 €€€ | Slick and Contemporary | Michelin Star | Upscale Dining | Ballydehob
The Michelin starred, Restaurant Chestnut, is set in the sleepy town of Ballydehob in west Cork. You would never expect to find a restaurant of this calibre in a small village like Ballydehob, but sometimes the finest things in life are hard to reach! As such, head chef, Rob Krawczyk, brings his culinary teachings to life, with all of his dishes being designed around nature.
The €100 (p/p) tasting menu serves items like scallops with kohlrabi and pollen, asparagus and broad beans, and whipped goats cheese with trout roe. At prices like these, you can bank on having silver service and a spectacle when it comes to plating. A must-do when in Ballydehob, without a shadow of doubt.
Address: Ballydehob, Cork
4. Elbow Lane Brew and Smokehouse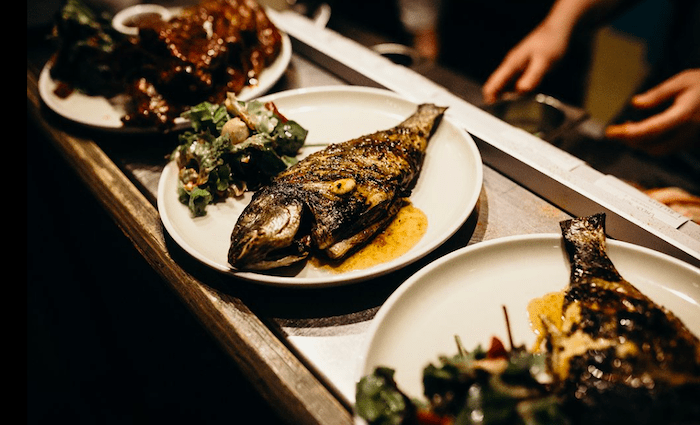 €€ | Micro Brewery | Continental BBQ Food | Cozy Ambiance | Cork City
Elbow Lane is a quaint and atmospheric spot in Cork city, with bar-counter seating, as well as regular dining tables. The food is a contemporary take on classic European foods – a bit of French and Spanish cuisine – with a hint of Texan BBQ. In addition, they have an in-house micro brewery where they brew everything from pale ales to stouts, and lager.
On their menu, you'll have small plates such as low smoked brisket rolls, koji cured beetroot, and a smokehouse sausage board. For mains, a carnivorous delight; baby back ribs, ribeye, T-Bone, lamb chops, wood grilled fish of the day, and more. Seeing as it's a smokehouse, most things are smoked, to include smoked leeks in miso broth, and even smoked oysters! I highly recommend Elbow Lane for meat lovers who want somewhere central and charismatic in Cork city.
Address: Plunkett Street, Cork City
3. Ichigo Ichie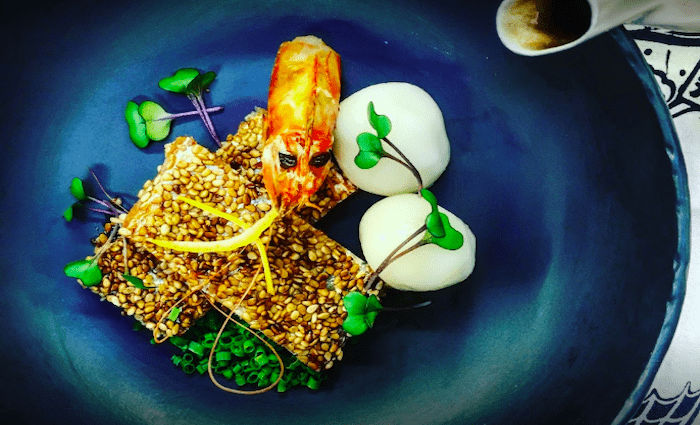 €€€ | Michelin Star | Small Restaurant | Sushi | Cork City
Ichigo Ichie is a stunning Japanese restaurant that serves outstanding sushi in Cork city. It's really one-of-a-kind in Ireland. Head chef, Chef Miyazaki originally hails from Japan and has decades of experience under his belt, whilst bringing new and original flavors to the public. The modern restaurant is tiny (perhaps only a 10 seater), so make sure to book well in advance before you get to Ireland.
In terms of sushi, you have the finest of things, like fig with sea urchin and sour cream miso, foie gras with port, egg dashi pots, and so forth. Heads up though, if you're allergic to nuts, a lot of dishes might not be suitable for you (chefs frequently like to use nuts at Ichigo Ichie). Overall, this is an intimate place where you can really get to know the Itamae on a personal level, as they prepare your delicacies.
Address: Sheares Street, Cork City
2. Greene's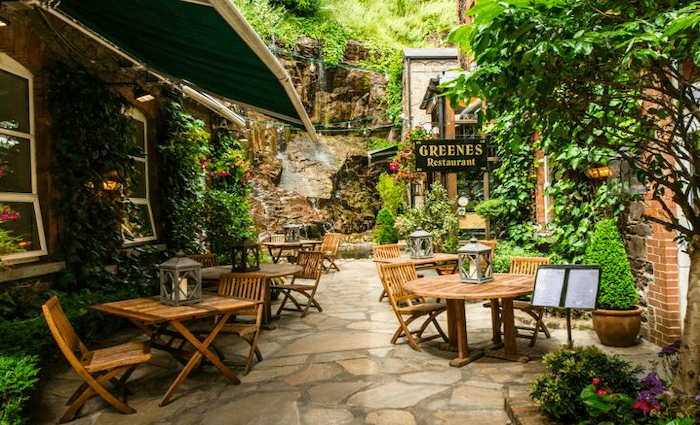 €€ | Fine Dining | European Food | Outdoor Seating | Victorian Quarter, Cork City
Greene's is located in a beautiful courtyard in the Victorian Quarter of Cork city. The main attraction is for the outdoor seating, which has raised wooden decking over a waterfall and a Japanese style pond. There's also a stone floored area that has more of an Irish barn feel. A plus at Greene's is that the food is also terrific.
They have a few menus that average out at approx. €52 for three courses (p/p). The "Prix Fix" menu has dishes like crab and seaweed mousse, free range pork belly, or west cork lamb done two ways. Their lunch menu serves items such as feather blade of beef, pan fried hake, and lemon parfait. The food is certainly "fine dining" here, but not as inventive or experimental as others on this list. However, the restaurant setting and the vibe is unparalleled. It's reliable and the setting makes for lasting memories. That's why it's at number two.
Address: MacCurtain Street, Victorian Quarter, Cork City
1. Bastion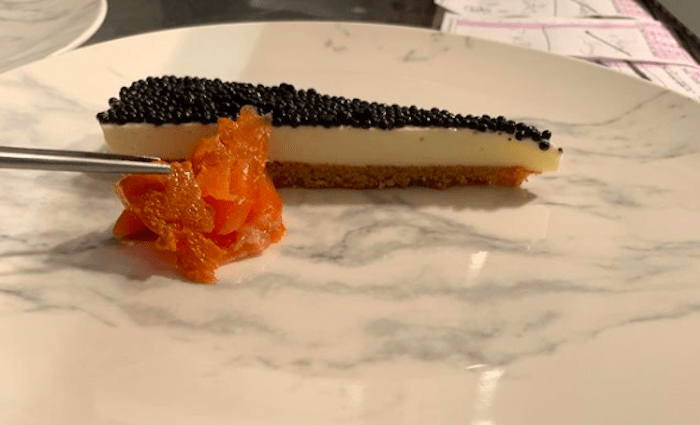 €€€ | Michelin Star | Casual Fine Dining | Kinsale, Cork
Anyone who knows about food in Ireland already knows about Bastion. The Michelin starred restaurant resides in the most visited town in rural Cork (Kinsale) and it's an absolute necessity to visit, if you take your food seriously.
First off, the dining isn't stuffy. Think more romantic and candlelit. Secondly, they have a simple, eight course tasting menu with dishes like scarlet prawn, seaweed cooked potato with oil poached trout, and broccoli veloute. They even have an entire eight course vegetarian menu with cauliflower madras, caramelised milk, and other recipes that are equally as defying in the laws of gravity. A night here is an experience, and one that you've walk away from thinking about for days. You literally can't visit Kinsale and leave without being able to say you've been to Bastion! It's an exemplar of modern Michelin cuisine.
Address: Kinsale, Cork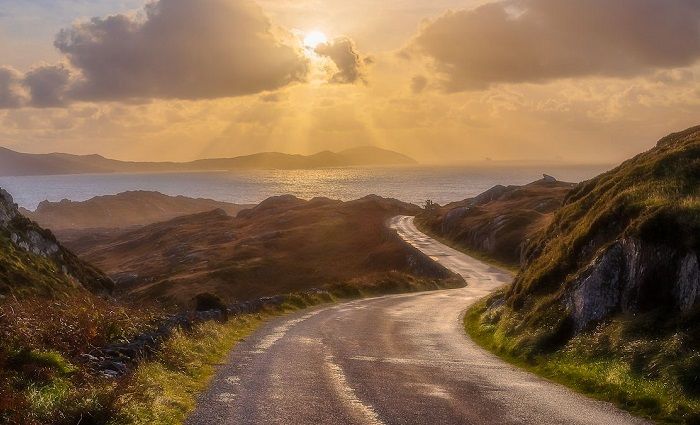 Find the best places to stay
Where To Stay in Cork
A great hotel at a great price has become the norm in this internet era. Our article explains what areas are the best in Cork so you can get a great deal on the perfect location!