Looking for a great place to stay in Cork with an epic indoor pool? This is for you! You're only one swim away from a good mood! So, soak up these heavenly hotels in Cork with indoor pools.
---
Pro Tip: Planning your trip to Ireland? It's easier to organize your trip when you have all your resources in one place. Bookmark this post along with our Cork Guide with more planning resources, our top tours and day trips in Ireland for a memorable trip, and the top things to do in Cork.
The Top 10 Hotels With Indoor Pools In Cork
Cork has a number of famous beaches such as Inchydoney, Garryvoe, and Garrylucas. But, to be honest, when the heavens open up, an Irish beach is the last place you want to be. Much better to book a reliable hotel that gives you agreeable water, Jacuzzi bubbles, and fancy spa facilities to melt your woes away.
Consequently, these Cork hotels have all that – and then some. You'll have diverse swimming pools to choose from, such as bath houses with Palladian pillars and mosaic tiling, modern infinity pools, then also more family-friendly pools. Not to mention the inclusion of spa services, such as facials, massages, saunas, steam rooms, and more. I bet you can't get that in the ocean… So, come see what I'm talking about!
Our Partnership with Booking.com. If you like our content, please book by clicking on our Booking.com links. The price is the same for you and we get a small commission that helps support our helpful blog content. We've partnered with Booking.com because they have the most options, great prices, and a solid loyalty program.
10. Oriel House Hotel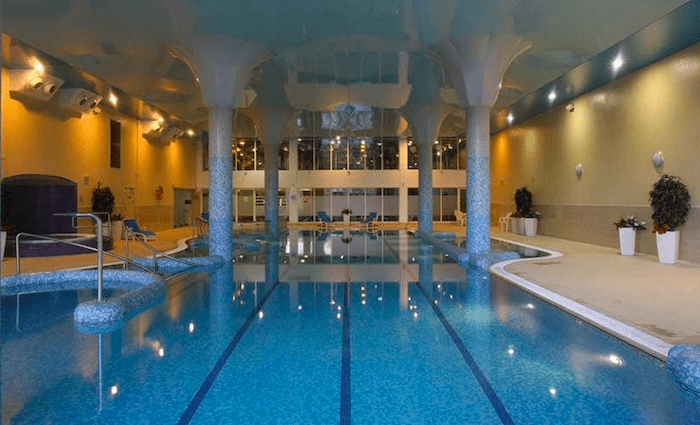 €€€ | 4 Star Hotel | Contemporary Design in Historic Building | Family Friendly | Ballincollig
Oriel House is a modernly designed hotel that's set inside a Georgian townhouse. It resides in the town of Ballincollig, which is just an 18-minute drive from Cork city. Regarding the credentials of their swimming pool, there are 25 meters to work with, as well as jet stations with incorporated seating, and an 8-person Jacuzzi. Kids also have their own separate, shallow pool.
The health center has all the gym trimmings, too, with cardio machines, weights, and fitness classes. If you're a stickler for privacy, the hotel has a strict "no camera photography" policy in both the pool and gym. So, as a result, Oriel House is great for families with young kids.
9. Imperial Hotel Cork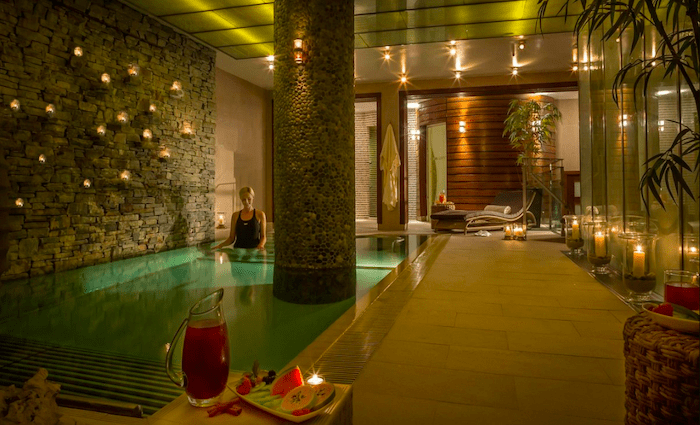 €€ | 4 Star Hotel | Historic Building | Classic Design | Cork City
The Imperial Hotel in Cork city is set in a historic building. Its facade and vibe is similar to the 5-star Westin hotel in Dublin – yet, even though the Imperial is a 4-star hotel, it's still very much a high-class venue. You have an array of dining options here, as well as a tranquil health club.
More on The Imperial's pool; firstly, you can find it in their health spa. The focus in the spa is on the actual spa services, so it's less about the pool and more about the Voya and Aveda treatments, massages, and relaxation area. This swimming pool is a type of place you'll soak in after a spa treatment – while small, it's still perfect for those who want to float rather than burn calories. It's also dimly lit and elegantly designed, which is perfect for the more body-conscious adult.
8. Fota Island Resort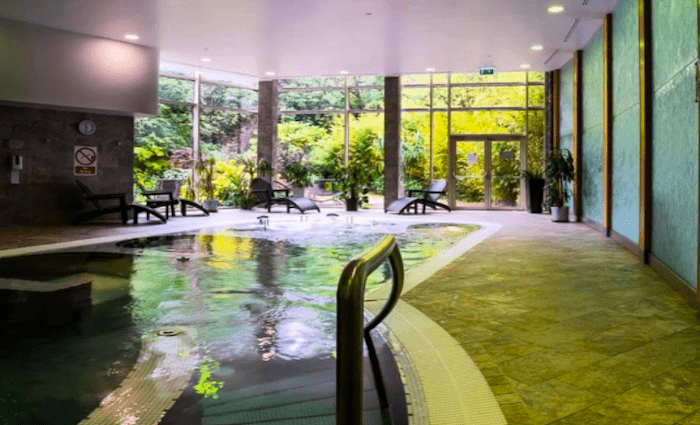 €€€ | 5 Star | Hotel, Resort, and Spa | Contemporary | Golf Course | Swimming Pool
There is much to do at Fota Island Resort and Spa. First of all, it's right by Fota Island Wildlife Park, which is one of Cork's main attractions. The hotel also has three different golf courses, a luxury spa, and a fine dining restaurant. Regarding the vibe, the whole premise of the resort is to focus on "personal energy, vitality, holistic relaxation and pampering." We're sold!
In terms of their swimming pool, it's 18 meters long with a hydrotherapy pool, Jacuzzi, a rainfall water feature, and dedicated area for the more competitive swimmer. There's also a shallow pool for children, who have separate swimming times to the adults. A great option for all demographics staying in rural Cork.
7. Maryborough Hotel & Spa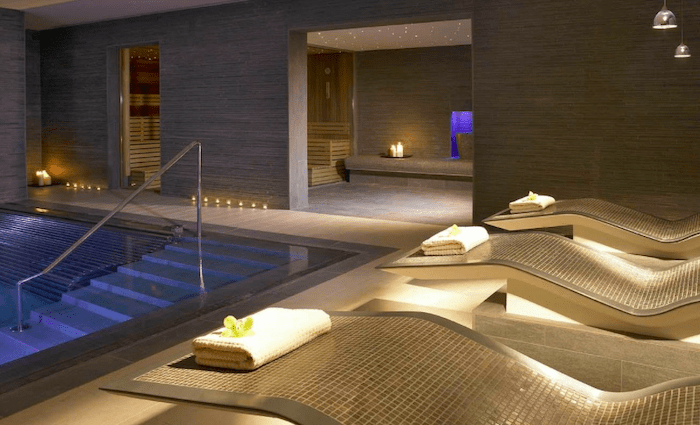 €€ | 4 Star Hotel | Georgian Manor House | Spa | Douglas, Cork
The Maryborough hotel is another regency building near central Cork. It's over 300 years old and brimming with character! You can nab amazing package deals for couples here (great for anniversaries or honeymoons). To boot, one of these packages gives you a bottle of champagne, a four-course dinner, and a 50-minute spa treatment at their health club.
More about their health club, if you're looking for a quick way to dip your toes, you'll have an 18-meter swimming pool to paddle in. There's also a dedicated swimming lane, toddler pool, bubble Jacuzzi on the pool deck, a sauna, and a steam room. Moreover, the entire health club is single-level, so it's particularly good for those with mobility issues.
6. The Montenotte Hotel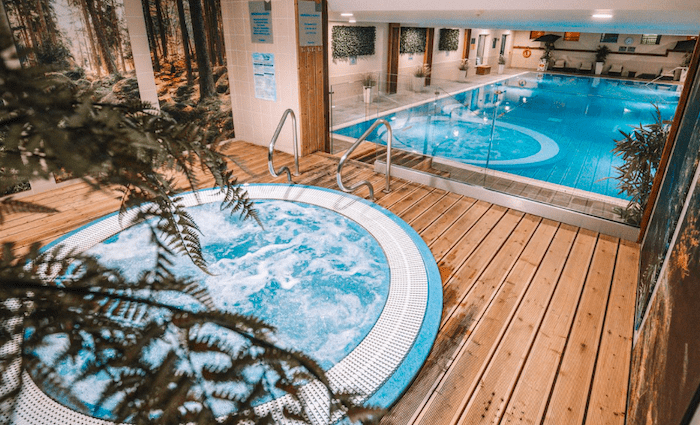 €€ | 4 Star Hotel | Modern Interiors in Classic Building | Indoor Swimming Pool | Cork City
The Montenotte is an 18th Century building that was once the home of a merchant prince. Today, it has been renovated into a chic and contemporary hotel that overlooks Cork city. On top of that, the hotel boasts a fancy elevated terrace, a stellar bar and restaurant, and of course, the all-important indoor pool.
As with nearly all hotel swimming pools, children have their own separate swimming times. You also have use of an obligatory Jacuzzi and sauna. You have to book your pool slots seven days prior to arrival, but that shouldn't be too much additional effort at the time of booking. Overall, a swim here is highly advised if you are looking to live a high life!
5. The Kingsley Hotel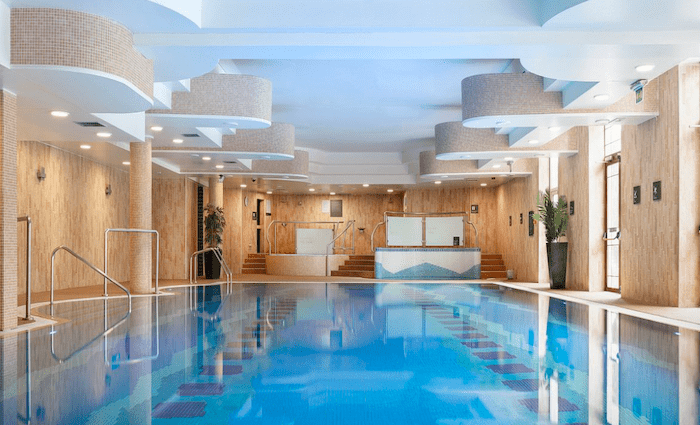 €€€ | 4 Star Hotel | Contemporary | Indoor and Outdoor Pool | Just Outside Cork City
Guests who appreciate choice and tranquility will adore the TWO swimming pools at The Kingsley Hotel! Firstly, there's a well-appointed, heated pool that resides indoors. Outside, there's a smaller hydrotherapy pool with a water feature in an enclosed space. On top of that, there's also a children's pool off to the side in the health spa.
Instead of doing lengths, you can alternatively head to their gym, which has ample facilities (rows of ellipticals, weights machine, yoga rooms, and so on). Just make sure to double-check swimming pool times upon booking. Nonetheless, a stay at The Kingsley is sure to satiate all your luxury needs!
4. The Metropole Hotel Cork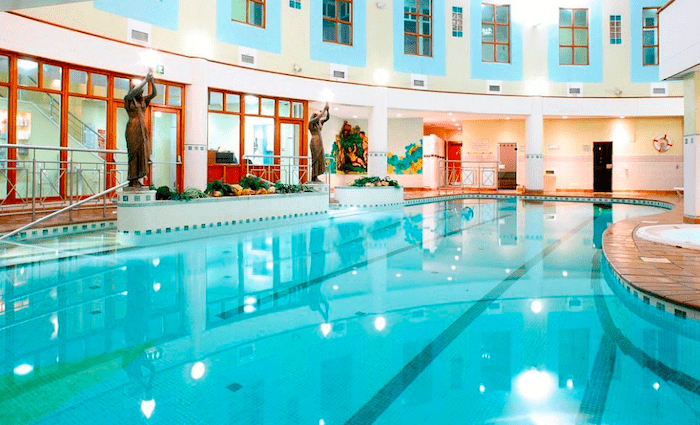 €€€ | 4 Star Hotel | Period Architecture | Indoor Pool and Jacuzzi | Spa | Victorian Quarter
The swimming pool at The Metropole is a Grecian-style bathing house with toga-clad statues, mosaic tiling, and Hellenistic columns. You have high ceilings with a decent-sized pool, then a children's pool off to the left. On the topic of kids, the under 16's are allowed in the pool until 7.30 pm, with the last two hours for adults only. The obligatory steam room, sauna, and Jacuzzi are also at your disposal, should you tire from laps of the pool.
The Metropole is also centrally located in the highly sought after "Victorian Quarter" in Cork city. Ultimately, I'd recommend The Metropole – and its swimming pool – for city couples who enjoy classic interiors and an accessible health club.
3. Hayfield Manor Hotel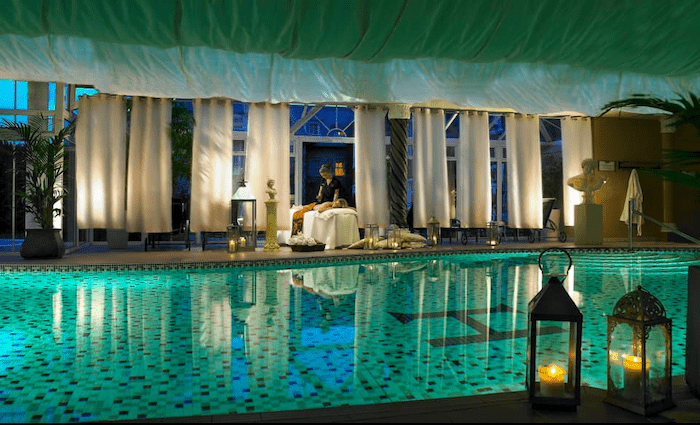 €€€ | 5 Star Hotel | Georgian Manor House | Gym and Spa | Near Cork City
Hayfield Manor Hotel is a palatial and highly acclaimed hotel with a 16-meter swimming pool. Design-wise, the pool is romantically lit and stunningly put together with drapes, candles, and cool-toned LED lighting. There are also Greek influences by way of poolside marble busts and mosaic tiling within the pool. Similar to the aforementioned Imperial hotel in Cork, this pool is also for post-spa dips rather than competitive swims.
In relation to other aspects of their health club, it's worth noting that you have access to a steam room, sauna, gym, and complimentary refreshments. Furthermore, Hayfield Manor hotel is just a 19-minute walk to Cork center. All in all, I would recommend this spot for loved-up couples looking for a weekend of passion!
2. The River Lee Hotel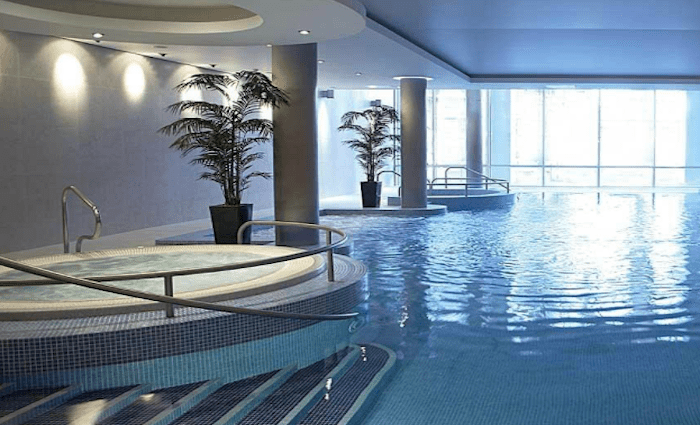 €€€ | 4 Star Hotel | Contemporary | Gym, Pool and Spa | On The River Lee
The River Lee hotel is named after the iconic Cork river it sits upon. The hotel is a modern high-rise building, with all the characteristics of 4-star hospitality and comfort. They also have a state-of-the-art fitness center and swimming pool.
More on the pool, it expands 20 meters and has the soft, fluffy water that you only seem to be able to get in hotels. On top of that, there's a toddler pool, plus a modern gymnasium with fitness classes. Location wise, it's ten minutes by foot to Cork city center. Overall – an excellent pick for families or for solo business trips.
1. Clayton Hotel, Cork City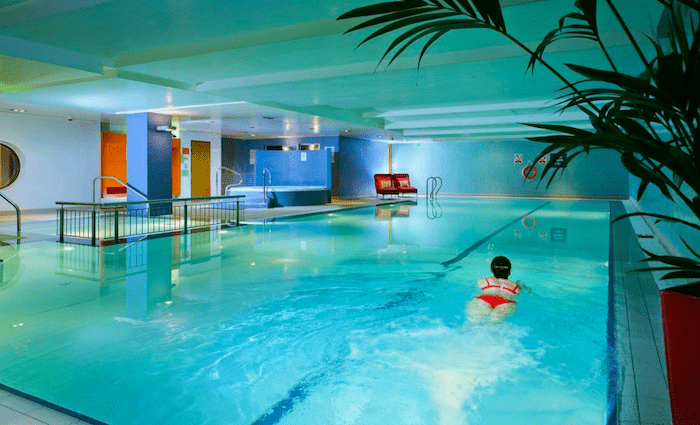 €€€ | 4 Star Hotel | Modern Design | Pool and Spa | Cork City
The Clayton Hotel is a popular choice among families and frequent business flyers. Their swimming pool makes the top of the list, as it's easily accessible, has dedicated swimming lanes, child-friendly times, and more relaxing areas with Jacuzzi bubbles, and more.
Definitely an all-rounder type of pool. Just a heads up though, Clayton hotel guests are asked to book their pool slots in advance at reception.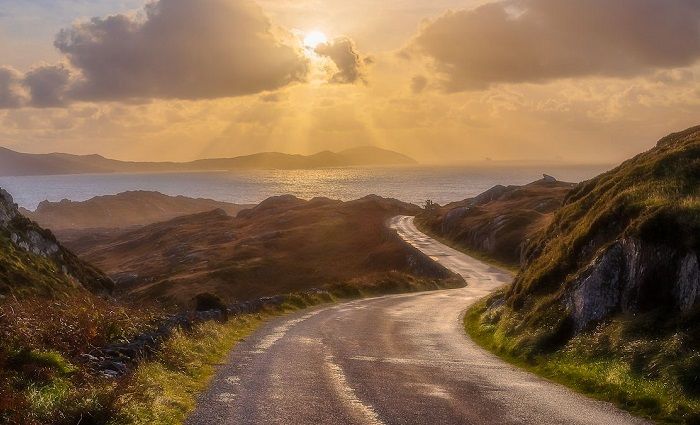 Find the best places to stay
Where To Stay in Cork
A great hotel at a great price has become the norm in this internet era. Our article explains what areas are the best in Cork so you can get a great deal on the perfect location!