Cork has two distinctive features: the introspective ocean and the outgoing city. Depending on what type of person you are, you'll find something in the county that suits you. So, with that in mind, come read about the top things to do in Cork.
---
Pro Tip: Planning your trip to Ireland? It's easier to organize your trip when you have all your resources in one place. Bookmark this post along with our Cork Guide with more planning resources, our top tours and day trips in Ireland for a memorable trip, and the best restaurants in Cork.
The 13 Best Things To Do In Cork
Many argue that Cork should have been the true capital of Ireland, as it's larger in size than Dublin, with just as much going on. The Cork people are also what my farming father would call less "affected." In other words, a community of people who are down to earth, not too affected by the conveniences of city life, and don't have grand ideas about themselves. In Irish culture, that would be seen as a positive.
In terms of what Cork has to offer, the county has the second-largest natural harbor in the world (Cork Harbor), a thriving trad Irish music scene, a welcoming pub culture, and plenty of amazing eateries, cafes, and fine dining restaurants. There's also a lot to experience when it comes to nature. After all, Cork is located on the southernmost tip of Ireland and boasts a fierce, Atlantic coastline. Now, come check out these activities in Cork!
13. Do the Baltimore Beacon Walk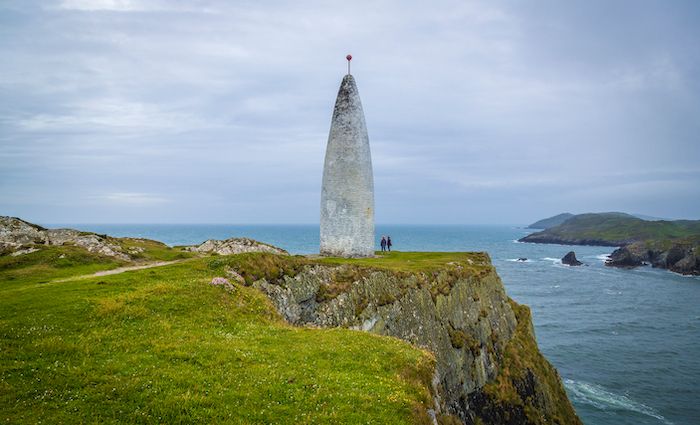 The Baltimore Beacon is half an hour's walk from Cork city center (hard to believe you can access nature that quickly), but all the same – it's probably less hassle to book a car rental. Once you've found a space to park on the side of the road, you'll walk uphill through a field to get to the cliffside Beacon. While the structure looks like some kind of crashed alien spaceship, the original purpose of The Baltimore Beacon actually dates back 200 years. It was when the Irish rebellion kicked off, and the British counteracted that by installing these warning systems/ lighthouses on Irish shores (for their own incoming sailors, soldiers, and whatnot).
Like all things in Ireland, there's always another nickname, and the Beacon is no different – being otherwise known as "The Lot's Wife." This name refers to a stirring biblical story, whereby a woman disobeys and gets turned into a pillar of salt. Looking at The Baltimore Beacon, I can see why such a name would spring to mind! Overall, the Baltimore area is well worth a visit for coastal views, low stone walls, and the windy Irish roads. A good way to get your nature fix without having to carve out a full day's excursion from Cork city.
Address: Beacon Rd, Harboursmouth, Co. Cork
12. Visit the eerie Gougane Barra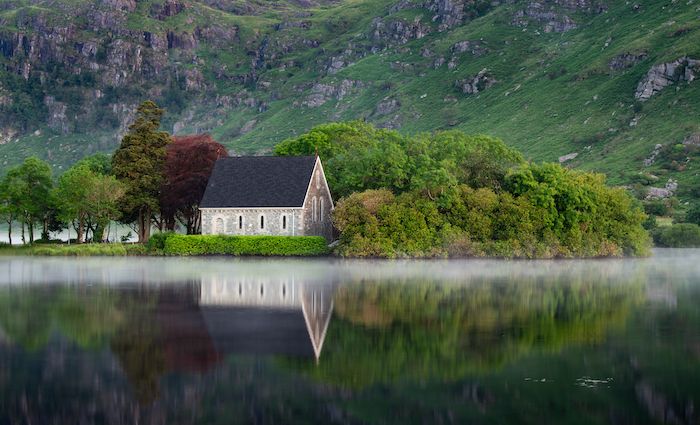 The Gougane Barra is a nature reserve that's 2.8 miles worth of forestry, waterfalls, and wildflower. Some have likened it to a smaller version of The Canadian Rockies because of its pine trees, lakes, hilltops, and river streams. Moreover, pictured above is the island where saint Finbarr (the patron saint of Cork) built his monastery during the 6th century. By the way, "Gougane Barra" translates from Irish as "the ring of Bearra." Ring = island. Bearra = Finbarr. Long winded, but worth noting!
There's a few different types of hiking trails you can do at the Gougane Barra. You can start things off with the easier "Slí an Ghaorthaidh" [pronounced "slee on Gurr-tig"] trail that lasts about 30 minutes. Alternatively, the moderate "Sli na Laoi" [slee nah Lee] goes along the river Lee to the opening of the valley. You can then do the open lake walk called "Slí Dhoire na Coise" [slee Dur-rah na Kush]. But if you want really want to strain yourself, "Slí na Sléibhe" [slee na sleeve] is the two hour mountain hike you want. I will now address the elephant in the room and assure you that, no, you're not suffering from a brain haemorrhage – the Irish language is simply mind-boggling.
Also, while venturing out to the serene Gougane Barra, a good pit stop to jot down is the Gougane Barra hotel. You'll need to refuel here if opting for the more strenuous routes. This is an activity for those who don't want shin splints, that's for sure!
How to get to Gougane Barra
11. Do the Ring of Beara drive and visit The Beara Peninsula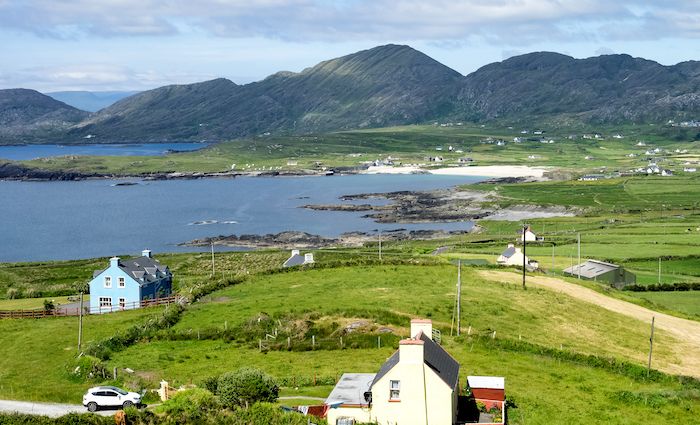 The Beara Peninsula, in the southernmost quarter of Cork, is as rugged as they come. Encased by the Miskish and Caha mountains and unfolding itself out onto the Atlantic ocean, it's a wonder it's not an eighth Wonder of The World. The unique selling point of The Bearra Peninsula is also down to its dotting of megalithic tombstones, native gorse bush, and tiny little villages.
There are different ways you can experience The Bearra Peninsula. One's through the 85-mile Ring of Bearra drive, and the other is through the 128-mile Beara Way (popular with hikers and cyclists). I feel as though anyone visiting the west of Ireland will most certainly need a car rental, so I highly suggest adding The Beara Peninsula locale to your driving itinerary over the course of your vacation.
How to get to the Beara Peninsula
10. Go night kayaking in The Atlantic Ocean
'Atlantic Sea Kayaking' is the name of the company that offers kayaking trips out to either Lough Hyne or Castlehaven Bay. You can use this as an excuse to get out to west Cork and get your hands dirty, whilst also making lasting memories on your vacation. Thinking back to when I was in Venice a few years ago… I splurged on a gondola. Also did a kayaking tour on Venice's Grand Canal. Despite gondolas being iconic to Venice, I remember the kayaking experience more vividly.
If you choose to do the Lough Hyne excursion in Cork, you'll have to keep 2.5 hours of your evening free. They start an hour before it gets dark, so that time will obviously change with the seasons. If you opt for a seafaring voyage out on Castlehaven Bay, you'll have much of the same, but I think the latter has a slight edge in terms of sunset landscapes. Both kayaking experiences cost €75 p/p, and I thus highly recommend this for anyone who likes to be hands-on while on vacation.
9. Take Ireland's only cable car over the Atlantic Ocean to Dursey Island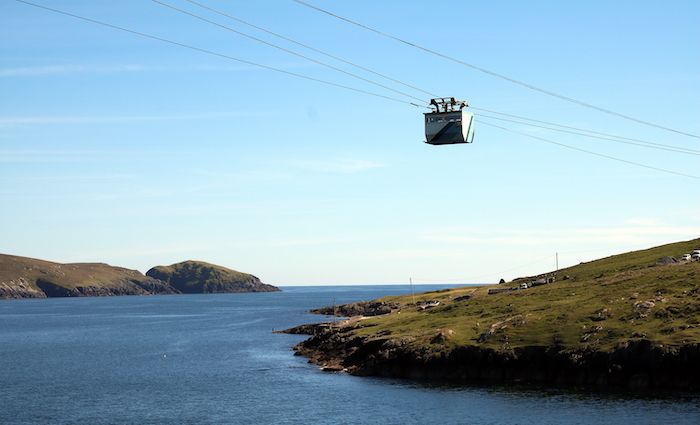 I'll get your expectations for Dursey island set up first… There are only a handful of residents on Dursey island, there are no pubs, shops, or restaurants. There is, however, a bus service on the island. The main reason to visit Dursey island is for its thrill-seeking cable car, walking trails, and if you are an avid bird watcher.
Firstly, the cable car operates from Monday to Saturday on a regular schedule (cash only). During the summer months it can get quite busy – but, understandable – you get to go over the ocean! If you've already been to Ireland a few times and want to try something different, this is a good option. Furthermore, bird watchers have a number of seabirds to observe, namely, native puffins, gannets, guillemots, razorbills, and also migrating Siberian and North American birds. Moreover, the Beara Peninsula is nearby, so you could – pardon the off-color pun – kill two birds with one stone.
How to get to Dursey Island
8. Go Whale Watching with Baltimore Sea Safari
Out in the Baltimore area (where the Baltimore Beacon is located), you can take a further trip out to the sea. Speaking of, Baltimore Sea Safari are the company that you'll want to go with. This trip will let you catch a glimpse of the aforementioned seabirds, as well as dolphins and whales. You can choose between a few types of sea adventures here. There's a two-hour sea safari, a one-hour evening trip, or else 20 minutes of seal watching in the harbor.
I think (weather depending) the one-hour evening trip is the best one to do, as it offers up the most romantic sunset scenery. The boat fits twelve, so it's pretty intimate anyway. You can actually see the Baltimore Beacon from this particular trip, as well as a cruise through Kilcoe castle, Sherkin island, and the seal colonies on Roaringwater Bay. Water adventures are the best adventures!
How to get to Baltimore
7. Stay in the colorful town of Kinsale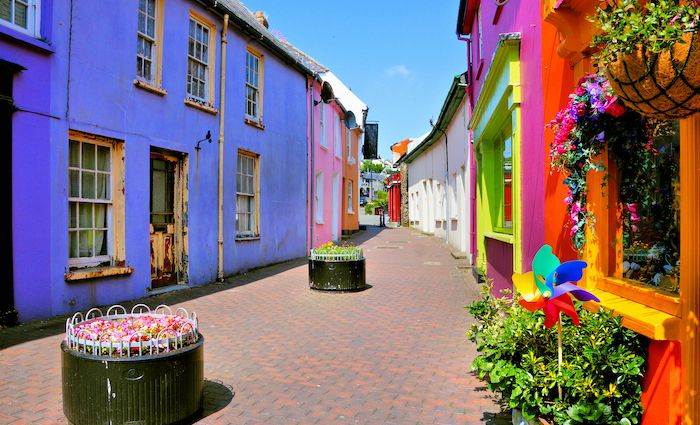 Kinsale is a top pick among visitors from abroad, as well as with the Irish. It's a cute little town that gives you old-timey Ireland mixed with playful, brightly colored houses, boutique crafts, and a great pub and food scene. The place just oozes personality and charm!
If you're looking for a good lunch spot in Kinsale, make sure to give Saint Francis cafe a visit. They serve fancy brunch foods and have spacious outdoor seating. Afterwards, you can have a gander around all the famous craft shops in Kinsale (like Stone Mad gallery), then retail therapy in the form of Weavers for tartans and wool, and Danny Albu for neon leathers.
In terms of popular pubs, The Spaniard and Bulman's are the two go-to's. In terms of activities, you can head out to Charles Fort, go for a dip at Kinsale beach, or else track your steps on the Kinsale loop walk. Admittedly though, most of the fun is in the town center, where all the cracking pubs and shops are.
How to get to Kinsale
6. Visit Spike Island by Ferry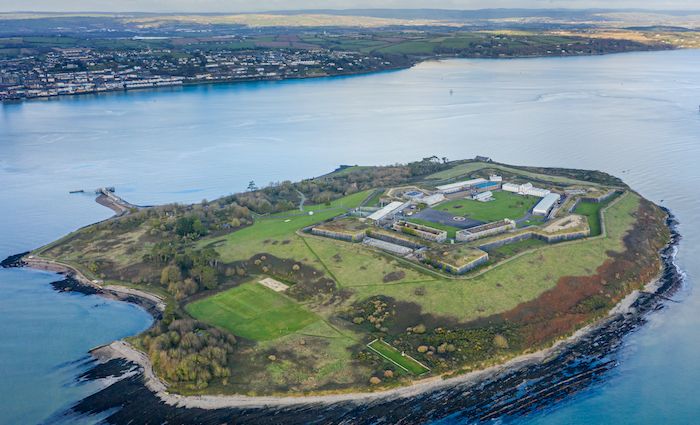 Spike Island is like Ireland's version of Alcatraz. It's been many things since its invention 1300 years ago; a monastery, a prison, and a fortress. It was once the largest prison in the world! On the island now, you can do walks, guided tours, visit exhibitions, museums, and sit back in the cafe and gift shop.
To get there, you'll first take a short (12-minute) ferry ride across Cork Harbor in Cobh. You have 3.5 hours to kill before the ferry comes back again, but this won't be an issue, as there's so much ground to cover on Spike Island. 104 acres, to be exact! The most memorable part is the "punishment block" in the prison, where you'll still see the chains that were used to tie prisoners to the walls back in the 50s.
There is also a children's prison, so, definitely not for the faint-hearted. Alongside that, you can see Artillery Gun Park, with all its cannons and military regalia, and Michell Hall, a former church. As it's Halloween, I also want to add that you can do some After-Dark tours, too. Spooky!
How to get to Spike Island
5. Admire the art at Crawford Art Gallery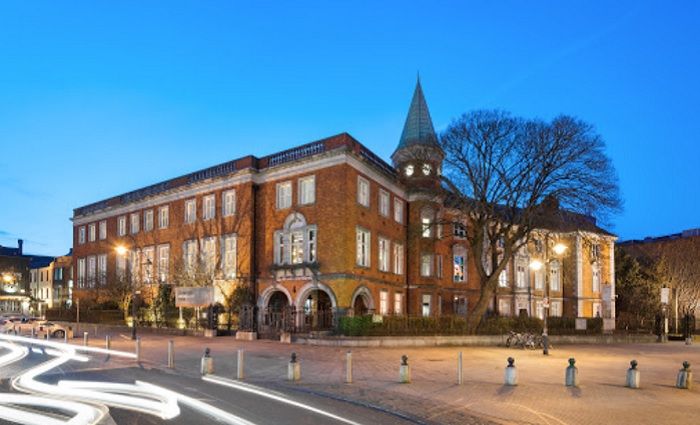 If you're strolling around Cork city center, a must-visit is the Crawford Art Gallery. They have a huge selection of works (3,000) ranging from Hellenistic sculptures brought over from the Vatican museum, to more contemporary YBA type works. There's big names in here, like Rembrandt, and renowned Irish artists such as Louis le Brocquy, as well as lots of Georgian period art with romantic rolling hill landscapes.
The museum closes at 5 pm, so make sure to arrive no later than 3:30 pm because the security guards are eager to kick you out before closing time. Anyway, you'll want to put at least 1.5 hours to set aside for properly dissecting the artwork.
Address: Emmett Pl, Centre
4. Kiss the Blarney Stone for good luck!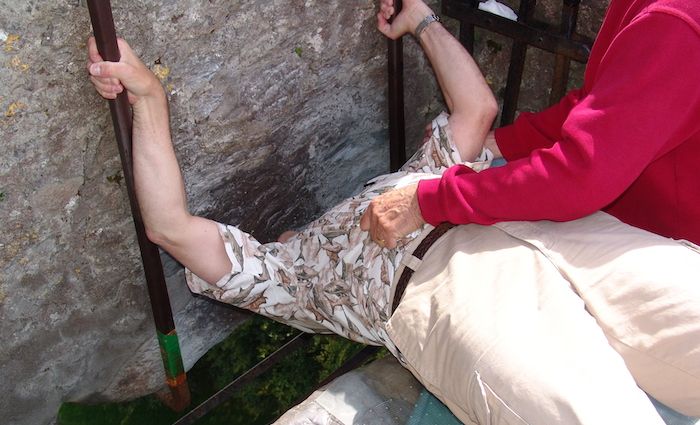 You know the Irish – they'll always find a way to capitalize on something! As such, come see the hunk of stone that is The Blarney Stone! It resides on the grounds of Blarney Castle, which is just a 30-minute drive away from Cork city. The way the stone is arranged, you'll need to bend over backwards, over a space with a high drop, and cling onto a ladder to kiss the stone. Back in the day, you'd actually be held by the ankles as you were left dangling upside-down to kiss it. Not anymore. I don't think the old biddies could handle it.
After you kiss The Blarney Stone, you'll be given the gift of having eloquence. The ability to be persuasive, expressive, well-written, and worldly. Anyone feeling a little unsure about hygiene will be glad to know that staff wipe the stone clean with antibacterial wipes after every smooch.
Address: Monacnapa, Blarney, Co. Cork
3. Head to Fota Island Nature Reserve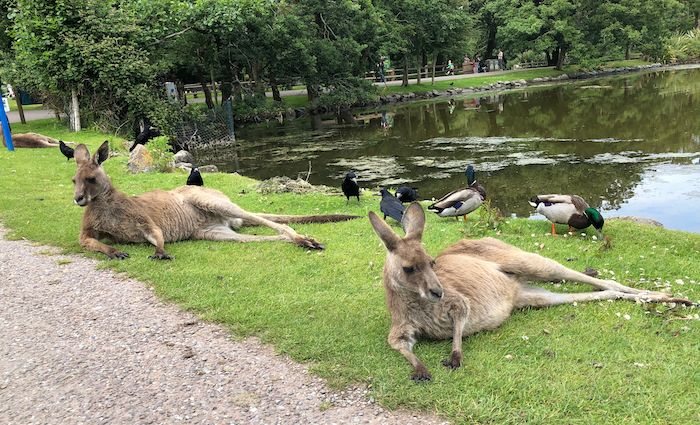 Fota island resort is one of Cork's top attractions. It's very much a family-friendly experience, and you can actually stay in this five-star resort as well. The nature reserve boasts 100 acres of wildlife with animals from all over the world. If you're like me and wonder about the ethical side of zoos, know that Fota island is more of a safari where endangered species are being protected rather than exploited. Most of them are on the loose like the kangaroos pictured above.
How can you experience it? Well, you can do guided tours with the kids, which is a great opportunity to teach them about biodiversity and conservation. You'll be able to see all the usuals, such as giraffes, lions, tigers, rhinos, lemurs, and the more unusual furry friends like anteaters and the corncrake bird. This is a highly recommended half-day excursion for young ones, and for parents, too!
How to get to Fota Island Nature Reserve
2. Have lunch and buy a few bits at The English Market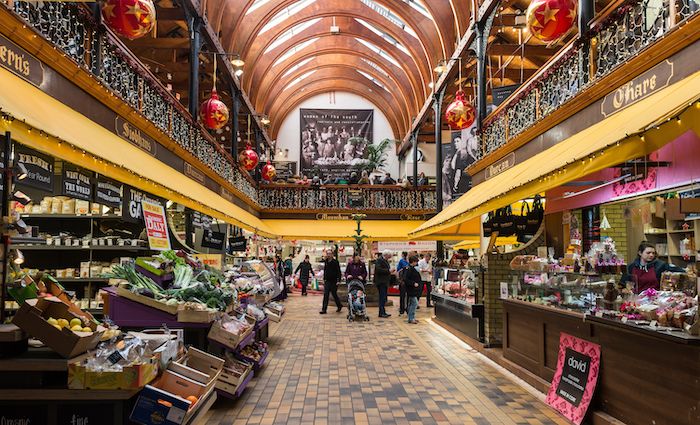 One of my favorite things to do when abroad is go for a rummage through the markets. The English Market in Cork city should be no exception. The name comes from when it was built by an 18th-century English corporation, who controlled the city at the time. After Irish Catholics got more of a stronghold over their independence, they set up an Irish market across the road. The English Market, however, has stuck around through all the years.
Some market highlights at The English Market are the pastéis de nata from Heaven's Cakes, Irish soda bread from The Alternative Bread Company, and local honey from The Roughty Foodie. You can also grab some sushi from Maki, or take some Irish oysters to-go from Ballycotton Seafood. I love it here!
Address: Princes St, Centre
1. Go to a cozy night of live Irish music at Sin É pub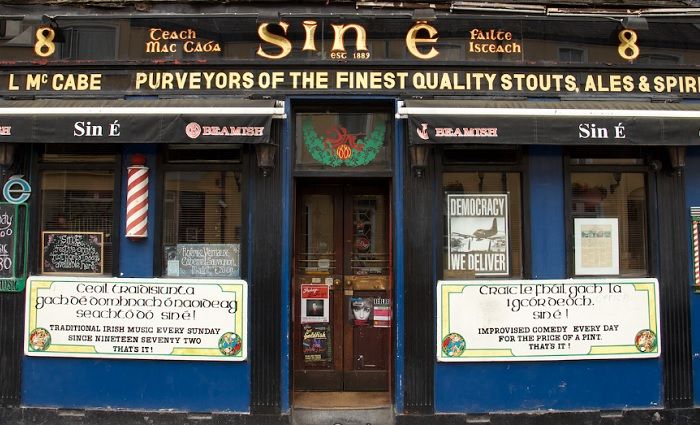 The last time I visited Cork city was in the winter. It was raining, miserable, and we needed to get off the street. I asked a local if they knew any good pubs for Irish music and he told us to go to Sin É pub up in The Victorian Quarter. So, with no expectations, we went and ended up spending the whole night in there!
As what's often done in Irish pubs, there is a table of Irish musicians sat at one table in the corner. They play to nobody's tune but their own, they have pints of Guinness served to their table, and slowly but surely, everybody gathers around them until the whole pub is listening in silence. Throughout the night, a few locals came in and asked to sing a ballad or two. After singing, they said "Sin É," which means "that's it." Overall, the whole evening was really cozy, low key, and memorable. My top pick for things to do in Cork, without a doubt.
Address: 8 Coburg St, Victorian Quarter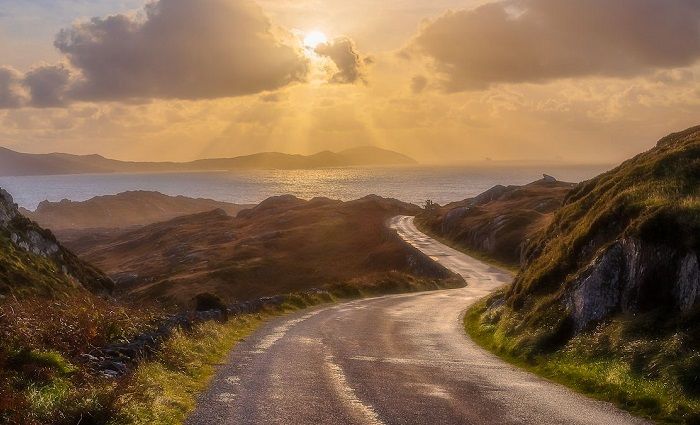 Find the best places to stay
Where To Stay in Cork
A great hotel at a great price has become the norm in this internet era. Our article explains what areas are the best in Cork so you can get a great deal on the perfect location!