If your idea of a great holiday isn't just staying in one place for a whole week, then we've got something for you. We have gathered the list of the best day trips from Split, Croatia. So, if you're staying in the Diocletian's city, you'll want to consider these cool places that you should visit too. They are only a short drive away and worth the effort.
---
Great Day Trips To Take While Staying In Split
Did you know that Split is the second-largest city in Croatia? The only larger city is the capital, Zagreb. Split really has a lot to offer to its citizens and tourists who visit, whether during summer or other seasons of the year. Split is also the center of the Dalmatia region, so many Croats (Croatians) gravitate here too. Some come for work and some for pleasure.
But Split is not the only interesting city in this region—far from that. There are many beautiful places rich with history that are in the close vicinity of Split. Some of them are on the mainland and some are islands. We've calculated the travel times from the center of Split. Here you'll find our favorite list of ten best day trips from Split.
Pro Tip: To organize a great trip, you should keep all the information about it close at hand. So just bookmark this post in your "Split" folder. Then you can easily circle back to it while traveling.
10. The Best Beach In Croatia – Zlatni Rat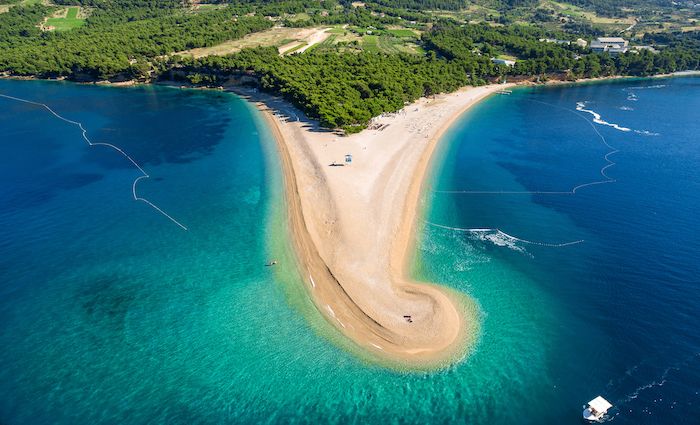 2 hours (55 miles) | Beautiful Scenery | Great for Families
Every summer vacation includes a lot of visits to the beach. And sure, any place you go on Croatia's coast, you are bound to find a nice beach. But is that enough for you? Or do you want to enjoy at least one a day, on the BEST beach in Croatia? Luckily for you, you can do that not far away from Split.
One of the islands across from this city is the island of Brač, and that is where you are going to find the best beach in Croatia. It is called Zlatni Rat and is well known for its unique shape. Interestingly enough, the shape of the tip of the Zlatni Rat beach constantly changes under the influence of the sea and waves. So when you search images for it, you may see that it looks a bit different from photo to photo.
This beach also offers shade as well as a few bars and restaurants, plus both free and paid activities. When you come to Zlatni Rat, there will be more to do than just swimming in the sea. But even that would be a memorable experience on a beach as amazing as this.
How to get to Zlatni Rat
9. The Royal City Of Knin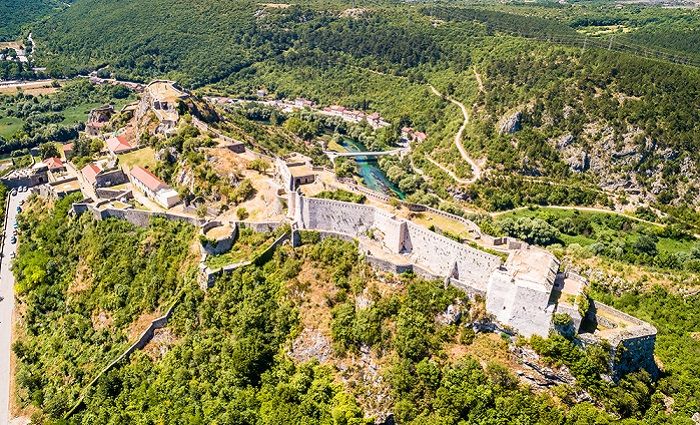 1.5 hours (53 miles) | Great Views | Learn About History
Throughout Croatia's history, Knin was one of the most important cities, and to this day, it is still known as a royal city. At one point in history, it was Croatia's capital and four kings presided over their lands from there. They were Svetoslav Suronja, Stephen Držislav, Dmitar Zvonimir, and Petar Svačić. (To pronounce their names might seem like a tongue twister for you!)
One of the main reasons why people visit Knin is to see the magnificent Knin Fortress. The construction of the fortress started in the 9th century and over the years it was constructed, destroyed, and built again. But to this day, it is considered to be one of the symbols of Croatia's statehood. Not just because of the kings who ruled from there, but because of recent history too.
A recent battle occurred within Croatia in the 1990s in Knin, and the success was celebrated at the fortress by many Croatians. The battle happened between Croats and Serbs on August 5, 1995, as a result of a conflict in 1991, according to the ICRC website. That day is now celebrated as Croatia's "Victory Day and Homeland Thanksgiving" though, admittedly, many Serbians do not celebrate.
How to get to Knin
8. Šolta Island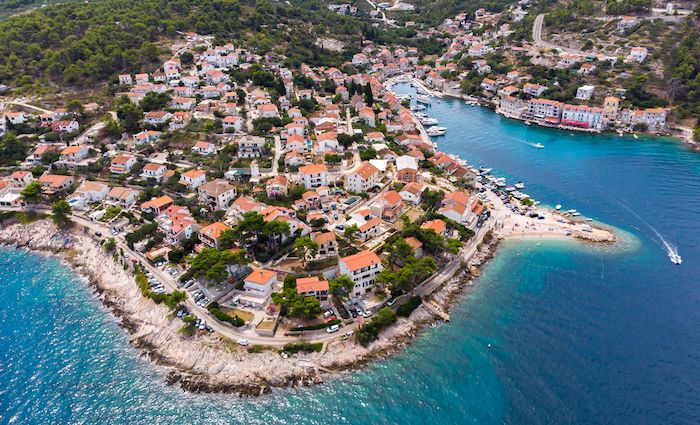 1 hour 25 minutes (14 miles) | Art Gallery | Hiking, Biking, and Kayaking
You may already know this, but Croatia has a very long coastline, especially in contrast to how small the country actually is. But along that coastline, you won't find just its clear blue sea. No, you'll see that there are many beautiful islands, and some of them are within easy reach of Split. One of those islands is Šolta.
A famous Croatian song says, "s ponistre se vidi Šolta" which means "from the window, you can see Šolta." And if you're in Split on a clear, sunny day, that is absolutely true. Most Croatian islands are inhabited, and this one is also well known for its quality olive oil, among other products like honey and wine.
And if you're looking to get to know the culture a bit more—or even better—there is a small art scene in Šolta. This island is the home to a naïve gallery called Gallery Buktenica & Buktenica that contains art from new renowned Croat artists. And if you have a bit more time while on the island, maybe you can go hiking, biking, or sea kayaking.
How to get to Šolta
7. The Birthplace Of Nikola Tesla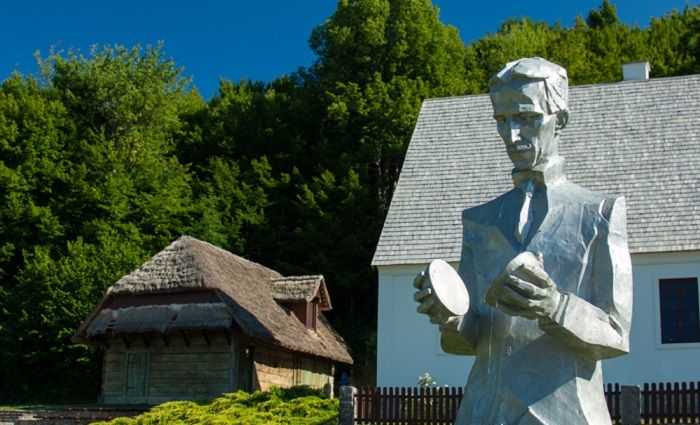 2 hours 10 minutes (141 miles) | Learn About Science and History | Memorial Center
Who hasn't heard of the great inventor and one of the greatest minds that has ever walked the Earth: Nikola Tesla. He is best known as the father of the alternating current electricity supply system. His inventions and research played a large role in creating the technological society as we know (and love) today.
He died in 1943 in New York, but do you know where he was born? The answer is the village Smiljan in Croatia. Of course, at the time that he was born, Smiljan was officially in the Austrian Empire, but Croats have not forgotten that this brilliant mind was, in fact, born on their soil.
Tesla received his first education in Smiljan, and he often noted that his mother's influence played a major role in the development of his inventiveness. No wonder then that Smiljan is the home of a memorial center dedicated to this late genius, and that a part of that center is his family house.
How to get to Memorial Center "Nikola Tesla" Smiljan
6. View the Best Sunset and Contemporary Art In Zadar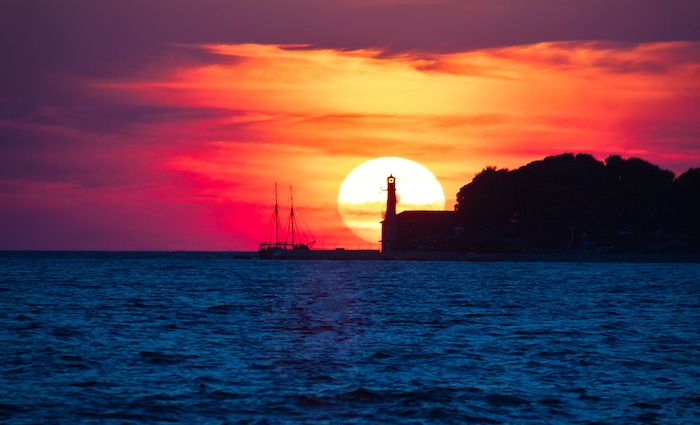 1 hour 39 minutes (97 miles) | Beautiful Sunset | Art Installations
A bit further north from Split, you will find a city by the name of Zadar. It's yet another Croatian city that had a turbulent history that influenced the building of a major defense fortress that is now included on UNESCO's World Heritage list. And as it usually goes, Zadar's rich history is only matched by its mesmerizing beauty.
To be more precise, what is mesmerizing is sunset in Zadar—at least that's the case if we are to believe a certain film director by the name of Alfred Hitchcock. He said, "Zadar has the most beautiful sunsets in the world, more beautiful than the one in Key West, in Florida." Well, that definitely sounds like a good reason to drive from Split to Zadar, if you're willing to stay until dark.
Zadar is also interesting because of its contemporary art and music installations. One of them is called Greeting to the Sun, and it's made of 300 solar panels that glow during the night. That installation is located right next to another modern attraction: the Sea Organ. It's a real organ installed in the sea so that the waves "play" it to make music. It's not something you can easily describe so you'll have to come and see (and hear).
How to get to Zadar
5. Pirate Safe Haven – Omiš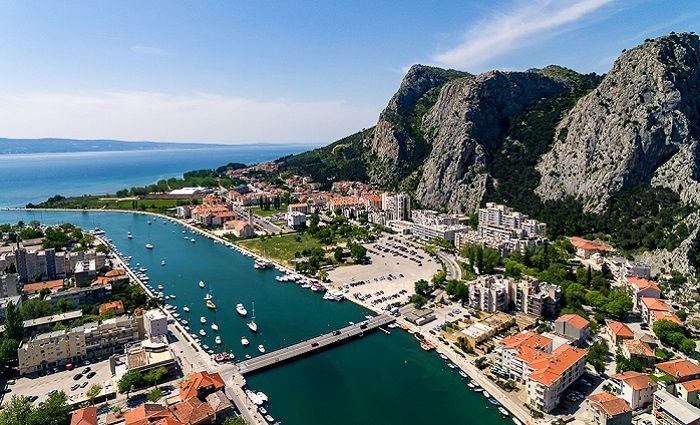 39 minutes (16 miles) | Scenic Views | Adventure Seekers
Now this is a place that has an interesting and exciting history. Omiš was known as a safe haven for Croatia's pirates, or as they called them, gusari. As a reminder of the pirate history, there stands a fortress called Mirabela. It was used by Omiš pirates as a lookout for spotting rich merchant ships to plunder.
Although the fortress withstood many fights, there was one battle that it couldn't win: the battle against natural forces. According to the official website of the Omiš tourist board, a bolt of lightning struck the top of the fortress during a severe storm in 1988 and destroyed the upper portion. Luckily, citizens and historians picked up all of the pieces of the fortress and eventually restored it to its original glory.
Besides this, Omiš has many more interesting historical buildings as well as natural beauties. For even more adventure, you might want to go on the Omiš zipline. Other choices include hiking, trekking, kayaking, and canyoning next to and even through the river Cetina.
How to get to Omiš
4. Plitvice Lakes National Park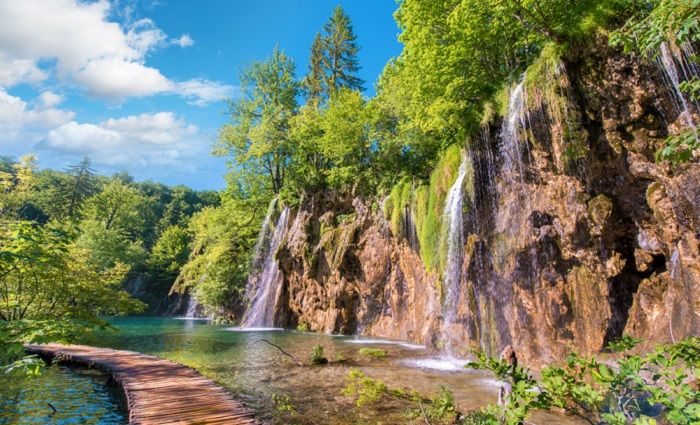 2.5 hours (158 miles) | Photo Op | Gorgeous Scenery
Plitvice Lakes National Park, or simply, Plitvice, is the oldest and largest national park in Croatia. More specifically, it became a national park in 1949, just after World War II. As stated on the park's website, almost 50 years later, the borders of the park were significantly enlarged. Today, it covers 300 square kilometers, and more than 80% of the park is forest.
Plitvice Lakes were also internationally recognized in 1979 when they were listed as a UNESCO's World Heritage site. They consist of sixteen larger lakes with official names, and numerous smaller unnamed lakes. But most commonly, they are divided into two categories: Gornja i Donja jezera which literally means upper and lower lakes.
Although Plitvice is mostly known for its natural beauty, there are also a few archaeological sites to be found here. Some of the first archaeological explorations started in the early 20th century when parts of ancient fortifications were found. Unfortunately, to this day, we still don't know enough about them.
How to get to Plitvice Lakes National Park
3. Natural Beauties Of Lika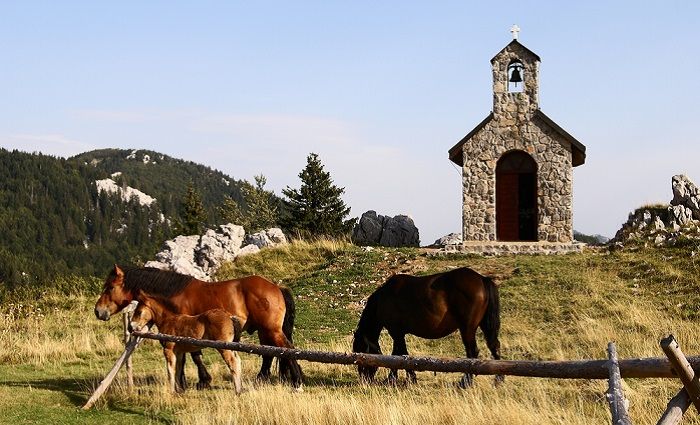 From 1.75 hours (104 miles) to 3.5 hours (184 miles) | Gorgeous Scenery | Hiking and Climbing
Lika is actually a broad term that encompasses many interesting places, since it is a region and not a specific place. The most extraordinary of those places is definitely the Plitvice Lakes National Park, which is why it has its own listing. But Lika offers much more as a whole.
Besides Plitvice, there are two more national parks to explore: North Velebit and Paklenica. Also, there is the Natural Park Velebit. We decided to put them as one listing since they are fairly similar to each other, and could be on your way when you visit Plitvice.
For adventure enthusiasts, head to Paklenica to explore manmade tunnels from the 1950s that are now some of the most popular climbing centers in Croatia. In Velebit, you will find one of the most beautiful Croatian coves: Zavratnica. Also, head over to House Velebit. It's dedicated to the cultural and natural history of the area. All of these parks offer beautiful scenery, hiking trails, wildlife, and an active vacation in general.
How to get to Paklenica | Velebit | North Velebit
2. Hvar Island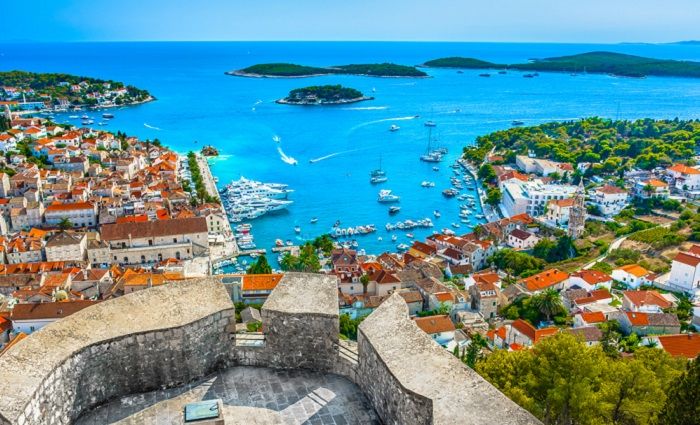 1 hour 20 minutes (33 miles) | Sightseeing | Museums
Split has an incredible view of the Adriatic Sea, which includes a few gorgeous islands as well. In that beautiful archipelago, one name specifically stands out—the island of Hvar. Hvar is one of the most famous and most visited islands in Croatia. So, no wonder it made it onto our list as people come from all over the world to see it.
Notable places to visit on Hvar island are the Church of St. Mark and the archaeological collection that it holds. In the city of Stari Grad, you will find a naval collection preserved in the Palace Biankini. And in Vrboska, there is the Fisherman's Museum, which opened in 1972 and as you may have guessed, it exhibits an array of fishing equipment and accessories.
One of the reasons for Hvar's popularity is surely history, which has left a big mark on the island. Every step of the way, you will find something noteworthy. A top attraction you will want to visit is the Hvar Arsenal and Theater. People of Hvar will proudly tell you that it was built in 1612 and that it is the first civic theater in Europe, but that is easily debatable. Nevertheless, it's still worth seeing.
How to get to Hvar
1. Trogir Old Town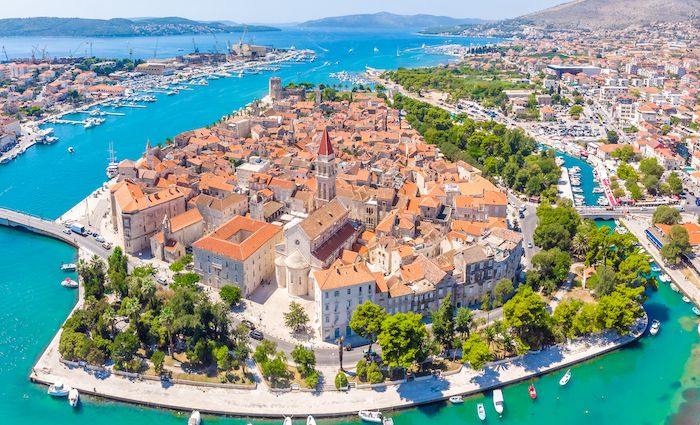 30 minutes (16 miles) | Beautiful Scenery | Sightseeing
As we said in the beginning, there are many beautiful places rich with history that are in close vicinity of Split. One of those places is definitely Trogir, a port city highly used in ancient Roman times. But today, you won't hear a lot about this city in terms of its import and export of exotic goods and herbs.
Nowadays, Trogir is very well known for its architecture. So much so that its Old Town has been listed by UNESCO as a World Heritage Site, which tells you that Trogir is the real deal in terms of historical importance. Besides the massive walls that surround this city, you can also explore the Kamerlengo Castle and the Cathedral of St. Lawrence (Katedrala sv. Lovre).
It's great that you can easily reach this city by car (only 30 minutes away from Split), but maybe you'll be interested in really getting to know all of the ins and outs of Trogir. If so, then the best solution for you is to take our guided tour. It starts in Split and then visits the incredible Roman Emperor Diocletian's Palace before ending with a tour of Trogir. Two for one!
How to get to Trogir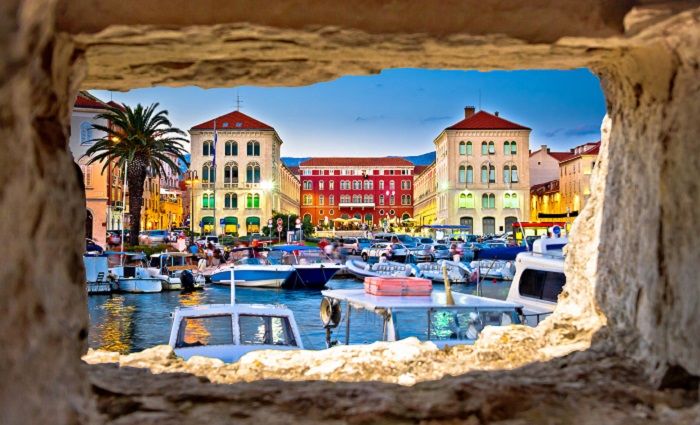 Where to Stay in Split, Croatia
Have you jumped on the opportunity to see the beautiful city of Split? Don't miss your chance to stay at one of the best hotels in a great neighborhood in Split—curated by a local!