There is still time until summer, but it's never too early to start planning your next trip. So you've come to the right place because we will tell you what the top places to visit in Croatia are.
---
Pro Tip: Why make things harder for yourself? Just bookmark this article so you don't lose it! You can then always easily come back to it and check all of the best places to see in Croatia.
The Top 10 Places To Visit In Croatia
---
Anyone planning a visit to Croatia must already know a few places there. Most of you have heard of Dubrovnik, Split, and Zagreb. We even talked about Dubrovnik in great detail. We gave you the BEST PLACES TO EAT there. Even the BEST THINGS TO DO and PLACES TO STAY. But now we'll tell you something about other parts of Croatia too. It really has some hidden gems and we'll uncover them for you. In whichever part of Croatia you travel to, you can find something for yourself.
10. The Most Beautiful Sunset In The World – Zadar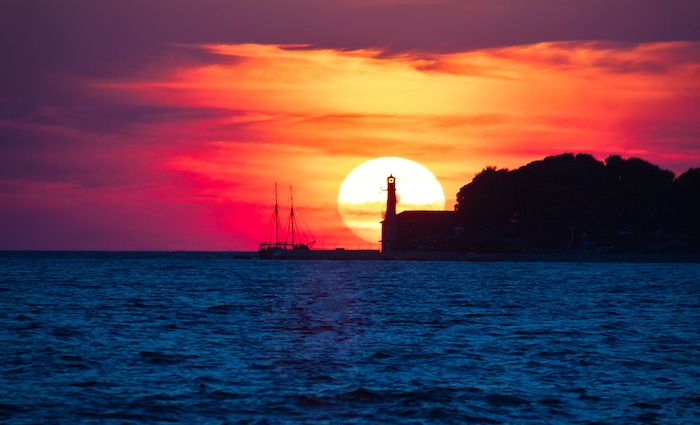 Beaches | Modern Architectural Installations | Historic Buildings
Like many Croatian cities, Zadar has a rich history. It is said that a settlement in the place of today's Zadar was first mentioned in writing 3.000 years ago! But its history was not only rich, but it was also turbulent too.
Zadar was a part of many wars and it was even sacked in the Fourth Crusade by a crusading army. The peculiar thing about that is that it happened despite Zadar being a Christian city. With a history like that, no wonder they had a big defense system. Today, that system is inscribed on UNESCO's World Heritage List!
But let's circle back to its natural beauties. Why does Zadar have the most beautiful sunset in the world and if so, who gave it that title? It was none other than the great movie director Alfred Hitchcock. To be precise, he said the following. "Zadar has the most beautiful sunsets in the world, more beautiful than the one in Key West, in Florida". The master of horror was mesmerized by this Mediterranean sunset. Chances are that you will be too.
On that note, Zadar has a few interesting attractions and one of them is "Greeting to the Sun". It's a contemporary installation and it's made of 300 solar panels. Together, they make a circle of a 22-meter diameter that glows in during the night. It is located right next to the Sea Organ. Yes, you've read it right.
This Organ is located in the sea so the sea waves make a piece of haunting and unique music when they splash it. Besides these contemporary installations, you will find a lot of historic monuments too. And let me tell you there are MANY old churches. But Zadar is also home to some palaces, museums, nice squares, and a sphinx too!
9. Osijek – Heart Of Slavonia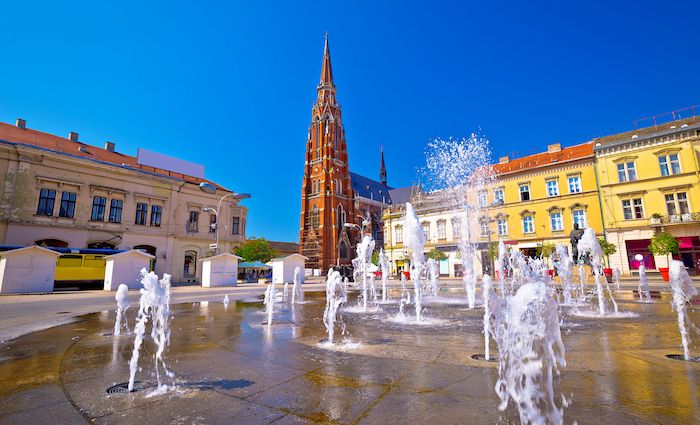 Peaceful Destination | Architecture
Almost all of the popular destinations in Croatia are located on its coast. That's why many tourists come to either Dalmatia or the Istria region. But continental Croatia is beautiful too! More specifically, the Slavonia region. But don't mix it up with the countries Slovenia or Slovakia! It can be a little bit confusing for non-Europeans. The reason is that all three names probably come from the same word – Slaven. Simply put, Slovenia, Slovakia and Slavonia are all "the land of the Slavs".
Osijek is situated on the river Drava, so you have a few ways to cross it. You can simply walk over the bridge or you can use a "kompa". It's a type of ferry and you can't actually DRIVE it. Rather, you simply let the river current take you. But don't worry, kompa is at all times connected to the mainland by a steel rope. So it's one of the experiences you'll have to try here.
If you are interested in a peaceful vacation, alone or with family, Osijek could be perfect for you. Of course, during the summer, there will be more activities. But you can always visit and see the cultural landmarks. The interesting thing about some of the buildings in Osijek is that they were deliberately not fully renovated. Some of the damage on them that happened during the war in the 1990s was left as it is. It was painted in red so it is even more visible. These "wounded buildings" are now a way to remember the tragic past of Croatia and Osijek itself.
8. Royal Holidays In Opatija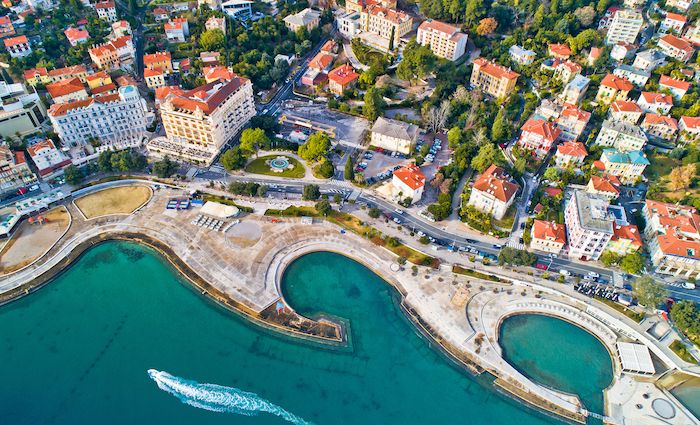 Beaches | Old Royal Resort | Botanical Garden
Lorde was maybe right when she said that "we'll never be royals". But I'm not so sure about that part "That kind of luxe just ain't for us". Royal luxury is something that we all would be curious about. Maybe we don't think about that every day, sure. But if someone told you that you could easily have a royal vacation, wouldn't you want to know what are they talking about? Well, I'm here to tell you exactly that.
The year 1844 is officially considered the beginning of tourism in Opatija. That was the year when Iginio Scarpa built the first-holiday house and later hosted people such as Emperor Franz Joseph I of Austria-Hungary, Empress Maria Anna, and the Croatian "Ban" Josip Jelačić. Royalty chose Opatija for a reason so you could pay it a visit too. If you're interested to know more about these stories and visits, you can find everything out at the Croatian Museum of Tourism that's located here.
Besides that, Opatija has an interesting landmark that it, khm, "borrowed" from Hollywood. I'm talking about the Walk of Fame. "Croatian Walk Of Fame" includes individuals that left a mark in sports, science, or culture/art. Among many wonders in Opatija that you have to visit are "American gardens". It's one of the most beautiful botanical gardens in this part of Europe that also hides a love story between a Hungarian merchant and an Austrian noblewoman.
7. Ancient City of Pula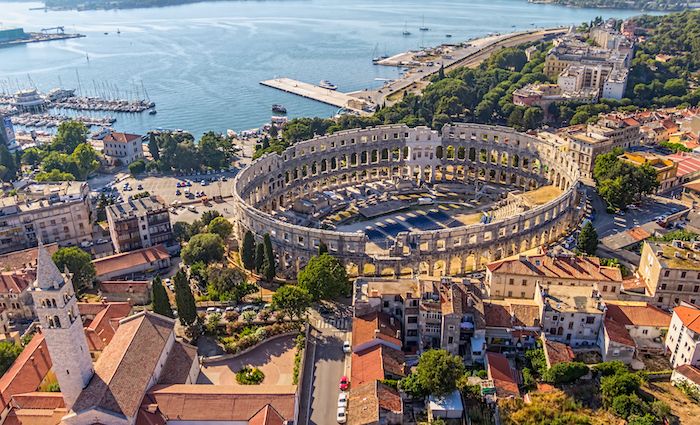 Beaches | Roman Amphitheater
The region of Istria is an extremely popular destination for tourists. There are a few reasons for that. Its natural beauty, its history, its sea and the fact that it's so close to Central Europe. Much closer than Split or Dubrovnik. Well, the center of this region is the ancient city of Pula. Why do I say ancient? Well for starters, Pula has a huge Roman amphitheater! And believe it or not, they still use it like in the old days. They stage gladiator fights!
Of course, those fights have a much happier ending than in Roman times. But that manifestation, named "Spectacvli Antiqvi" is still very popular and shows a glimpse of the Roman Empire. This amphitheater (Pula Arena) is a stage for many other manifestations and events too. A very prestigious Croatian film festival is also held there. And on one occasion, a hockey game was played in it!
Pula is situated right next to the Brijuni Islands, a famous national park. The islands have a zoo that was built by the leader of former Yugoslavia, Marshall Tito. In a way, it was his summer residence, but now it's a tourist attraction and a place of many gatherings and conferences. But besides being a great place for summer vacation, Pula and the surrounding area are nice during the winters too. So if you want to see everything mentioned, but don't care much for beautiful beaches or swimming, just come during the fall or winter.
6. Lošinj Archipelago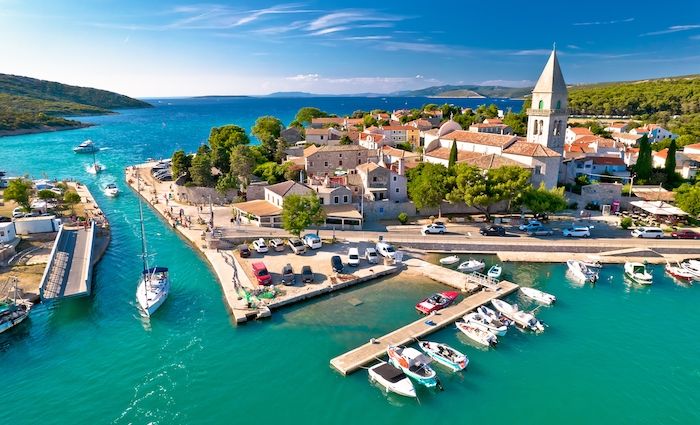 Outdoor Activities | Beaches
If you are visiting Croatia, you just have to visit at least one of its many islands too! Croatia has a beautiful coast filled with islands full of history, gastronomy, and natural beauty that's just waiting to be discovered. So it's hard to pick just one among them. There could literally be a top 10 list dedicated only to islands. But in the end, I decided to list this gem. The Lošinj Island.
This island used to be connected to Cres island. But now, they are separated by a man-made canal. Lošinj is the home of a very peculiar museum – The Museum of Apoxyomenos. Its uniqueness comes from the fact that it is dedicated to only one exhibit. That exhibit is the bronze statue of the Apoxyomenos, a young athlete. The statue was discovered only in the late 20th century. To be more precise, a Belgian tourist found it in 1997, at the depth of around 45 meters.
Who knows, maybe many more wonders like that can be found in the surrounding area. You could stumble upon a statute while taking a walk on one of the many footpaths and promenades on the Lošinj Archipelago. It is said that altogether, there are 250 kilometers of walking trails. For those looking for something more adventurous, there is sport climbing and parachuting too. But whatever you choose, you're sure to have a blast on Lošinj.
5. The Peaceful Paradise of Lika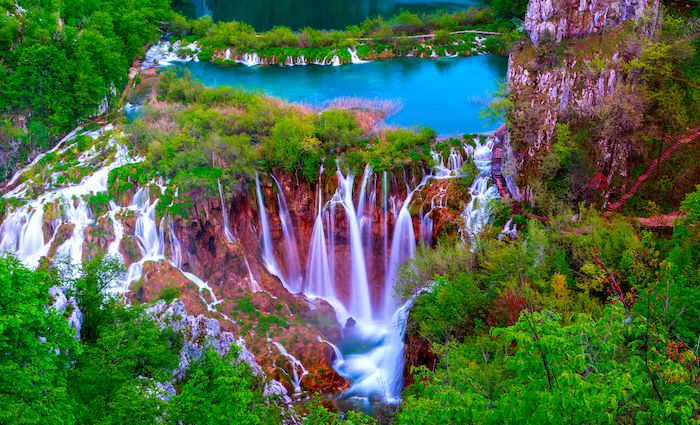 Peaceful Destination | Three National Parks | Birthplace of Nikola Tesla
I should clarify one thing right away. Lika is not a city, it's a region. Furthermore, it is one of the least populated regions in Croatia. So, this is a place where you mostly come if you want to enjoy peace and quiet.
That does not mean there is not anything to do or see, not at all. But its peacefulness and natural beauty are its main attributes and that is something you should be aware of when planning a trip.
That being said, there are a lot of activities that you can book in the biggest city in Lika – Gospić. Lika has a lot of caves so cave exploring is a big thing. You could also take a trip to one of three national parks situated here. Plitvice Lakes, North Velebit or Paklenica. Or maybe to the Natural Park Velebit? And if that is something you enjoy, you could even go fishing or hunting. Other activities in nature include cycling and sport climbing, paragliding, and many others.
In Lika, you will also find the memorial center of the great scientist and inventor, Nikola Tesla. You may ask yourself, why on Earth is there something like that in Lika? The answer is simple. Nikola Tesla was born there, in the village of Smiljan where the memorial center is.
4. The Architecture Of Zagreb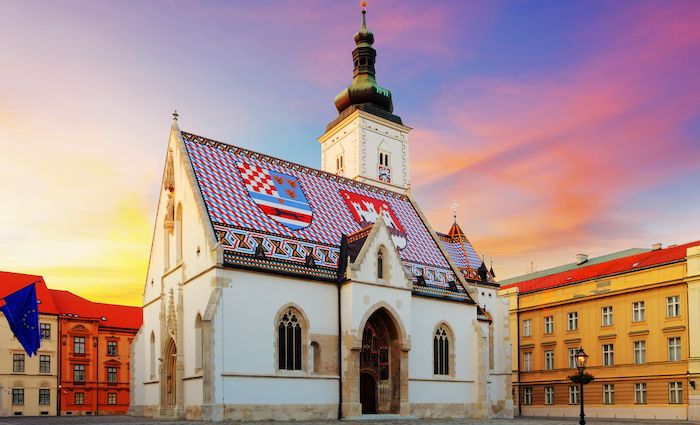 Architecture | Restaurant Scene | Free Activities | Museums | Nightlife
Zagreb is the capital of Croatia and is definitely a city you shouldn't miss. It's also the biggest city in the country so you can find anything there. From parks to pubs and museums. And it's definitely a place you should explore on foot.
Most of the older buildings in the city are works of art for themselves. So you can best appreciate its beauty by walking through its streets. The great thing about Zagreb is that there is an abundance of free activities!
For example, visiting the beautiful Maksimir Park or The Zagreb Cathedral. Also, a lot of the places are pet friendly too! So if you came with your four-legged friend(s), don't worry. For example, you could go on the Strossmayer promenade and get an incredible panoramic view of Zagreb. Many would say that this is also a romantic place to take a walk. So maybe you could take a two-legged special friend too.
Among many special places in Zagreb, there is one that is… different… to say the least. It's the Mirogoj Cemetery. Ok, now hear me out. Some may find it dark or even morbid, but it's worth it.
This place is an open art gallery and a beautiful park. There, you can find many sculptures by the Croatian most famous sculptors. Besides that, maybe you'll even be interested in visiting graves of some of the Croatian poets, artists, politicians or nobility because many are buried on Mirogoj.
3. The Neretva Valley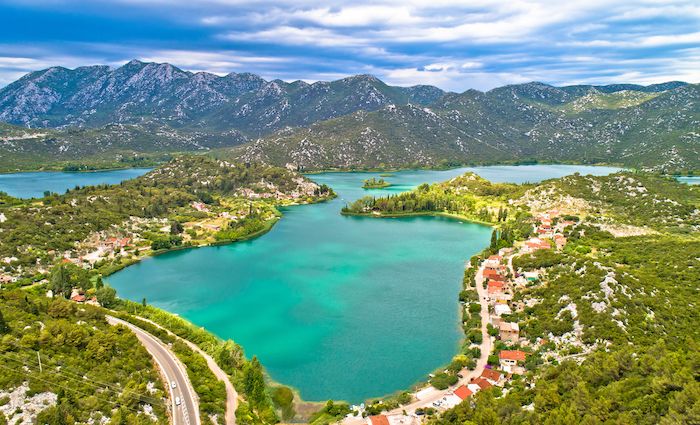 Gastronomy | Historic Landmarks | Beaches | Local Summer Manifestations
The Neretva valley flows from Bosnia and Herzegovina to Croatia. On the Croatian side, there are three cities (Metković, Opuzen and Ploče) and a few municipalities (Slivno, Kula Norinska, Zažablje and Pojezerje). All of them are abundant with natural beauties and great food. One of the local dishes, "brudet", even made it on our TOP FOODS ARTICLE. Besides that, this place gives you an incredible blend of life on the river and on the Adriatic sea. It's something that you can only experience here.
In addition to all of that, the valley is rich with history. So, the ancient city of Narona is situated here. In its place, around the archeological findings, an in situ museum was built. In that way, all of the finds are enclosed and preserved and among them are 17 statues. Neretva also has a very popular amateur sports manifestation named "Maraton lađa". It is a race of traditional boats from Neretva where the competing teams row on a 22.5-kilometer track. (Almost 14 miles)
There are other manifestations too, like the street art festival "Zen Opuzen". Many also enjoy coming to the kite surfing and party haven – the beach on the mouth of the Neretva that locals call "ušće". A great place to stay while you're visiting Neretva is Blace, situated in the Slivno municipality. Slivno is also rich with natural beauties and many old churches and historical landmarks.
And if you do come to Blace, why not stay at Apartments Galeb. They are cozy, three-star, two-bedroom apartments that are fully equipped. All of the apartments have a gorgeous view of the Adriatic. And the best thing about them? They are managed by me and my family!
2. The Most Beautiful City In The World – Split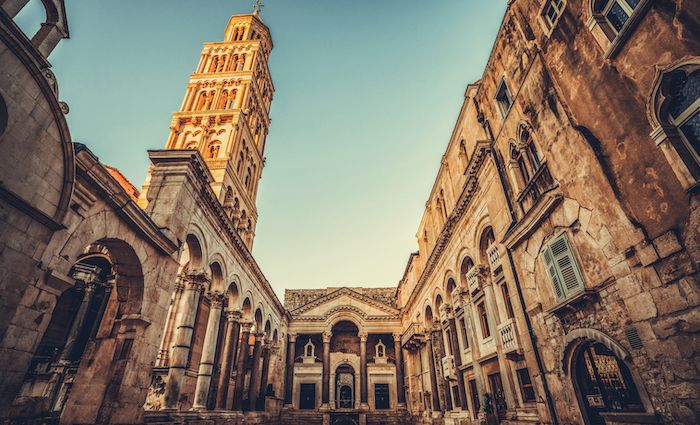 Restaurant Scene | Beaches | Historic Landmarks | Nightlife
There truly is no other city like Split. Everyone who has lived or still lives there will tell you the same. It's the most beautiful city in the world. And I say that too because I was influenced by friends and family living there. Split just has something special. X factor you could say. And it also has the most wonderful and crazy football (soccer) fans in the world. They are called Torcida and their club is Hajduk. If you come to Split, on every other wall, you will see graffiti about one of those two, Torcida or Hajduk. The city and the region as a whole live for this club.
Split was the summer residence of the Roman emperor Diocletian. His palace is extremely well preserved and is probably the main attraction in the city. Because of the many architectural monuments it holds, Split was also the set for filming some of the episodes of the popular fantasy series Game of Thrones.
But above all, Split is a laid-back city. The main word that you will learn here is "pomalo". A rough translation of it would be "take it easy". And that should be your motto while visiting. Take your time, enjoy the beauty, and party hard because Split has a very good clubbing scene too. And while you're at it, be sure to try as many of the local dishes as you can. The gastronomy here is incredible.
1. Dubrovnik – The Pearl Of The Mediterranean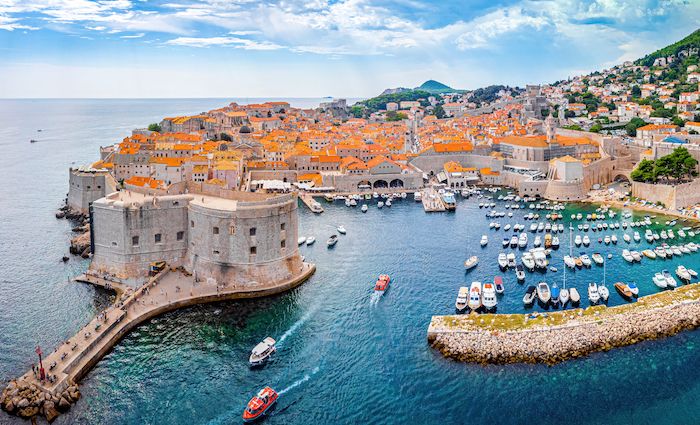 Architecture | Restaurant Scene | Beaches | Museums
We all know that Dubrovnik is definitely the number one place to visit in Croatia. It's for a reason that cruisers "occupy" the sea around it and that the city is crowded with visitors. Especially during the summer season. Who wouldn't want to walk on those centuries-old mesmerizing walls surrounding the Old City? Fortunately, we're here to help you with that too so you can easily explore the city by booking our tours.
TV buffs may also know that HBO's Game of Thrones was filmed here. Its mesmerizing beauty made Dubrovnik a perfect candidate to play the fictional capital of Westeros – King's Landing. The city is literally filled with exquisite historic landmarks. Especially in the Old Town which is a landmark by itself. Furthermore, Dubrovnik is surrounded by natural beauty.
Every day of your holiday, you could explore something new in Dubrovnik or around it. And high on that list would be Lokrum island. It's only ten minutes away and it has incredible vegetation and sightseeing monuments. But not to worry, if you're looking for a party, Dubrovnik has good nightlife too!