You have made the excellent decision to spend your next vacation in Dubrovnik. You won't regret it! This beautiful Croatian city on the Adriatic coast has many wonderful sights from gorgeous landscapes to historical monuments. But you may be wondering where to stay in Dubrovnik. Don't worry, in this guide we've gathered local insight into the best neighborhoods and hotels.
---
Pro Tip: It's easier to organize your trip when you have all your resources in one place. Bookmark this post along with our Dubrovnik Guide with more planning resources, our exciting Dubrovnik tours, and the top things to do in Dubrovnik.
Where To Stay in Dubrovnik: Best Hotels and Neighborhoods
Croatia's beautiful capital city has a lot to offer visitors. From the Old Town with its historic landmarks and vibrant crowds to Lapad's peaceful retreat vibe close to gorgeous beaches, there's something for every vacation style. To help you find the spot for you, here is a guide to where to stay and what to expect. Dubrovnik neighborhoods we'll cover:
Our Partnership with Booking.com. If you like our content, please book by clicking on our Booking.com links. The price is the same for you and we get a small commission that helps support our blog. We've partnered with Booking.com because they have the most options, great prices, and a solid loyalty program. Just about every hotel is on Booking so our recommendations are not incentivized.
Old Town – The Old City Center of Dubrovnik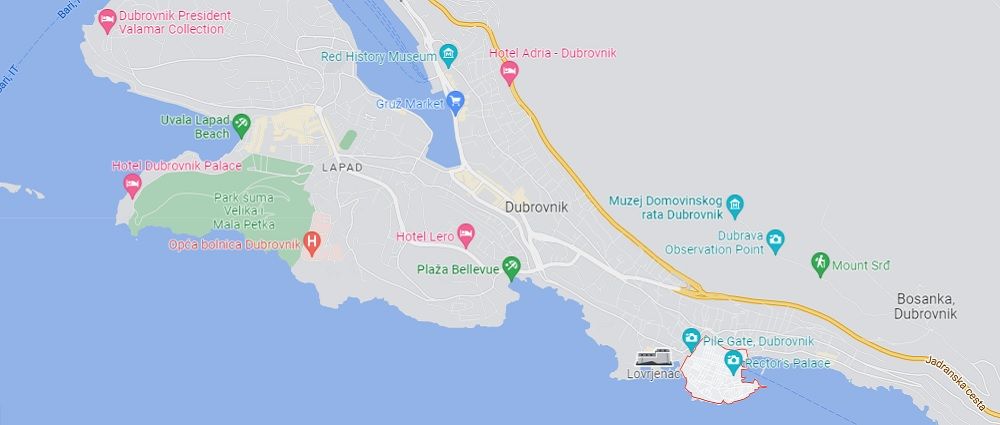 Old Town is where all the main attractions of Dubrovnik are. Also, all the important manifestations and general events are held here. During the day, this area is full of people going on walks or sightseeing. At night, you will likely hear music coming from the many restaurants, calling out to you.
So if you like a bit of hustle and bustle in vibrant crowds, this part of the city is for you. Here, you will find many cultural sights and landmarks. In other words, everything you want to see is within walking distance. That's just one of the reasons why many people choose Old Town as a place to stay in Dubrovnik.
Why I love Old Town:
Almost all of the manifestations are held here.
Most of Dubrovnik's cultural sights are located here
There are many restaurants
It has gorgeous views
Attractions near Old Town:
Best restaurants in Old Town:
Best hotels in Old Town:
The Pucic Palace
€€€€ | 5 Star | Restaurant and Wine Bar | Close to Beach | Great Location
Pucic Palace is situated in an 18th-century baroque palace. Guests of Pucic Palace also have access to the exclusive Banje Beach.
Boutique Hotel Stari Grad
€€€-€€€€ | 4 Star | Great View | Located Inside City Walls
This hotel has a clear view of the Old Town and the nearby islands. Also, it is located very close to the main street—Stradun.
Villa Four Winds
€€-€€€ | 3 Star | Good Location | Great for Couples
Villa Four Winds is situated in a stone house in Old Town. It's very close to the beach and Stradun, making it a great choice for couples. It's also not as pricey as some other hotels in this elite area.
St. Joseph's
€€€-€€€€| 4 Star | Good for Families | Great Location for Sightseeing
St. Joseph's is actually a renovated historic house from the 16th century. It is in an attractive location in Old Town, and is a very good choice for families.
Lapad – Peaceful Part of Town and Away From The City Crowds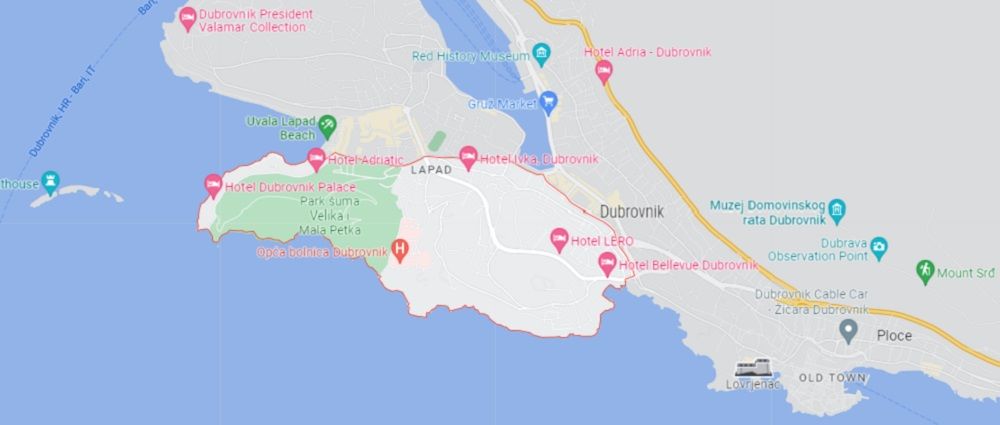 If you're not one to enjoy constant bustling crowds, Lapad is the place for you. Here, you will have some peace and quiet. Although it is away from the city center, it is very well connected by public transport. So if you don't have a car and don't want to take a taxi, you won't have to wait very long for a bus.
Apart from the historic sightseeing, you will find everything you need here. Lapad has many small shops as well as a big shopping center. It also has many beaches and a beautiful promenade.
Why I love Lapad:
Very peaceful part of town
Has a lot of beaches and a beautiful promenade
Movie theater Lapad is situated here
Very well connected to the rest of the city
Attractions near Lapad:
Best restaurants in Lapad:
Best hotels in Lapad:
Hotel Dubrovnik Palace
€€€-€€€€ | 5 Star | Amazing Location and Views | Indoor Pool | Fitness Center
It won't matter which room you choose here, because all of them have a view of the Elaphite Islands. This hotel also has four different restaurants and one of them is on the beach.
Hotel Splendid
€€€ | 3 Star | Next To Beach | Tennis Court
The hotel is surrounded by Mediterranean vegetation and is right next to the beach. Here, you can enjoy traditional Dalmatian cuisine and then burn your calories on the tennis court.
Hotel Aquarius
€€€ | 3 Star | Bar | Pool
If you choose Hotel Aquarius, you will experience a classic Mediterranean feel. Also, it has a pool, and close by you will find a tennis court and a shopping mall.
Valamar Argosy Hotel
€€€ | 4 Star | Indoor and Outdoor Pool | Wellness Center
This hotel is within walking distance from Cava and Copacabana beaches. It has two pools and a sauna. Most of the rooms have a nice view of the sea, park, or garden.
Gruz – Where The Main City Harbor Is Located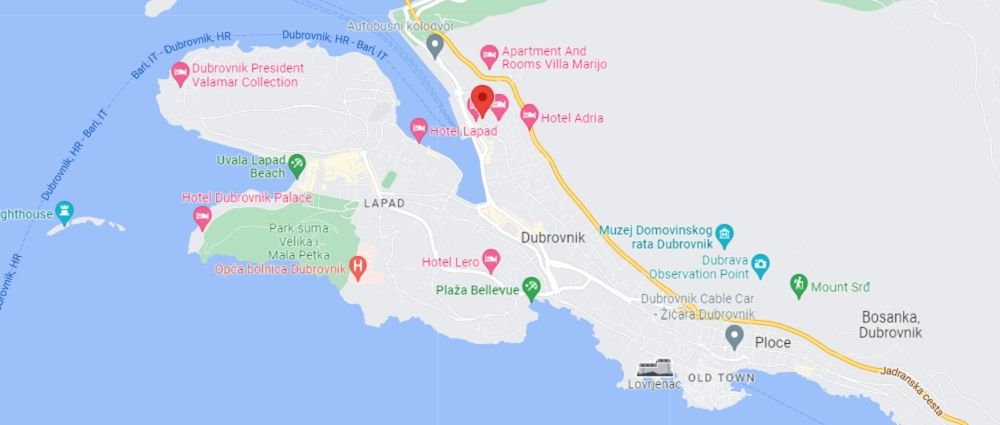 Gruz is a preferred location for many tourists visiting Dubrovnik. One of the reasons is the fact that it is the location of the city harbor, so all the ships that come to Dubrovnik arrive here. From Gruz, you can make daily trips to nearby islands like Lokrum.
Besides the harbor, Gruz is also the location of the main bus station. It is very well connected with other parts of the city too. Here you will find the open-air market where you can buy fresh fruits, vegetables, or fish.
Why I love Gruz:
Very well connected with other parts of the city
Dubrovnik Harbor is situated here
It has many small shops and cafes
Connected to the nearby islands
Attractions near Gruz:
Best restaurants in Gruz:
Best hotels in Gruz:
Berkeley Hotel & Day Spa
€€€ | 4 Star | Modern | Spa and Pool
This hotel is located near the harbor and has modern facilities. As its full name suggests, it has a spa—but not only that. There is also a pool, if you don't feel like going to the beach.
Hotel Petka
€€€ | 3 Star | Pet Friendly | Restaurant and Bar
In Hotel Petka, you will find two restaurants that serve both traditional Dalmatian food and international cuisine. The hotel is pet-friendly and has a bar with a nice view of the Adriatic sea.
Guesthouse S&L
€€-€€€ | 3 Star | Nice View | Common Terrace
Guesthouse S&L offers its guests free transportation to and from the airport, main bus station, and ferry port. There is a shared terrace with a dining area and a barbecue for guests to use.
Guesthouse Alliya
€€ | 3 Star | Cheaper Option | Good Location
Alliya is located very close to the open market and a restaurant. Since this is a cheaper option, not all of the rooms have a sea view. But it is a good option for those who want to save a few bucks on accommodation and spend it somewhere else.