So you're exploring Dubrovnik, but sooner or later you will feel hunger starting to creep up on you. Maybe you will want to try the best local dish, fresh-caught fish, meat or a vegetarian dish? Whatever your choice maybe, you've come to the right place. Our local guide has picked the 10 best restaurants in Dubrovnik just for you.
---
Pro Tip: It's easier to organize your trip when you have all your resources in one place. Bookmark this post along with our Dubrovnik Guide with more planning resources, our exciting Dubrovnik tours, and the top foods to try in Dubrovnik.
Top Places To Eat in Dubrovnik
Dubrovnik has long been one of the most popular tourist destinations in the world. But the city's popularity rose even more after it became the fictional capital of Westeros in HBO's Game of Thrones series. So if you're staying at this Adriatic gem, these are the places where you can enjoy the tastiest food and see the best views.
Not ready to book a tour? Read more in our Dubrovnik Guide.
Forty-Four
€€ – €€€ | Fine Dining | Modern Gastronomy
If you are an NBA fan, chances are you heard of the owner of Forty-Four – Bojan Bogdanović. The famous Croatian basketball player opened the restaurant around 400 meters from the beautiful Walls of Dubrovnik.
It has a modern approach to gastronomy and their policy is to use only fresh ingredients, be it fish, meat or vegetables. They like to say for themselves that they are a romantic fine dining restaurant. Sounds like a perfect place to take that special someone to, don't you think?
Address: Miha Pracata 6
Kopun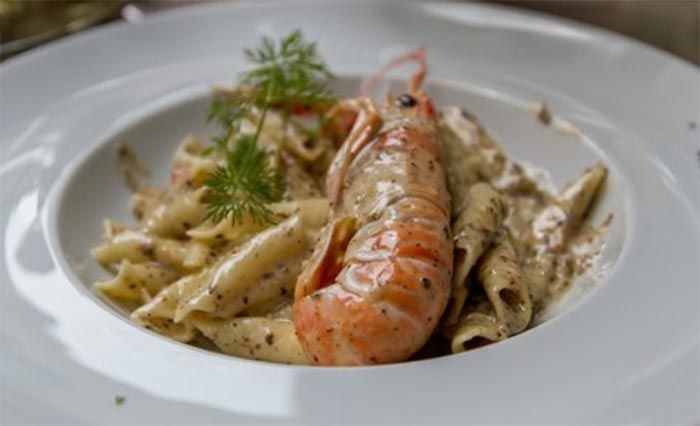 €€ | Family Restaurant | Traditional Meals
When you visit Croatia, you just have to try one of the traditional meals. Thus, the place for you in Dubrovnik is restaurant Kopun. It's almost as they set a mission for themselves – to save as many old meals and recipes as they can.
Also, if you eat at Kopun then you must try… kopun! It is a rooster that they prepare in a few different ways. One of them includes it being lightly baked for over 6 hours.
Address: Poljana Rudera Boskovica 7
Check Out Our Top Dubrovnik Tours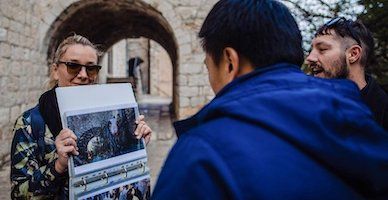 Top Rated Tour
A Journey to Westeros: Game of Thrones Dubrovnik Tour
Travel through the world of dragons, magic and power on this Game of Thrones Tour. With your expert Game of Thrones obsessed guide visit sights from the Red Keep to the stairs where Cersei was forced to strip and walk in shame. Whether you are Team Targaryen or Team Stark you'll love this Game of Thrones Dubrovnik Tour.





Starting at €122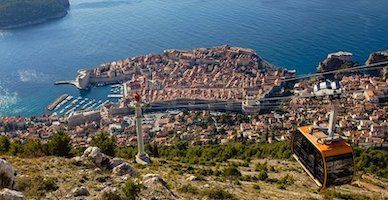 Likely to Sell Out
Dubrovnik in a Day Tour with Mt. Srd Cable Car, Old Town and City Walls
Discover the best of the "Pearl of the Adriatic" on this ultimate tour in a small group. Head to the top of Mount Srd by exciting cable car for an incredible panorama of Dubrovnik and the Adriatic. Later, ride back down for an informative walking tour of Dubrovnik's medieval Old Town and to climb the city's impressive City Walls.





Starting at €78
Not ready to book a tour? Read more in our Dubrovnik Guide.
Konoba Jezuite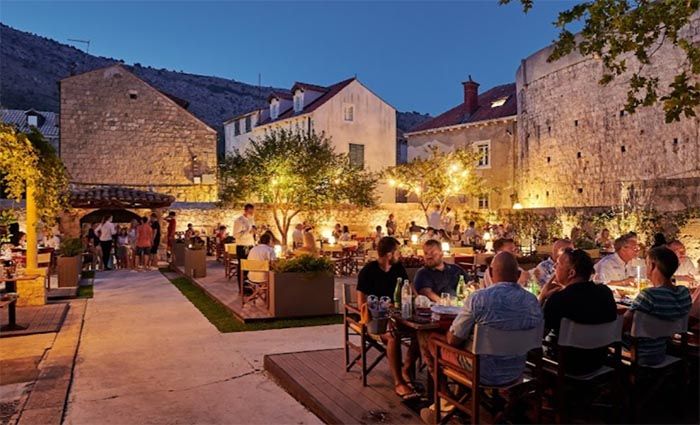 €€ | Seafood | Mediterranean
If you see a restaurant in Croatia that has "Konoba" in its name, then you will most likely get a specific local experience. Konoba was traditionally a place of gathering. There, people would store wine and food, then eat them with friends.
Konoba Jezuite is no different and is located away from the hustle that is typical for Dubrovnik. So, if you want to enjoy a meal in peace on a beautiful terrace with a romantic atmosphere, this is the place for you.
Address: Poljana Ruđera Boškovića 5
Orsan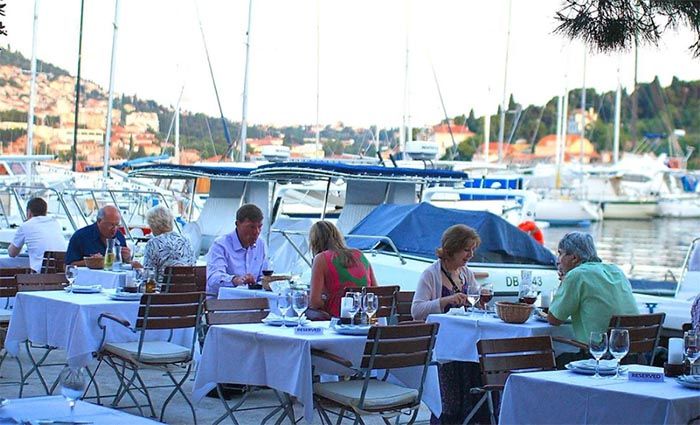 €€ | Seafood | Next to the Sea
Restaurant Orsan is situated right on the seashore, and you know what that means – a beautiful view. Also, it's very suitable for anyone who is coming in by boat. Moreover, the ambiance is nice and you won't feel crowded.
In addition to seafood and meat, they also offer a few vegetarian dishes and a "children's corner". If you have a sweet tooth, just ask for their daily homemade cake. Their diverse menu truly makes them one of the best restaurants in Dubrovnik.
Address: Ulica Ivana pl. Zajca 2, Lapad
Lokanda Peskarija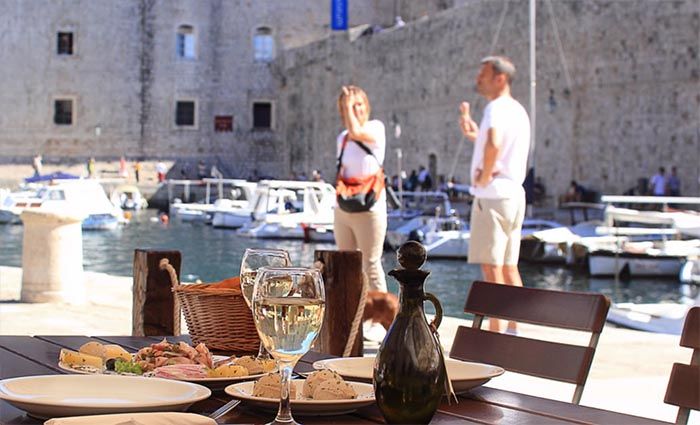 €€ | Local dishes | Rustic Ambiance
Lokanda Peskarija is a restaurant that is acceptable for everyone's pocket. It is situated in the old local harbour which gives it a specific feel. The locals could tell you that the ambiance is reminiscent of some long lost days.
Here, you will mostly find simple fish and seafood dishes. As their official website states, it is something "that could be found on the tables of local fishermen families decades ago". But among them, you definitely need to try the traditional black risotto.
Address: Na ponti bb, 20000, Dubrovnik
Moby Dick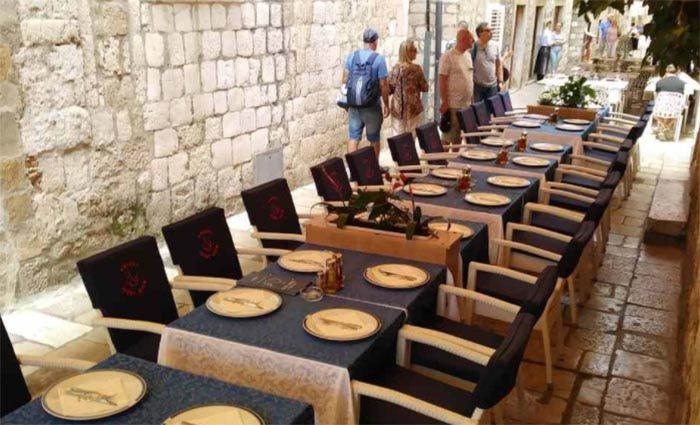 €€ – €€€ | Brunch | Outdoor Seating
Are you thinking to yourself – where could I go to brunch? The answer is Moby Dick! Here you can find local food with vegetarian, vegan and gluten free options too. This is one of the best restaurants in Dubrovnik that has both indoor and outdoor seating with tables located in a small alleyway.
One of the dishes that you can enjoy here, in the beautiful Prijeko street, is "tripice". This is something that people either love or hate, there is no inbetween. It's made of different animals' stomachs or "tripe". But it is widely considered to be a delicacy. You'll just need to try to know.
Address: Prijeko 20
Glorijet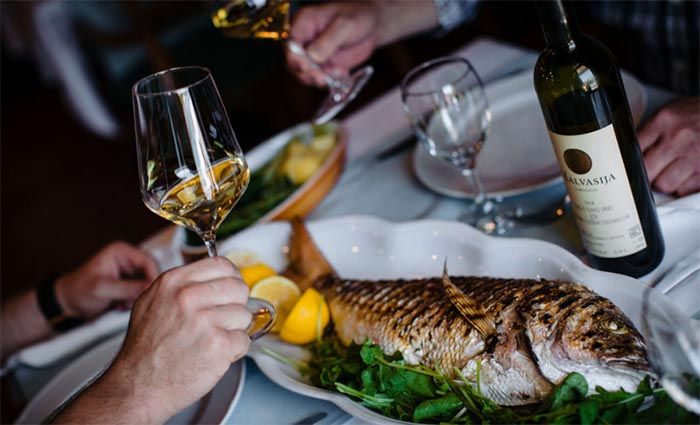 €€ | Interesting location | Local wines
Glorijet is situated in a very interesting location. A long time ago, there was a dock for small boats that would come directly from the sea. Thus, this restaurant merges Dubrovnik's history with its local cuisine.
But not only do they have good food, they also match it with great wines. Their wines are mostly from Dubrovnik, as well as the wider Dubrovnik region and Dalmatia.
Address: Obala Stjepana Radića 16
Check Out Our Top Croatia Tours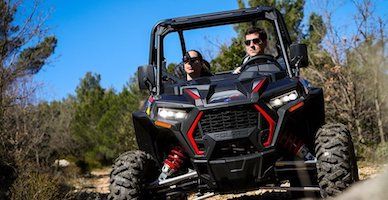 Top Rated Tour
Dubrovnik 4X4 Adventure and Cable Car Ride
Take an excursion above the city. Beginning with a Cable Car ride, ascend to the summit of Mount Srd where you will find your 4X4s. On this epic tour by ATV with a friendly local guide, head through forests, hills, and rugged terrain for an exhilarating day in Croatia.





Starting at €81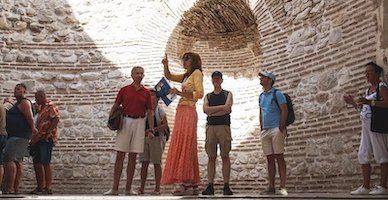 Likely to Sell Out
Roman Emperor Diocletian's Palace and Historic Trogir Tour from Split
With your expert local guide, visit the palace worthy of only a man as impressive as the legendary Emperor Diocletian. Visit the ins and outs of the grand estate that takes up nearly half of Split's Old City. Later head to Trogir, an active port in Roman times, whose old town has been listed by UNESCO for its incredible architecture throughout history.





Starting at €57
Not ready to book a tour? Read more in our Croatia Guide.
Konoba Dubrava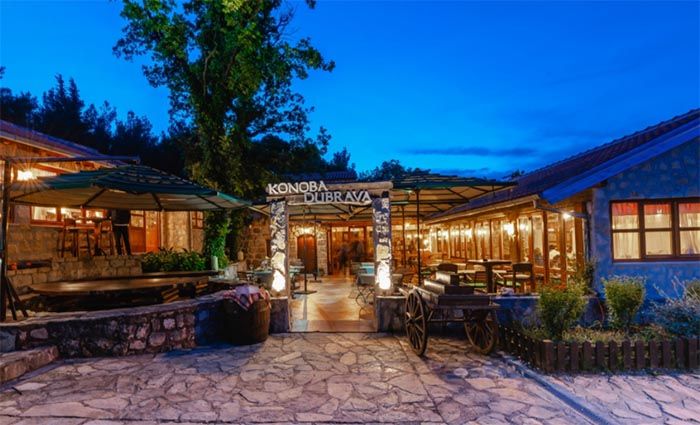 €€ | Friendly atmosphere | Meat Dishes
This restaurant is located on the famous hill Srđ and has a lovely ambiance. If you really aren't that much into seafood, or just want to have a piece of meat – this is the place for you.
Lamb meat on a spit is the main dish on many dalmatian weddings. Since the chances of you getting invited to one are not that high, just come to Konoba Dubrava. Their lamb and potatoes are one of the best you will try and they make Dubrava one of the best restaurants in Dubrovnik.
Address: Bosanka, Bosanka bb Srđ hill
Nautika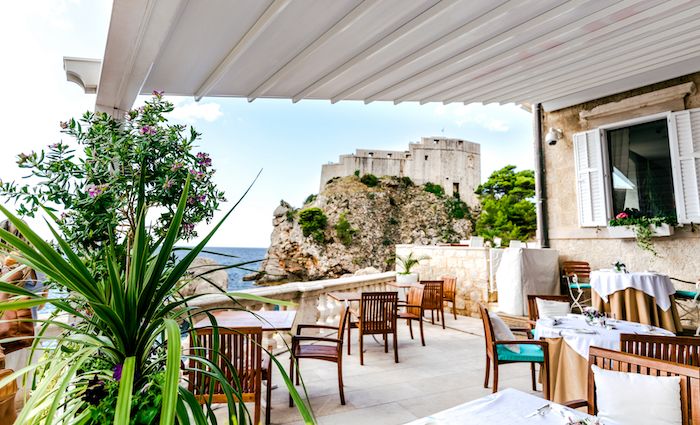 €€€ | Fine Dining | Great View
Sometimes you just want to have a beautiful view and relax while having a meal. Congratulations, you are in the right place. Nautica is the best restaurant in Dubrovnik to get a view of the Adriatic, as well as the fortresses of Lovrijenac and Bokar.
This is truly a fine dining restaurant so you have to be ready for higher price tags. They get their supplies directly from the local fishermen when they come back from the sea. It seems like something that is worth a few bucks more, don't you think so?
Address: Brsalje 3
Gradska Kavana Arsenal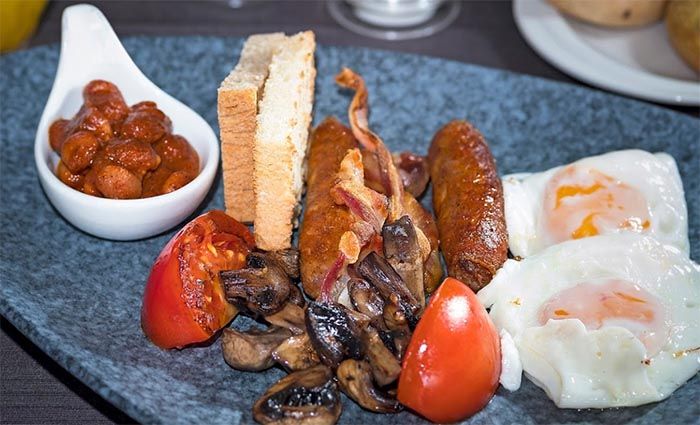 €€–€€€ | Historical Locations | Mediterranean
Location is sometimes crucial for a business and Gradska Kavana Arsenal has just that! It is located near the city's main square as well as Sponza Palace and the Rector's Palace. These are historically important sites. Moreover, the latter was the seat of the Dubrovnik Republic's ruler.
But besides great views and friendly staff, you will enjoy their Mediterranean cuisine too. If you're more in the mood for finger food, you can also order one of their sandwiches or burgers. That is enough to put this place on our list of best restaurants in Dubrovnik.
Address: Ul. Pred Dvorom 1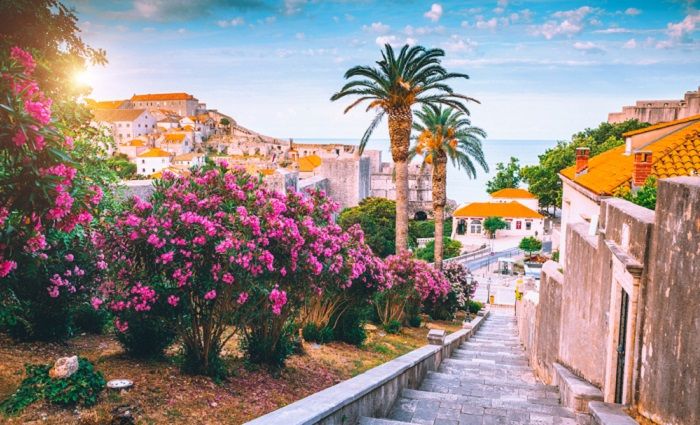 Find the best places to stay
Where To Stay in Dubrovnik
Deciding where to stay in this historical city of Dubrovnik, Croatia is easy with our local's guide to the best hotels and neighborhoods. From Old Town to the beach, you'll love your stay here!