If you've been reading our blog regularly, then you know we already answered some of the most important questions for you. We told you where to stay and what to do in this Mediterranean pearl. But now, we are here to tell you what are the top foods to try in the Dubrovnik region.
---
Pro Tip: It's easier to organize your trip when you have all your resources in one place. Bookmark this post along with our Dubrovnik Guide with more planning resources, our exciting Dubrovnik tours, and the top things to do in Dubrovnik.
The Best Foods And Dishes To Eat In Dubrovnik
Although Croatia is a small country, it is divided into 20 counties (or regions) plus the capital city of Zagreb. The southernmost region is the Dubrovnik-Neretva region whose administrative center, or capital, is Dubrovnik.
Since it is situated on the Adriatic coast, their cuisine is mostly Mediterranean and is widespread throughout Dalmatia, but Dubrovnik has its own "twist" to it. The Neretva river valley slightly breaks that Mediterranean "monotony" with some of its dishes.  One of them (the most famous one) you will find on this list.
Not ready to book a tour? Read more in our Dubrovnik Guide.
10. Grilled Fish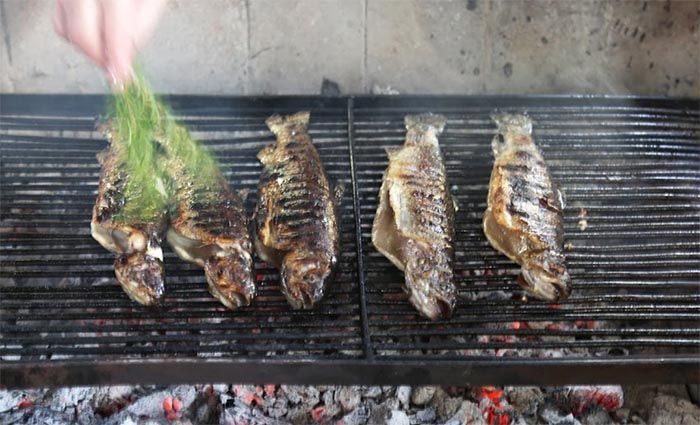 Sea Fish | Grilled
Yes, we know this sounds like a very common and simple dish, but there is just something about it in this part of Croatia. We are not talking about just any kind of grill either. It's not something that every restaurant or kitchen has. We are talking about "old school" grilled fish.
It is prepared on a small metal grille that is placed upon the hearth after there is no more fire, but only embers. The embers are created by burning down logs of wood. Fish prepared this way just tastes so much better than any other type of grilled fish. Maybe you're asking yourself which wish should you try? The answer is to go with the one you like the most or the one that is most freshly caught.
Where to get the best Grilled Fish: Konavoski Dvori
9. Tripe Soup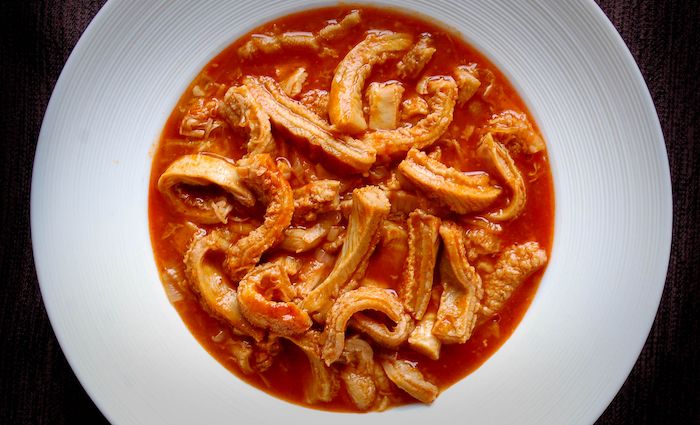 Cow Stomach | Traditional Dish
This one may not be for everyone's stomach because it is actually a cow's stomach. Tripe has many names in Croatia: "tripice, fileki, škembići and vampi". But this dish is actually well known all around Europe, especially in its Mediterranean parts. No wonder then that everyone prepares them in a different way.
Even in Croatia, you can find a few different recipes. Some of them get you tripe in a thick sauce, and the others are more like soup. They say that the Dalmatian recipe is the closest one to the famous Italian Trippa Alla Romana. So just like in the Italian version, tripe is sliced into strips and cooked until they get very soft. The sauce or rather soup is made of garlic, carrots, tomatoes, and a few other special ingredients.
  Where to get the best Tripe Soup: Moby Dick
8. Dirty Macaroni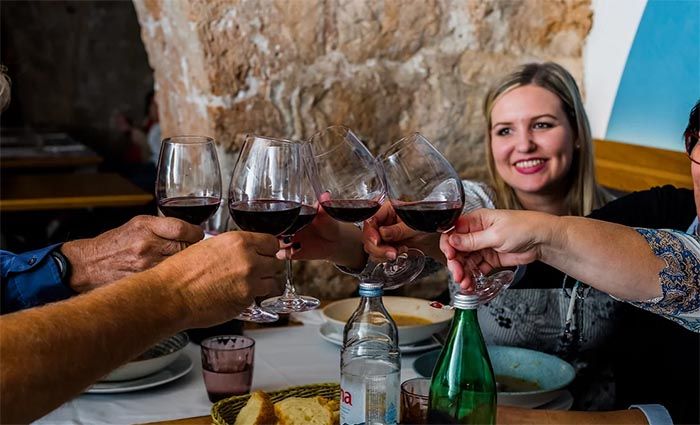 Pasta | Meat Sauce
Dirty Macaroni is actually pasta with meat sauce. It was usually made around the day of Saint Vlaho, the city patron. Its recipe shows a clear influence of Italian cuisine. But what may have you wondering is the name, right? Why are the macaroni dirty?
Well, the thing is that this dish was, in a way, made from leftovers. Because, when the prepared meat in the sauce would get eaten, there would usually still be more sauce left. But with the meat gone, what are you supposed to do? The answer was, it seems, to put it over some pasta, or make pasta "dirty" with it.
Where to get the best Dirty Macaroni: Orsan
7. Dishes Under The Bell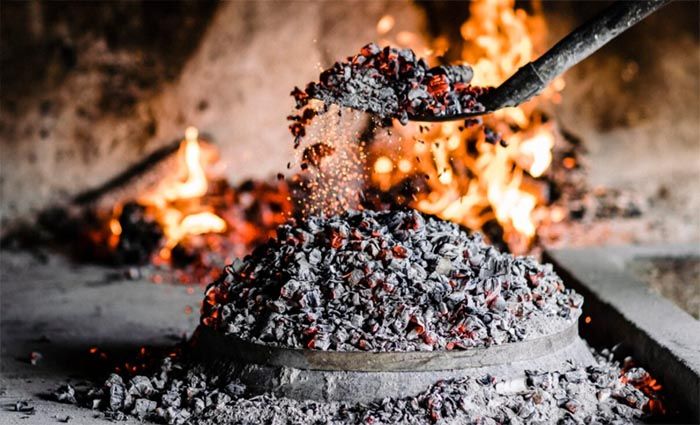 Different Types Of Meat | Octopus | Half Baked Half-Cooked
As you can see from the name of this listing, we are talking about several dishes here. The thing that connects them is a specific way of preparation. These foods are made under the bell upon which you put embers. Just as you can see in the picture.
These dishes are then left for a few hours under that bell. This specific way of preparation ensures that they are half baked and half-cooked in their own juices. Therefore, whether you choose to put lamb, pork, veal, or octopus under "Dalmatinska Peka" (as the locals call it), you are bound to enjoy this meal.
Where to get the best Dishes Under The Bell: Konoba Dubrava | Konavoski Dvori
Our Popular Dubrovnik Tours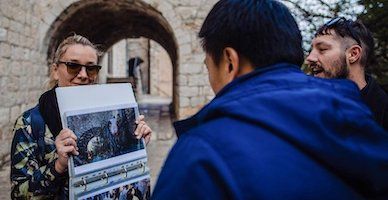 Top Rated Tour
A Journey to Westeros: Game of Thrones Dubrovnik Tour
Travel through the world of dragons, magic and power on this Game of Thrones Tour. With your expert Game of Thrones obsessed guide visit sights from the Red Keep to the stairs where Cersei was forced to strip and walk in shame. Whether you are Team Targaryen or Team Stark you'll love this Game of Thrones Dubrovnik Tour.





Starting at €122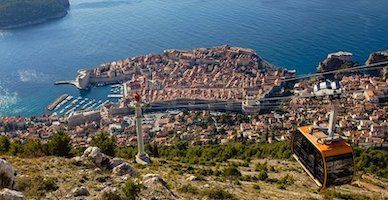 Likely to Sell Out
Dubrovnik in a Day Tour with Mt. Srd Cable Car, Old Town and City Walls
Discover the best of the "Pearl of the Adriatic" on this ultimate tour in a small group. Head to the top of Mount Srd by exciting cable car for an incredible panorama of Dubrovnik and the Adriatic. Later, ride back down for an informative walking tour of Dubrovnik's medieval Old Town and to climb the city's impressive City Walls.





Starting at €78
Not ready to book a tour? Read more in our Dubrovnik Guide.
6. Buzara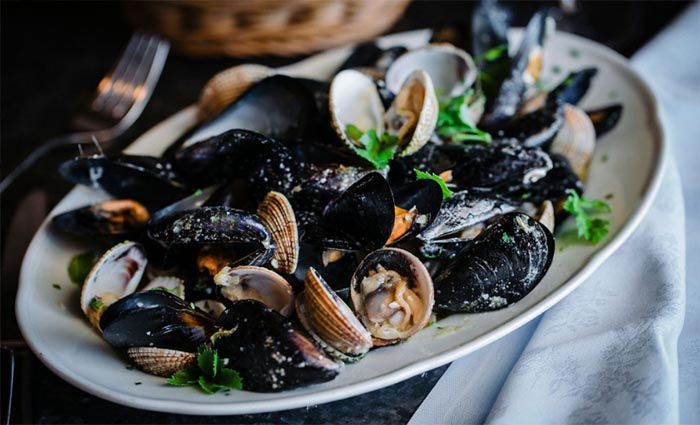 Mixed Shellfish | Mediterranean Flavors
Shellfish were bound to end up on this list sooner or later. They are the main part of this dish. It is most commonly made with mussels, but other shellfish can be used too. If you look at the ingredients, this dish is fairly simple. Mainly, you need just olive oil, garlic, and parsley.
The main trick is to know in what order and when precisely to put these ingredients. Also, an important thing to note, if you're eating buzara, you'll have to get your hands dirty. No need to try to be polite and use a fork. Just dig in with your hands and fully enjoy this meal.
Where to get the best Buzara: Glorijet
5. Pašticada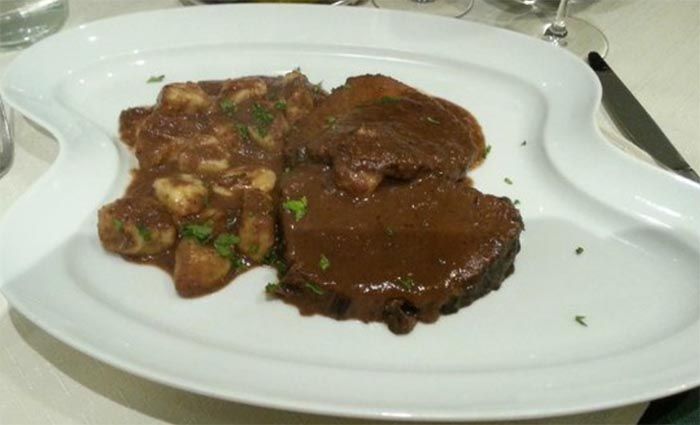 Wedding Dish | Beef | Plums
This is one of the most famous dishes in this area and in Dalmatia. You will usually find it served as one of the courses at a traditional Dalmatian wedding. In other words, it's something of a "special occasion" meal. And rightly so!
This "taste festival" is truly a well-rounded gastro experience. The beef must be sliced (not too) thin. The meat itself is stuffed with different vegetables like carrots. But, this dish is actually mildly sweet. That sweetness usually comes from – plums! The meat is then served with a tasty sauce and gnocchi.
Where to get the best Pašticada: Kopun
Check Out Our Top Croatia Tours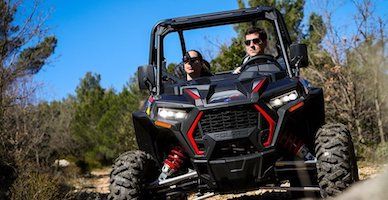 Top Rated Tour
Dubrovnik 4X4 Adventure and Cable Car Ride
Take an excursion above the city. Beginning with a Cable Car ride, ascend to the summit of Mount Srd where you will find your 4X4s. On this epic tour by ATV with a friendly local guide, head through forests, hills, and rugged terrain for an exhilarating day in Croatia.





Starting at €81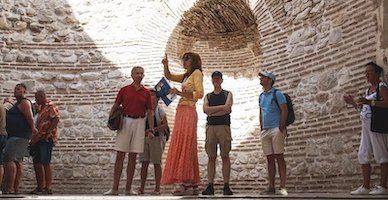 Likely to Sell Out
Roman Emperor Diocletian's Palace and Historic Trogir Tour from Split
With your expert local guide, visit the palace worthy of only a man as impressive as the legendary Emperor Diocletian. Visit the ins and outs of the grand estate that takes up nearly half of Split's Old City. Later head to Trogir, an active port in Roman times, whose old town has been listed by UNESCO for its incredible architecture throughout history.





Starting at €57
Not ready to book a tour? Read more in our Croatia Guide.
4. Cuttlefish Salad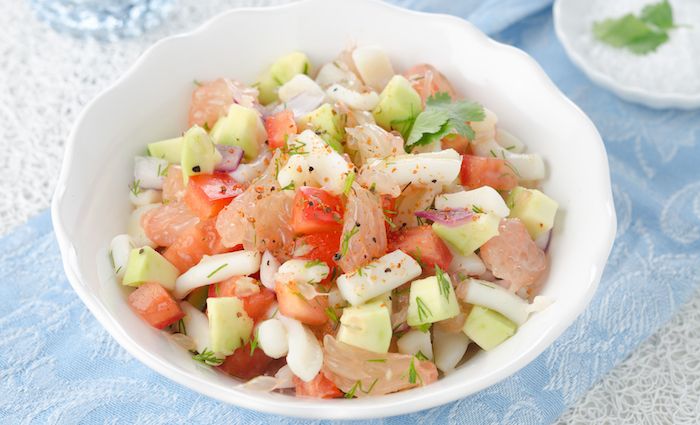 Appetizer | Served Cold | Refreshing | Summer Dish
Cuttlefish salad is just one version of this dish, but the most common one. However, there is also octopus salad and squid salad. It's important to note that this is actually a cold appetizer. In other words, you will order this salad just before you try some of the other dishes from our list.
It is prepared with green olives and capers and seasoned with olive oil, garlic, and lemon sauce. The ingredients may slightly vary from cook to cook. Or rather from restaurant to restaurant. But the point of this dish is that it is minimalistic and it's there while you wait for your main course.
Where to get the best Cuttlefish Salad: Levanat
3. Eel And Frog Stew (Brudet)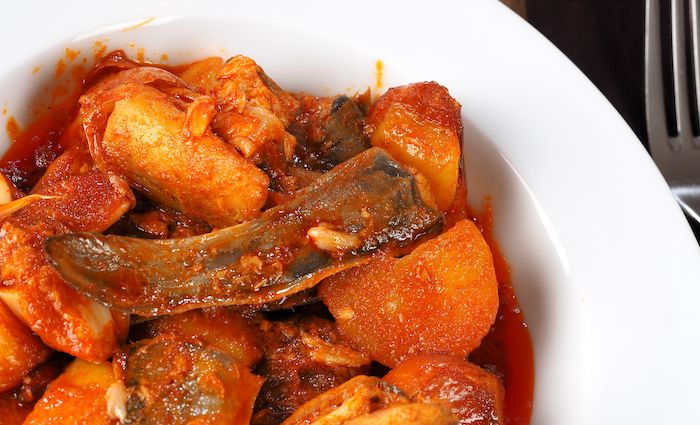 Hearty Stew | Interesting Protiens | Vegetables
Dubrovnik-Neretva region is specific because it encompasses Mediterranean cuisine with dishes like this. Because Neretva is a river, people living around it were bound to catch something there and cook it. And it happens to be that they caught some eels and frogs.
This dish is so popular that since 2003, there is a manifestation dedicated to it. It's called "Neretvanska brudetijada", and it's held during the summer. So if you are in Dubrovnik, why not take a one-day trip to the city of Opuzen where the manifestation is held. It is only one and a half hours away from Dubrovnik.
Where to get the best Brudet: Đuđa i Mate
2. Black Risotto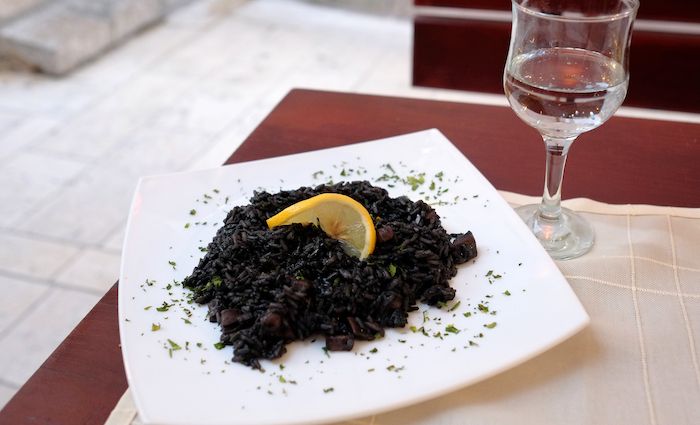 Cuttlefish | Rice
Cuttlefish again! But this time not as a cold appetizer, rather as a main dish. Besides the obvious ingredients (cuttlefish and rice), there is something else. You may ask yourself, why is the risotto black? Well, the answer is cuttlefish ink!
The risotto is served hot and you can additionally put parmesan on it. Some restaurants may serve it right away, but more often than not, you can ask for it separately. That way, you put just the amount of cheese that you like. But be careful so its taste doesn't take over the risotto itself.
Where to get the best Black Risotto: Lokanda Peškarija
1. Oysters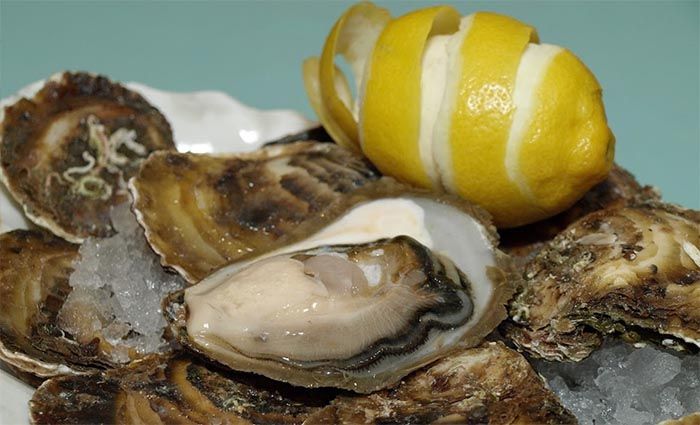 Raw | Summer Dish | Aphrodisiac!
Finally, the number one dish in the Dubrovnik-Neretva region. It may not sound special, a lot of gastro corners around the world serve oysters. But the ones from Mali Ston Bay are something different. Many consider these Oysters the best in the world!
Some say that good oysters require more sweetwater, although they "grow" in the sea. In Mali Ston Bay they have just that because of the Neretva River that pours into the sea. That's just one of the reasons why these oysters received the European Union's protected designation of origin and protected geographical indication. And yes, you eat them live, usually with just a bit of lemon juice.
Where to get the best Oysters: Kapetanova Kuća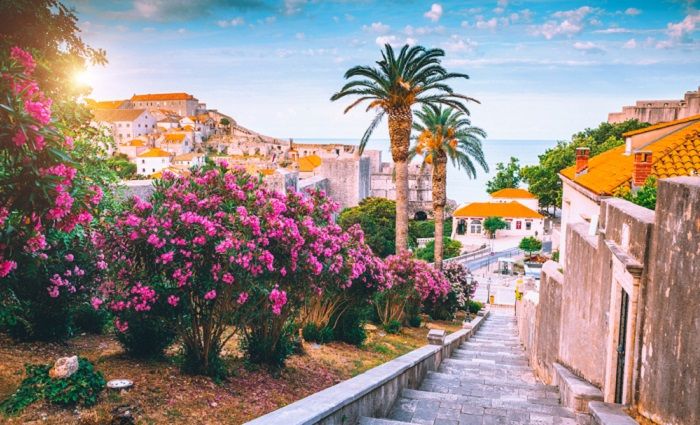 Find the best places to stay
Where To Stay in Dubrovnik
Deciding where to stay in this historical city of Dubrovnik, Croatia is easy with our local's guide to the best hotels and neighborhoods. From Old Town to the beach, you'll love your stay here!