One of the most beautiful cities on the Adriatic coast, Dubrovnik beckons visitors with its azure waters, rich history, and delicious cuisine. If you still haven't visited Croatia, why not start with this quaint city by the sea! In this guide, we help you discover the best of Dubrovnik with the top things to do for an unforgettable vacation.
---
Pro Tip: It's easier to organize your trip when you have all your resources in one place. Bookmark this post along with our Dubrovnik Guide with more planning resources, our exciting Dubrovnik tours, and the top day trips from Dubrovnik.
Best Things To See and Do in Dubrovnik
What do rich history, beautiful nature, and great food have in common? They can all be found in Dubrovnik! There is so much to see and do in this incredible city, and to help you make the most of your visit we have put together this guide of the top things to do while you are in Dubrovnik.
Not ready to book a tour? Read more in our Dubrovnik Guide.
13. Eat a Traditional Meal
If you want to fully experience any city or a country, you have to try their food. Every region of the world has its own gastronomic delights. The same applies to Dubrovnik. Maybe some of the food will be familiar to you, but the recipes won't!
For example, you've eaten a rooster, sure. But have you eaten one that was baked for six hours? And not because someone forgot to take it out of the oven. The best place to try any traditional meal in Dubrovnik is Restaurant Kopun.
Address: Restaurant Kopun
12. Visit the Red History Museum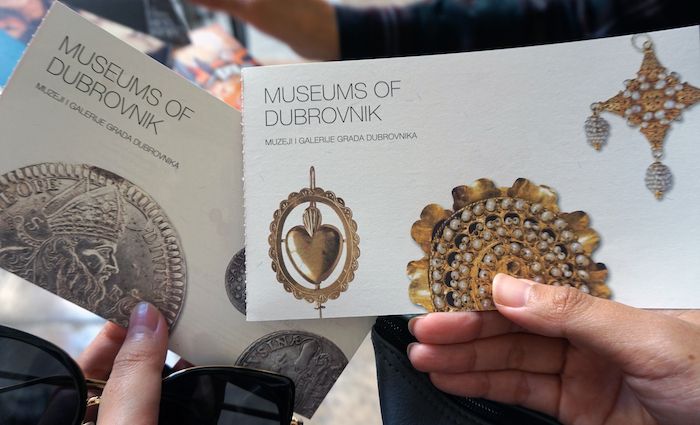 When you're visiting a city, you have to check out its museums. And let me tell you, Dubrovnik has a special one. It's called the Red History Museum, so you can probably guess what it's all about—the period of communist Yugoslavia.
As you may know, Croatia was one of the six republics that formed Yugoslavia. This museum tells the story of that historic period. It shows the good and the many bad sides of everyday life in Croatia during communism.
Address: Ul. Svetog Križa 3
11. See the Church of Saint Vlaho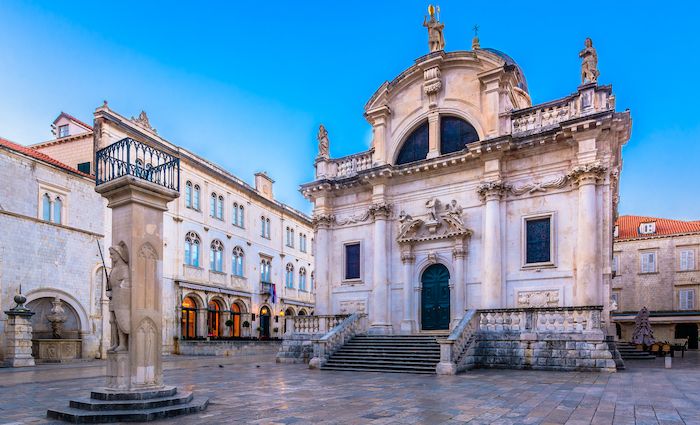 Legend has it that in the 10th century, there was an apparition. A priest in Dubrovnik saw saint Vlaho. He told the priest about an attack on the city that was about to happen and thus saved it.
No wonder then that the people of Dubrovnik chose him as their heavenly protector. But they also built a church in his honor. It is definitely one of the most beautiful sacral buildings that you will see. That's why it deserved to be on our list of top things to do in Dubrovnik.
Address: Rkt. crkva sv. Vlaha, Luža ul. 2
Check Out Our Top Croatia Tours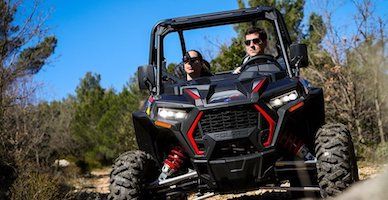 Top Rated Tour
Dubrovnik 4X4 Adventure and Cable Car Ride
Take an excursion above the city. Beginning with a Cable Car ride, ascend to the summit of Mount Srd where you will find your 4X4s. On this epic tour by ATV with a friendly local guide, head through forests, hills, and rugged terrain for an exhilarating day in Croatia.





Starting at €81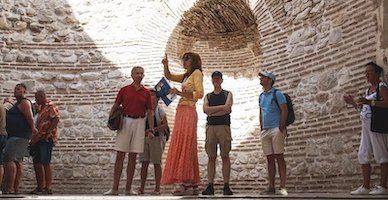 Likely to Sell Out
Roman Emperor Diocletian's Palace and Historic Trogir Tour from Split
With your expert local guide, visit the palace worthy of only a man as impressive as the legendary Emperor Diocletian. Visit the ins and outs of the grand estate that takes up nearly half of Split's Old City. Later head to Trogir, an active port in Roman times, whose old town has been listed by UNESCO for its incredible architecture throughout history.





Starting at €57
Not ready to book a tour? Read more in our Croatia Guide.
10. Stroll Down Stradun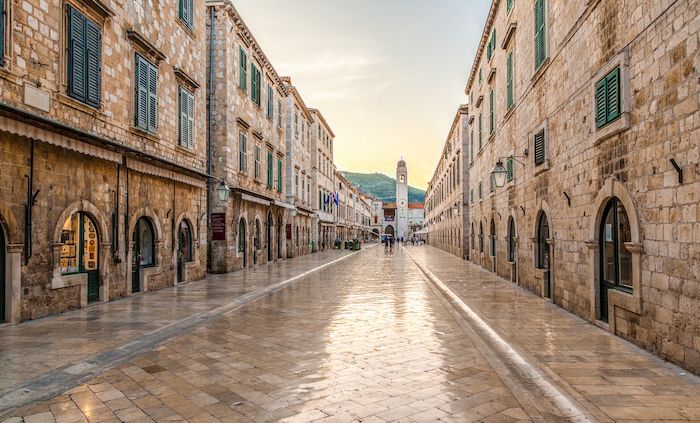 Stradun is the main street in the city. Before the street was built, there was a sea canal that separated Dubrovnik into two parts. It's also often the scene of many ceremonies. One of them is a procession on the day of Saint Vlaho, the city's patron saint.
But in everyday life, locals just love strolling down this street, especially on sunny days. Famous Croatian singer, the late Oliver Dragojević, even met his wife while walking down Stradun. So who knows—if you come to Dubrovnik alone, it doesn't mean you'll leave alone.
Address: Stradun
9. Drink From Onofrio's Fountains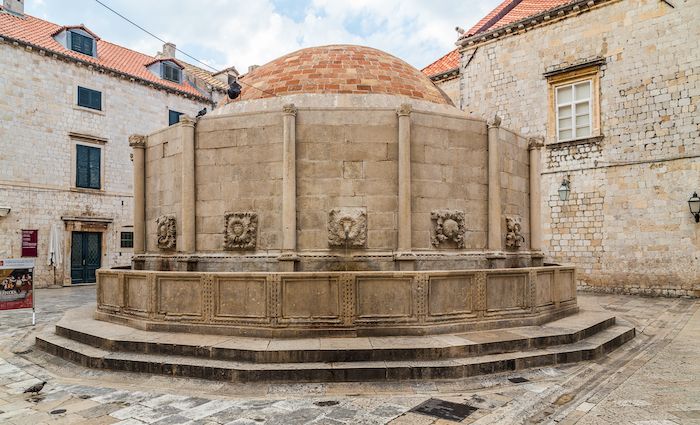 These fountains got their name from Onofrio della Cava, the man who designed them. There are two of them: the Large Fountain and the Small Fountain. They are located at either end of Stradun street. So if you do decide to take a stroll down Stradun, you can't miss them!
Best of all, you can drink from them. And the legend says: drink from the fountains and you will come back one day. So if you don't get to do everything from this list in one go, just take a sip from the fountain and you'll be back again.
Address: Large Onofrio's Fountain and Small Onofrio's Fountain
8. Head To Vlaho Bukovac House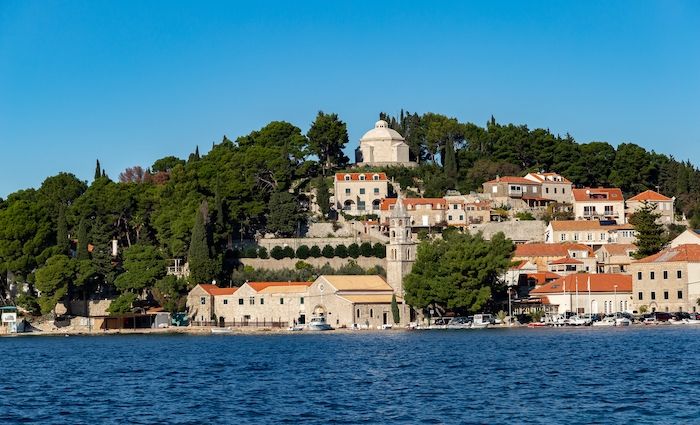 Vlaho Bukovac was one of the most influential Croatian painters ever. Just ask anybody in Croatia, they have all heard of him even if they can't tell you the exact names of his paintings. It comes as no surprise, then, that he has a museum of his own.
The Vlaho Bukovac House is both a museum and the actual house where he was born. It is not in Dubrovnik, but in Cavtat, a city just 30 minutes away. Take a trip out there because this truly is one of the top things to do here.
Address: Bukovceva 5
7. Take a Cable Car To Mount Srd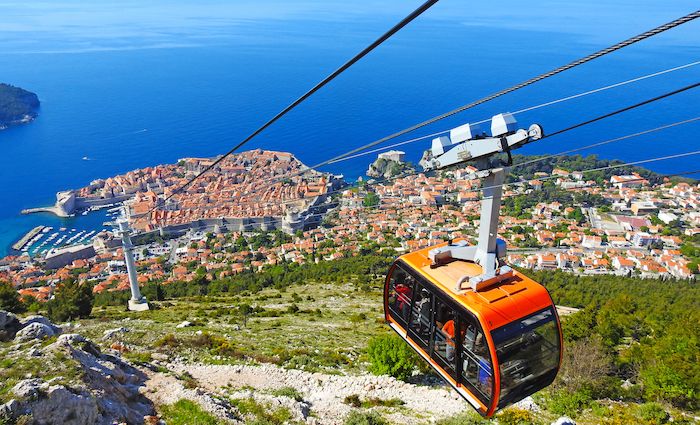 The Dubrovnik cable car gives you some of the best views in the city. It goes up more than 700 meters to the famous Mount Srd. But don't worry, the ride lasts only a few minutes. Locals say that on a clear day, you can see up to 60 km (37 miles) away from Srd.
Besides a great view, you can find a few more things on the mount. There is a souvenir shop and a coin blacksmithing shop. And if the trip makes you hungry, just grab a bite at the Panorama Restaurant. For those that really want to get to know all the ins and outs of Srd, we recommend a guided tour.
Address: Ul. Kralja Petra Krešimira IV. 10A
Not ready to book a tour? Read more in our Dubrovnik Guide.
6. Visit the Museum of the Croatian War of Independence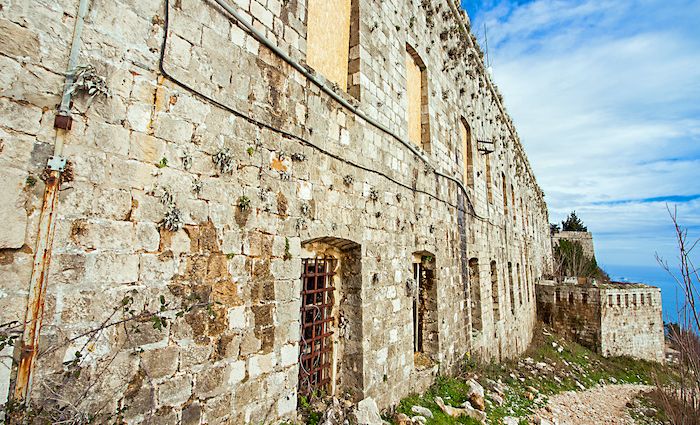 If you visited The Red History Museum then this is, in a way, a continuation of that story. This museum is actually an exhibition of Dubrovnik in the Croatian War of Independence from 1991 – 1995. Here, you will find documents and objects from that time. The photographs depicting the city during the war are particularly interesting.
The Museum of Croatian War of Independence exhibition is housed in a historic location—the Fort Imperial. In a way, it combines Dubrovnik and Croatia's older and newer histories. But you'll just have to come and see for yourself.
Address: Dubrovnik HR, Srđ ul. 2
Our Popular Dubrovnik Tours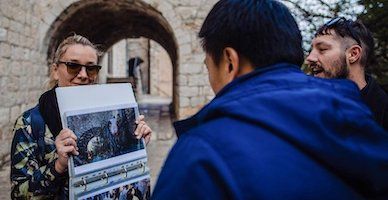 Top Rated Tour
A Journey to Westeros: Game of Thrones Dubrovnik Tour
Travel through the world of dragons, magic and power on this Game of Thrones Tour. With your expert Game of Thrones obsessed guide visit sights from the Red Keep to the stairs where Cersei was forced to strip and walk in shame. Whether you are Team Targaryen or Team Stark you'll love this Game of Thrones Dubrovnik Tour.





Starting at €122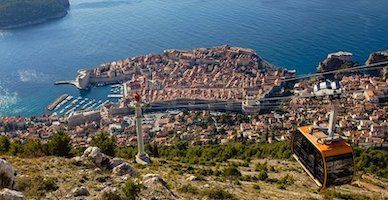 Likely to Sell Out
Dubrovnik in a Day Tour with Mt. Srd Cable Car, Old Town and City Walls
Discover the best of the "Pearl of the Adriatic" on this ultimate tour in a small group. Head to the top of Mount Srd by exciting cable car for an incredible panorama of Dubrovnik and the Adriatic. Later, ride back down for an informative walking tour of Dubrovnik's medieval Old Town and to climb the city's impressive City Walls.





Starting at €78
Not ready to book a tour? Read more in our Dubrovnik Guide.
5. Enjoy a Meal with a View at Nautika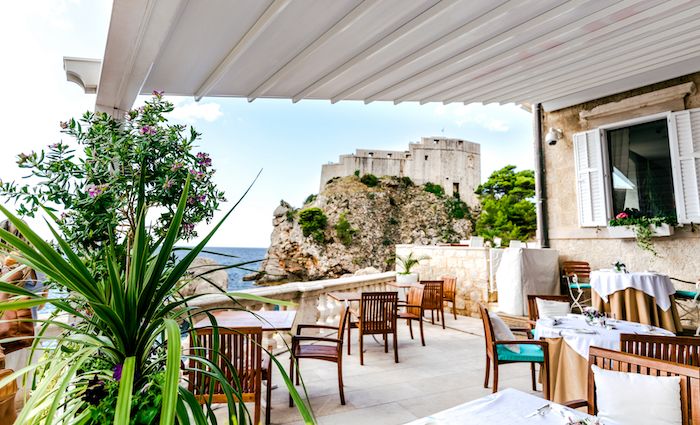 Ok, so at some point, you will definitely get hungry. But what if you want to eat while sightseeing? Well, we're here to tell you that you can do that. And you can even be sitting while you're doing it!
Enjoy a great meal at Nautika and the incredible views of the Adriatic and the Fortress Lovrijenac from its terrace. This is a fine dining experience with fresh ingredients sourced directly from the local fisherman. It doesn't get better than that.
Address: Brsalje ul. 3
4. Take A Swim And Play Picigin At Banje Beach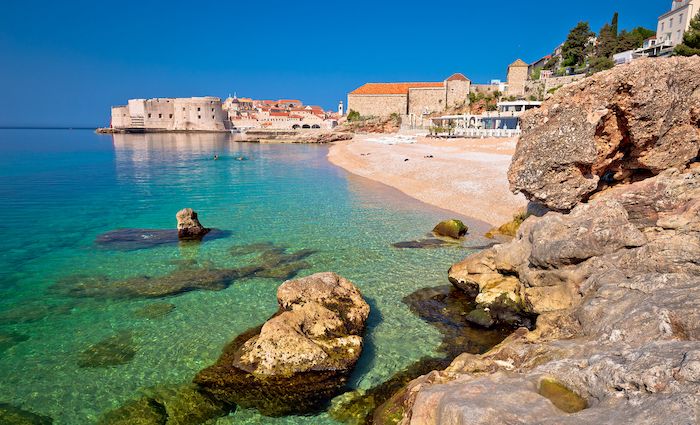 Banje is the most famous beach in Dubrovnik and with views of the beautiful Lokrum Island. But there's one thing you have to do here and it's not what you think—play picigin. It's a game played on the whole Croatian coast, usually with a small hardish ball.
The aim of the game is to hit the ball with any part of your body and prevent it from going into the water. There is no limit on the number of players and people normally play it in the shallow areas of beaches. But remember, you have to hit it in an attractive way and help someone else to do the same.
Address: Banje Beach
3. Go To Lokrum Island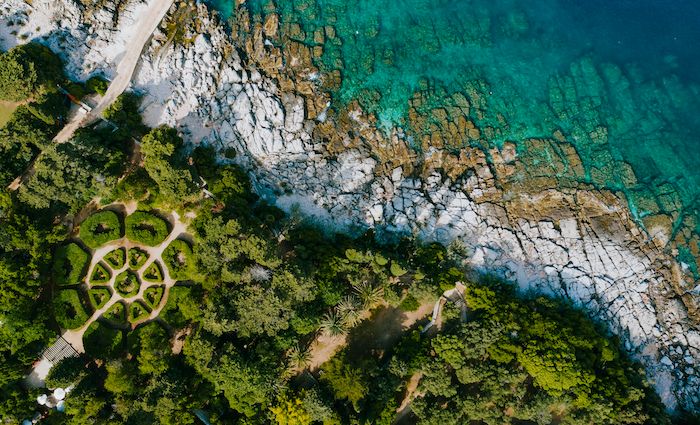 There are a few reasons why Lokrum is one of our top things to do in Dubrovnik. The island has a hidden star-shaped fort named Royal and a little lake called Dead Sea. There is also a legend of King Richard the Lionheart visiting the island. And it is only ten minutes away from Dubrovnik!
It has a beautiful botanical garden for nature lovers. But beware the curse! Some locals may tell you that if you take anything from Lokrum with you, it will bring you bad luck. Come see the beauty and enjoy yourself, just don't take anything with you.
Address: Lokrum Island
2. Explore Westeros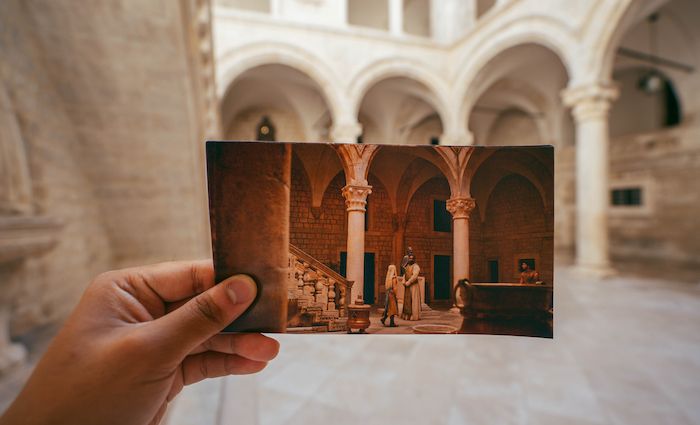 You may already know that Dubrovnik was the scene of King's Landing in HBO's "Game of Thrones", but there's more. This city is rich with history, so the producers of the show found a few more interesting locations to film.
If you want to explore the Red Keep and Blackwater Bay, you can! Don't be like Jon Snow and know nothing. There are Game of Thrones tours to guide you through all the ins and outs of Westeros that can be found in Dubrovnik!
Not ready to book a tour? Read more in our Dubrovnik Guide.
1. Walk On The Walls of Dubrovnik (With A Guide)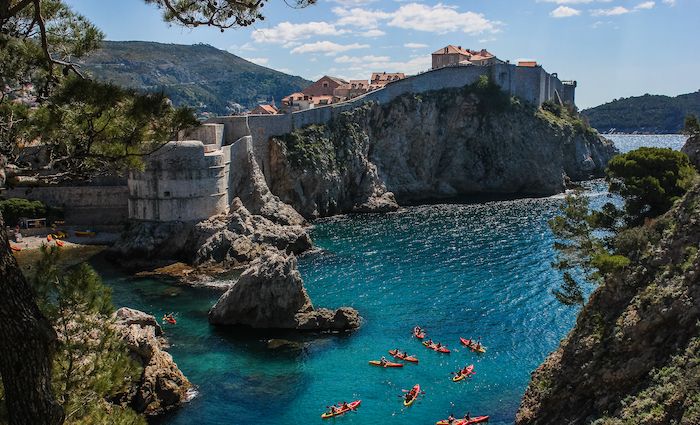 This is definitely the number one tourist attraction in Dubrovnik. The City Walls were built to keep attacking warriors out, but now they are the main reason why tourists come. The first parts of the walls were built in either the seventh or eighth century. Over time, the building continued up to the 13th and 14th centuries when they got the signature look that we now know.
Since the walls are so popular with tourists, there is an admission fee. To fully enjoy this experience, you might want to get a tour guide. Or should we say, The Tour GUY. Without a doubt, one of the top things to do in Dubrovnik is to walk on the City Walls with a proper guide. It is a unique experience and the views are incredible.
Address: Walls of Dubrovnik
Not ready to book a tour? Read more in our Dubrovnik Guide.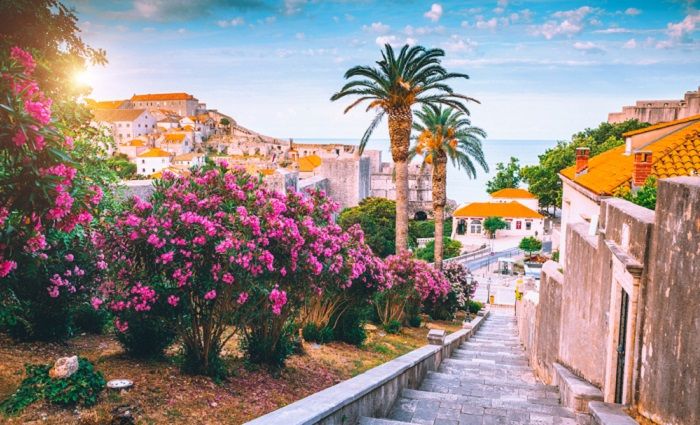 Find the best places to stay
Where To Stay in Dubrovnik
Deciding where to stay in this historical city of Dubrovnik, Croatia is easy with our local's guide to the best hotels and neighborhoods. From Old Town to the beach, you'll love your stay here!