Las Vegas rarely has foul weather—just blisteringly hot weather. Clear skies and warm evenings make it the perfect place to enjoy an evening on a rooftop bar. Las Vegas is all about delivering the best experience for visitors, so you won't be short on places to check out. On your next trip to this desert oasis, refresh yourself at one—or all—of these best rooftop bars in Las Vegas.
---
Pro Tip: It's easier to organize your trip when you have all your resources in one place. Create a browser folder and bookmark this post along with our Las Vegas Guide for more planning resources, our top Las Vegas tours for a memorable trip, and the top drinks to try in Vegas.
The Best Rooftop Bars in Las Vegas
Travelers to Las Vegas are looking for a chance to kick back in style or party it up at every waking moment. Whatever the reason you go to Vegas, there's a fantastic rooftop bar waiting for you. Here you'll find a new favorite place to spend your evening from beach-vibe nightclubs and whiskey joints to decadent luxury at the city skyline.
Sip champagne, cool cocktails, wild whiskeys, and craft beers, all carefully curated to taste perfection. A few of the locations on our list are also a little more loungey if that's your style too. Here's our list of the best rooftop bars in Las Vegas. If you're looking to have some fun in Vegas, definitely check out our cool Las Vegas tours.
Not ready to book a tour? Read more in our Las Vegas Guide.
Beer Park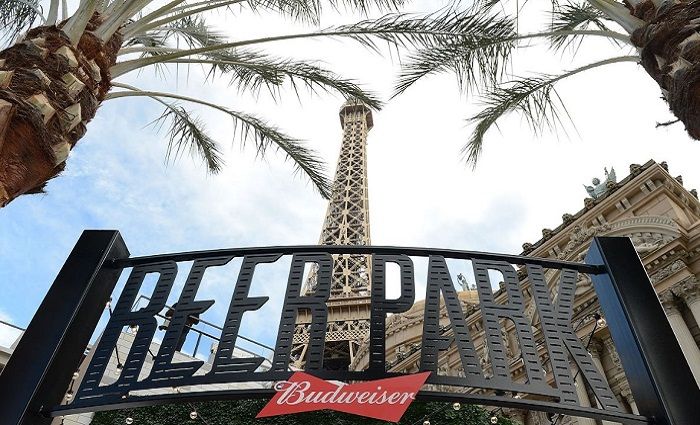 $$ | Sports Center | Community Vibes | Beers All Around
An early arrival in Vegas shouldn't preclude you from hitting up a rooftop bar in the afternoon. Get started here at the Beer Park. On this 9,000-square-foot outdoor deck or 10,000-square-foot indoor bar, you can order one of a hundred different beers while you watch your favorite sports team play on TV.
For a fun twist, turf covers the deck like a re-imagined baseball field that has communal picnic tables instead of a diamond. Here you can play giant Jenga, pool, and darts all afternoon. And don't worry—Beer Park has misters set up throughout the deck to keep you cool. After your team wins, take some selfies with the Bellagio Fountains or the Eiffel Tower as your backdrop.
Address: 3655 S Las Vegas Boulevard (inside Paris Las Vegas)
Legacy Club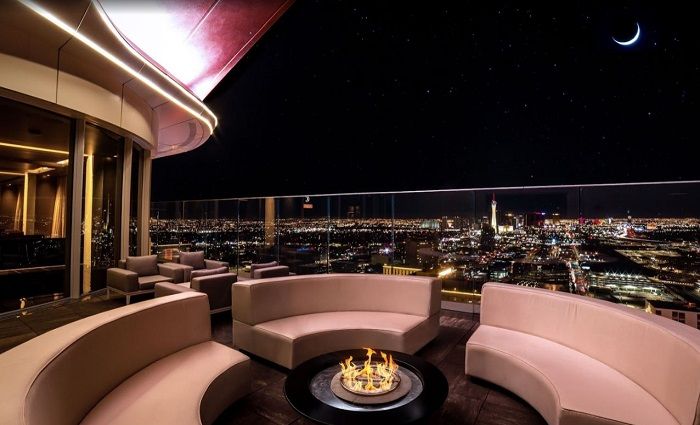 $$$ | Old Vegas charm | Stunning Panorama of Downtown
Located in the Circa Resort & Casino, the Legacy Club takes the cake for stunning panorama views across the city of Las Vegas. Since it's located in the heart of old Vegas, the owners made sure to pay homage to the icons who made Vegas what it is today. As you step off the dedicated, 60-story elevator, snap a picture next to the bust of your favorite Las Vegas legend.
Book their sunset package to guarantee a reserved fire pit with cocktails right at sunset. Or sign up for their Elevated Spirits Craft Cocktail Course where you can learn to make your own craft cocktails the right way. Fine evening attire is required, so dress to impress!
Address: 8 E Fremont Street
Oak & Ivy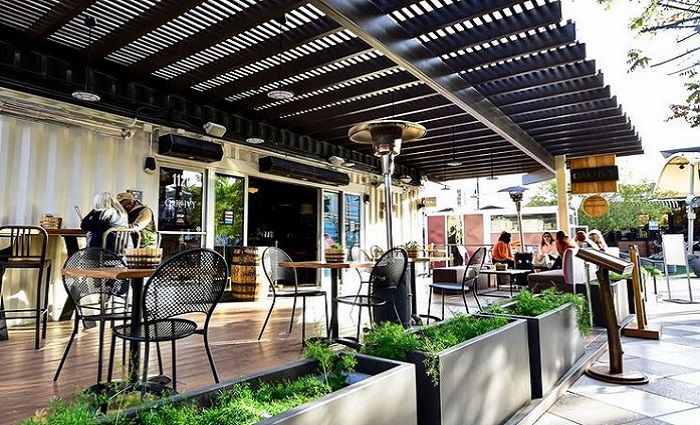 $$ | Award-Winning Whiskey Bar | Rave Reviews | Quirky Location
Oak & Ivy is practically a hidden gem on Fremont Street—partly because it's located in a literal shipping container park. That's Vegas for you. If you want an out-of-this-world flavor sensation, the bartenders here at Oak & Ivy deliver. Mixology knows no bounds here with the variety of rare and special flavor pairings available.
Try a summer cocktail like You Got Jammed that's perfectly balanced with lager, passion fruit, lemon juice, and boysenberry jam. Or stick to a classic whiskey cocktail like Blinker or Whiskey Smash which can be customized to the season. Even if you're not staying in downtown Las Vegas, the trip to this rooftop bar is worth the effort.
Address: 707 E Fremont Street
Skybar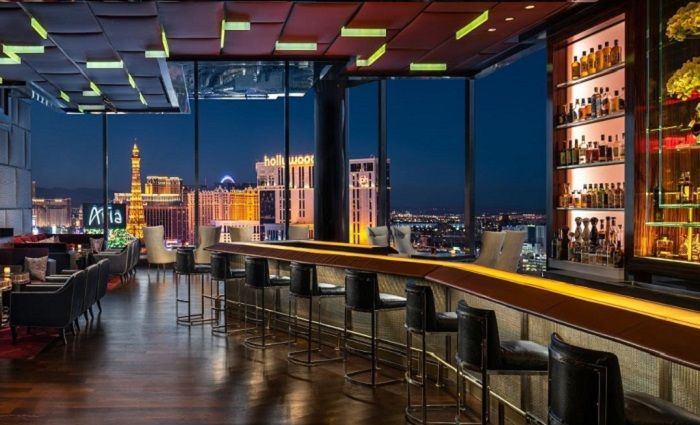 $$$ | Floor-to-Ceiling Windows | Fine Dining
If you want a rooftop experience without the summer heat or winter nip, try the Skybar. Located at the Waldorf Astoria, you can head up to the Skybar on the 23rd floor. The floor-to-ceiling windows reveal the Vegas skyline in all its glory. Enjoy the elegant vibe here as you try the fine dining and perfect drink pairings.
You'll love reading about the history behind each drink's name. They're specifically chosen to reflect the history of Las Vegas and it's surroundings, from past to present. We recommend The Meadows, Boulder Dam, and The Strip.
Address: 3752 S Las Vegas Blvd
Foundation Room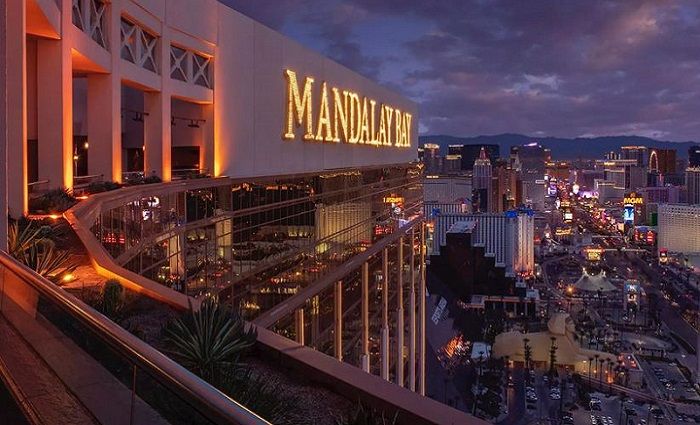 $$$$ | Indoor and Outdoor Luxury | Spectacular Views
After a day at the impressive Mandalay Beach pool, stick around for dinner and drinks on the equally impressive rooftop bar called Foundation Room. Actually, it's more than just impressive. It's sophisticated yet cool extravagance that wows at every turn.
High above the Strip at 63 floors, the mood starts off romantic, almost seductive, before picking up the pace with live DJs playing under the neon glow. There are plenty of spaces to view the city on this spacious terrace.
If you're hungry, make sure to dine here too. Feast on delicious entrees of fresh seafood, vindaloo tacos, or prime center cut filet while sipping on a Good Karma Margarita, a Ginza Fashioned, or your favorite after-dinner bourbon.
Address: 3950 S Las Vegas Blvd
Commonwealth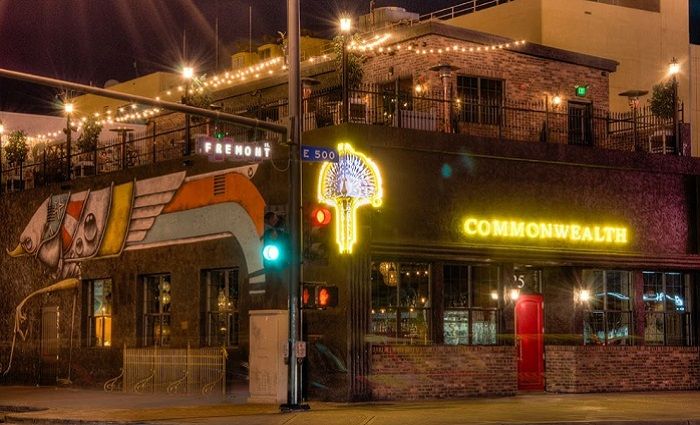 $$ | Prohibition Vibes | Charming, Hip, and Vintage
Commonwealth earned its place on this list of best rooftop bars in Las Vegas. It's airy, charming, boozy, and swanky all in one, and completely decked out with industrial steel, crystal chandeliers, and vintage photos. You can hang out inside the bar or head to the rooftop to take in the awesome views of the iconic Fremont Street as you dance and drink the night away.
On Fridays and Saturdays, they have live piano music or DJs playing EDM to keep the energy high. For a truly exclusive experience, members can slip into the hidden speakeasy called The Laundry Room. We recommend trying the Willy Wonkas Hangover and Benevolent Nod (inspired by Morgan Freeman).
Address: 525 E Fremont Street
Drai's Beachclub & Nightclub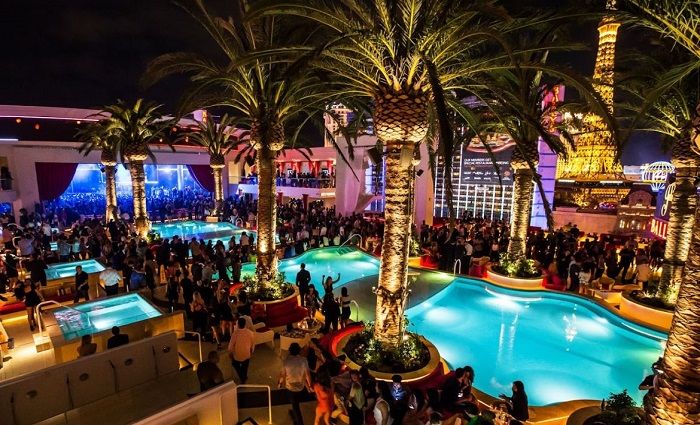 $$$ | Party Scene | Rooftop Pools and Hot Tubs
If you're looking for the biggest party scene located on a rooftop, then Drai's is the place to be. With pools, palm trees, hot tubs, cozy booths, and a concert floor, the atmosphere stays lit all night long. Live DJs bring high energy most nights of the week, with the big names in hip-hop and rap expected to pass through.
You can party all day and night here, dipping into the pool to stay cool or chilling on one of the many multi-level patios to catch some shade. While there have been complaints about slow drink service or a less-than-VIP experience for VIP packages, this is still one of the best hip-hop rooftops clubs in Vegas, which is why it's on our list. Looking for more nightclubs like this? Check out our list of the best nightclubs in Las Vegas.
Address: 3595 S Las Vegas Blvd (at the Cromwell hotel)
Skyfall Lounge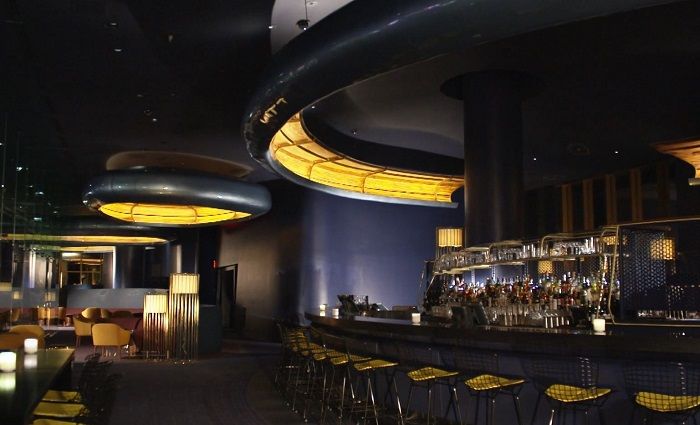 $$$ | James Bond Inspired | Laid-Back but Posh
If James Bond were to choose a rooftop bar, it would be Skyfall. The futuristic, modern style reeks of posh elegance without being pretentious. Head to the 64th-floor of the Delano and take a seat inside the lounge or opt to sit on the open-air patio that overlooks the entire South Strip, including the dramatic Luxor beam.
Selfies are a must here. DJs play eclectic sounds and easy beats to keep the mood perfectly balanced. Order quick bites from the next-door Rivea restaurant to go with your hand-crafted cocktails—shaken not stirred, of course. Then try the After Glow that has an espresso shot to get your night going, the Lagunitas Downtown Pale Ale, or one of their seasonal cocktails.
Address: 3940 S Las Vegas Blvd (inside the Delano at Mandalay Bay)
Bouchon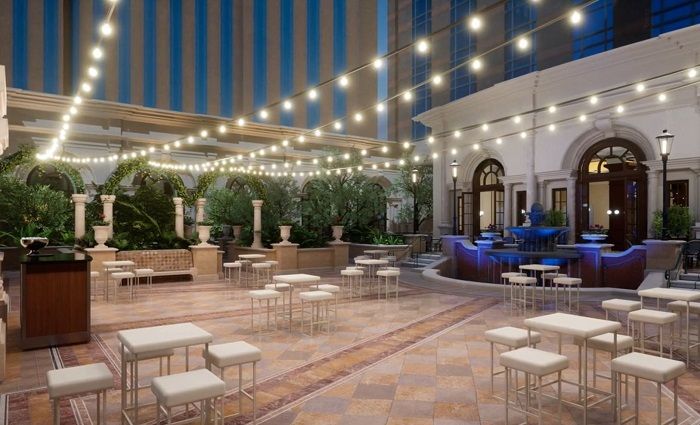 $$$ | French Cuisine | European Outdoor Dining
Technically, Bouchon is a French restaurant that happens to have an outdoor terrace for dining, but to be honest, it's so gorgeous that it might just be what you need to unwind in a more relaxing atmosphere. Here at Bouchon, you can experience Michelin-star dining al fresco on the hidden 10th-floor patio of the Venetian hotel. And of course, incredible French wine on a rooftop bar.
You get the atmosphere of Vegas indulgence but without the hustle and noise of the busy Strip. Stop here for brunch or dinner and take in the peaceful setting, delightful aromas, and mouthwatering food and drinks. Ask your waiter to pair your meal with one of their extensive international wines or the day's specialty drink that's handwritten on chalkboard signs.
Address: 3355 Las Vegas Blvd South (10th floor of the Venetian)
Not ready to book a tour? Read more in our Las Vegas Guide.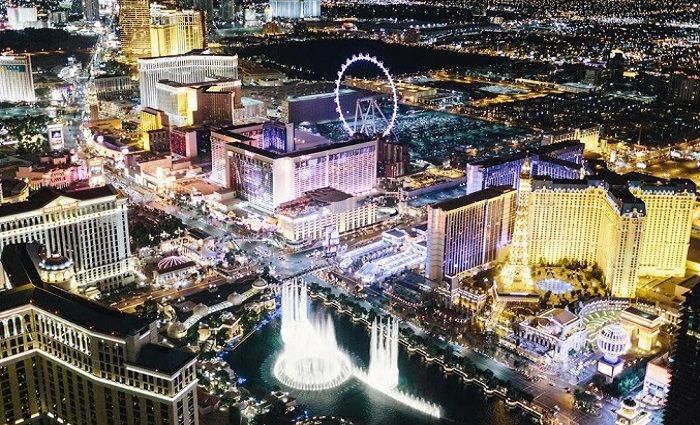 Find the best places to stay
Where to Stay in Las Vegas
Discover some of the most iconic and best places to stay in Las Vegas to make this trip the most memorable of all your trips to the Strip