Deep down, I travel because I want my days on Earth to be as memorable as possible. Adding cool experiences to your travels makes your trip even more memorable and what is cooler than a great meal with a view of the Florentine skyline? Here are the best hotels with rooftop restaurants in Florence.
---
Our Partnership with Booking.com. If you like our content, please book by clicking on our Booking.com links. The price is the same for you and we get a small commission that helps support our helpful blog content. We've partnered with Booking.com because they have the most options, great prices, and a solid loyalty program.
Best Florence Hotels with Rooftop Bars & Restaurants in 2021
What is better than an Italian restaurant in Italy? One with a great view!
The Westin Excelsior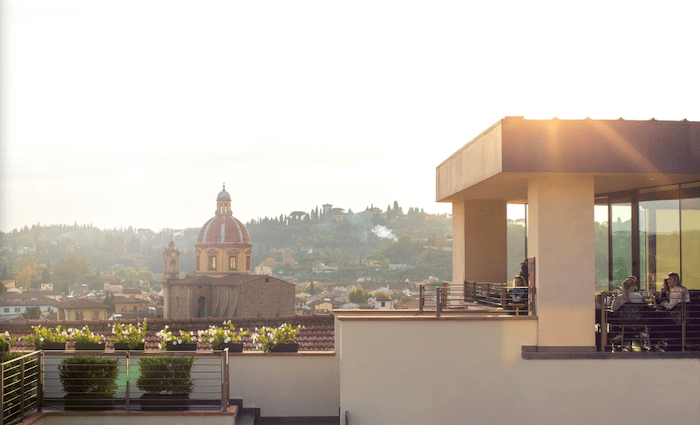 €€€€+ | 5 Star | Luxurious & Grand | Ponte Vecchio | Rooftop Restaurant
The Westin has many great properties throughout the world and this one is no exception. The structure is massive with many rooms of varied typologies. There is a rooftop restaurant, Se Sto on Arno Rooftop, that has some of the best views in Florence.
If you are looking for a large accommodation with tons of amenities in the center, the Westin is a great option. The restaurant is fantastic which comes with a price but likely will be a life-long memory!
Hotel degli Orafi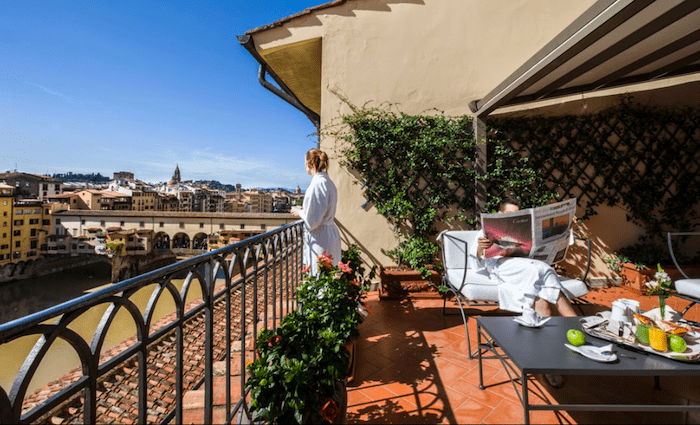 €€€ | 4 Star | Rooftop Bar | Ponte Vecchio/Uffizi
I have not been to this panoramic bar personally, but it appears to be a rooftop location that is partially enclosed with very good views of the city. This hotel is one of our recommended hotels regardless of the rooftop bar which would make it a solid choice.
Check Out Our Top Florence Tours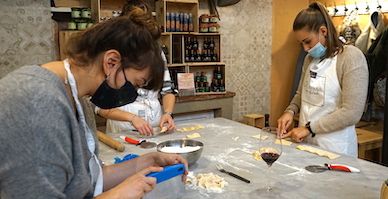 Top Rated Tour
Authentic Tuscan Cooking Class in Florence with San Lorenzo Market
Beginning in the famous San Lorenzo Market, pick your high-quality ingredients from stalls that have called the market home for generations. Then head to our kitchen where you will learn and cook mouth-watering dishes with an expert and entertaining chef. Try Florence's best dishes that you'll be able to replicate at home, reminding you of this wonderfully memorable experience.





Starting at €99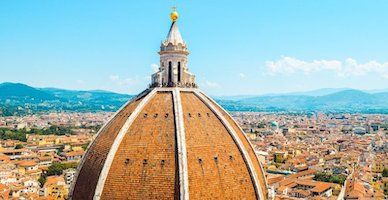 Likely to Sell Out
Skip the Line Florence Duomo Tour and Dome Climb with Secret Terraces
Join this tour for a VIP experience in Florence. Walk through the city's famous Gothic cathedral before heading to the dome with an expert storytelling guide. Over 100 feet above ground, discover Florence's panorama from the exclusive terraces that had been closed to the public for centuries. From the terraces, head to a secret area accessible only on this tour, before heading to the top of the Cupola. At the top, take in the stunning panorama of Florence with incredible frescoes up close.





Starting at €69
Hotel La Scaletta Florence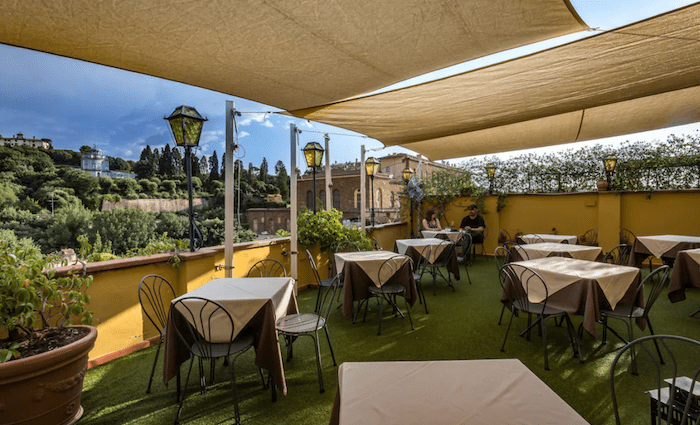 €€ | 3 Star | Rooftop Restaurant | Pitti Palace
Hotel La Scaletta is a really nice find in Florence. It is just over the Ponte Vecchio from the "happening" center of Florence which means you can walk to Uffizi or the Florence Cathedral. At the same time, it is tucked back into the Santo Spirito neighborhood which is a little less crowded but has tons of great restaurants and places to grab a drink.
You also get amazing views of the Medici Boboli Gardens and the more "rural" side of Florence. For me, this is a great choice for families with kids or travelers who like to see a different side of Florence.
Hotel Torre di Bellosguardo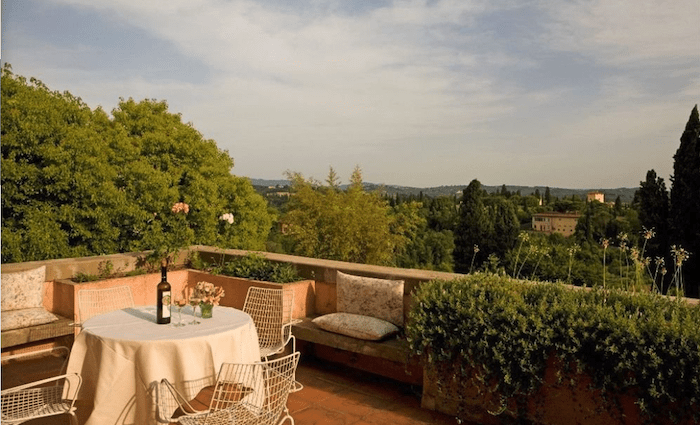 €€€ | 4 Star | Countryside | Pool | Rooftop Dining
Hotel Torre di Bellosguardo is a great option for an adventurous traveler looking for some green-space. It is definitely not in the "center" of Florence but still has a Florence address.
Florence goes from city to countryside much faster than a city like Rome which is one of the things I like about it. If you have kids and want to have a memorable and slightly different experience than most, consider Bellosguardo or another "outside of Florence" style hotel.
Grand Hotel Minerva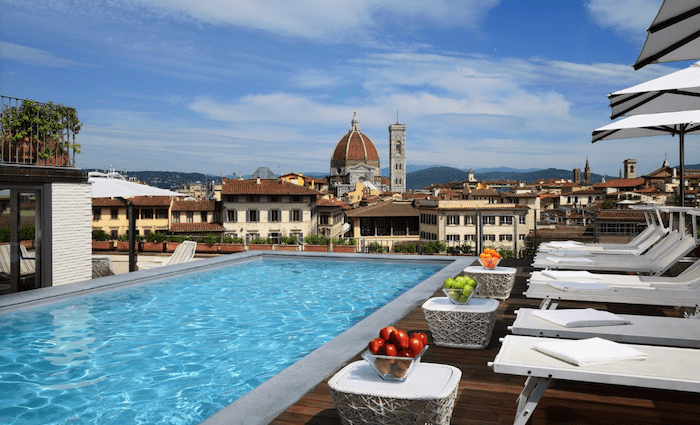 €€€€ | 4 Star | Rooftop Pool & Bar/Dining
Grand Hotel Minerva is a great option if you want a central location in Florence, a pool, and rooftop dining. All you need in return is a lot of money!
The hotel is a very nice hotel and actually reasonably priced considering how nice it is, all the amenities, and the location. In June you'll pay over $400/night which puts it in the top tier, but if you have that type of cash to spend then this one literally checks all the boxes.
Tours of Chianti & Florence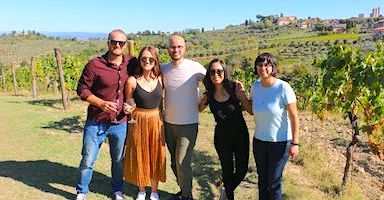 Top Rated Experience
Chianti Day Trip from Florence with Vineyard Lunch
Want to have an epic experience in Tuscany? Remove the guesswork and logistics by joining us on a day trip to Chianti from Florence including Siena. Transportation, lunch, and lots of wine included!





See Prices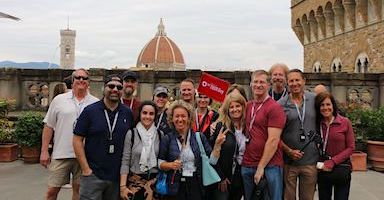 Best Selling Tour
Florence in a Day Combo Tour with David & Uffizi
This tour is your best value in Florence. See Michelangelo's David statue in the Accademia Gallery with a licensed guide and the Uffizi Gallery. It also visits the Florence Cathedral (outside), Baptistry Doors, Ponte Vecchio, and more. All your admissions are included to skip the lines and visit these great museums with an English speaking guide.





See Prices