In a country with as much to see and do as Italy, knowing your plans ahead of time is important. It may feel as if one day in any city is not enough time, but a day trip from Rome or Venice is an excellent way to see the best of Florence. This itinerary will help you make the most of your time. Or, if you'd rather have us handle the details, check out the Florence in a Day Tour.
---
Pro Tip: Planning what to do on your trip to Florence? Bookmark this post in your browser so you can easily find it when you need it. Check out our guide to Florence for more planning resources, our best Florence tours for a memorable trip, and the top things to do in Florence.
Not ready to book a tour? Check out our article on the best Florence tours to take and why.
Florence In a Day Itinerary
If you can, we highly recommend spending more than just one day in Florence. That said, when your travel time is limited, it's better to see Florence than miss it altogether.
This is also a great first-day itinerary for anyone spending a weekend in Florence or longer who wants to see it all. With this itinerary, you'll stop by the top sights in the city like the Santa Maria del Fiore Cathedral (Il Duomo), Ponte Vecchio, and Piazza della Signoria.
You'll also take in Florence's top Accademia and Uffizi galleries and make some food stops at the Mercato Centrale and Gelateria Edoardo. You can fit it all into a day if you're focused! Here is your 10-stop Florence in a Day Itinerary:
Stop 1: Getting To Florence
Centrally located between Milan, Venice, and Rome, Florence is easily accessible by train. This makes seeing the city in a day easier than it sounds. We suggest booking your ticket to Florence's Santa Maria Novella Train Station in advance to get the best price. Catching an early train is the best way to ensure you have plenty of time to see all the sights. Visit the Trenitalia website to check train times and prices.
Address: Santa Maria Novella Train Station
Stop 2: Accademia Gallery
15-minute walk from Santa Maria Novella Train Station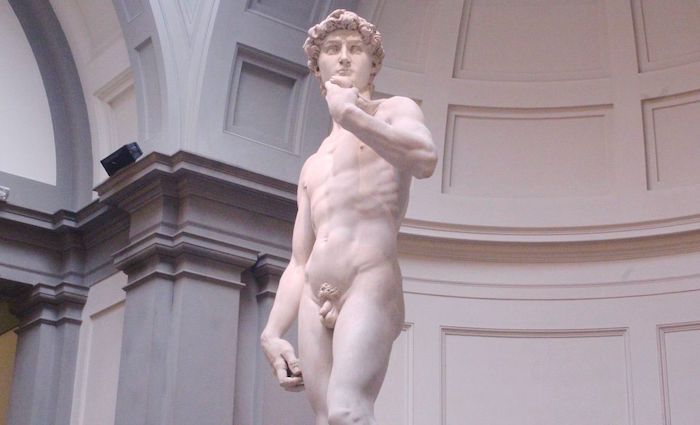 From the Santa Maria Novella Train Station, the Accademia Gallery is about a 15-minute walk. This is a very popular site, as it is home to Michelangelo's David, so we recommend arriving before 9:30 am.
During the high season, it gets extremely crowded, so we recommend reserving tickets online ahead of time to ensure entry and the cheapest price. If you want a passionate and knowledgeable guide to help you navigate the gallery, check out a Florence tour that includes Michelangelo's David.
Address: Via Ricasoli, 58/60 | Hours: Tues – Sat 8:15 am – 6:50 pm
Not ready to book a tour? Find out if an Accademia and David tour is worth it.
Stop 3: Mercato Centrale
8-minute walk from the Accademia Gallery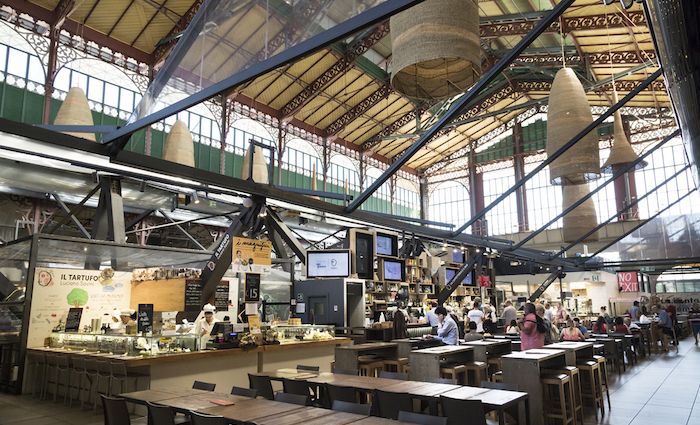 After exploring the Accademia Gallery, you'll certainly have worked up an appetite. Take an 8-minute walk to the Mercato Centrale where you can satisfy your hunger. Fuel up for a day full of Florence sightseeing with coffee, fresh fruit, or a snack.
Wander the two-floor market with a variety of fresh Italian foods and pack a picnic lunch to take with you or eat like a local on the second floor, where the market is set up similar to a food court.
Address: Piazza del Mercato Centrale, Via dell'Ariento | Hours: Mon – Sun, 9 am – 12 am
Stop 4: Florence Cathedral of Santa Maria del Fiore (Il Duomo)
10-minute walk from Mercato Centrale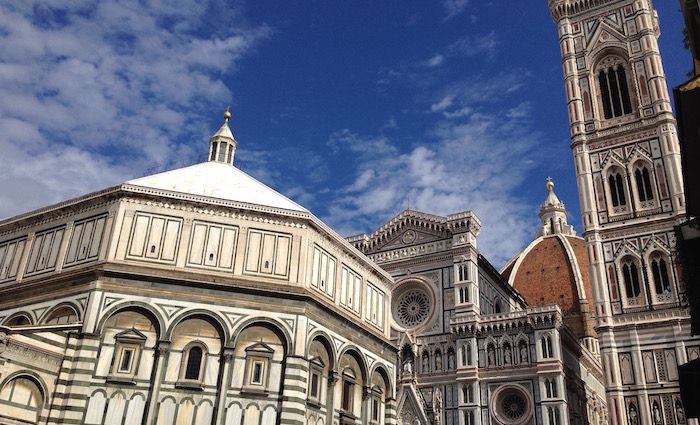 Another short walk away is the Duomo, a massive cathedral in the center of Florence. Construction began in 1436 and lasted over 100 years during the height of the Florentine Renaissance. From the outside, you can see the dazzling colors, towering bronze doors, and distinguishable cupola or dome.
You can choose to enter the cathedral for free or purchase an €18 ticket that includes access to Brunelleschi's Dome, Giotto's Bell Tower, the Baptistry of San Giovanni, the Crypt of Santa Reparata, and the Opera Museum. Make sure to check the hours online as they may vary based on seasons and religious holidays.
With its rich history, seeing the Duomo with an expert guide elevates the experience to a whole new level. Check out our skip-the-line Florence Duomo tour with dome climb and access to the secret terraces for breathtaking views. There's no better way to see Florence's crowning jewel.
Address: Piazza del Duomo | Admission cost: Free to enter the Cathedral; €18 for special areas ticket
Not ready to book a tour? Check out our best Florence tours to take and why.
Stop 5: Gelateria Edoardo
3-minute walk from Santa Maria del Fiore Cathedral
Did you know that Florence is the birthplace of gelato? Family-owned and stocked with authentic flavors, Gelateria Edoardo is only a 3-minute walk from Duomo. This shop offers organic gelato with recipes that are over 100 years old. For a sensational experience, try one of their hand-made cones loaded up with several scoops.
Address: Piazza del Duomo, 45/R | Hours: 11:30 am – 11 pm
Uffizi Gallery Tours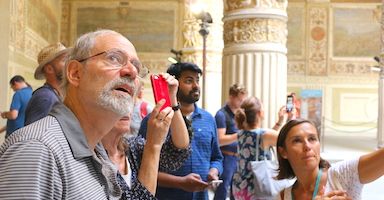 Top Rated Tour
Skip the line Uffizi Gallery Tour
The Uffizi Gallery is the most visited museum in Florence for good reason. Join our English-speaking, licensed Uffizi guide for a journey through the Medician Renaissance. Learn all the stories behind the very art that brought our world out of the darkness. All admissions included.





See Prices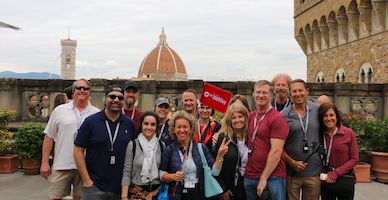 Best Selling Tour
Florence in a Day Combo Tour with David & Uffizi
This tour is your best value in Florence. See Michelangelo's David statue in the Accademia Gallery with a licensed guide and the Uffizi Gallery. It also visits the Florence Cathedral (outside), Baptistry Doors, Ponte Vecchio, and more. All your admissions are included to skip the lines and visit these great museums with an English speaking guide.





See Prices
Not ready to book a tour? Check out our Florence Guide for more info.
Stop 6: Ponte Vecchio
9-minute walk from Gelateria Edoardo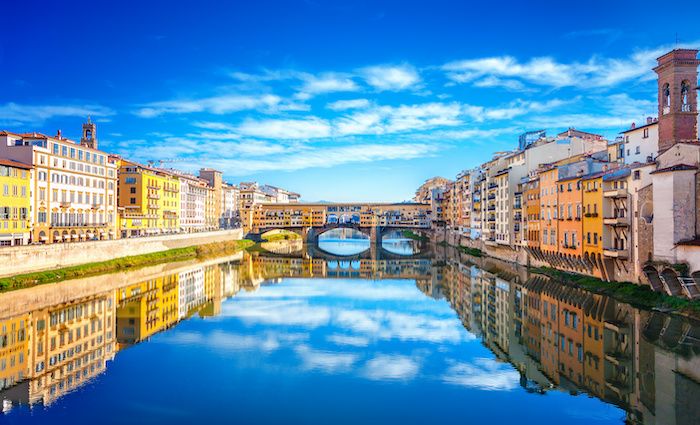 After dining on what foodies consider the best food in the city, walk 9 minutes to Ponte Vecchio, one of Florence's oldest landmarks. It is the only bridge to cross the Arno river and the only one the Germans didn't destroy during WWII. Instead, they demolished the buildings on either side of the bridge to block access.
A unique feature of the Ponte Vecchio is the shops built into the structure, most of which sell jewelry and gold. You won't want to miss this iconic landmark in Florence.
Address: Ponte Vecchio
Stop 7: Piazza della Signoria and The Uffizi Gallery
4-minute walk from Ponte Vecchio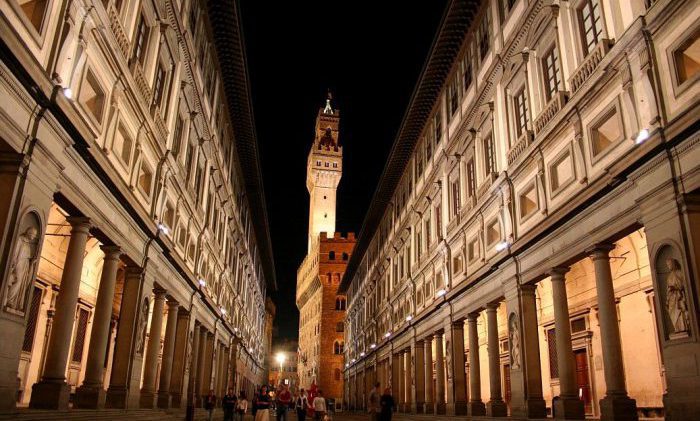 Right around the corner from the Ponte Vecchio is Piazza della Signoria, a Florentine outdoor art gallery. This jaw-dropping square is surrounded by statues, monuments, and fountains that enhance the area surrounding the Uffizi Gallery. This is also where the Palazzo Vecchio is, which now serves as the town hall of Florence.
Next head to Florence's must-see museum. There are quite a few top works of art to see at the Uffizi, including Botticelli's Birth of Venus. A great idea is to schedule a guided tour of the Uffizi Gallery. We have a few top-rated tours that bring the gallery to life.
Address: Piazza della Signoria | Uffizi Gallery
Not ready to book a tour? Find out if an Uffizi Gallery tour is worth it.
Stop 8: Basilica of Santa Croce
10-minute walk from Piazza della Signoria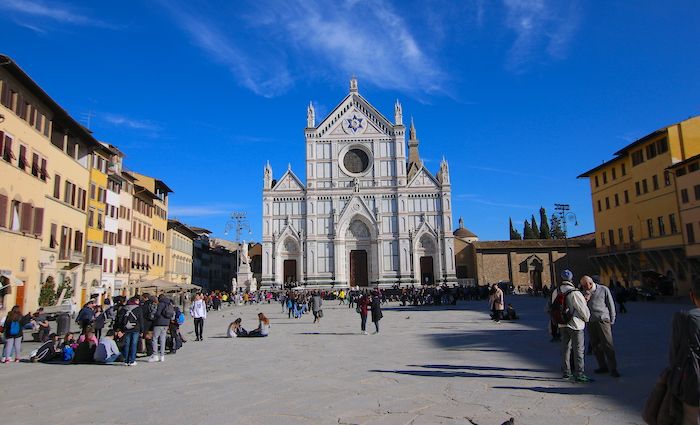 Head over to the Basilica di Santa Croce. This stunning church is the final resting place of Michelangelo and Galileo. Soak up the culture and history in the piazza where the church is located.
This is a great place to take photos and people-watch while sitting and relaxing. Book tickets in advance to avoid waiting in line. Hours may vary based on season and religious holidays.
Address: Piazza di Santa Croce, 16 | Hours: Mon – Sat, 9:30 am – 5:30 pm; Sun, 12:30 pm – 5:45 pm
Admission cost: €8 for adults and free for children under 18 if accompanied by parents paying for admission. Individual tickets cost €6 for visitors aged 12 – 17 years.
Stop 9: All'Antico Vinaio
5-minute walk from Basilica of Santa Croce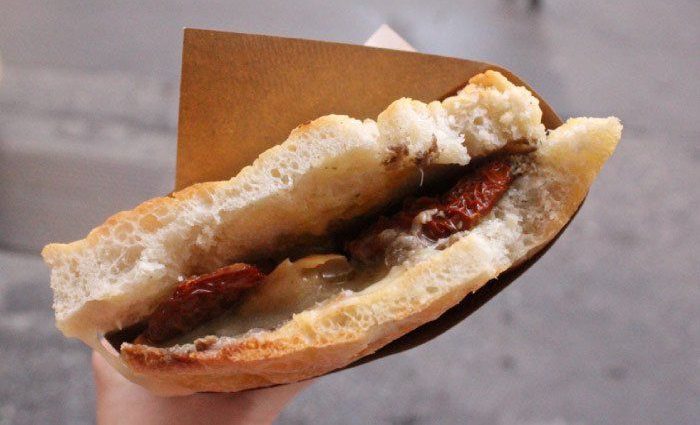 Unfortunately, this Florence day trip is coming to an end. If you're getting hungry and think you want a snack for the train, stop at All'Antico Vinaio for a Florentine panino sandwich.
The choices are endless and the servers are more than helpful with suggestions at this popular street food stop. A favorite is the porchetta or pork sandwich paired with a glass of Tuscan wine. Buon Appetito!
Address: Via dei Neri, 74/R
Stop 10: Fontana del Porcellino
4-minute walk from All'Antico Vinaio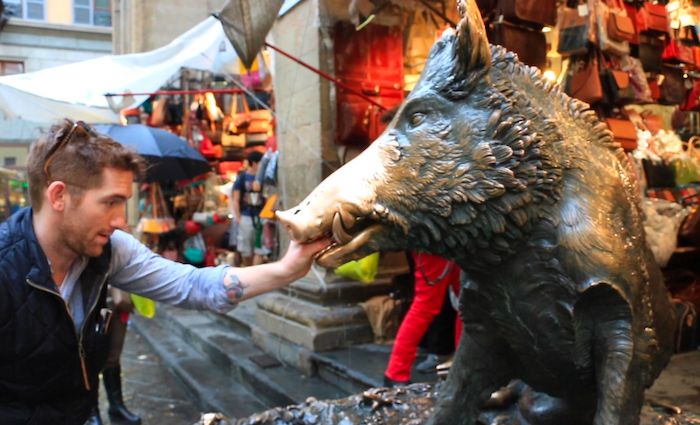 On your way back to the train station, stop at Il Porcellino, a bronze pig fountain with folklore stating that rubbing the pig's nose before leaving Florence ensures you'll return safely.
Another story says your wish will come true if you put a coin inside the Porcellino's mouth and it gets washed down into the grate below it. The coins are used to support a local orphanage, so partaking in this tradition ends your Florence day trip with a good deed. From here, it's back to your hotel or the train station. Arrivederci!
Address: Piazza del Mercato Nuovo
Take a Florence in a Day Tour
Prefer to have someone show you around Florence on a walking tour? Be sure to check out our Florence in a Day tour. It includes skip-the-line tickets to the Accademia and Uffizi Galleries with an expert guide. You'll also enjoy a walking tour of Florence that gets you up close to the Duomo, Palazzo Vecchio, Ponte Vecchio, and the district where Dante grew up.
Not ready to book a tour? Check out our article on the best Florence tours to take and why.