Many consider Paris to be the most beautiful city in the world. It has a long history of amazing art and delicious food.
It is one of the most visited locations on Earth, with tens of millions of visitors each year. This suggested Paris in a Day itinerary starts at 8:45 a.m. and ends at 8:45 p.m.
We don't recommend spending only one-day in Paris.  This is simply a great one-day itinerary that gets in the main highlights.  Perfect for your first day in Paris.
---
Last Updated:
August 20, 2020
Tips & Structured Options
This is a great post to bookmark in your browser or print into a PDF.  You can form a folder that can become a lightweight mini-guidebook.  We also have a great post on some things you should know before traveling to Paris.
Its great to romanticize about walking around Paris aimlessly all day but some structure can go a long way.  Check out our best tours in Paris for your trip!
Paris in a Day Itinerary
---
France borders eight countries including Germany, Italy, Spain, Switzerland, Belgium, and England (by sea).
You can take a short flight or train from any country in Europe to Paris within hours. The two major airports are Orly (in the South) and Charles de Gaulle (in the North). You can read another post about getting around Paris including Uber.
Paris has one of the most comprehensive transportation systems on the planet, which is why the French feel so confident walking everywhere.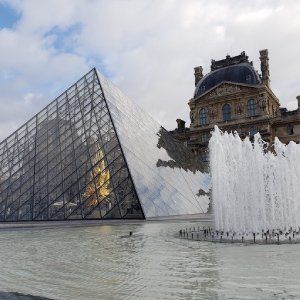 Arrival:8:45 AM
Address: Rue de Rivoli, 75001 Paris, France
Hours: Mon, Thurs, Sat & Sun: 9 AM – 6 PM, Wed & Fri: 9 AM – 10 PM
The Louvre is open daily from 9:00 a.m. to 6:00 p.m. and closed on Tuesdays. On Wednesdays and Fridays it's open until 9:45 p.m. during certain seasons.
Many say it's best to visit the Louvre in the morning when there will be fewer people inside. It's a massive museum, so you won't be able to see everything in one day. If you're in Paris only for the weekend, you probably want to limit your visit to about two to three hours.
This will give you enough time to visit the Louvre's main attractions like the Mona Lisa, Nike, Liberty Leading the People, and the Coronation of Napoleon paintings.
One of the best ways to see these highlights while also avoiding the lines is with a group tour, like our Insightful Louvre Tour with Mona Lisa and Venus de Milo.
12:15pm – Lunch on Île Saint-Louis
Arrival: 12:15 PM
Address: Île Saint-Louis
Hours: Shops close around 7pm, Restaurants between 10pm and 11pm and Bars around 2am.
Directions: Head to the river Sienne and take the main road, Quai de Louvres left if you are facing the river with Louvre at your back. Walk past the Island where Notre Dame is and Île Saint-Louis is next.  If you have data, google map it!
Île Saint-Louis is less about the restaurants and more about just experiencing it.  If you get warm weather and a bit of sun this is an amazing little place to sit outside and take it slow.
The island is situated right after the Island that Notre Dame is on and will only take 20 minutes by foot from the Louvre. It is a great little buzzing island and very close ot your next destination, Notre Dame, on this one perfect day itinerary of Paris.
Here are some possible Lunch recommendations with links to their locations.
The bottom two recommendations are probably where I would go.  Both are across the street from each other.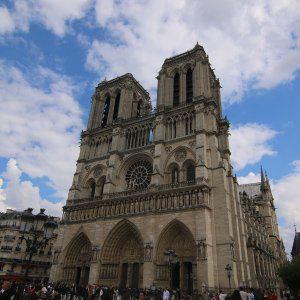 Arrival: 1:30 PM
Address: 26 Parvis Notre-Dame – Pl. Jean-Paul II, 75004 Paris, France
Directions: Your next stop is Île de la Cité, just a 5 minute walk from Île Saint-Louis. You'll be able to see Notre Dame from where you are so no sweat.
It is the birthplace of Paris and has been a part of the city for over 2,000 years. Notre Dame is located here and it is easily the most famous church in France.
The damage caused by a tragic fire in April 2019 means that visitors cannot go inside, but its stunning French Gothic architecture can still be appreciated from the outside.
There are also a number of other famous Parisian spots nearby. Check out Shakespeare and Company, an English bookstore across the street frequented by famous authors like Ernest Hemingway.
You can also enjoy a view of the Seine river from the oldest standing bridge in Paris, Pont Neuf. Finally, check out Hôtel de Ville on your way to the metro. It's Paris's main city hall and the architecture is amazing.
2:30pm – Luxembourg Gardens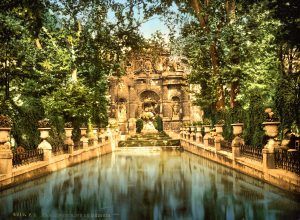 Arrival: 2:30 PM
Address: Le Jardin du Luxembourg 75006
Hours: 7:30am – 9:30pm or 8:15am – 4:30pm depending on season
Directions: Located in the 6th arrondissement of Paris between Notre Dame, your last stop, and Eiffel Tower which is your next stop. It is about a 15 to 20 minute walk from Notre Dame.
This is an excellent opportunity to sit down and take a snooze or walk around for a bit.  Like all things Parisian, the gardens are curated to perfection.
You could substitue this with another monument or must-see district but for me travel is about feeling connected to a city and appreciating it.  Not about taking photos in front of cool monuments.  Jardin du Luxembourg, as it is said in French, is a great way to mix in the main attractions with a beautiful relaxing setting.
4:00pm – Eiffel Tower
​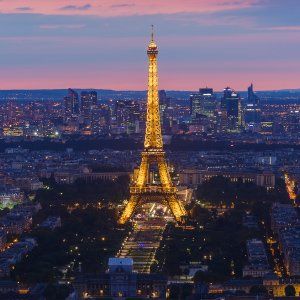 Arrival:4 PM
Address: Champ de Mars, 5 Avenue Anatole France, 75007 Paris, France
Hours: 9:30 AM  – 11:45 PM
Directions: I am not a big bus person so I would hop on a scooter from here to Eiffel.  Would take about 10 minutes.  If that is not your thing, take the bus 82 from Luxembourg to Champs de Mars.  Get off when you feel you are close enough to the Eiffel Tower.
The Eiffel Tower is one of the world's most famous monuments for a reason. It's breathtaking from both up close and afar. Trocadéro offers one of the best views from a beautiful platform about a half mile away.
From there you can walk across Pont d'Iéna to see it up close. And, while it may seem obvious that the Eiffel Tower lights up at night, did you know that every evening the Eiffel Tower twinkles for five minutes every hour on the hour?
It's a magical sight. If you want to go up the tower, we definitely recommend buying tickets in advance or joining a tour.
If you want a beautiful nighttime view of the Eiffel Tower and Paris, as well as skip the line tickets, consider joining our Eiffel Tower Night Tour and River Cruise to really experience the romance of Paris.
5:45pm – Le Marais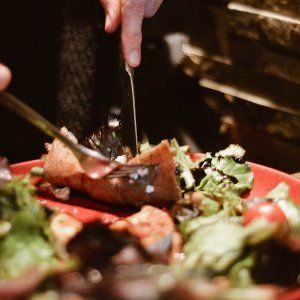 Arrival 5:45 PM
Address: Le Marais, Paris (neighborhood)
Hours: Shops close around 7pm, Restaurants at 11pm and Bars around 2am.
Directions: Your final stop of the day is a delicious dinner back in Le Marais. You can get there on bus #69.It will take about 40 minutes, but the route is beautiful and goes back past all your new favorite sights: the Seine, the Louvre, and Notre Dame.
Parisians tend to eat late and many places don't start serving dinner until around 7:00 p.m., so you have plenty of time to grab a glass of amazing French wine.
There are so many delicious options for dinner and drinks that it may be hard to choose.  Below you'll find a list of my favorite places but you should definitely check out our locally led food tour.  Our Le Marais Food Tour is a great way to learn about local food culture.
Check out this link for more Paris restuarant recommendations.
I Want More Paris!
Still not sure what to do in Paris? Let us guide you on one of our Paris tours.
Parlez-Vous Francais? Learn some of the most important French phrases before your trip to Paris.