You are heading to Paris and asking yourself if you should jump on some tours or DIY them. Great question, and we know the reasons why tours in Paris are worth it that you can consider while making your choice.
---
Pro Tip: Bookmark our Paris page on your mobile phone or desktop. It has restaurant recommendations, free and paid things to do, and much more. If you bookmark it on your phone, you'll be able to get back to it quickly while traveling.
Are Tours Worth It in Paris?
Short answer: Yes, of course. You can gain endless insight by exploring the City of Light with a local. There's so much history, art, and culture to learn about. Even if you know almost everything about everything, a local guide can only enhance your impressive knowledge.
Find What You Came To See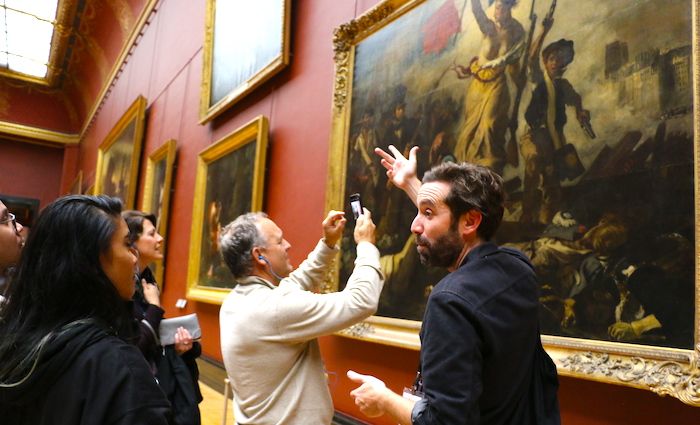 How do you find what you want to see in a place you've never visited? I also reserve a local guide when visiting museums with other art gurus and historians. A guide's job is to guide you from artwork to artwork and fill in the knowledge blanks.
Reserving a guide is the key to getting to know an attraction instead of just seeing it. If you have a substantial budget, you'll be best served by a private guide. If you want to find value for money, small group tours (SGTs) are ideal. SGTs are the most popular products we run.
We don't run large groups, but if you are very limited on budget, we recommend jumping onto what you can afford to expand your knowledge base.
Skip the Lines
Skipping lines is also a massive benefit. Admission lines to megamonuments can take hours to actually enter. Wasting your precious vacation time isn't ideal, so make sure to book a skip-the-line tour. You'll almost always have to wait in some security line, which makes sense. I don't think I want to visit an attraction where I can skip security these days.
Great Tour Guides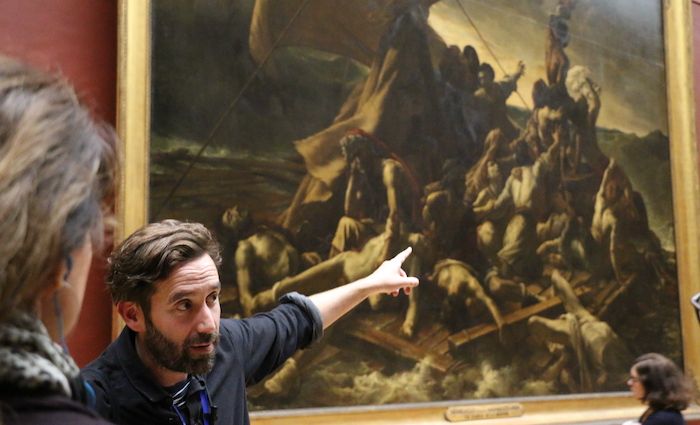 The essential element of a tour is the guide. I've seen excellent guides make a pile of rocks exciting and watched others botch the Louvre. Great guides normally flock to companies that run small group tours and pay well. We do both, so if you love your guide, remember to tip them!
Small Group Tours
Gone are the days of big groups of tourists roaming around cities like sheep. Today's great tour companies run tours of 10 to 20 people and often closer to 10.
You can rest assured that 99.9% of our tours will run with groups below 20 people. The ones that are above 20 people often access areas that have no other tourists. These are great reasons to join a tour.
Not ready to book a tour yet? Check out our guide to Paris for more info.
Which Attractions in Paris Need a Tour?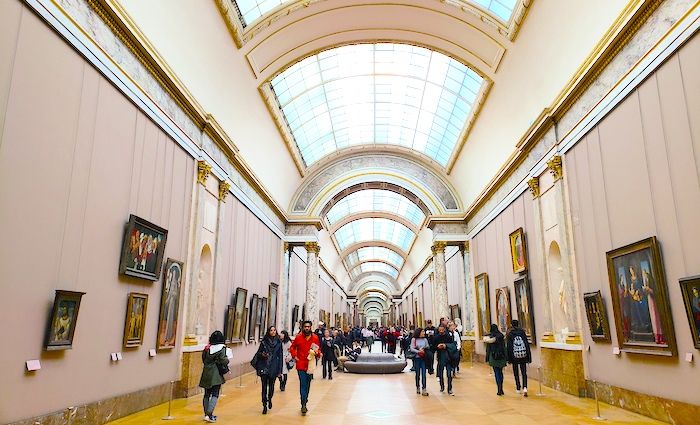 Paris is full of unmissable bucket-list attractions that you'll want to visit. It would be best to see as many as possible on your trip, but which monuments merit a tour? Here is my list of the top attractions you'll want to reserve a tour of in Paris.
Louvre
The Louvre is the world's largest and arguably greatest museum. Hundreds of thousands of paintings, sculptures, mosaics, cornices, and more line miles of corridor in a gallery that's considered art itself. So, is a tour of the Louvre worth it?
The Louvre contains 25% of Da Vinci's known works of art, including the Mona Lisa. A guided tour isn't even a question. If there is one place you must visit with a guide in Paris, it's the Louvre.
Book your tour of the Louvre in advance. The Louvre is changing the way it receives tours and guides in 2023. There will be fewer tours going inside to relieve crowds and improve the experience for all. If you want a tour of the Louvre and see the availability, you should book it asap.
Not ready to book a tour? Find out if a Louvre Museums tour is worth it.
Versailles
Once you have your Louvre tour booked, you should have Versailles on your radar next. You may be wondering if a tour of Versailles is worth it. The history, construction, and folklore of Versailles make it a great place to visit with a local guide.
Also, getting to Versailles from Paris is possible with mass transit but easy to get wrong. You can take a train to Versailles from a few places in Paris, but there are two stops for Versailles, one of which is within walking distance.
It is something the savvy traveler can figure out, but you can avoid the guesswork with a tour guide. From there, reserving tickets for Versailles can be complicated and the lines are tough. Even if you have tickets, you may have to wait in line to get inside—with a guide you can enter much faster. The benefits are plentiful, which makes a Versailles tour attractive.
Not ready to book a tour? Find out if a Versailles tour is worth it.
Musee d'Orsay
Musee d'Orsay is a must-visit museum in Paris, located just across the Seine from the Louvre. You can cross the Ponts de Arts, aka Love Lock Bridge, to get to the Musee d'Orsay after your visit to the Louvre.
Musee d'Orsay is the home of Impressionism, which started in Paris during the 19th century. The museum was once a train terminal and is now home to famous works by Van Gogh, Renoir, Manet, and more.
The ideas of impressionism make a tour of Musee d'Orsay attractive because there's so much emotion and depth to each piece. A guide will help you dive into the time period and general mindset of each artist. They were generally rejected by the art scene of the time and battled to be recognized.
Eiffel Tower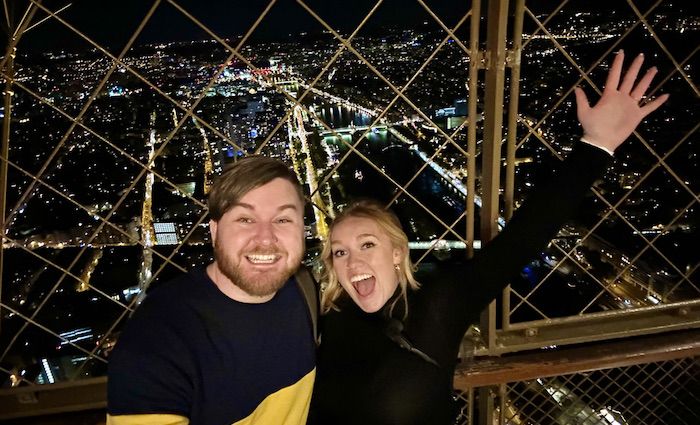 The Eiffel Tower is one of our most popular tours in Paris and is often combined with a river cruise of the Seine. There are many options for visiting the tower, including climbing the stairs, taking an elevator, visiting three different tiers/floors, and even having a Michelin-star meal. So, is a tour of the Eiffel Tower worth it?
With so many options, making a decision can be tough. To make it easier, here are three options that travelers and bon vivants love:
Twilight Magic: Eiffel Tower Summit Tour: Also includes a Seine river cruise, but your access to the Eiffel Tower heads all the way up to the summit, which is Paris' best view. It's very exclusive and sells out fast!
Eiffel Tower Summit Tour with Climbing Access: This summit tour includes tickets to the summit, but you'll have to climb 600+ steps to get to the 2nd floor first! This is a great way to see the entire tower and do it for a reasonable price. It's perfect for a cool day in the spring or fall.
Not ready to book a tour? Check out our best Eiffel Tower tours to take and why.
Paris Catacombs
The Paris Catacombs are the most exciting ossuary in Europe. They're home to millions of skeletons you can get up close and personal with. You may want a guide here so you don't get too scared! So, is a tour of the Paris Catacombs worth it?
The line to the Paris Catacombs is infamously long, which makes a tour very attractive. Not only that, but the engineering of the catacombs is a story in itself. It's truly a story of engineering meets artwork brought to life by the right cataphile guide!
Not ready to book a tour yet? Read more about the Paris Catacombs.
Other Popular Tours in Paris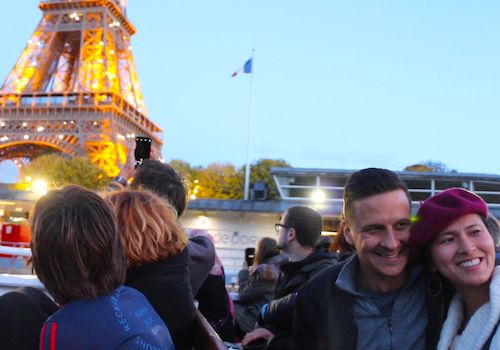 Best Selling
Privileged Access Eiffel Tower Night Tour with Champagne on the Seine
A magical experience aboard a luxury riverboat sipping champagne as the Eiffel Tower glows and sparkles just for you. After, enjoy elevator access to the 2nd level of the Eiffel Tower.





See Prices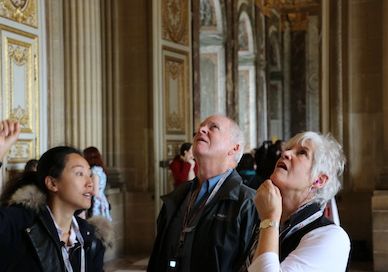 Likely to Sell Out
Skip the Line Palace of Versailles Tour from Paris

The golden palace of Versailles is a site to be seen and the stories for Marie Antionette and all the "Louie" Kings come alive with a passionate guide. Skip the line admissions and train tickets to/from Paris included!





See Prices
Not ready to book a tour? Check out our best Paris tours to take and why.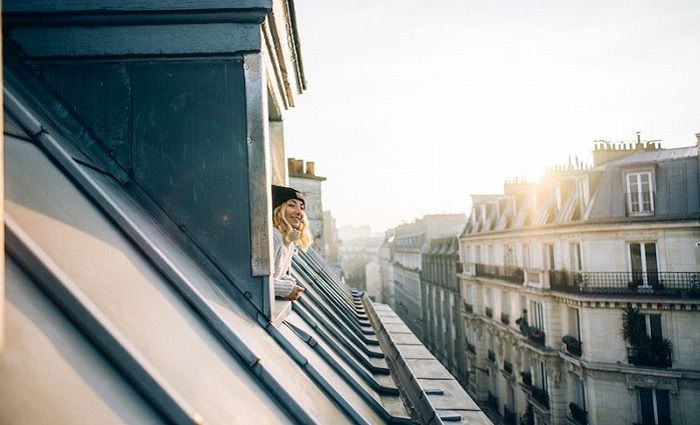 Find the best places to stay
Where To Stay in Paris
With a city as magnificent as Paris, it can be hard to find the perfect hotel at the perfect price. Explore the best hotels and places to stay in these incredible neighborhoods in Paris.