Heading to Paris but unsure about where to stay? Paris is a large city with many cool neighborhoods, but it can be difficult to decide where will be best for you. Don't worry, we know the best restaurants, attractions, and hotels in each area. In this guide, we'll share our favorite places, so you can decide exactly where you want to stay in Paris for the best trip ever.
---
Pro Tip: Planning your trip to Paris? Bookmark this post in your browser so you can easily find it when you're in the city. Check out our guide to Paris for more planning resources, our top Paris tours for a memorable trip, and the top things to do while in Paris.
The Best Places to Stay in Paris This Year
Paris is also known as the City of Lights and a more romantic city we dare you to find. From shopping to art and romantic evenings on the Seine, there's an endless amount of activities for couples and friends to enjoy. The question is simply where to stay in this wonderful city.
You need to know that the neighborhoods (or districts) in Paris are called arrondissements and there are 20 of them in total. They were originally created to allow for separate governance, but now they are used to identify specific areas. They are individually numbered and named.
We've selected our top four neighborhoods to help you decide the best places to stay in Paris on any budget. We'll explain the pros of each arrondissement and share some hotels we recommend at multiple price points.
Le Marais: 3rd and 4th Arrondissement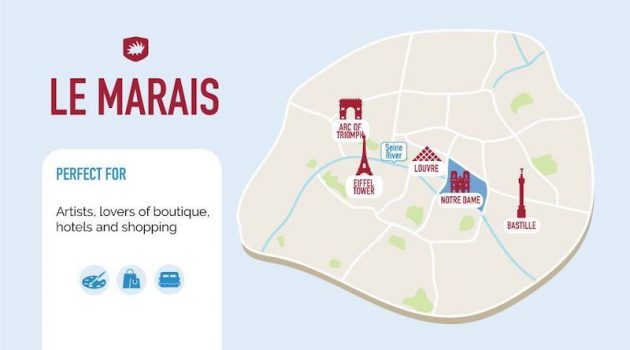 Le Marais is most famous for its hip vibes, gay bars, and historic Jewish quarter where you can still find kosher restaurants. If you're traveling to Paris for shopping, but would rather peruse independent boutiques than posh designer stores, this neighborhood is for you. It's ideal for cool young travelers who want to rub elbows with like-minded travelers and locals.
Le Marais spills over between the 3rd and 4th arrondissements, so it's hard to pinpoint exactly which one it's really in. This famous neighborhood is known as one of Paris' most chic and diverse spots and has exceptional cuisine. No wonder this is the location of our insanely delicious Paris food tour.
If you want a more comprehensive breakdown of this area, check out our detailed Le Marais neighborhood guide. Otherwise, read on for the best hotels in Paris' Le Marais district.
Why I love Le Marais:
Attractions in Le Marais:
Victor Hugo Mansion
Picasso Museum
Place des Vosges
Hotel De Ville
Tower of Saint-Jacques (just outside Le Marais but in the fourth arrondissement)
Best Hotels in Le Marais, Paris:
Cour des Vosges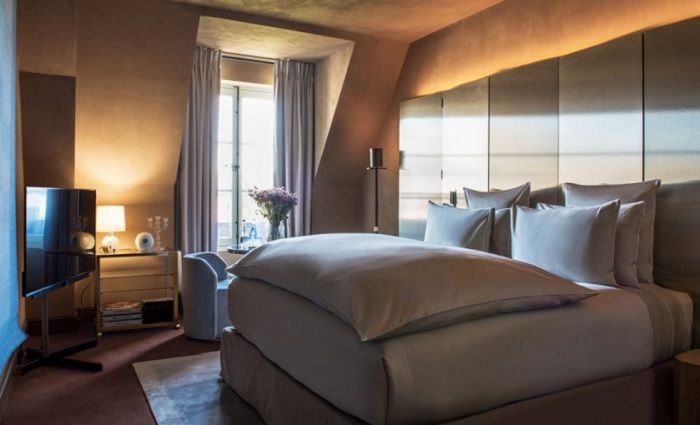 5 Star | €€€€+ | Best Views of Place des Voges | Near Galleries
For the ultimate hotel stay in Le Marais, opt for Cour des Vosges for the most incredible views of Place des Voges and proximity to the stunning shopping galleries. There are just 12 suites in this stunning 17th-century building, so you can expect an attentive staff (and butler) here too. The hotel has a family-curated collection of antiques, books, and much more to enjoy.
Hôtel Du Haut Marais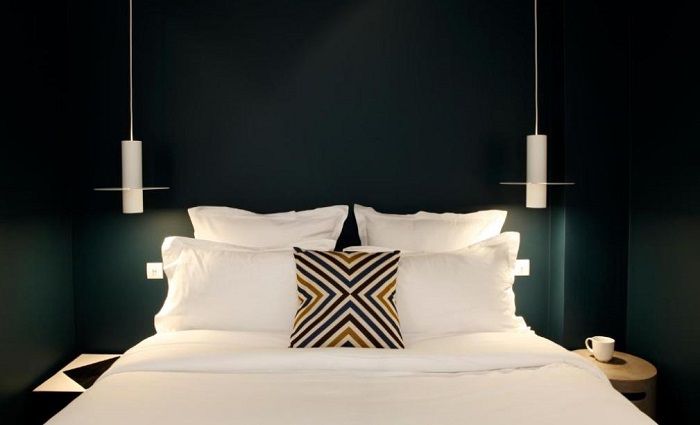 1 Star | €€ | Minimalist Hotel | Quiet Neighborhood | Rooms and Apartments
If you love staying in chic boutique hotels in idyllic neighborhoods, then don't miss this cool little hotel. It's tucked away on a quiet street and has options for solo travelers and families who need extra space. You can even order breakfast to be delivered to your room each morning for an extra fee if you don't want to step out to a local café.
Goralska Résidences Paris Bastille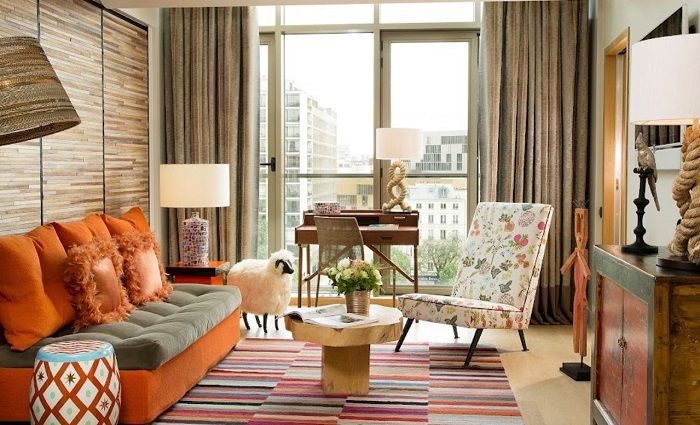 4 Star | €€€€ | Spacious and Modern | Nomadic Vibes | Family Friendly
Families and luxury travelers love staying at the Goralska Résidences. They offer full-service suites with separate living and dining areas, plus fully equipped kitchens. The 12 suites are decorated in warm tones with Saharan touches for a unique style. This hotel sits at the edge of the Port de l'Arsenal and is just a few steps from the Seine.
Turenne Le Marais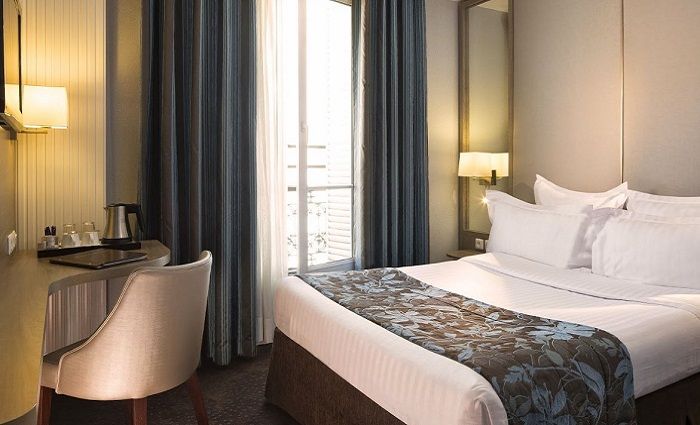 3 Star | €€ | Single to Triple Rooms | Affordable Location
In this district, Turenne Le Marais is a fairly affordable option that's still ideally located near Place des Vosges and Place de la Bastille. That means you're close to shopping, art, and galleries, not to mention late-night bars for the night owls. The rooms aren't oversized, but groups of three can opt for the triple room if needed.
Hôtel Jeanne d'Arc Le Marais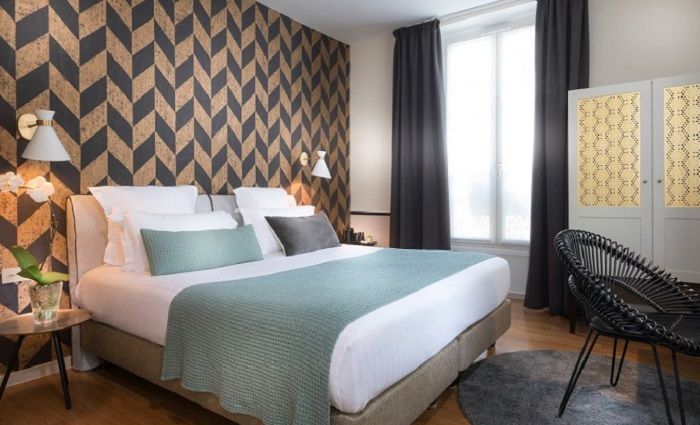 3 Star | €€ | Off-Season Deals | Quiet Location
This is another affordable hotel in the heart of this Paris district, especially if you come outside of peak tourist season when you can find some great deals. It's a charming little hotel on a quiet street, and you even get a continental breakfast included and a bar onsite. There are several room types to choose from whether you're traveling alone, with family, or with a wheelchair.
Latin Quarter: 5th Arrondissement
Home to Paris' oldest university, La Sorbonne, the Latin Quarter is a lively Paris neighborhood mainly inhabited by students. It's considered the 5th arrondissement of Paris and is a popular place when choosing the best area to stay in Paris.
This area is also home to Rue Mouffetard, a great market street where you'll be able to find cheese, bread, and pretty much anything and everything you've ever wanted to eat in France. The 5th arrondissement is on the left bank, but it borders the river, which makes it an ideal central location. Major metro stops include Saint Michel and Place Monge.
Why I love Paris' Latin Quarter:
Great food
Youthful vibes
Close to everything but far from touristy
Attractions in Latin Quarter:
Best Hotels in the Latin Quarter of Paris:
Hôtel Design Sorbonne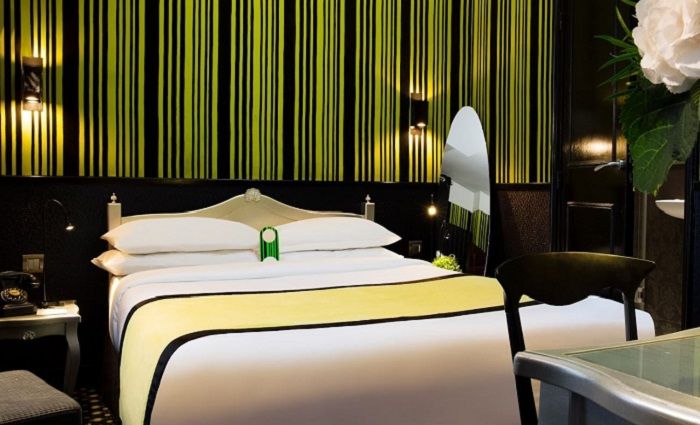 3 Star | €€ | Designer Modern | iMac or Macs in Every Room
You just might love the designer modern vibes at Hôtel Design Sorbonne, where every room is different and colors pop around each corner. We also liked the extra touch of having an iMac or a Mac available in each room for free internet surfing included in an already great price! It's also located close to the Luxembourg Gardens and many shops and restaurants.
Hôtel d'Aubusson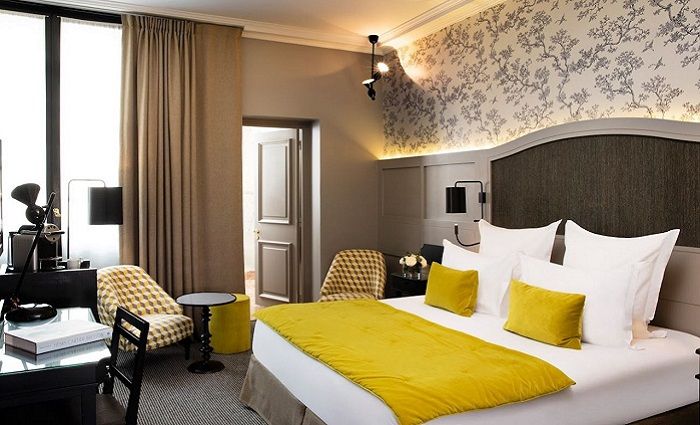 5 Star | €€€€+ | Modern Elegance | Great Concierge | Sauna and Pool
For an almost hidden but oh so classy stay in the Latin Quarter, you have to stay at Hôtel d' Aubusson. This is a 5-star hotel at its finest with excellent service, a hammam, sauna, pool, tasteful and spacious rooms, plus the iconic 17th-century architecture. What's not to love?
Odéon Hôtel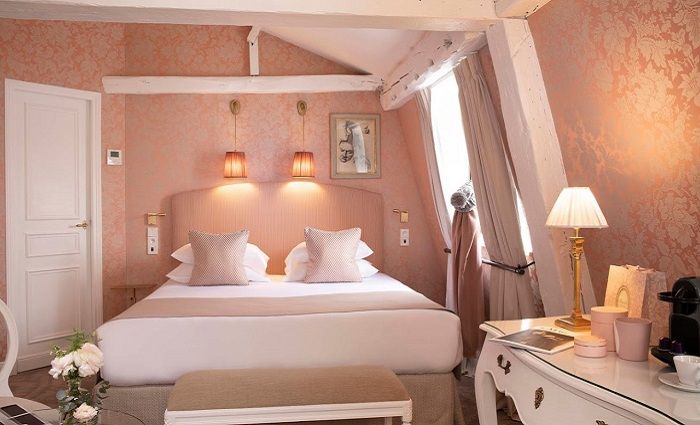 3 Star | €€+ | Near Luxembourg Gardens | Charming Boutique
Stay at this charming hotel that offers many types of rooms for whatever you're traveling to Paris for. You'll enjoy a continental breakfast, soundproof rooms, and room service for those mornings when you'd rather stay in bed a little longer. Whether you're here for business or pleasure, you'll enjoy a stay at this central hotel in Paris.
Hôtel Villa d'Estrées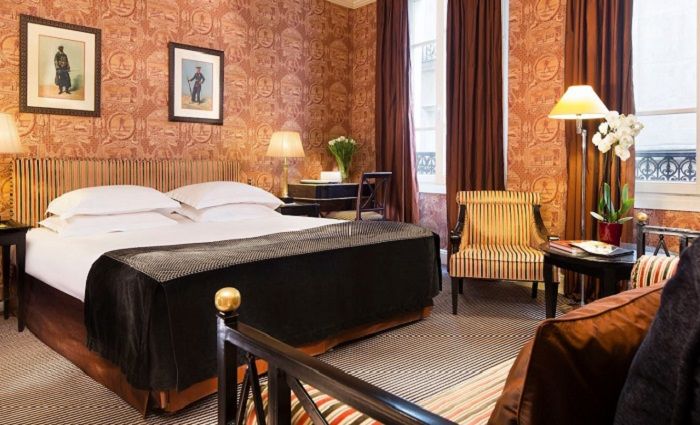 4 Star | €€€ | Classy Parisian | Breakfast Available | Central Location
At this classy hotel, you're within 5 minutes on foot from Pont Neuf, Notre Dame, and Ile Saint Louis. We like this hotel for its classy vibes where every room has its own color scheme and comfy beds. Other perks include a continental breakfast (for a fee), rooms and apartments, and a quiet location.
Les Rives de Notre-Dame Hôtel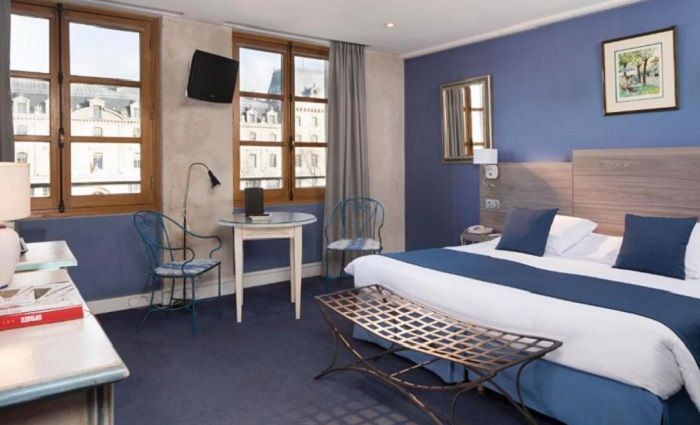 4 Star | €€+ | On the Seine | Recently Renovated | Ideal Location
For epic views of Notre Dame and the Seine, look no further. This little boutique may not have a ton of amenities, but you can't beat the location and the views. No need for a car here since it's centrally located, and you can opt for a regular room or the penthouse suite!
Popular Paris Tours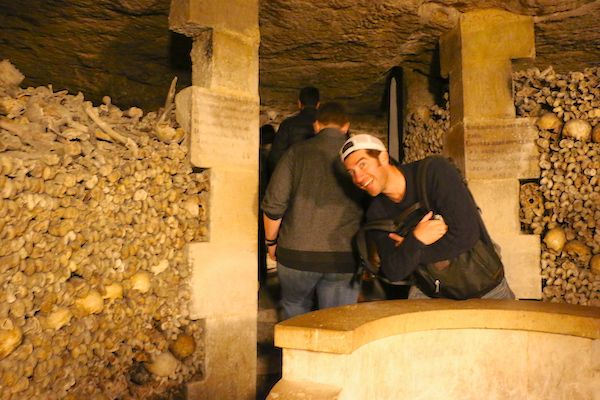 Best-Selling Tour
Privileged Access Paris Catacombs Tour with Secret Rooms
The Paris Catacombs are unlike most attractions you can visit since it's an underground burial ground with 6 million skeletons adorning the walls. Learn the deep history here with our English-speaking guide for an experience of a lifetime. Skip-the-line admissions included.





See Prices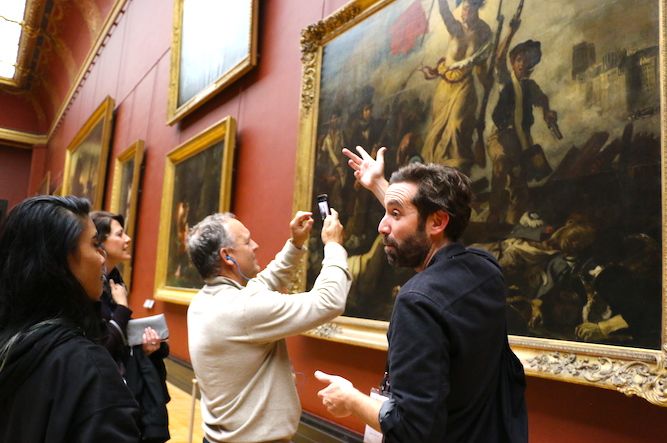 Top-Rated Tour
Royal Louvre Palace Tour with Mona Lisa & Crown Jewels
The Louvre is the largest art museum on Earth and the crowning jewel of Paris. It embodies the French vigor for life. Join a passionate, English-speaking guide for a tour of the most famous artwork. Skip-the-line admissions included.





See Prices
Not ready to book a tour? Check out our best Paris tours to take and why.
Saint-Germain-des-Prés: 6th Arrondissement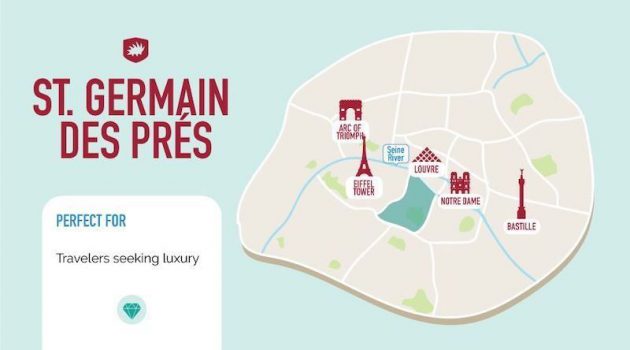 If you're seeking a classic Parisian neighborhood, choose a hotel in the 6th arrondissement. This area includes the Saint-Germain-des-Prés neighborhood that's filled with countless bars and cafés, including the oldest café in Paris: Le Procope. This is also the neighborhood where Ernest Hemingway and Albert Camus hung out, and where Pablo Picasso painted the famous Guernica.
In the 6th arrondissement, you'll only be a short walk from the beautiful Luxembourg Gardens and the Musée d'Orsay, known for its collection of impressionist artwork. You're not likely to find many budget deals in this neighborhood, but it's perfect for splurging on the ultimate Parisian getaway for couples or a honeymoon. Major metro stops include Saint-Germain-des-Prés, Saint Sulpice, and Odéon.
Why I love Saint-Germain-des-Prés:
Extremely central
Great restaurants
Walking distance to the Seine
Top Attractions in Saint-Germain-des-Prés:
Best Hotels in Saint-Germain-des-Prés in Paris:
Madison Hôtel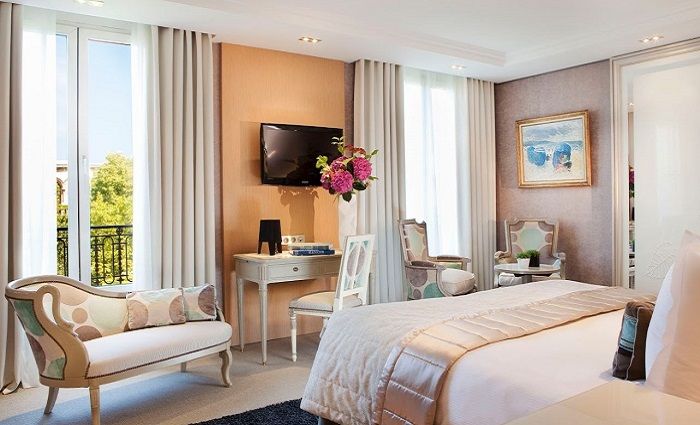 4 Star | €€€ | Half-Day Reservations | Massages | Family Friendly
Madison Hotel is unique in that they offer half-day reservations for those who need a place to work or crash for just a few hours of a busy Parisian day. But if you're here longer, you'll also appreciate the room service, massage rooms, and amenities for kids! All-in-all, this is a great hotel that makes for a comfortable stay.
L'Hôtel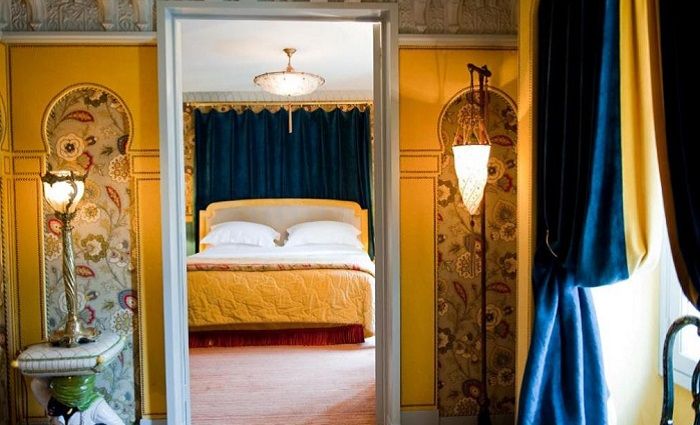 5 Star | €€€€ | Opulent Boutique | Lounge Onsite | Hammam and Sauna
L'Hôtel has a bold claim as the world's first boutique hotel, so it's worth booking a stay here to find out how well they attend to the smallest details of decor and service. You can relax at the end of your sightseeing day in the hammam or sauna, then enjoy a handcrafted cocktail at Wilde's Lounge. It's named for Oscar Wilde as this hotel was his last home on Earth.
Hôtel Da Vinci & Spa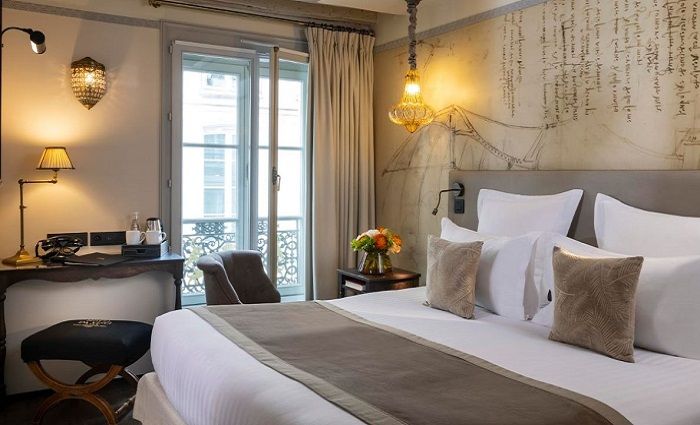 4 Star | €€€ | Lots of Amenities | Attentive Staff
There's a lot to love about Hôtel Da Vinci & Spa and their beautiful rooms. Try the continental breakfast (for a fee), the on-site café or bar, the luxury spa, or room service for those late nights and lazy mornings. Oh, and they have an excellent concierge who can help you get those tickets you forgot to reserve.
Hôtel de Seine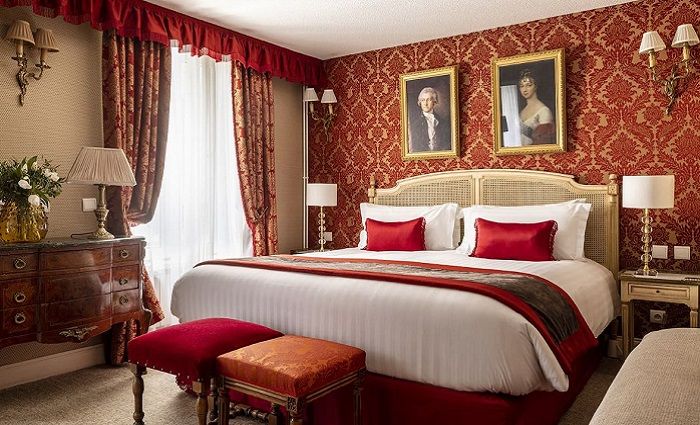 3 Star | €€ | Family Friendly | Central Location
You'll often find fairly affordable rates at Hôtel de Seine and more value than you might expect. From the breakfast buffet to available laundry services, shoe shine, and amenities for kids, the staff and hotel aim to please. The rooms are beautiful and there are several sizes to choose from.
Montmartre: 18th Arrondissement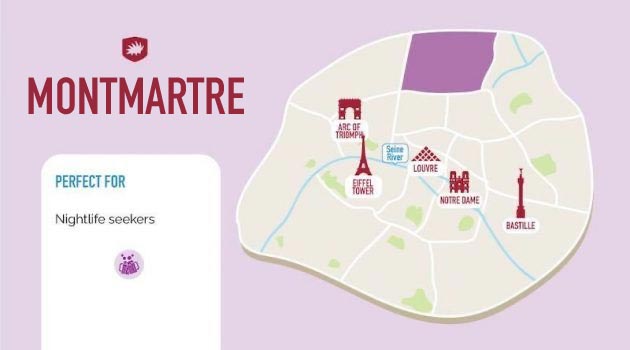 Montmartre is usually referred to as a bit of a village with winding, hilly streets, and far fewer cars than the rest of the city. This is the 18th arrondissement where you'll find the Sacré-Cœur Basilica and the Place du Tertre square filled with artists. Major metro stops include Abbesses and Anvers.
The arrondissement borders the Pigalle area—home of the Moulin Rouge and the city's red-light district. While this makes the location less ideal for families, the area is actually pretty safe for traveling friends and groups. Today, most of the area just south of Pigalle is trendy. For instance, some of the trendiest bars have popped up here. Locals often refer to the area as "SoPi."
The 18th arrondissement usually offers cheaper accommodations than the other arrondissements listed, thanks to its reputation as a working-class, diverse neighborhood. But if you choose the 18th, make sure to stay in the southern part of the arrondissement in Montmartre, which is one of the most romantic areas to stay in Paris.
Why I love Montmartre:
Top Attractions in Montmartre:
Best Hotels in Montmartre, Paris:
Maison Souquet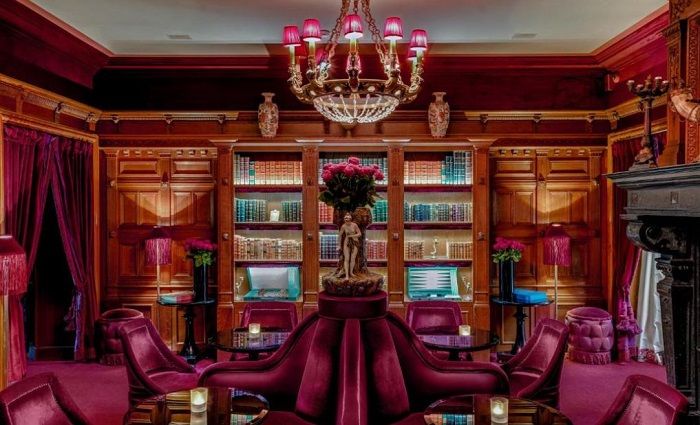 5 Star | €€€€ | Swanky and Decadent | Lounge and Spa On-site | Pool and Hammam
Pictures almost don't do this luxury hotel justice, so if it fits your budget, just book—don't think—just book. The swanky colors and dark interior make for a luxe, romantic stay. Indulge at the spa, the lounge, or in your room with room service. This hotel is technically just across the border from the Montmartre arrondissement, but it's still worth considering.
Timhotel Montmartre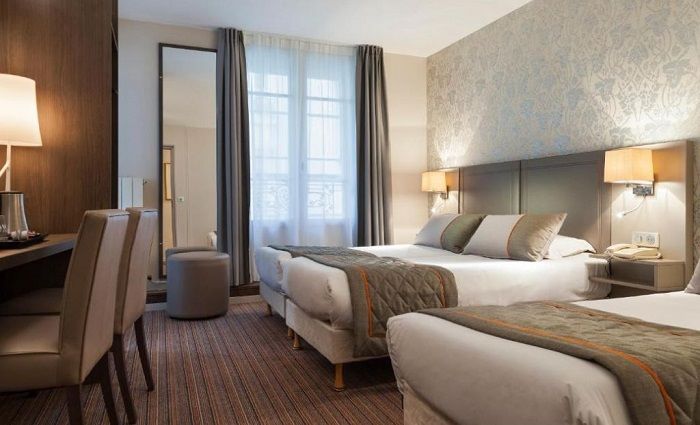 3 Star | €+ | Close to Sacre Cœur | Cobblestone Street | Simple But Neat
There might not be a lot of amenities at Timehotel Montmartre, but you can't beat the location—it's just steps from Sacré-Cœur. It's in the heart of the arts district and not far from Moulin Rouge and the Dali museum. The rooms are simple but perfect for an affordable, quiet stay in Paris.
Le Relais Montmartre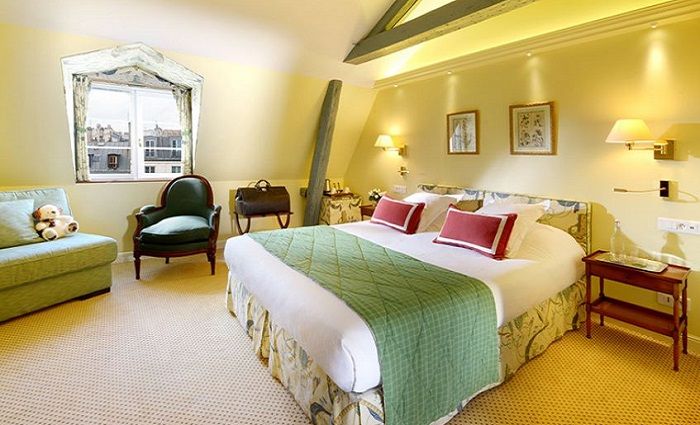 4 Star | €€ | Friendly Neighborhood | Refined Charm | Kids Eat Free at Breakfast
We like Le Relais Montmartre for its friendly atmosphere in a typical Parisian neighborhood. You're not too far from Gare du Nord and Moulin Rouge here. And though there's a fee for breakfast, kids under 13 eat for free, which is helpful for the budget. We recommend booking the attic room for a quaint Parisian stay in Montmartre.
Hôtel de Flore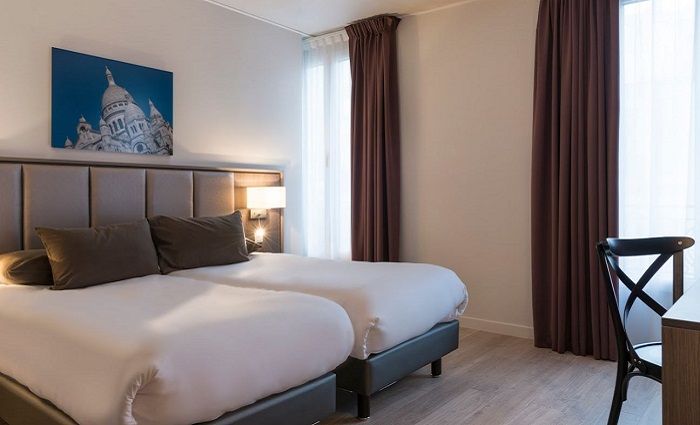 3 Star | €+ | Affordable Stay | Classic Rooms | Great Location
Hôtel de Flore might not be the fanciest hotel in the area, but it comes at a great price and is close to a lot of restaurants, bars, and a key metro stop for getting to the main attractions in Paris. There's a breakfast buffet available at an additional cost, and the reception can help you book tickets to shows nearby.
Not ready to book a tour? Check out our best Paris tours to take and why.