Heading to Paris but unsure where to stay? Paris is a large city with many pockets but not to worry. This guide breaks down Paris by our favorite neighborhoods so you can choose the one best for you. Then, we'll offer some hotel recommendations for every budget to help make your decision easier.
---
Pro Tip: If you have not booked accommodation in Paris, bookmark this post in your browser. It can help you decide which neighborhood is right for you and some good hotel options. Also, check out the Best Hotels in Paris 2021 list.
Where to Stay in Paris Video
This video is a great resource but doesn't recommend specific hotels. If you want hotel recommendations scroll down. We update this article multiple times per year – check the "last update" date above!
Where to Stay in Paris: The Best Neighborhoods + Hotel Recommendations
Without further ado, see our favorite neighborhoods in Paris, why we love them, what attractions are nearby, and some great hotel choices in each one. We'll make this process easy for you!
Le Marais: 3rd/4th Arrondissement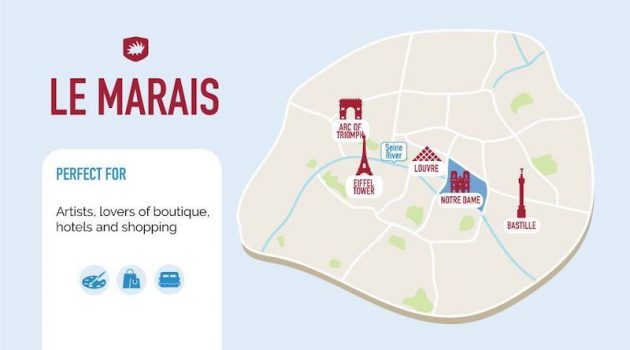 Le Marais is most famous for being home to the Jewish and gay quarters of Paris. If you're traveling to Paris for shopping but would rather peruse independent boutiques rather than posh designer stores, this neighborhood is for you.
Le Marais spills over from the 3rd arrondissement into the fourth, so it's hard to pinpoint exactly which one it's really in. This neighborhood is known as one of Paris' most chic and diverse spots and has exceptional cuisine. No wonder that this is the location of our insanely delicious Paris food tour.
Why I love Le Marais:
Top Attractions in Le Marais:
Victor Hugo Mansion
Picasso Museum
Place des Vosges
Hotel De Ville
Tower of Saint-Jacques (just outside Le Marais but in the 4th)
Check out our more comprehensive Le Marais Neighborhood Guide.
Best Hotels in Le Marais, Paris:
Latin Quarter: 5th Arrondissement
Home to Paris' oldest university, La Sorbonne, the Latin QUarter is a lively Paris neighborhood mainly inhabited by students. It's considered the 5th arrondissement of Paris.
This area is also home to Rue Mouffetard, a great market street where you'll be able to find cheese, bread, and pretty much anything and everything you've ever wanted to eat in France. The fifth arrondissement is on the left bank but borders the river, making it an ideally central location. Major metro stops include Saint Michel and Place Monge.
Why I love Latin Quarter:
Great Food (check out our recommended restaurants in the Latin Quarter (coming soon))
Youthful Feel
Close to Everything but Far from Touristy
Top Attractions in Latin Quarter:
Best Hotels in the Latin Quarter of Paris:
St. Germain des Prés: 6th Arrondissement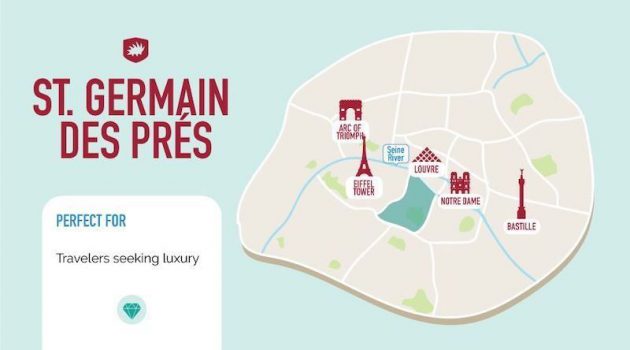 If you're seeking a classic Parisian neighborhood feel, stay in the 6th arrondissement. This area includes the Saint-Germain-des-Prés neighborhood, filled with countless bars and cafés, including the oldest café in Paris (Le Procope). The streets are filled with interesting history – this is the neighborhood where Ernest Hemingway and Albert Camus hung out, and where Pablo Picasso painted the famous Guernica.
In the 6th arrondissement, you'll only be a short walk from the beautiful Luxembourg Gardens and the Musée d'Orsay, known for its collection of impressionist artwork. You're not likely to find many budget deals in this neighborhood, but it's perfect for splurging on a Parisian getaway. Major metro stops include Saint-Germain-des-Prés, Saint Sulpice, and Odéon.
Why I love St. Germain des Prés:
Extremely Central
Great Restaurants
Walking Distance to the Seine
Top Attractions in St. Germain des Prés:
Best Hotels in St. Germain des Prés, Paris:
Montmartre: 18th Arrondissement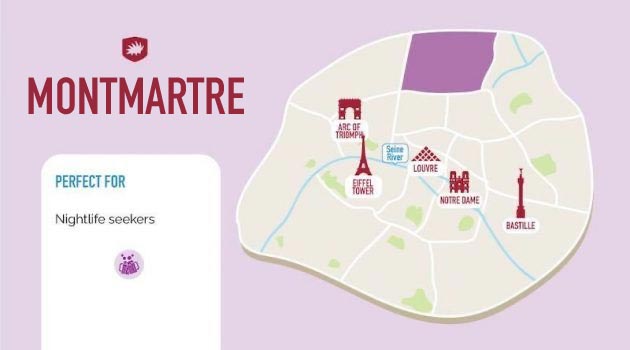 Montmartre is usually referred to as a sort of "village", with winding uphill streets and far fewer cars than the rest of the city. This is the 18th arrondissement, where you'll find the Sacré Coeur Basilica and the Place du Tertre square filled with artists.
The arrondissement borders the Pigalle area, home of the Moulin Rouge and the city's red-light district. While this makes the location not so ideal for families, the area is actually pretty safe.
Today, most of the area just south of Pigalle is trendy. Some of the trendiest bars have popped up here. Locals even refer to the area as 'SoPi'.
The 18th usually offers cheaper accommodations than the other arrondissements listed, thanks to its reputation as a working-class, diverse neighborhood. But if you choose the 18th, make sure to stay in the southern part of the arrondissement in Montmartre. Major metro stops include Abbesses and Anvers.
Why I love Montmartre:
Top Attractions in Montmartre:
Best Hotels in Montmartre, Paris:
Paris Tours
If you are super interested in this attraction, check out the tours we run! Guides have a wealth of anecdotes and stories that will make your experience more memorable!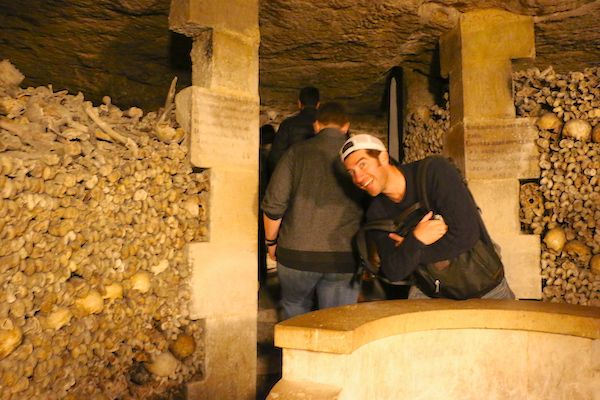 Best Selling Tour
Privileged Access Paris Catacombs Tour with Secret Rooms
The Paris Catacombs are like nothing else on Earth. An ossuary opened up to the public with 6 million skeletons literally decorating the walls! Skip the line with our English speaking guide for an experience of a lifetime. Skip the line admissions included.





See Prices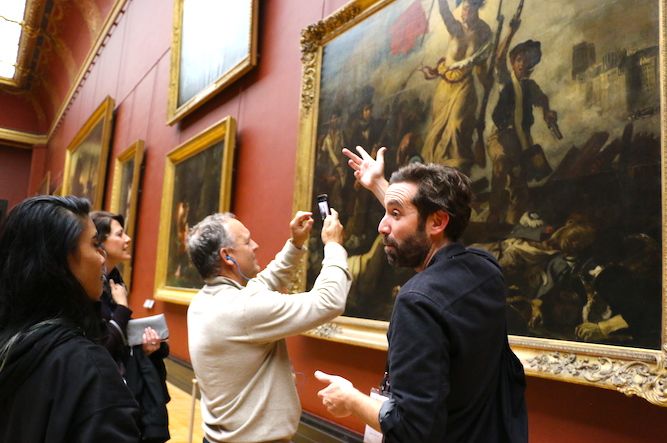 Top Rated Tour
Royal Louvre Palace Tour with Mona Lisa & Crown Jewels
The Louvre is the largest art museum on Earth and the crowning jewel of Paris. It embodies the French vigor for life. Join a passionate English speaking guide for a tour of the most famous artwork. Skip the line admissions included.





See Prices
Some Paris Basics
Before you pick a neighborhood here is some information you are going to need to know.
Arrondissements
Paris has 20 arrondissements which are factions of the city. They were originally created to allow different areas to govern slightly different but now they are simply a way of identify areas. That said, there are also names for different areas. Le Marais, featured below, occupies some of the 4th & 5th but not all of the 4th & 5th. We've got maps to help so don't worry.
Out of the 20 arrondissements of Paris, we figured we would narrow it down to the top 4 to help you decide where to stay in Paris. I will explain the pros of each one and list out some hotels we like in multiple price points from super fancy (slancy) to clean and unassuming.
Hotel or Airbnb in Paris?
Short Answer: I am a hotel guy mostly but do Airbnb for 7 nights + or countryside stays. Why? You don't even really need to check-in or out of hotels anymore let alone clean the bathroom before you leave. I want to spend my time on vacation hanging out with my wife & kids care-free. If I am in nature, a villa is a great choice and Airbnb makes it easy. That said, you gotta be you so do whatever feels best.
How Many Hotel Stars?
I have different "class" levels for each type of trip.
5 Star – Romantic vacation with wife that we save up for or family vacation to inexpensive destination. For Paris, I would look into 5 star if my wife and but we often go for a 4 star instead.
4 Star – Romantic vacation with wife or family trip with kids. I will often opt for a better room typology in a 4 star instead of same cost for smaller room in 5 star.
3 Star – Traveling for work.
B&B – I will often look into a Relais B&B which is a consortium of luxury B&Bs. They are usually pretty luxurious with more charm than a hotel which I like.
For Paris – I would recommend 4 star hotels or B&B but if you are super active and low maintenance then a 3 star could work but don't expect much.