Coming to the amazing Teton mountain range for some skiing is a true adventure. But there is more than one ski resort and town you can choose to stay in. So how to decide where to stay near Jackson Hole for skiing? Jump in for this local's guide to three ideal places you can stay to enjoy some skiing in the Grand Tetons.
---
Where to Stay Near Jackson Hole: Best Hotels and Cities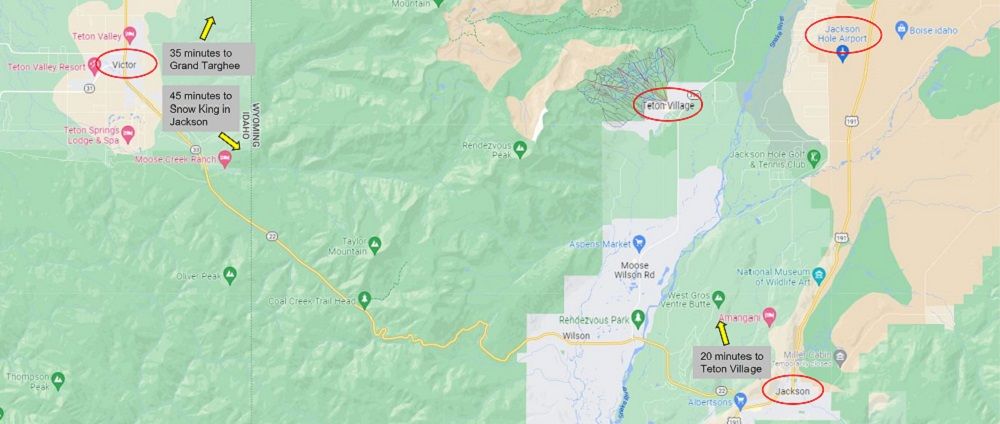 Jackson And Teton Valley:
The largest town to stay in is Jackson, so head here if you're looking for the most attractions and restaurants during your stay. The Snow King Mountain Resort is just steps from the southern edge of town, and you're only 20 minutes to Teton Village at the base of Jackson Hole Mountain Resort, the largest ski resort in the area.
Jackson Hole Mountain Resort is home to the most luxurious hotels in the area, in the Teton Village neighborhood. These famous locations feature rooftop infinity pools, full-service spas, and balcony hot-tubs perfectly situated to catch a famous Teton sunset.
There is no shortage of shopping and entertainment in Teton Village, especially when the lifts stop running, this is where you want to be for après-ski happy hour! Part of the allure of staying in this area is the ease of access to the lifts, and the top-tier hospitality at each of the on-mountain hotels.
However, if you're looking for a genuine mountain experience in a small town, go a little further up the road to my favorite spot: Victor, Idaho. (One bonus of staying in Victor is you're located almost half way between Grand Targhee Ski Resort and Jackson.)
Victor, Idaho:
Victor is about 40 minutes from Teton Village and the base of the lifts at Jackson Hole Mountain Resort. To get here, you need to continue up Highway 22 until you cross the border to Idaho, just beyond Teton Pass.
Victor is my personal favorite location in the area. Why? You get a genuine mountain experience, small-town vibes, and quieter location than bustling Jackson. The hotels and resorts here have a more laid-back feel and are truly relaxing. The only downside is the longer drive from the airport, which can be made difficult if you land during a winter storm.
No matter where you choose to stay when skiing near Jackson, you will have a memorable experience. Each neighborhood and suburb has a special charm and none will disappoint. To learn more about each area, the hotel options, and the specific vibes, read on!
Our Partnership with Booking.com. If you like our content, please book by clicking on our Booking.com links. The price is the same for you, and we get a small commission that helps support our blog. We've partnered with Booking.com because they have the most options, great prices, and a solid loyalty program. Just about every hotel is on Booking so our recommendations are not incentivized.
Jackson, Wyoming
Jackson is right in the heart of the action that the entire area has to offer. Glorious fine-dining just steps away from the best galleries and boutiques the west has to offer, all beneath the stunning Grand Teton mountains.
Ease of access to the airport is a bonus on staying in downtown Jackson; it's only 15 minutes to the Jackson Hole Airport, and all the hotels we listed have shuttles. If you are staying in a vacation rental, you'll need to rent a car to get to-and-from the airport and the slopes, but there is usually plenty of availability in Jackson. However, book early because the rates do go up!
In Jackson, you will want to stroll through Town Square and peruse each of the shops. Stop in to world-renowned photographer Thomas Mangelsen's gallery and check out his incredible shots of local wildlife celebrity: Grizzly 399. Try on fun fur coats at the Sitka Fur Gallery, or take a commemorative Pendleton blanket home—perfect souvenirs from your trip. Don't miss Moo's Gourmet Ice Cream! Winter or summer, Moo's has delicious treats for each season.
If you are in the mood for something more exciting, Snow King offers snow tubing and night skiing! For kids and adults alike, this is something fun for the whole family. Prefer to ice skate? Town Square has a seasonal ice rink right in the heart of the square, open during the months before and after holiday season.
The most desirable location to stay in Jackson is near Town Square. Consequently, these also tend to be more expensive accommodations. To satisfy all our reader's preferences, we curated a few locations that will fit every budget and vacation requirements.
Why I love Jackson:
Shopping
Fine Dining
Family Activities
Easy Airport Access
Budget-Friendly Options
Attractions Near Jackson:
Snow tubing at Snow King
Ice skating in Town Square
National Museum of Wildlife Art
Jackson Hole Children's Museum
Million Dollar Cowboy Bar
Best Restaurants in Jackson:
Persephone Bakery and Coffee
Snake River Brewing
Gun Barrel Restaurant
Local Restaurant and Bar
Hatch Taqueria and Tequila
Best Hotels in Jackson:
The Wort Hotel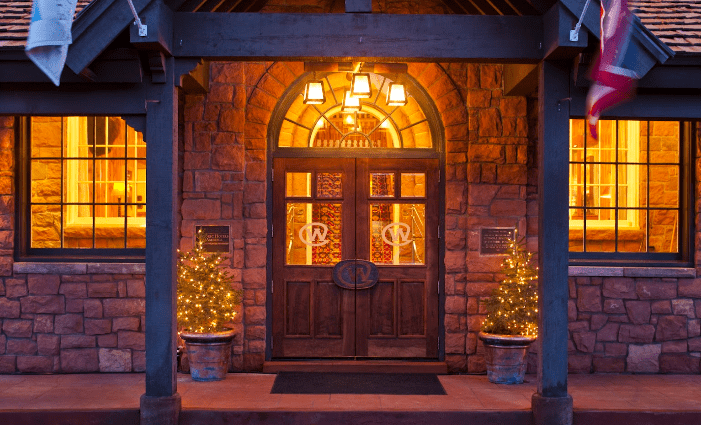 $$$$ | 4 Star | Downtown Location | Historic Accommodations
For notable downtown Jackson pieces of history, The Wort is almost as legendary as the elk antler arches in Town Square. It is steps from all downtown has to offer, but the on-site bar and grill are both "Top 10" Jackson restaurants. Don't miss square dancing at the Silver Dollar Bar next door—it is the local's favorite place to hang with visitors!
Elk Country Inn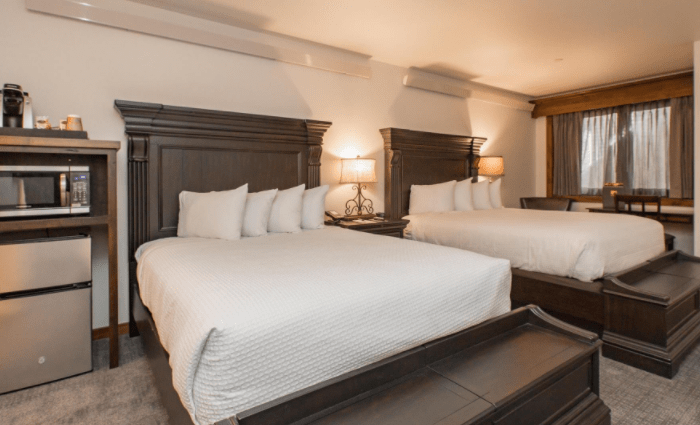 $$$ | 2 Star | Private Cabins | Indoor/Outdoor Pool and Spa
Elk Country Inn has plenty of room types to choose from depending on your needs and group size. From private cabins to luxury suites, you are sure to find a cost-efficient lodging option for any kind of budget or preference. Other high points include a massive indoor/outdoor swim-through pool and spa, ski shuttle, and warm cookies each evening!
Hampton Inn Jackson Hole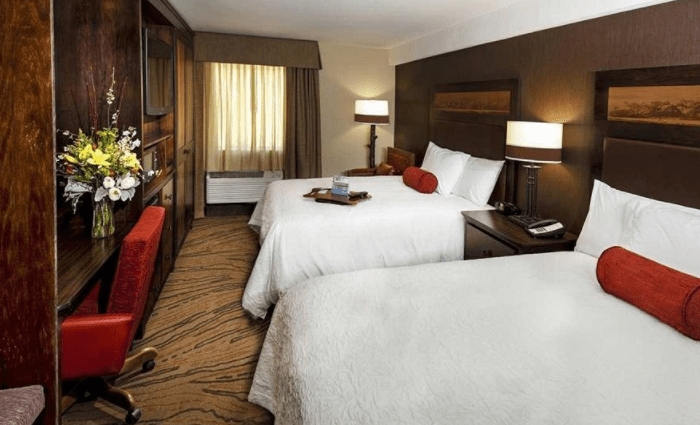 $$ | 2 Star | Budget Friendly | Convenient Location
The Hampton Inn is a fantastic option if you are looing for a no-frills and straightforward hotel accommodation. This location is budget-friendly but with many of the iconic Hilton perks, including made-to-order breakfast, and snacks at check in. With an airport shuttle and mountain ski shuttle, it does not get any more convenient! Located at the intersection of Highway 22, it is a quick drive to the mountain or to downtown for dinner.
535 Snow King Loop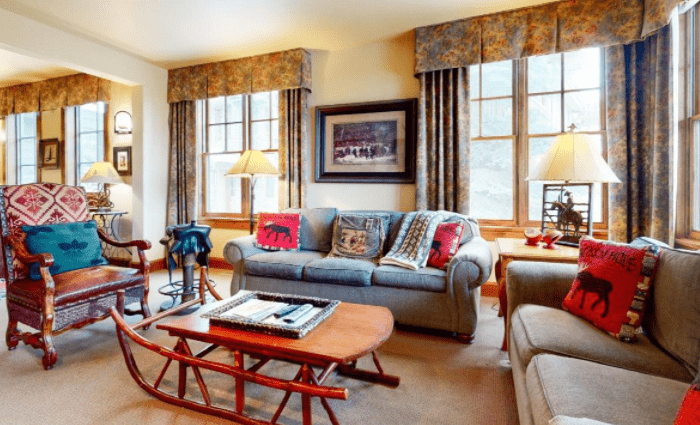 $$$ | 2 Star | Incredible Location | Huge Accommodations
This vacation rental home is an incredibly rare find. Located at the base of the small ski hill Snow King, you are steps away from evening snowtubing and glorious après-ski happy hours. This home sleeps up to eight people, so if you are traveling with family or a group, this is a very affordable option given its glamorous location. And if you aren't feeling up to cooking in the full kitchen, it's an easy walk to downtown for dinner.
Teton Village, Wyoming
The name Teton Village says almost everything you need to know about this location, nestled right at the base of the Tetons and iconic Jackson Hole Mountain Resort. If you are looking for a true mountain resort style vacation, you need look no further than Teton Village.
While it may not have the multitude of activity options as downtown Jackson, you simply cannot find a better list of ski-in/ski-out accommodations. Almost all of the hotels we list here offer ski valet services, too, so you don't even have to worry about schlepping your gear around.
If you are worried you might miss the shopping and dining options downtown Jackson has to offer, do not worry. There is a reason Teton Village is number one for après-ski here! Every restaurant and bar in the resort area has a fantastic happy-hour list of drinks and appetizers to refuel you after a long day on the mountain. Need to relax even more? Many of these properties feature on-site spa services, too!
Up your on-mountain style by stopping in to one of the multitude of mountain sportswear stores, or find a unique gift to bring home. Up for an adventure? Go dogsledding with Jackson Hole Iditarod Sled Dog Tours!
No matter where you choose to stay in Teton Village, you are going to have a relaxing and enjoyable vacation.
Why I Love Teton Village:
Easy access to skiing
The best après-ski dining
Fabulous wintersports shopping
Views all around
No need to rent a car
Attractions Near Teton Village:
Jackson Hole Mountain Resort
Jackson Hole Aerial Tram
Corbet's Cabin famous waffles
Wyoming Highway 390 for wildlife watching
Sunrise yoga on the gondola deck
Best Restaurants in Teton Village:
Mangy Moose Restaurant and Saloon
Teton Thai
Piste Mountain Bistro (on the mountain!)
Tin Can Cantina
The Handle Bar
Best Hotels in Teton Village, WY:
Teton Mountain Lodge and Spa, a Noble House Resort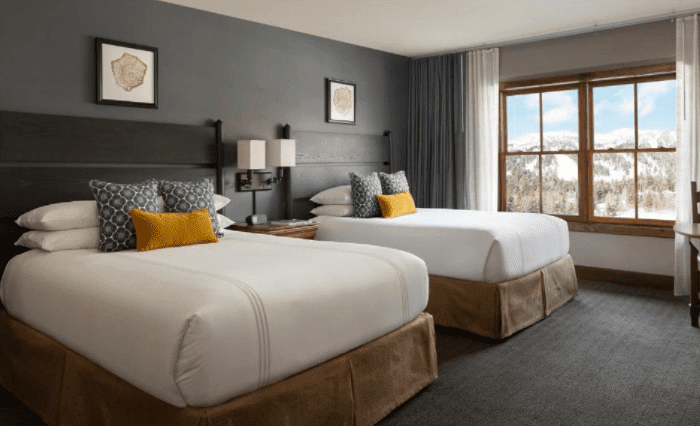 $$$$ | 4 Star | Luxury Spa | Rooftop Hot Tub
If you are looking for a luxury ski-in/ski-out resort experience, Teton Mountain Lodge and Spa is top of the list. Personalized ski catering services make purchasing lift tickets and getting gear to and from the lifts a breeze. Incredible views from the rooftop spa are the only way to watch sunset in Teton Village in true style. Don't miss the private happy hour for an all-time après ski experience!
Bentwood Inn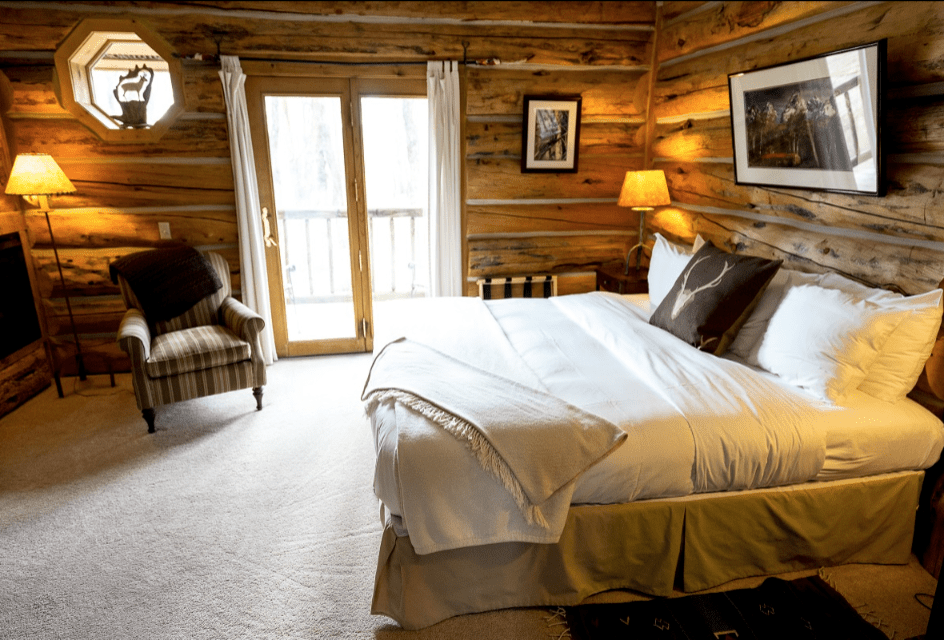 $$$ | 4 Star | River Views | Secluded Location | Wildlife Viewing
The Bentwood Inn is one of the most beautiful properties in the area. Nestled comfortably along the Snake River on a famous wildlife superhighway, the secluded nature of your surroundings is sure to bring in real mountain wildlife visitors. Enjoy the top-rated restaurant and relax around a private fireplace. Look closely at the architecture, too, each of those beams were sustainably harvested from the Greater Yellowstone Forests.
Fireside Resort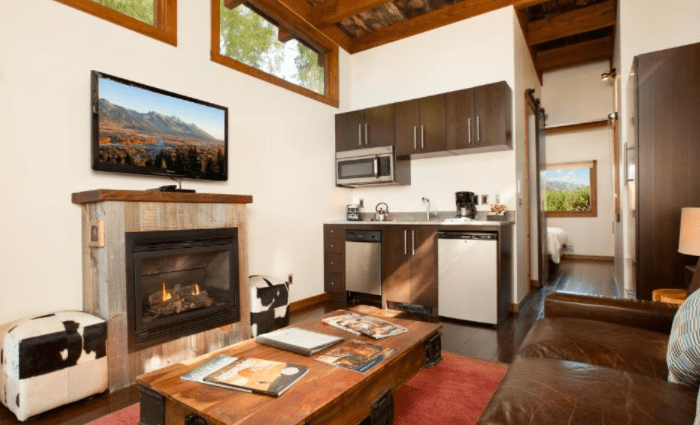 $$$$ | 2 Star | Stunning Location | Cottages | Pet Friendly
Fireside Resort is a series of beautifully appointed mountain cottages, complete with private barbecue facilities and hot tub. Just a 5-minute drive to the lifts, these cottages are an excellent option for families or big groups. Mature forests surround you in this private location. This is one of the only lodging options near Teton Village that will allow dogs, so if you love travelling with your furry friend, look no further!
Jackson Hole Hideout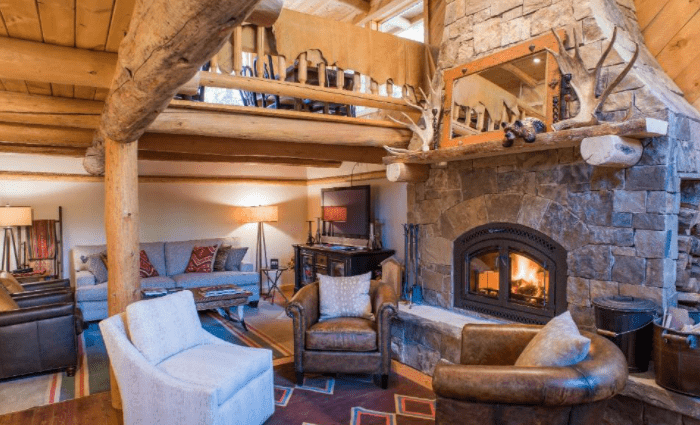 $$$$ | 3-Stars | Huge Property | Easy Resort Access
If you like room to stretch your legs, the expansive four-acre property at Jackson Hole Hideout is just what you need. Enjoy wildlife sightings from the floor-to-ceiling windows, balconies, and patios throughout your suite. Exhausted after a long day on-mountain? Relax around the grand stone fireplace and share stories with other guests over cocktails. This unique resort experience is rare in Jackson—you won't want to miss it!
Victor, Idaho
Just up the road about 30 minutes from downtown Jackson (over the Teton Pass into Idaho) lies the quaint and charming town of Victor. Many locals live here, love it for its quieter feeling, and revel in the multitude of outdoor sports options nearby.
It is a longer drive to Jackson Hole Mountain Resort, but if you are looking for more of a getaway and less of a full-service resort vibe, this is your ideal stay. The hotel options listed are known for their secluded and relaxing locations.
Victor itself has so much to offer. Sunset sleigh rides or dinner carriages, distillery tastings, and endless access to wildlife viewing are just a few of the big hits. The history in Victor is rich, and all around town you will see original architecture from when the Teton Valley was first settled. Drive down the road another 5 minutes to tour the regional historical museum for the full story!
Victor's restaurants are not all fine-dining experiences, but are absolutely some of the most quality food I have found in the area. On top of that, many of these locations are extremely budget friendly, as you are just outside of the boundary for the mandatory resort tax in Jackson.
If you have a family or are traveling with a big group, often Victor has much better options for large vacation rentals or hotel blocks. Read on to see which locations are our favorite here in the Teton Valley!
Why I Love Victor:
Quiet location
Authentic mountain experience
Rich in western history
Budget-friendly
Top-tier hospitality
Attractions Near Victor:
Sleigh Rides at Linn Canyon Ranch
Nordic Ski Tours
Ice Skating at Kotler Ice Rink
Teton Valley Historical Museum
Dog Sledding at Teton Valley Resort
Best Restaurants in Victor:
The Grille at Teton Springs
Grand Teton Brewing
Big Hole Bagels
West Side Yard
Butter Café
Best Hotels in Victor, Idaho:
Teton Valley Resort
$$ | 2 Star | Private Cabins | Stunning Views
Teton Valley Resort is a stunning location at the base of the Teton Range. Privacy, seclusion, and views are the name of the game here. With amenities such as a year-round hot-tub, on-site salon, and guests-only dining, you might just need an extra day of vacation just to enjoy the relaxation.
The Lodge at Bronze Buffalo Ranch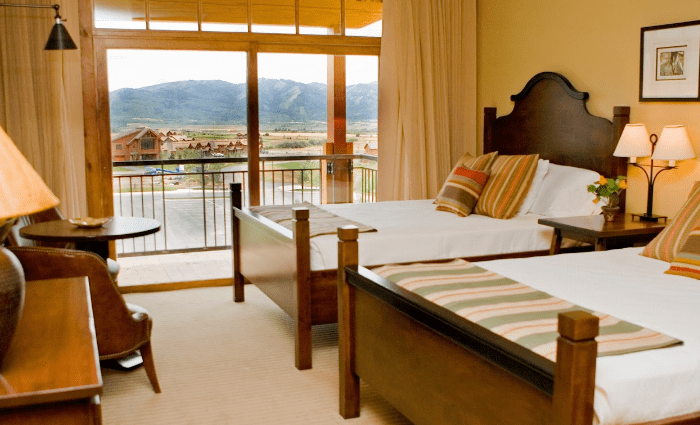 $$$ | 3 Star | Full-Service Spa | Private Hiking Trails
Teton Springs Lodge and Spa is a one-of-a-kind luxury resort in Teton Valley. Tennis courts, health and wellness center, and indoor/outdoor pool and spa are just a few of the notable amenities. This location is a destination in and of itself, and these incredible luxuries come at a fraction of a price you'd pay at a similar resort in Jackson. Book soon, this is one of the most popular options in Teton Valley!
Fin and Feather Inn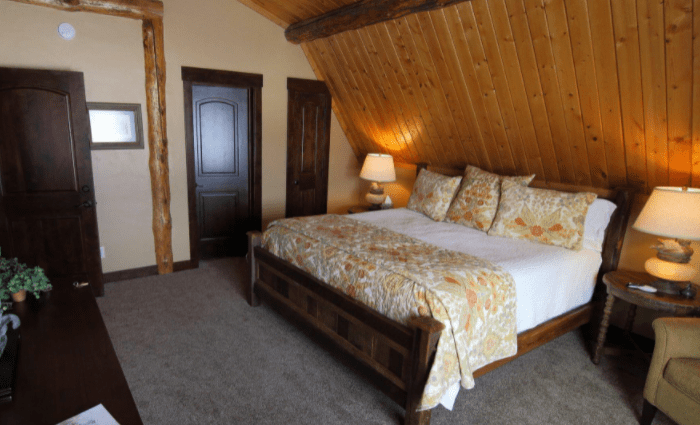 $$ | 2 Star | Fresh Daily Breakfast | Close to Teton Pass | Pet Friendly
The Fin and Feather Inn is a superb bed and breakfast, done the right way. To start, the home is palatial with plenty of space for peace and quiet. Each room is very well appointed, including private bathroom facilities. The hosts make breakfast to order and provide recommendations for daily activities. Plus it's one of the only pet-friendly options in the valley, if you love traveling with your furry friend!
Teton Tiny Home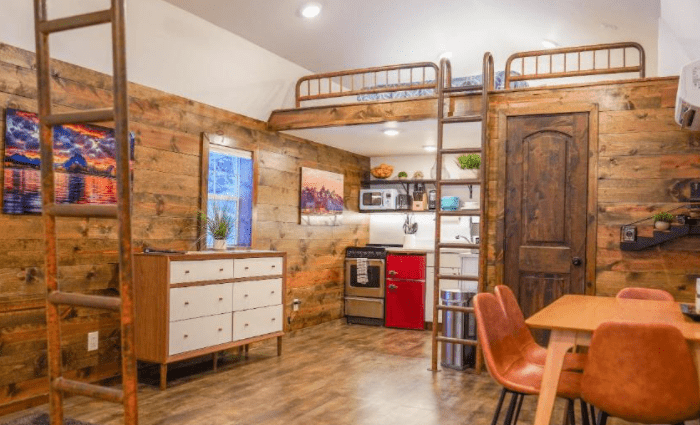 $$$ | 2 Star | Convenient Location | One-of-a-Kind Experience
If you love unique and once-in-a-lifetime vacation rentals, you've found it. Teton Tiny Home is an adorable, fully-functional tiny home, situated at the base of Teton Pass. Beautiful appointments throughout make this a perfect blend of rustic, mountain style with upscale touches. You are not going to want to miss this opportunity; this tiny home is a rare gem!