Grand Targhee Resort is one of Wyoming's best kept secrets. It's less than an hour from Jackson Hole, and this stunning ski resort is perfect for all skiers' abilities. At Targhee, you'll be able to enjoy a true Wyoming experience and avoid the crowded lift lines at Jackson Hole. And, the views don't get any better. We put together a list of our favorite accommodations near Grand Targhee Resort for skiing.
---
Here's What You Need To Know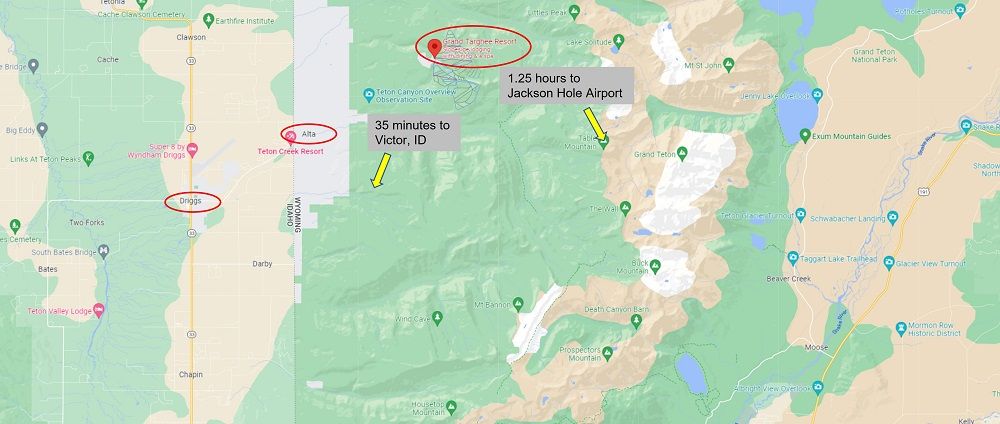 Grand Targhee Resort is located in the tiny town of Alta, Wyoming. Alta is just a few miles over the border from Idaho and the more-popular town of Driggs. Jackson, Wyoming is 45 minutes away, just over the famous Teton Pass.
Jackson Hole is probably the most popular airport to fly into. Idaho Falls Regional Airport is another popular option; it is further away but frequently has cheaper flights. Additionally, regardless of where you fly into I would recommend you rent a car for convenience.
Jackson Hole claims to be the best ski resort in the Grand Teton Mountains, but we think the views from the top of the lift at Targhee are second-to-none. You are truly face-to-face with one of the tallest mountains in the entire state of Wyoming!
Since Grand Targhee and surrounding area still has small-town vibes, sometimes it's difficult to find a good place to stay. So, we've broken down the three most popular areas that visitors frequently enjoy. For the closest access to Grand Targhee, you'll want to stay in Alta or nearby Driggs.
However, if you want a more luxurious ski experience, opt to stay in upscale Jackson and take in the views on the commute to Targhee. Regardless of which location you choose, Grand Targhee just might be the best skiing of your life.
Our Partnership with Booking.com. If you like our content, please book by clicking on our Booking.com links. The price is the same for you, and we get a small commission that helps support our blog. We've partnered with Booking.com because they have the most options, great prices, and a solid loyalty program. Just about every hotel is on Booking.com so our recommendations are not incentivized.
Where to Stay Near Grand Targhee: Best Hotels and Areas
Before you even get to the mountain, Grand Targhee is impressive. Look up to the east and take in the views of the Grand Teton Mountains. Standing at over 13,000 feet, the mountains tower over the valley. In their shadow lies the small town of Driggs, where you'll see many homages to the mountains on murals and sidewalk benches. Stop in at Peaked Sports or Habitat to take a little souvenir home with you.
From Jackson to Alta, there are too many good restaurants to count. However, locals and tourists agree—you can't miss the famous loaded Idaho waffle fries at The Trap Bar and Grill at the base of Targhee! There are plenty of activities for families with kids or skiers that want to push the envelope on technical terrain.
Other wonderful things about Grand Targhee are the eclectic resort vibes and remarkably low lift ticket prices. They feel strongly about making skiing accessible to everyone, which is why Grand Targhee is one of the most affordable ski resorts in the Rocky Mountains.
Up at the resort, there are mountain-sanctioned lodging options that are ski-in/ski-out. These are historic favorites, but there are so many more unique options nearby. But one thing's for sure no matter where you stay—the hospitality of locals in Teton Valley is arguably the best in the west.
Alta, Wyoming
Grand Targhee is just over the Wyoming/Idaho border, in the tiny town of Alta, Wyoming. There is not a real "main street" here, but a rather lengthy section of highway with huge ranches and stunning views of the mountains. There are, however, some fantastic lodges, vacation rentals, and hostels. This is the closest you can get to the resort without staying in the base area. Depending on roads and weather conditions, it's only 10 minutes to the resort.
In Alta, the best option for shopping and restaurants is up in the Grand Targhee base area. Likewise for entertainment, there is frequently live music at the Trap Bar and Grill. If you're lucky, the performers will include one of the first men to ever ski the Grand Tetons. In short, locals and visitors love to share stories and enjoy the most genuine après-ski cocktail hour you can find.
Why I Love Alta:
Close to lifts
Local's welcoming vibe
Après-ski comradery
Stunning views all around
Best Restaurants in Alta:
The Trap Bar and Grille
The Branding Iron
Snorkel's Cafe
Wild Bill's Outdoor Grill
Best Accommodations in Alta:
Teton Teepee Lodge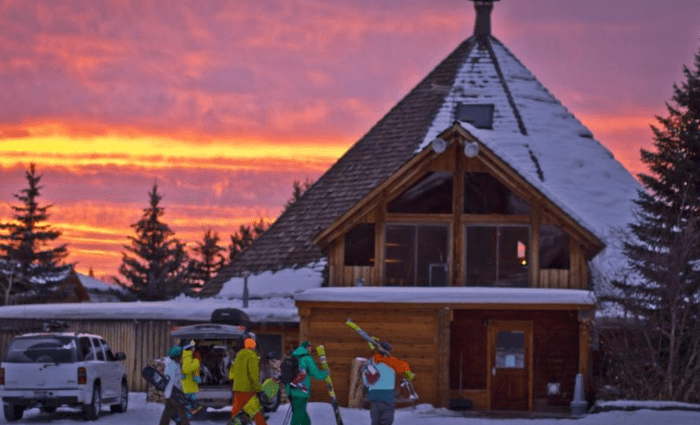 $$$ | 3 Star | Unique Experience | Easy Resort Access
The Teton Teepee Lodge is exciting even for passersby. This unique lodge is shaped like a teepee, with all the private guest room doors opening inside around a huge fireplace. Rooms are limited, so you are in for a personal and quiet stay. And the best part? You are less than 10 minutes to the bottom of the lifts. However, book early, this is the most popular option in Alta and books out sometimes a year in advance.
Teton Valley Cabins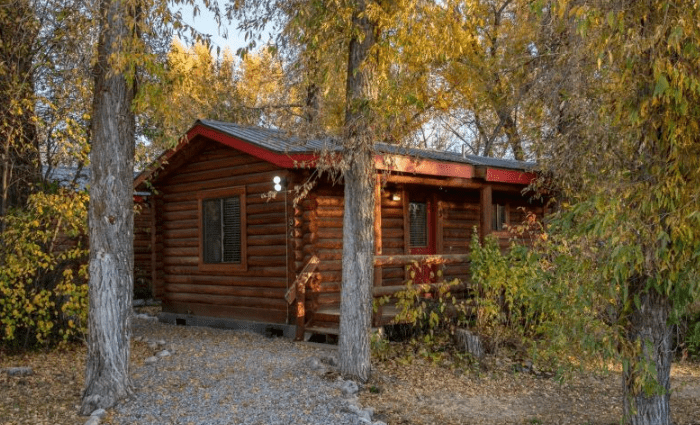 $$ | 2 Star | Budget Friendly | Private Cabins
Teton Valley Cabins is a fantastic budget-friendly option. However, even though the price is low the quality of accommodations are remarkable. An indoor hot tub, private cabins, and secluded location are just some of the high points. In addition, some cabins have a full kitchen. To top it off, it is only a short 10-minute drive to the resort. To sum up, this would be a great selection for families on a budget!
Teton Hostel Hideaway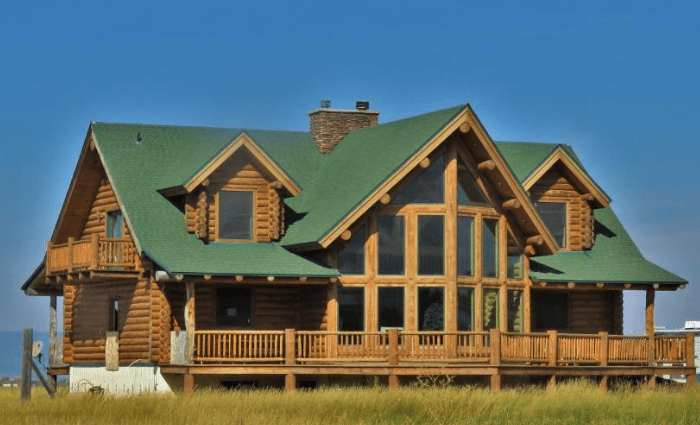 $$ | 2 Star | Lodging Experience | Budget Option
The Teton Hostel Hideaway is a very unique experience. Some rooms are dorm-style, meaning they are shared with other visitors. Usually, these come at a huge discount that would fit even the smallest budgets. On the other hand, there are private rooms and suites if you prefer privacy. All guests can soak in the views from the private balcony and talk to the host for personalized recommendations for each day of your trip.
Grand View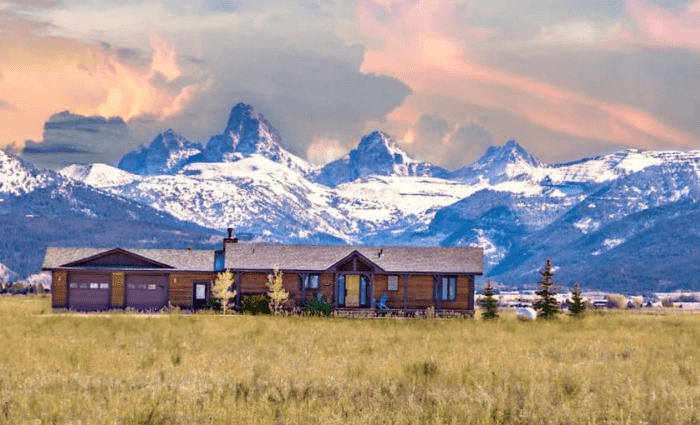 $$$ | 3 Stars | Sleeps 14 | Incredible Views
Grand View Vacation Rental is a massive vacation rental a stone's throw from the highway to Grand Targhee. This property is special for many reasons, but most importantly the jaw-dropping views of the Grand Tetons. Relax after a long day on the private patio or make s'mores in the outdoor fire pit. There is even a garage, so you don't have to scrape off your windows on a snowy morning! This option would be perfect for large families or groups, as it sleeps up to 14 guests.
Alta Lodge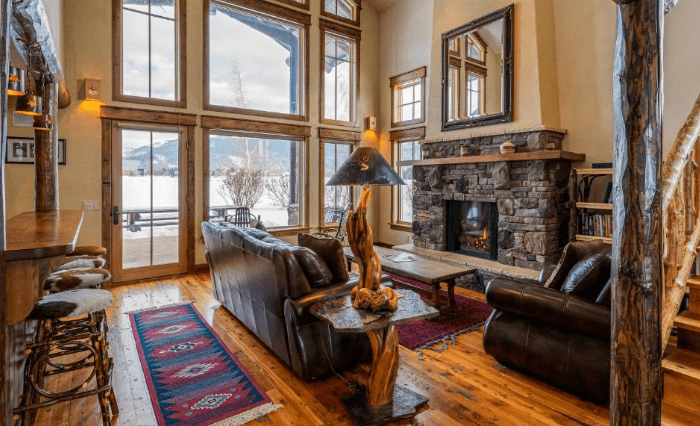 $$$ | 3 Star | Excellent Resort Access | Sleeps 12
Alta Lodge Vacation Rental is another incredible option for large parties or big families. The floor-to-ceiling windows give stunning views of the mountain. In addition to easy access to the highway, it is a short 10-minute drive to the resort. Nestled on five acres, you will feel privacy and nature all around. This is another rare find that books quickly!
Driggs and Victor, Idaho
Driggs and Victor are two small town a stone's throw from the resort. Frequently, locals refer to these two towns as "The Valley," short for the proper name of Teton Valley. When you arrive, you'll know it's named so for the stunning view of the Grand Teton Mountains to the east. This is where the party is! Find the best eateries, distilleries, and local comradery here in Driggs and Victor.
From The Valley, it is a 20-minute drive to the resort. If you like to have a day off during your vacation, you can enjoy shopping and family activities under the shadow of the Grand Teton Mountains here. Above all, the locals' favorite après-ski haunt is Grand Teton Brewing. Likewise, don't miss Peaked Mountain Sports for rental options and souvenirs!
Why I Love Driggs and Victor:
Stunning views
Small-town charm
Excellent restaurants
Family activities
Best Restaurants in Driggs and Victor:
Big Hole Bagel Cafe
Teton Thai
Three Peaks
Forage Bistro
Best Accommodations in Driggs and Victor:
Teton Valley Resort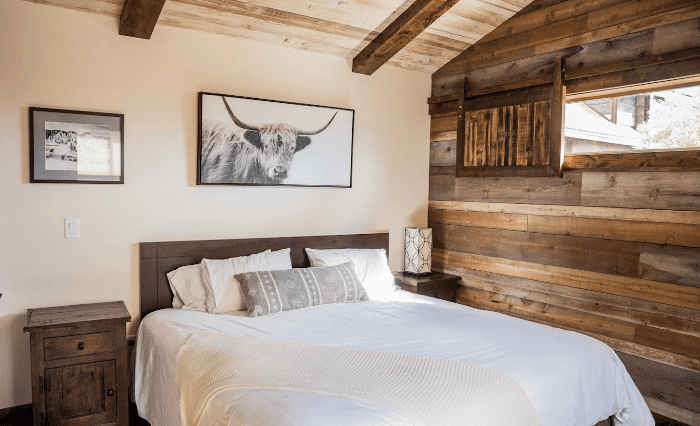 $$$ | 3 Star | Large Accommodations | Stunning Views
Teton Valley Resort is a favorite in Victor. With unique amenities such as an on-site salon, this is the perfect place to stay if the entire group isn't up for skiing every day of vacation. However, the resort is only 15 miles away for easy access for the die-hard skiers traveling with you!
Teton Mountain Lodge and Spa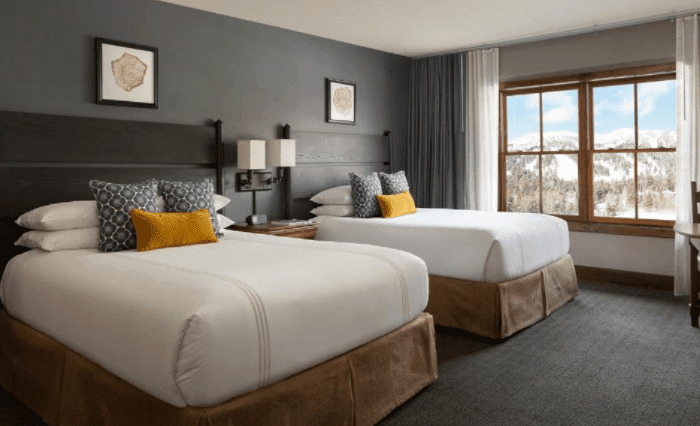 $$$$ | 3 Star | Luxury Option | On-Site Activities
Teton Springs Lodge and Spa is a true Teton Valley luxury option. In addition to beautiful rooms, other amenities such as an on-site health spa and wellness center welcome guests. Relax in outdoor hot tubs, and schedule a massage for your sore ski muscles. In short, this would be a fantastic option for couples looking for a true luxury experience.
Teton Tiny Home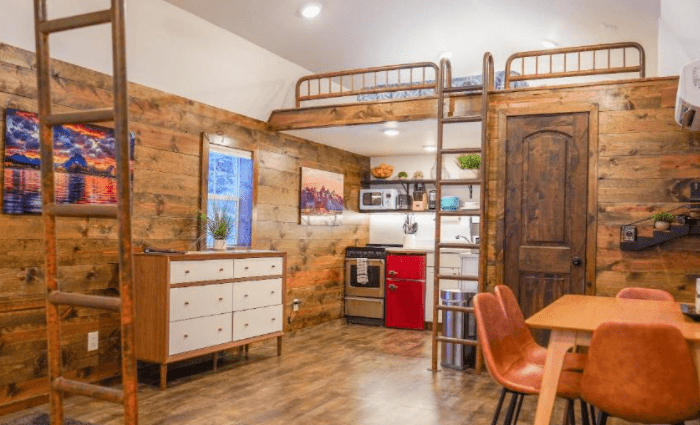 $$ | 3 Star | Unique Experience | Easy Location
Teton Tiny Home is an experience in and of itself. Guests love this accommodation for the uniquity; it is not everyday that you get to have a ski vacation and a standalone tiny-home experience, too! In addition to a convenient location close to the highway, easy access to the resort is a huge perk. However, this location books incredibly quickly, so book soon!
Fin and Feather Inn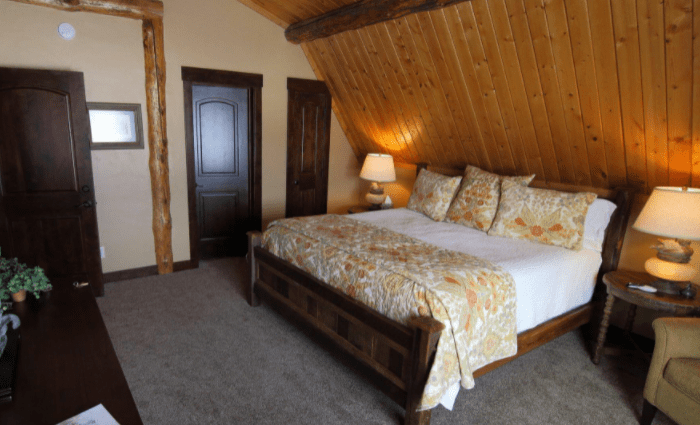 $$ | 2 Star | Traditional B&B | Lovely Rooms
Fin and Feather Inn is a special location tucked away in a residential area of Victor. The hostess is known for her show-stopping breakfasts and personal recommendations for activities. Certainly, you'll feel like a local at this cute gem!
Jackson, WY
For those who don't mind a longer commute and love a little luxury, Jackson is the perfect place to stay. In addition to stunning accommodations, you'll also enjoy gourmet food and glamorous shopping. Moreover, there are comforts in Jackson that Teton Valley does not have due to its small-town status. Close proximity to the airport is a perk, but expect a 45-minute drive to Grand Targhee Resort for skiing.
If travelling with a family, there are plenty of options for off-slope activities like skiing, snowshoeing, and tubing. After enjoying some family fun, don't miss the gorgeous art and photo galleries in downtown! Overall, if a more upscale vacation is more your style, Jackson is absolutely the choice for you.
Why I Love Jackson:
Upscale options
Family activities
Tons of shopping
Close to airport
Best Restaurants in Jackson:
Persephone
Million Dollar Cowboy Bar
Sidewinder's Pub
Snake River Grill
Best Accommodations in Jackson:
Elk Country Inn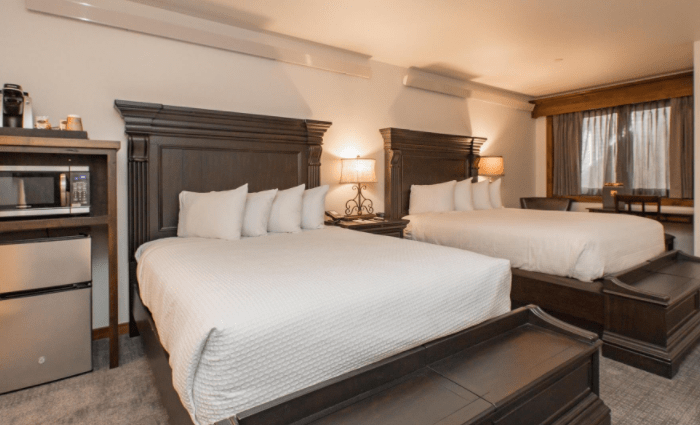 $$$ | 3 Star | Room for Families | Budget Friendly Luxury
The Elk Country Inn is an excellent option for couples and families alike. From private cabins to luxury suites, there are multiple accommodation options for every budget. Soak in the glorious marble-tiled indoor/outdoor pool and hot tub after a long day on the slopes.
Hampton Inn Jackson Hole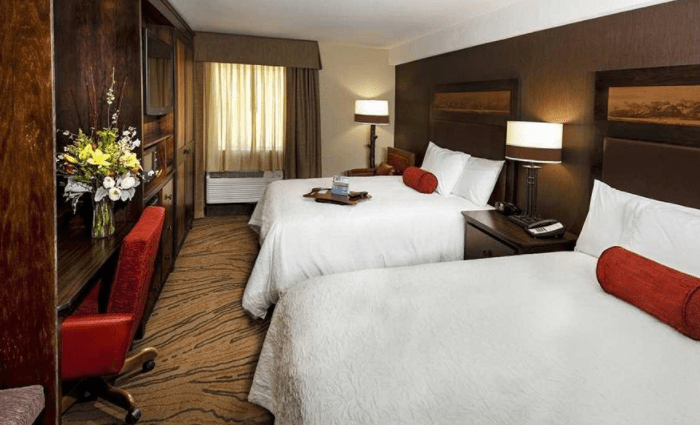 $$ | 2 Star | Convenient Location | Budget Friendly
The Hampton Inn is under the huge Hilton umbrella, and though the price tag is lower than many options in Jackson this location spares no luxury. Soak in the oversized hot tub, and enjoy the made-to-order breakfast to fuel up before a day on the mountain. This is an excellent option that will fit all budgets!
Jackson Hole Hideout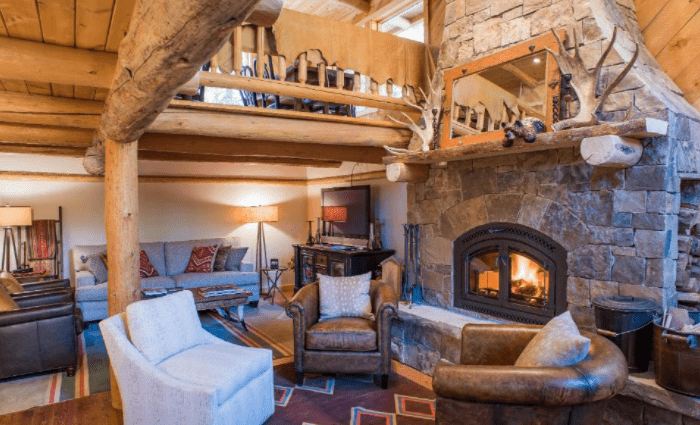 $$$ | 3 Star | Close to Skiing | Large Accommodations
The Jackson Hole Hideout is a diamond in the rough. Because of the close location to Teton Pass Highway, it is the closest you can get to Grand Targhee Resort without staying in Teton Valley. Enjoy spacious cottages and a glorious fireplace common area after skiing! Truly, you feel like you are right at home.
Fireside Resort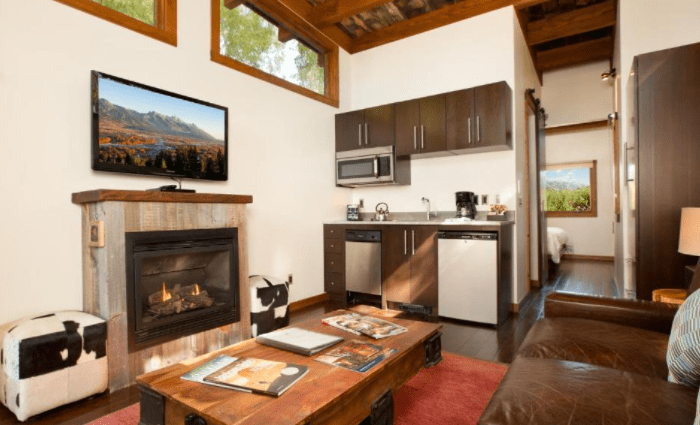 $$$ | 3 Star | Upscale Cottages | Secluded Location
The Fireside Resort is a very special location, tucked right along the Teton Pass Highway. Each cottage features privacy and upscale touches. Amenities include a stunning hot tub, stone-tiled shower with luxury appointments, among others. This is a stunning location that you won't want to miss!