There's no wonder why visitors flock to Jackson, Wyoming during both summer and winter months: it truly is a Rocky Mountain experience like no other. With ultra-luxury resorts, old-west style lodging, and some of the best skiing in the county, some might even call a vacation to Jackson Hole legendary. But where to stay when you're wanting to ski at both resorts? Use our recommendations for the best ski hotels near Jackson, Wyoming.
---
Our Partnership with Booking.com. If you like our content, please book by clicking on our Booking.com links. The price is the same for you, and we get a small commission that helps support our blog. We've partnered with Booking.com because they have the most options, great prices, and a solid loyalty program. Just about every hotel is on Booking so our recommendations are not incentivized.
The 9 Best Hotels for Skiing near Jackson, WY
Jackson, Wyoming is home to some of the deepest, snowiest places in the Lower 48. With an average snowfall of 526 inches (yes, you read that right!) and a whopping 2,500 inbound acres, plus 3,000 backcountry acres, you will definitely be impressed.
The town of Jackson is modest and known for top-notch hospitality and welcoming locals. We love sharing epic powder days with visitors and raising a glass to new memories during après-ski happy hours!
Just 10 minutes north of the town of Jackson is the Jackson Hole Mountain Resort in Teton Village. If you prefer to stay at the base area, there is no shortage of fine dining and boutique options. Ultra-luxury mountainside accommodations will fit even the finest of tastes. Most importantly, you are steps away from first chair. Your other alternative is to stay in Jackson and ski at Snow King Resort, which is just steps from town.
Coming to Jackson with the family? There are plenty of hotels, condos, and vacation home rental options with room for everyone to spread out. It is best to book these and hotel accommodations early; winter in Jackson is busy and rooms fill quickly! Read on for my favorite hotels for skiing in Jackson, Wyoming, plus how to get here!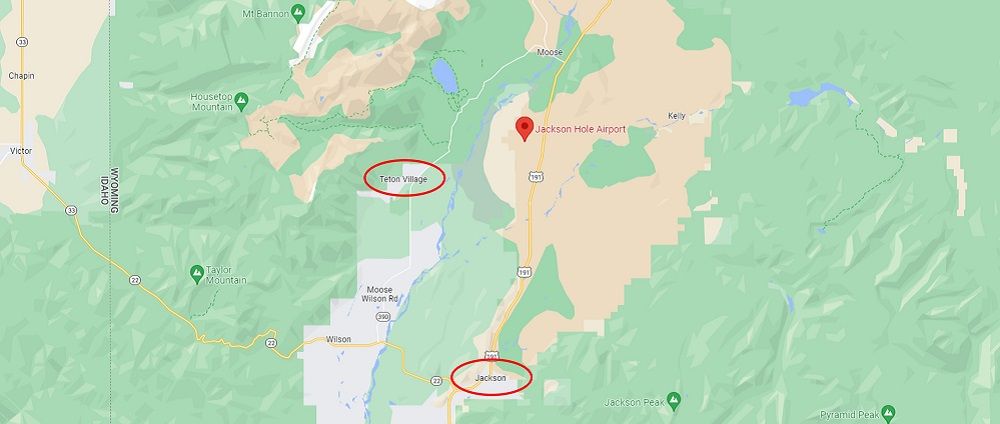 How to get to Jackson, Wyoming
Flying into Jackson is almost as exciting as the skiing itself. The Jackson Hole Airport is actually located within the Teton National Park boundary, so you can check it off your national park bucket list! Silhouetted on the western skyline as you land are the Grand Teton mountains. If you look closely, you might see ski tracks left by a crazy thrill-seeker!
From the airport, it's a quick 15-minute drive to Jackson, and you'll actually pass the turnoff to Teton Valley on your way. Driving into town, you are greeted by the cheery Town Square with the famous antler arches and jaw-dropping views of the steep, small ski resort Snow King.
Most visitors choose to stay here in Jackson, due in part to the plethora of restaurants and shopping. Snow King is an excellent option for beginners and casual skiers. Don't miss the snow coaster and snow tubing! But first, check out our picks of the best ski hotels near Jackson, Wyoming.
Elk Country Inn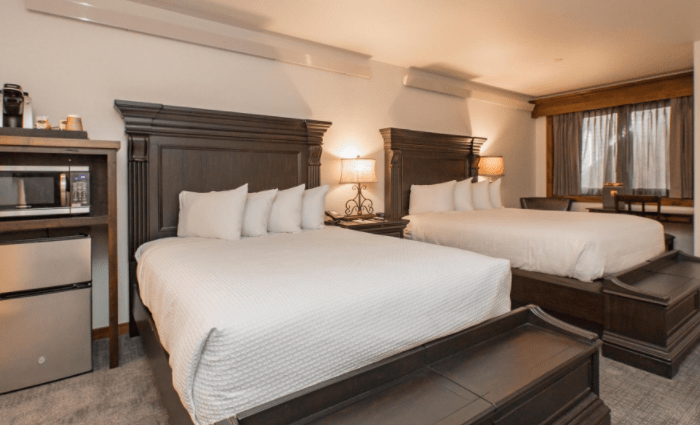 $$$ | 2 Star | Upscale Western Vibe | Indoor/Outdoor Pool and Spa | Huge Suites | Private Cabins
The lovely Elk Country Inn has humongous suites, marble-tiled bathrooms, and an indoor-outdoor pool that's open year-round. They boast premium amenities and appointments in each room. They even have a few private, separated cabins for a true mountain experience, which means you'll need to book these early—they fill up fast!
Hop on their free ski shuttle to the mountain to avoid long lines for parking. After a long day on the mountain, you are a short walk to downtown for shopping and dinner. Guests have access to an outdoor barbecue if you're not in the mood to go out. Before the evening is over, relax in the hot tub before turning in to your cozy room!
The Lexington at Jackson Hole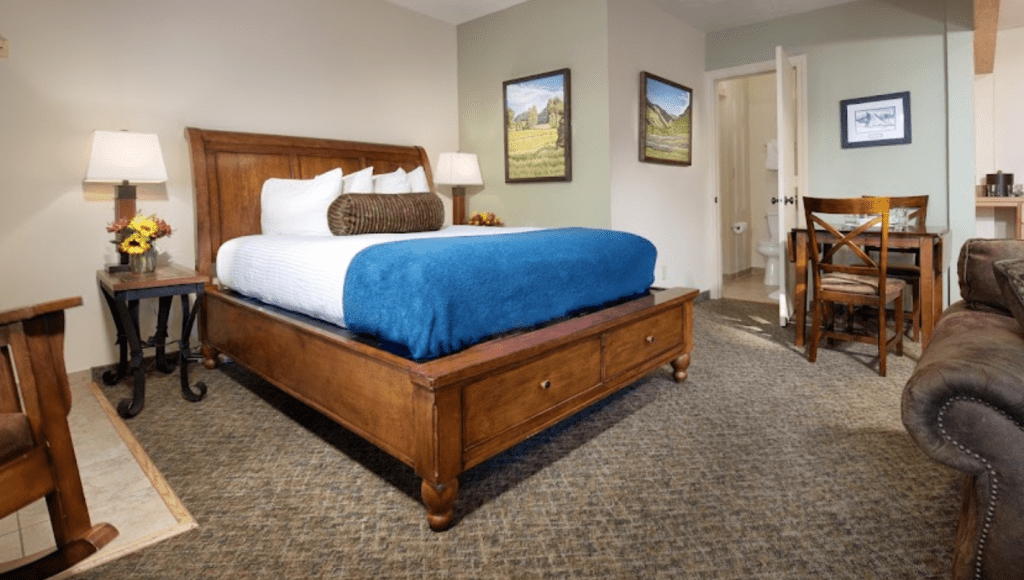 $$$ | 3 Star | Fresh, Daily Breakfast | Airport Shuttle | Romantic Suites for Couples
The Lexington at Jackson Hole is in a superb location that's one block from Town Square shopping and nightlife. You can skip the rental car and utilize their shuttle to get to the airport and ski resort. Each morning, the chefs craft a delicious breakfast buffet guaranteed to energize you for a long day on the mountain!
Room options vary from quaint, romantic suites for couples to spacious suites with room to sprawl. Views out your window may feature night-skiers on Snow King and the beautifully illuminated famous elk antler arches in Town Square! Guests can wind down in the pool and hot tub before cozying up by the fire.
Mountain Modern Motel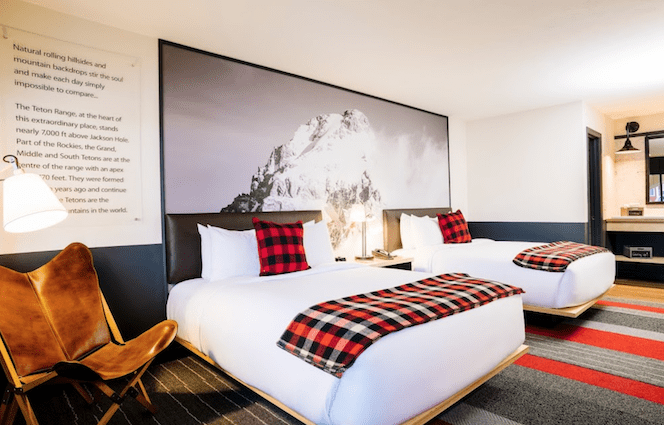 $$$ | 2 Star | Rare Location Downtown | Unique Rooms | Ski Storage
Mountain Modern Motel is a fun, boutique-style hotel conveniently located right next to downtown and Town Square. Rooms feature cute bunk beds for kids or cozy suites for a romantic getaway. And guests love the private shuttle to and from skiing.
A fun thing about these rooms is that the decor features maps and photos of Grand Teton National Park with pops of traditional buffalo plaid. And it's helpful that each room has a fridge and microwave too.
You'll find a glorious tiled pool and hot tub, two restaurants, and a salon here. Big Hole Barbecue is not one to miss when you're hungry. At Mountain Modern, there is no shortage of entertainment, with no need to leave the comfort of your hotel.
Oh, and there's a reason they call their staff "wise guys." If you need recommendations for restaurants, evening activities, or local's favorite ski runs, they'll be sure to hook you up.
Wyoming Inn
$$$ | 3 Star | Fine Dining | Spacious Rooms | Western Feel
The Wyoming Inn is a must for those looking for a luxurious lodge-like experience in Jackson. The decor hails back to Jackson's wild west history, complete with elk antler chandeliers. The photography throughout the property is from famous local photographer Thomas Mangelsen, who has a gallery downtown that is not to be missed!
Each room is hailed as spacious and comfortable, with luxury appointments throughout. On-site fine dining at the Whistling Grizzly features a rotating, regional menu for dinner, and staple classics for breakfast before hitting the slopes. If a day on the mountain isn't enough of a workout, check out the full-service gym. We love this pick on our list of the best ski hotels near Jackson, Wyoming.
The White Buffalo Club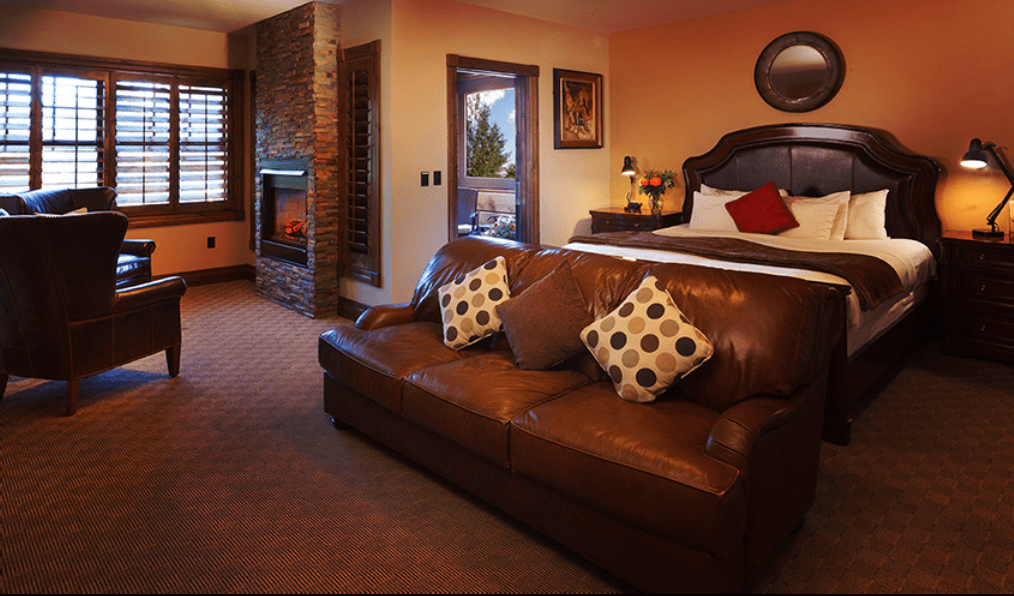 $$$ | 4 Star | Spa and Wellness Center | Free Yoga Classes | Upscale Restaurant
The White Buffalo Club is a true full-service resort getaway, nestled in a modest neighborhood just steps away from downtown Jackson. The property feels private, the surroundings are quiet, and the rooms feel relaxing with unique amenities like a washer and dryer in each. Grab an après-ski drink or stop in for dinner and see why Cellar's is the top-rated steakhouse in Jackson.
Among the other unique and enjoyable amenities, The White Buffalo also is home to a spa and wellness center. Book a massage for your sore ski muscles, and slip into a true state of relaxation. One more thing that makes this property shine is the ski valet: open for boot fittings, ski rentals, tuning, and more. If you are looking for a one-stop resort vacation, The White Buffalo is the answer.
The Cloudveil, Autograph Collection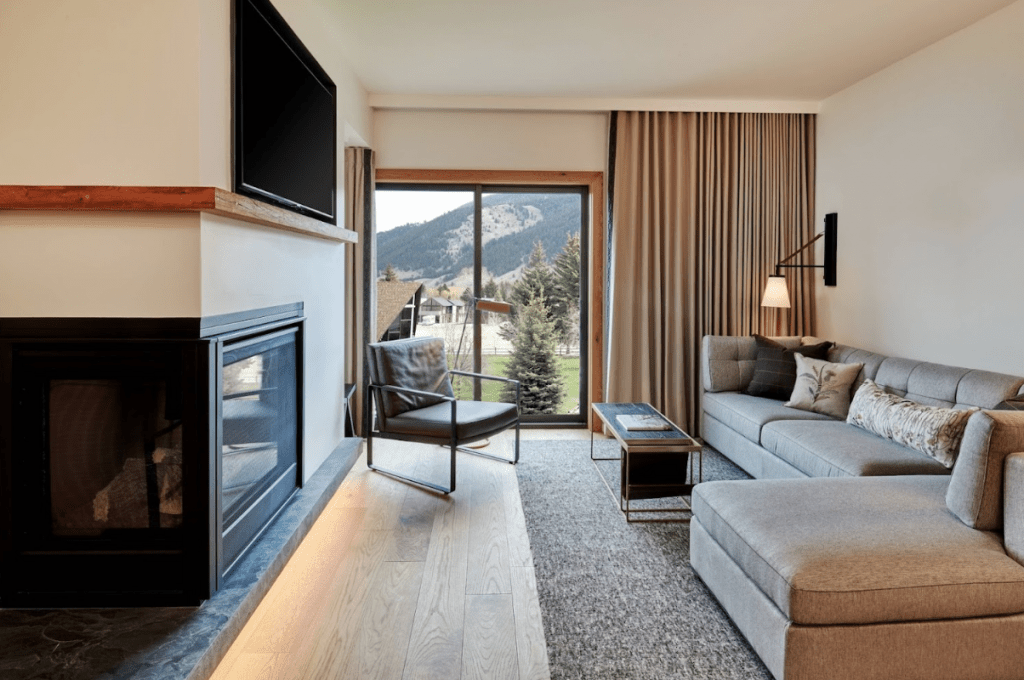 $$$$ | 5 Star | True Wyoming Luxury | Convenient Downtown Location | Full-Service Concierge
The Cloudveil is one of the newest, most upscale hotels in Jackson. They boast fireplaces in cozy suites, breathtaking views from every room, and a world-class dining experience by renowned restauranteur Gavin Fine. Convenient touches such as a ski pass sales desk and ski valet make this the perfect spot to stay for your ski vacation!
Steps away from your door is the "gallery strip," as locals call it, which includes some of the finest art shopping in Wyoming. After your stroll, stop by Moo's Gourmet Ice Cream across the street from The Cloudveil—you won't regret it!
The Bentwood Inn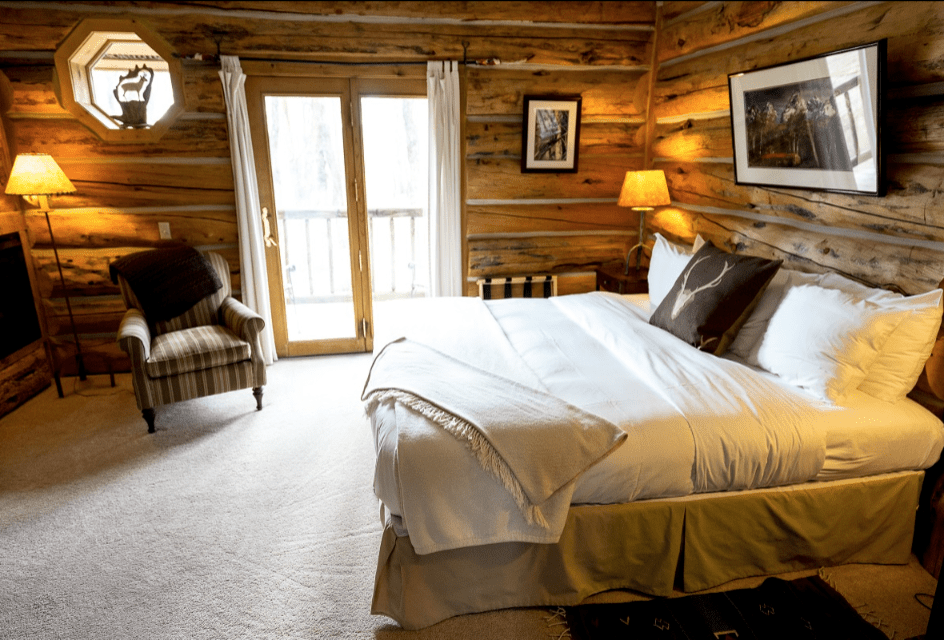 $$$ | 4 Star | Mountain Luxury | Riverside Activities | Close to Skiing
Just a stone's throw from downtown Jackson and a short five-minute drive further up to Teton Village is The Bentwood Inn. Nestled along the Snake River, you are steps away from riverside snowshoeing, fantastic wildlife watching, and jaw-dropping Teton views.
The Bentwood is true mountain luxury; each room features a fireplace and picturesque views from the bay window. The stunning wood interiors are all sustainably harvested from the burned forests surrounding Yellowstone National Park.
Included with a stay at the Bentwood is a nightly gathering with other guests for complimentary hors d'oeuvres and cocktails. Ready for dinner? Indulge in local and organic meals for both breakfast and dinner at the on-site fine dining restaurant.
If you are looking for a destination, lodge-style hotel for your ski vacation, look no further—the Bentwood is an experience in and of itself.
Alpenhof Lodge (Teton Village)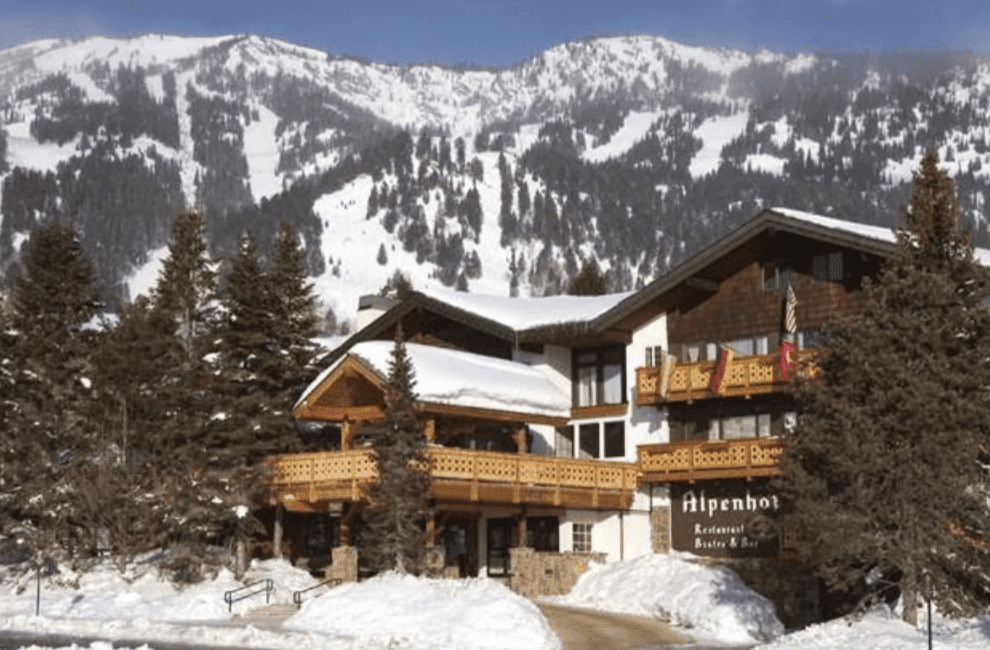 $$$+ | 4 Star | Historic Hotel | Ski-In/Ski-Out | European Vibes
The Alpenhof is steps away from the lift at Teton Village and boasts the best breakfast on the mountain. At the end of a long day, slide in to the ski-in/ski-out bar for Bavarian-style après or relax in the guests-only spa. Hotel staff will take care of your gear, so you don't have to worry about hauling it around—talk about convenient!
The rooms are in traditional Bavarian ski-villa style, and can feel a little outdated, but that just adds to the charm here. Each room features a private balcony, hand-crafted furniture, and premium amenities.
Worth noting, this on-slope option is frequently more budget-friendly than others in Teton Village. Book early, however, because this historic lodge sells out incredibly fast! It's easily one of the most beloved ski hotels near Jackson.
Continuum Hotel (Teton Village)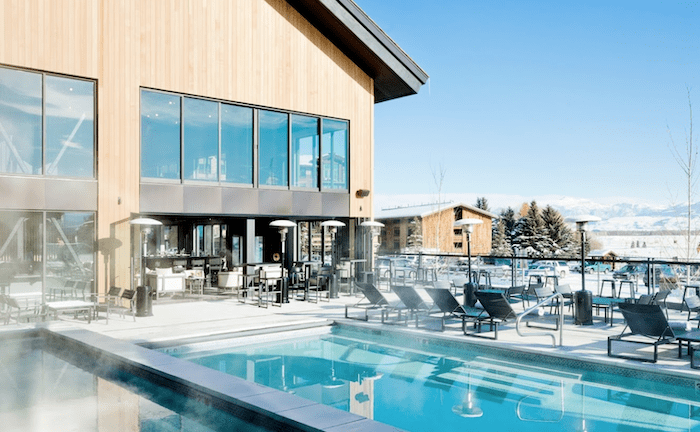 $$$$ | 3 Star | Year-Round Outdoor Pool | Upscale and Modern | Ski-In/Ski-Out
The Continuum is another stunning on-mountain lodging experience. Highlights include a spacious, year-round outdoor pool with poolside bar. There truly is no better way to après-ski! Service at this location is top-notch, from coveted front-row parking to a personalized concierge and a tranquil spa.
Moving beyond the experience, you'll also appreciate the stunning appointments in the rooms. Each room is upscale and modern, with plenty of space for all your ski gear (but don't worry about the skis, your valet will assist with that).
On-site luxury dining and shopping options make this property a one-stop vacation experience. Don't miss the happy hour margaritas, they are known to be the best in Teton Village!