Sunday River spans three miles from White Cap all the way to Jordan Bowl. It's a place where everyone is welcome, and you can always find a good brewery at the end of the day. If you are not sure where to stay near Sunday River, use this helpful guide. We've put together our list of the best ski hotels in Sunday River for your next ski adventure.
---
Our Partnership with Booking.com. If you like our content, please book by clicking on our Booking.com links. The price is the same for you, and we get a small commission that helps support our blog. We've partnered with Booking.com because they have the most options, great prices, and a solid loyalty program. Just about every hotel is on Booking so our recommendations are not incentivized.
The Top Hotels for Skiing at Sunday River
Sunday River is a must for skiers on the East Coast since it's a great spot for a ski-cation. The mountain is diverse to keep you busy for a weekend and then some. It's far enough north where the conditions are fantastic, and you get to spend that quality time with nature and the mountains.
Some hotels have their own restaurants in the lobby where you'll find quality meals. Hotels of varying costs are available here, and a few will be ski-in/ski-out. You can always grab a bite to eat in Bethel, Maine, which is only a 15-minute drive away.

You may find an amazing 80s band playing at the Foggy Goggle restaurant located mountainside right above the main lodge too. Always know that a good day of skiing is far better than most things, so I hope you enjoy your time on the slopes at Sunday River as much as I do.

Sunday River is one of the most-visited ski resorts in New England with a vertical drop of 2,340 feet, and it is the second-largest mountain in Maine. There are no shortage of trails: 135 trails to be exact. It's great for beginners and intermediate skiers, but you'll find a few expert runs here too.
My favorite trail is Gnarnia. I'm betting you will shred the Gnar on that double black diamond too! I would highly recommend heading into the Jordan Bowl too and hanging out in Blind Ambition if you are up for the glades.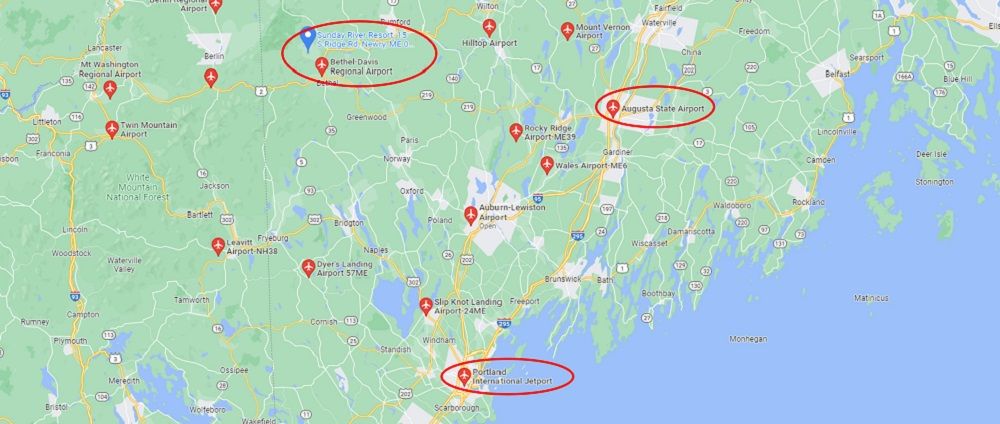 How to get to Sunday River Resort:
The closest well-known airport is in Portland, Maine, about 90 minutes south of Sunday River. The next largest regional airport is Augusta State Airport, which is about 90 minutes east of the mountain. You can also fly Cape Air to the smaller Bethel Airport, which is just 10 minutes from the mountain, but that will require at least one connection at another regional airport.
Now, Sunday River is not the easiest place to get to via plane, but it is worth the trip. You can head up Interstate 95, if you are driving from the south, then take highway 26 after you're past Portland. Once you arrive, you don't have to worry about going anywhere else, because Sunday River has you covered.
Speaking of that, let's get to what you came for: the best ski hotels near Sunday River for skiing. I've included hotel and rental options at the base of the mountain and in the nearby town of Bethel.
Jordan Hotel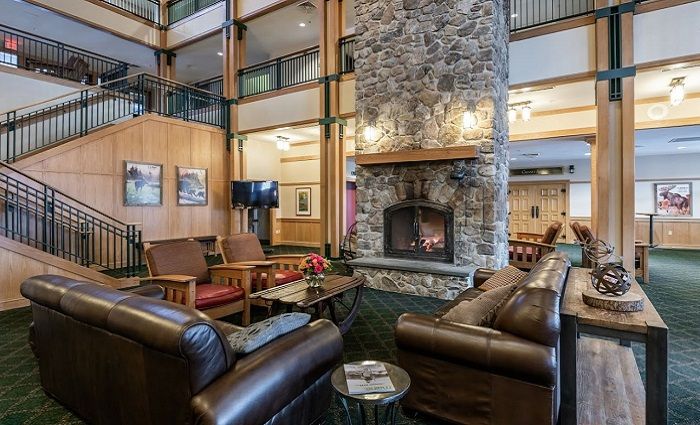 $$$ | 3 Star | Hot Tub | Spa | Ski-In/Ski-Out
The Jordan Hotel is a place where you can stay, ski, and then spend the rest of your evening at the hotel. They have two restaurants inside, and of course, they have the ever-necessary hot tub. You can rent skis on-site and not have to worry about finding a rental shop, which is convenient.
You can ski right off the mountain and into the hotel, so there is no need for transportation to and from the mountain. Just the transportation to get here from the airport! You'll find rooms, suites, and three-bedroom apartments here, so there's plenty of space if you're bringing the kids.
The Inn at the Rostay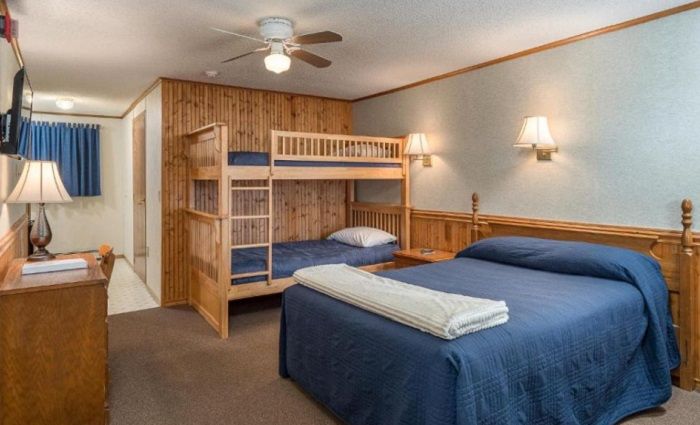 $$ | 3 Star | Cozy, Rustic Vibe | Charming Exterior
This is a nice, cozy place after a long hard day of skiing where you can relax in the jacuzzi. Also, if you want to pick up some food to keep in the mini fridge, instead of going out to eat every night, there is a grocery store just a block away. This inn is located between Bethel and Sunday River, so there are no shortage of places to grab a bite to eat. Great place to stay with the family or your significant other!
Holidae House Bed & Breakfast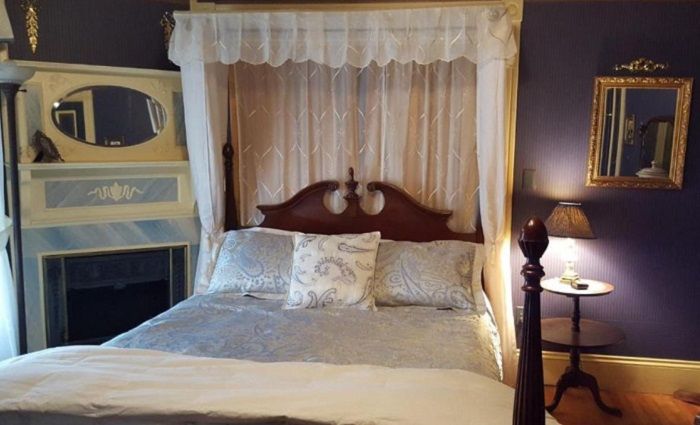 $$ | 3 Star | Gourmet Breakfast | Rustic New England | Guest Favorite
Now this place is the definition of a warm and cozy B&B. They have a gourmet breakfast included each morning, and they can shuttle you to the mountain at no extra cost. The Holidae House is found in the heart of the quaint town of Bethel—roughly seven miles from the resort.
You are also within walking distance to a few different pubs in town for a good burger to end a hard day on the slopes. If you opt for this B&B, you'll agree that it's one of the best hotels near Sunday River.
Thunder Ridge Lodge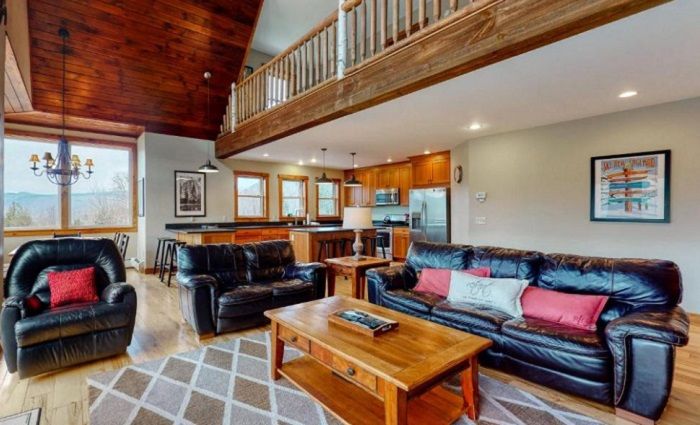 $$$$ | Mountain Home | Sleeps 16 | Hot Tub
You'll find this massive mountain home north of Newry and about 15 minutes from the mountain. It's the perfect little spot if you want a little more seclusion on your ski trip to Sunday River. That means you'll either need to pick up groceries for dinner or stay at the mountain to enjoy a meal at one of the local restaurants there or in Bethel.
If you're planning a huge reunion with friends or family, this is your place. There are 6 bedrooms and 5 bathrooms and a large living room for relaxing near the fireplace.
River View Resort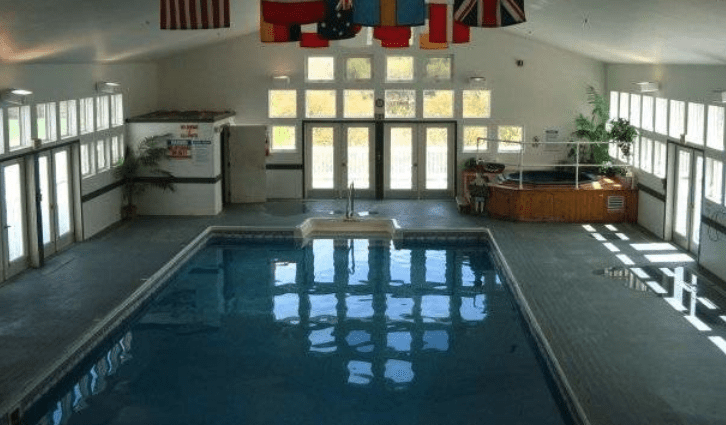 $$$ | 3 Star | Indoor Pool and Hot Tub | Full Kitchens
The River View Resort provides a shuttle to the mountain, but if you want to stretch your legs and walk around, you'll enjoy the view along the riverbank near the hotel. As far as amenities go, there's not an abundance at this no-frills hotel, but they do have an indoor heated pool and hot tub.
One thing that's really great about River View is that every type of room has a full kitchen, so you can make that ham-and-cheese sandwich for your mid-day snack on the slopes. Some rooms even have private balconies. There are also plenty of places to eat and drink nearby like Definitive Brewing Company, which is within walking distance.
Sunday River Sunny Chalet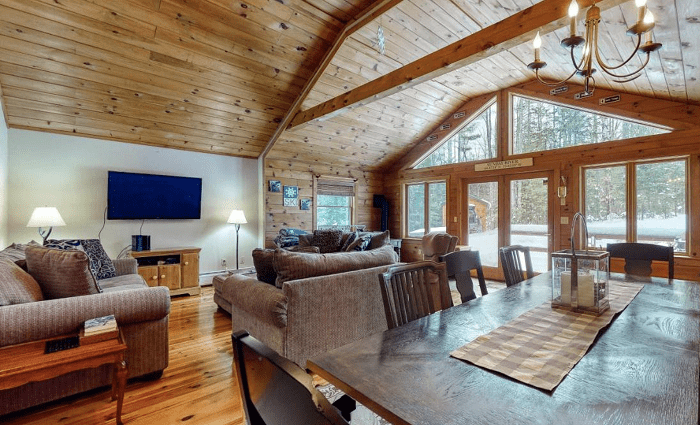 $$$+ | Entire Home | Hot Tub | Sleeps 9
Renting a whole house might not be your first thought, but this is an amazing spot right next to the mountain. This house has 3 bedrooms and 2 bathrooms, including a hot tub (of course).
If you prefer feeling homey and making some home-cooked meals in a full-size kitchen and dining room, then don't skip this great mountain home. It is the perfect getaway for a family ski vacation to Sunday River or for crashing with friends!
Riverbend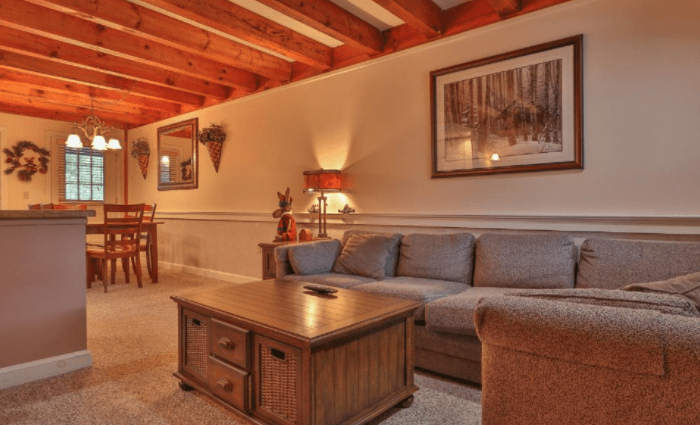 $$ | Entire Condo | Full Kitchen
Sometimes all you need is a condo instead of a whole house. This condo at Riverbend is a great option since it comes with a full kitchen and comfy living room. You're only a short walk away from the shuttle to get the mountain as well.
Sunday River Brewing Company is under a mile away, but the mountain is even closer. It's a cozy, modern vibe, and a great place to cook some dinner with family and friends at night.