When going on the ski vacation of your dreams, sometimes added amenities and luxury accommodations are a must when looking for the right hotel. In Jackson, there is no shortage of ultra-luxury options that are sure to provide a memorable experience. From en-suite spas to private hot tubs, true relaxation is bound exist! Follow along here for a local's recommendations for the best luxury ski hotels in Jackson.
---
Jackson, Wyoming, is known for epic ski slopes, stunning views, and top-notch hospitality. It's no wonder why luxury-seekers choose Jackson as their destination over other options; there are too many full-service resorts to count and all are sure to provide a true relaxation experience.
The only choice you must make is location—do you prefer to stay slopeside at Jackson Hole Mountain Resort, just steps away from the lifts? Or do you prefer downtown Jackson, with shopping and fine dining right outside your door? Here we carefully curated a few of our favorite luxury accommodations for both Jackson and Teton Village.
Our Partnership with Booking.com. If you like our content, please book by clicking on our Booking.com links. The price is the same for you, and we get a small commission that helps support our blog. We've partnered with Booking.com because they have the most options, great prices, and a solid loyalty program. Just about every hotel is on Booking so our recommendations are not incentivized.
The White Buffalo Club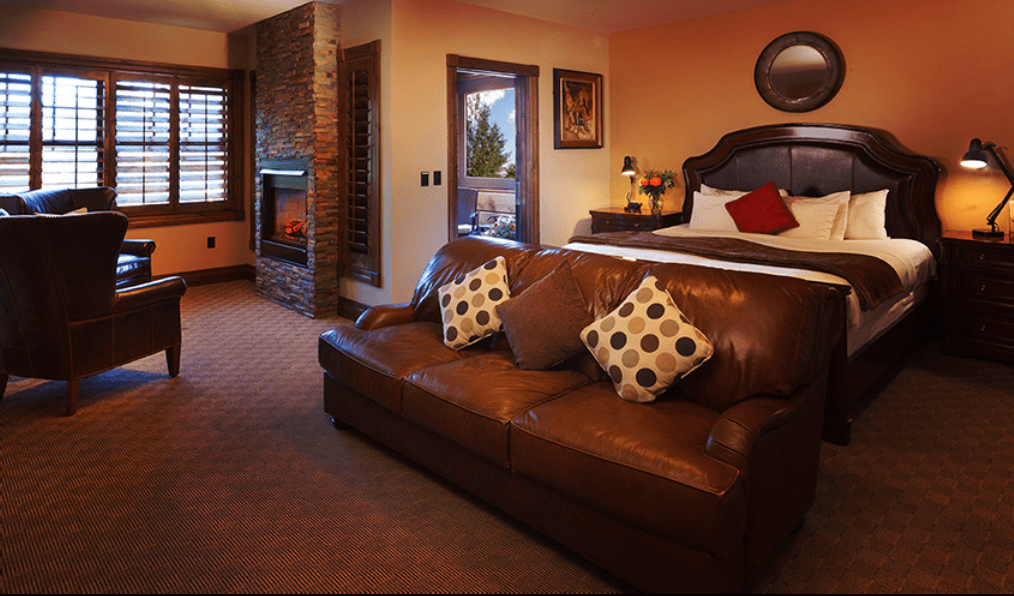 $$$ | 4 Star | Full-Service Spa | Yoga and Wellness | Fine Dining On Site
The White Buffalo Club is a tried-and-true, full-service accommodation, steps away from downtown Jackson. Quiet ambiance surrounds you in this tucked-away property.
Large, spacious rooms feel relaxing with convenient amenities like a washer and dryer. And for dining—the Cellar is a Jackson staple steakhouse and is conveniently located on-site.
Among the other unique and enjoyable amenities, The White Buffalo also is home to a spa and wellness center. Massages, facials, and yoga classes can all be booked with the attentive concierge.
Tired after a long day on the mountain? No more hassle hauling your gear to your room, simply pass off it to the ski valet and they handle the rest. Amenities abound at the White Buffalo Club, so for an in-town luxury hotel in Jackson, you need look no further.
The Cloudveil, Autograph Collection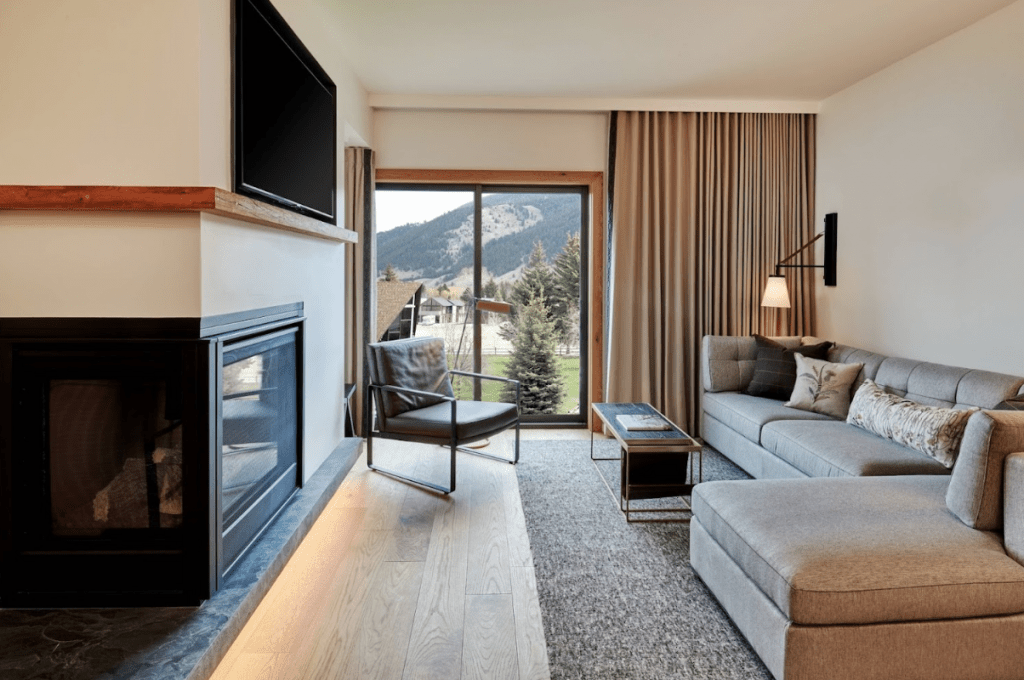 $$$$ | 5 Star | Modern Wyoming Luxury | Unbeatable Downtown Location | In-Suite Fireplaces
The Cloudveil is one of the newest, most upscale hotels in Jackson. With fireplaces in each of their cozy suites, breathtaking and panoramic views from every room, and fantastic service from a personal concierge, The Cloudveil exudes luxury. Don't miss their in-house, world-class dining experience by renowned restauranteur Gavin Fine.

Steps away from your door is the "gallery strip," as locals call it, which includes some of the finest art shopping in Wyoming. It's the perfect place to shop if you want to take a piece of the west home with you. Stop by next door at Moo's gourmet ice cream on your way back from shopping. It's a local's favorite!
The Wort Hotel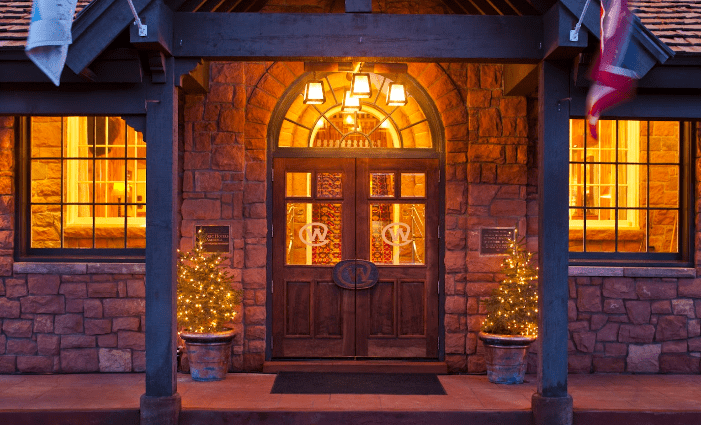 $$$$ | 4 Star | Elevated Western | Spacious Suites | On-Site Fine Dining
The Wort is a premium boutique hotel steps away from all that Jackson downtown has to offer. Their location could not be better. They are situated right off Main Street, one block from the finest dining and shopping in Wyoming. Additionally, they are one of the most historic hotels in Jackson, dating back to 1941.
Both The Wort and the Million Dollar Cowboy Bar—one of the most iconic stops in town—are owned by local Bill Baxter. Don't miss square dancing at the Silver Bar after your day at the resort!
Beyond the history and location, the Wort is beautifully appointed with historic touches and elevated style. Each room nods to their iconic years in Jackson with original artwork of the town and modern, sophisticated furnishings.
Find yourself in luxurious bathrooms, sprawling living rooms, and glorious beds. The Wort might just might be the most iconic luxury stay in Jackson.
Rustic Inn Creekside Resort and Spa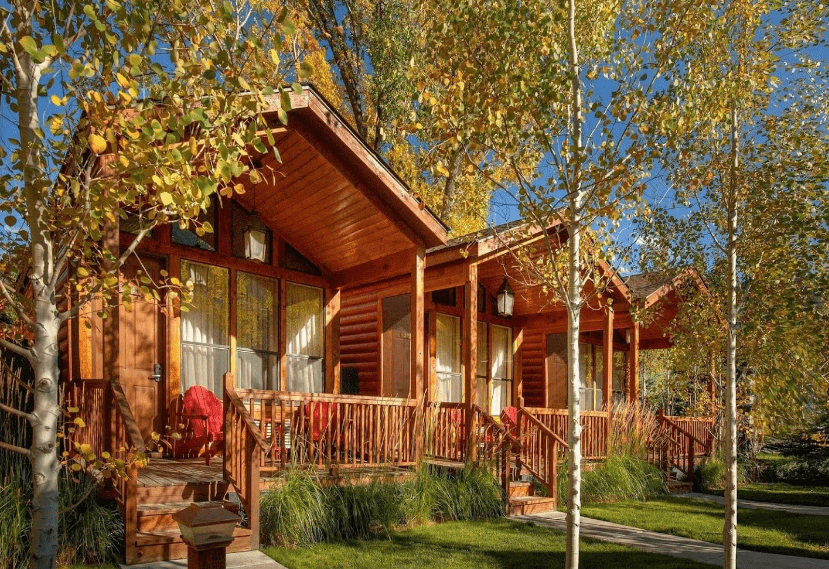 $$$$ | 4 Star | Private Cabins | Luxury Spa Suites | Quiet Location
If you are looking for a quiet, private getaway that still has all the luxury amenities and activities of a true relaxing vacation, Rustic Creek is your best option. This property spans acres, right along Flat Creek, a short walk or easy drive to downtown.
Stay at one of the private cabins for a waterfront view, or slip into true relaxation in a luxury spa suite. Every guest will be treated to a beautiful breakfast, outdoor pool and hot tub, and a remarkable premium wine list during the evening reception.
Regardless of the room you choose, all guests can book a session in the full-service, 2,300-square-foot spa. What better way to wind down after an exhausting day on skis than a massage or facial? To make things even easier for guests, they also assist in ski pass purchases, gear hauling, and rentals. The Rustin Inn is a don't-miss for couples and families alike.
Planning a ski trip out west? Check out our favorite places to stay in Sun Valley, Breckenridge, and Big Sky!
The Bentwood Inn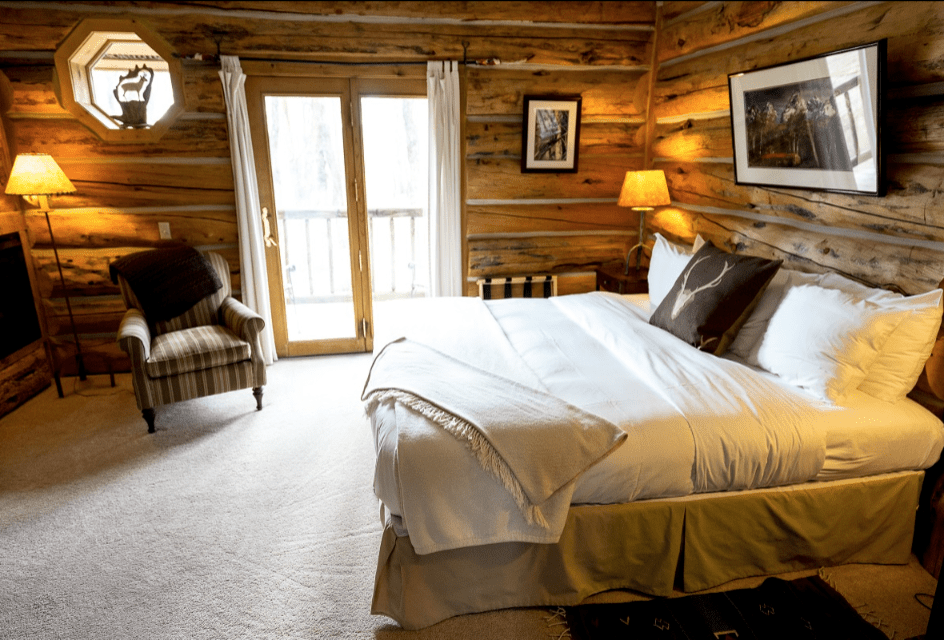 $$$ | 4 Star | Mountain Luxury | On-Site Activities | Secluded Location
Just a stone's throw from downtown Jackson and a short five-minute drive further up to Teton Village is The Bentwood Inn. This is a true mountain luxury experience. Each room is complete with a fireplace, stunning views from bay windows, and unique finishings. Even the log walls are special: Each tree was sustainably harvested from the burned forests surrounding Yellowstone National Park.
Included with a stay at the Bentwood is a nightly gathering with other guests for complimentary hors d'oeuvres and cocktails. Step out afterwards for a moonlit riverside snowshoe! Don't forget to stop in to the on-site restaurant for locally and organically-sourced meals, all day long.
If you'd like a little bit more peace and quiet, but still want to be near the action, the Bentwood is the choice for you. Riverside mountain luxury—exactly what every vacation needs!
Teton Mountain Lodge and Spa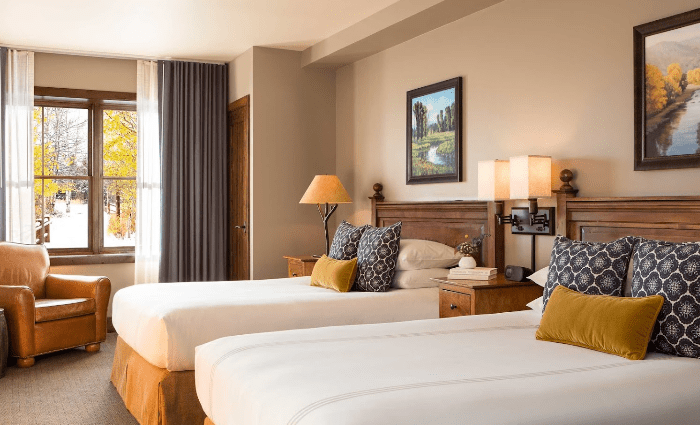 $$$$ | 4 Star | Slopeside | Private Spa | Rooftop Hot Tub
Teton Mountain Lodge has so much to offer and is so highly acclaimed that you might just feel like a movie star if you pick it for your ski vacation. Slopeside accommodations with ski valet, pass sales, and gear rental make this a one-stop-shop for convenience.
Beyond that, the private, on-site spa is regaled as one of Jackson's finest. And you cannot miss the candle-lit outdoor hot tub, perfectly located on the rooftop for the most memorable sunset gazing.
The restaurant options abound in Teton Village, but nothing compares to the remarkable wine list at their restaurant the Spur. A top-notch beverage list for après skiing as your ski valet takes care of your gear after a long day on the hill? Talk about ski luxury! All-inclusive luxury vacation is Teton Mountain Lodge's specialty.
Hotel Terra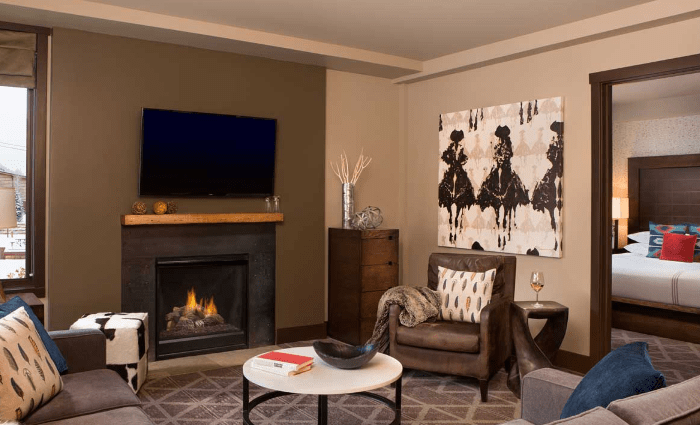 $$$$ | 4 Star | Stunning Location | Slopeside Amenities | Rooftop Infinity Pool
Jackson is known for top-notch accommodations, but little compares to some of the amenities at Hotel Terra. Not only are you conveniently located in a stunning forest at the base of the lifts—with full ski valet to handle your gear—you also have the finest Italian restaurant in Teton Village located on-site: Il Villaggio Osteria.
The real experience, however, is the rooftop infinity pool (the only one in Jackson!) that makes you feel like you are flying over the mountain. When talking about the top luxury ski hotels near Jackson, that infinity pool just about takes the cake.
Guests also rave about the lovely appointments in the rooms. With balconies and views right outside your fully supplied kitchen, you'll feel right at home. Do not fail to chat with the tour desk to schedule a winter drive in to Grand Teton National Park or a Nordic ski tour!