Have you already booked your ski vacation to Breckenridge, Colorado? If not, jump in here and book a hotel, condo, or B&B asap. Breckenridge, or Breck, is known as the closest luxury ski resort to Denver, so hotels can book up fast. There are several amazing ski-in and ski-out hotels in Breckenridge, but you'll find many of the best ski hotels throughout the historic downtown of Breck.
---
The Best Hotels for Skiing at Breckenridge, Colorado
This idyllic little mountain town sits high in the Rocky Mountains about 2.5 hours west of Denver. Getting here can take a while if the weather is bad or when traffic backs up during peak travel times. Be sure to plan ahead to start your drive up this beautiful mountain highway (I-70). But since it's a well-developed ski resort town, you'll love the time you spend here no matter how long it takes to get here.
Breck has been around since the 1800s as a gold mining town. It's now a year-round resort for families and friends to make memories doing adventure activities of all kinds. Even if your partner isn't big into skiing, they'll have fun exploring all the shopping in downtown Breckenridge or they could try out snowmobiling, snowshoeing, ice skating, and more! And there's almost every cuisine you can crave, from fine dining to casual eats here.
But most importantly, there are several ski-in and ski-out hotels to get you on the slopes faster. Our list of the best ski hotels in Breckenridge includes a super expensive chalet, resort-owned hotels, and even a couple of sweet boutiques or bed and breakfasts. You can also check out our other article to see other hotels options plus area attractions and top restaurants. Just hurry—Breck hotels can book up quickly!

Our Partnership with Booking.com. If you like our content, please book by clicking on our Booking.com links. The price is the same for you and we get a small commission that helps support our blog. We've partnered with Booking.com because they have the most options, great prices, and a solid loyalty program. Just about every hotel is on Booking so our recommendations are not incentivized.
Marriott's Mountain Valley Lodge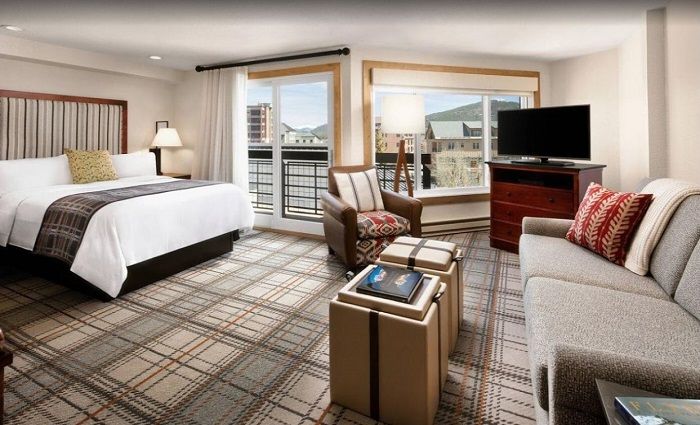 $$$+ | 3 Star | Mountain Modern | Central Location | Kitchens in Every Room | Tons of Amenities
This Marriott lodge has mountain modern villas and rooms available for couples and families, all just 550 feet from the Quicksilver chairlift. That means you're near everything you need, including downtown shopping and restaurants.
Plus, this Marriott has a sports shop on-site where you can rent gear or store it as needed, plus an artisan workshop, billiards room, and activity center. We especially like that every room has a kitchen, which can make mealtime easier if you love to cook.
One Ski Hill Place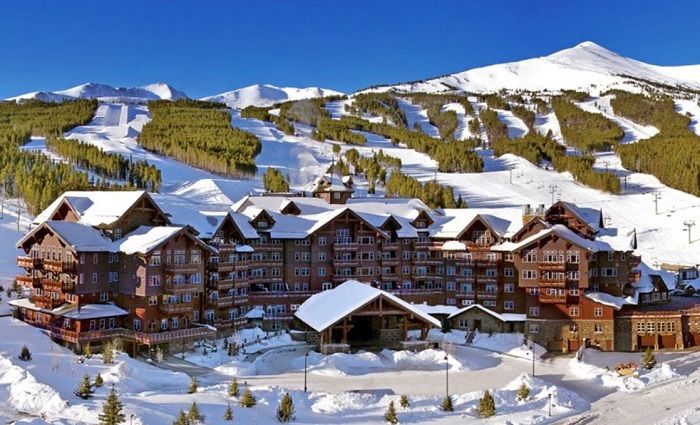 $$$$+ | 4 Star | Ski-In & Ski-Out | Bowling Alley | On-Site Spa
This location is a true ski resort hotel. One Ski Hill Place is one of the closest resort hotels to several popular ski lifts, which makes it perfect for families who want total ski-in/ski-out convenience. Each suite (studios to three-bedrooms) has its own fireplace and washer/dryer unit, along with all the amenities of a full-service kitchen.
And even though this hotel has almost everything you need, you can still head to downtown for shopping and dining. Just hop on the BreckConnect gondola and take a leisurely ride to town.
BlueSky Breckenridge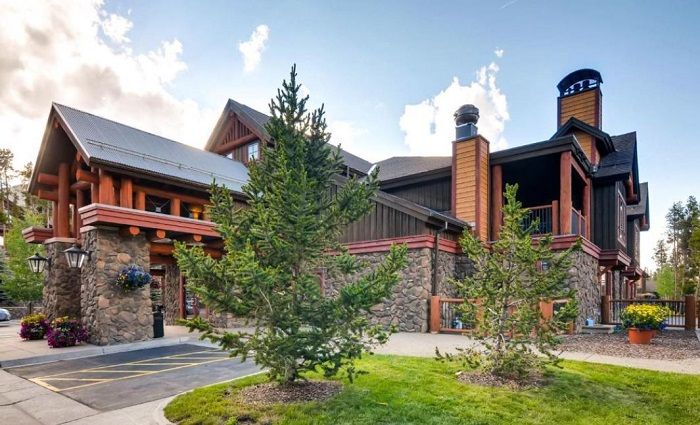 $$$+ | 4 Star | Game Room | Heated Pool and Hot Tubs | Condos | Ski-In/Ski-Out
If you're looking for another option with luxury condos that have everything you need and more, then don't skip BlueSky Breckenridge. Each condo has incredibly cozy vibes with a mountain modern vibe. We especially love the fireplaces here for those cold winter nights.
Kids will appreciate the community game room, while adults will enjoy booking an appointment at the spa or slipping into a relaxing hot tub. The location is perfect: ski-in/ski-out, plus a complimentary shuttle to get you to town after you indulged at the après ski bar.
Fireside Inn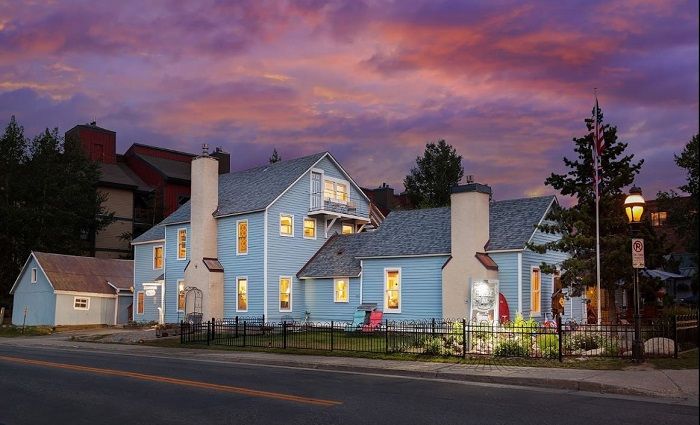 $$+ | Upscale B&B | Tasty Breakfast | Great for Couples
Looking for more intimate vibes in a place that's not buzzing with commercialized resort life? Then the Fireside Inn is waiting for you. It's an excellent little bed and breakfast in the heart of downtown Breckenridge, which means you'll need to drive yourself (or grab an Uber) to the base.
This perfect little spot has mountain modern vibes and updated decor and furnishings. The homemade breakfast and muffins are rave-worthy, which you can enjoy sitting at the fireplace in the common room.
Heading To Breckenridge? Check Out Where To Stay In Breckenridge To Get Attractions, Restaurant And Other Hotel Recommendations!
Hyatt Residence Club Breckenridge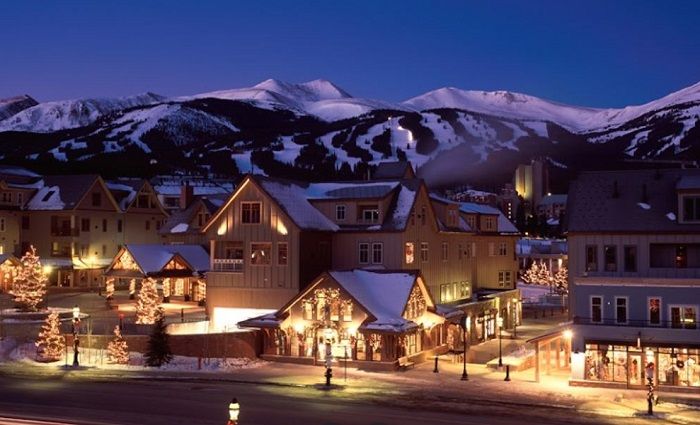 $$+ | 2 Star | Downtown Location | Old West Style Vibes | Whirlpools and Heated Pool
This may not be the flashiest hotel on our list, but it's a super solid choice at a more affordable price. That also means it can book out quickly too, so don't wait if you see an opening.
This 2-star hotel has some cool perks like a concierge ready to help you book activities and make recommendations. And there's also some limited room service available and a complimentary ski valet. Finally, you're only a 20-minute walk from the closest chair lift.
Gravity Haus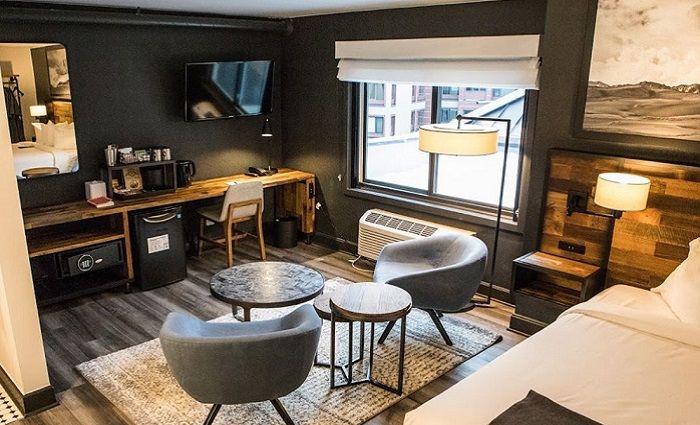 $$$+ | 3 Star | Chic, Industrial Modern | Small Property | Award Winning | Pet Friendly
If you like chill, smaller properties with distinctive vibes, then you'll love Gravity Haus, which recently won #1 hotel in Colorado by Conde Naste Traveler. This stunning boutique hotel is smack in the middle of all the action: four minutes from a chair lift and six minutes from downtown.
They even have awesome amenities like the dry sauna or soaking tubs where you can relax the day away. But if you're an adventurer, head to the third floor where the mysterious but totally real "Supertramp" waits to bounce you to new heights.
The Lodge at Breckenridge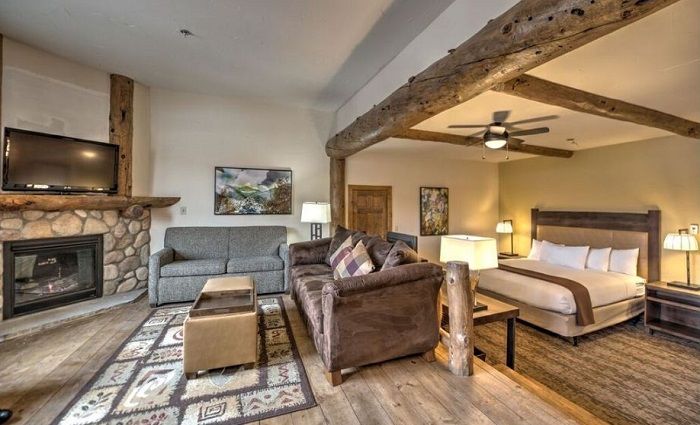 $$$+ | 3 Star | High-Altitude Hotel | Perched on a Bluff | Spacious Rooms
Sitting at just over 10,000 feet above sea level, this gorgeous lodge offers incredible views from its perch on edge of the mountain. It's located about 10 minutes away from the ski resorts in its own little community, but there's free transportation to the slopes.
They offer a grab-and-go breakfast, ski/snowboard storage, outdoor hot tubs, and an indulgent spa to pamper your afternoon away. If you want to try a unique mountain experience, book your stay here at The Lodge.
Residence Inn by Marriott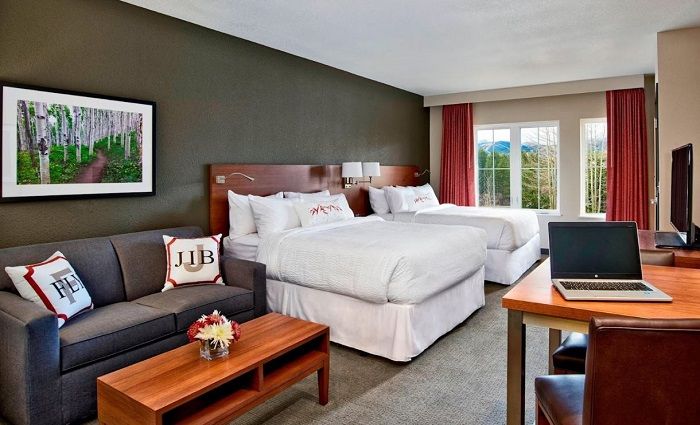 $$$+ | 3 Star | Awesome Amenities | On-Site Bar | Free Breakfast | Kitchens and Kitchenettes
The Residence Inn here at Breckenridge is another solid choice for travelers who don't mind being at a non-ski-in/ski-out hotel. We like this hotel because it's pet friendly, offers a free hot breakfast, and even has a bar on-site.
That's helpful if you're bushed after a long day on the slopes and don't want to go out for dinner. You'll also find almost every suite has a small or full-size kitchen, which is so helpful for families.
Crystal Peak Lodge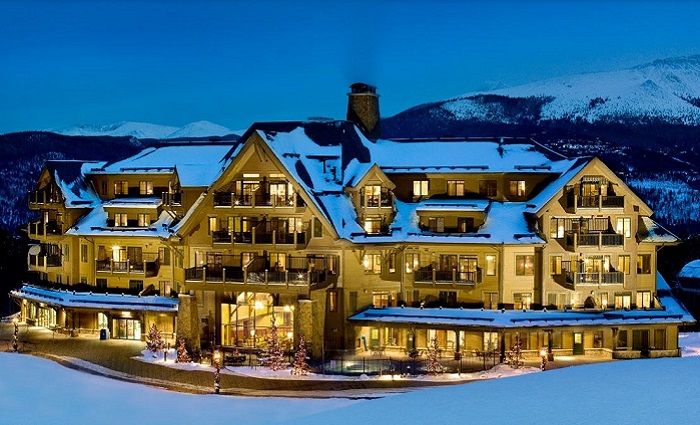 $$$$+ | 4 Star | Indoor Pools & Outdoor Hot Tub | Family Movie Lounge | Ski-In/Ski-Out
This stunning lodge is designed to reminisce of the old lodges originally built in national parks—but with modern conveniences of course. Here you'll book full-service condominiums with kitchens, stone fireplaces, balconies, and more. Also, with ski-in and ski-out options to the Independence lift, you're as close as you can get to skiing.
We love that this hotel also has a stop for the BreckConnect gondola to head to downtown or to One Ski Hill Place. Crystal Peak Lodge is easily one of the best family ski hotels in Breckenridge.
Elk Ridge Retreat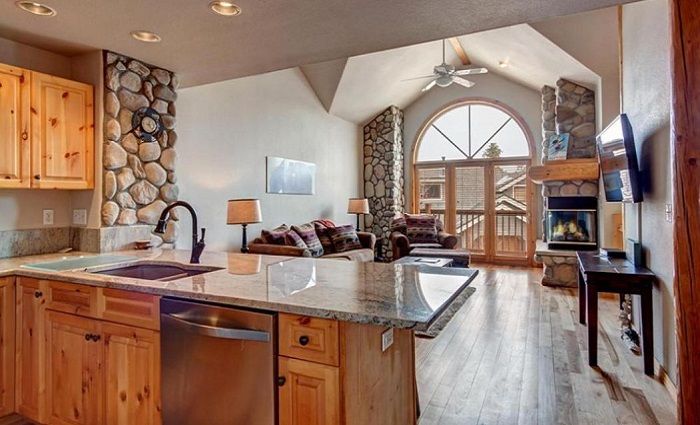 $$$+ | Entire House | Highly Rated | Sleeps Up to 10
So, renting an entire house might not usually be on your list, but if you're coming to Breck with a group, then consider booking the Elk Ridge Retreat. It's managed by SkyRun Properties and is a popular choice. It has 3 bedrooms, 3 baths, a hot tub, free parking, Wi-Fi, a washer and dryer, and lots of seating for everyone. And it's surprisingly close to a chair lift, so you won't have to go far to get on the mountain.
Heading To Breckenridge? Check Out Where To Stay In Breckenridge To Get Attractions, Restaurant And Other Hotel Recommendations!
Grand Timber Lodge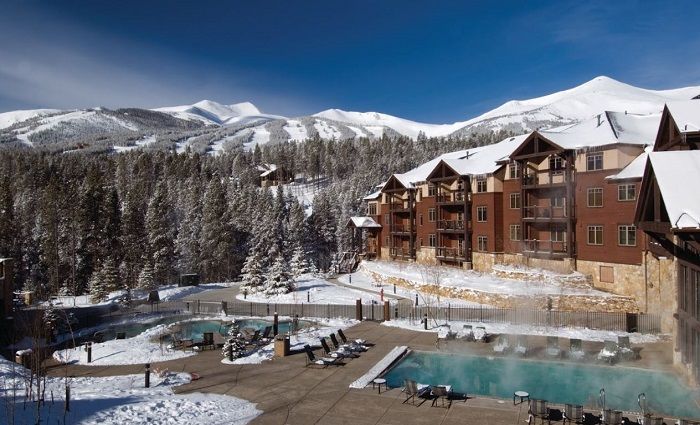 $$$+ | 3 Star | Large Property | Family Fun Center | Ski/Snowboard Rentals | Family Friendly
The Grand Timber Lodge has lots of amenities on its huge property, so whether you need skis, family fun time, or a dip in the hot tub, you're covered here. There's even an on-site spa where you can book a massage before heading back to your spacious suite and enjoying a deep jetted-tub bath.
Larger suites even have fireplaces for extra coziness. They offer a free shuttle service to get you around the corner to the ski lift or to downtown for dinner. Be sure to grab a drink at The Boot Saloon here, too.
Welk Resorts Breckenridge: The Ranahan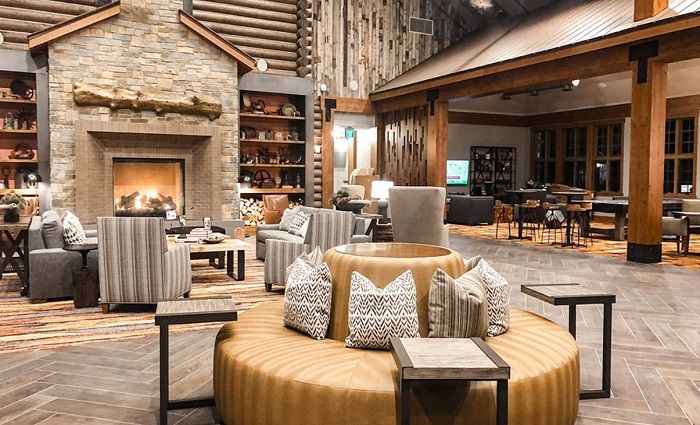 $$$+ | 4 Star | New Luxury Resort | All-Suite Hotel | Hot Tubs/Pools/Family Games
First things first: this hotel is located north of downtown Breck, so you'll need to use your own car or the free shuttle to get to town or the ski lifts. But this brand new property has already made a name for itself as a great place for families and even couples.
You can use the hot tubs, grills, pools, shuffleboard games, indoor waterslide, Pelotons, fire pits, or book an adventure activity. You'll love the tasteful mountain modern designs in this incredible hotel.
Beaver Run Resort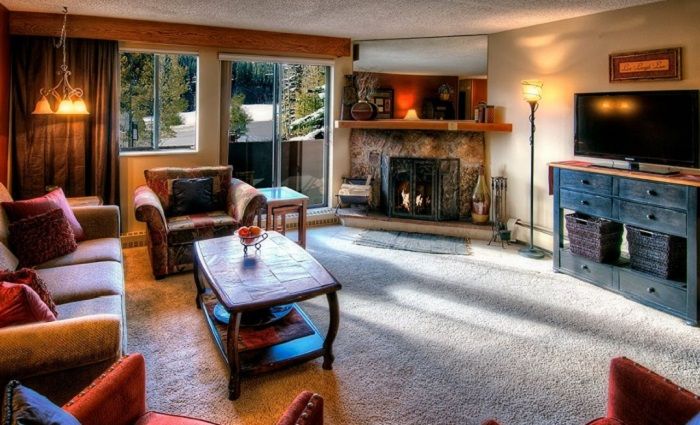 $$$+ | 3 Star | Rooms and Suites | Spa and Sauna | Arcade | Ski-In/Ski-Out
Beaver Run Resort is another great option if you're coming with kids or a group who loves to have fun. You'll find a ton of room types from standard rooms to suites to 4-bedroom suites and even penthouses. Some might not be as fancy, but many have been recently updated.
It's located at the base of Beaver Run SuperChair, so it's a convenient ski-in/ski-out option. This hotel is about a 15-minute walk to downtown Breck, but there are plenty of food options here for kids and adults alike. The Coppertop Bar and Café is perfect for an après drink and a bite to eat.
Cawha Outlook Chalet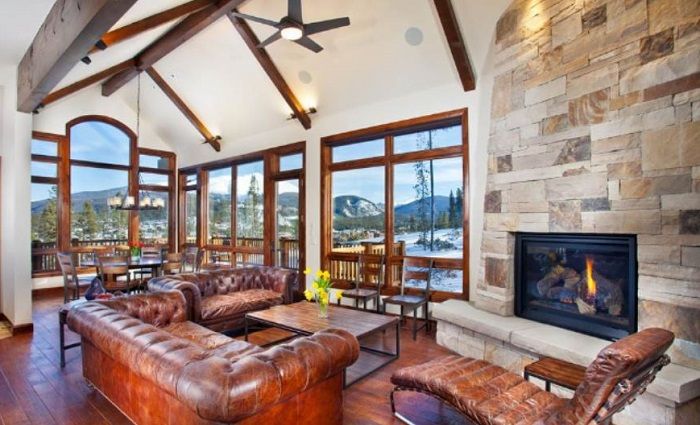 $$$$$ | Luxury Home | High-End Furnishings | Sleeps Up to 12
This luxury house rental is the envy of most house rentals. It's posh, spacious, and ultra-cozy. With 5 bedrooms and 5 baths, you can comfortably sleep 12 people and enjoy the two living room areas. It's located about half a mile from the free city shuttle, a mile from the Peak 8 chair lifts, and 1.5 miles from downtown, but it has epic mountain views.
If you're coming with bunch of friends or family, this is a great option to make some awesome memories together. And really, if you split the total nightly rate with a dozen people, it comes out to an average of $360 per person per night, which is quite a deal for an entire luxury house!