Killington Ski Area is the largest ski resort in the eastern United States, which means you'll have lots of hotel options from boutique inns to cool hotels. If you aren't sure where to book a hotel near Killington, use this helpful guide. We've put together our list of the best hotels in Killington for your next ski trip.
---
Our Partnership with Booking.com. If you like our content, please book by clicking on our Booking.com links. The price is the same for you and we get a small commission that helps support our blog. We've partnered with Booking.com because they have the most options, great prices, and a solid loyalty program. Just about every hotel is on Booking so our recommendations are not incentivized.
Here's What You Need To Know:
Killington, Vermont is the definition of rustic New England with the expected après-ski vibe. They know how to have a good time and will keep it classy. You won't find any 5-star hotels here, or even 4 star, but the local inns and hotels do a great job at making guests comfortable. Killington is located in the central part of Vermont, right next to Woodstock. Yes, that Woodstock you're thinking of!
The bonus about Killington is that it's not just meant for winter travelers. They have year round activities that will keep you outside and enjoying nature. You'll find that the hotels here become more luxurious as you get closer to the mountain. We'll cover several of the hotels you could stay at, but let's first talk a little about the Killington Ski Area.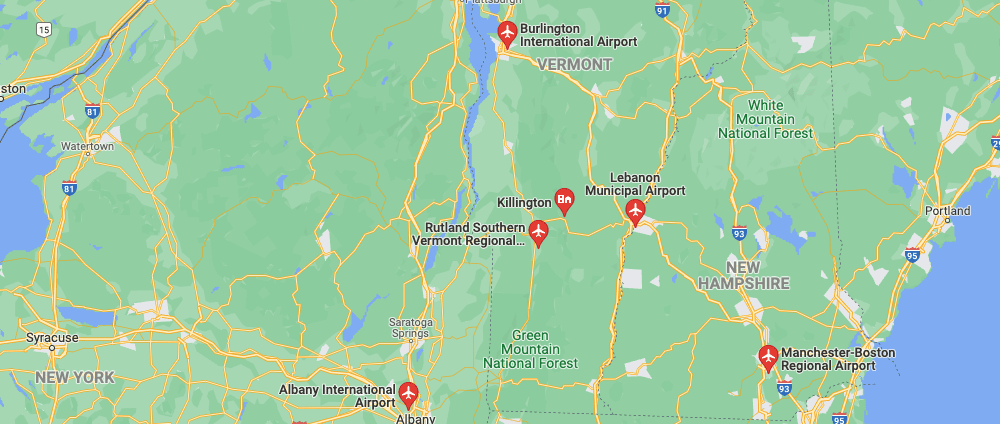 How to Get to Killington, Vermont:
There are a couple airports you can use to plan your ski vacation. The closest option is Rutland Regional Airport (RUT). It's a Jet Blue hub, but the primary commercial carrier is Cape Air. If you can't grab an easy flight here, then the Burlington International Airport (BTV), which is about 90 minutes away, would be your second-best option.
There is a bus that will take you to Killington from Burlington airport, but I would recommend renting a car so you can drive to town as well. Finally, Albany International Airport (yes, in NY) is about 2 hours away and Manchester Airport is also 2 hours away. They're both great alternatives if you are unable to find flights elsewhere.
Once your boots are on the ground, you'll take Route 4 as your final road towards the mountain until you get to Killington Road. As you drive up, you can find different ski rental shops (or rent at the mountain), as well as different restaurants for breakfast, lunch, and dinner. Once at or near the resort, you'll have everything you need within a few miles.
About Killington Ski Resort:
Killington is the perfect mountain for any level of skier to shred. It has a great beginner terrain, but if you are looking for the steep and deep, then Killington is one of the best mountains in the Northeast to find it.
The East Coast is very different from what our West Coast and Rocky Mountain friends have. As us East Coasters like to say, we were "Born from ice." Now, don't let that deter you from skiing out here! We have awesome groomed trails, and when the snow hits, the glades are unlike anything else.
I would recommend not dipping into the back country here at Killington unless you know where you're going and what you're doing. Killington is big enough for you to stick to the resort and still be in awe of how big it is compared to our other East Coast mountains.
It's also the largest ski area in the eastern United States, covering 1,509 acres. Plus it has the largest vertical drop in all of New England: 3,050 feet. I can talk for days about the terrain of Killington. But just know that everyone is welcome, and the mountain will treat you favorably no matter your ski level.
Snowed Inn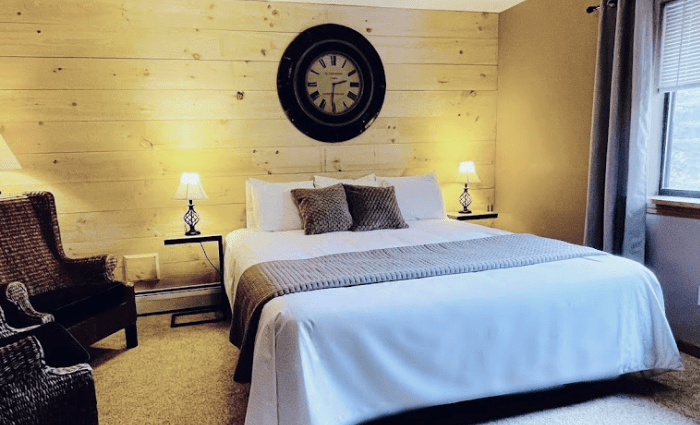 $$$$ | 3 Star | Hot Tub | Rustic Vibes
The Snowed Inn is close to the mountain and gives you a luxurious mom-and-pop feel. It is a quaint little space with breakfast served daily, so you don't have to worry about eating a boring granola bar before you hit the slopes. Plus you'll enjoy a not-your-average hotel coffee. As you can expect, they have a year-round hot tub, which will save your legs if you are skiing more than one day.
This hotel is right on Killington Road, so you can walk to different restaurants and bars within Killington Mountain village to enjoy a night out after your day on the slopes. Lastly, don't worry about ski storage – the Snowed Inn has you covered! It might be be super flashy, but it's one of our favorite ski hotels in Killington.
Killington Grand Resort Hotel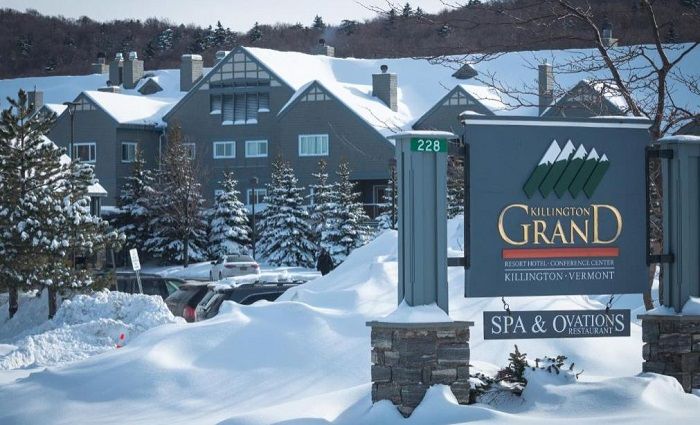 $$$ | 3 Star | Popular Choice | Shuttle | Firepit and Heated Pool
The Killington Grand Resort Hotel is probably the most popular hotel option since it's really close to the mountain. They're also full service which is nice for solo or family travelers. You'll have everything here: game room, heated pool, restaurant and bar, hot tubs and pool, shuttle, and even a ski valet.
The other great thing is there are several room options, so pick a studio, standard room, and a one- to three-bedroom suite. And if you need even more beds, ask for a rollaway bed. Really, it's a great choice if you're looking for full resort-style living at one of the best ski hotels in Killington.
Turn of the River Lodge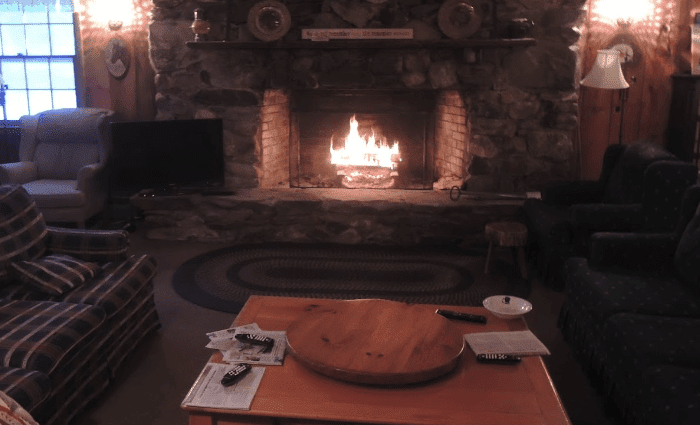 $+ | 2 Star | Cozy Lobby | Warm Fireplace | Alpine-Style Group Lodging
If you love meeting fellow travelers, try the small Turn of the River Lodge. It's right off of Route 4 before the mountain road, and you'll see this old wood sign with "Turn of the River Lodge" written on it. They keep it simple and affordable here with just a few rooms and a common area, plus a common-use fridge and microwave.
They have a beautiful hearth in the lobby that's ideal for meeting fellow ski bums. I would recommend staying here if you are traveling by yourself or your partner or best friend rather than as a family. The rooms are cozy here and there are even a few dormitory-style options available. Turn of the River Lodge is the definition of rustic New England, but it's great for a budget-friendly but awesome place.
Killington Mountain Lodge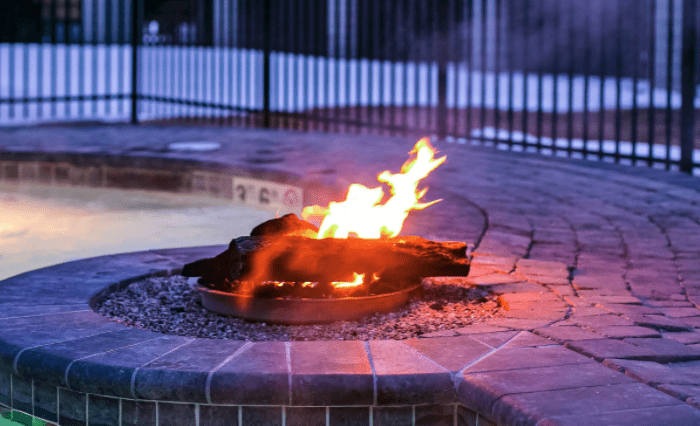 $$$$ | 3 Star | Hot Tub | Après Ski Bars Nearby | Undergoing Renovation
The Killington Mountain Lodge is part of Hilton Hotels and Resorts and is roughly a mile and a half from the mountain (just enough to need to drive since they don't have a shuttle). The rooms are clean and have comfy beds, so it's a good deal overall.
They will also store your ski equipment so you don't have to let it dry in your bathtub. (I have done in many other places, so I will pretend that is a normal thing to do.) The lodge will provide you with breakfast in the morning before heading out.
For an evening out, I would recommend trying the Roaring Brook Umbrella as a little local bar, then pick up a burger or hang for a while at the Wobbly Barn on the way back to your hotel. Don't skip heading to the pool to relax those muscles and enjoy the rest of your evening. The Mountain Lodge is a great place to casually hang out and play some pool or games with a beautiful view.
Please note: They are currently undergoing renovations, which has surprised some unhappy guests. However, we've been informed they are close to completion.
Summit Lodge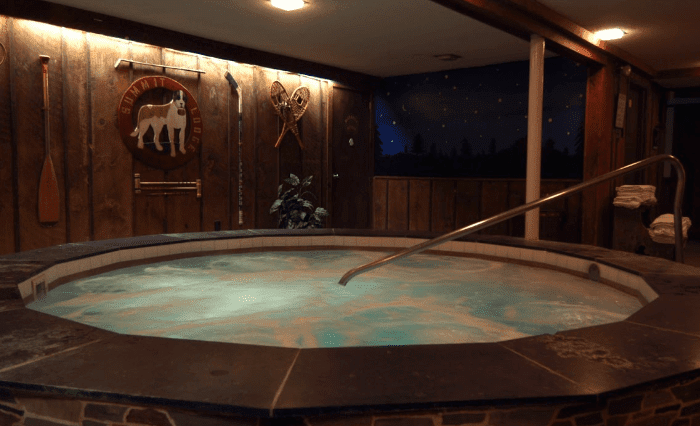 $$$ | 3 Star | Hot Tub | Rustic Vibes
The Summit Lodge is my definition of cozy and warm, with a lovely fireplace in the lobby to hang out and play games under hand-hewn ceiling beams. They serve an American-style breakfast buffet for guests, and it's about 2.5 miles from the mountain. Most places I recommend will have a hot tub as they are my favorite amenity for any place I stay at while skiing. As a bonus, the Summit Lodge has a sauna too.
On your way back to the Summit Lodge, you will pass some tasty restaurants. They are all worth a try, but I would save one night for an après ski at Casey's Caboose. It's the best pub food in the area, and I can almost guarantee you'll head back to cozy Summit Lodge filled and satisfied.
Sunrise Village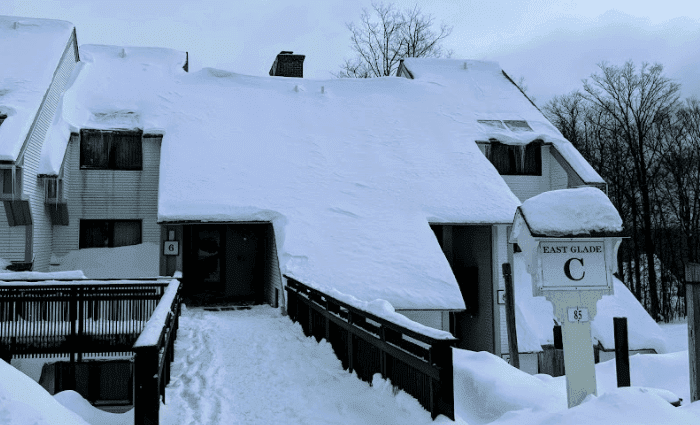 $$+ | Quiet | Spacious Condos | Ski-In/Ski-Out
Stay at Sunrise Village if you want to escape the main road to the mountain and have ski-in/ski-out access. This is a condominium complex so it's perfect for groups and families (and their pets!). Each condo has its own fireplace for those cold evenings. Pack the PB&Js for lunch and stock up at the grocery store for dinner since each unit has a full kitchen.
You're not far from other restaurants in town, but if you prefer making your own meals, then these condos are a great option. Every rental is a little different with different amenities, but you should find what suits your needs here –including a sauna!
Woodstock Inn & Resort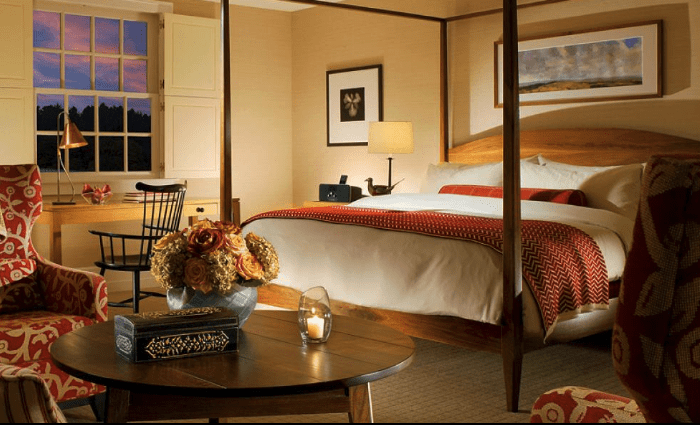 $$$$ | 4 Star | Cozy Rooms | Ski Storage | Spa & Yoga | Further Distance
Woodstock Inn & Resort is the definition of après ski. It is a little costly (but so is après skiing), but what I love about this hotel is that you can come back from a hard day on the slopes and use the full spa. They also have yoga classes to stretch those sore muscles and the essential hot tub. After relaxing, you can go to the bar and have dinner without having to leave the inn.
This inn is roughly 13 miles from the resort, so you'll need a car. But the good new is that you won't have to worry about it being overly crowded, though the rooms do book fast here. You'll find plenty of other restaurants near this inn since it's on the main road, Route 4.
Killington Center Inn & Suites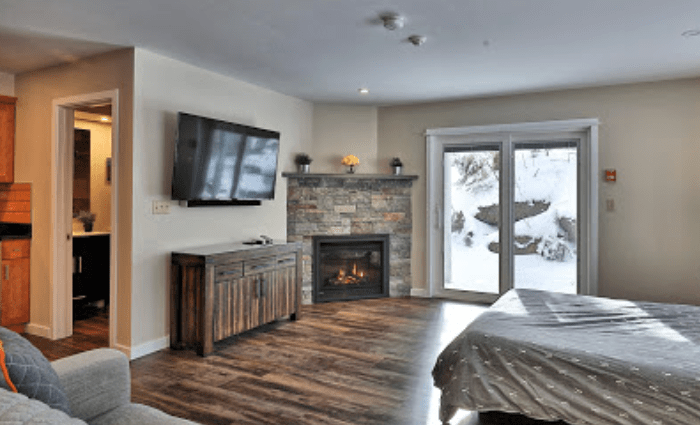 $$ | 2 Star | Fireplace | Spacious for Families | Newly Renovated
The Killington Center Inn & Suites will provide you with everything you need including a fireplace. Since it offers suites (some with two bedrooms), this hotel is a great option for families who need some extra space. Plus you'll find a mini fridge in the room, which is always convenient. And
There is an outdoor heated pool that is open year round to enjoy at the end of the day. I've also enjoyed the common area where people congregate together to swap stories. This a great spot to settle down and relax and not go anywhere after skiing.