Idaho is often overlooked for ski vacations. But with a resort as legendary as Sun Valley, nestled on the banks of the Big Wood River, opportunity abounds for family adventure. With plentiful après-ski dining options, luxurious and affordable accommodations, and all-time fun skiing, Sun Valley has more to offer than meets the eye. Use this helpful article as your guide to the best ski hotels near Sun Valley.
---
Our Partnership with Booking.com. If you like our content, please book by clicking on our Booking.com links. The price is the same for you, and we get a small commission that helps support our blog. We've partnered with Booking.com because they have the most options, great prices, and a solid loyalty program. Just about every hotel is on Booking, so our recommendations are not incentivized.
Here's what you need to know: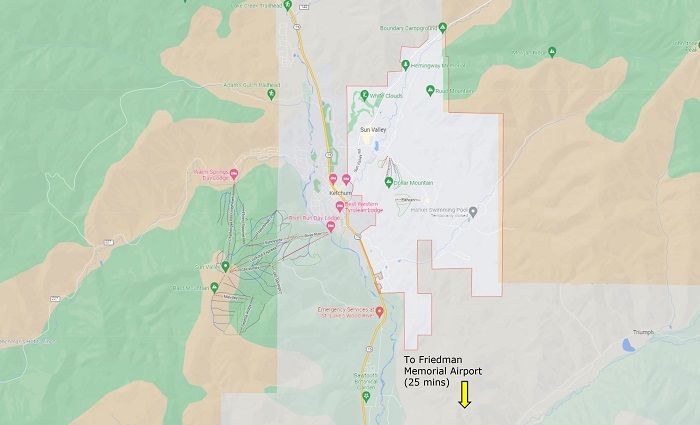 Sun Valley Resort is actually located outside the town of Ketchum, Idaho. It is a short, 13-mile drive from the Friedman Memorial Airport in Hailey. The drive up Highway 75 offers beautiful views of the foothills of the Sawtooth Mountains – named for their rugged, saw-like appearance. Meanwhile, keep your eye on the river to see if you can spy our friendly wildlife neighbors, moose!
Once you arrive in Ketchum, look to your left to admire the countless ski runs on Bald Mountain (Sun Valley). This is what you have been waiting for! However, if you peek to your right, you might notice another, smaller ski mountain called Dollar Mountain.
With four chairs and 600 feet of vertical drop, Dollar is perfect for those new to skiing or the young beginners in your group. There are jumps, groomers, and magic carpets to give you plenty of time to hone your skills. If you'd like lessons, check in with one of the wonderful ski and snowboard coaches at the SnowSports office.
For those up for a full day of powder, tree skiing, and the option to ski steep and technical terrain, Bald Mountain is the choice for you. With 12 lifts scattered across the mountain, you almost never have to wait in line. Sun Valley Resorts gives back to former and current military families with a 50% off discount at the ticket office (only available in person, not online). Here at Sun Valley, you'll need to purchase a separate ticket for Bald Mountain and Dollar Mountain.
Sun Valley Vibes:
While the majority of the lodging options are in Ketchum, there are also several affordable options in nearby Hailey. The close access to the airport, small-town feel, and unique local restaurants (like the must- try International Cowboy Cocina) in Hailey are nothing to shy away from. However, the après-ski evenings in Ketchum are also magical, so we've included both locations.
Locals and tourists alike congregate at local breweries (try Sawtooth Public House) and tapas restaurants (Enoteca has the best personal-sized, made-to-order pizzas in the state) in Ketchum. Whether small town Hailey is your preference, or après-ski Ketchum is more your style, here are a few of the best hotels near Sun Valley that should check all your dream vacation boxes.
Hotel Ketchum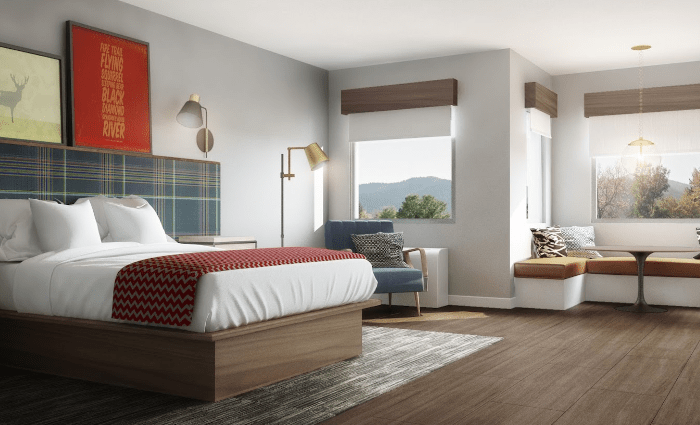 $$$ | 3 Stars | Ski Rentals | Excellent Breakfast
Hotel Ketchum is one a recently renovated hotel in Ketchum and now boasts a ski storage with valet, on-site ski rentals, and free delicious breakfast. Guests have access to a fully equipped fitness center, a hot tub to relax those sore ski legs, and a next-door bar that has one of the best après happy hours in town (4-6 pm Wednesday through Friday).
The newly-renovated rooms have spacious seating areas complete with nearly panoramic views of the valley. However, if you prefer a room on the mountain side, you'll have front row seats to beautiful sunsets. A quick walk from your room to the mountain shuttle will deliver you directly to the lifts – no parking headaches required.
The excellent downtown location means a short stroll brings you to favorite breweries and restaurants. Alternatively, if you're not quite ready to turn in for the night but you're too tired for the local nightlife, then relax around the fireplace. For a change of pace, stop by Sturtevant's ski shop to rent a fat-tire bike and cruise around the Nordic trails. Make sure to look for fox tracks. They are very active in the valley during the winter months!
Limelight Hotel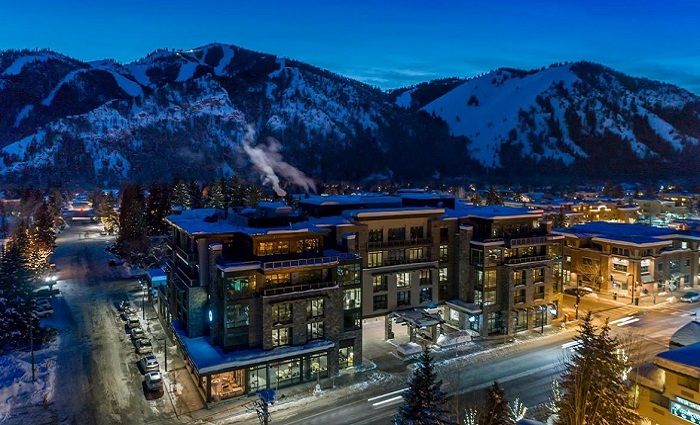 $$$$ | 4 Star | Ski Rentals | Sustainable Mission
Limelight is one of the best full-service hotels in Ketchum. It is just a short mile to the resort, and the hotel offers a free mountain shuttle that will deliver you to the bottom of the lift. On-site ski and bike rentals, ski storage, as well as a ticket-sales desk make Limelight a one-stop destination between the airport and the resort.
Rooms include stunning views of the mountain or downtown Ketchum, and they include a mini fridge and wet bar. If you opt for a suite, you'll find a fully-stocked kitchen (complete with wine glasses!), a balcony or terrace, and an option for an in-suite fireplace.
After a long day on the mountain, relax in their partner spa with massages and facials or soak in the hot tub. If you're more excited about the après options, you'll find a fantastic on-site bar and restaurant with a rotating seasonal menu. The Lounge has my favorite happy-hour margaritas here between 3-5 pm, daily!
Sun Valley Resort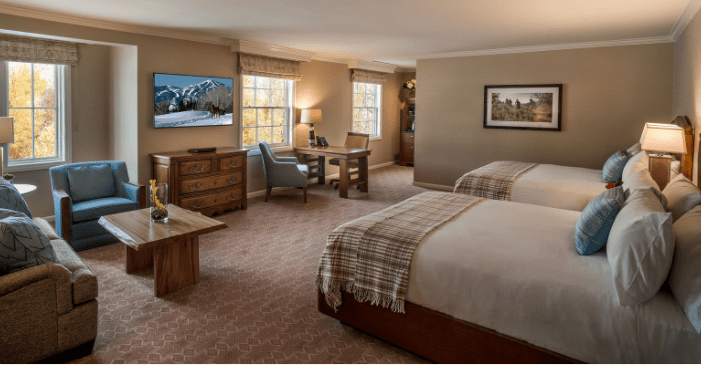 $$$$ | 5 Star | Historic Rooms | Fine Dining
On the finer side of things, the Sun Valley Resort has two top-tier, European-style ski hotels to choose from: Sun Valley Inn and Sun Valley Lodge. Stars such as Marilyn Monroe, Ernest Hemingway, and Arnold Schwarzenegger have all enjoyed the luxury accommodations since it's construction in 1936. These luxe rooms have a marble bathrooms, spacious seating areas, and stunning views of Bald Mountain.
For even more fun, head to the bowling alley, one of three outdoor pools, or the on-site spa to enjoy their off-mountain activities. For another change of pace, enjoy ice skating and Nordic ski rentals here too! These amenities definitely add to why this is one of the best ski hotels near Sun Valley.
The Ram is the fine dining restaurant that's considered a destination in and of itself. Be sure to make a reservation since tables fill quickly during peak-season! Enjoy exotic fare from their Heritage Menu that heralds back to Sun Valley's history. The service experienced here and across the accommodations in the Sun Valley Resort village are second to none up here. This is truly a full-service resort experience for après-ski vibes.
Knob Hill Inn Sun Valley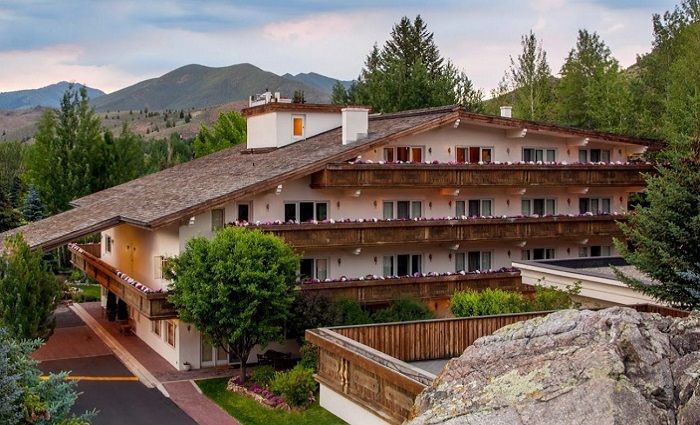 $$$+ | 4 Star | Indoor Pool and Sauna | Awesome Staff | Pet Friendly
This cozy inn is definitely a top choice for staying near the Sun Valley ski resorts. The exterior has a Tyrolean vibe so you get a little bit of an old-European vibe here. Plus the staff here are super friendly and helpful, so it lives up to the inn status, especially since they offer a hot breakfast too.
You'll find spacious rooms with plenty of light thanks to the large windows that let you look over the gorgeous Sun Valley. At the end of the day, take advantage of the ski storage before relaxing in the indoor pool, hot tub, or sauna that will definitely ease your tired legs. And if you didn't rent a car, they provide transportation to the mountain or to downtown Ketchum. You'll find everything taken care of here at one of the best ski hotels near Sun Valley.
Kentwood Lodge: Best Western Plus
$$ | 3 Star | Lodge Style | Affordable and Clean
Ok, hear me out. If you are looking for a lodge-like experience, look no further. The Kentwood is an understated, family-friendly and budget-friendly option. Most importantly, the amenities that make this property shine are covered parking, secure ski storage, and a year-round pool. If you are looking for evening entertainment, right next door is the Argyros Performing Arts Center where you can see a show, concert, or play if you like!
Before you head to the mountain, stop next to the lobby at the local's favorite, Wrapcity, for the best breakfast burritos in Ketchum! When you return, check with the front desk for a great selection of board games to play around the fireplace after your day on the mountain. In short, you can't go wrong with the cozy atmosphere of the Kentwood lodge experience.
Wood River Inn and Suites (Hailey, ID)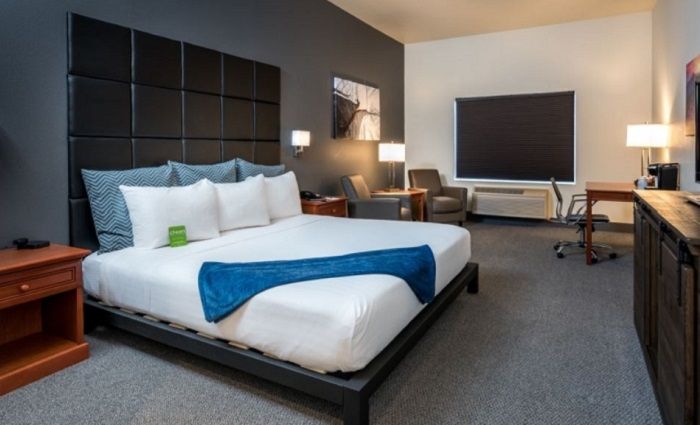 $$ | 2 Star | Near Airport | Rokus in Every Room | Free Mountain Shuttle Stop
If you opt for a cozy, affordable accommodation close to the airport, Wood River Inn should be at the top of your list. Their delicious hot breakfast will get you energized for a day on the mountain. The rooms are spacious, modern, and clean. Some travelers and families will love that the televisions are equipped with ROKUs, so you don't have to miss an episode of your favorite show while on vacation!
But if staying in is not your preference, then step out the doors to jump on the free mountain shuttle express. A quick ride with other excited skiers will deliver you to the base of the lifts and all that Ketchum has to offer.
As many know, Idaho is famous for our potatoes. I highly recommend checking out the Wicked Spud burger restaurant, just three blocks away from the hotel. At first glance, the dining room might seem small and cramped. However, their French fries are the local's favorite and worth the trip! Some might even say legendary. And if you need snacks for your day on the mountain, our local food co-op is right next door to your hotel.
Fairfield by Marriott Inn and Suites (Hailey, ID)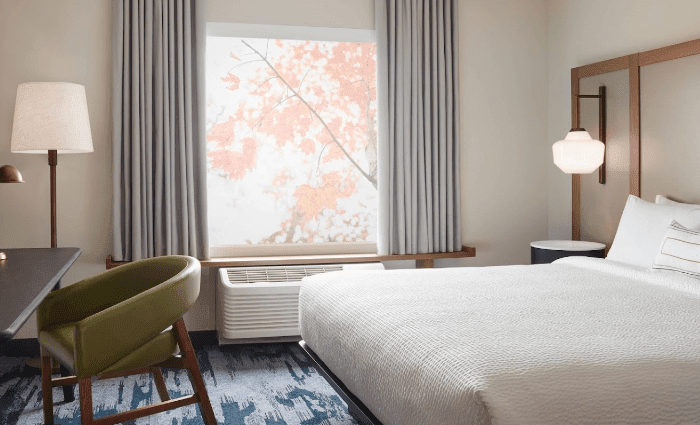 $$ | 2 Star | Near Airport | Traditional Modern | Family Friendly
If you are traveling with a family, look no further than the Fairfield. It is a quick and easy drive to the airport, with excellent access to the free mountain shuttle. Their large suites are spacious enough to be shared, yet they still offer privacy. This is a budget-friendly option that comes with a modern vibe.
After your day on the mountain, grab some marshmallows at our local grocery across the street and après with the family around the outdoor fireplace! Or you can relax in the oversized hot tub and pool.
If you want to try a local hot-spot for Thai cuisine, stop by Dang's Thai. There is something on the menu for everyone's palate, always with a side of Idaho flair! But if exotic food it not for you, a stop at Power House will cure all your cravings for a hearty meal. It's only two blocks from your hotel!
Silver Creek Hotel (Bellevue, ID)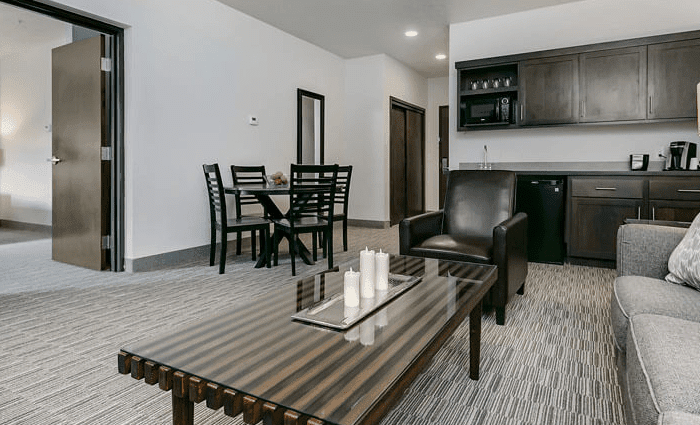 $$ | 2 Star | Large Suites | Contemporary | Environmentally Friendly | Secluded
Another excellent option just moments from the airport is the Silver Creek Hotel. It's the furthest on our list, but it's affordable and a great option if other locations are sold out. The suites are almost palatial in size yet still affordable. Similarly, their deluxe room type options include a soaking tub and wet bar. Certainly worth noting, this property prides themselves on the use of solar power – talk about eco-centric!
Located just south of Hailey, the rooms on the upper floors here will give you stunning views of the Sawtooth Mountains. If you are one to stretch your legs in the morning, grab a coffee at Lucy's breakfast cafe and enjoy a short walk down to the river. The Big Wood River is a sight to see even in winter months. During your trip along the riverbank, look for the die-hard locals standing in the river while fly fishing!