The rolling hills of the Napa Valley have no shortage of world-class places to stay. Though the Valley is known for being filled with high-end hotels, we've included options for a variety of budgets. Keep reading for our top recommendations of where to stay in Napa Valley.
---
Our Partnership with Booking.com. If you like our content, please book by clicking on our Booking.com links. The price is the same for you and we get a small commission that helps support our helpful blog content. We've partnered with Booking.com because they have the most options, great prices, and a solid loyalty program.
Here's What You Need To Know:
Something to keep in mind when traveling in Napa Valley is that it is best to keep driving to a minimum if you anticipate making the most of wine tasting. So, we recommended that you pick your hotel according to where you will spend most of your trip exploring the valley.
Downtown Napa has plenty of wine tasting rooms that are all within walking distance, but we definitely suggest venturing out into the valley at least one of the days you are here. But keep in mind that Ubers are available in the valley, but generally the further north you go, the spottier the service tends to be.
We've divided this list of where to stay in Napa Valley by four of the best areas. You can check our featured maps to see where each town is located in the Napa Valley.
Pro Tip: Bookmark this post in your browser so you can circle back to it while you decide on a hotel to go in Napa. We update it frequently so you have the best recommendations for a wonderful stay and perfect accommodation that fits you!
Where to Stay: Downtown Napa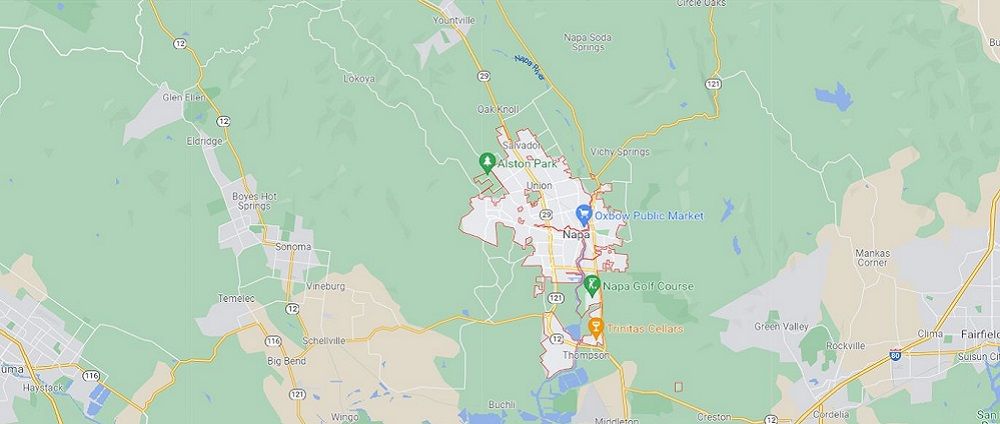 This area is where it all began for the Napa Valley. The city of Napa was founded in 1847 and further expanded in 1849 during the gold rush. The historic aspects of our small town are depicted clearly by the preserved Victorian architecture present in many of the homes and buildings.
Downtown Napa has experienced a renaissance in the past decade, with a new abundance of incredible restaurants and wine tasting rooms to choose from. Along with these restaurants and tasting rooms, there are also a plethora of charming boutiques for shopping.
In addition, downtown Napa is situated right along the Napa River, where you can rent kayaks or SUPs (stand-up paddleboards) on a hot day. There is plenty to do in downtown Napa after a day of wine tasting out in the valley. Here's where to stay in Napa Valley if you want to stay close to the heart of Napa.
Why I love Downtown Napa:
Charming small town with lots of great boutiques & shops
Wine-tasting rooms and bustling restaurant scene
Gorgeous Victorian architecture from late 1800s
Napa River features a lovely river walk, or you can rent SUPs or kayaks
Attractions near Downtown Napa:
Napa Wine Train
Oxbow Market
Napa River
Uptown Theater
Oxbow Riverstage
Bottlerock Napa Valley (Memorial Day Weekend)
Skyline wilderness trail
Best restaurants in Downtown Napa:
Torc
Fatted Calf
Oentori
Angele
Zuzu
Model Bakery
Contimo Provisions
Best hotels in Downtown Napa:
Archer Hotel Napa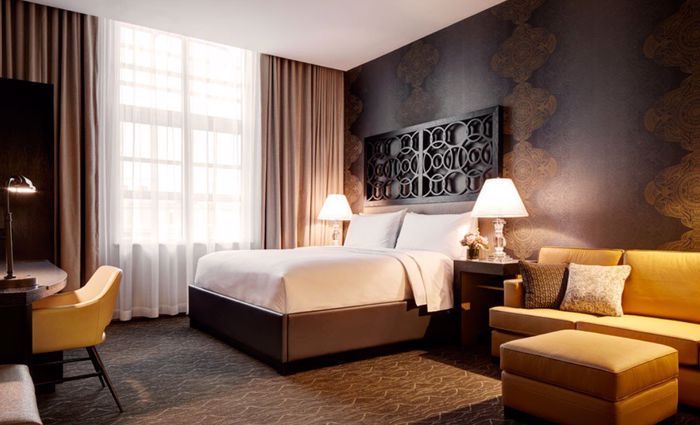 $$$ I 4 Star | Centrally Located I Rooftop Bar
The Archer is a staple hotel in downtown Napa, not only because it is a fabulous place to stay, but also because of their rooftop bar and restaurant called Sky & Vine. The rooms are luxurious, and the location is very central in downtown Napa. It has everything you'd need for a downtown Napa stay.
Blackbird Inn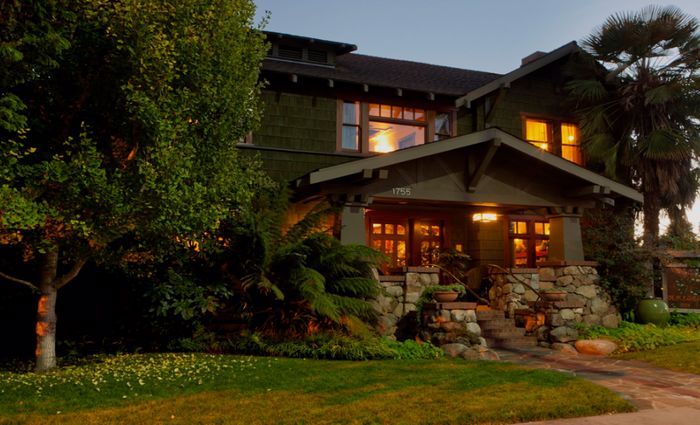 $$ I 3 Star | Charming | Centrally Located | Affordable
The Blackbird Inn is a great place to stay in downtown Napa on a budget. It is an adorable, charming cabin within walking distance of all that downtown has to offer. Blackbird Inn also offers complimentary continental breakfast.
The George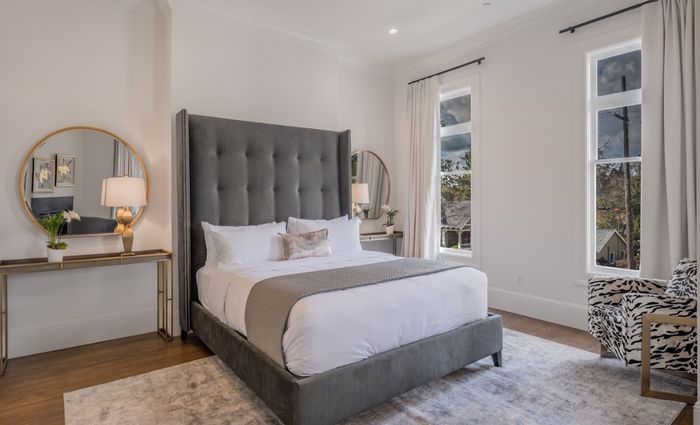 $$$$ I 4 Star I Luxurious I Charming
The George is an old Victorian mansion originally built in 1891. After 5 years of renovations, it was reborn into a luxury boutique hotel in March of 2021. With luxurious amenities, friendly staff, and magazine-worthy design, The George is everything you'd want in a quaint downtown Napa getaway.
Planning your trip to Napa Valley? Don't miss our recommendations of the top things to do in Napa Valley!
Where to Stay: Yountville and Oak Knoll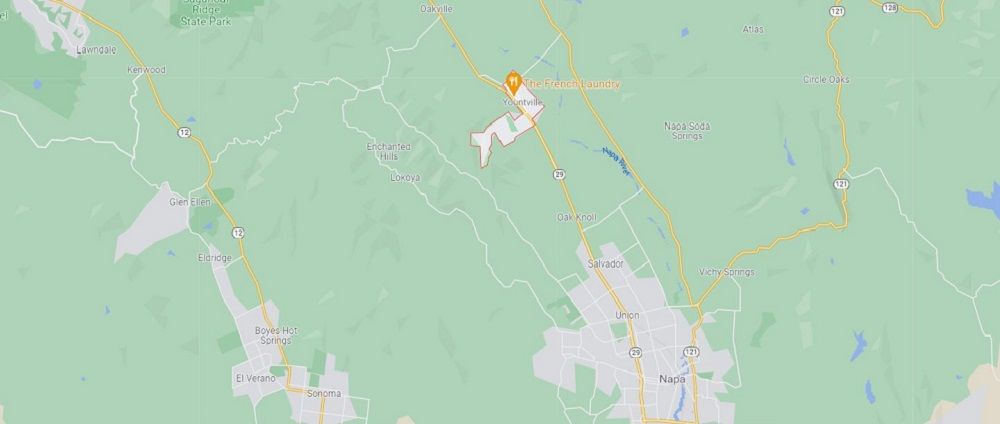 Yountville is known for having one of the highest concentrations of Michelin-star restaurants in a small area anywhere in the world. This unassuming, charming little town is a foodies haven, and it's home to Thomas Keller's French Laundry—one of the most famous restaurants in the world.
Apart from having an incredible selection of restaurants to dine at, Yountville is located in the heart of the Napa Valley. Thanks to this, Yountville is an ultra-convenient location for travelers who would like to visit wineries during the day and still be within walking distance to some of the best restaurants in the country by night.
Why I love Yountville and Oak Knoll:
Midway between Napa & Calistoga
Very central in the heart of Wine Country
World-class restaurant scene
Charming and quaint
Attractions near Yountville and Oak Knoll:
Napa Valley Museum
Yountville Golf Course
Napa Soda Springs
Hess Collection
Best restaurants in Yountville/Oak Knoll:
Don Giovanni
French Laundry
Bottega
Restoration Hardware
Bouchon Bakery
El Calenda
Best hotels in Yountville/Oak Knoll:
Bann at Oak Knoll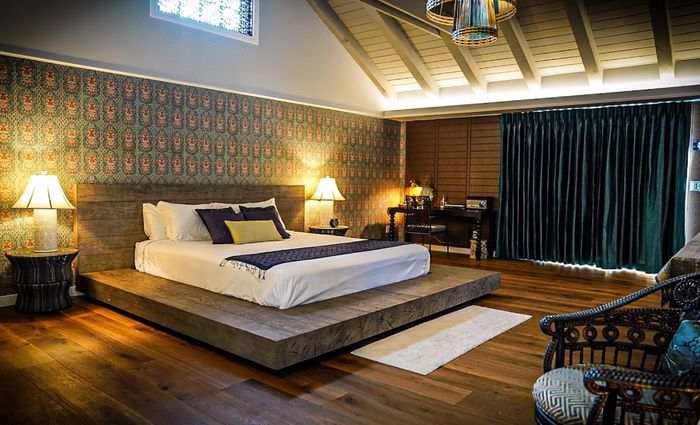 $$$$ I Unique I Luxurious I Boutique
Bann is a resort-style bed and breakfast with just five rooms, located in Oak Knoll. Bann, which means "home" in Thai, features luxurious Thai designs, a welcome afternoon tea, and a three-course, traditional Thai breakfast. It is truly a one-of-a-kind stay in the Napa Valley.
Maison Fleurie, A Four Sisters Inn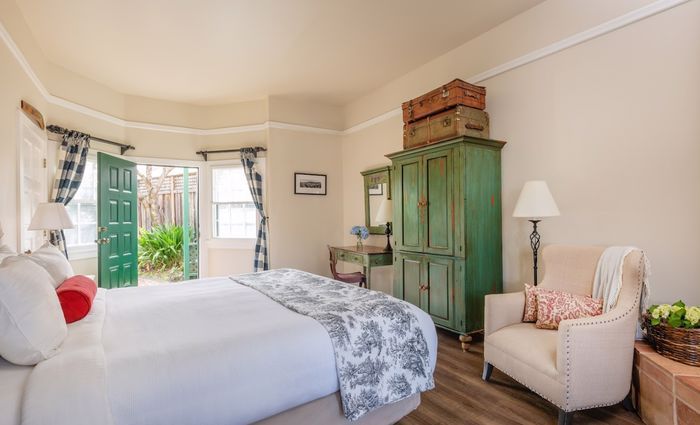 $$ I 4 Star | Centrally Located I Sweet and Cozy I Charming
If you're looking for a charming, cozy, and centrally located stay without breaking the bank, choose Maison Fleurie. This adorable bed and breakfast offers complimentary breakfast, a wine hour in the afternoon, and is within minutes of some of the finest wineries and restaurants in the valley.
The Napa Valley Lodge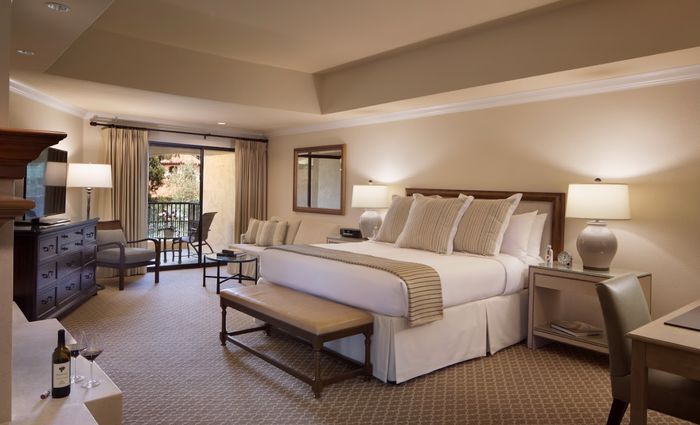 $$$ I 4 Star | Quintessential I Sophisticated | Spa
The Napa Valley Lodge is a quintessential wine country getaway. Their rooms are sophisticated, yet cozy, and their design makes you feel at home. The lodge also features a spa and pool, as well as patios and fireplaces for guests to enjoy after a day of wine tasting.
Where to Stay: St. Helena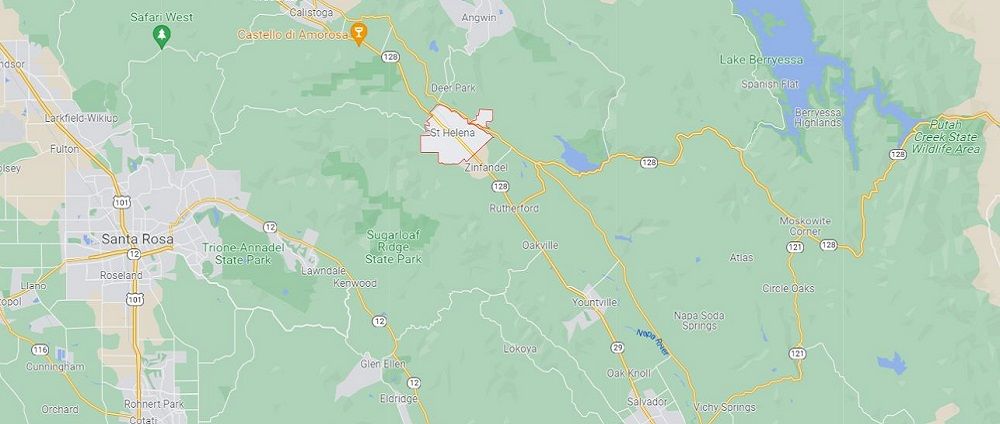 St. Helena is located in the heart of the Napa Valley. In addition to being central to some of the best wineries in the valley, main street in St. Helena is studded with shops, art galleries, bars, and restaurants. St. Helena is also home to some of the best restaurants in all of Napa Valley.
If you are hoping to explore all of Napa Valley from Calistoga to downtown Napa, St. Helena is conveniently located. Here's what we recommend for things to do and where to stay in Napa Valley near St. Helena.
Why I love St. Helena:
Smack dab in the heart of wine country
Lots of great restaurants and shops
Rich history of winemaking
Sophisticated and relaxed feel
Attractions near St. Helena:
Bale Grist Mill State Historic Park
Hall Winery
Main Street St. Helena Shopping
Cameo Cinema
Best restaurants St. Helena:
The Charter Oak
Goose & Gander
Farmstead at Long Meadow Ranch
Press
Gott's Roadside
Brasswood Bar & Restaurant
Harvest Table
Best hotels in St. Helena:
Auberge di Soleil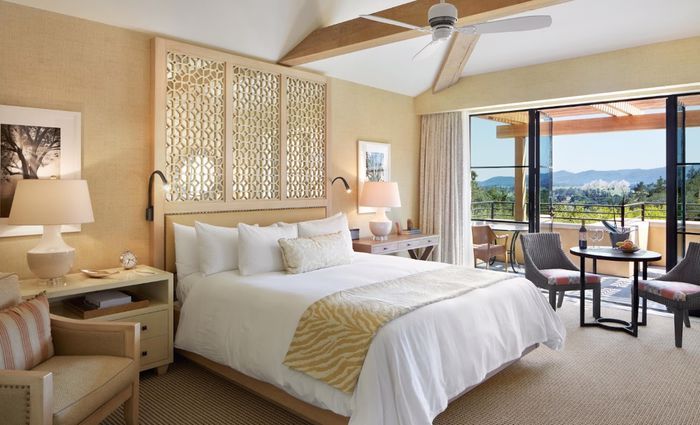 $$$$ I 5 Star I Sweeping Views I Luxurious
Staying at Auberge di Soleil is one of the most high-end experiences that the Napa Valley has to offer. With sweeping views of the valley and a Michelin-star restaurant on-site, Auberge is a perfect stay for a special occasion or if you're looking to splurge while in wine country.
Inn St. Helena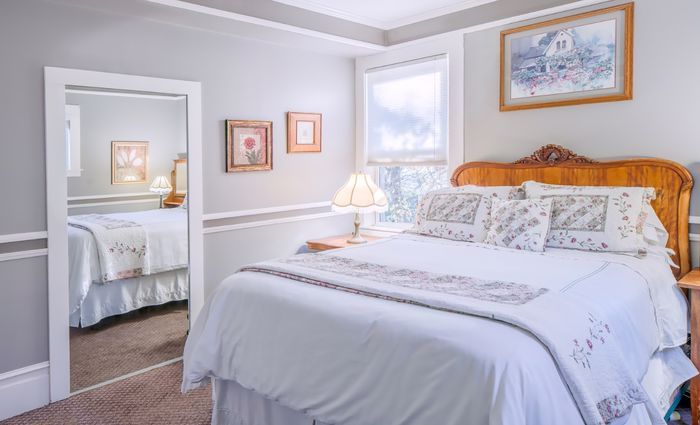 $$ I 3 Star | Cozy I Affordable I Central Location
The Inn St. Helena is a cozy, charming little inn that is perfect for travelers who are looking to explore the Napa Valley without breaking the bank. This cute little inn is located in the heart of wine country and offers complimentary full English breakfasts and wine hours in the afternoon. The rooms are bright and welcoming too!
Harvest Inn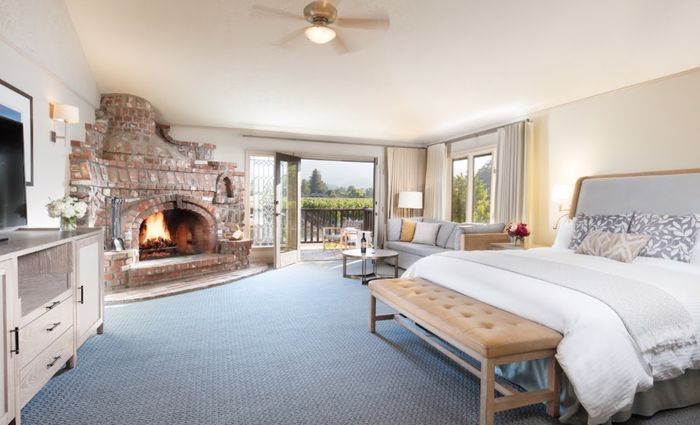 $$$ I 4 Star | Quaint I Simple and Modern I Comfy
The Harvest Inn is one of the few places in Napa Valley that is shrouded with both vineyards and towering redwood trees. Along with the cozy design and amenities, the Inn also features an on-site spa and Harvest Table, one of the finest restaurants that Napa Valley has to offer.
Planning your trip to Napa Valley? Don't miss our recommendations of the top things to do in Napa Valley!
Where to Stay: Calistoga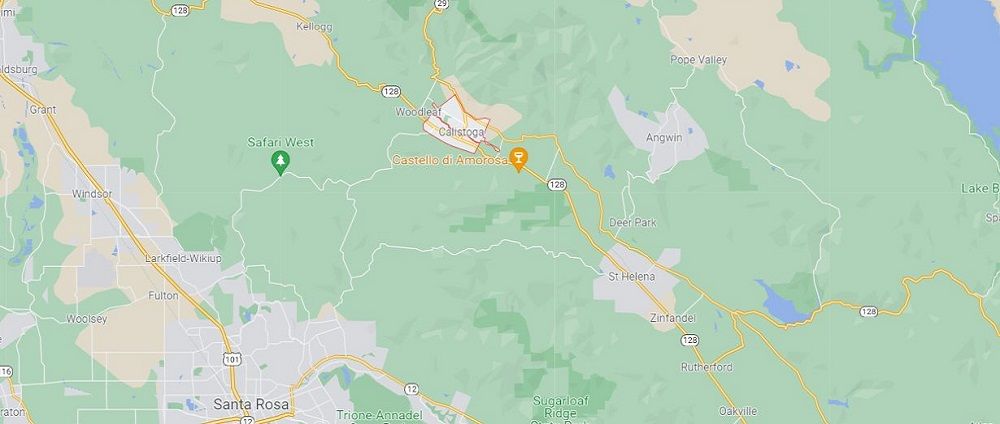 Calistoga is located at the far north end of the Napa Valley. In addition to the countless wineries and rolling hills of the valley, Calistoga is famous for the natural hot springs that are plentiful in the region.
Calistoga was named after Saratoga Springs, New York by the earliest founders of the town. The name is a combination of the words California & Saratoga. The founders of Calistoga wanted to draw in tourists by having the town be known as the "Saratoga Springs of the west."
Calistoga continues to bring in tourists from all over the world to enjoy the geothermal hot springs to this day. It's definitely a place you don't want to miss on your trip to Napa Valley, so here's where to stay in Calistoga.
Why I love Calistoga:
Quaint, charming small town
Lots of shops and boutiques
Historical ambience with churches, galleries, and museums
Spas, mud baths, and hot springs
Attractions near Calistoga:
Petrified Forest
Indian Springs Spa
Old Faithful Geyser
Castelo di Amorosa Winery
Bothe-Napa State Park
Best restaurants in Calistoga:
Sam's Social Club
Cafe Sarafornia
Fleetwood
Napa Valley Brewing Co
Solbar
Lovina
Best hotels in Calistoga:
The Francis House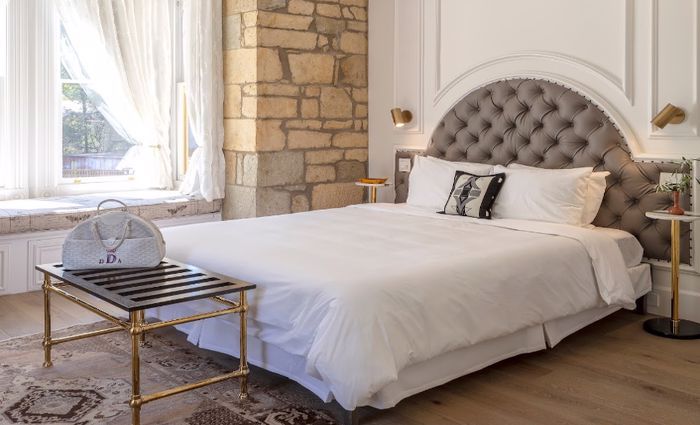 $$$$ I Elegant I Iconic I Boutique
Perhaps one of the most elegant and iconic places to stay in all of Napa Valley is The Francis House. It's listed on the National Register of Historic Places and was reimagined into a luxury boutique hotel in 2017. The house features an herb garden, pool, and sauna, as well as a delicious breakfast with ingredients from the garden. There are only four guest rooms in the house, so we suggest booking as far in advance as possible.
UpValley Inn & Hot Springs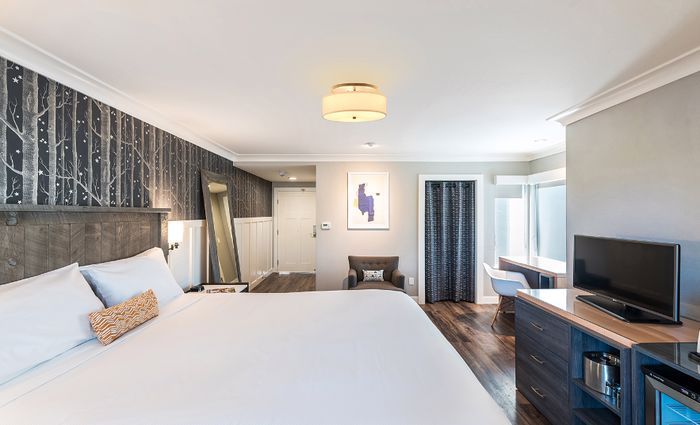 $$ I 3 Star | Hot Springs I Affordable I Mineral Pool
UpValley is a boutique hotel with hot springs on-site and comfortable, clean rooms. UpValley is a fantastic place to stay on a budget, while still enjoying the full Calistoga experience. They have a geothermal mineral pool, whirlpool, and sauna. The inn also offers a complimentary shuttle to downtown Calistoga.
Indian Springs Resort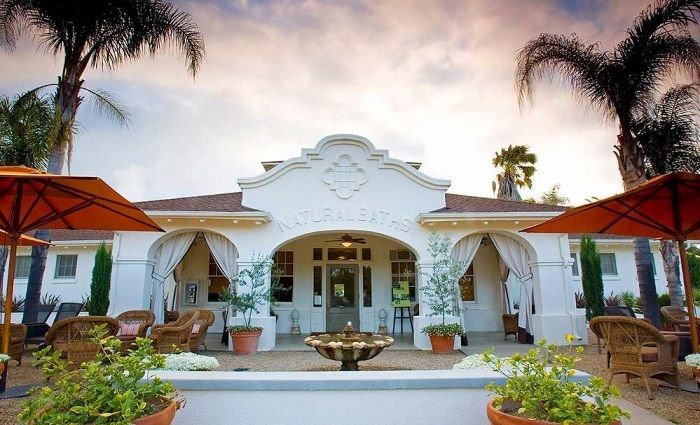 $$$+ | 4 Star | Mission-Revival Style | Mineral Pools & Mud Baths | Serene
With a history dating back to the 1860s, the Indian Springs Resort has long been known for its Olympic-sized mineral pool, mud baths, and spa treatments. Rooms, cottages, and bungalows are available on the 17-acre property that also includes a tennis court, walking paths, bicycles, bocci ball, children's play area, and shuffleboard. Your stay here will be one to remember.
Four Seasons Resort Napa Valley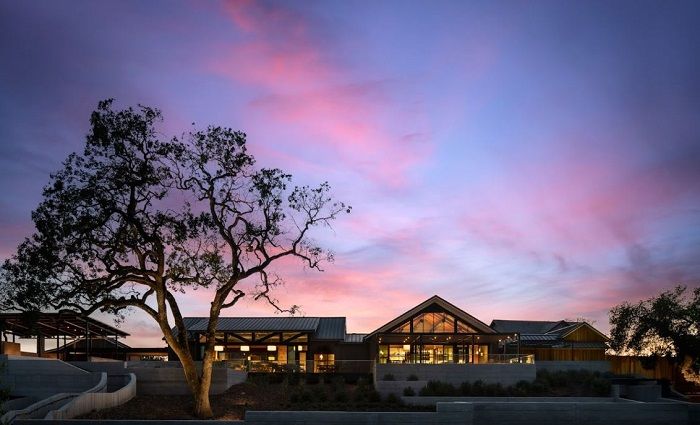 $$$$+ | 5 Star | New Hotel | Incredible Views | Luxury Spa
If luxury is your game, opt to stay at the new Four Seasons in Calistoga. With a pool, spa, personalized service, and gorgeous rooms with views, you'll enjoy your time here immensely. Since they're new, they're still working out a few kinks with their restaurant, but rest assured this hotel is a five-star experience.