Many refer to the Napa Valley as "Disneyland for adults." Between countless wineries and world-class restaurants, there is no shortage of things to do. Along with food and wine, Napa Valley has an abundance of unique activities and adventures that are sure to create lifelong memories for all who visit. Here are our favorite things to do in Napa Valley to enjoy all that this incredible valley has to offer.
---
The Best 13 Things To See And Do in Napa Valley
Whether you're a totally experienced wine nerd or a first time visitor to the Valley, Napa has no shortage of new, memorable adventures for all visitors who are looking to escape the bustling city life or just enjoy a weekend of wining and dining. Keep reading for inspiration and ideas on how to best bask in the magic of wine country with the top things to do in Napa Valley.
13. Hop Aboard The Napa Valley Wine Train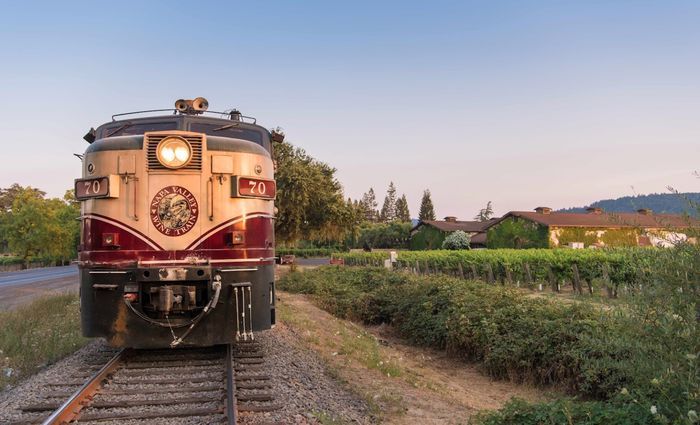 The Napa Valley Wine Train, established in 1864, is made up of vintage 20th-century Pullman train cars. It's a romantic and relaxing way to see the valley, plus it features a handful of different journeys that visitors can embark on. You can book an all day winery tour or just enjoy a mid-day cup of tea on the train while rolling through the vineyards.
If you have a few days in Napa, the Wine Train is definitely a fun and unique way to experience the valley. They also often have fun specials, such as a murder mystery dinner. Check their website for availability and more details.
Address: 1275 McKinstry St, Napa, CA
Cost: $150-550 (depending on the tour)
12. Enjoy Lunch With a View at The Restaurant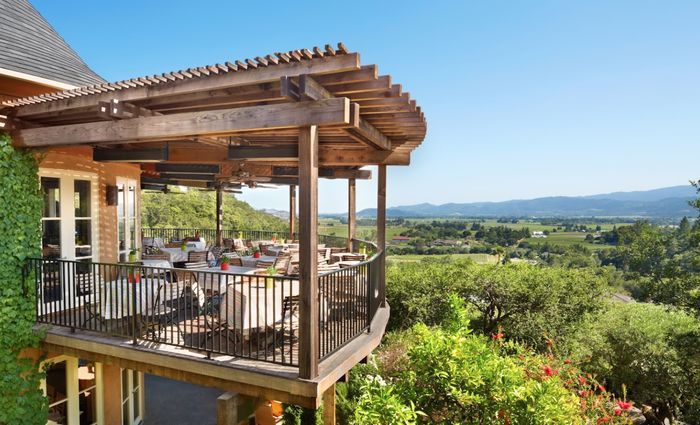 Auberge di Soleil might just have the best view in all of Napa Valley, which means it's an excellent setting for some of the best food in Napa Valley. But that's not the only claim to fame. The Restaurant (yes, that's its official name) at Auberge di Soleil has been awarded Michelin star awards for 14 consecutive years.
You can dine here for breakfast, lunch, dinner, or tasting menus. You'll find duck, lamb, lobster, octopus, and many more delicious dishes here. For a more affordable experience, the Bistro is also available for lunch. Call in advance as you will most likely need reservations.
Address: 180 Rutherford Hill, Rutherford, CA
Cost: $30-500
11. Taste Local Wine & Olive Oil at Round Pond Estate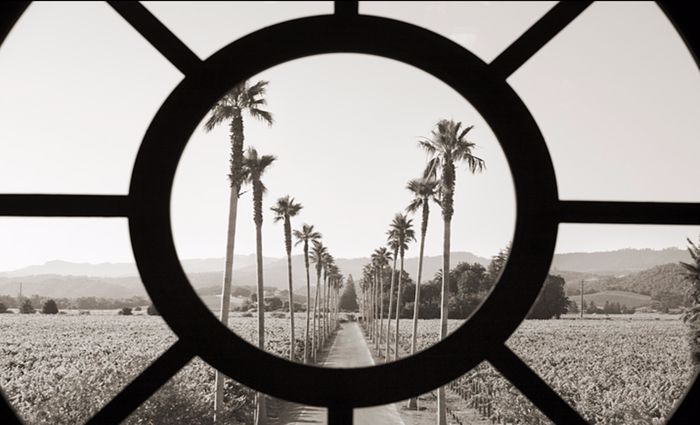 Round Pond Estate is known for its world-class wines and olive oils. With a driveway lined by palm trees and acres of gorgeous vineyards, each visitor truly gets a beautiful California wine country experience as they make there way to the estate. They also make their own local olive oil, cheese plates, and offer incredible farm-to-table dining experiences.
It is located smack dab in the middle of Napa Valley, which makes it an easy stop on your day of wine tasting around other vineyards. Call ahead for reservations.
Address: 875 Rutherford Road, Rutherford, CA
Cost: From $40
10. Sleep in a Luxurious Victorian Mansion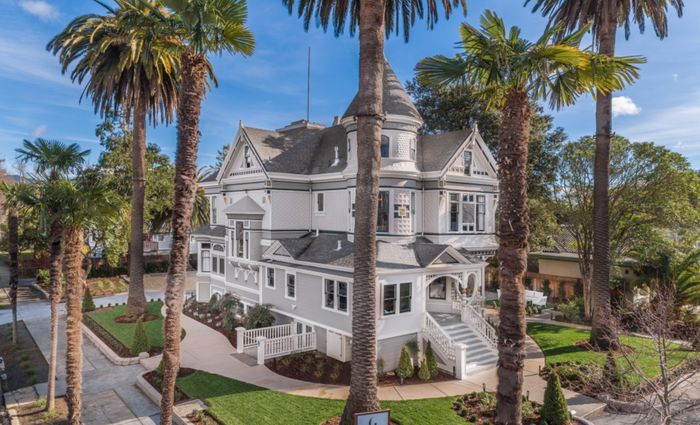 Originally built in 1891, The George E. Goodman Mansion is a classic Queen Anne Victorian estate that's listed in the National Register of Historic Places. After 5 years of renovations, The George has been reborn into the premier luxury boutique hotel in downtown Napa.
Guests are welcomed into this nine-room inn with a complimentary welcome glass of champagne and friendly smiles from staff. The charming hotel features top-tier amenities and indisputably some of the most beautiful interior design in Napa Valley. We also love the unique blend of original architectural detailing mixed with California luxury modern design.
The George is within walking distance to downtown Napa and all the wine tasting rooms and restaurants it has to offer. It's the perfect place to stay on your trip to Napa.
9. Snap an Obligatory Pic in Front of the Famed Napa Valley Sign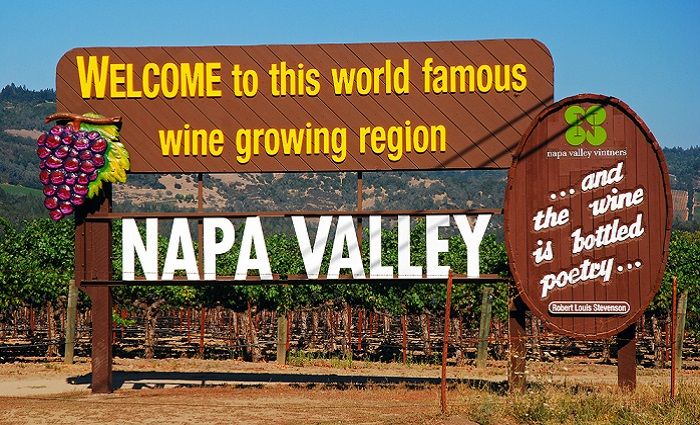 The Napa Valley sign is located in the heart of the valley. It is impossible to miss during your drive into wine country on SR 29 just north of Yountville. Stop by and snap a picture in front of it to round out your collection of memories.
No trip to Napa is complete without it, which is why we put it on this list of top things to do in Napa Valley. What more can we say?

Address: 7602 St. Helena Highway, Napa, CA
8. Work Off Those Calories By Biking Through Wine Country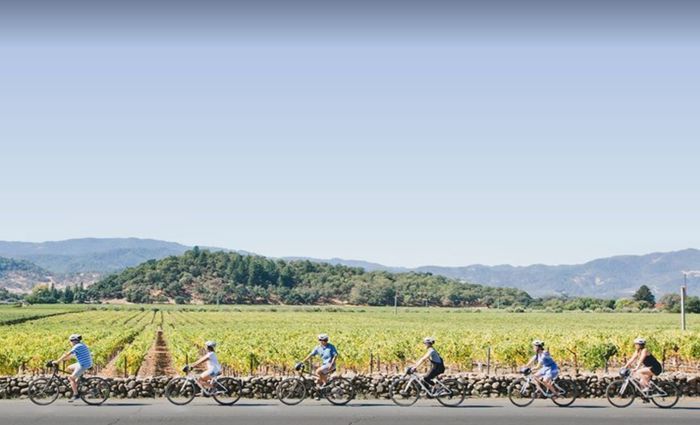 Feeling guilty about all the wine and cheese you've surely scarfed down during your vacation in Napa? Fear not! Do the popular healthy exercise and rent some bikes to get around the valley. You can go on guided or self-guided tours to burn a few calories between wine tastings.
And you don't have to wander along random streets. The Napa Valley Wine Trail is a 47-mile paved scenic bike route around Napa Valley, with an abundance of wineries along the way for as many pit stops as you want. Biking the wine trail is a one-of-a-kind experience and definitely worth exploring.
Address: 6500 Washington St, Yountville, CA
Cost: From $40

7. Stop for a Burger at Gott's Roadside in St. Helena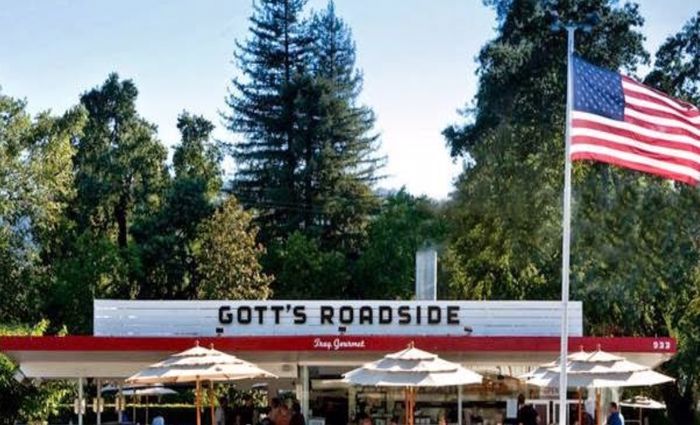 No trip to Napa Valley is complete without a stop at Gott's Roadside—Napa's most beloved roadside burger stand. Located in St. Helena among countless wineries along the main strip, it is a popular destination for all tourists and locals alike.
Along with their famed, locally-sourced burgers, Gott's also features specialty items such as ahi poke tacos and impossible burgers, so there is something for everyone on the menu. To top it all off, they offer local wine to wash it all down with. Now that's a burger joint you know is located in the heart of wine country!
Pro tip: Order ahead online to avoid the line!

Address: 933 Main St, CA-29, St Helena, CA
6. Soak Your Way to Health and Relaxation at Indian Springs Resort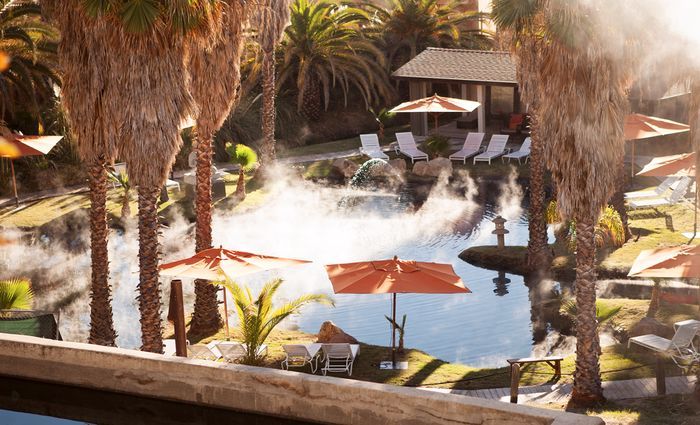 After exhausting yourself with all of that incredible stress of wine tasting and fine dining, you can rejuvenate in a mineral bath at Indian Springs resort in Calistoga—about 40 minutes north of downtown Napa.
Along with the natural mineral baths, Indian Springs is a full-service spa complete with mud baths, massages, facials, and more, all housed in a stunning 17-acre, Spanish-Bohemian complex.
The original spa and mud baths were built in 1861, an Olympic mineral water pool was built in 1910, and it has maintained it's prominent place as a premier wellness destination for Bay Area residents since the 1920s. Best of all, it's also a hotel, so if you love the idea of staying at a hotel with natural mineral springs on-site, then make sure you book your stay here.
5. Taste Wine in A Recreated 13th-Century Castle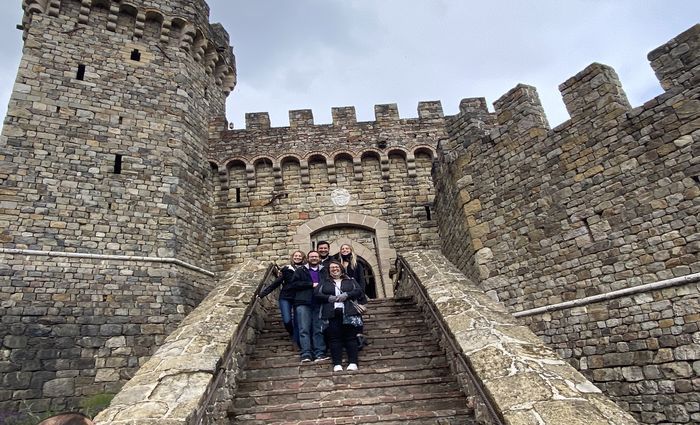 The Castelo di Amarosa Winery took over 15 years and $40 million to build, which won't surprise you once you see this vast, carefully constructed gorgeous castle located at the top of a hill in Calistoga.
This castle is the largest stone building in California, and the architectural masterpiece is complete with all of the intricate details of an authentic 13th-century castle. The Castelo di Amorosa is complete with a drawbridge, moat, five towers, courtyards, and even a torture chamber. There are 107 rooms in the castle (we wish we could stay here!) and no two are alike.
After taking a tour of the castle, you will be able to taste incredible Italian-inspired wines that are only available for purchase at the castle. To book a tasting tour, make a reservation on their website in advance.
Pro tip: Visit the castle during a weekday to avoid the crowds.
Address: 4045 St Helena Hwy, Calistoga, CA
Cost: $45-95
4. Saber Wine at Domaine Carneros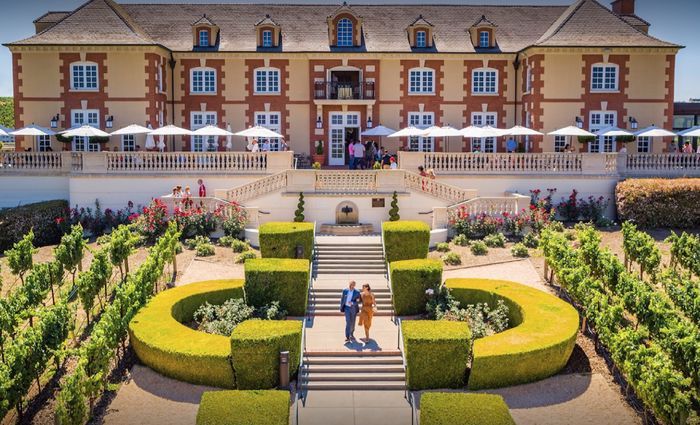 Domaine Carneros is a popular stop on many visitors' Napa Valley bucket list. This iconic location boasts beautiful gardens, gorgeous views and is known for having some of the best sparkling wine in Napa Valley. You'll love the French-inspire chateau here and impeccable gardens to explore when you're not sampling their wine.
The winery offers special sabrage demonstrations, caviar pairings, and sparkling wine flights. Tastings start at $60. As with almost everything in Napa Valley, reserve your spot online before you arrive to guarantee a spot.
Address: 1240 Duhig Rd, Napa, CA
Cost: from $60
3. Ride Horses at Shadybrook Estate Winery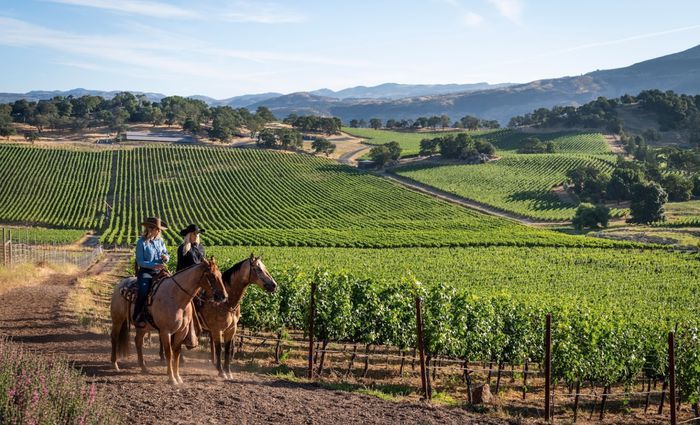 Along with having world-class wines and breathtaking views of the surrounding rolling hills, Shadybrook Estate Winery is known for allowing their visitors to take a tour of the Rapp Ranch on horseback. This tour features either a 30- or 50-minute horseback tour of their ranch, then includes a tasting of their delicious estate wines paired with cheese, charcuterie, fruit, and nuts.
This experience is a little off the beaten path (pun intended), but it's worth booking if you have even a hint of an adventurous bone in your body. It's designed for any skill level since it's just a leisurely ride through the vineyard, but the memories will last forever.
Address: 100 Rapp Ln, Napa, CA
Cost: $165-195
2. Stomp Grapes During Harvest Season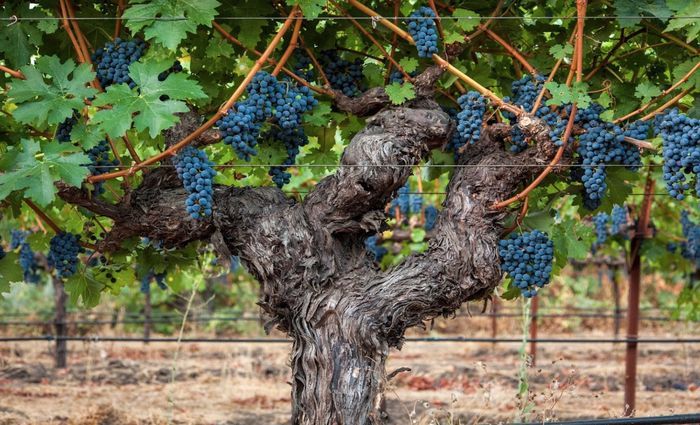 Mike Grgich, who is the oldest winemaker in the valley, is famous for being one of the original Napa winemakers that put Napa wines on the map during the Judgement of Paris in 1976. The Judgement of Paris was a wine competition in which California wines were rated better than French wines in a blind taste test. A proud moment in California history, to be sure!
Thanks to our victory during the Judgement of Paris competition, Napa became widely respected as a world-class wine producing region from that day on. If you happen to be visiting Napa during the fall, check out Grgich Hills Estate for one of their grape stomping experiences.
It's a fun way to dip your toes (see what we did there?) into a traditional method of preparing wine, that's still used in many areas today.
Address: 1829 St Helena Hwy, Rutherford, CA
Cost: From $30
1. See Napa Valley from a Unique Perspective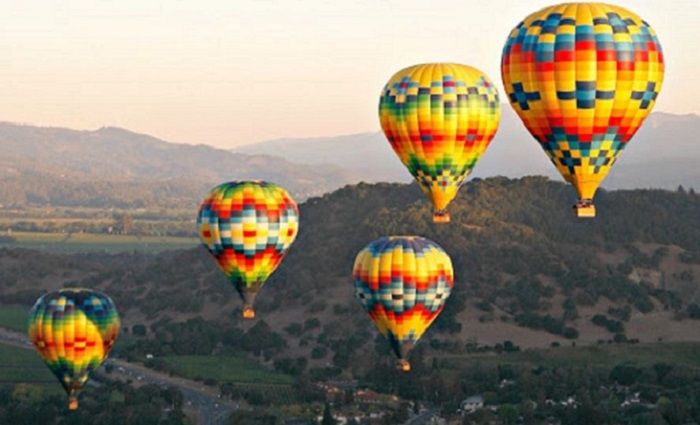 With incredible views of rolling vineyards, there is no better place to ride a hot air balloon than in the Napa Valley. Napa Valley Aloft was voted USA Today's #1 hot air balloon company, and for good reason.
They offer options for semi-private flights as well as private flights with some of the most experienced hot air balloon pilots on the globe. We're serious that this is one of the absolute best things to do in Napa Valley. There's nothing more serene than enjoying the birds-eye view of this majestic countryside while perched in your own hot air balloon basket.
You can book a single ride or use the balloon for your exclusive enjoyment for a few hours, along with a post-flight bottle of champagne and breakfast.
Pro tip: Book well in advance on their website, especially if you're hoping to visit on a weekend.
Address: 6525 Washington St., Yountville, CA
Cost: From $270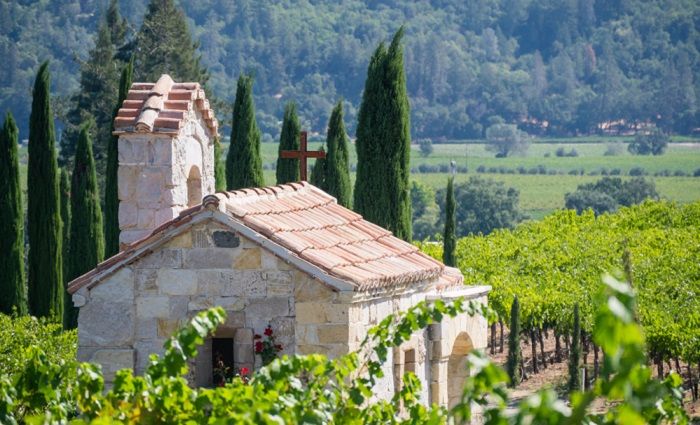 Find the best places to stay
Where to Stay in Napa Valley
There's more than just downtown Napa to explore here. Choose from among the best places to stay when you come to wine and dine in the Napa Valley.