The skiing in Utah is unbeatable for powder lovers, and the snow has finally arrived! Not only does Utah have "the greatest snow on earth," but it also has the highest number of accessible ski resorts near the airport. You can land at Salt Lake City and be on the slopes in under an hour! If that gets you excited, then here's our list of the best ski hotels near Salt Lake City for your upcoming ski trip.
---
Our Partnership with Booking.com. If you like our content, please book by clicking on our Booking.com links. The price is the same for you and we get a small commission that helps support our blog. We've partnered with Booking.com because they have the most options, great prices, and a solid loyalty program. Just about every hotel is on Booking, so our recommendations are not incentivized.
The Best Hotels Near Salt Lake City for Skiing
Did you know that there are seven ski resorts within 45 minutes or less of the Salt Lake City airport? Yep! In the Salt Lake Valley, we have Alta, Brighton, Snowbird, and Solitude, but you can also get to Deer Valley Resort, Park City Mountain, and Woodward Resort over in Park City, too.
And if that isn't enough, you could get to four more resorts in about an hour! You can try Sundance Mountain Resort in Provo, or Nordic Valley (small resort for beginners), Powder Mountain, and Snowbasin near Ogden. Quite the list!
Check out this article for where to stay in Park City if you're looking for thrills at the largest ski resort in the country. Park City is the most mountain-resort-like town you'll find near Salt Lake City, though Snowbird is probably the best for the Salt Lake side of the mountains.
Otherwise, there are several great hotels and condominium complexes to stay at near Alta (skiing only), Brighton, Solitude, and Snowbird—the most popular resorts in the Salt Lake Valley. However, many travelers prefer to stay at the mouth of the canyons or in Salt Lake City to stay closer to the city life. Utah also has a dedicated ski bus system to get skiers and snowboarders up the mountain if you choose to stay in the valley.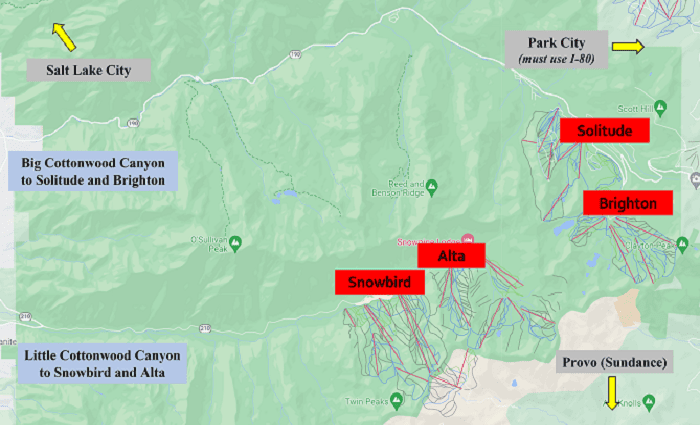 You can easily book an Uber or Lyft from the airport, just make sure to book an SUV for the extra luggage space and four-wheel drive.
Also be aware that if you stay up at these resorts, it's usually a long wait for an Uber or Lyft back down the mountain, but there are several restaurant options up there for guests. You won't find a busy nightlife at these resorts though. But without further ado, here are the best ski hotels near Salt Lake City.
The Cliff Lodge – Snowbird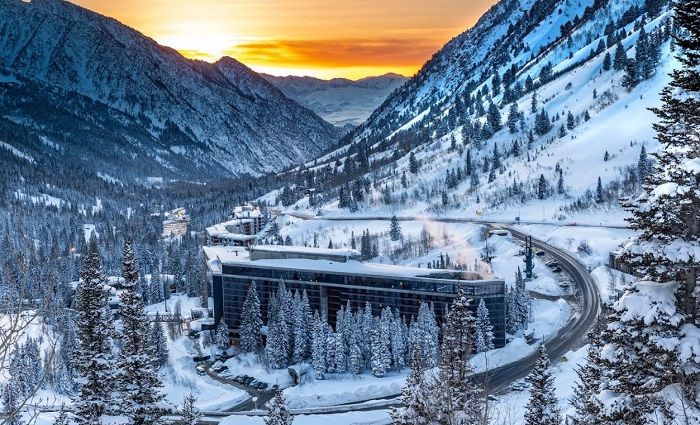 $$$$+ | 3 Star | Ski-In/Ski-Out | On-Site Ski Rental and Storage | Spa and Yoga Studio
Every room comes with a view at The Cliff Lodge here at Snowbird. Catch the sunrise or the sunset from your window each day before walking to the chair lift. The lodge recently underwent massive renovations, so you can expect a top-notch experience here.
You'll also find a heated pool, hot tubs, spa, yoga studio, plus restaurants that focus on local, organic ingredients. It's a solid choice on our list of the best ski hotels near Salt Lake City.
The Inn at Snowbird
$$$+ | 2 Star | Multiple Room Options | Pool and Steam Room
These units can sell out quickly, but you'll find single bedroom, studio, and super studios (two floor lofts) here that can sleep up to 9 people. It's a cozier location than the larger lodge here, but it still has a heated pool and even a steam room. It's a nice way to end a thrilling day carving your way down the slopes. We also love that they offer complimentary hot beverages. That's a must in the cold winter temperatures up here!
The Lodge at Snowbird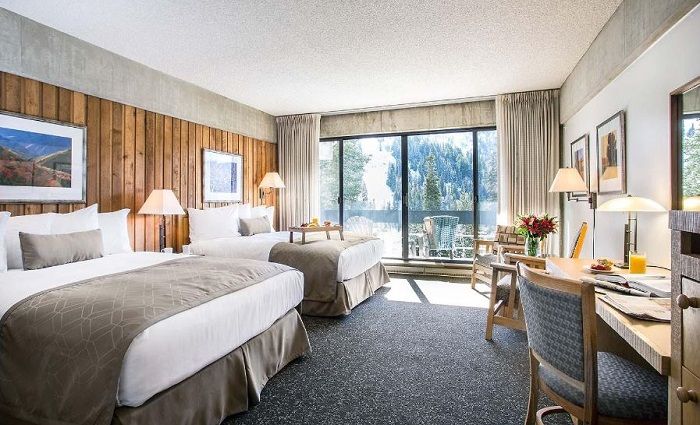 $$$+ | 3 Star | Rooms and Condos | Ski Lockers and Lending Library
This is the original lodge up here at Snowbird, so you know they're doing something right. With bright, mountain-modern decor in the rooms, you'll enjoy your stay in a standard room or a condo with a loft. All condos include a fireplace and kitchen, so opt for that if you want the a more homey atmosphere. Just about every room has breathtaking views of the mountains here too.
Alta's Rustler Lodge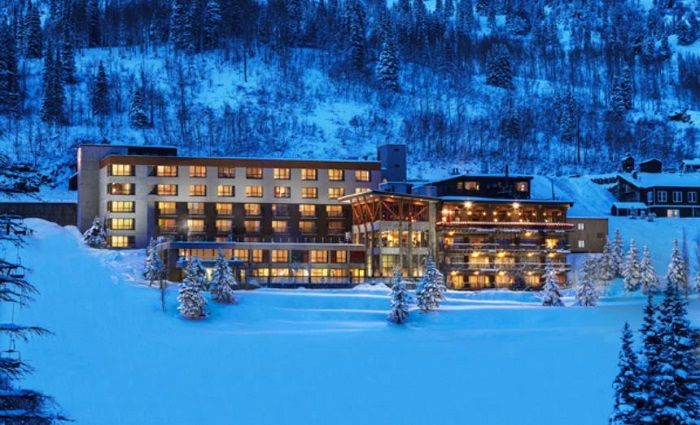 $$$+ | 4 Star | Popular Bar and Restaurant | Awesome Sunset Views | Award Winning
As a reminder, Alta Ski Area is open for skiers only—no snowboarding. It's something of a luxury for die-hard skiers, if you know what I mean. So, if you're ready for two-ski swooshing, then stay at Alta's Rustler Lodge. It's one of the more upscale lodges in the area. Even non-guests rave about the bar and restaurant here, so it's a safe bet you'll find tasty food, too.
They consistently earn excellent service awards and top ski hotel awards, which is a big deal in a state with 15 ski resorts! It's easily on our list for where to stay near Salt Lake City for skiing
Still Looking for Hotels In Utah for Skiing? Check Out My Other Article Where To Stay In Park City If You Want to Stay in Park City!

Alta Peruvian Lodge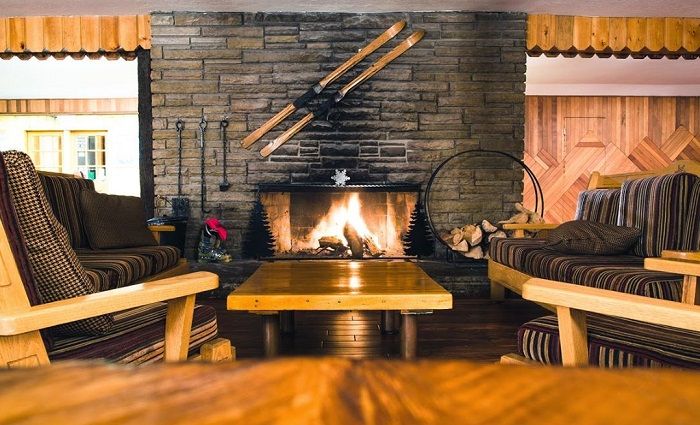 $$+ | 3 Star | European-Style All-Inclusive Lodge | Nostalgic Vibes | Rustic Rooms
This delightful Alta Peruvian Lodge formerly housed army nurses in WWII before it was relocated up here at Alta as a lodge. You'll find a friendly atmosphere here where rustic charm exists around every corner. It's all about making new friends and having high vibes here.
The room walls are a little thin since it's an older building, but the staff is helpful and the food is excellent. And you're just a few hundred feet from a ski lift here.
Alta Lodge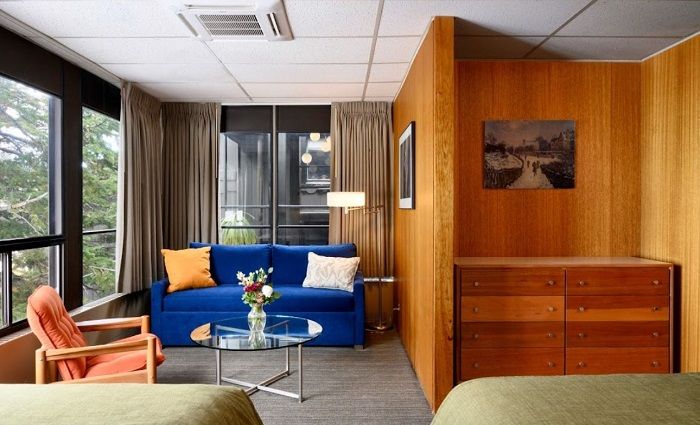 $$$+ | 3 Star | Breakfast and Dinner Included | Spacious Rooms | Afternoon Tea and Cookies
Alta just gets better and better with each lodge, so of course it's considered a best ski hotel near Salt Lake City. The Alta Lodge has a mission to keep to the old days of an intimate and upscale ski vacation where everything exceeds expectations. That means breakfast and a four-course dinner are included with every reservation.
First-timers rave about the inclusive and overall experiential vibe here. It's total ski-in and ski-out access with a lift just steps away. Oh, and they have boot dryers for each room, plus hot tubs, two saunas, and a deck for watching movies with your afternoon tea and cookies. How cool is that?
Solitude Mountain Resort Condo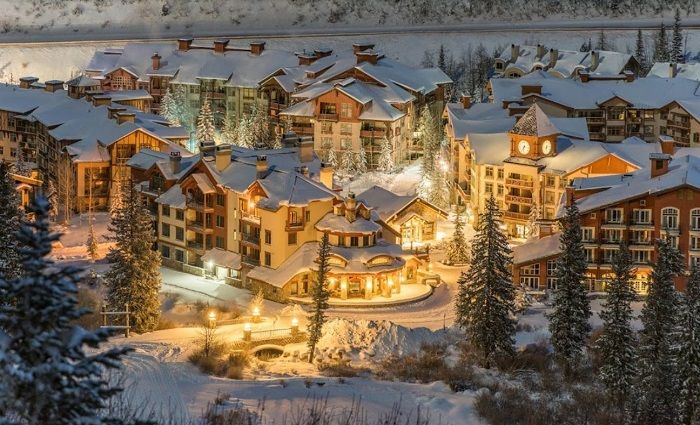 $$$$$ | Individual Condo Units | Ski-In/Ski-Out | Village Location
Most of the lodges here at the base of Solitude Resort are individually owned condominiums managed by Solitude. They're fantastic options for families since they're spacious and have all the necessary amenities. This is a two-bedroom condo with a full kitchen and a washer and dryer.
It's about as close as you can get to ski-in/ski-out just a few hundred feet away from a lift. And the proximity of these lodges make you feel like you're in a mountain village with a few restaurants, too.
Powderhorn Lodge 210: Blazing Star Suite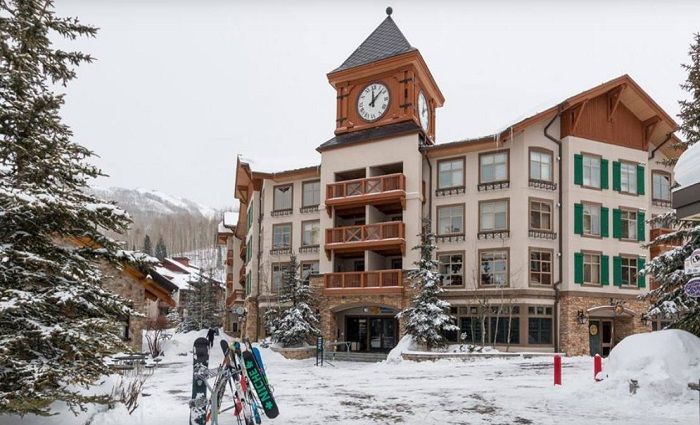 $$$$+ | 2-Bedroom Condo | Spacious Rooms | Ski-In/Ski-Out
Another great lodge with condo units is the Powderhorn. It's another great option for families who need more space. You can sleep up to eight people in this condo, which could also be fun for a group of friends.
The outdoor hot tub has some of the best views of the mountain, too. And it's helpful that the ski rental shop is located on the first floor of the lodge. Super convenient!
Silver Fork Lodge and Restaurant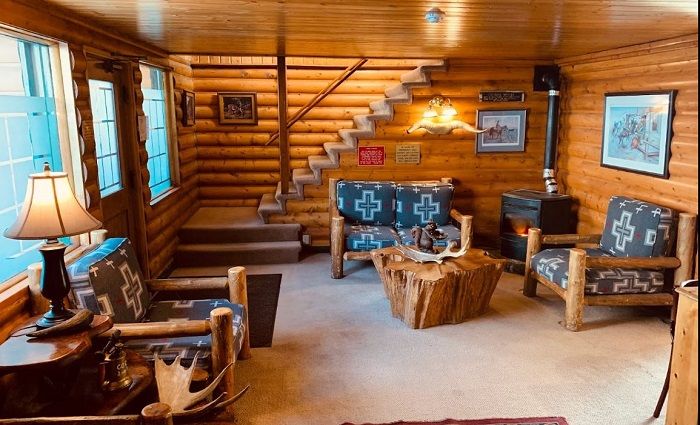 $$+ | 3 star | Ultimate Rustic Experience | Popular Restaurant
This lodge is located one mile from Solitude and three miles from Brighton, but it's a great little spot that's more affordable than some of the condos at the base of the resorts. Locals often make the trek up the mountain to eat at the restaurant here, so you know you'll eat some incredible food (try the sourdough pancakes with hot apple cider!).
The rooms are quaint and rustic but clean. Silver Fork has been around since 1947, which means they know how to keep guests happy.
Brighton Chalets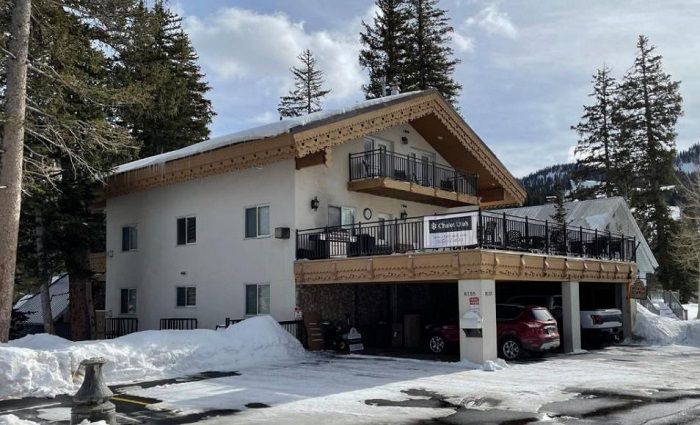 $$$+ | European-Style Chalet | 1-4 Bedrooms
Brighton is more popular with locals so you won't find a lot of resort-style hotels and lodging up here. There are lots of cute chalets you can book, but they do sell out quickly since there are few lodging options. You can either stay here, a couple miles away at Solitude, or down the mountain at Cottonwood Heights.
These chalets are appealing when the snow is deep around them and the fire is going though. You'll feel like you stepped into the Austrian Tyrol.
Still Looking for Hotels In Utah for Skiing? Check Out My Other Article Where To Stay In Park City If You Want to Stay in Park City!
Courtyard by Marriott Salt Lake City/Cottonwood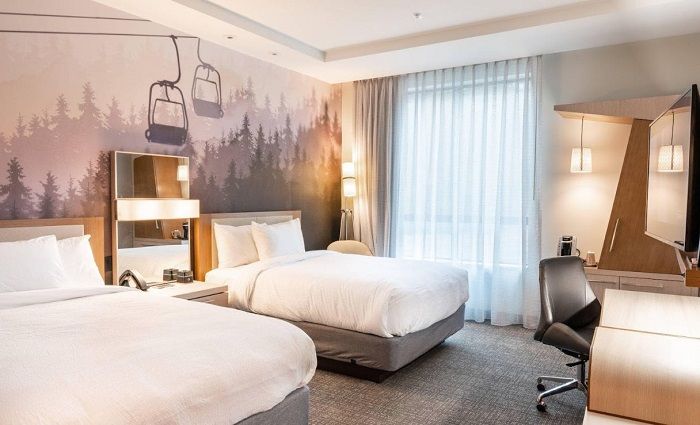 $$+ | 3 Star | Modern and Spacious | Close to Mountain | Heated Outdoor Pool
This Courtyard by Marriott looks impressive from the outside and inside. We love the photo murals in the rooms and common areas that really celebrate the incredible skiing that Utah has to offer.
Even though this hotel is at the base of the mountain, they still offer ski storage. They know what their guests need, which is why it's one of the best ski hotels near Salt Lake City. There is a restaurant on-site, and it's pretty easy to grab an Uber to head for more awesome dining options a few minutes away.
The Grand America Hotel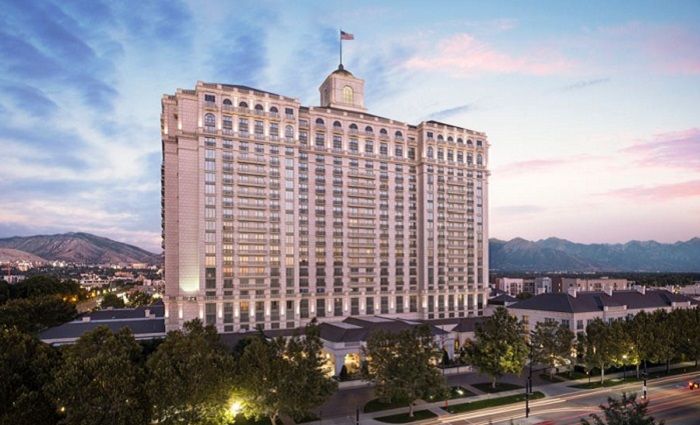 $$$+ | 5 Star | Luxury Hotel | 5-Star Spa | On-Site Shops | Classic Decor
If you prefer to stay near the city life and drive only 20–30 minutes to the ski slopes, then opt to stay at The Grand America Hotel. It's an iconic landmark hotel in downtown Salt Lake City.
The decor is traditionally classic and luxurious, though admittedly, they could update with some more tech upgrades. But the courtyard is just magical at Christmas time with all the lights sparkling in the snow. And the staff works to be extra accommodating and helpful, which is a nice touch.
Kimpton Hotel Monaco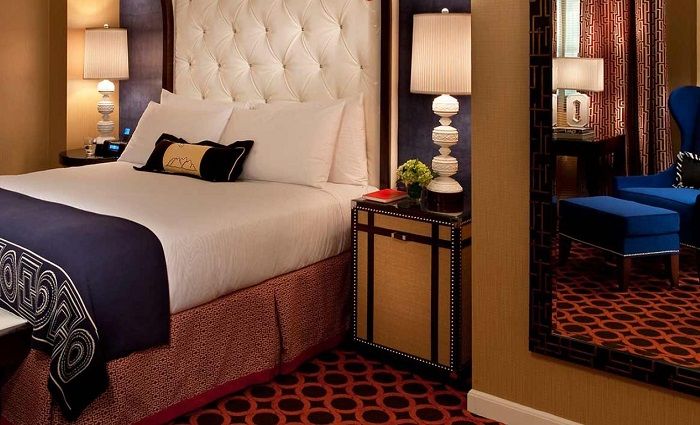 $$+ | 4 Star | Boutique Vibes | Tastefully Luxurious | Awesome Downtown Location
The Kimpton is located right on Main Street where you'll find plenty of bars and restaurants to walk to after your busy ski day. And the impressive City Creek Mall is just a couple blocks away too. And remember, you can get to a ski resort within 20 minutes from here!
The Kimpton's rooms are spacious even if you don't choose the extra-spacious suites with sitting rooms. But even the King Spa room has a soaking tub, which is so relaxing. It's the perfect choice for downtown life while still being close to your favorite ski resort.
Sundance Mountain Resort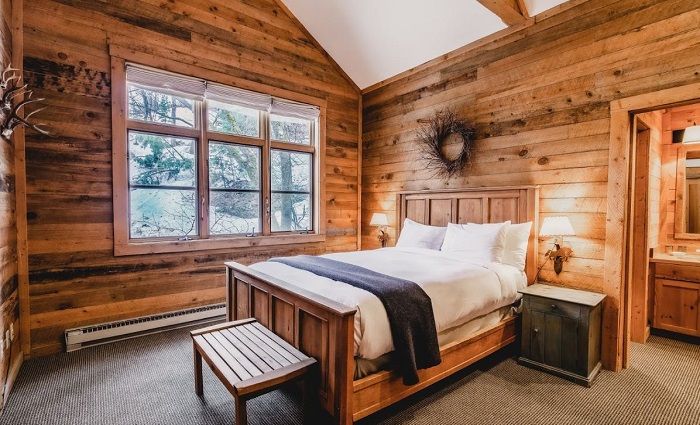 $$$+ | 4 Star | Hidden Rustic Treasure | Small Ski Resort with Upscale Vibes
Sundance began as the dream of Robert Redford who purchased much of the land in this tiny little canyon in Provo, Utah. The Sundance Lodge isn't large, so it sells out quickly, but there are plenty of other rentals here, too.
As one of the best ski hotels near Salt Lake City, this lodge is modern and rustic, and you'll find incredible dining here—though reservations are strongly recommended as wait times can grow long. Sundance is currently upgrading their lifts and parking to make it an even better experience. It's a quaint but upscale little resort that you just might fall in love with.