Lake Tahoe ski resorts always rank high on the list of the best ski resorts in the U.S. and for good reason. Skiers and snowboarders can explore hundreds of ski runs at half a dozen ski resorts like Heavenly, Northstar, Kirkwood, Squaw Valley, and more. Choose from our favorite hotels as you decide where to stay in Lake Tahoe this year.
---
High above a gorgeous alpine lake, these resorts offer something for every level of skier—plus unparalleled views. And after a long day on the slopes, you'll be ready to kick back at a top-notch hotel and enjoy fine dining, hot tubs, spas, and soft beds. As you plan your winter getaway, be sure to bookmark this page as you decide where to stay in Lake Tahoe near the best ski resorts.
Our Partnership with Booking.com. If you like our content, please book by clicking on our Booking.com links. The price is the same for you and we get a small commission that helps support our blog. We've partnered with Booking.com because they have the most options, great prices, and a solid loyalty program. Just about every hotel is on Booking so our recommendations are not incentivized.
Decide Where You'll Stay in Lake Tahoe
North & South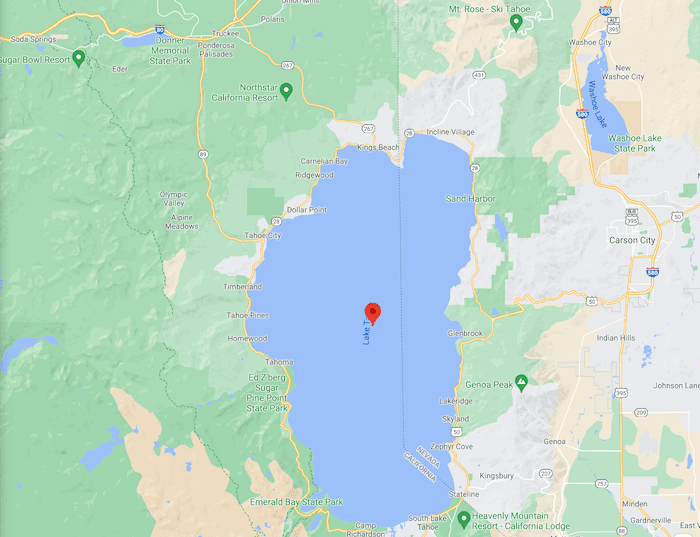 First, let's get the geographic lingo down. Locals break Lake Tahoe into two regions: north and south, split right down the middle of the lake. Even if you're on the west shore or east shore, you'll be in either North Lake Tahoe (has the most ski resorts) or Tahoe South (home of Heavenly and South Lake Tahoe city).
Nevada–California
The Nevada–California state line runs north and south through the lake and splits downtown South Lake Tahoe and Heavenly in half. When you hear someone refer to "Stateline," that's where they mean.
Top Lake Tahoe Ski Resorts
If you're heading to Lake Tahoe for skiing, then luxe hotels and resorts abound in every direction. You'll find several of the best ski resorts on the north shore, like Northstar, Sugar Bowl, and Mt. Rose. The west shore of North Lake Tahoe has little Homewood Mountain Resort, and the infamous Squaw Valley with its sister resort, Alpine Meadows. Tahoe South holds its own with the well-known Heavenly Ski Resort. Further south of the city, you'll also find Sierra-at-Tahoe and Kirkwood Resorts. Here are the areas and resorts we'll cover:
North Lake Tahoe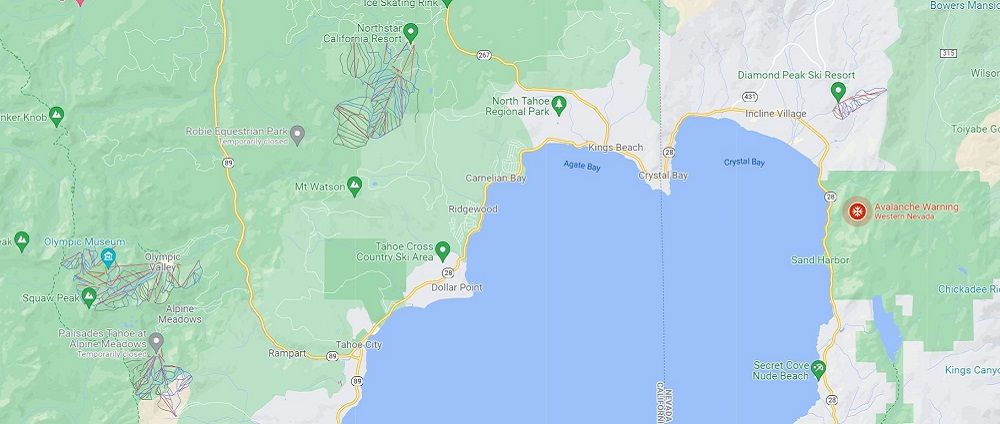 If you're coming from the Bay Area, North Lake Tahoe is surprisingly close and has tons of options for skiing. You have access to several ski resorts right off I-80 before heading down one of the two state roads into the Tahoe region. Sugar Bowl is one of the closest resorts to the Bay Area, but you can also keep driving to get to Squaw Valley, Northstar, or Incline Village.
Otherwise, flying into Reno, Nevada, is your other option to get here. On this north end, you'll find some of the most luxurious ski resorts and hotels. It easily makes the top of our list for where to stay at Lake Tahoe for skiing.
Best Ski Resorts In North Lake Tahoe
Here are the best hotels in North Lake Tahoe for luxury ski resorts and villages, fine dining, and great locations.
Northstar California Resort
Northstar California holds the top spot as the best family-friendly, yet luxurious ski resort in Lake Tahoe. The Northstar Village has amazing shopping and dining options that feel similar to European alpine villages. Plus it has an outdoor skating rink with fire pits to stay warm.
If you're looking for a resort with mostly intermediate runs, then this is where to go. You can ski or snowboard over 100 trails accessed by 20 chairlifts. Make more memories by trying the built-in features like the half-pipes that make this one of the top 10 terrain parks in the country. The gondola runs efficiently from the base to several high-end resorts on the mountain so it's easy to get where you need to go.
Use this handy map to keep track of your stay in the village and the mountain trails.
Northstar Lodge by Vacation Club Rentals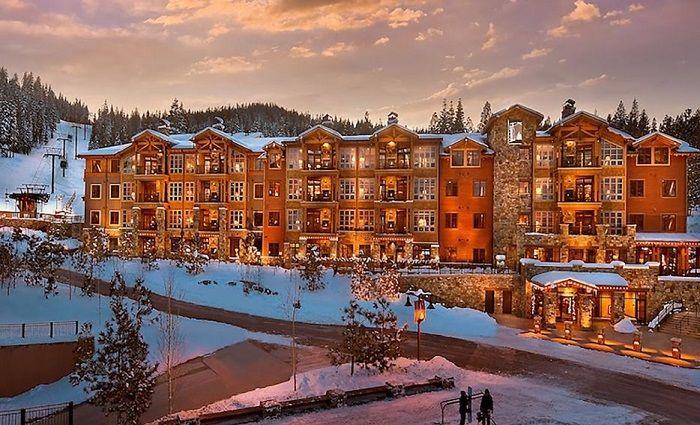 $$$ | 4-Star | Suites & Villas | Pool & Ice Rink
This is the best lodge for full-service suites and villas. It's your luxurious home away from home with ski-in/ski-out access from the base of the Northstar resort. Dive into the Olympic-sized pool, reserve the movie room, or head to the village for shopping and ice skating.

Location, photos, and booking
The Ritz-Carlton Lake Tahoe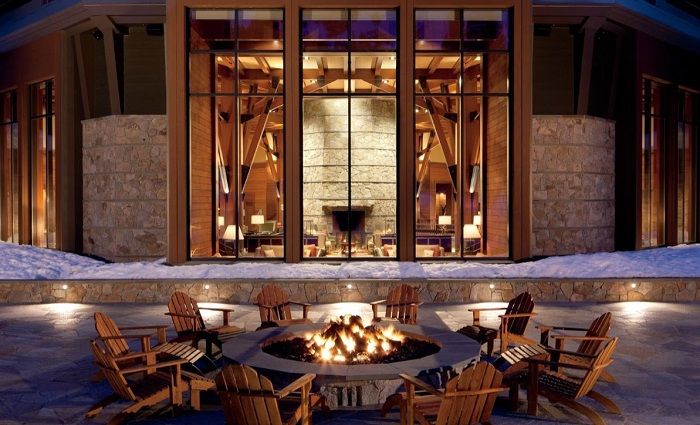 $$$$ | 5 Star | Ski-in/Ski-out | Mountain Luxury
This stunning resort is nestled halfway up the mountain for the ultimate ski-in and ski-out access. Indulge in a spa treatment at the massive spa, go for a swim in the heated pool, or spend the day on the breathtaking slopes. And fine-dining dinner at Manzanita or the outdoor Backyard Bar & BBQ is a must.

Location, photos, and booking
Squaw Valley and Alpine Meadows
As the home of the ski events for the 1960 Winter Olympics, Squaw Valley has plenty to brag about. Skiers enjoy 3,600 acres, 29 ski lifts, and over 170 trails for all levels of skiing. One trail runs for a whopping 3.2 miles! Beginners can build their confidence in the beginner-only areas of the Big Blue Zone where sweeping slopes are easy to traverse.
Plan your ski routes with their trail map. Squaw Valley also keeps up tradition with a European-style village to keep you entertained and fed. Alternatively, you can try the sister resort that's a shuttle ride away: Alpine Meadows. You'll find a ski run for everyone on the wide-open bowls and steep chutes.
Resort at Squaw Creek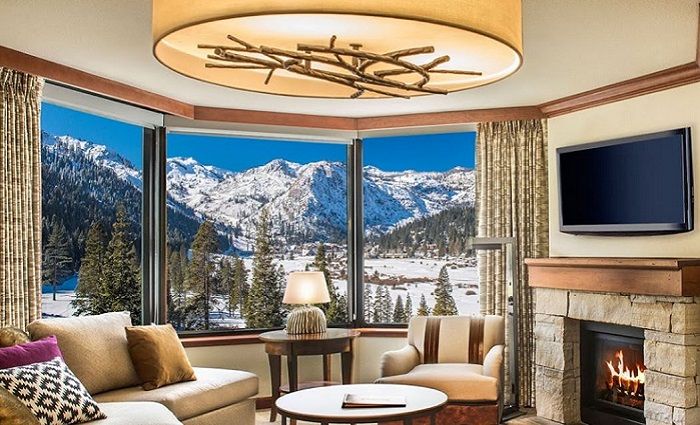 $$$+ | 4 Star | Secluded | Picturesque
Fine dining, heated pool, ski-in/ski-out, onsite spa, custom furnishings, epic vistas. The Resort at Squaw Creek has it all, which is why it often sells out quickly. Plan ahead to snag an exclusive stay at this best hotel in Squaw Valley. Experience local, made-from-scratch food from one of six on-site restaurants before relaxing in a bi-level penthouse.
The Village at Palisades Tahoe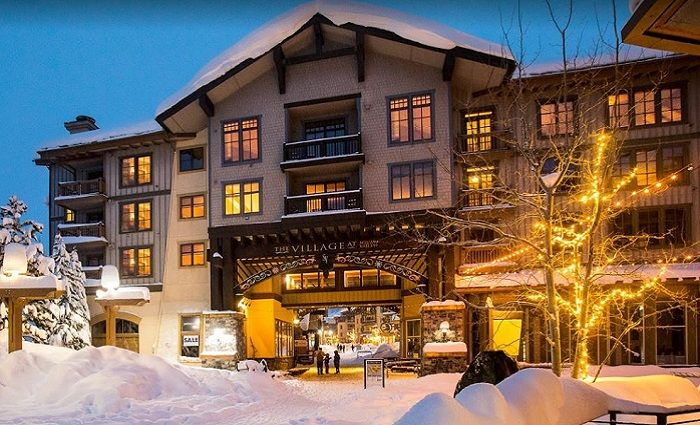 $$$+ | 3 Star | Shopping and Dining On-site | Tons of Suites
Stay at the center of it all at this bustling, lively village resort in the heart of Squaw Valley Ski Resort. Most of the rooms have full kitchens or at least a mini-fridge and microwave to make your stay convenient. When you're not skiing, eating, or sleeping, explore the hot tubs, sauna, entertainment room, or the entire village full of shopping and dining.
Sugar Bowl Resort
Bay Area residents can get to the Sugar Bowl Resort in just about three hours. It boasts fewer crowds, shorter lift rides, steep runs, and wide bowls with magnificent views. Since it's on the northwest edge of Lake Tahoe, it tends to get more snowfall than other resorts in the area. Over half of the runs are made for intermediate to advanced skiers, but beginners can build their skills here as well.
Check out their trail maps here. As a fun fact, Walt Disney helped create the vision for this ski resort that's home to the state's first chairlift which was named in honor of the Hollywood visionary. If you like to be as close to the resort as possible, your best bet is to stay at the Donner Lake Village. Otherwise, head over to Truckee or Northstar.
Donner Lake Village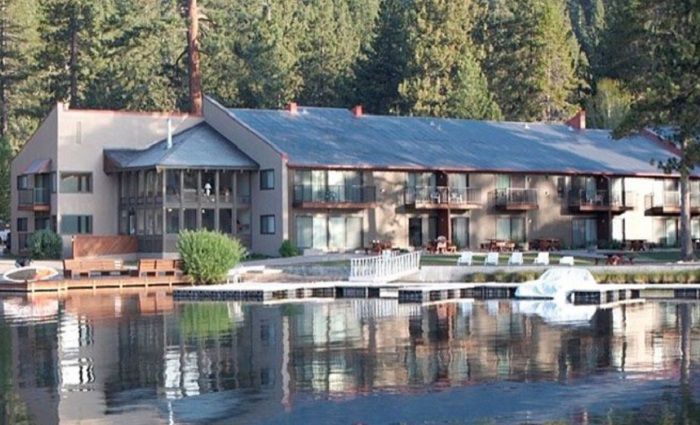 $$$ | 2 Star | Quaint Solitude | Closest to Sugar Bowl
At the edge of little Donner Lake, you can stay at this hotel that keeps you closest to the skiing action at Sugar Bowl. You can opt for upgraded condos or a standard room—all of which have a kitchen or mini fridge and microwave. Fine dining options are just a few minutes away at Truckee.
Springhill Suites by Marriott Truckee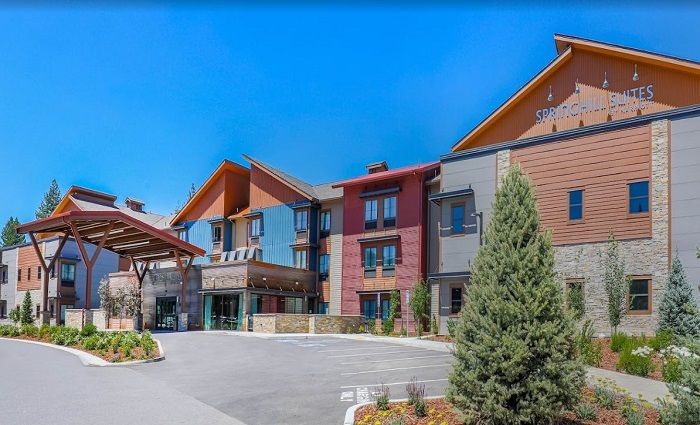 $$+ | 3 Star | Mountain Modern
If Marriott hotels are your jam, then stay at this beautiful mountain modern Springhill Suites. It's located in Truckee, California, right between Sugar Bowl and the Northstar resort. You'll love the spacious, clean rooms that have semi-separate living areas that guests have come to love.
Donner Lake Inn B&B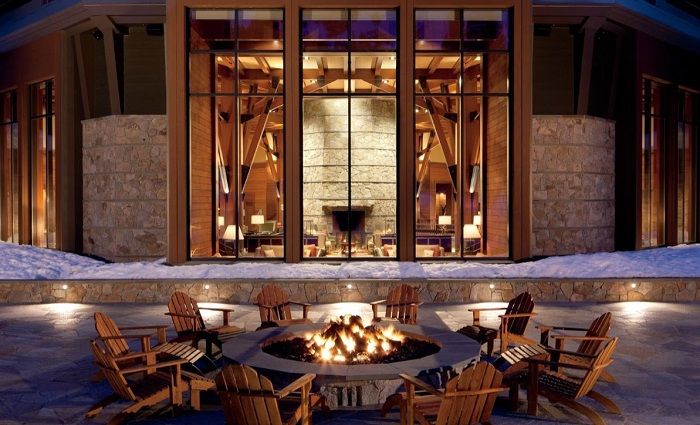 $$+ | 4 Star | B&B Luxury | Incredible Value | Hot Country Breakfast
If you're heading to Northstar or Sugar Bowl and you're coming from the Bay Area, try grabbing a popular room at this little inn. It's just too cute, clean, and cozy to pass up. You can play games in the great room or head out cross-country skiing on the property before slipping into the hot tub.

Location, photos, and booking
BONUS: Mt. Rose-Ski Tahoe Resort
Need a weekend getaway with your thrill-seeking friends? Mt. Rose boasts an 1,800 vertical drop in just 3.5 minutes from the top of one of Tahoe's highest peaks (8,260 feet). You'll also find 40- to 55-degree pitches in the Mt. Rose Chutes to keep the thrills coming.
This small resort is best for more advanced skiers who live for an adrenaline rush and prefer to ski without crowds. At least 50% of the runs are rated for advanced or expert (black and double-black diamond). It's also closest to the Reno-Tahoe airport, which makes it super convenient. Explore the terrain parks and trail maps right now as you plan your ski vacation.
You can stay at Incline Village or down in Reno, Nevada since it's about the same distance from either location, but we recommend Incline Village for the ambiance. As a bonus, you'll find Diamond Peak Ski Resort near Incline Village too.
Hyatt Regency Lake Tahoe Resort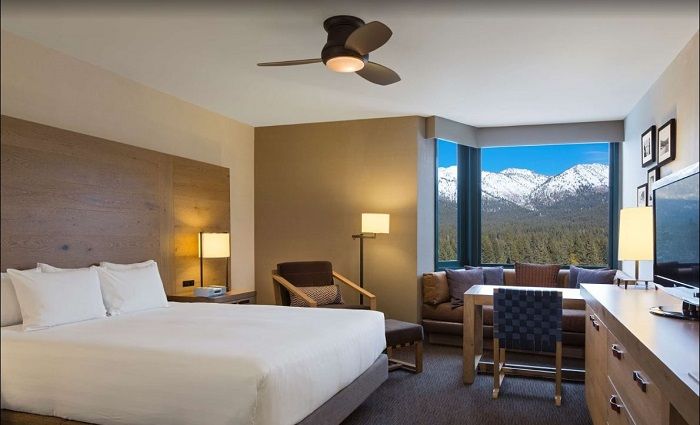 $$$ | 4 Star | Lakefront | Close to Other Attractions
Stay at this Hyatt Resort in Incline Village to stay closer to other areas and the low-key night life that Incline Village has to offer. At this lakefront hotel, you'll get spectacular views of Lake Tahoe's unique shores, plus mountain vistas. Enjoy flotation therapy sessions at the spa or relax in a hot tub before retreating to your room or private cottage.
Looking for more hotel options in Lake Tahoe? Check out our best hotels in Lake Tahoe recommendations!
Tahoe South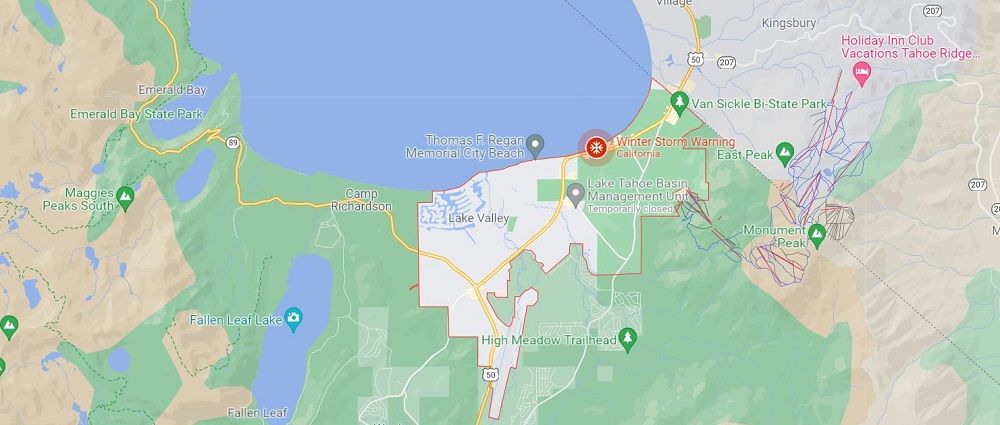 For even more entertainment, opt to stay in Tahoe South where you'll find the biggest city, South Lake Tahoe, and other impressive resorts like Heavenly, Kirkwood, and the local favorite, Sierra-at-Tahoe. Stateline is the hub of it all. You'll find the best hotels, concert venues, bars, galleries, and tasty dining galore.
If you're not driving in, then you'll still want to fly into the Reno/Tahoe airport before making your way here via the most beautiful drive along the lake. Be sure to check out the scenic overlook at Emerald Bay. It's just as beautiful in the winter.
Best Ski Resorts In Tahoe South
Stay on the south side of Lake Tahoe for great city life, renowned ski resorts, and epic views.
Heavenly Mountain Resort
Here at Heavenly, it's go big or go home. You hit these slopes with all or nothing. Explore the massive 4,800 acres of trails that span across the Nevada and California state lines. Zoom through some of the best tree-skiing trails, or plunge off 1,600-foot drops on the double-black-diamond runs—of which there are plenty. This is expert skiing and snowboarding heaven.
You can get familiar with their trail maps here. And true to its name, you'll feel like you're close to heaven as you pause at the top of the lift and capture pictures of the breathtaking lake that will never live up to how it looks in real life.
Marriott Grand Residence Club Lake Tahoe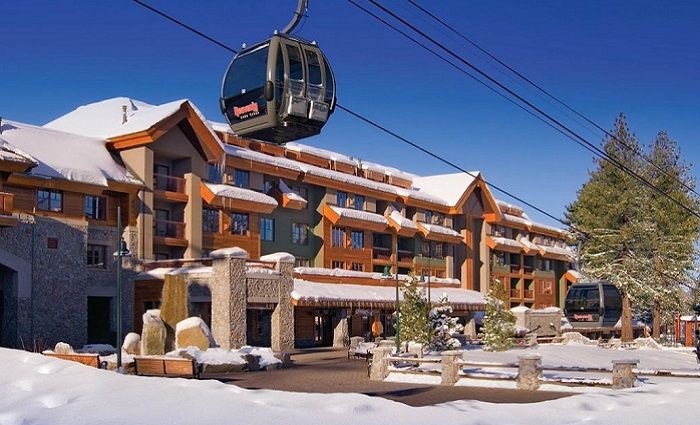 $$$ | 4 Star | Exclusive Gondola Access | Close to Everything
Since this is a Grand Residence property, many guests own timeshares here, but you can also book standard rooms or villas to keep you cozy and comfortable during your stay. Relax at the spa or in a hot tub, then head out for some ice skating and shopping. For ski-in/ski-out hotels, this is your best bet at Heavenly.
The Landing Resort and Spa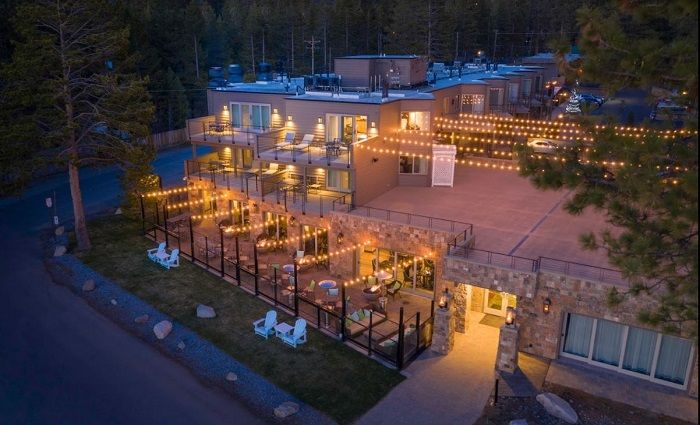 $$$$ | 5 Star | City Seclusion | Ultimate Luxe
If you crave a little solitude just beyond the hustle of the city, then stay at this indulgent, modern hotel. It's chic, cozy, warm, relaxing, and stylish all in one. Sip on craft cocktails and eat fresh California cuisine next to the fireplace at Jimmy's before your second or third spa appointment. Even though it's located on lakefront property, it's still next to all the action of South Lake Tahoe.
Kirkwood Mountain Resort
Another fresh option for skilled skiing adventurers is to hit up Kirkwood Mountain Resort. It's about 40 minutes south of South Lake Tahoe and two hours from Sacramento, California. The high elevation ensures top-quality dry snow that winter purists rave about.
It's worth mentioning that you can test your skills on the 2,000 vertical drop-offs the upper runs here. You'll get intense, big mountain skiing and snowboarding mixed with super small-town vibes. Plan your day with their summer, winter, and cross-country trail maps.
Due to its prime location deep in the mountains, it can be challenging to get here in foul weather if you stay in South Lake Tahoe, so be sure to have a backup plan and play it safe. There are only a few hotels or condos to rent at Kirkwood.
Kirkwood Resort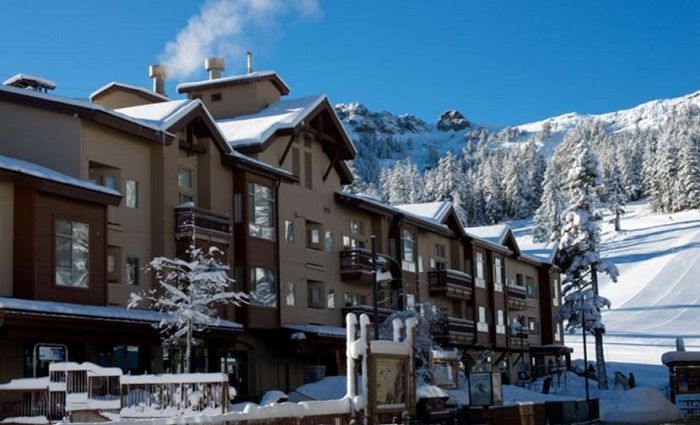 $$$+ | 3 Star | Best On Property | Balconies in Every Room
At this resort hotel, you can ski-in and ski-out to your heart's content. All rooms have mini fridges and microwaves, so you can stock up at the local general store or keep leftovers from one of the half dozen restaurants nearby. You can always relax in the sauna or hot tub after a long day on the steep slopes here.
BONUS: Sierra-at-Tahoe Resort
Sierra-at-Tahoe Resort is a local favorite, low-key, yet adventurous ski resort that's just 30 minutes south of South Lake Tahoe on the main El Dorado freeway. You can also get there in just three hours from the Bay Area or less than two hours from Sacramento.
There's only 2,000 acres of ski runs here, but they make for epic runs. And if you love trying out the features, then you'll love the playgrounds or sculpted terrain areas. Get familiar with all they have to offer by checking out their trail map. You won't find hotels here at Sierra-at-Tahoe, so be sure to book one in South Lake Tahoe.
Tahoe Lakeshore Lodge & Spa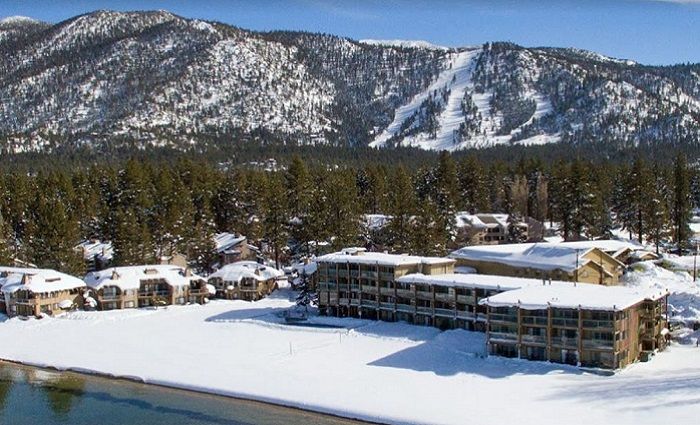 $$+ | 3 Star | Great for Couples | Rooms & Condos
Even in winter, a lakefront hotel is still a prime location. You can enjoy a quaint lodge room with cozy, retro decor, or opt for a condominium that comes with a wood-fire stove for ambiance. Take in marvelous sunsets over the wide expanse of Lake Tahoe after you've pampered yourself at the spa.