Heading to Mexico City but unsure about where to stay? Mexico City is a massive city with many cool neighborhoods, but it can be difficult to decide where will be best for you. Don't worry, we know the best restaurants, attractions, and hotels in each area. In this guide, we'll share our favorite places, so you can decide exactly where you want to stay in Mexico City for the best trip ever.
---
Pro Tip: Planning your trip to Mexico City? Bookmark this post in your browser so you can easily find it when you're in the city. Check out the top things to do while in Mexico City.
The Best Places to Stay in Mexico City This Year
Mexico City is a sprawling metropolis with a rich cultural heritage, stunning architecture, and a vibrant culinary scene. Whether you're a first-time visitor or a seasoned traveler, choosing the right neighborhood to stay in can make all the difference in your experience of this dynamic city. The question is simply where to stay in this wonderful city.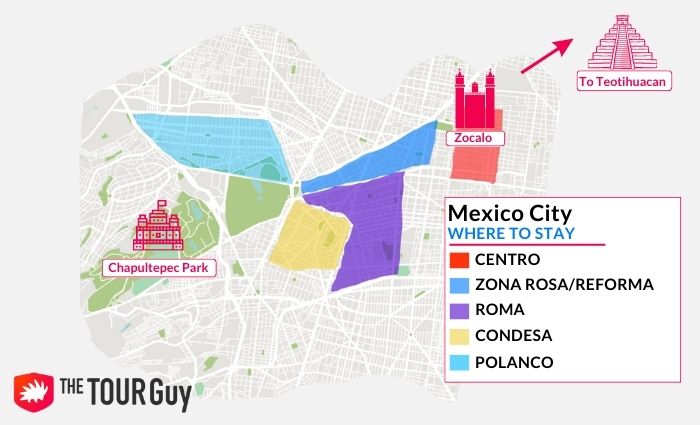 From the trendy neighborhoods of Roma and Condesa to the historic center and beyond, there are plenty of options for every taste and budget. In this article, we'll provide a comprehensive guide to some of the best neighborhoods to stay in Mexico City. Whether you're looking for a lively nightlife scene, world-class museums, or peaceful parks, there's something for everyone in this exciting city. We've selected our top five neighborhoods to help you decide the best places to stay in Mexico City on any budget and for whatever vibe you love.
Our Partnership with Booking.com. If you like our content, please book by clicking on our Booking.com links. The price is the same for you, and we get a small commission that helps support our blog. We've partnered with Booking.com because they have the most options, great prices, and a solid loyalty program. Just about every hotel is on Booking so our recommendations are not incentivized.
Centro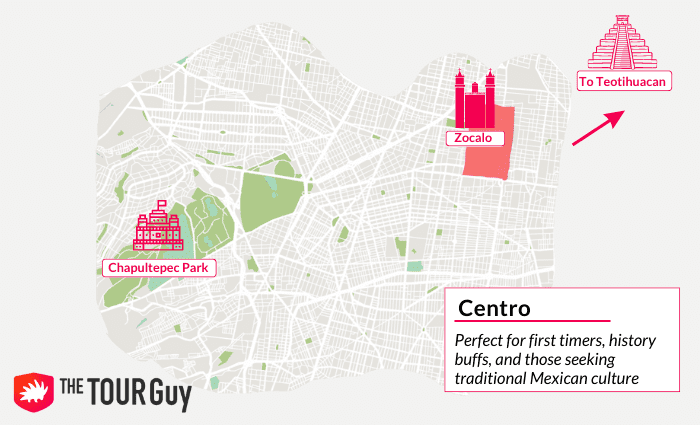 Centro is the historic heart of the city and the perfect place for a first-time visitor. With its stunning colonial-era architecture, bustling markets, and vibrant street life, Centro is a must-visit destination for anyone exploring Mexico City.
The neighborhood is home to some of the city's most famous landmarks, including the Zocalo (the main square), the stunning Metropolitan Cathedral, and the National Palace. But Centro is much more than just a collection of tourist attractions – it's a living, breathing neighborhood with a rich history and a unique character all its own. From street food vendors to traditional cantinas, Centro is a place where you can experience the authentic flavor of Mexico City.
Why I love Centro:
Extremely central
Great restaurants
Walking distance to Zocalo
Colonial Architecture
Top Attractions in Centro:
Zocalo
Metropolitan Cathedral
Templo Mayor
National Palace
Palacio Belles Artes
Best Hotels in Centro:
Gran Hotel Ciudad de Mexico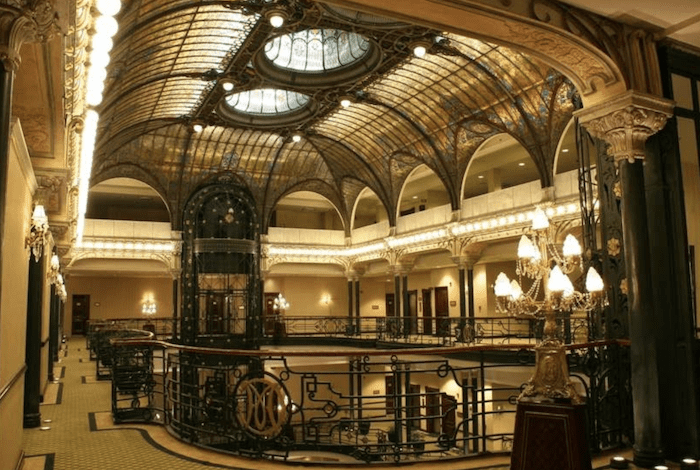 3 Star | $$ | Historic | Central Location
The Gran Hotel Ciudad de Mexico is a magnificent historic building, originally built in 1899 as a Department Store and features a grand marble staircase, ornate ironwork, and stunning Tiffany stained glass ceiling in the lobby. There's an open-air rooftop restaurant with dramatic views of the Zocalo, Metropolitan Cathedral and National Palace below.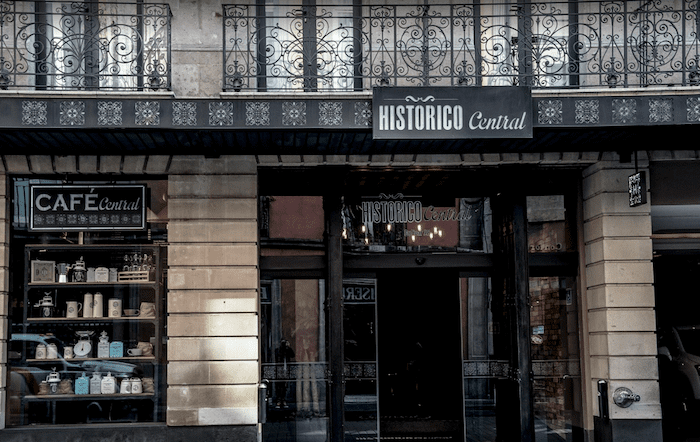 Hotel Historico Central
4 Star | $$ | Stylish | Historic
This hotel's 17th-century building was carefully restored and renovated to incorporate modern amenities while preserving its historic character. The lobby has a spectacular 2-story living wall. The 81 rooms are comfortable and stylish and the hotel even offers the option of a complimentary walking tour when you book certain rooms.

Location, photos, and booking
Casa de la Luz Hotel Boutique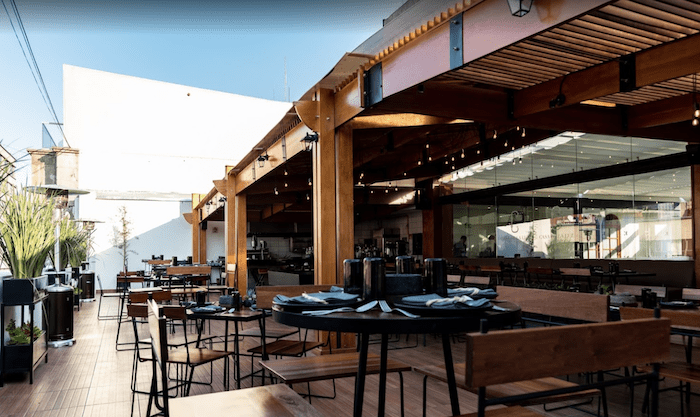 4 Star | $$$ | Boutique | Rooftop Terrace | Suites
Casa de la Luz is a beautiful and charming boutique hotel with just 18 rooms located in the heart of Mexico City's historic district. The hotel features a rooftop terrace with stunning views of the city skyline, where guests can relax and enjoy a drink or snack. The terrace also includes a hot tub and lounge chairs, perfect for soaking up the sun.
Umbral, Curio Collection by Hilton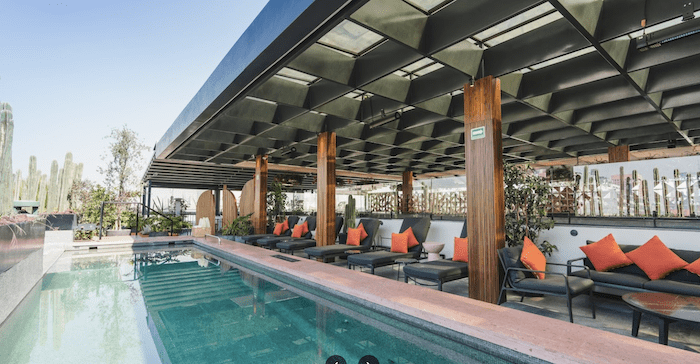 3 Star | $$ | Rooftop Pool | Historic Interior | Near Metro
This swanky hotel has those luxurious vibes without the price tag, which is why we (and many other travelers) love booking it. The hotel's rooms and suites are spacious and elegantly appointed, with high-quality amenities such as flat-screen TVs, Nespresso machines, and complimentary Wi-Fi. Some rooms even feature private balconies overlooking the city.
Zona Rosa / Reforma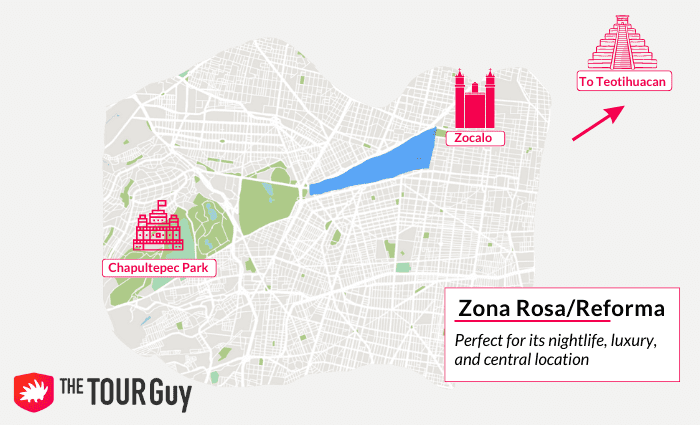 The Zona Rosa and Reforma neighborhoods are centrally located between Centro and Chapultapec Park. The Zona Rosa is known for its vibrant nightlife, with numerous bars, clubs, and restaurants catering to a diverse range of tastes. It is also home to the historic Angel of Independence monument, a symbol of Mexican independence and a popular spot for visitors to take photos.
Reforma, on the other hand, is a more upscale neighborhood known for its luxury hotels, high-end shopping, and cultural attractions. It is home to the iconic Paseo de la Reforma boulevard, which is a wide boulevard that runs right into the park.
With their central locations, excellent amenities, and proximity to cultural attractions, these neighborhoods offer an ideal base for exploring all that the city has to offer.
Why I Love Zona Rosa / Reforma:
Super central location
Luxury hotels
Vibrant nightlife
Attractions in Zona Rosa/ Reforma:
Angel of Independence
Diana the Huntress Fountain
Palace of Fine Arts
Best Hotels in Zona Rosa / Reforma:
Hotel Geneve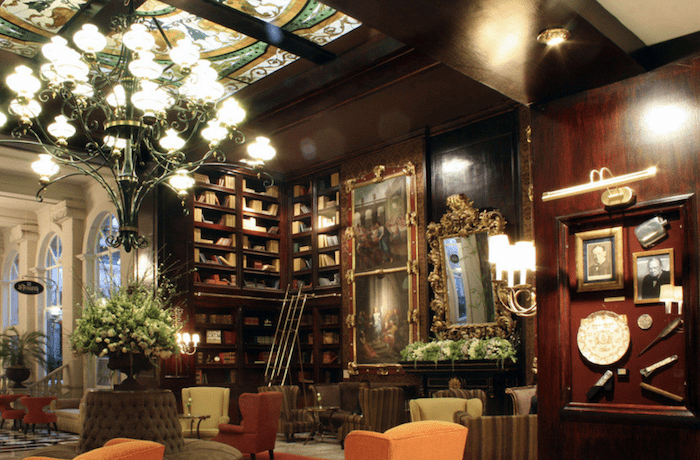 3 Star | $$ | Boutique | Historic
Hotel Geneve is a beautifully preserved hotel that was built in 1907. The exterior is pink with red awnings and it's easy to see why it was a celebrity favorite in the 1950s and 60s. It is just as elegant today as it was in the days before the international luxury chains moved into the city, but now you can get it at a great price. There's a wonderful French Mexican restaurant onsite and a great bar. A true hidden gem.
Four Seasons Mexico City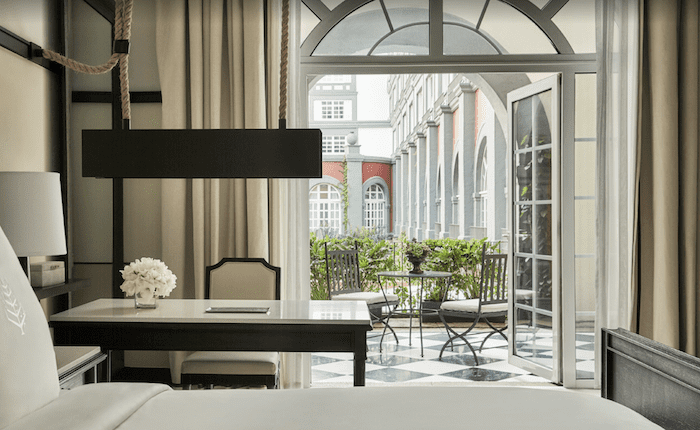 5 Star | $$$$+ | Pool | Spa | Room Service
The Four Seasons is my favorite of Mexico City's luxury hotels. It's located on Paseo de la Reforma just steps from the entrance to Chapultapec Park. It has 240 rooms that surround a beautifully landscaped courtyard. There are a couple restaurants, a bar, a state of the art fitness center rand full service spa.
St. Regis Mexico City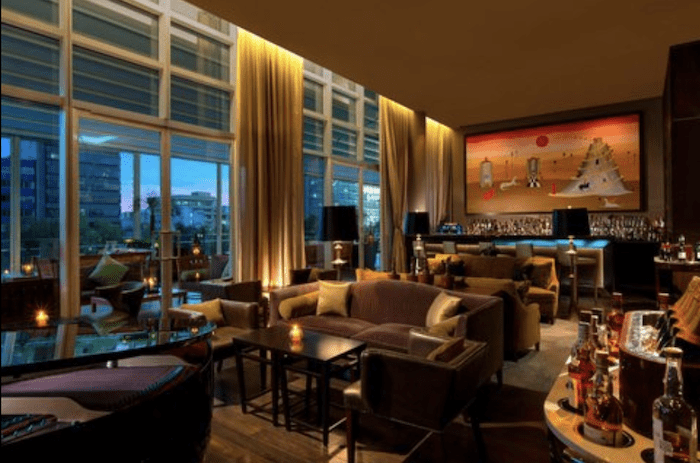 5 Star | $$$$+ | Excellent Concierge | Top Floor Views | Sophisticated
If you want to splurge on a luxury hotel in Mexico City, this is your place. They have an excellent concierge, restaurant, gym, kids club, spa, bar, and more. A true 5-star experience in Mexico City. That being said, like many large international chains, it doesn't feel very Mexican. It's a modern skyscraper and the vibes are more Hong Kong than Mexico City.
Emporio Hotel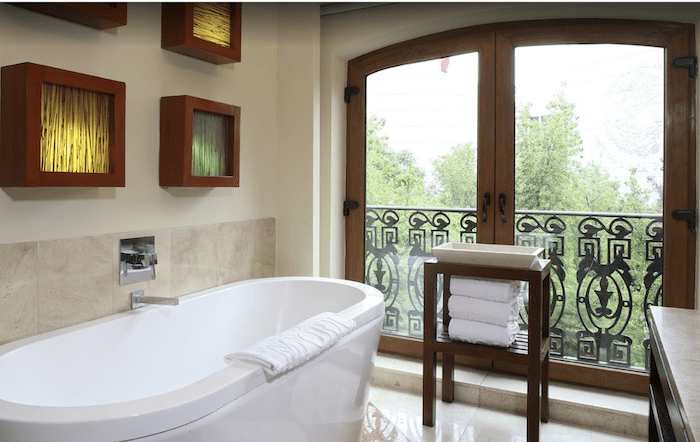 3 Star | $ | Central Location | Family Friendly | Restaurant
This is a friendly hotel at a great price. It is clean and modern with two restaurants and a breakfast buffet that serves both American and Mexican food. Theres also a gym and business center. A solid choice in a great location.
Polanco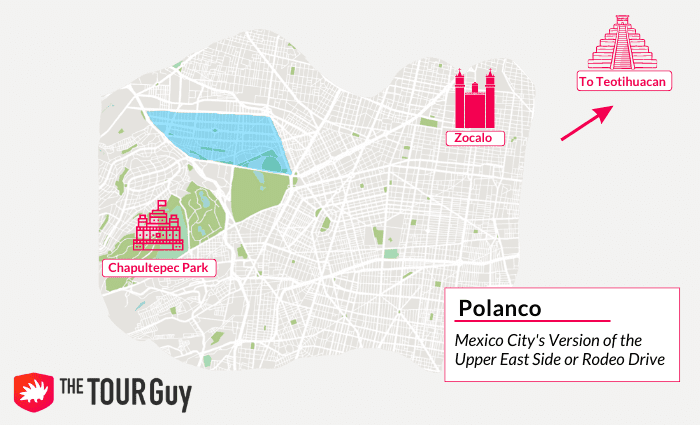 Polanco is a chic and upscale neighborhood in Mexico City, known for its designer boutiques, fine dining, and cultural attractions. It is Mexico City's version of Rodeo Drive or the Upper East Side and is home to some of the wealthiest families in North America. The streets are lined with sidewalk cafes and its reminiscent of a European city like Paris or Barcelona.
The neighborhood borders Chapultapec Park to the North and its an easy stroll to all the amenities that the park has to offer. It is also home to Museo Soumaya, a free art museum that was built to house the extensive art collection of billionaire Carlos Slim. The museum's collection includes over 60,000 pieces of art, including works by some of the most famous artists in history, such as Claude Monet, Auguste Rodin, Salvador Dali, and Vincent van Gogh.
Why I love Polanco
Great food
Upscale shopping
People-watching
Beautiful mansions
Attractions in Polanco:
Museo Soumaya
Chapultapec Park
Museo de Antropologica
Chapultapec Castle
Auditorio Nacional
Best Hotels in Polanco:
The Wild Oscar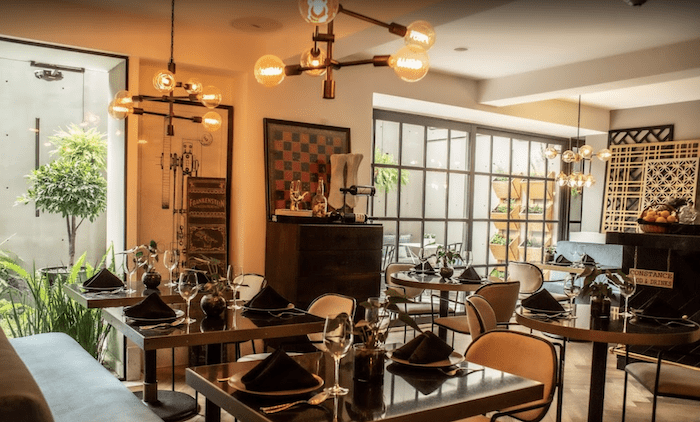 5 Star | $$$$ | Boutique | Fine Dining | Apartments
Despite having only 27 rooms and apartments, this stylish and trendy hotel has a lot of amenities. It is home to the fine dining restaurant Constance, which serves international and Mexican cuisine with local ingredients. There's also a fitness center, rooftop terrace, and wine bar. Don't be deterred by the slightly pretentious website ("Inspired by the educated business voyager's peculiar lifestyle") – it is actually a delightful place to stay.
Camino Real Polanco Mexico City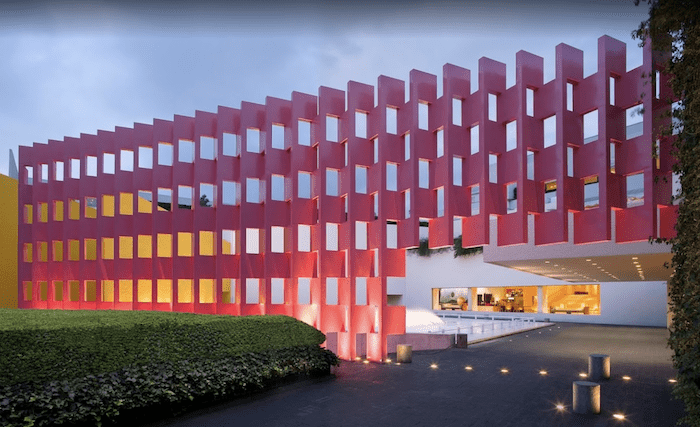 4 Star | $$ | Resort-Like | 712 Rooms | Huge Pool
Camino Real Polanco was designed by famous Mexican architect Ricardo Legorreta for the 1968 Olympics and it stands out for its modernist design and bold use of color. The hotel is one of the largest in Mexico City and its campus-like setting has a beautiful in ground pool. It feels like a resort and the many restaurants include a steakhouse, a Spanish restaurant and a Japanese restaurant.
Las Alcobas, a Luxury Collection Hotel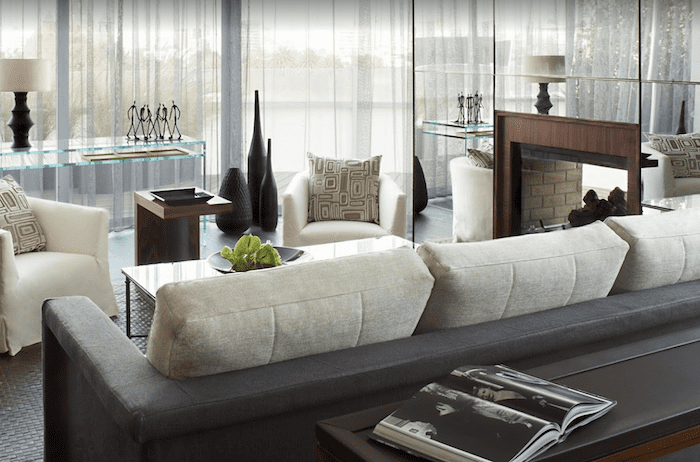 5 Star | $$$$ | Boutique | Modern | Ideal Location
Las Alcobas in Mexico City is a luxurious boutique hotel that offers guests a comfortable and stylish stay in the heart of Polanco. It has a spa, fitness center, and each room has a hydromassage bath. The hotel features two very upscale restaurants, Anatol and Dulce Patria. Their room service menu has the best margarita I've ever had – it had salted foam instead of salt on the rim of the glass. That being said, I did have to drink it in my room because there is no lobby or bar here.
Orchid House Polanco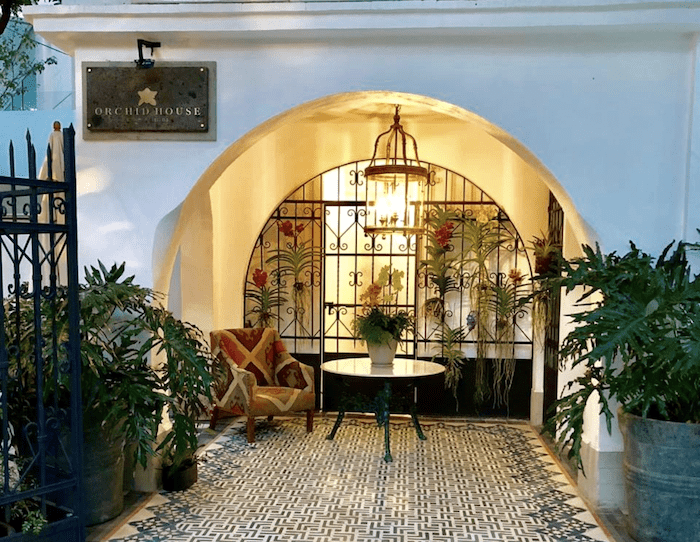 3 Star | $$ | Garden | Peaceful | Boutique
You just might love the boutique Orchid House Polanco. It's a beautiful, small boutique hotel tucked away in a 100 year old Spanish style mansion on a leafy neighborhood street. There's a restaurant on site and the continental breakfast is free.
Roma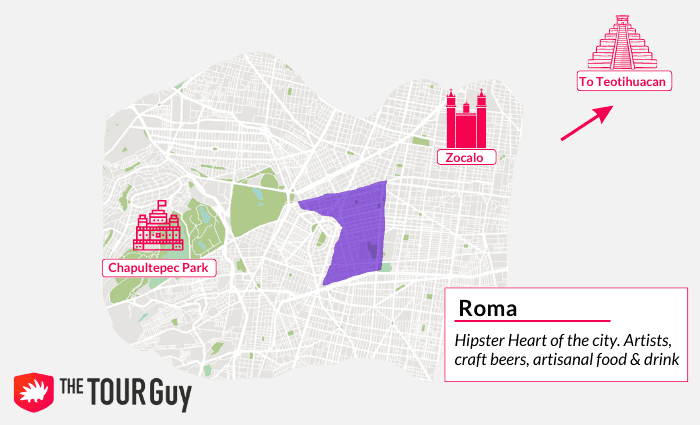 Mexico City's Roma neighborhood is a vibrant and bohemian area located in the heart of the city. The neighborhood is known for its tree-lined streets, historic architecture, and lively arts and culture scene. Roma is one of the oldest neighborhoods in the city, with many of its buildings dating back to the early 20th century.
Roma is home to a diverse and eclectic mix of residents, including artists, writers, and musicians, as well as young professionals and families. The neighborhood has a hip and creative vibe, with many art galleries, independent boutiques, and trendy cafes and restaurants. Roma is where everyone wants to be but there are very few hotels there.
Why I love Roma:
Art deco architecture
Great nightlife
Bohemian vibes
Art galleries
Wonderful restaurants
Attractions in Roma:
Mercado de Medellin
Casa Lamm cultural center
Casa Universitaria del Libro
Best Hotels in Roma:
La Valise Mexico City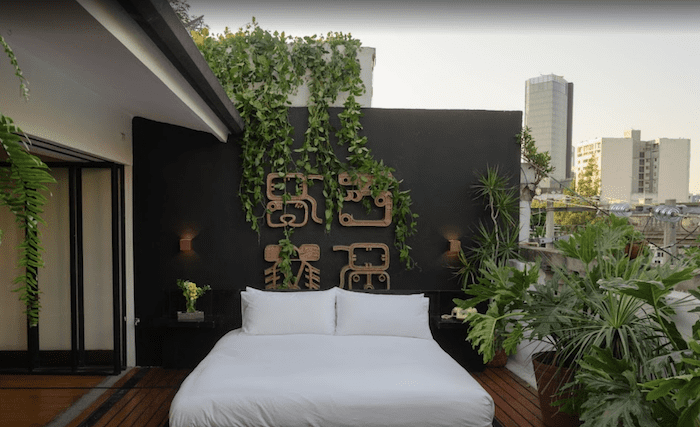 4 Star | $$$ | Boutique | Bed Moves Outside
Have you ever wanted to move your bed to the terrace and sleep outside under the stars? At La Valise you can do exactly that if you book their La Terraza Room with a rolling king bed. The hotel is housed in a 1920s French style townhouse. It features only three spacious and beautifully designed suites, each with its own unique character and amenities. Please note that this is an adults-only hotel.
NaNa Vida CDMX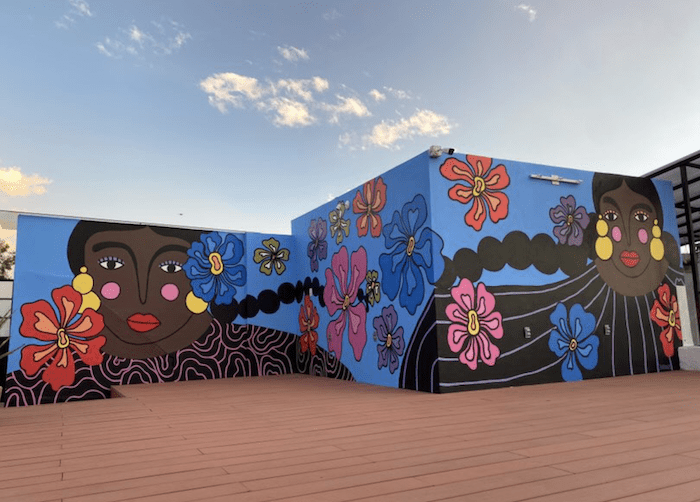 3 Star | $$ | Boutique | Near Galleries
Nana Vida CDMX is a boutique hotel with only six rooms located in the hart of Roma. It offers amenities such as king-sized beds, flat-screen TVs, free Wi-Fi, and private bathrooms. Some of the rooms also have balconies or terraces with views of the city. They offer free continental breakfast.
Hotel MX Roma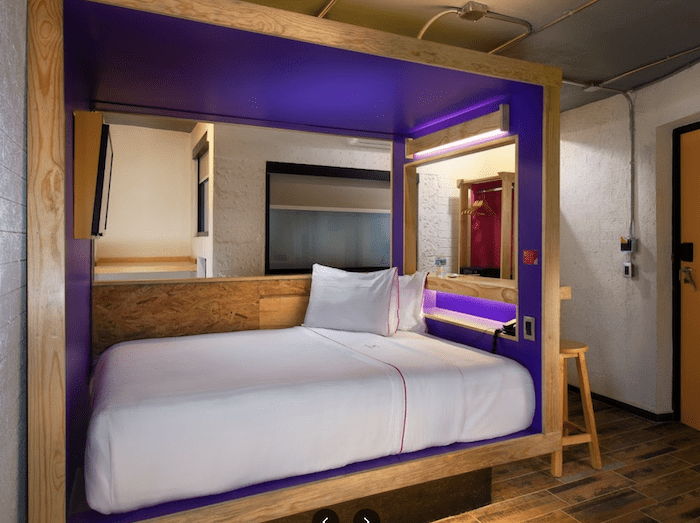 1 Star | $ | Minimalist Hotel | Great Location | Modern
Don't let the 1 star fool you. If you love staying in chic boutique hotels in idyllic neighborhoods, then don't miss this quirky little hotel with free bikes, private parking, a fitness center and a terrace. The rooms are on the small side but they do include continental breakfast.
Condesa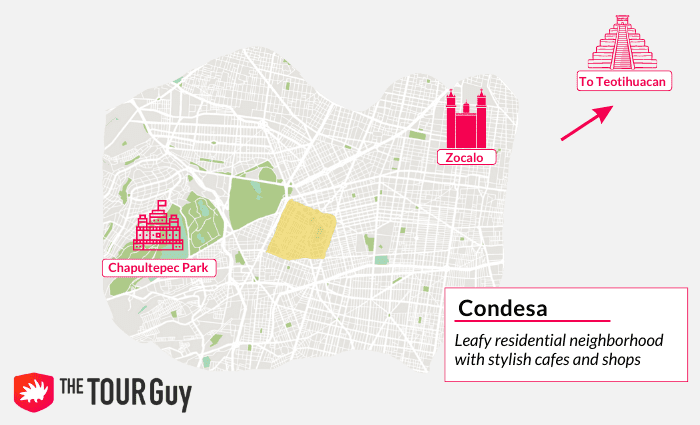 Mexico City's Condesa neighborhood is a trendy and stylish area located just south of the city's historic center. The neighborhood is known for its beautiful tree-lined streets, Art Deco and Art Nouveau architecture, and vibrant arts and culture scene. Condesa is one of the city's most popular and upscale neighborhoods, attracting a diverse mix of residents and visitors.
Condesa is located just to the south of Chapultapec park and just west of Roma. Like Roma, it's a great place to stay but there are not many hotels here.
Why I Love Condesa
Luxurious yet charming
Excellent shopping
Great restaurants
Bustling vibes
Beautiful parks and greenery
Attractions in Condesa
Parque Mexico
Parque Espana
Best Hotels in Condesa
Mondrian Mexico City Condesa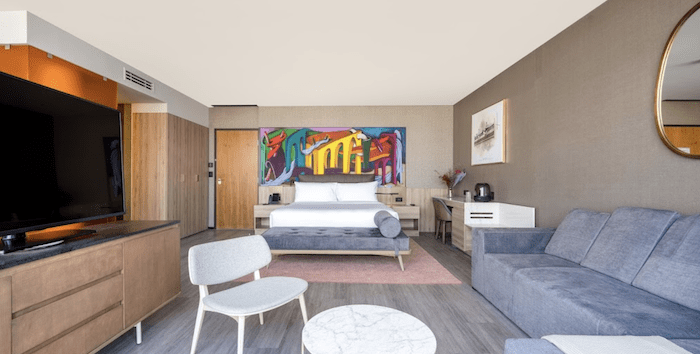 3 Star | $$ | Outdoor Pool | Rooftop Bar & Restaurant
Mondrian Mexico City in Condesa is a luxury hotel with 159 elegantly designed rooms and suites, each featuring contemporary decor and modern amenities such as free Wi-Fi, flat-screen TVs, and minibars. There's a lobby bar as well as a rooftop bar and restaurant and outdoor pool.
Casa Mali by Dominion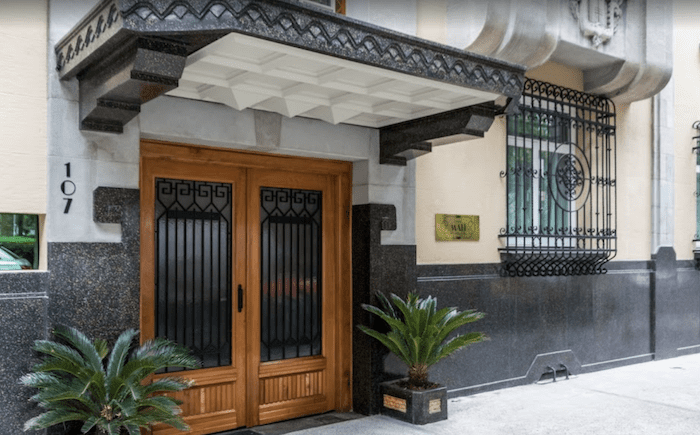 4 Star | $$$ | Art Deco | Boutique Great Location | Suites & Apartments
Casa Mali is a small 21 unit hotel located just across the street from one of the most beautiful parks in the city, Parque Mexico. They offer a range of accommodations from studios to apartments with full kitchens. There's also a fitness center and a shared terrace.
AR 218 Hotel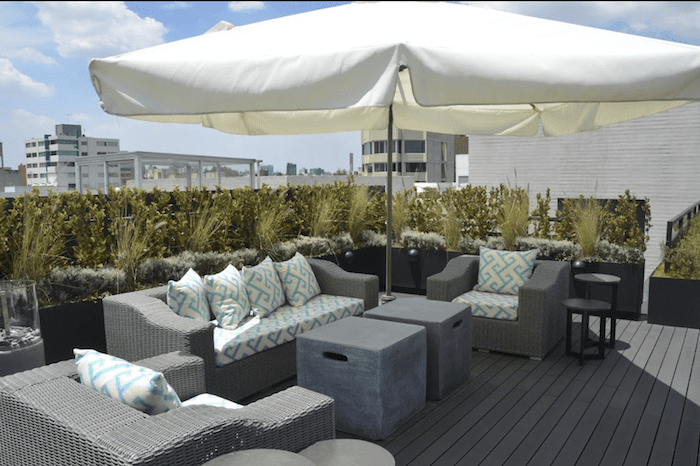 3 Star | $$$ | Boutique | Terrace | Fitness Center
Located in a restored 19th century mansion, this 39 room hotel oozes charm. The rooms have kitchenettes and Ralph Lauren sheets and super comfortable beds. Located in the best part of Condesa, you can pretend you live in this beautiiful neighborhood.