Heading to Paris but unsure about where to stay? Paris is a large city with many cool neighborhoods, but it can be difficult to decide where will be best for you. Don't worry, we know the best restaurants, attractions, and hotels in each area. In this guide, we'll share our favorite places, so you can decide exactly where you want to stay in Paris for the best trip ever.
---
Pro Tip: Planning your trip to Paris? Bookmark this post in your browser so you can easily find it when you're in the city. Check out our guide to Paris for more planning resources, our top Paris tours for a memorable trip, and the top things to do while in Paris.
The Best Places to Stay in Paris This Year
Paris is also known as the City of Lights and a more romantic city we dare you to find. From shopping to art and romantic evenings on the Seine, there's an endless amount of activities for couples and friends to enjoy. The question is simply where to stay in this wonderful city.
You need to know that the neighborhoods (or districts) in Paris are called arrondissements, and there are 20 of them in total. We've selected our top six neighborhoods to help you decide the best places to stay in Paris on any budget and for whatever vibe you love.
Our Partnership with Booking.com. If you like our content, please book by clicking on our Booking.com links. The price is the same for you, and we get a small commission that helps support our blog. We've partnered with Booking.com because they have the most options, great prices, and a solid loyalty program. Just about every hotel is on Booking, so our recommendations are not incentivized.
Saint-Germain-des-Prés: 6th Arrondissement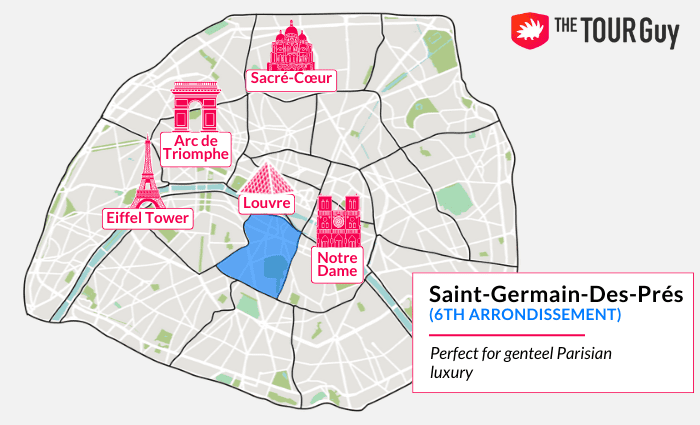 If you're seeking a classic Parisian neighborhood, choose a hotel in the 6th arrondissement. This area includes the Saint-Germain-des-Prés neighborhood that's filled with countless bars and cafés, including the oldest café in Paris: Le Procope.
In the 6th arrondissement, you'll only be a short walk from the beautiful Luxembourg Gardens and the impressionist haven of Musée d'Orsay. You're not likely to find many budget deals in this neighborhood, but it's perfect for splurging on the ultimate Parisian getaway for couples or a honeymoon.
Why I love Saint-Germain-des-Prés:
Extremely central
Great restaurants
Walking distance to the Seine
Top Attractions in Saint-Germain-des-Prés:
Best Hotels in Saint-Germain-des-Prés in Paris:
Hôtel de Seine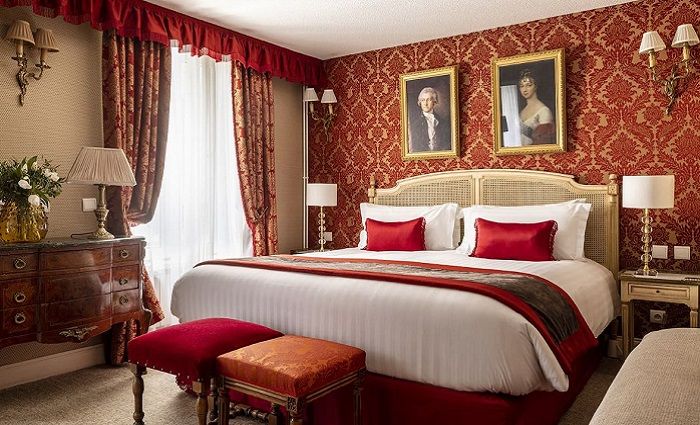 3 Star | €€ | Family Friendly | Central Location
You'll often find fairly affordable rates at Hôtel de Seine and more value than you might expect. From the breakfast buffet to available laundry services, shoe shine, and amenities for kids, the staff and hotel aim to please. The rooms are beautiful and there are several sizes to choose from.
Hôtel Madison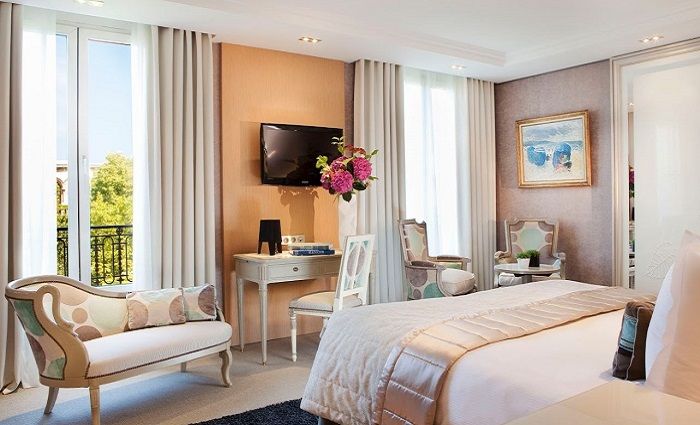 4 Star | €€€ | Half-Day Reservations | Massages | Family Friendly
Hôtel Madison is unique in that they offer half-day reservations for those who need a place to work or crash for just a few hours of a busy Parisian day. But if you're here longer, you'll also appreciate the room service, massage rooms, and amenities for kids! All-in-all, this is a great hotel that makes for a comfortable stay.
L'Hôtel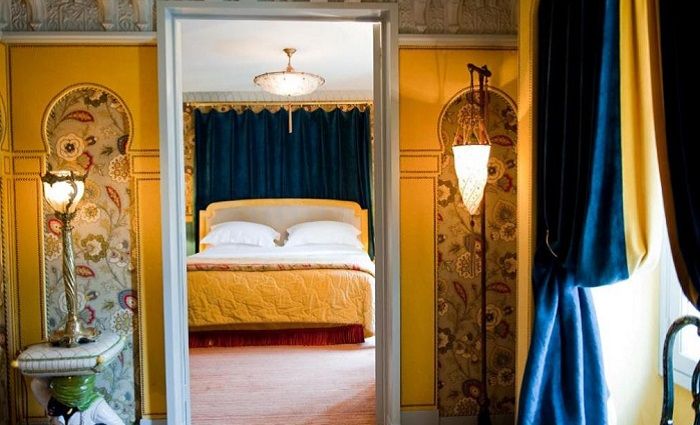 5 Star | €€€€ | Opulent Boutique | Lounge Onsite | Hammam and Sauna
L'Hôtel has a bold claim as the world's first boutique hotel, so it's worth booking a stay here to find out how well they attend to the smallest details of decor and service. You can relax at the end of your sightseeing day in the hammam or sauna, then enjoy a handcrafted cocktail at Wilde's Lounge. It's named for Oscar Wilde as this hotel was his last home on Earth.
Hôtel Montecristo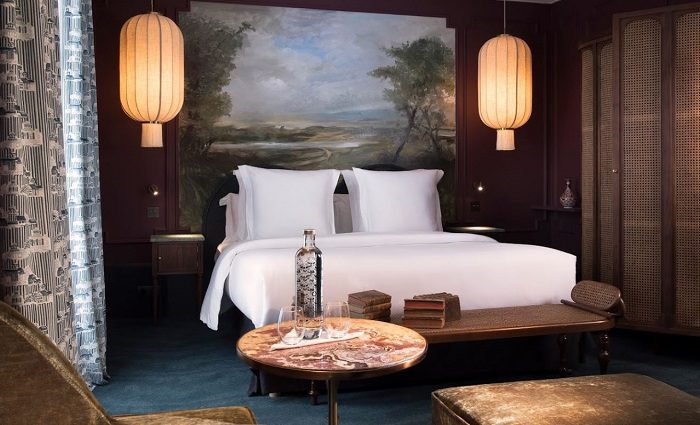 4 Star | €€€ | Traveler Favorite | Swanky Interior | Near Metro
This swanky hotel has those luxurious vibes without the price tag, which is why we (and many other travelers) love booking it. There's a great pool you can enjoy and some rooms have extra seating. Plus there's a bar onsite if you're ready to call it a night
Citadines Saint-Germain-des-Prés Paris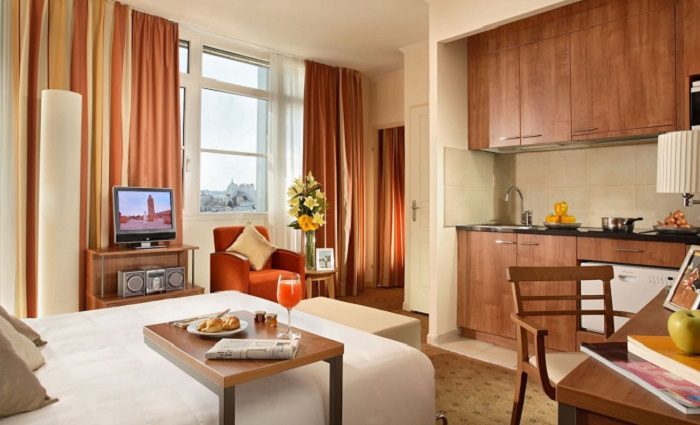 4 Star | €€+ | Apart-Hotel | Traveler Favorite | Ideal Location
Citadines is the perfect apart-hotel option for those who prefer having a kitchen and a little extra space while traveling. You can get free coffee in the lobby 24/7, and it's ideally located near Pont Neuf (Louvre and Sainte Chapelle). The rooms are a little more dated than expected, but it's a great deal for a suite in a great location.
Hôtel d'Aubusson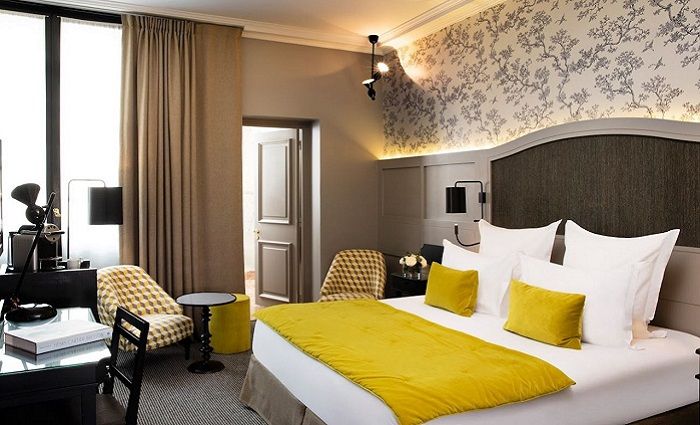 5 Star | €€€€+ | Modern Elegance | Great Concierge | Sauna and Pool
For an almost hidden but oh so classy stay in the Latin Quarter, you have to stay at Hôtel d' Aubusson. This is a 5-star hotel at its finest with excellent service, a hammam, sauna, pool, tasteful and spacious rooms, plus the iconic 17th-century architecture. What's not to love?
Louvre: 1st Arrondissement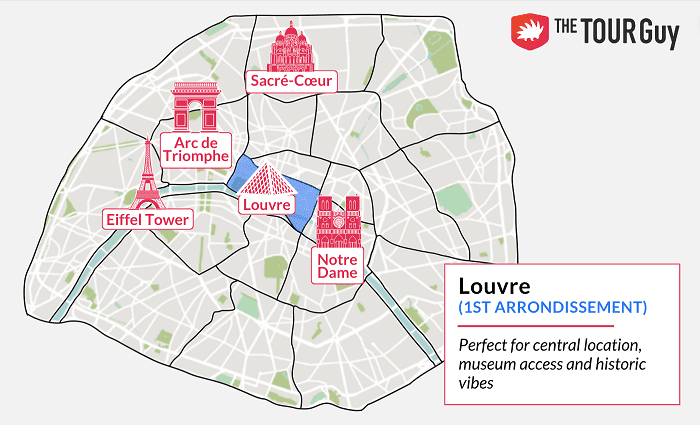 Staying in a central area with a view of the Louvre or Tuileries Gardens should be at the top of your list. That's why we've included the 1st arrondissement on our list of where to stay in Paris. Granted, this is not your ideal place if you want to avoid a super touristy area, however, the parks make it great for families with kids.
Though most hotels come with a bigger price tag in the Louvre district, there are still a few great rates to be found. And aside from the Louvre, you're also within walking distance of so many key places like the Musée de l'Orangerie, the Palais Royal, Palais Garnier, Les Halles shopping district, and Pont Neuf (which leads to Sainte-Chapelle and Notre-Dame).
The 1st arrondissement is ideal for those who want to stay in the true heart of Paris. It's busy, but there are plenty of transportation options if you don't want to walk to all the major attractions nearby. Five metro stops include Pyramides, Palais Royal–Louvre, Châtelet, Louvre–Rivoli, and Étienne Marcel.
Why I Love Louvre:
Super central location
Unparalleled views of the Tuileries Gardens
Near the Louvre and Seine River
Tons of metro stops
Attractions in Louvre:
The Louvre Museum (obviously)
Musee de l'Orangerie
Tuleries Gardens
Pont Neuf
Palais Royal
Les Halles shopping center
Best Hotels in Louvre arrondissment:
Hôtel du Continent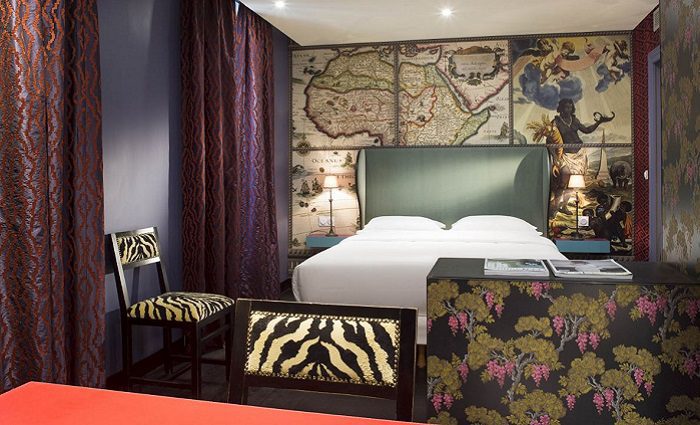 3 Star | €€+ | Boutique | Singles or Couples
There aren't a ton of extra amenities here, but if you're wanting to be super central at a good price, try this hotel. Fair warning: some of the rooms are creatively small, but that's perfect for me if I'm traveling solo. The décor is super funky cool, and you're just steps from Tuileries.
Hôtel Mayfair Paris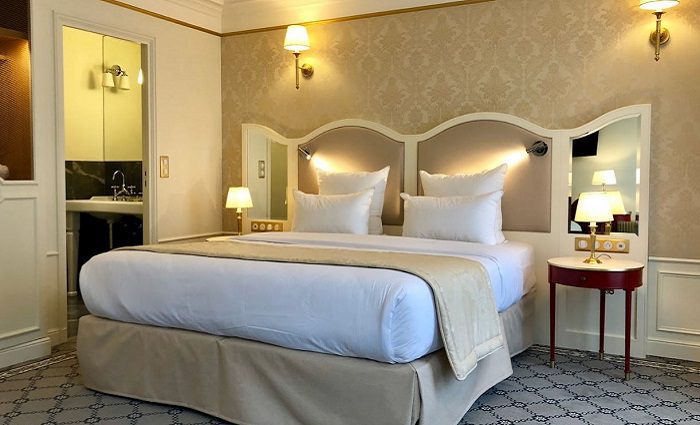 4 Star | €€€+ | Classic Parisian | In-Room Massage | Room Service
The bones of this hotel are solid (narrow hallways), but you'll love the comfy beds and clean rooms. Be sure to ask if you need a connecting room for your family. Otherwise, we like the offers of room service and the in-room massage that you'll need after a day of exploring Paris on foot!
Grand Hôtel du Palais Royal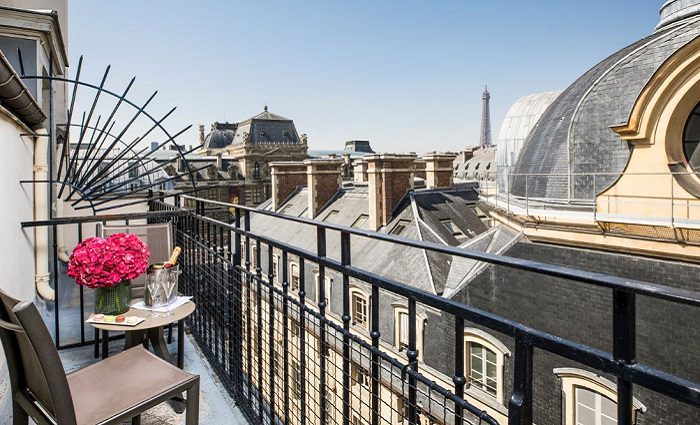 5 Star | €€€€+ | Excellent Concierge | Top Floor Views | Sophisticated
If you want to splurge on a luxury hotel near the Louvre, this is your place. They have an excellent concierge, restaurant, car parking, babysitting, pet services, laundry, and more. A true 5-star experience in Paris. The top-floor views of Paris are amazing if you book the Eiffel Tower Suite or Prestige Suite, though they'll cost a few thousand per night.
Hôtel du Lion d'Or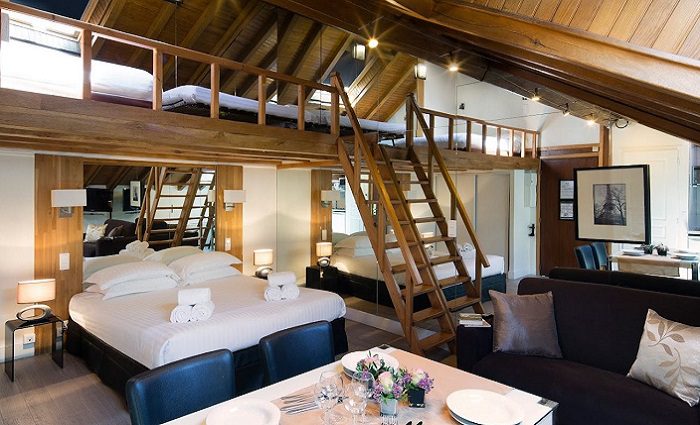 3 Star | €€€ | Rooms and Apartments | Family Friendly | Quiet Street
It doesn't get much better than a quiet street with an apartment for a family to stay near the Louvre. You can eat breakfast with fellow travelers or in your room with your small pet. They'll even book your airport transfers if you like.
Hôtel Molière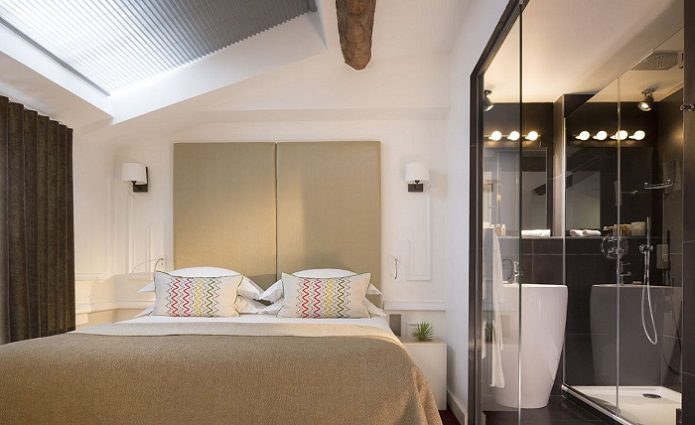 4 Star | €€€+ | Designer Boutique | Larger Rooms | Sauna
You get a lot at this 4-star hotel that has a great staff too. I like the option of using the sauna to detox from a busy day in the city, then adding room service and a massage to round out the day. Rooms range in size, but there are options for solo and family travelers.
Our Best Guided Tours of Paris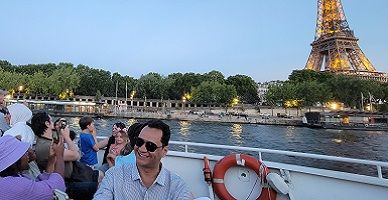 Likely to Sell out
Privileged Access Eiffel Tower Night Tour With Seine River Cruise
Sometimes the most amazing moments happen by chance. Other times, they are orchestrated by professionals. Our Eiffel Tower tour takes you on a cruise down the Seine River for incredible views of Notre Dame and the Eiffel Tower. Champagne included, of course. Then you'll be guided to the Eiffel Tower, skip the long lines, and head up the elevator to the second floor for a night to remember.





See Prices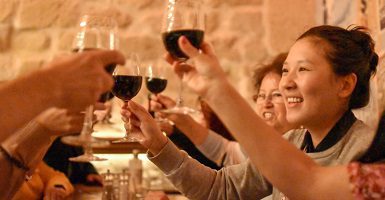 Top Selling
Ultimate Taste of Paris Food Tour in Le Marais
Embark on a culinary journey in Le Marais—one of the hippest neighborhoods in Paris. Most food tours in Paris offer cheese and wine, but we include a full, sit-down meal! Enjoy a feast of French cheeses, oysters, street food, boeuf bourguignon, crème brûlée, and more. This 3-hour food tour combines the best of Paris' culinary heritage, and you won't find a better deal out there!





See Prices
Not ready to book a tour? Check out our best Paris tours to take and why.
Latin Quarter: 5th Arrondissement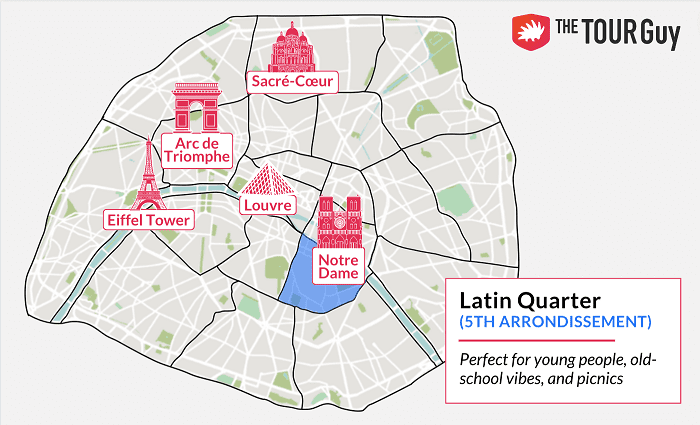 Home to Paris' oldest university, La Sorbonne, the Latin Quarter is a lively Paris neighborhood mainly inhabited by students. It's considered the 5th arrondissement of Paris and is a popular place when choosing the best area to stay in Paris.
This area is also home to Rue Mouffetard, a great market street where you'll be able to find cheese, bread, and pretty much anything and everything you've ever wanted to eat in France. The 5th arrondissement is on the left bank, but it borders the river, which makes it an ideally central location. Major metro stops include Saint Michel and Place Monge.
Why I love Paris' Latin Quarter:
Great food
Youthful vibes
Close to everything but far from touristy
Attractions in Latin Quarter:
Shakespeare & Company Bookstore
Pont Neuf
Jardin des Plantes
La Sorbonne
Cluny Museum
Luxembourg Gardens
Best Hotels in the Latin Quarter of Paris:
Hôtel Maxim Quartier Latin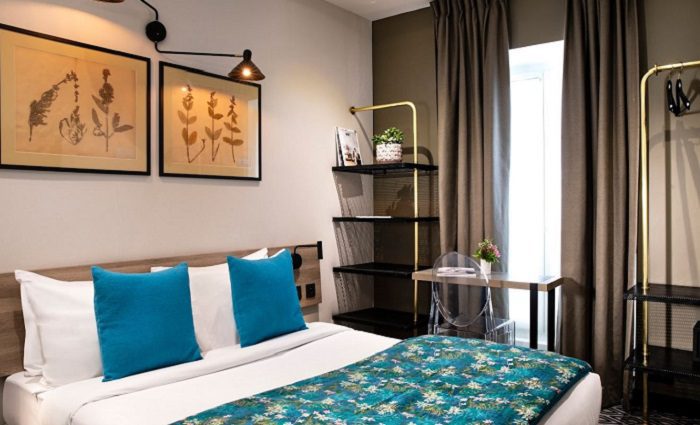 3 Star | €€+ | Modern and Comfy | Breakfast Available | Near Metro
This hotel is near the Pantheon and Jardin des Plantes, but you're across the street from the Censier-Daubenton metro, so you can get anywhere easily. For an extra fee, enjoy a buffet breakfast (get there early for a seat). There are several room sizes, so choose carefully if you need extra space.
Hôtel Villa d'Estrées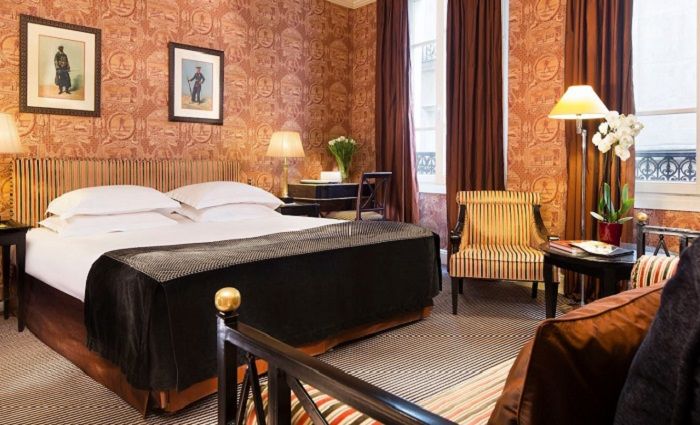 4 Star | €€€ | Classy Parisian | Breakfast Available | Central Location
At this classy hotel, you're within 5 minutes on foot from Pont Neuf, Notre Dame, and Ile Saint Louis. We like this hotel for its classy vibes, where every room has its own color scheme and comfy beds. Other perks include a continental breakfast (for a fee), rooms and apartments, and a quiet location.
Les Rives de Notre-Dame Hôtel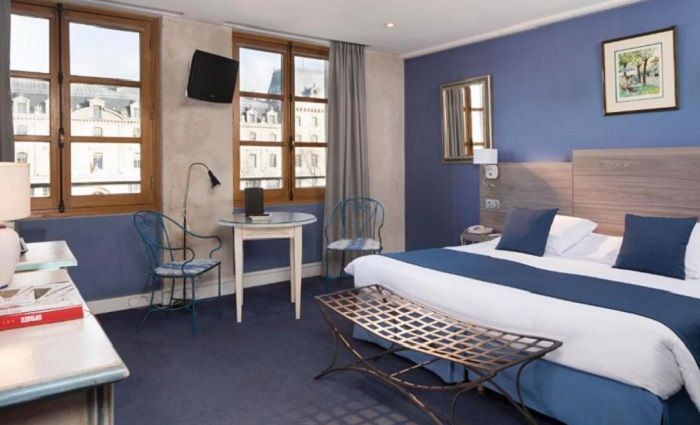 4 Star | €€+ | On the Seine | Recently Renovated | Ideal Location
For epic views of Notre Dame and the Seine, look no further. This little boutique may not have a ton of amenities, but you can't beat the location and the views. No need for a car here since it's centrally located, and you can opt for a regular room or the penthouse suite!
Hôtel Design Sorbonne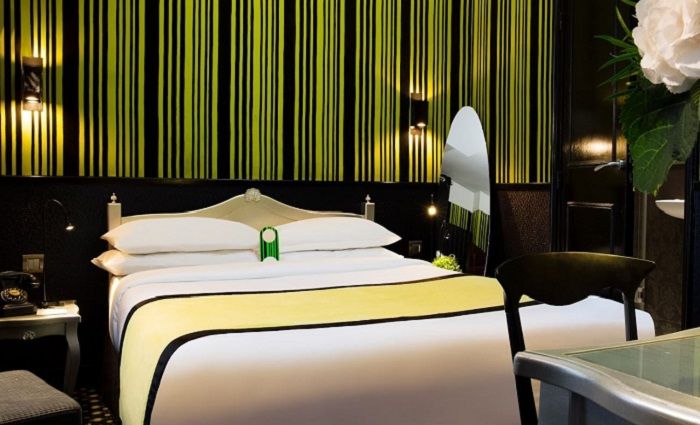 3 Star | €€ | Designer Modern | iMac or Macs in Every Room
You just might love the designer modern vibes at Hôtel Design Sorbonne, where every room is different, and colors pop around each corner. We also liked the extra touch of having an iMac or a Mac available in each room for free internet surfing included in an already great price! It's also located close to the Luxembourg Gardens and many shops and restaurants.
Le Marais: 3rd and 4th Arrondissement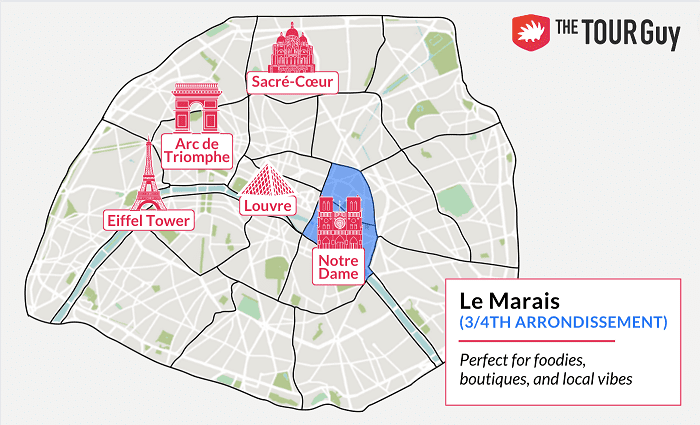 Le Marais is most famous for its hip vibes, gay bars, and historic Jewish quarter, where you can still find kosher restaurants. If you're traveling to Paris for shopping but would rather peruse independent boutiques than posh designer stores, this neighborhood is for you. It's ideal for cool young travelers who want to rub elbows with like-minded travelers and locals.
Le Marais spills over between the 3rd and 4th arrondissements, so it's hard to pinpoint exactly which one it's really in. This famous neighborhood is known as one of Paris' most chic and diverse spots and has exceptional cuisine. No wonder this is the location of our insanely delicious Paris food tour.
If you want a more comprehensive breakdown of this area, check out our detailed Le Marais neighborhood guide. Otherwise, read on for the best hotels in Paris' Le Marais district.
Attractions in Le Marais:
Victor Hugo Mansion
Picasso Museum
Place des Vosges
Hotel De Ville
Tower of Saint-Jacques (just outside Le Marais but in the fourth arrondissement)
Best Hotels in Le Marais, Paris:
Maison Proust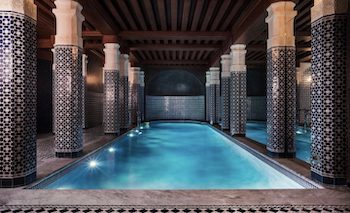 5 Star | €€€€+| Brand New for 2023 | Luxurious
A brand new opening for 2023, and wow, is it a looker? The Maison Proust may not be cheap (but where in Paris is?), but its luxuriously decorated rooms, fabulous communal space, and, more importantly, fabulous spa (with a Turkish bath) make this one of Paris's hottest new openings.

Location, photos, and booking

---
Hôtel Jeanne d'Arc Le Marais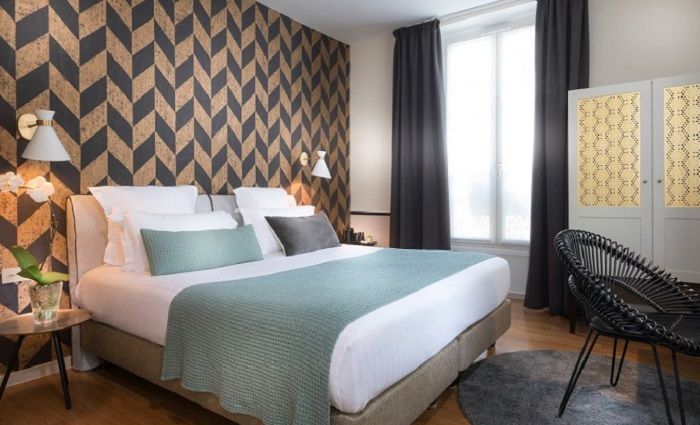 3 Star | €€ | Off-Season Deals | Quiet Location
This is another affordable hotel in the heart of this Paris district, especially if you come outside of peak tourist season when you can find some great deals. It's a charming little hotel on a quiet street, and you even get a continental breakfast included and a bar onsite. There are several room types to choose from whether you're traveling alone, with family, or with a wheelchair.
Cour des Vosges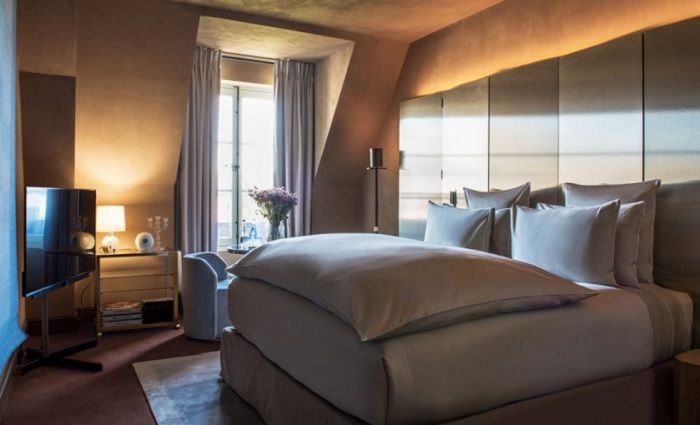 5 Star | €€€€+ | Best Views of Place des Voges | Near Galleries
For the ultimate hotel stay in Le Marais, opt for Cour des Vosges for the most incredible views of Place des Voges and proximity to the stunning shopping galleries. There are just 12 suites in this stunning 17th-century building, so you can expect an attentive staff (and butler) here too. The hotel has a family-curated collection of antiques, books, and much more to enjoy.
Hôtel Du Haut Marais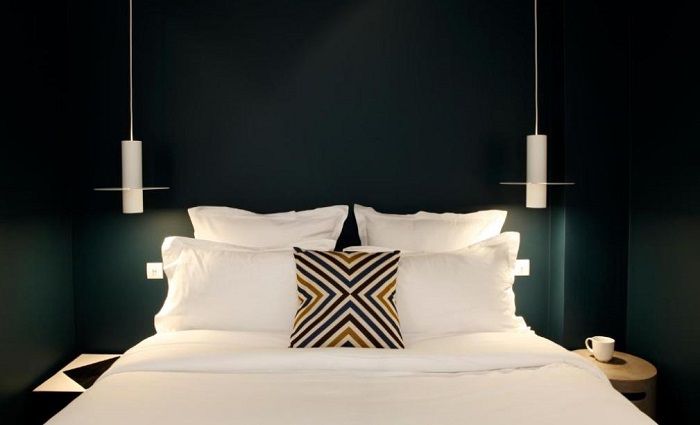 1 Star | €€ | Minimalist Hotel | Quiet Neighborhood | Rooms & Apartments
Don't let the 1 star fool you. If you love staying in chic boutique hotels in idyllic neighborhoods, then don't miss this cool little hotel. It's tucked away on a quiet street and has options for solo travelers and families who need extra space. You can even order breakfast to be delivered to your room each morning for an extra fee.
Goralska Résidences Paris Bastille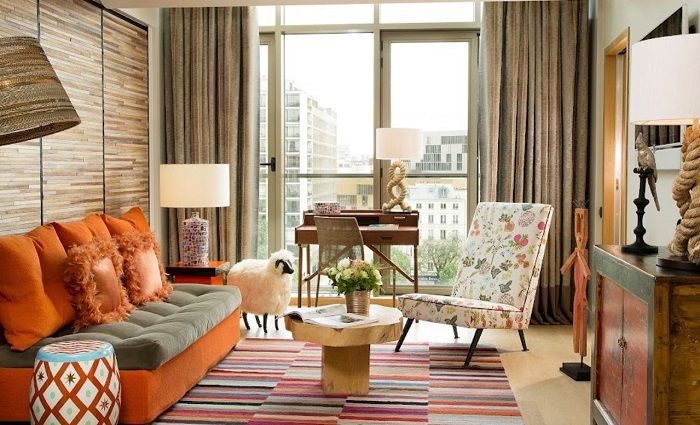 4 Star | €€€€ | Spacious and Modern | Nomadic Vibes | Family Friendly
Families and luxury travelers love staying at the Goralska Résidences. They offer full-service suites with separate living and dining areas, plus fully equipped kitchens. The 12 suites are decorated in warm tones with Saharan touches for a unique style. This hotel sits at the edge of the Port de l'Arsenal and is just a few steps from the Seine.
Turenne Le Marais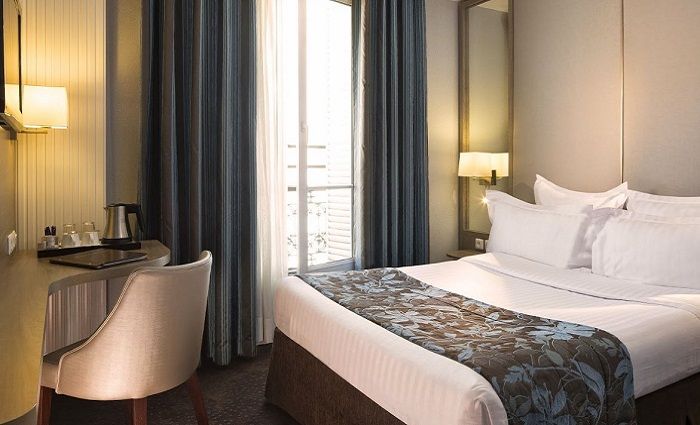 3 Star | €€ | Single to Triple Rooms | Affordable Location
In this district, Turenne Le Marais is a fairly affordable option that's still ideally located near Place des Vosges and Place de la Bastille. That means you're close to shopping, art, and galleries, not to mention late-night bars for the night owls. The rooms aren't oversized, but groups of three can opt for the triple room if needed.
Our Best Paris and Louvre Tours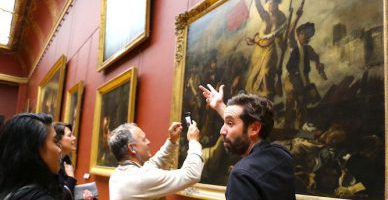 Top-Rated Tour
Secrets of the Louvre Museum Tour with Mona Lisa
The Louvre is the largest art museum on Earth and the crowning jewel of Paris, which is why it's on everyone's bucket list. Don't miss out on an incredible opportunity! Join a passionate guide for a tour of the most famous artwork at the Louvre. Skip-the-line admissions included.





See Prices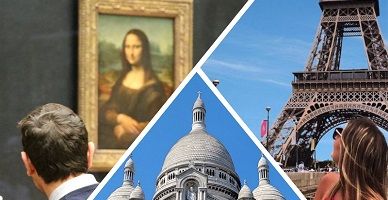 Likely to Sell Out
Paris in a Day Tour with Louvre, Eiffel Tower, and Notre Dame
Want to see the best of Paris in just one day? With long admission lines and attractions spread out over the city, this can be a real challenge. This amazing Paris day tour makes it easy! Join a local guide to see the city's iconic highlights, including the Louvre, Eiffel Tower, Sacre-Cœur, and Notre Dame, then sip champagne as you cruise along the Seine.





See Prices
Not ready to book a tour? Find out if a tour in Paris is worth it.
Opéra: 9th Arrondissement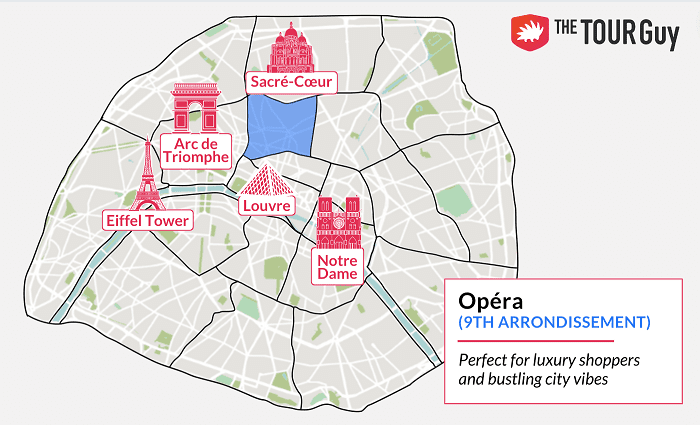 The 9th arrondissement is also known as the Opéra district since you'll find the gorgeous Palais Garnier opera house here. But that's not the only reason why you should consider staying here.
If you're in Paris hoping to shop anywhere other than along the Champs-Élysées (you don't shop there, right?), then find a hotel in the 9th arrondissement. Why? It's where the centuries-old Galleries Lafayette is found. And it's completely worth exploring even if you just window shop.
Otherwise, you're located not too far from Moulin Rouge and there are two major train stations nearby: Gare Paris Saint-Lazare and Gare du Nord. And if you've had your fill of the Louvre and d'Orsay, you'll find a few other great museums to explore in this neighborhood too.
Why I Love Opéra
Luxurious yet charming
Excellent shopping
Close to Montmartre and train stations
Bustling vibes
Attractions in Opéra
Galleries Lafayette
Palais Garnier
À la Mère de Famille original chocolate shop
Printemps
Gustav Moreau Museum
Best Hotels in Opéra Arrondissement
Hôtel Joyce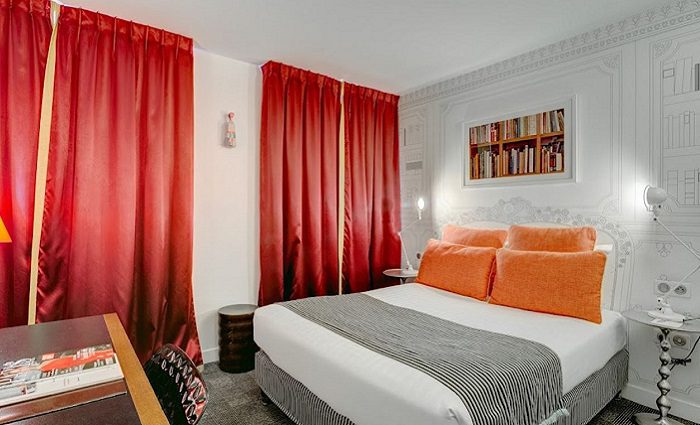 3 Star | €€ | Quiet and Clean | Free Coffee/Snacks | Comfy Beds
This hotel is tucked away in a surprisingly quiet area of the Opéra district. The bright rooms are super clean and really comfy, which can be a hard thing to find on a budget in Paris! They even have an elevator, luggage storage, common microwave, and breakfast buffet.
Hôtel Touraine Opéra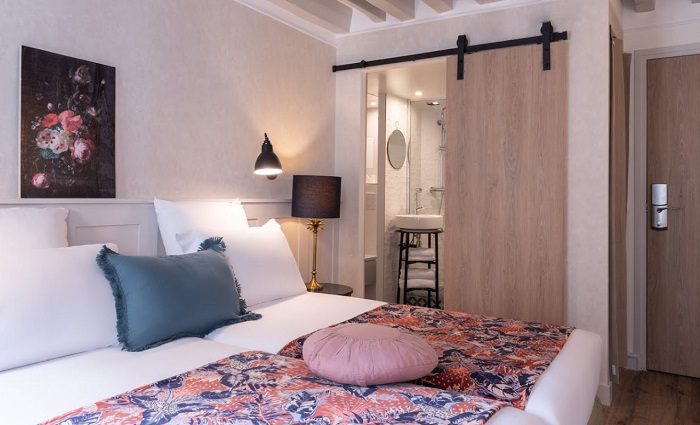 4 Star | €€€ | Room Service | Refined Decor | Great Staff
With three types of rooms to choose from, you'll feel cozy and well taken care of at this hotel. Opt to add the breakfast buffet at least once or ask for an organic wine from the bar when you return. I like that there's a lot of attention to detail at this hotel that's centrally located.
Alba Opéra Hôtel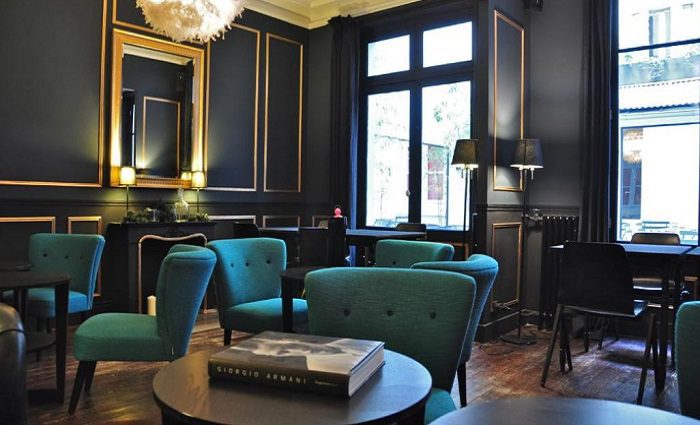 3 Star | €€ | Quaint with Character | Rooms for 1 – 4 people | Antique Elevator
You'll get some serious character when you stay here. Their claim to fame is award-winning artists and musicians like Louis Armstrong who have stayed there. (He probably used the exact same elevator!) It's not really near the opera, but you're not far from Montmartre either.
Hôtel Maxim Folies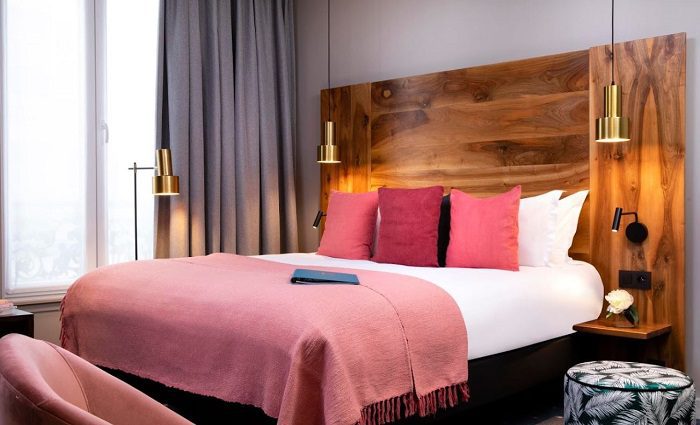 3 Star | €€ | Near Food and Shops | Cozy Rooms | Free Bar/Snacks
This hotel is tucked away in a surprisingly quiet area of the Opéra district. The bright rooms are super clean and really comfy, which can be a hard thing to find on a budget in Paris! They even have an elevator, luggage storage, common microwave, and breakfast buffet.
Hôtel Saint-Marc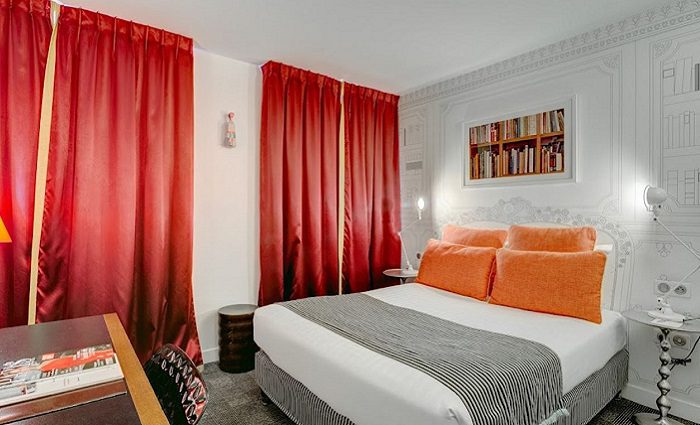 4 Star | €€€+ | Art Deco | Inner Courtyard | Spa
For a little more money, you can enjoy what might feel like a 5-star experience at a 4-star hotel. You'll find a high-quality breakfast available, a quiet courtyard, free food and drinks, and even a wellness spa. That with the luxurious décor makes this a great deal near Palais Garnier.
Hôtel Excelsior Paris Opéra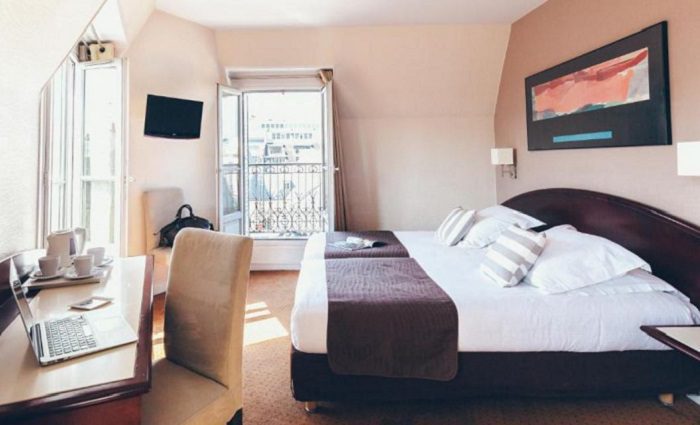 3 Star | €€ | Great Location | Balconies with View | Near Galeries Lafayette
For a great price at a classic Parisian hotel, stay at Hotel Excelsior Paris Opera. It's perfectly located near the metro, Galeries Lafayette, Palais Garnier, and so much more. Some rooms even have balcony views with the Eiffel Tower so ask if one is available!
Hôtel Maison Mère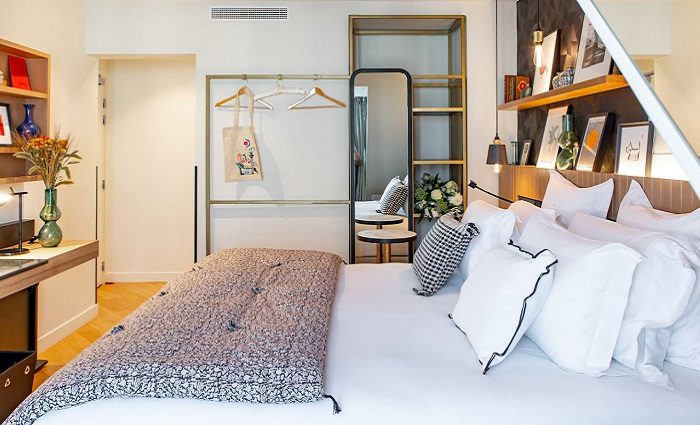 4 Star | €€€ | Considerate Staff | Restaurant and Bar | Family Friendly
Find your perfect room, even if you need a connected room for kids here who might appreciate the gaming consoles too. The largest suite is perfect for up to 6 people. Make sure to eat a meal at the restaurant that boasts fresh seasonal menus!
Montmartre: 18th Arrondissement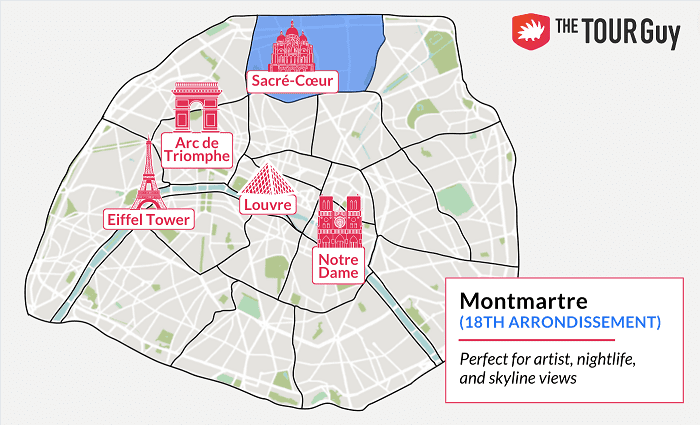 Montmartre is usually referred to as a bit of a village with winding, hilly streets, and far fewer cars than the rest of the city. This is the 18th arrondissement where you'll find the Sacré-Cœur Basilica and the Place du Tertre square filled with artists. Major metro stops include Abbesses and Anvers.
The arrondissement borders the Pigalle area—home of the Moulin Rouge and the city's red-light district. While this makes the location less ideal for families, the area is actually pretty safe for traveling friends and groups. Today, most of the area just south of Pigalle is trendy. For instance, some of the trendiest bars have popped up here. Locals often refer to the area as "SoPi."
The 18th arrondissement usually offers cheaper accommodations than the other arrondissements listed, thanks to its reputation as a working-class, diverse neighborhood. But if you choose the 18th, make sure to stay in the southern part of the arrondissement in Montmartre, which is one of the most romantic areas to stay in Paris.
Top Attractions in Montmartre:
Sacré-Cœur Basilica
The Wall of Love
Best Hotels in Montmartre, Paris:
Maison Souquet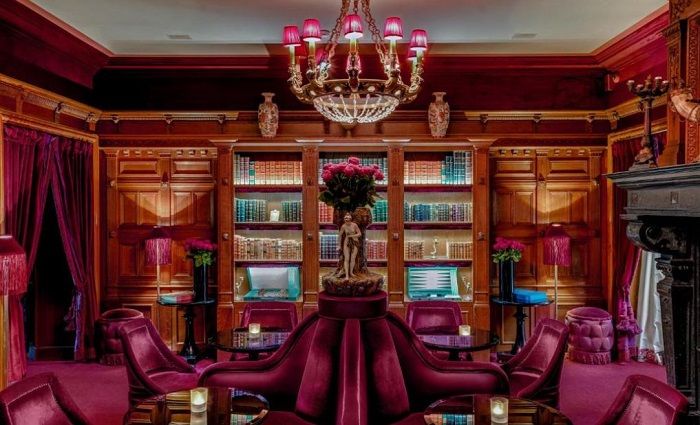 5 Star | €€€€ | Swanky and Decadent | Lounge and Spa On-site | Pool and Hammam
Pictures almost don't do this luxury hotel justice, so if it fits your budget, just book—don't think—just book. The swanky colors and dark interior make for a luxe, romantic stay. Indulge at the spa, the lounge, or in your room with room service. This hotel is technically just across the border from the Montmartre arrondissement, but it's still worth considering.
Timhotel Montmartre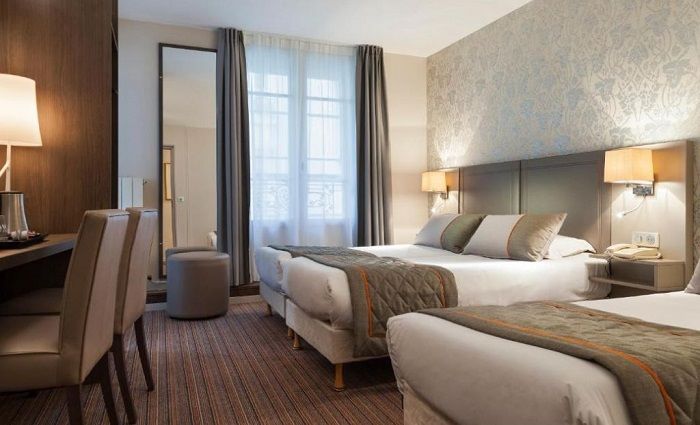 3 Star | €+ | Close to Sacre Cœur | Cobblestone Street | Simple But Neat
There might not be a lot of amenities at Timehotel Montmartre, but you can't beat the location—it's just steps from Sacré-Cœur. It's in the heart of the arts district and not far from Moulin Rouge and the Dali museum. The rooms are simple but perfect for an affordable, quiet stay in Paris.
Le Relais Montmartre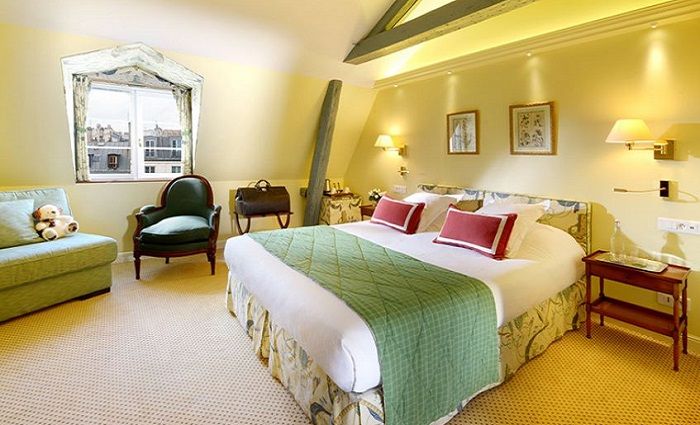 4 Star | €€ | Friendly Neighborhood | Refined Charm | Kids Eat Free at Breakfast
We like Le Relais Montmartre for its friendly atmosphere in a typical Parisian neighborhood. You're not too far from Gare du Nord and Moulin Rouge here. And though there's a fee for breakfast, kids under 13 eat for free, which is helpful for the budget. We recommend booking the attic room for a quaint Parisian stay in Montmartre.
Hôtel de Flore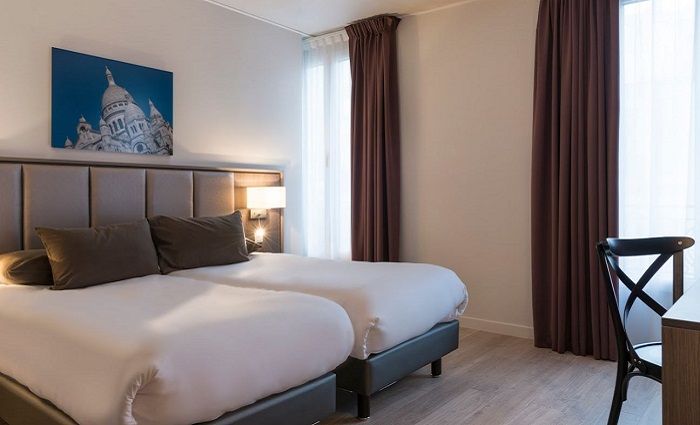 3 Star | €+ | Affordable Stay | Classic Rooms | Great Location
Hôtel de Flore might not be the fanciest hotel in the area, but it comes at a great price and is close to a lot of restaurants, bars, and a key metro stop for getting to the main attractions in Paris. There's a breakfast buffet available at an additional cost, and the reception can help you book tickets to shows nearby.
Not ready to book a tour? Check out our best Paris tours to take and why.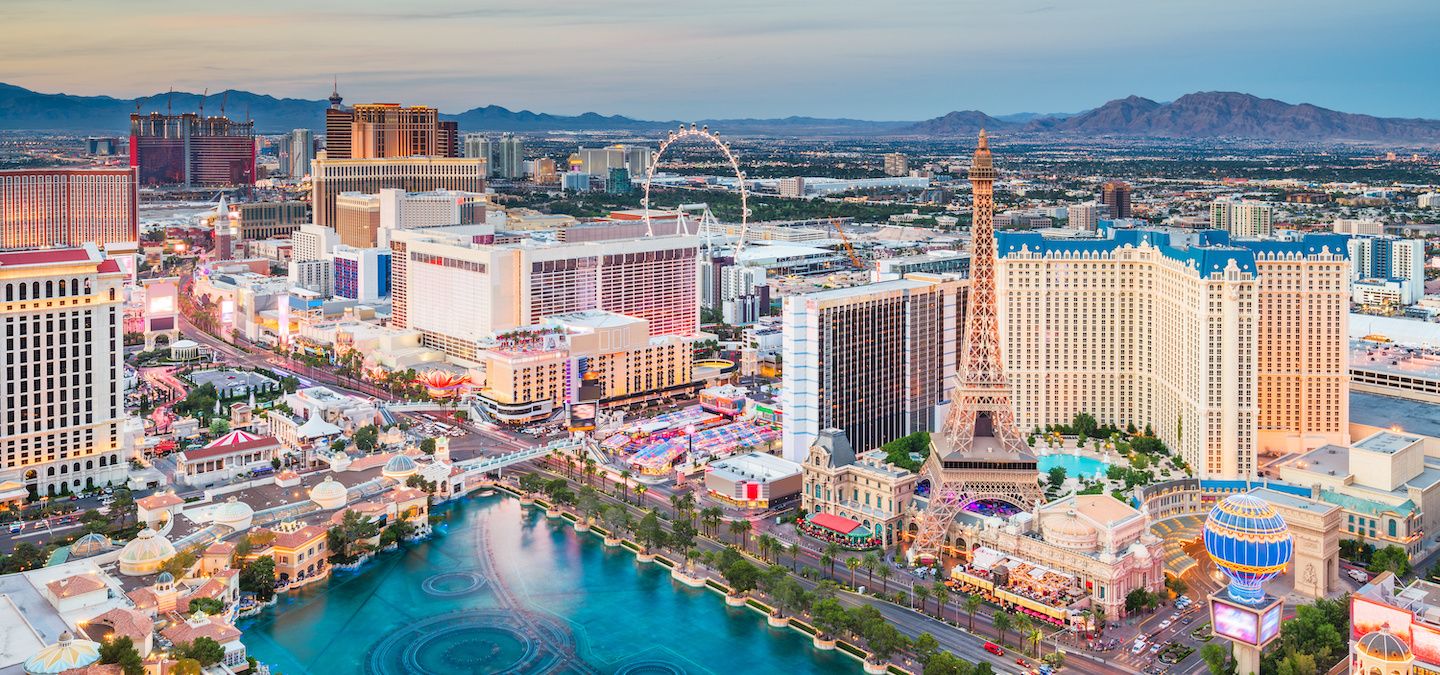 It's been said that Las Vegas has the most expensive 4-mile road in the country, and that it's the city that never sleeps—on the west coast. The Strip is a living entity that never seems to rest, but humans do! We've put together a comprehensive list of the best places to stay on the Strip […]