Who should go on a guided tour of the Louvre? Everyone! The Louvre in Paris is the largest museum on Earth and contains an immense amount of important artwork from around the world—it even houses 25% of all Da Vinci paintings. Visiting is a must but don't be fooled—there's more to seeing the Louvre than looking at the collection. In this article, we share the best Louvre tours to take and why.
---
Pro Tip: Planning what to do on your trip to Paris? Bookmark this post in your browser so you can easily find it when you're in the city. Check out our guide to Paris for more planning resources, our top Paris tours for a memorable trip, and how to spend a weekend in Paris.
Should You Take a Louvre Tour?
Yes! The Louvre is the largest single-complex museum in the world and houses one of the most impressive collections in the world. Originally built as a fortress in the 12th century, the museum is filled with famous works of art to see today.
A solo trip to the museum can be overwhelming, but there are plenty of great guided Louvre tours to help you fully appreciate the history and importance of the treasures within.
You can join a Louvre tour with just 12 to 20 people on them, which elevates the experience so much. Take it from a former tour guide, a smaller group makes it easier for the tour guide, which in turn makes it better for you. Don't trust us, trust the reviews!


Not ready to book a tour? Find out if a Louvre Museums tour is worth it.
Top 4 Louvre Museum Tours
A museum of this calibre deserves in-depth exploration. You may not have the time to see the best of the Louvre on your own or the knowledge of a passionate tour guide to get the most from your Louvre visit. No problem!
We've created several top Louvre tours that include skip-the-line tickets but provide different durations and varying experiences from fewer crowds to customizable group sizes. See which tour is right for you.
1. Secrets of the Louvre Museum Tour with Mona Lisa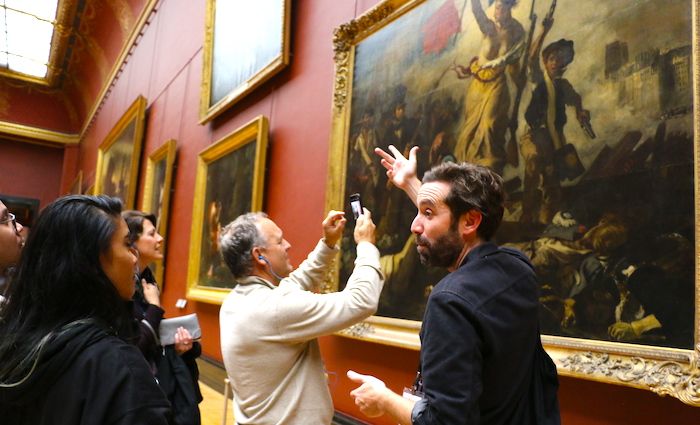 With skip-the-line tickets, breeze past the queues in our popular Louvre Museum tour, discover the mystery behind Mona Lisa's smile, and experience one of the world's greatest art collections accompanied by a passionate and knowledgeable guide.
You'll be led through a 3-hour-long tour of the Louvre and get a detailed look at the Mona Lisa with a guide well-versed in her history. You'll also see the Louvre's beautiful sculptures, such as the famous Venus de Milo and the winged Victory of Samothrace.
A former royal palace, a visit to the Louvre would be incomplete without seeing the Crown Jewels of France. In this tour, you'll get up close and personal to these precious royal jewels on display in the Louvre's Galerie d'Apollon. They are a glittering spectacle you won't want to miss.
Highlights:
3-hour tour
Skip-the-line tickets
See the Crown Jewels of France
Passionate art-loving guide
Group size of max 15 people
Not ready to book a tour? Check out our Louvre Guide for more resources.
2. Private Louvre Tour in Paris with Skip the Line Tickets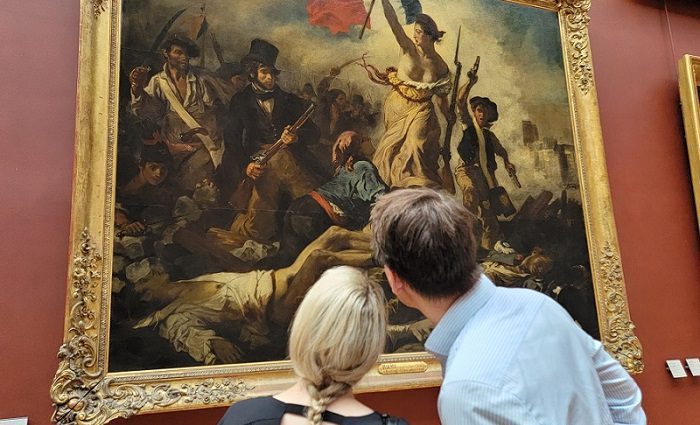 In Paris with a generous budget? Want to see the museum on your terms? Our private tour of the Louvre is a great way to geek out at the museum with an interesting and cool guide. Your knowledgeable and English-speaking guide will focus on what interests you and spend more time where you have the most questions.
In this 3-hour private tour, you skip the line for an intimate tour of the Louvre with just your group and your guide. The private tour is perfect for anyone interested in a highly-personalized experience, for anyone with limited mobility, or for anyone wanting an in-depth understanding of the world's most impressive museum and the history of these great works of art.
Highlights:
3-hour tour
Skip-the-line tickets
Highly-personalized experience
Only your party
Not ready to book a tour? Find out if a Louvre Museums tour is worth it.
3. Louvre at Closing Time Tour with Mona Lisa and Venus de Milo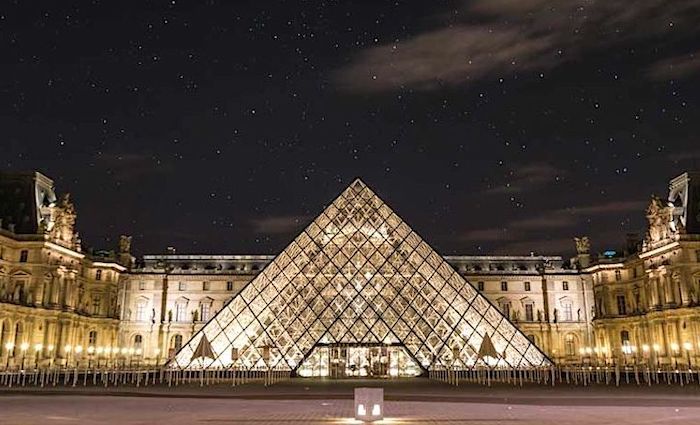 This one is special. Seeing the Louvre in the late afternoon before closing time with fewer crowds makes for one of the most unique experiences you can have in Paris. In this 2-hour tour, you'll skip the line and head into the Louvre before closing time for a more peaceful experience in one of the world's greatest museums.
Your art-loving guide will bring you through the fascinating history behind the Mona Lisa and the famed Louvre sculptures. There's a lot to see in France's national museum, and you're going to want to see it all. If that sounds good to you, then the Louvre at Closing Time tour is for you.
Highlights:
2-hour tour
Skip-the-line tickets
Fewer crowds
Group size of max 15 people
Not ready to book a tour? Find out if a Louvre Museums tour is worth it.
4. Louvre Museum and Eiffel Tower Combo Tour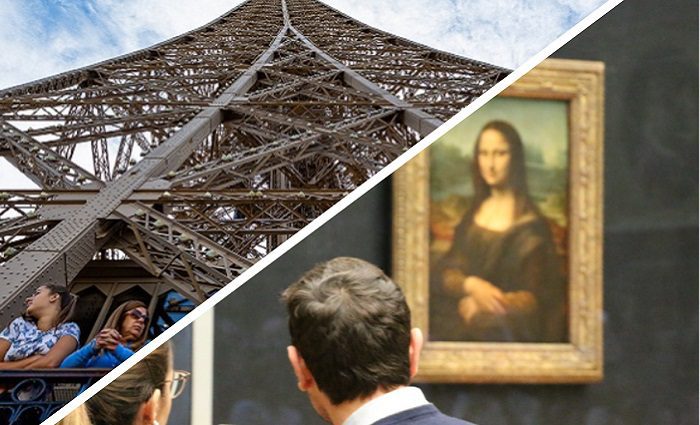 Want to check three items off your Paris bucket list in one day? You can on our Louvre Museum and Eiffel Tower day tour. Meet your guide at the Louvre, skip the notoriously long lines, and explore some of the world's most important works of art. You'll hear stories of intrigue and history as you walk through the fortress-turned-museum to see Da Vinci's Mona Lisa, the Greek statue Winged Victory of Samothrace, Delacroix's Liberty Leading the People, and many more.
Take to the river Seine for a different perspective of Paris as you cruise past the Louvre, Musée d'Orsay, Notre Dame, and more of the city's top sights. And finally, the moment every visitor to Paris awaits—a visit to the iconic Eiffel Tower. Skip the line, head to the elevator, and enjoy the incredible views from 377 feet up on the second floor. It's truly a once-in-a-lifetime experience!
Highlights:
6.5-hour tour
Skip-the-line tickets and guided tour of the Louvre
1-hour guided riverboat cruise on the Seine
Skip-the-line elevator tickets to the Eiffel Tower second floor
Guided transportation included
Not ready to book a tour? Find out if a Louvre Museums tour is worth it.
Great Paris Tours
We are a tour company, so we recommend doing a tour, of course. We started this business for two reasons. First, we love history and learning about our world and culture. Second, we wanted to rid the world of boring tours.
We believe art is much more than just oil on canvas. It's about the life of the artists and how they were affected by the dramatic changes of their time period. Join one of our tours and you won't be let down! Admissions are always included, we always skip the lines for admissions. Plus you're guaranteed to hear interesting stories and history you won't learn by visiting on your own.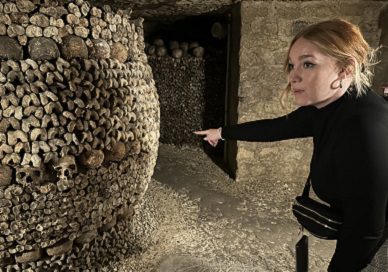 Likely to Sell Out
Paris Catacombs Tour with Secret Rooms & Privileged Access
Discover the darkness beneath the city of light. Leave the crowds behind and let your guide enlighten you with the mystical folklore surrounding the medieval tombs.





See Prices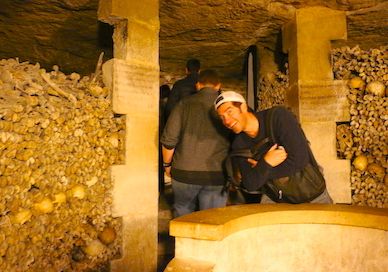 Likely to Sell Out
Skip the Line Paris Catacombs Tickets
While we recommend a guided tour, our goal is to provide customers with as many options as possible. Skip the line Paris Catacombs tickets are a great value!





See Prices
Not ready to book a tour? Check out our helpful Paris Guide for more resources.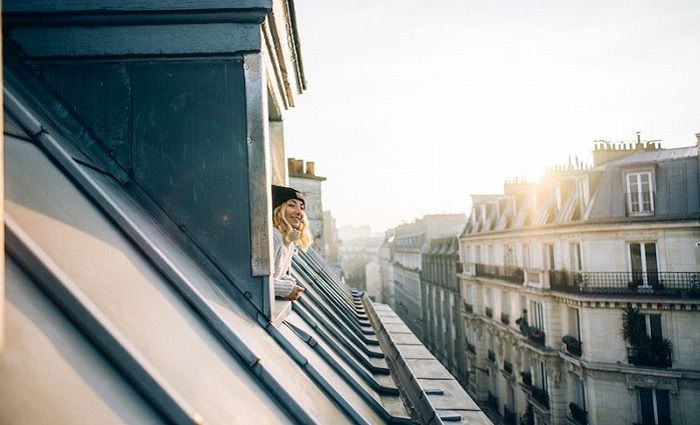 Find the best places to stay
Where To Stay in Paris
With a city as magnificent as Paris, it can be hard to find the perfect hotel at the perfect price. Explore the best hotels and places to stay in these incredible neighborhoods in Paris.