The Musée d'Orsay is the 2nd biggest museum in Paris and there is a lot to see. If you are going, you have probably heard that this is the best Museum for Impressionism- but which paintings are a must-see?In this article we will break down the 10 must-see paintings as a starting point, then of course stay longer and discover some other paintings as well!
---
Pro Tip: If you are looking for more in-depth info on the Musée, then click on Visiting Musée d'Orsay: Everything You Need to Know. Also, consider a private tour of Orsay which you can find n our tours of Paris. Visiting with a licensed guide elevates the experience and makes it more memorable.
Here are the top things to see at Musée d'Orsay!
Most Famous Artwork at Musée d'Orsay
10. Women Ironing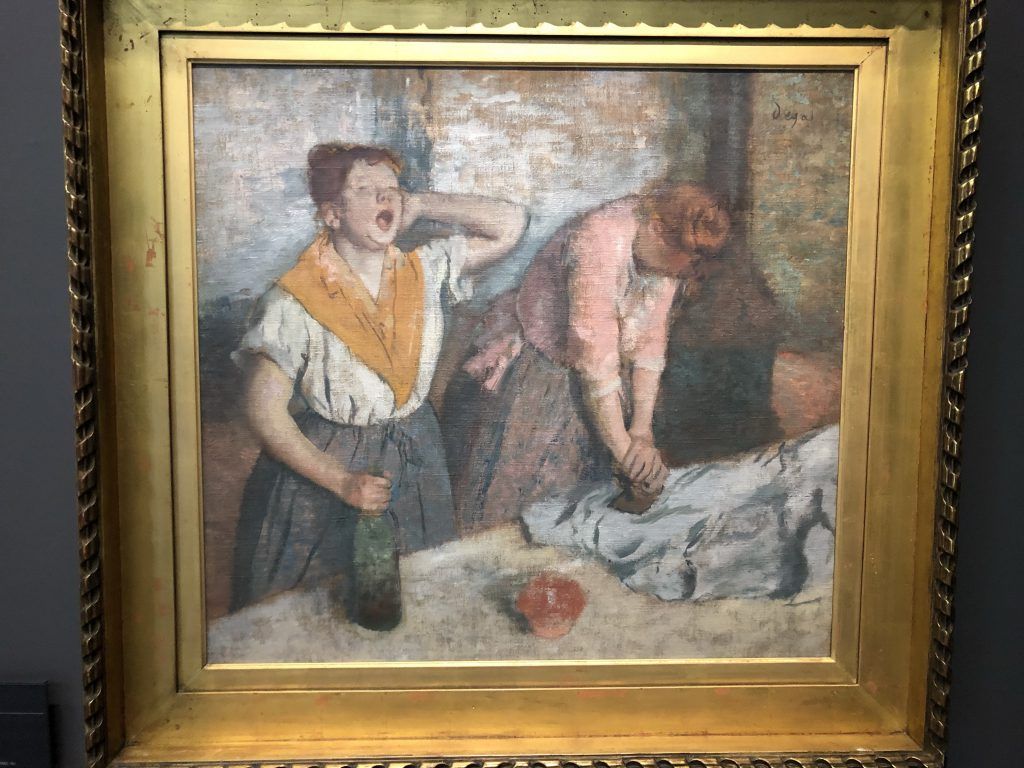 Edgar Degas
Edgar Degas has captured the ideal genre moment in this painting- Women Ironing. Looking at this painting allows us today to go back in time and quite literally look through a window and see what is happening in a particular person's life. Degas, like Manet, was a classical painter who loved to paint ballet dancers, racehorses and working women. While he dismissed the idea of painting in Plein air which was a central theme of Impressionism, he is considered an impressionist due to his like of modern themes, loose brushwork and and his desire to catch the fleeting moment which was also central to Impressionism.
In the painting you can see two women in a working class setting with one of them yawning and the other ironing. The picture represents a very non flattering look into the life of these working class women. Degas while believing in catching the fleeting moment, had obviously done many preparatory sketches to ensure that everything is perfect. You will notice the first woman whose yawn has been perfectly captured. You can tell that she is exhausted by the heat and probably the wine she is drinking. The other woman's head is pointed down in concentration as she irons the clothes with her second hand pushing down hard to work out those wrinkles.
During his lifetime, Degas was loved by some and not others and while he was a classicist, he felt that the Accademy was too rigid and therefore joined forces with the impressionists early on. He is considered one of the founders of Impressionism and while he had no formal students, he was known to have influenced many a painter afterwards and was especially admired by Henri de Toulouse- Lautrec.
9. Poppy Field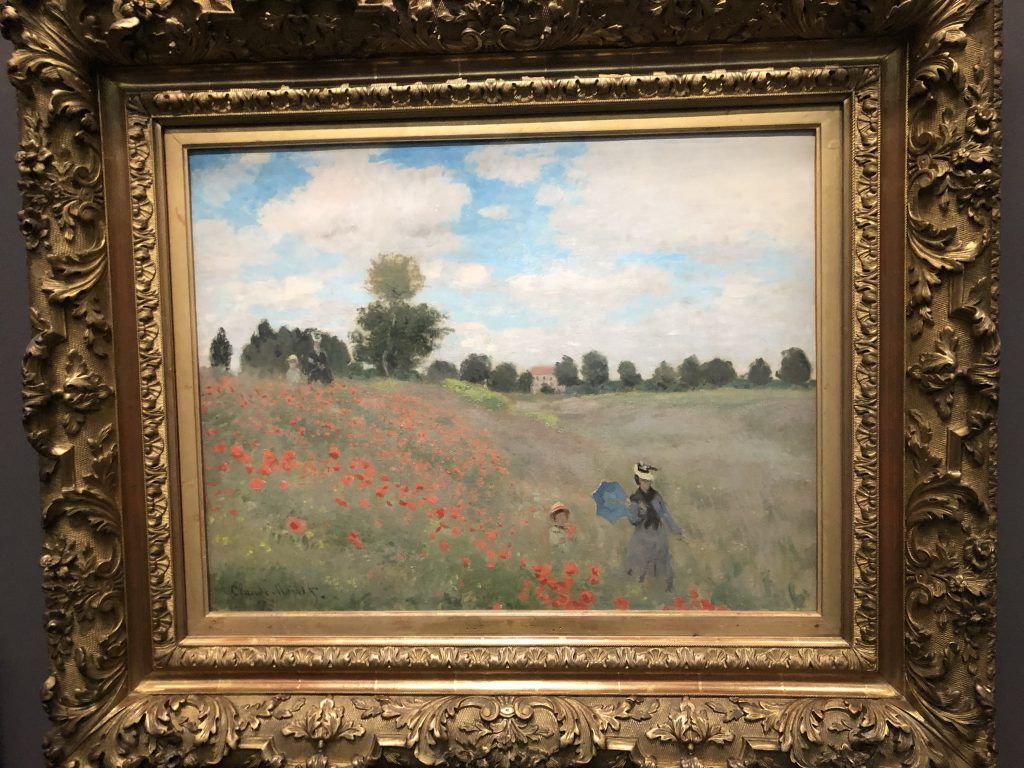 Claude Monte
A much more peaceful painting than the other above by Monet, the environment created is one of peace and harmony. When first looking at it, it automatically has a calming effect and makes you think of spring and pleasant thoughts. Monet returned from England in 1871 and moved to Argenteuil where he had many years of a happy life and it is nowhere more depicted than here.
In the painting you can see a woman and child in the foreground ( it is assumed that this is his wife Camille and their son Jean), walking down a gentle slope with red, poppy flowers on their left. There is another couple at the top of the hill, but they don't seem to be connected with the figures below. The scene is probably one taken close to where they lived at the time with the outfits of the people being middle class, not peasants, and in the background a nice villa which would seem is where they are coming from.
The painting was exhibited in 1874 at their independently organized art show, which is where the name Impressionist was first used by art critic, Louis Leroy. The idea behind it being that this new style of painting was meant to prioritize the immediate impression of the scene, rather than look for a deeper meaning which was the established idea of painting back in the day. This interpretation seems to be on point with this painting by Monet. What do you think?
Our Best Versailles and Paris Louvre Tours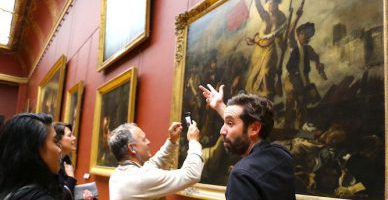 Top-Rated Tour
Royal Louvre Palace Tour with Mona Lisa & Crown Jewels
The Louvre is the largest art museum on Earth and the crowning jewel of Paris, which is why it's on everyone's bucket list. Don't be left out of an incredible opportunity! Join a passionate guide for a tour of the most famous artwork at the Louvre. Skip-the-line admissions included.





See Prices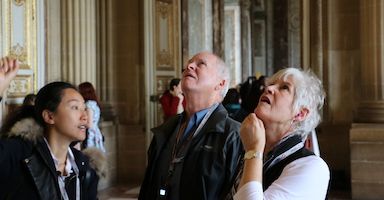 Likely to Sell Out
Skip-the-Line Palace of Versailles and Gardens Tour from Paris
Versailles isn't that difficult to get to by train, but why stress over the logistics? Meet a local guide in central Paris who will purchase your train tickets and ensure you get off at the right stop. Then enjoy a guided tour of the palace and the unforgettable gardens. Skip-the-line admissions included to the palace and gardens.





See Prices
Not ready to book a tour? Check out our comprehensive Paris Guide for more planning resources.
8. Camille sur son lit de mort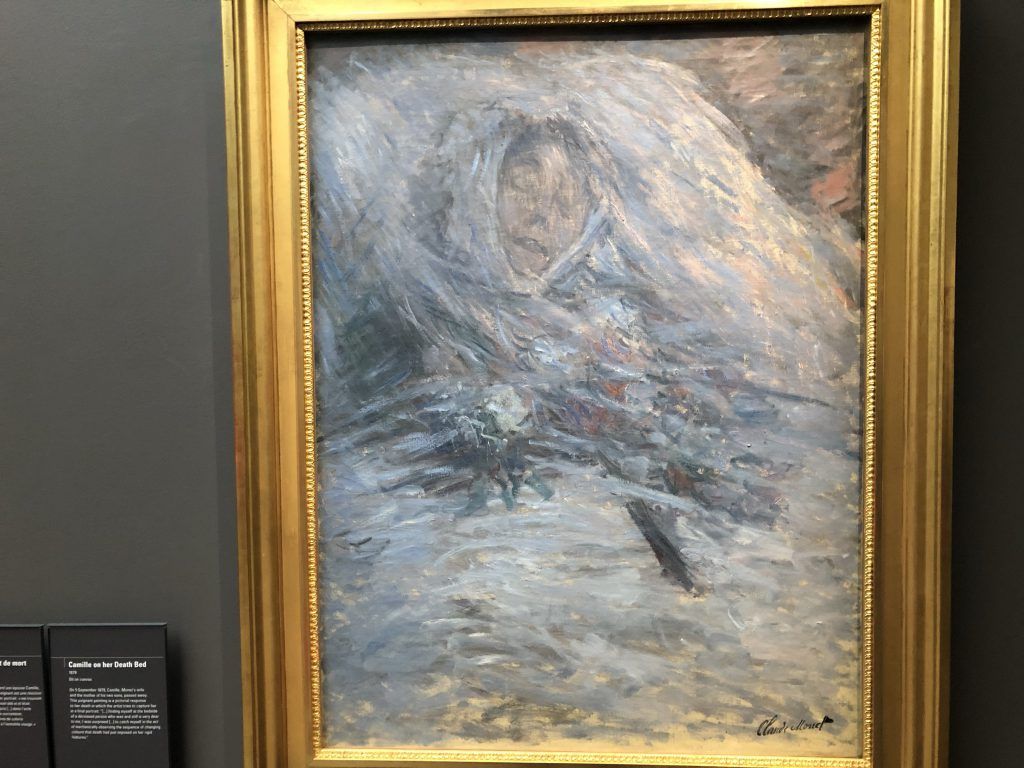 Claude Monet
Claude Monet is probably the most famous Impressionist painter that ever lived. What can be more powerful than an artist painting his own wife on her deathbed?
The painting is about Monet's real-life wife, Camille who is on her deathbed. She had complications after giving birth and died soon after from either cancer or a malpractice abortion. Monet used shades of blue and pink in order to bring some life into the darkness. Her face is shrouded in a veil with her eyes closed and her lips parted slightly. Look closely and you'll see a bouquet of flowers on her chest signaling the end is here.
Camille had posed not only for other paintings by Monet, but also for his colleagues Manet and Renoir. 40 years later, Monet is quoted as saying, " 'I found myself staring at the tragic countenance, trying to identify the shades in the color, the proportion of light and the sequence." and " 'the thought occurred to me to memorize the face that had meant so much to me,' his first reaction was to tremble at what he saw in the colors. This piece was never submitted to an exhibition and Monet himself never signed the painting.
Not ready to book a tour? Check out our comprehensive Paris Guide for more planning resources.
7. Gustave Caillebotte – Floor scrapers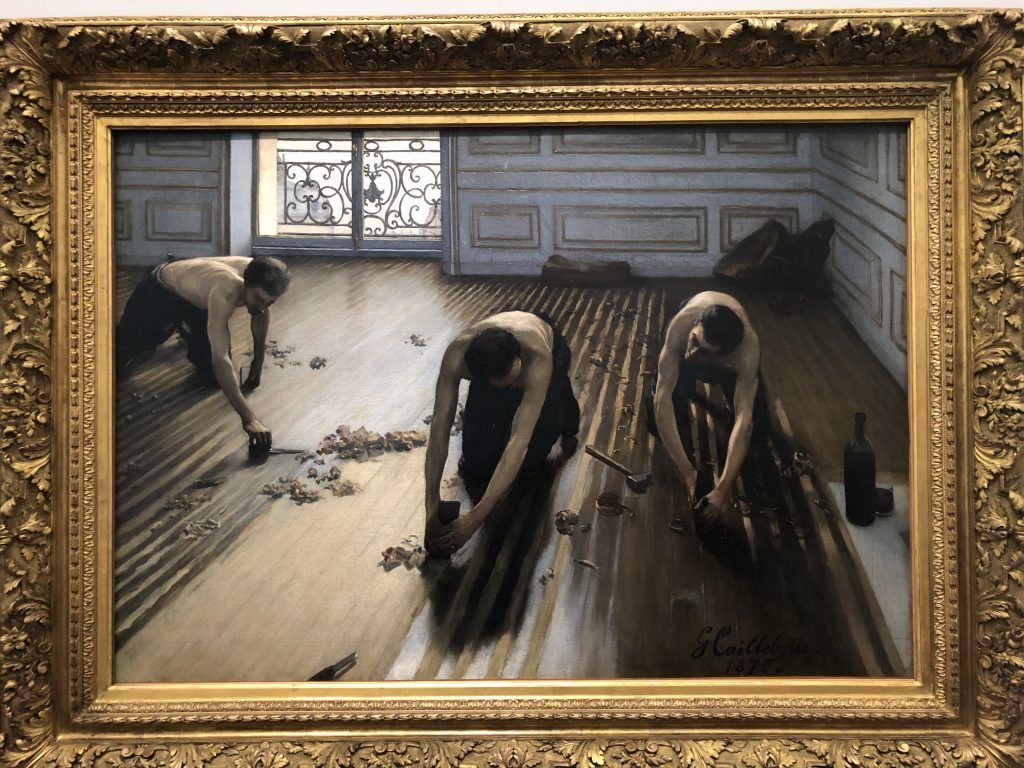 Paul Gauguin
This painting by Gustave Caillebot is a stunning example of Realism. It is also one of the first examples of a representation of the working class in Paris. Before this time, the working class were almost exclusively depicted as peasants in the field. Gustave himself, came from an affluent Parisian family who was more known for his generosity of buying other artists paintings ( see Renoir above). Only in the 20th century were his paintings more appreciated.
This work of art depicts three workers who are literally scraping the wooden floor in an apartment ( supposedly it was Caillebot's studio). The light is coming in from the window in the background. The painting as a whole, let's you feel the back breaking work of scraping a floor of its paint. You can also see many of the scraping tools they are using together with an open bottle of cheap wine.
Caillebot was a classical trained painter which can be seen in the perspective being used. The bodies and movements of the workers are idealized and one can witness the classical movements used imitating ancient, Classical statues. At the Salon of 1875, this painting was rejected as being too " vulgar". At this point, he got involved with the Impressionists and even exhibited this painting again at the Impressionist Exhibition of 1876.
6.Arearea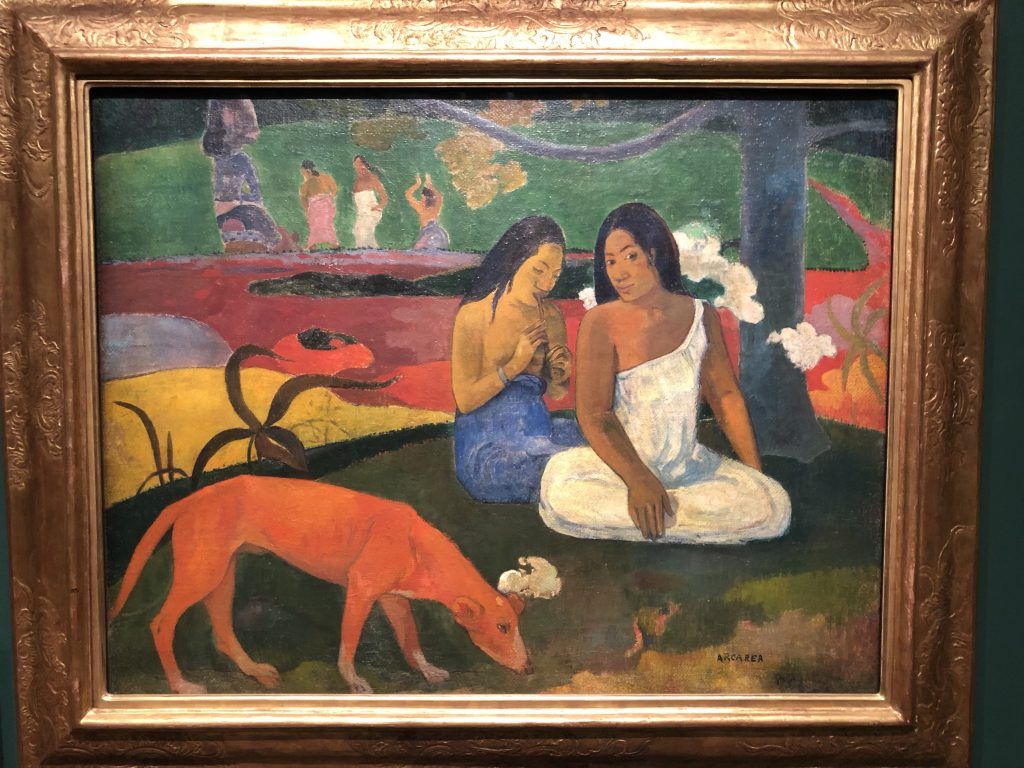 Paul Gauguin
Paul Gauguin's life was as colorful as his Tahiti themed paintings. He is considered a post impressionist artist and is most famous for his paintings that were executed during his first stay in Tahiti. True to the term of " starving artist" he did not gain any fame during his lifetime unfortunately, becoming famous long after his death.
The painting shows two local women in a seated position with a red dog in the foreground. In the background you can see women praying to an indigenous maori statue, which Gaugin blew up to be as big as an enlarged Buddha. It appears that this was not a real rite in Polynesia and by creating this, Gaugin is actually idealizing the primitive way of life where man lives in a world that is protected by the Gods.
Upon returning to Paris after Tahiti, Gaugin submitted a series of paintings, including this one above, which were exhibited in November of 1893. Ideally, Gaugin wanted to show off his experience in Tahiti, but the exhibition didn't go very well for him. He was criticized on many points, with one of the being that all the names of the paintings were in the Polynesian language. The fact that he painted a red collarless dog, also had him receive some sarcastic comments. In the end, divorced from his wife and disappointed with how things turned out in Paris, he decided to move back to Polynesia in 1895 and never returned.
5. Self Portrait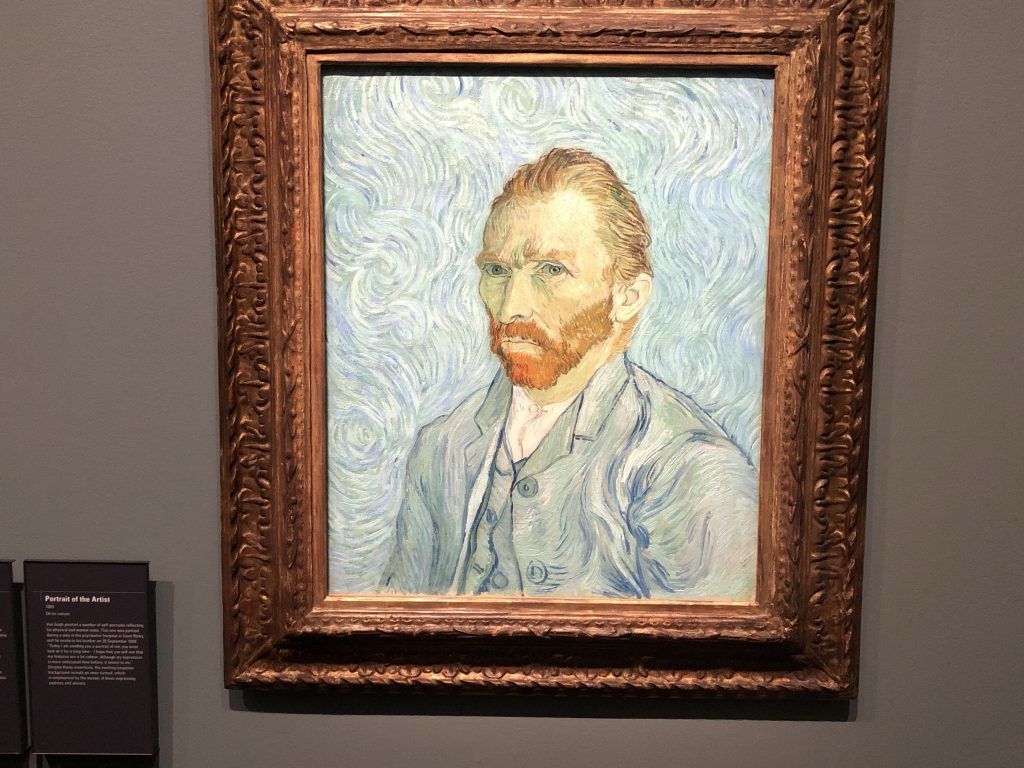 Vincent Van Gogh
Painted in 1889, this is one of more than 40 self-portraits that Van Gogh made of himself over 10 yeas. Like older masters, he observed himself critically in a mirror and rumor has it that he painted so self-portraits due to the fact that he didn't have money for models.
In this particular self-portrait, the light blue contrasts brilliantly with the fiery red of his hair and beard. His face is extremely thin and his green eyes are a bit sunken with a certain sadness in them. He is also interestingly wearing a suit jacket instead of the usual pea jacket that he worked in.
Art historians have discussed if this was his last self-portrait or not. In a letter to his brother Theo, he said the following about the painting after sending it to him " You will need to study [the picture] for a time. I hope you will notice that my facial expressions have become much calmer, although my eyes have the same insecure look as before, or so it appears to me."
Check Out Our Best Day Trips from Paris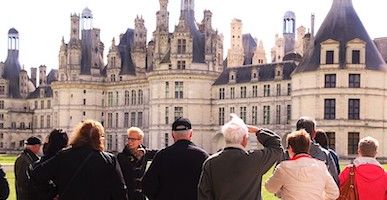 Top-Rated Tour
Loire Valley Day Trip with Castles & Wine from Paris
Castles, rolling hills, Amazing wine, and Authentic Food are what come to mind when you think of the French countryside and you will find them all in the Loire Valley! Join your fun and expert tour guide in a small group as you travel on a climate-controlled bus from Paris. Your knowledgeable tour guide will unveil the secrets of the French Loire Valley with funny stories throughout your day together.





Starting at €169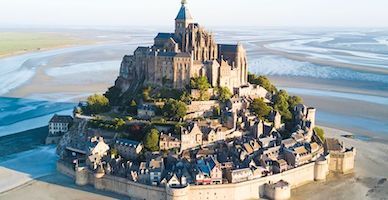 Top-Rated Tour
Mont Saint Michel Day Trip from Paris
Looking to get out of Paris on an exciting day trip? We have the perfect experience for you. Make your experience more memorable in our small group with your fun and knowledgeable tour guide who will spend the day with you. There will never be a dull moment, as you learn fascinating stories about the history of Mont Saint Michel and Normandy. Private Transport & Admissions Included.





Starting at €139
Not ready to book a tour? Check out our comprehensive Paris Guide for more planning resources.
4. Starry Night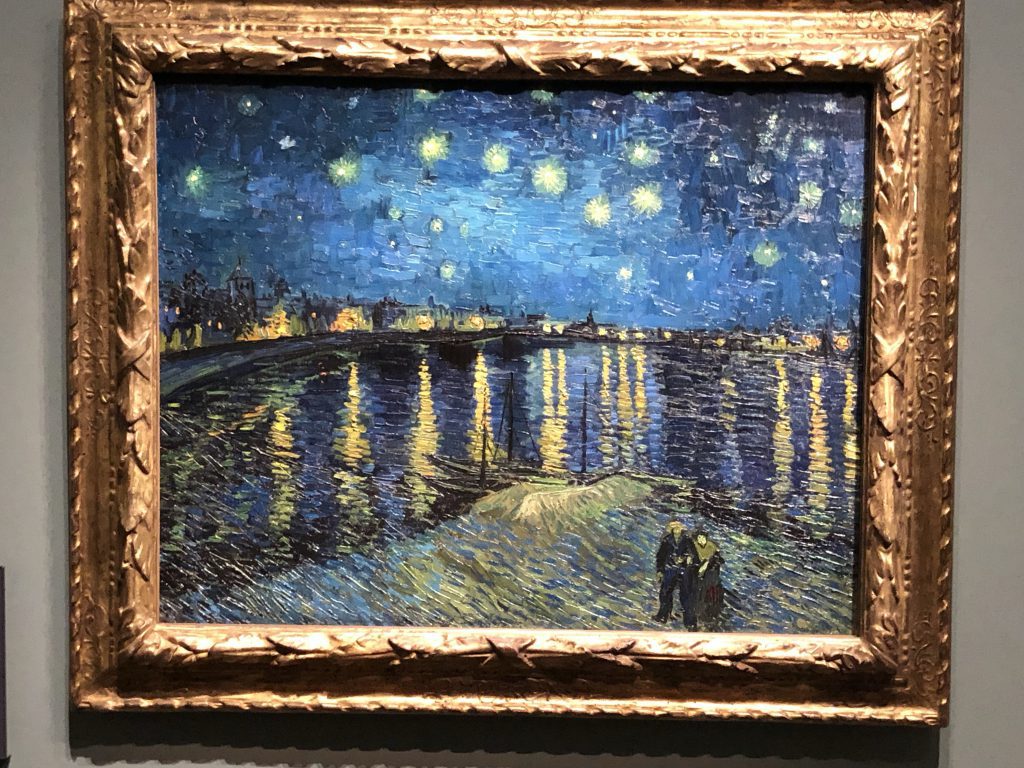 Vincent Van Gogh
Vincent Van Gogh is probably one of the most famous Impressionist painters of all time. He was actually Dutch and moved to France right in the middle of the exciting Impressionist movement. This painting of the Starry Night was painted when he had moved to Arles in Southern France in 1888.
The painting itself shows the Rhône River which was only a few minutes from the house on Place Lamartine. The composition is very calm with the stars burning brightly and lighting up the sky. The lights from various buildings showing their reflection on the water which illuminates the painting even more. In the lower right-hand corner, there is a couple in love walking along the river.
Van Gogh painted another Starry Night which you can find today in the MoMa ( NYC) and the contrast is visible. The MoMa Starry Night being very violent in its colors and showing the mental state of Van Gogh. He had recently been institutionalized at a mental health institute.
3. Luncheon Grass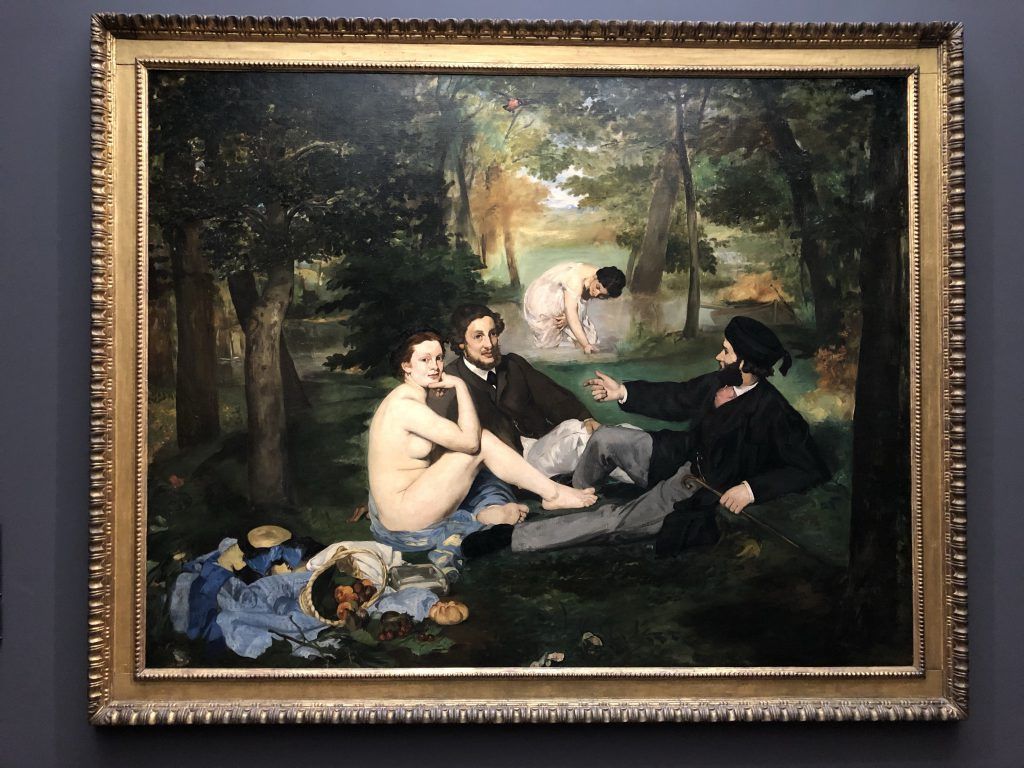 Edouard Manet
This unorthodox painting shot Manet into the spotlight in 1863 with the shocking figure of a nude woman, sitting with men having a picnic in the forest. Nude women was nothing new since the beginning of time in paintings, but they were always portrayed as a divinity ( think of the Greek Aphrodite) and not as a regular woman.
Manet refused to be a conformist and go along with the tastes of the French Academy of Fine Arts. He wanted to paint every day scenes and situations which, upon meeting others from the Impressionist movement, allowed a happy marriage between them all. This was very risky since the Academy organized the salons which viewed the paintings and therefore was the medium for you to get successful. The painting was entered into the Salon des Refuses which was an alternative salon for paintings that didn't make it into the official Salon. Shunned by some when it was introduced, the painting over time became an important broken barrier in taking Modern French painting to the next level.
The painting is huge in scale ( 81.9 inches x 104 inches). When you first look at it, it definitely makes a strong impression on you whether that is a positive or negative one. In essence, we can think Manet for pushing the envelope and pushing Modern French painting into a newfound freedom and reinvention of pictorial space.
2. Renoir – Bal Moulin Galette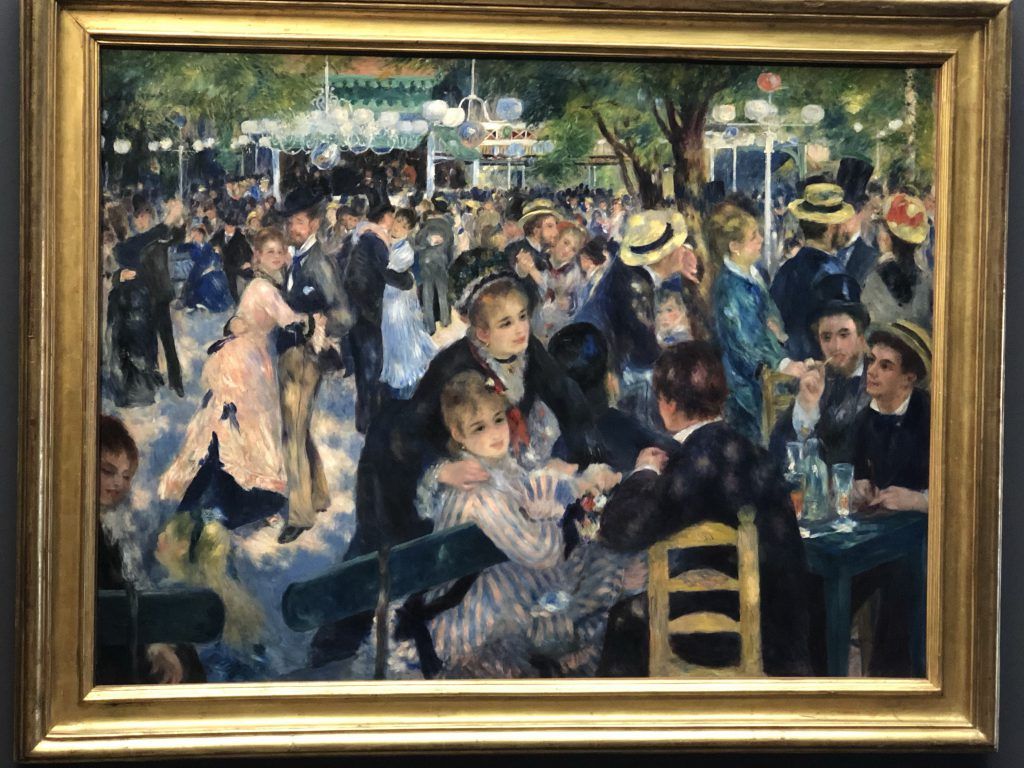 Auguste Renoir
This is one of Renoir's most famous paintings and easily considered a masterpiece of early Impressionism. There is plenty going on in this painting, but your eyes move back and forth with ease as the vibrant colors make it a painting that is extremely easy to explore.
The Moulin de la Galette was one of many windmills at the Butte de Montmartre. On Sundays people would gather to dance and eat their famous cakes as is being portrayed in the painting above. Entrance for women was free ( nothing has changed!) and supposedly even women with looser morals would frequent the open air dancing.
Renoir was intrigued by this weekly event and actually rented a small studio close by so that he could observe the happenings every Sunday and capture if perfectly. He received some criticism early on, since the brush strokes were blurred, but overall was well received. This painting was actually made for another contemporary painter- Gustave Caillebotte- Upon the artists death, the painting was handed over to the French authorities as payment for his debts.
1 Paul Cezanne – Card Players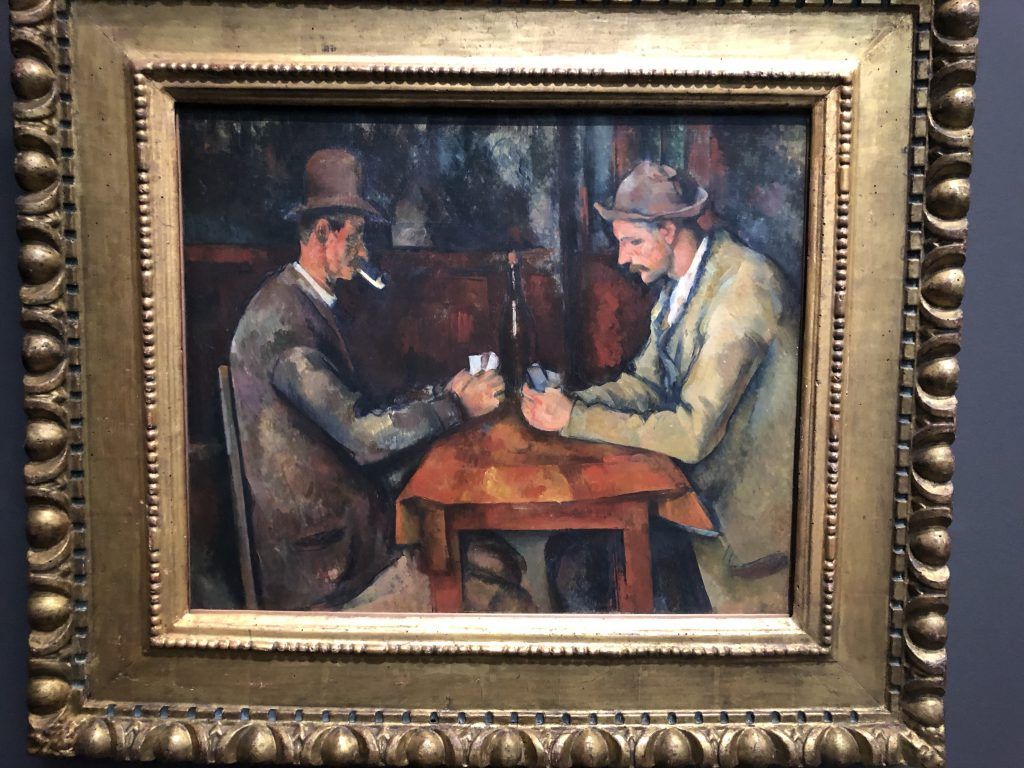 Paul Cezanne
By far one of the most famous paintings in the museum, the stunning simplicity of the painting makes it easy to take in the entire painting. Cezanne would have most certainly have been influenced by another painting called- Card Players- that was painted by the Nain Brothers and was on display in Aix where he resided in the late 19th century.
When you look at the painting, you can see that the central focal point is the bottle between the two players. The tavern where they are sitting could have been anywhere in the city of Paris, but it definitely looks like a middle class establishment. The table is bare and simple and both players are focused on their hands and what their next move will be.
The card players is actually a series of 5 paintings with this one at the Musée d'Orsay being one of the most bare-boned. Due to the amount of paintings on this subject, many question if it symbolizes here the artist himself with his Father and trying to get acceptance from his father for his painting overall.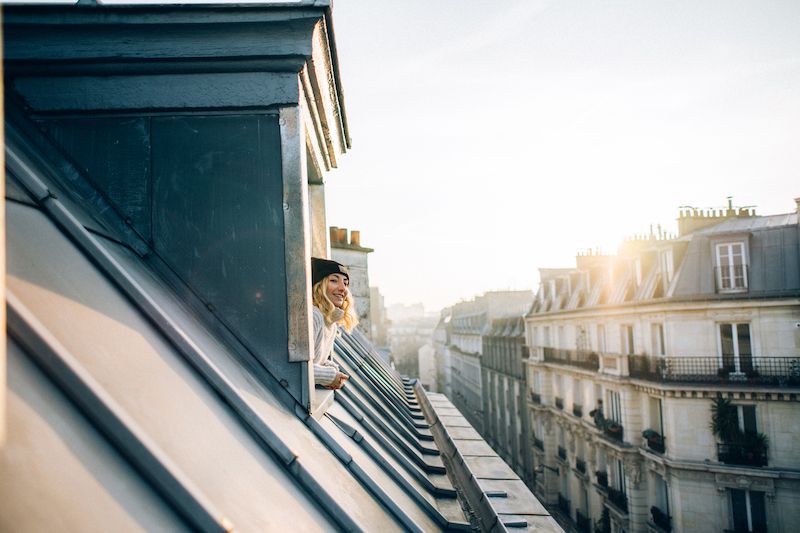 Find the best places to stay
Where to Stay in Paris
With a city as magnificent as Paris, it can be hard to find the perfect hotel at the perfect price. Explore the best hotels and places to stay in these incredible neighborhoods in Paris.