A visit to the historic Musée d'Orsay is a must during any Paris visit. But after you've wandered the halls filled with impressionist art, you'll likely have worked up an appetite. Fortunately, you're in Paris where great food is around every corner—the question is simply where to eat? Check out this local's list to find some of the city's best examples of French cuisine at restaurants near the Musée d'Orsay.
---
Pro Tip: Planning a visit to the Musée d'Orsay? Bookmark this post in your browser so you can easily find it when you get hungry. Check out our guide to Paris for more planning resources, our Musée d'Orsay tours for a memorable trip, and how to see Paris in a day.
11 of the Best Places to Eat Near the Musée d'Orsay
The Musée d'Orsay boasts the world's largest collection of impressionist and French art from the 19th and early 20th centuries. The museum is housed in a former train station, the Gare d'Orsay, on the Left Bank of the Seine river, not far from the Louvre Museum.
After spending a few hours in one of Paris' most important (and imposing) museums, I bet you're ready to rest for a while. And if you're hungry, you're in luck! I know just where you can eat at one of many great restaurants in the area near Musée d'Orsay.
After all, you're in the Rive Gauche (the left bank of the Seine river), so why not explore the area and the neighboring Saint Germain des Près. I'm a local who can point you to the hidden gems where to enjoy a culinary treat without accidentally walking into a tourist trap.
Pro Tip: The area directly adjacent to the museum is quite residential and there are many government buildings as well, so you can find some good restaurant options but most are either very expensive or not so good. That's why I'm recommending the short walk to the Left Bank to find a larger selection of tasty cuisine for any taste and budget.
Not ready to book a tour? Find out how to visit the Musée d'Orsay.
Restaurant Musée d'Orsay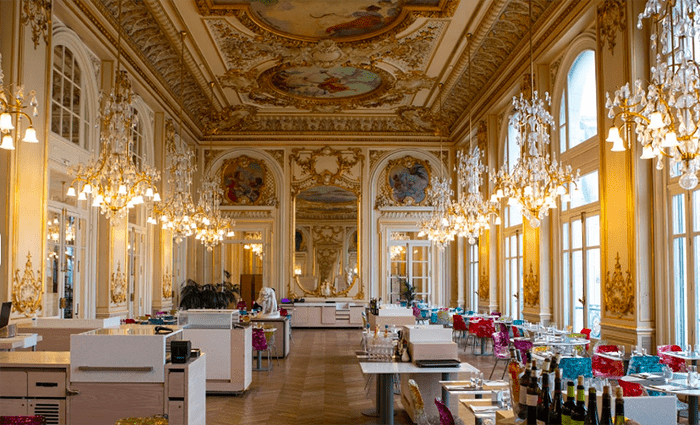 €€€ | French Cuisine | Belle Epoque Salon
You can't go closer to the Musée d'Orsay than the actual restaurant inside the museum. Located in an opulent 1900 Belle Epoque salon, this is the perfect option for those spending most of their day in the museum and prefer to stay onsite while they take a lunch break.
It is a bit pricey and while the vibe can seem a bit pretentious, the food is actually quite good. The traditional French cuisine menu is created by Chef Yann Landureau, who gets inspired by seasons and the museum's exhibitions. There's a very reasonably priced two-course lunch and a daily main course special.
Address: 1 Rue de la Légion d'Honneur
Le Relais de L'Entrecôte
€€ | Meat Specialists | Classic Spot | Excellent Desserts
This spot is a classic in Paris. It's less than 15 minutes from the museum and in the heart of the Saint Germain des Prés neighbourhood. Le Relais de L'Entrecôte has a few locations in Paris. While competing branches claim to be the original one, the truth is that if you decide to eat at L'Entrecôte, you're guaranteed to have a delicious and hearty meal.
The restaurant doesn't take reservations so be ready to wait a few minutes outside before enjoying your meal. Depending on the time of the day, the queue can take up to 30 minutes (it's worth it). When you're seated, the servers only ask what you'd like to drink (the house's red wine is always a good option) and the degree of doneness of your entrecôte.
Your meat will be served in a pepper buttery sauce, with one reserve possible, and unlimited french fries. If you can manage it, I recommend you save some room for one of their impeccable desserts. They're quite big so consider sharing.
Address: 20 Rue Saint-Benoît
Au Pied de Fouet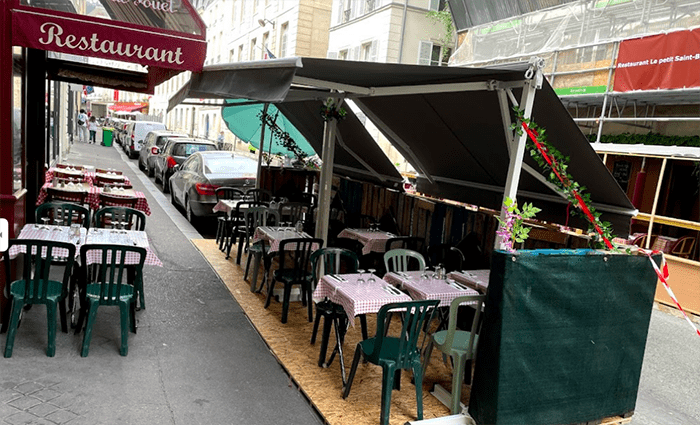 € | Traditional French Cuisine | Casual Dining
A few metres away from the Relais de l'Entrecote, you can find a hidden gem of the neighbourhood: the little French restaurant Au Pied de Fouet. This is an old-school restaurant, where you can find very well-priced traditional French dishes. It's the sort of small, cosy spot where you'd dream of warming up on a cold day.
On the menu, you can find entrees like the Paté de Campagne or the Rillettes d'oie, a small selection of main courses (I recommend the Confit de Canard) and a daily special. Save some room for a course of cheese and a dessert–the Tarte Tatin is delicious.
Address: 3 Rue Saint-Benoît
Not ready to book a tour? Find out what our clients had to say about the food tour.
Yen
€€€ | Authentic Japanese | Minimalistic
If you're a bit tired of heavy French food, why not take a pause at Yen, another great spot of rue Saint-Benoît but with an Asian flare. A favourite with locals, Yen offers authentic Japanese dishes in a minimalistic and elegant environment.
Everything is handmade in house, and their specialty is soba noodles. They also have a great selection of sake, which the servers help you choose if you're a novice.
Portions can be quite small so if you have a big appetite, you might need to order several starters. The dishes are very beautifully presented so if you're looking for an Instagramable meal, this is a good option.
Address: 22 Rue Saint-Benoît, 75006
Saint Pearl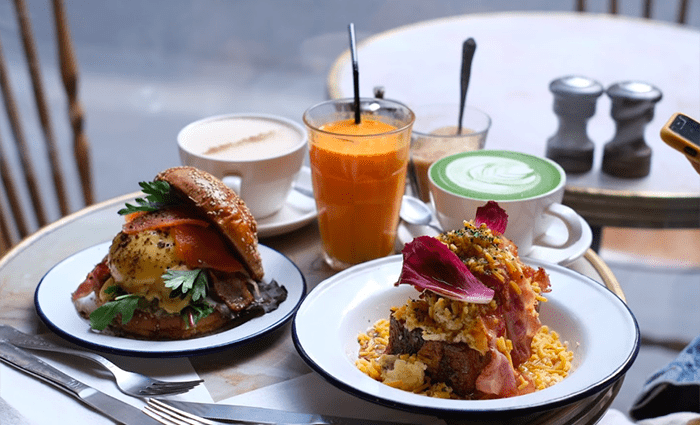 €€ | Brunch | Cozy and Small | Vegan and Gluten Free Options
This is the sort of spot that becomes Instagram famous, which causes daily queues outside its small location. However, there aren't always lines, and the buzz is backed by actually good food. The restaurant doesn't take reservations (hence the queues) and has very limited seating.
You can order very photogenic and generously sized brunch dishes like avocado toast, burger Benedict, or a burrata toast. The star of the menu however are their decadent pancake towers which are not only super cute but vegan and gluten free.
Address: 38 Rue des Saints-Pères
La Calèche
€€€ | French Bistro | Outdoor Seating | Romantic Vibe
One of the few good restaurants in this particular area, La Calèche is a modern French bistro with a young vibe. It used to be a very old, traditional restaurant until it was renovated by a young French restaurateur, Jean-Baptiste Varenne. The menu was also renewed and today you can find some hearty French dishes with an Asian twist.
I enjoyed the beef tataki entree and the octopus, but be sure to check the menu online before you go. They often change their menu as well as their wine menu, which is quite extensive. It's a great spot for a romantic dinner.
Address: 8 Rue de Lille
Not ready to book a tour? Find out how to visit the Musée d'Orsay.
LouLou
€€€ | Mediterranean Food | Relaxed and Elegant | Outdoor Seating
If you're looking to return to the Rive Droite after your visit to the Musée d'Orsay, LouLou is one of the best options for a lunch under the sun. They do have lovely indoor seating as well (inside the building of the Musée des Arts Decoratifs), but the main attraction of this restaurant is its huge terrace, in the heart of the Tuileries garden. Perfect for lunch on a warm spring day or a late summer dinner.
The menu offers Mediterranean food, which includes pizza, pasta (the vongole is quite good), beef, and fish. Their wine menu has a great selection of white wines and their sparkly signature cocktails are the perfect drink for a relaxed afternoon. This is a great spot for people watching, especially during fashion week.
Address: 107 Rue de Rivoli
Marzo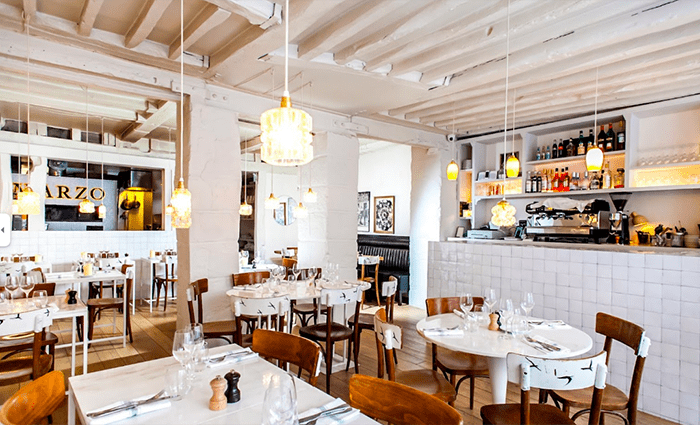 €€ | Italian Bistro | Pizzeria
This Italian spot is very popular with locals for a casual dinner. Its unpretentious menu consists of a variety of starters meant to be shared and classic Neapolitan pizza. The restaurant is also famous for its calzone and their ice cream selection.
The bistro's decoration of white tables, walls and roofs, mixed with the wood of the parquet and the chairs, give it a relaxed minimal vibe. The kitchen closes at 2:30 pm for lunch so be sure to get there some time before that. At night, it's a good spot for a quiet dinner with wine.
Address: 5 Rue Paul-Louis Courier
Café Varenne
€€ | French Bistro | Relaxed and Refined
A true local hideout. This bistro—half-way between the Musée d'Orsay and Le Bon Marché (luxury department store)—is a warm, refined spot for French food with a chill vibe.
At lunch, you can get traditional dishes like an entrecôte or a bavette (meat cuts), beef tartare or haddock with lentils. In other words, this is not a very vegan-friendly spot. In the late afternoon, get a planche of cold cuts or cheese, that will pair perfectly with a bottle of wine, for a relaxed chat with a friend.
Waiters are older Parisian men and they often make jokes while they serve you. It's great because they give the restaurant a more laid-back and friendly atmosphere. It is definitely a favourite neighbourhood haunt.
Address: 36 Rue de Varenne
Le Vin de Bellechase
€€ | French Bistro | Great Location
This is a cosy, traditional, authentic French bistro frequented by locals who work in the neighbouring government offices at lunch—and by groups of friends or dates at dinner. There's limited outdoor seating, but I'd recommend seating inside where the vibe feels more intimate. There's a wall of French notables in cartoon form to check out.
The menu includes classic dishes like escargots and beef tartare. Plus, there's a two-course lunch proposed for a fixed price. Even if the service can be slow when the restaurant is full, the wait is worth it. Just be sure to have enough time in your schedule to enjoy a nice meal and a glass of wine—a must with most of the dishes.
Address: 20 Rue de Bellechasse
Brasserie Le Bourbon
€€ | Elegant Brasserie | Good for Groups | Terrace
Its location, right across from the Assamblée Nationale, makes it a favourite spot for politicians, cabinet members, and all the people who gravitate around them. But this brasserie is also located in somewhat of a restaurant desert—rare for Paris—where good culinary options are few and far between. And while the service is quite refined, the vibe is easy and friendly—especially at night.
Besides the vibe, the menu is quite large and it includes options for vegetarians and children, as well as options to share during the aperitif hour in the late afternoon. You can enjoy drinks with friends on the terrace. Afterwards, you're perfectly located for a stroll towards Place de la Concorde.
Address: 1 Pl. du Palais Bourbon
Not ready to book a tour? Find out how to visit the Musée d'Orsay.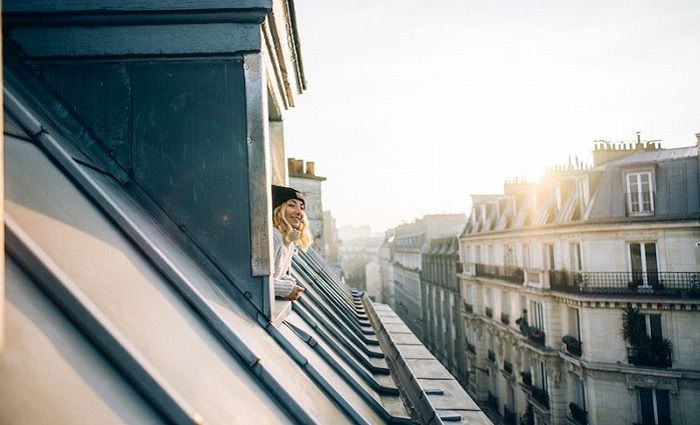 Find the best places to stay
Where To Stay in Paris
With a city as magnificent as Paris, it can be hard to find the perfect hotel at the perfect price. Explore the best hotels and places to stay in these incredible neighborhoods in Paris.