Guess who the greatest collector of Picassos in the world is—it's Picasso himself, as he once boasted! If you're a fan, a visit to the Musée Picasso in Paris is a must. It houses the largest public collection of Picasso's art, plus pieces from his personal archives including sketchbooks, letters, photographs, and more. Here's everything you need to know about how to visit the Musée Picasso in Paris.
---
Pro Tip: Planning your trip to Paris? Bookmark this post in your browser so you can easily find it when you're in the city. Check out our Paris Guide for more planning resources, our top Paris Museum tours for a memorable trip, and the top things to do in Paris.
Visiting the Musée Picasso in Paris: What We'll Cover
The name Picasso is practically synonymous with the words "modern art" and "Paris." That's why the Musée Picasso is a must-see stop on your Paris visit. The Spanish-born artist spent nearly 50 years of his life living and working in Paris.
At this museum, you'll get the real story behind Picasso's long, remarkable artistic career. But first, let's get you there. In this guide, here's what we'll cover:
Musée Picasso Opening Hours and Tickets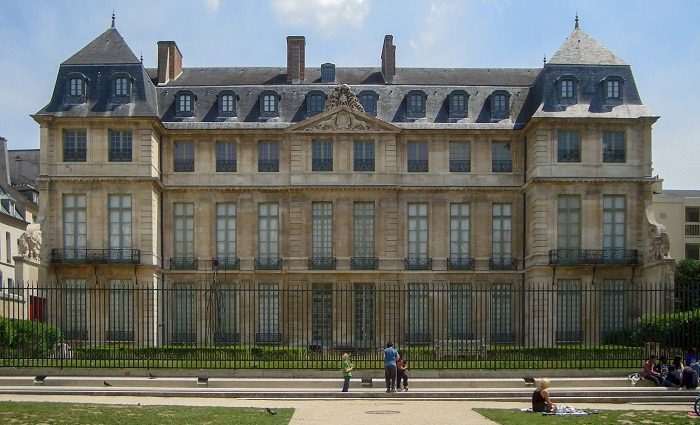 Opening Hours:
Open: Tuesday through Friday: 10:30 am to 6 pm; Saturday and Sunday: 9:30 am to 6 pm; Last entry is at 5.15 pm
Closed: Mondays, January 1st, May 1st, and December 25.
Tickets:
Online booking is available on the museum websites at least 30 minutes before your visit. There is a €1 fee for booking tickets online. Ticket prices include the temporary exhibitions and permanent collection.
Adults (18+) €14
Reduced ticket (1 or 2 adults with a child) €11
Under 18: Free admission
Pro Tip: I do not recommend waiting to buy your ticket at the museum ticket office. The museum is relatively small and maximum capacity means a time slot and date can sell out. You don't want to arrive at this gem of a museum only to be turned away. So, book online in advance.
Facilities:
There's a cloakroom that's free to use for all ticket holders. Do not bring luggage to the museum. Limit your personal items to a purse or camera case–nothing too large. For security reasons, backpacks are not allowed in the museum.
Address: 5 Rue de Thorigny, Paris
How Much Time To Budget at the Musée Picasso
Short answer: 1 hour
The Musée Picasso in Paris holds the largest public collection of art by Picasso. Also, it holds thousands of objects from his personal archives. This includes everything from sketchbooks, letters, photographs, and more.
At any given moment, the museum displays masterpieces from his very long career. Temporary exhibitions often include works by artists inspired by Picasso or art that he collected. So, plan to spend at least an hour being amazed!
Not ready to book a tour? Check out our best Paris tours to take and why.
How To Get To the Musée Picasso in Paris
The Musée Picasso in Paris is located in a beautiful former mansion known as the Hôtel Salé. It was built in the mid-17th century and repurposed in the late 1970s to house the museum's extensive collection.
The museum is located in the chic and trendy neighborhood of central Paris called Le Marais. You'll love exploring this old neighborhood. There are numerous ways to get there. I'll explain your options in detail below.
The Paris metro and buses are very easy to navigate and are an inexpensive way to get around the city. City passes are available online through the official Paris public transit site, the RATP.
You can also buy single-ride and multi-ride tickets in bulk at most metro stations. While you're at the station, ask for a map from the ticket seller. Or you can download bus and metro maps onto your phone from the RATP site.
Metro
The metro is the easiest way to get around Paris. Three different Paris metro lines stop near the Musée Picasso: Line 1—Saint-Paul; Line 8—Saint-Sébastien Froissart; Line 8—Chemin Vert.
Pro Tip: Paris metro tickets are pretty small and easy to misplace. Play it safe and put your validated, one-ride ticket somewhere safe so you don't lose it as you hop on and off the Metro. Transit police will sometimes check passengers' tickets as they're leaving metro stations, so be vigilant. In a few large stations such as Chatelet-Les Halles, you will need your validated ticket to exit.
Bus
Several bus lines have stops near the Musée Picasso: 29 , 67, 69, 72, 75, 76, 96.
Bike (Vélib)
If you're a confident urban biker, then consider biking. You can rent a traditional bike or an e-bike through Paris' Vélib bike share. That's easy to do since there are 1,400 or so docking points in the city.
Also, 40 percent of the bikes are now electric, which makes them an environmentally friendly option too. The closest bike station to the Musée Picasso is the Perle/Vielle du Temple number 3008.
Pro Tip: Paris has many miles of dedicated bike lanes. Also, the city keeps adding more of them. Some districts are car-free, too. The Vélib program doesn't rent helmets so you'll need to bring your own.
Driving and Parking
It can be challenging to drive in Paris because the streets are almost always busy. Also, finding parking spots in the historic center is nearly impossible. In addition, parking lots can be expensive and metered parking on the streets may be confusing to figure out. Open spots are hard to find. Consequently, I don't recommend driving to the Musée Picasso.
If you do decide to drive, there are several parking garages near the museum: Parking Public Temple, 132 rue du Temple, Parking Marais, 7 rue Barbette, Parking Beaubourg Horloge, 31 rue Beaubourg.
What To See and Do at the Musée Picasso in Paris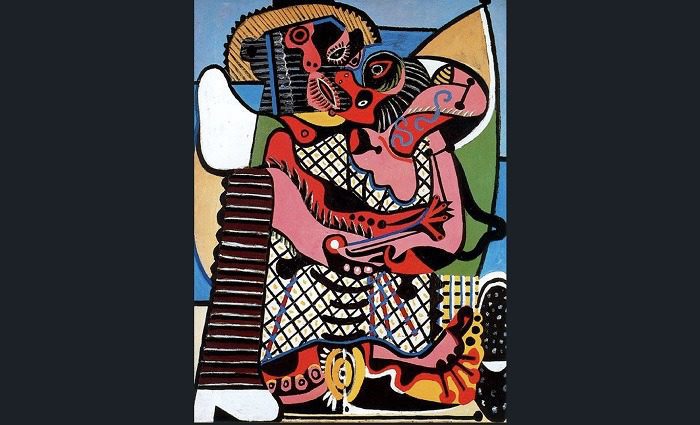 The Musée Picasso holds over 5,000 artworks by Picasso, one of the undisputed great masters of modern art. The collection includes paintings, ceramics, sculptures, and prints. Additionally, Picasso's family donated an extensive personal archive of letters, sketchbooks, photographs, and more.
Because they have so much art at their disposal, the Musée Picasso rotates artworks in and out of display. However, there are several masterpieces you'll want to see. The museum is spread out over four floors and there is usually a temporary exhibition on the ground floor.
For more detailed descriptions, check out the most famous pieces of art at Musée Picasso. Here's a short list of some of the major works you won't want to miss:
Paul as Harlequin (1924)
Man with a Mandolin (1911)
Self-Portrait (1901)
The Two Brothers (1906)
Head of a Woman (Fernande) (1909)
Still-Life with Caned Chair (1912)
Still-Life with Pitcher and Apples (1919)
The Kiss (1925)
Woman in the Garden (1929)
Portrait of Dora Maar (1937)
Tour Options for the Musée Picasso in Paris
The Musée Picasso in Paris may be small but it's full to the brim with artworks and history. The museum offers a variety of tour options, including a self-guided tour. The museum believes strongly in engaging with the public in some really creative ways. So, you should try to take advantage of some of these amazing opportunities.
Before booking a tour online, be sure to take note of the days when a given tour is offered. Here's a breakdown of what they offer and the prices:
Group Tours for Individuals
Check the museum's website for the current tours. Some are permanent while others are specific to temporary exhibitions. Tours last around 1 hour and 15 minutes. The price is €4 in addition to the admission fee. Special tours like the one where you make your own drawings based on Picasso's artworks cost more and last longer.
Group Tours for Families
Tours for families also vary. There's usually a tour geared toward the current temporary exhibition. My favorite tour for families is Hunting for Portraits. It's a kind of detective mystery where kids try to identify the people in different portraits by Picasso. It's appropriate for children ages 7 to 11. Days when the tour is offered vary depending on the time of the year. The cost is €10 per kid.
Audio Guides
Audio guides are available in French, German, Chinese, Spanish, and English. You can pay the additional €5 for the audioguide when you purchase your admission ticket.
Museum Brochure and Map
You can download the printed guide to the museum, which includes plans for each floor. Alternatively, you can pick up one of the printed guides at the museum.
Not ready to book a tour? Check out our Paris Guide for more resources.
Facts and History of the Musée Picasso in Paris
The Musée Picasso holds an important place not just in art history but in French history, too. And so does Picasso! The former director of the museum, Gérard Régnier, provides some fascinating facts about the museum and its historic locale in a book about the collection from 1194.
The Hôtel Salé was a grand mansion before it became the museum. Ironically, a lot of its residents rented rather than bought.
The building got its name from its original owner's occupation, Pierre Aubert. Aubert collected salt tax for the king. Salé means "salty" in French!
The building was seized by the state following the French Revolution. It was converted into a school, which famous writer Balzac attended.
According to the Musée Picasso, the grand staircase is the great treasure of this building. It was based on a design by Michelangelo for his Laurentian Library in Florence. It has been completely restored. Don't forget to look for it!
In 1974, the French Department of Historic Monuments decided the Hôtel Salé was the perfect site for the Picasso Museum. Picasso lived in several grand mansions in France and painted many famous works of art in them. So, it only seemed right that some of those artworks should live in this grand mansion in Paris.
According to Régnier, there are more than 5,000 artworks in the Musée Picasso. In many cases, the museum preserves objects related to the production of these artworks, such as sketches and prints based on paintings.
Picasso was a well-rounded artist: He painted, sculpted, made prints, illustrated books, and so much more.
Picasso once boasted, notes author Gareth Harris, "I am the greatest collector of Picassos in the world." By the time he died in 1973, the artist had a huge collection of his own art.
Often, Picasso based works of art on previously-made art. Some of his interests were African masks and sculptures and ancient Iberian (Spanish) sculptures. He collected these objects but he also bought art from his contemporaries. In his collection and now at the Musée Picasso are artworks by Cézanne, Renoir, Degas, Matisse, and others.
Places To Eat Nearby
The Musée Picasso is located in the Marais neighborhood in the 3rd arrondissement. That means it's in the very heart of old Paris. Restaurant options are unbelievably abundant. However, here are a few nearby that I've enjoyed on numerous occasions.
Le Café des Musées: €€€—I absolutely adore this place. It's one of my Paris favorites. I always make a point to eat here before or after I visit the Musée Picasso. Try whatever is on the lunch menu. Or, have the warm goat cheese salad for a starter. Then, go for the Bœuf Bourguignon. It really is the best in Paris (as they boast). Finish with the crème caramel.
L'As du Fallafel: €—A 7-minute walk south to Rue des Rosiers gets you to the best falafel sandwich in Paris. Rue des Rosiers lies at the center of the old Jewish quarter. Keep it simple with a falafel sandwich with fries and a beer. Note that this place can be really busy at lunchtime, so you can always get your sandwich to go. Then you can enjoy a stroll through this scenic neighborhood.
Khao Thai Sévigné: €€€—For the best Thai food in the neighborhood, you can't go wrong with Khao Thai Sévigné. It gets consistently excellent reviews. I recommend the salad with vermicelli, shrimp, and lemon sauce for a starter. The chicken and coconut milk soup is fantastic. For an entree, try the duck in red curry sauce. Honestly, it's all good!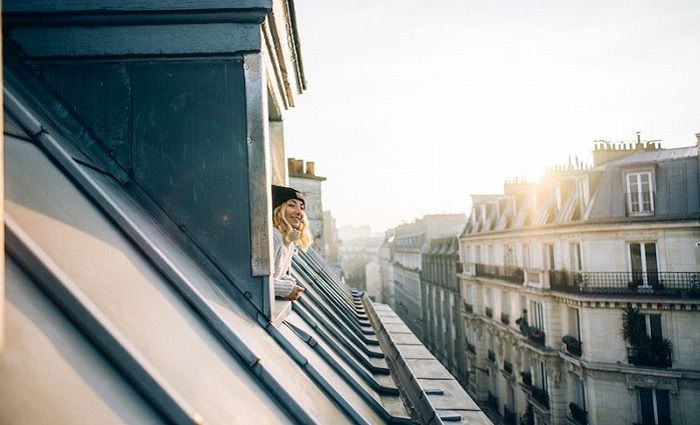 Find the best places to stay
Where To Stay in Paris
With a city as magnificent as Paris, it can be hard to find the perfect hotel at the perfect price. Explore the best hotels and places to stay in these incredible neighborhoods in Paris.