Visiting the Palace of Versailles and looking for a great place to eat? Have no fear, our local guides have compiled this list of the best restaurants on the Palace of Versailles grounds and nearby!
---
Best Restaurants and Places to Eat in Versailles, France
Pro Tip: When you find helpful content bookmark it in your browser. Check out our free online guide to Paris and Versailles which are booth worthy of a bookmark!
La Veranda*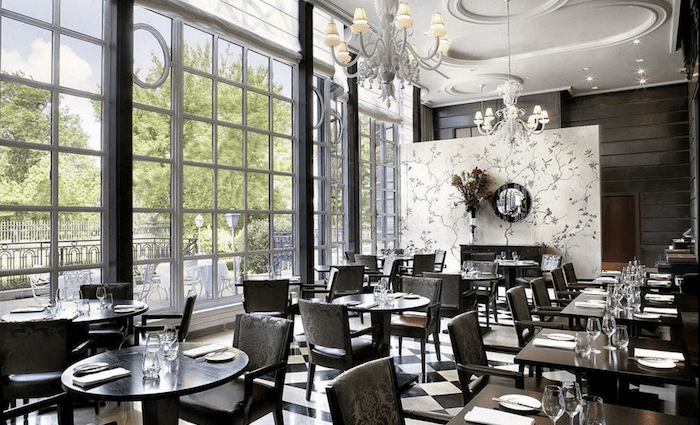 €€€€ | Michelin Star | Chic | In Versailles Gardens
Depending on my travel budget, this is going to be my pick. There is actually a Waldorf Astoria in the Versailles Garden which is really cool. They have an incredible restaurant known as La Veranda.
The food is going to be expensive and delicious and the view is amazing. I would make a reservation here and don't tell your travel partner – act cool when you arrive and be like, "oh, you didn't know about this little place? Just so happens there is a Michelin Star restaurant on the property with a menu by Gordon Ramsey."
Yes, it does sound crazy that there actually is a Michelin Star restaurant on the Versailles ground but when you think about it the idea becomes less crazy. First, you're in France and the French always do things like this. Second, you're in Versailles which is historically one of the most opulent places on Earth. I am surprised there isn't a three Michelin Star restaurants there now that I think about it.
Location: Trianon
La Flottille
€€€ | In the Gardens | International Fare
Super cool inside-outside dining right up against the lake where you can rent a boat. If I am not eating at La Veranda, which I probably am, I would eat here.
Location: Versailles Garden
Le Petite Venise – Coffee, Crepes and Ice cream – what you'd expect when you see it.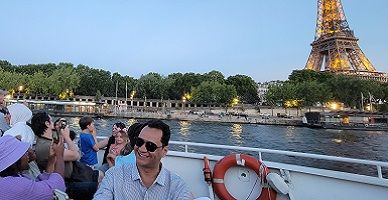 Likely to Sell out
Privileged Access Eiffel Night Tour with Seine River Cruise
Sometimes the most amazing moments happen by chance. Other times, they are orchestrated by professionals. In this case, you'll have an evening to remember as you cruise the Seine for an hour, sipping champagne and taking in the sites like Notre-Dame, the Louvre, and more. Afterwards, follow your guide past the long lines and take the elevator to the Eiffel Tower's second floor for an unforgettable view.





See Prices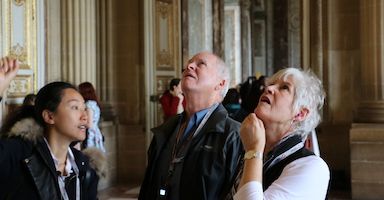 Likely to Sell Out
Skip the Line Palace of Versailles and Gardens Tour from Paris
Versailles isn't that difficult to get to by train, but why deal with the stress on your own? Our guide will meet you in central Paris, purchase your train tickets, and ensure you get off at the right stop in Versailles. With skip-the-line tickets, you'll bypass the crowds and get right into this incredible palace as your guide explains the most incredible (and controversial) history of France's favorite palace.





See Prices
Not ready to book a tour? Check out Paris Guide for more resources.
Ore – Ducasse au Château de Versailles
€€€€ | Inside the Palace | French | Upscale Dining
If it is a cool rainy day and you want a very nice meal, this is it. Reviews are not what you'd expect but this a Ducasse restaurant so ignore them. Most refer to waiters being condescending which are as Parisian as it gets and comes with the territory.
Location: Inside the Palace of Versailles
Brasserie del la Girandole
€€ | Light Fare | Inside the Palace
This is a great place to grab a salad or burger in the gardens. It is a hit with tourists.
Location: Inside Versailles Palace
Le Pinceman
€€€ | Upscale | French
The chef of this great restaurant was born and raised in Versailles. He also won the Top Chef award in 2016 and he earned a Michelin plate – I think that says enough about the chef, but what about the food itself?
They offer a lunch and dinner menu at 40€ and 70€ respectively ( excluding wine). The staff is extremely courteous and the food is simply Très Bon! the menu itself is changed often and tends to include a surf and turf vibe.
Address: 10 Boulevard du Roi
Marche du Notre Dame
€ | Market
This is a great little market to buy some fresh produce and bubbly to have a Versailles picnic. If you are planning on visiting the gardens first, stop by here and grab some fresh food and bubbly to "elevate" your experience.
Le Table du 11
€€€€ | Fine Dining
Versailles up until a few years ago wasn't really known as a place for fine dining and really good food. That has definitely changed and what better place to experience that than this restaurant.
The cuisine is Modern French and is truly a delight. Over 70% of the products they use come from their own gardens and even the wine selection will be mostly of the organic variety. The menu is a 4-course meal for lunch at 55€ and dinner is a 6 course at 100€- both excluding wine. If you want to splurge one day or night in Versailles, this is the place to do it.
Address: La Cour des senteurs, 8 Rue de la Chancellerie
Gaberem Bistro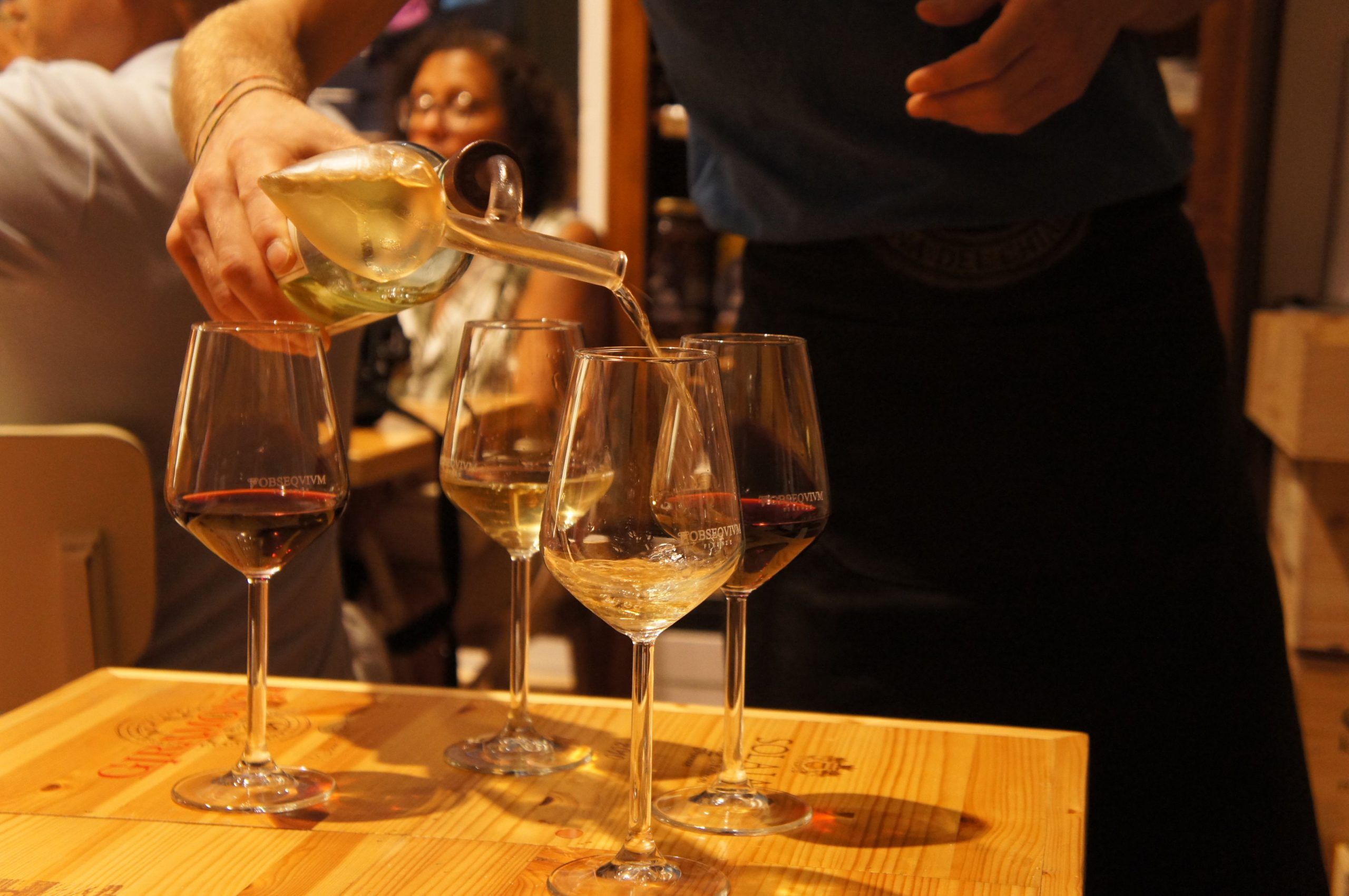 €€ | Bistro | Outside Versailles
Gaberem is quite refreshing since it's not right next to the palace. Therefore you will mingle with a mostly local crowd. Since the place is quite small as well, you might get a visit from the owner as everyone there is super nice.
The cuisine is modern French and is also vegetarian friendly. The menu changes often and as you walk in you will see a big blackboard with the specials for the day. After a long day walking around Versailles, pop on by for a casual dinner.
Address: 62B Rue Albert Sarraut
Chez Tiouiche
€€ | Moroccan Cuisine | Outside the Palace
I know what you might be thinking—when I am in France, I want French food. I will agree with you often, but France has a historic connection to Morocco and it would be amiss not to add this suggestion. This place is lovely and is also extremely close to the Palace of Versailles, so super convenient.
If you have never tried Moroccan food, then it is time. The dishes with couscous will delight your eye and your palate. From exotic salads to Tagine, you will thank me afterwards. An additional bonus is the superb price/quality ratio.
Address: 4 rue Saint Julien, 78000, Versailles France
Monument Cafe
€€ | Cafe/Bistro | Outside the Palace
So the easiest way I can describe this would be a gourmand Caffetteria. Let me explain before that first sentence puts you off. In France you have what's called Traiteurs, which is where the food is pre-cooked and then heated up. The quality is quite high in general and here is no exception.
You have a wide choice of starters and main courses with of course various desserts to choose from. The service is buffett style so you just walk up and grab what you want. It is also super convenient, since it's a stone throw away from the Palace.
Address: 1, rue du Maréchal Joffre Quartier Saint-Louis
Our Best Versailles and Paris Louvre Tours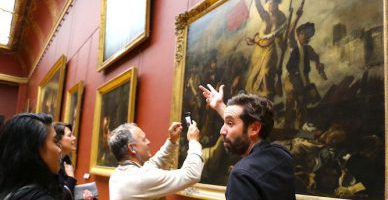 Top-Rated Tour
Secrets of the Louvre Museum Tour with Mona Lisa
The Louvre is the largest art museum on Earth and the crowning jewel of Paris, which is why it's on everyone's bucket list. Don't miss out on an incredible opportunity! Join a passionate guide for a tour of the most famous artwork at the Louvre. Skip-the-line admissions included.





See Prices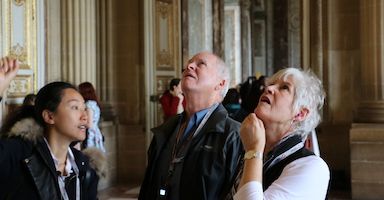 Likely to Sell Out
Skip-the-Line Palace of Versailles and Gardens Tour from Paris
Versailles isn't that difficult to get to by train, but why stress over the logistics? Meet a local guide in central Paris who will purchase your train tickets and ensure you get off at the right stop. Then enjoy a guided tour of the palace and the unforgettable gardens. Skip-the-line admissions included to the palace and gardens.





See Prices
Not ready to book a tour? Check out Paris Guide for more resources.
Au Rendez-Vous Des Touristes
€ | Bistro | Outside the Palace
So I will admit openly that the cafe scene is not the same as in Paris. There are fewer selections and most people are in and out of the city in one day. The name of this Cafe translates as " At the meeting point of Tourists", but don't let the name put you off.
The staff is friendly and the cafe has an overall jovial feel about it. Come in just to rest your feet and have a coffee, or enjoy one of their signature sandwiches.
Address: 7 Rue de la Pourvoierie
Maison Hervet
€€ | Pâtisserie | Outside the Palace
The great thing about France is that you can find great Pâtisseries in every town and city. Versailles is no exception. When the sweet tooth grabs you and you don't feel like a meal, then pop in and get some of their marvellous creations.
The great thing about Maison Hervet is that they are also a boulangerie which means that you can get your bread here is well. After your bread, then delve into the sweetness of France with some chocolates, raspberry cakes and of course. Macaroons! Their dedication to their trade shines through the 3 generations they have been here.
Address: 49 Rue des États Généraux, 78000 Versailles
Aux Pains de la Ferme
€ | Pâtisserie | Outside the Palace
Another great selection for the sweet tooth! As you walk in, you will be instantly greeted by a huge showcase of amazing sweets of every dimension and size. As the place above mentioned there is also a boulangerie here, so you can get your bread needs as well.
This Pâtisserie is a bit closer to the Palace if you are not staying in the city and just want to grab a sweet bite for the train back to Paris. You can also get small sandwiches and can therefore make it your lunch stop for the day!
Address: 9 Rue Royale, 78000 Versailles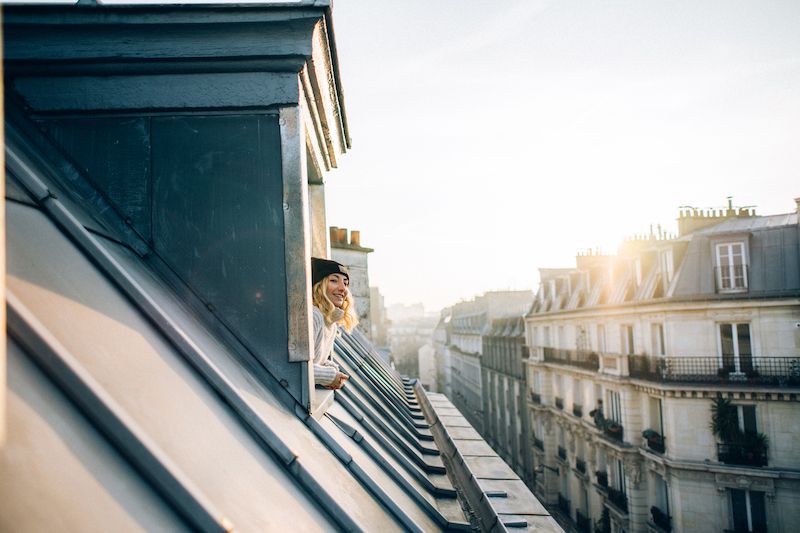 Find the best places to stay
Where To Stay in Paris
With a city as magnificent as Paris, it can be hard to find the perfect hotel at the perfect price. Explore the best hotels and places to stay in these incredible neighborhoods in Paris.