Scaling the Eiffel Tower can burn a lot of energy. When you're done you'll be searching for a great restaurant in this otherwise touristy area. Finding not just a good place to eat nearby can be a challenge. Luckily, we know all the best French restaurants near the Eiffel Tower.
---
Pro Tip: This article will come in handy when you finish an Eiffel Tower tour in Paris. Bookmark it in your chrome browser on your phone – this way you can circle back to it quick on the go.
Top 10 Places to Eat Near the Eiffel Tower
The below list not only has the best places to eat, but we let you know which are expensive, cheap, kid-friendly and if they have outdoor seating. What else do you need? Seriously, if you need anything else let us know. Tours maybe?
Mokus
€€ | Pizza | Outdoor Seating | Family Friendly
Address: 116 Avenue Kléber, 75016 Paris
Hours: Monday – Sunday: 11 a.m. – 11:30 p.m.
Great pizza made with fresh ingredients and thin crusts at reasonable prices. The ambiance is very hipster and happening, and very kid-friendly as well. We suggest you check out the bathroom even if you don't have to go, just to bask in awe at the interior decoration.
We recommend starting with the garlic bread and a few pizzas. For the main course, save tons of space for homemade pasta! Mokus offers two; beef ravioli and spinach ricotta ravioli, with pasta of the day all made from scratch inhouse. And to finish it off – pistachio crème brûlée!
Les Cocottes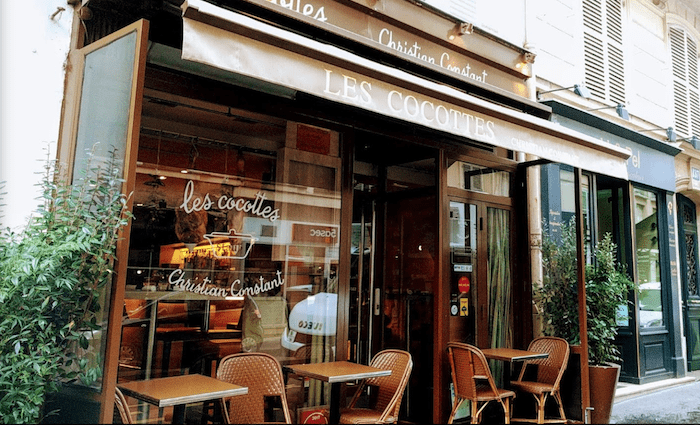 €€ | French Café | Some Outdoor Seating
Address: 135 Rue Saint-Dominique, 75007 Paris
Hours: Monday – Sunday: 12 p.m. – 11 p.m.
This is a super cool little cafe near the Eiffel Tower. Small with tables situated very closely together makes the experience pretty intimate. The decor is very modern, the service is great, and the food always has good flavoring – that makes it a great meal. The presentation is beautiful and served in cast iron pots. You're not going to feel like you're in a tourist trap here. I didn't put family-friendly simply because its a bit crowded. If your kids are well behaved, mine aren't, they'd be happy to serve them.
Start off with 6 burgundy snails with garlic butter. Next; the beef rib steak, Béarnaise sauce, marrowbone and homemade fries or codfish cooked in bouillabaisse juice, vegetable stew. To end it off, the ever-fabulous chocolate tart!
Our Best Guided Tours of Paris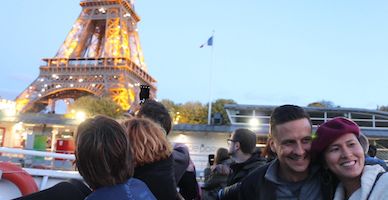 Likely to Sell out
Privileged Access Eiffel Tour with Champagne on the Seine
Sometimes the most amazing moments happen by chance. Other times, they are orchestrated by professionals. Our Eiffel tower tour cruises by the famed monument as it lights up and you drink champagne. After, you'll have tickets to enter the tower and ascend to the 2nd level with an elevator. Admissions included and we'll take care of the details… you simply pay and show up!





See Prices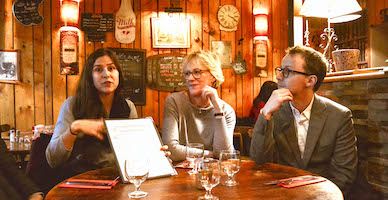 Top Selling
Le Marais Paris Food Tour with Champagne & Local French Food!
Embark on a culinary journey in Le Marais, one of the hippest neighborhoods in Paris. Enjoy a feast of French cheese, street food, boeuf bourguignon and crème brûlée, and more. This three-hour food tour combines the best of Paris' culinary heritage.





See Prices
Le Bal de la Marine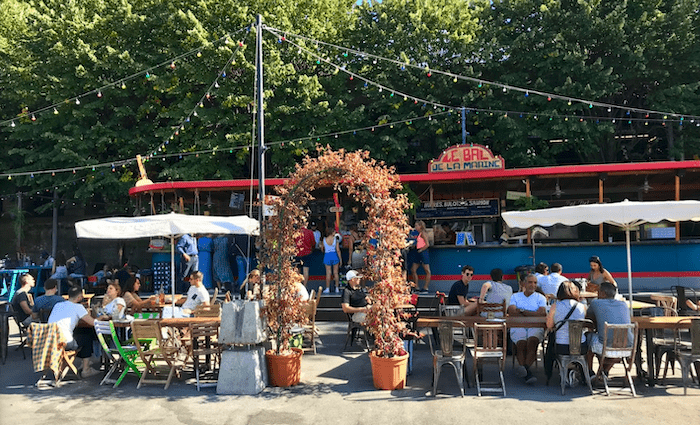 €€ | Bar & Restaurant on Seine | Outdoor Seating | Kid Friendly
This is a really cool spot on the Seine. If you get a nice warm day in Paris with some sunlight, you'll probably find me here. They serve mostly seafood but also have pizza and other French fare.
The variety is great and the management is focused on supporting suppliers who are focused on sustainability, "choosing winemakers concerned about respecting the land, brewers producing in France and French drink manufacturers who compete with multinational soda companies."
I like it!
Address: Port de Suffren
Hours: Wednesday – Friday 6pm to midnight | Saturday 4pm to midnight
Bistrot Belhara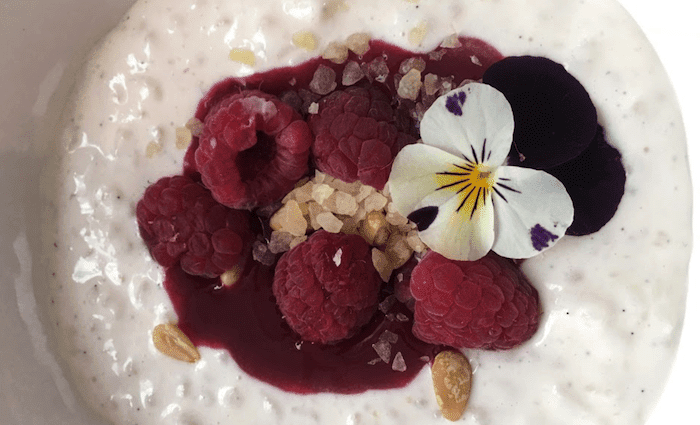 €€€ | Bistro | Some Outdoor Seating
Address: 23 Rue Duvivier, 75007 Paris
Hours: Sunday, Monday: Closed, Tuesday – Saturday: 12 p.m. – 2:30 p.m. | 7 p.m. – 10:30 p.m.
The service is impeccable, the wine pairings are excellent, and each dish is unique and delicious. It is a bit off the beaten path, but that means it is peaceful, authentic, and full of genuine talent and French cuisine.
The interior is clean and beautiful, making you want to stay for hours and hours. The menu changes per season so check online depending on when you plan ongoing.
Corso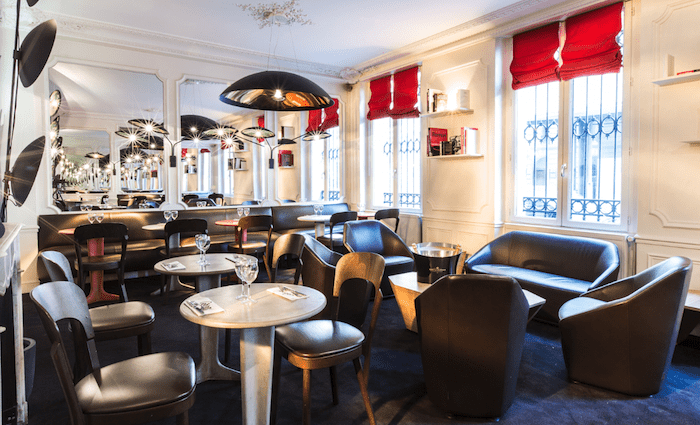 €€ | Italian Café | Some Outdoor Seating | Family Friendly
Address: 79 Avenue Kléber, 75016 Paris
Hours: Monday – Sunday: 9 a.m. – 1 a.m.
Corso is a must when you're struggling with what to have for dinner. Their pasta is great and they offer gluten-free options for all noodles as well! Not feeling pasta? Their menu is lengthy and they're open late, so grab a cocktail and try a few mozzarella dippers before digging into a plate of beef carpaccio and risotto.
Zia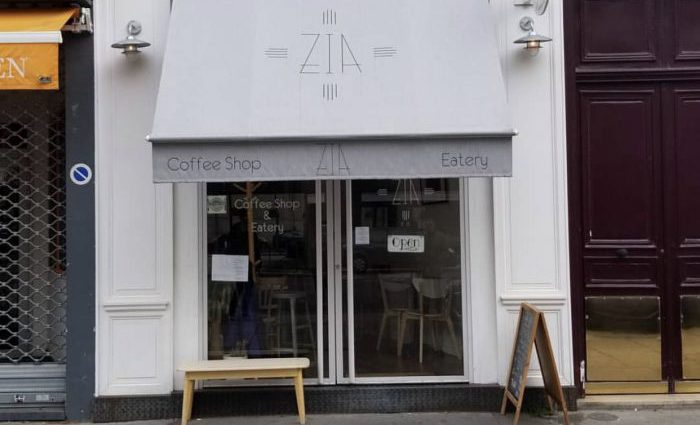 €€ | Healthy | Family Friendly
Address: 22 Avenue de Tourville, 75007 Paris
Hours: Monday – Sunday: 10 a.m. – 4 p.m.
Probably the best breakfast or brunch near the Eiffel Tower. The owner is very hands-on, which gives the experience a very personal touch on top of amazing food. It also makes it a great family restaurant to try out.
They even make their own almond milk! Definitely try the dutch pancakes.
Le 48
€€€ | On Eiffel Tower | Family Friendly | Outdoor Seating
Address: The Eiffel Tower, 1st Floor Paris
This restaurant is currently closed. The website says that it will reopen at the beginning of 2021. For many who can't travel to Paris right now, it changes little. If you are looking to make reservations, check the website frequently.
The price tag for your meal will sit around 75€ per person so it is something to consider. I am a bit of a bon vivant when I travel so I would reduce my hotel budget by 75€ and use those funds for this memorable experience. What do you get?
Priority access to 1st level of Eiffel Tower
A very high-quality meal crafted Thierry Marx who received two Michelin stars at Sur-Mesure
An experience you will not forget.
For me, it is a no-brainer. If you can plan ahead far enough to get the reservation, you should save the extra 150€ for you and another person to enjoy this experience.
Le Jules Verne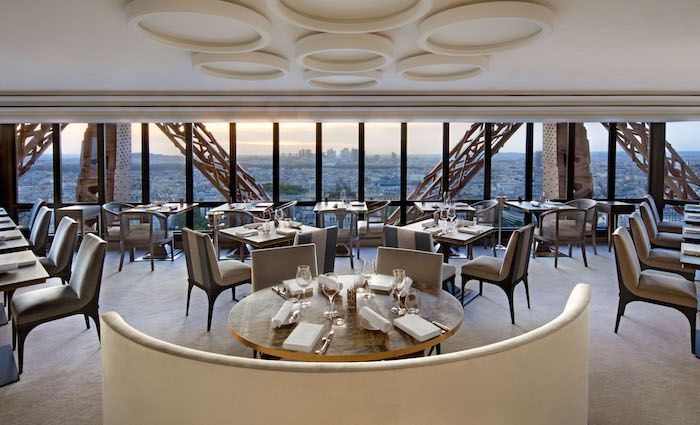 €€€€ | On Eiffel Tower | 1 Michelin Star
Address: The Eiffel Tower, 2nd Floor Paris
The definition of bon vivant is a person who enjoys a sociable and luxurious lifestyle. The photo next to it had better be someone eating a meal at Jules Verne. Jules Vern will run you 190€ – 230€ per person for dinner excluding beverages. The prices reflect a five-course and seven-course menu respectively and are without a doubt worth the price if you can afford it. Not just the quality of food but the meal you will never forget.
This is a starting point as you are going to want a drink. So, if you can, you should. Let this be your reward for a successful year or positive life event but know going into it that you will spend a pretty penny. They have a more affordable, he scoffs, menu at 105€ for lunch excluding beverages. It is a 3-course tasting menu that makes a very pleasant experience.
The restaurant has succeeded in receiving 1 Michelin star under all four chefs who have run Le Jules Verne. You can go through their official website. They release timeslots 90 days in advance so forget about booking a year ahead.
You have two choices, the Main Rooms (looking at the city) and the Alcove (looking at the interior). Main Rooms obviously go first although the website tries to sell the benefits of the Alcove.
You can sit down for lunch at 12 to 1:30 at 15 minute intervals.
Dinner sit down times are 7, 7:15 & 7:30 pm. Expect a magnificant 3 hour dining experience for the 5 course menue and longer for the 7 course menu.
Check Out Our Best Eiffel Tower Tours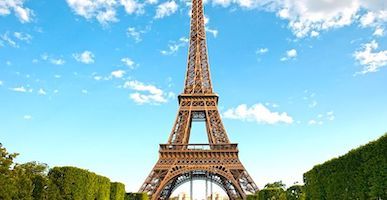 Top Rated Tour
Skip the Line Eiffel Tower Climbing Experience with Summit
Join us for a unique climbing experience of walking up the Eiffel Tower by the stairs instead of the elevator! Taking the stairs creates a special perspective of watching the beautiful city of Paris open up before your eyes. In your small group, your knowledgable guide will fascinate you with interesting stories as you climb up.





Starting at €62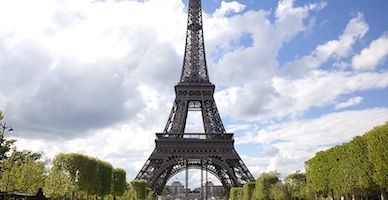 Top Rated Tour
Skip the Line Eiffel Tower Climbing Experience
Experience new perspectives from Paris' most iconic landmark: the Eiffel Tower. By climbing the Eiffel Tower by stairs you will witness views that most visitors don't get to see since most elevator tours skip the 1st floor. Make your trip more memorable as your tour guide makes you laugh and have you in awe with great, insider stories about the Eiffel Tower.





Starting at €49
Cafe de l'Homme
€€€€ | Outdoor Seating | Upscale
Address: 17 Place du Trocadéro et du 11 Novembre, Paris
You could say this upscale bistro is more about the view than the food but many would say it's about both. Just across the river located on Place de Trocadéro this treat would definitely impress that special someone. Be sure to reserve a table with a view in advance or you will only see part of the experience.
Arnaud Nicolas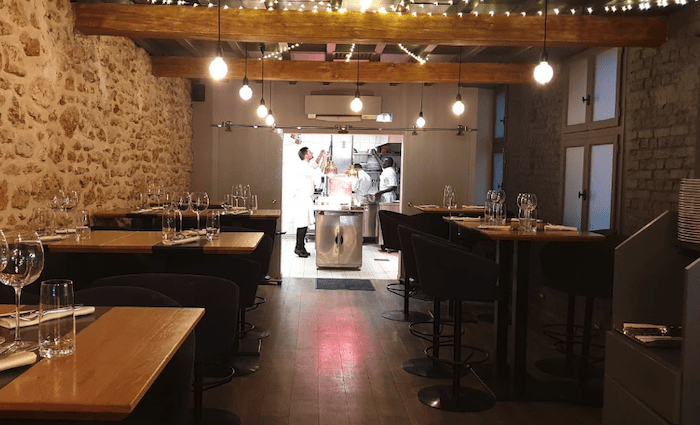 €€€ | Steakhouse | Upscale
Address: 46 Avenue de la Bourdonnais, Paris
Enjoy a cut of meat? This institution has earned the most prized awards in France for the preparation of pâté and foie gras among other dishes. This is a special meal so make reservations and come hungry.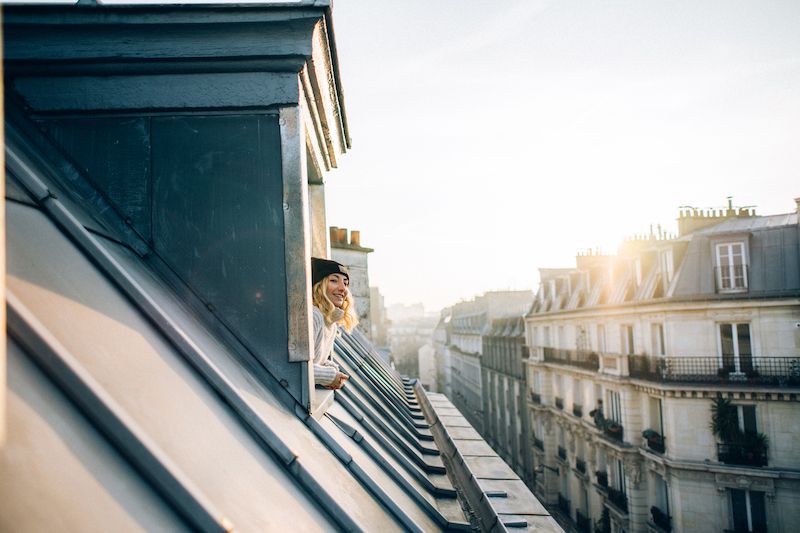 Find the best places to stay
Where to Stay in Paris
With a city as magnificent as Paris, it can be hard to find the perfect hotel at the perfect price. Explore the best hotels and places to stay in these incredible neighborhoods in Paris.