Planning to visit the Eiffel Tower and you're wondering if there is more to it than an elevator? The Eiffel Tower feels more like a small city with restaurants, café's, shops, and even a champagne bar! This article lists out the top things you should see and do while visiting the Eiffel Tower.
---
Pro travel tip: If you're heading to Paris, bookmark this article in your browser so you can circle back to it when you're climbing the Eiffel Tower! We also offer an array of highly-rated Paris tours which feature some of the city's most famous landmarks including the Eiffel Tower.
16 Things You Shouldn't Miss at the Eiffel Tower
This article is pretty rare in its existence. Most articles talk about having a picnic on Champ de Mars or what to do near the Eiffel Tower, which we also have but our goal in writing this was to list things to do while actually inside the Eiffel Tower. Hopefully, it helps you figure out what type of tickets to purchase and how to visit. Check out our beautifully designed page dedicated to the Eiffel Tower when you're done.
16. The Eiffel Tower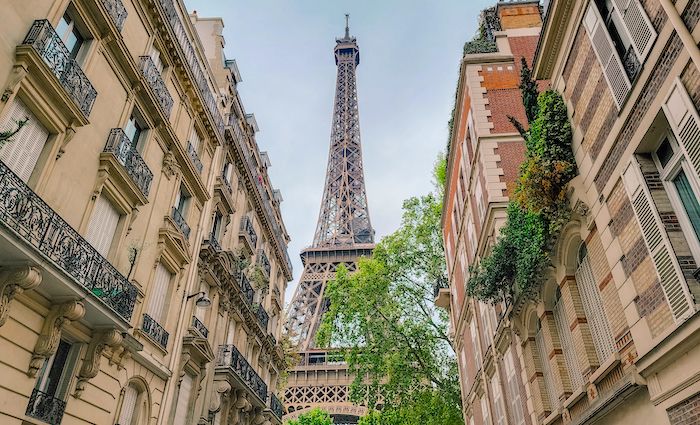 The Eiffel Tower is without argument the national symbol of Paris and possibly France. It was built for tourism and remains one of the most visited sites in the world over a hundred years after being built. Some choose to see it from the outside but like the Colosseum, Vatican, and Sagrada Familia – it's worth it to go inside.
Here are the top things to see while visiting the Eiffel Tower.
15. The Esplanade
The Esplanade is basically the ground area below the Eiffel Tower where people wait and gather before going up the tower. It is a wide-open space that used to be open but now is completely enclosed to help with security. A great spot to understand the enormity of the structure is to stand right underneath it and look up.
14. Bust of Gustave Eiffel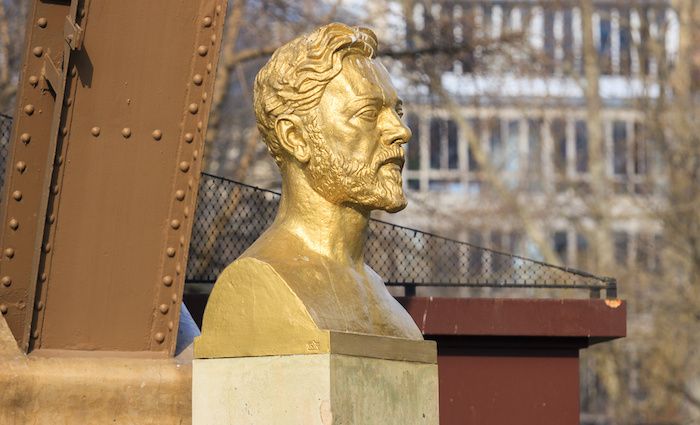 The only real attraction in the Esplanade area other than the view from below is the bust of Gustave Eiffel. If you are not familiar, Gustave Eiffel is credited for the design and installation of the Eiffel Tower. You can read the full history of Gustave Eiffel in our guide to visiting the Eiffel Tower. Scroll down to the section on History & Construction.
The bust was inaugurated in 1929 and sculpted by Antoine Bourdelle. It sits at the corner of the North food of the tower and you might as well add it to your list so you can put a face to the name "Eiffel". Its gold (most likely leaf) so it will be hard to miss.
Visiting the Eiffel Tower is more difficult than learning what to see – that is the fun part! Tickets sell out fast and the area is full of hustle and bustle. Our guided tours take the guesswork out, always include admissions, and some include Seine River cruises!
13. The 1st Level of the Eiffel Tower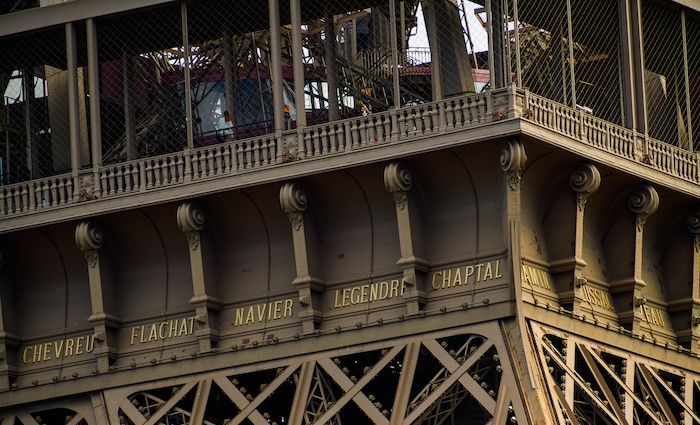 The first floor of the Eiffel Tower is an observation deck that is accessible to visitors by stairs or elevator. While you can visit this floor and not visit the others, there is no ticket for only the 1st floor. You'll have to purchase a ticket to the 2nd floor to see the first.
The first floor is 187 feet (57 m) tall and almost 15 thousand square feet of space. Fifteen thousand square feet is a very large space so the Parisians decided to add in some really cool things to do.
12. Glass Floors of the 1st Level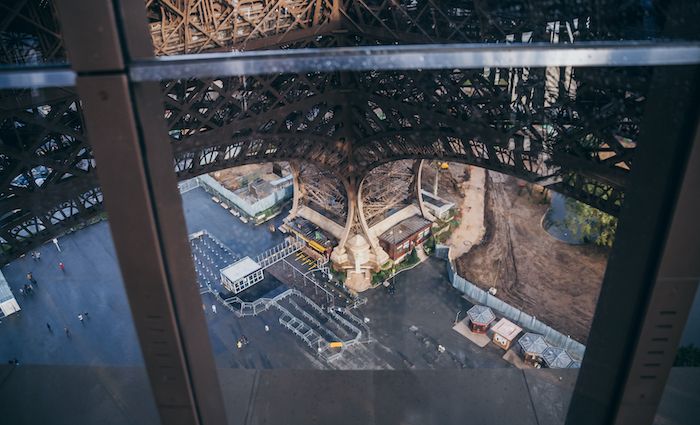 One of the highlights of the 1st floor, other than the view, is the large glass floor that allows you to look hundreds of feet below you. It also shows the interesting construction of the tower which is a theme on every floor.
11. Historical Interactive Installation (1st Floor)
Along the outer passageway of the Eiffel Tower is a historical installation that is interesting for children and adults alike. You'll see the height relationship between Eiffel Tower and other famous buildings on our planet as well as touchscreens and more. The installation is pretty cool and makes the experience much more interactive.
10. Gustave's Spiral Staircase
The original Eiffel Tower had a massive spiral staircase that used to lead up to the summit from the 2nd floor. Imagine almost 600 feet of the spiral staircase? That would be enough to make your head spin.
Eventually, the staircase was taken down and sold. I would imagine the incredibly wealthy would love an Eiffel Tower original staircase in their house. You can find one original 15 foot stretch of stairs on the first level which is an interesting red-ish color. A cool piece of history to check out while there. Imagine all the important historical figures that must have walked up at one time or another?
9. Food and Concessions
There are numerous places to eat and shop on the 1st floor's expansive deck. I highly recommend putting aside time to have a drink which could be a coffee or cocktail. Le 58, featured below, is under construction but there are a few other places to nibble.
There is also a boutique named Pavillon Ferrié which sells all the Eiffel Tower accessories you'll ever need from pens to ugly shirts and even Eiffel Tower mints.
8. The Buffet
A well-designed snack bar that serves food, drinks, and plenty of things to keep your stomach full.
Location: Esplanade, 1st floor, and 2nd floor.
7. Madame Brassiere
Madame Brassiere is the new restaurant where the former Le 58 used to be. This restaurant has just been renovated and it's worth a stop. It's a beautiful and tasty place to eat for a price, of course.
The price tag for your meal will sit around €75 per person so it is something to consider. I am a bit of a bon vivant when I travel so I would reduce my hotel budget by €75 and use those funds for this fine dining that's open all day.
Priority access to 1st level of Eiffel Tower
A high-quality meal crafted Thierry Marx who received two Michelin stars at Sur-Mesure
An experience you will not forget
For me, it is a no-brainer. If you can plan ahead far enough to get the reservation, you should save the extra €150 for you and another person to enjoy this experience.
Location: 1st floor
6. First Floor Terrace Bistro
A cool outdoor bar and restaurant is available if you're looking for a blend of casual and nice. They serve gourmet French cuisine as well as burgers, ice cream, and other easy fare. You can also get a cocktail here any time of the day which can be important when on holiday.
Location: 1st floor
5. 2nd Floor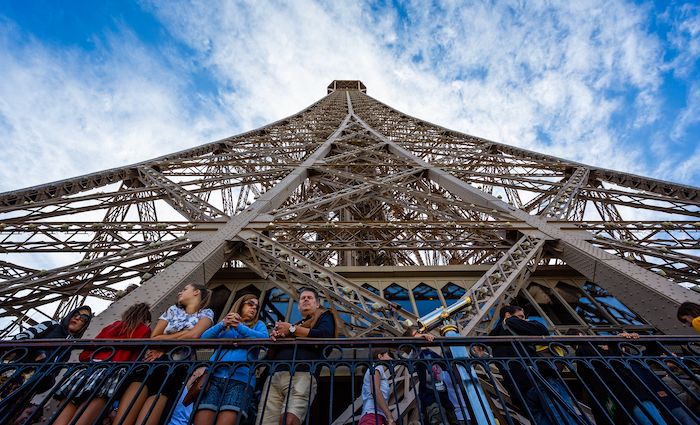 The 2nd floor of the Eiffel Tower is 377 feet tall (115 m) and just under 5000 square feet, about 1/3 the size of the 1st floor. As you get to the 2nd floor, you'll realize these levels are most dedicated to relaxation and the view. There are many places to shop and eat.
4. Le Jules Verne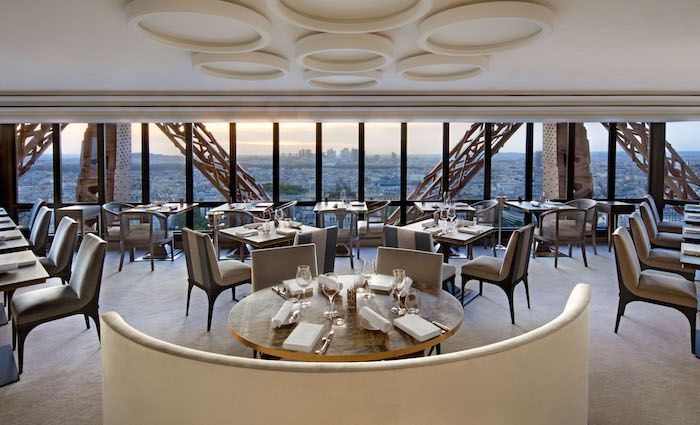 Le Jules Verne will run you 190€ – 230€ per person for dinner excluding beverages. A five-course and seven-course menu respectively.
This is a starting point as you are going to want a drink. So, if you can, you should. Let this be your reward for a successful year or positive life event but know going into it that you will spend a pretty penny.
They have a more affordable, he scoffs, menu at 105€ for lunch excluding beverages. It is a 3-course tasting menu that makes a very pleasant experience.
Eating at the Jules Verne is a special experience for anyone who can afford it. The restaurant has succeeded in receiving 1 Michelin star under all four chefs who have run Le Jules Verne.
Making a Reservation at Jules Verne:
You can go through their official website. They release timeslots 90 days in advance so forget about booking a year ahead.
You have two choices, the Main Rooms (looking at the city) and the Alcove (looking at the interior). Main Rooms obviously go first although the website tries to sell the benefits of the Alcove.
You can sit down for lunch at 12 to 1:30 at 15 minute intervals.
Dinner sit-down times are 7, 7:15 & 7:30 pm. Expect a magnificent 3-hour dining experience for the 5-course menu and longer for the 7-course menu.
3. Macaroon Bar
Like Macaroons? If you answered yes then you have yet another reason to go up the Eiffel Tower! This is a pretty simple spot to grab some of these French favorites. You can eat them there or take them to go.
2. The Summit
The summit is the most unique level of the Eiffel tower. The area quickly changes from massive sprawling decks to the size of a small city apartment. The third floor, or summit, is 906 feet high (276m) and the platform is 820 square feet. This is without argument the best view of Paris and at minimum the highest view. The only way up is the elevator and tickets are extremely limited.
1. The Champagne Bar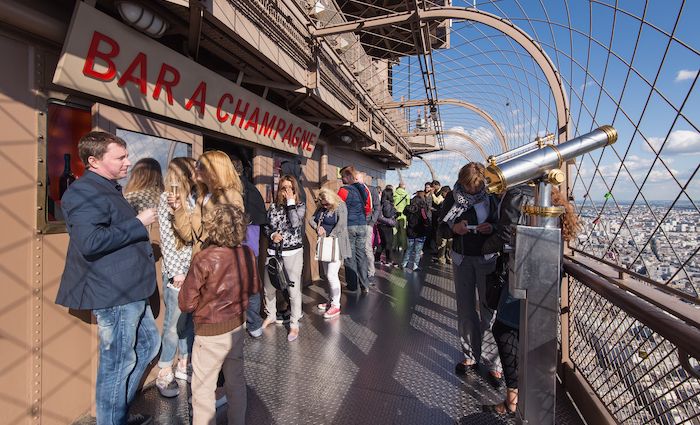 What else do you want to do while standing 906 feet over Paris on top of the world's most romantic building other than having a glass of French champagne? Don't worry, champagne is not mandatory but definitely recommended. This little bar also serves non-alcoholic beverages.
You can and should spend some time wondering the Eiffel Tower on your own, but we highly recommend enter via one of our Eiffel Tower tours. It enriches the experience and takes the stress out of planning. Also, check out our Paris tours and add to your experience at many Parisian attractions!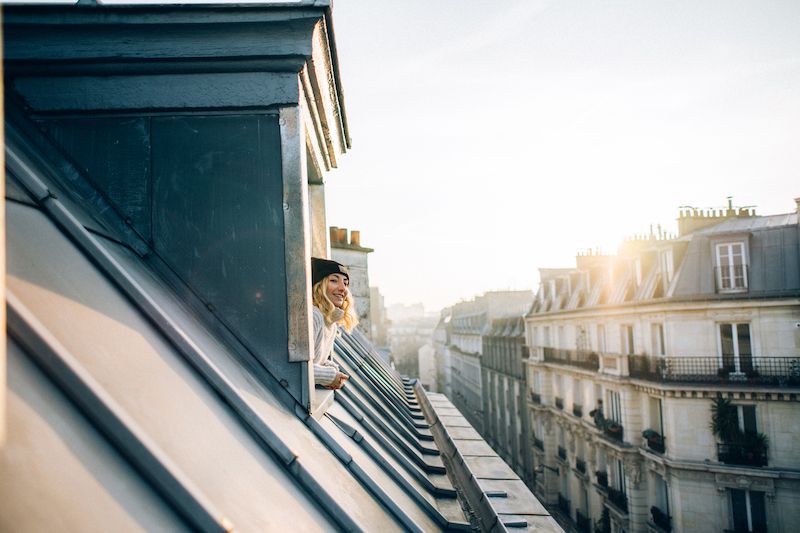 Find the best places to stay
Where To Stay in Paris
With a city as magnificent as Paris, it can be hard to find the perfect hotel at the perfect price. Explore the best hotels and places to stay in these incredible neighborhoods in Paris.