The Louvre is the largest museum on the planet and people line up at more than one entrance to get Louvre tickets. In this guide, we'll walk you through everything you have to know to visit the Louvre from hours, how to get tickets, where it is located, a brief history, and what to see. This way you are prepared for a solo visit or ideally a guided tour of the Louvre.
---
What We'll Cover
Opening Hours & Louvre Tickets/Admissions
How Long to Budget for your Visit
Famous Paints & Works of Art
Tour Options
Places to Eat Inside and Nearby
Facts & History of the Louvre
Louvre Opening Hours & Admissions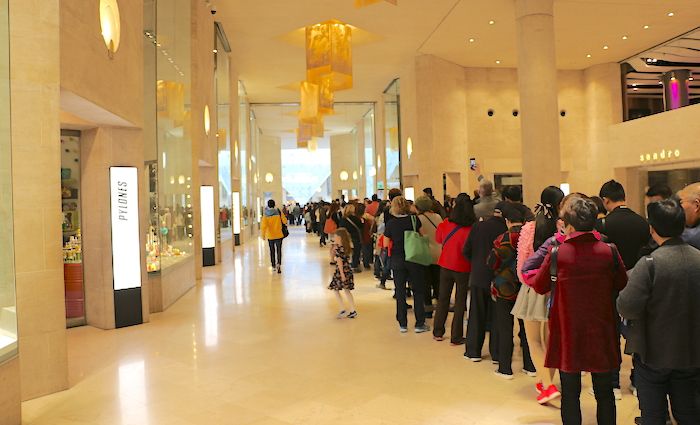 Before you plan anything else, you need to know the Louvre museum hours. Luckily for you, the Louvre is open nearly every day of the year from 9:00 A.M. to 6:00 P.M., except on Tuesdays – when the museum is closed. The museum also has a night opening on Wednesdays and Fridays where the museum stays open until 9:45 P.M.
Monday: 9:00 a.m. – 6:00 p.m
Tuesday: Closed
Wednesday: 9:00 a.m. – 9:45 p.m
Thursday: 9:00 a.m. – 6:00 p.m
Friday: 9:00 a.m. – 9:45 p.m
Saturday: 9:00 a.m. – 6:00 p.m
Sunday: 9:00 a.m. – 6:00 p.m
Keep in mind that the Louvre is closed on January 1, May 1, and December 25.
Pro Tip: If you can, try to visit the Louvre in the evening for a more intimate experience. It's typically less busy giving you a chance to view the exhibits longer. link.
How Much Time to Budget for the Louvre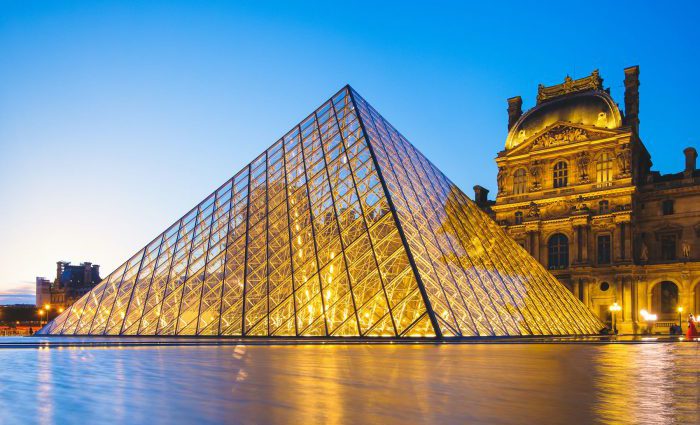 Short Answer: 3 hours inside
If you are going to the Louvre and wondering how long to stay inside you came to the right place. The museum is massive – the largest on Earth so that should be something to take into consideration. It also has a dense collection of artwork, sculpture and even medieval ruins. You could easily spend the entire day if not days inside but that really depends on why you are headed to Paris.
I am a pretty big history buff which is why I started a tour company. I also get exhausted after a few hours inside a museum. That means at one point I will switch off or over to cocktail mode.
Sean's Hack: 3 hour is my max for consecutive touring without many breaks. This said, if I am planning on doing extended research at a museum or archaeological site with a local expert or textbooks, I will set an alarm every 75 minutes on my phone and take a 15-minute break. This allows someone like me with a short attention span to continue to stay focused.
Famous Works of Art at the Louvre Museum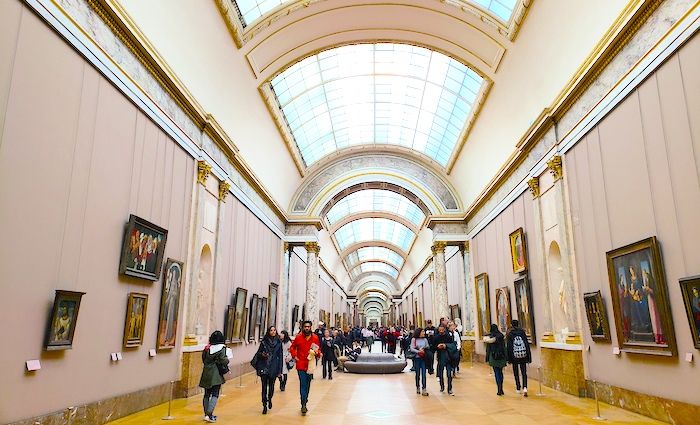 The Winged Victory of Samothrace
The Mona Lisa
The Coronation of Napoleon
Liberty Leading the People
The Raft of the Medusa
Sleeping Hermaphrodite
Venus de Milo
Hammurabi Code
Psyche Revived by Cupid's Kiss
Great Sphinx of Tanis
Read our article on the top 10 things to see inside the Louvre for more in-depth descriptions, location, maps and photos of each of the above-listed artwork.
Louvre Tour Options
Unless you are planning a trip to Paris on a shoestring, you should highly consider a guided tour of the Louvre. Aside from the line-skipping benefits of going with a guide, the museum is filled with masterpieces that span 3 millennia. It is a much better and more memorable experience with a guide. Visit the E-commerce side of our site and see a full list of our Louvre tours.
Royal Louvre Palace Small Group Tour with Mona Lisa & Crown Jewels
Louvre Under the Stars Evening Small Group Tour
Private Louvre Tour in Paris with Skip the Line Tickets
Paris in a Day Small Group Tour with Louvre, Notre Dame, Eiffel Tower and Montmartre
Louvre Live Online Guided Tour: Napoleon's Treasure Trove!
Places to Eat Inside the Louvre & Nearby
There are multiple restaurants and cafe's inside the Louvre if you plan on visiting during lunch or dinner time. They mostly sell coffee, pastries and light eats. Nearby the Louvre you have endless food options since the Museum is in arr. 1. See a shortlist below or our full article on over 14 places to eat near the Louvre.
Inside the Louvre:
Goguette – Indoor under the pyramid. Small snacks.
Starbucks – Indoor under the pyramid. You know what Starbucks sells.
The Café Mollien – 1st floor Denon Wing. This is probably my pick. Inside you get a view of some painting galleries and in the summer the terrace is open overlooking Cour Napoléon.
The Comptoir du Louvre – Also located under the pyramid. You can probably find more substantial meals here like sandwiches and salads.
Nearby the Louvre (Outside):
Franprix – Basic supermarket where you can get no-frills fare for cheap.
Address: 2 Rue de Marengo | Hours: Mon – Sat 8 AM – 10 PM Sun 10 AM – 1 PM | €
La Regalade – You will be sitting wall to wall with other people, feasting on duck hearts with oyster mushrooms or hachis parmentier, "shepperd's pie" made with rabbit in lieu of ground beef. And then, you too will be in foodie heaven.
Address: 106 Rue Saint-Honoré | Tel: +33 1 42 21 92 40 | Hours: Lunch: 12:15 – 2:30 PM, Dinner: Mon-Thurs 7:15 – 10:15 PM, Fri & Sat 7:15 – 11 PM, Sun 7 – 9:30 PM | €€
Facts & History of the Louvre: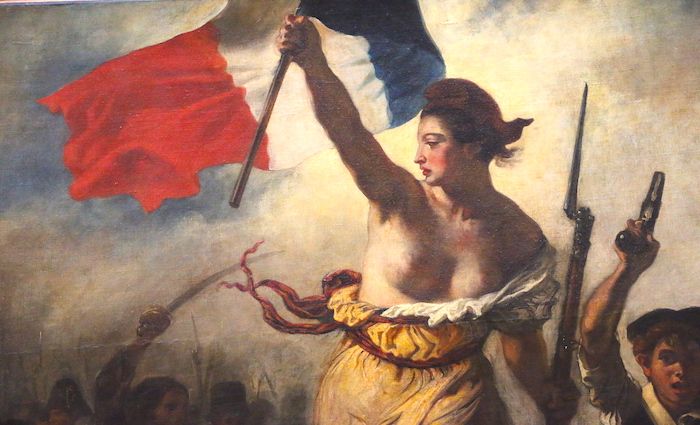 The Louvre opened to the public on Aug 10th 1793 exhibiting just over 500 works of art.
Today, there are 380,000+ pieces of art inside the Louvre
The Louvre was named Musée Napoleon for a brief period under Napoleon's rule
The Nazi's commandeered the Louvre during WWII
Jacques Jaujard removed over 4000 works of art from the Louvre leading up to the German occupation of Paris and hid them in a Loire Valley Château
10 million + art-lovers visit through the Louvre each year
The Tour Guy offers the best tours of the Louvre in Paris ( ;
Looking for a more elaborate history of the Louvre? Check out "The History of the Louvre: From Fortress to the World's Largest Museum!"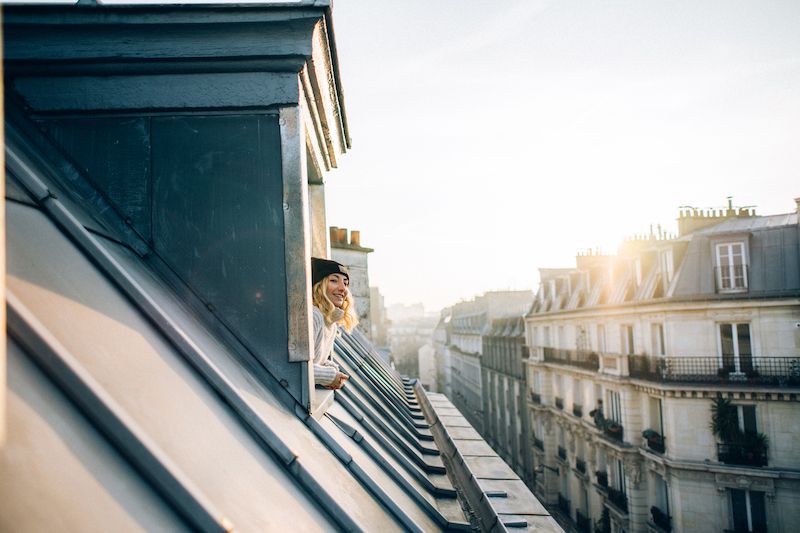 Find the best places to stay
Where to Stay in Paris
With a city as magnificent as Paris, it can be hard to find the perfect hotel at the perfect price. Explore the best hotels and places to stay in these incredible neighborhoods in Paris.